Now that the fall semester is in full swing, it's time to settle in and really hit the books. But don't let food take a back seat! You need to keep yourself nourished and full of energy to make it through those classes, study sessions, and that part-time job, too. So, I've put together this list of the best Easy Recipes for College Students to help you get through the semester in one piece!
I know it's easier to just stop and grab some fast food, but taking a few minutes to prepare a homemade meal can be both nutritious and therapeutic. Take the time to take care of yourself this semester!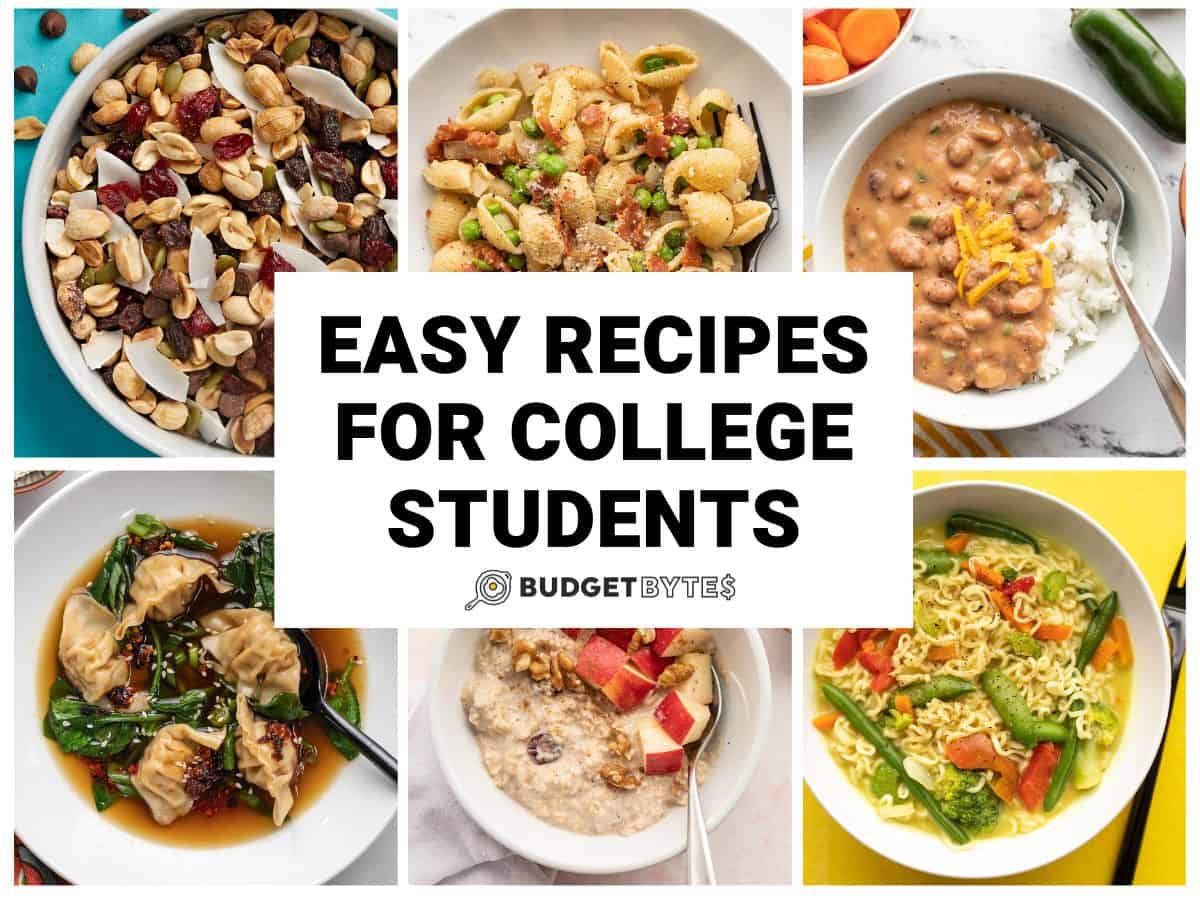 And just as a side note, these are easy meals for college students who have access to a kitchen, even if a very limited kitchen. With all the restrictions on equipment allowed in dorm rooms, dorm room cooking is a whole different beast.
What Makes a Recipe Good for College Students?
I was a broke college student when I started this blog, so this is a category that I am very familiar with. To make the cut for this list of Easy Recipes for College Students, the recipes had to be simple (not many ingredients, no fancy equipment, and a simple preparation method). They had to strike a good balance between comfort and healthy (because let's face it, when you're stressed you want comfort but eating bad can make you feel worse), and they needed to make good leftovers.
I've divided this list of student meals into four categories: Easy Dinners, Quick Snacks, Meal Prep Ideas (including breakfast options), and Easy Dessert Recipes .
Easy Dinners
Spicy Sriracha Noodles I have to start this list with the recipe that got ME through college, Sriracha Noodles. They're faster than take-out, super delicious, and completely customizable. Throw in any vegetables you might have in the fridge, or try changing up the sauce with a little peanut butter or lime. Browse through the comments to discover all the variations readers have made over the years!
Cheesy Pinto Beans – This super simple recipe starts with a humble can of beans and turns into one of the most satisfying and comforting meals ever. It's perfect for those late-night study seshes!
Easy Dumpling Soup – Grab a bag of frozen dumplings the next time you're at the store because you don't want to miss this super easy and comforting soup! It's going to save you a TON on take-out. ;)
Curried Chickpeas with Spinach – When the autumn nights start to get a chilly bite, warm up with a hot bowl of these hearty curried chickpeas with spinach. Packed with flavor, this vegan dish is delicious and filling enough to finally bring vegetarians and carnivores together over one meal.
Creamy Pesto Mac with Spinach – Get your daily dose of vegetables right along with your cheesy comfort food. And the best part is that it uses frozen spinach, so you can keep it on hand to make whenever you need, without it going bad in the back of your fridge.
Coconut Curry Ramen – When all you have is 10 minutes and a BIG appetite, upgrade a simple pack of instant ramen to this hearty and flavorful curry ramen bowl. No vegetable chopping required!
Beef and Cabbage Stir Fry – Grab a bag of coleslaw mix (shredded cabbage and carrots), and this meal is insanely fast and easy to make. Better yet, it's full of fiber and protein, so you can help curb that freshman 15. ;) (Feel free to use ground pork, turkey, or chicken in place of the Beef, if preferred.)
Bowties and Broccoli – This has been my go-to "emergency meal" for decades. Literally. There's nothing more satisfying than pasta with a little butter and Parmesan, and I add broccoli florets to balance things out, plus a little pepper and red pepper flakes for kicks. Insanely easy and all of the ingredients can be kept on hand pretty much indefinitely, so it's ready to go whenever you need something FAST.
Poor Man's Burrito Bowls – We all know burrito bowls are life (thanks, Chipotle!), but they don't have to be fancy to be super delicious or satisfying. This is my pared down, no frills, as-simple-as-it-gets version of a burrito bowl because when you're in college, ain't nobody got time or money for all those fancy toppings! Bonus: you can meal prep these!
Pizza Melts – Instead of ordering delivery, make an easy Pizza Melt to cure your pizza craving. You'll get all that pizza flavor for a fraction of the price and with an easy single-serving portion size.
Pork and Peanut Dragon Noodles – The next time you're tempted to grab take out, try this incredibly simple noodle stir fry. It will satisfy those take out cravings, but you'll have complete control over the ingredients. Add some simple steamed greens to round out the meal!
Vegan Creamy Mushroom Ramen – You only need about 15 minutes and a few leftover vegetables from your fridge to make this insanely creamy and delicious ramen.
Pasta with Bacon and Peas – A little bacon makes everything better! This super simple pasta dish is incredibly satisfying and surprisingly high in protein. The perfect quick meal to fuel your busy days!
15-Minute Vegetable Curry – Yes, that's right, it only takes 15 minutes to make this delicious pot of vegetable curry! No Chopping required! Serve over rice for a satisfying and comforting meal.
Savory Oatmeal – Oats aren't just for breakfast! They make for a quick and filling meal any time of day. Add any leftovers from your fridge or top with a fried egg for an even more delicious bowl of oats.
Quick Snacks
The Peanut Butter Lunch Box – Pack up a few of these snack boxes to nibble on between classes, or for a quick meal between work and school.
Hearty Black Bean Quesadillas – Quesadillas are the perfect snack (just ask Taco Bell). This spicy vegetarian mix of black beans, corn, onion, and cheese is 100x better than anything you'll get at the drive-through. More flavor, more fiber, more filling, and still extremely easy. Promise.
Peanut Butter Banana Smoothie – When you need a quick pick me up between classes or as you're running out the door in the morning, this quick peanut butter banana smoothie is sure to energize!
Spinach Feta Grilled Cheese – Grilled cheese is the ultimate study/comfort food. Take it up a level with some frozen spinach, a little garlic, red pepper flakes, and feta. You now have a super fancy grilled cheese AND a good dose of vegetables. WIN.
Pizzadillas – When you have a pizza craving (when do you not have a pizza craving??) but don't have the time or energy to make a homemade pizza yourself, pizzadillas are you quick and easy answer! Plus, no delivery fee for the win!!
The Cheese Board Lunch Box – You might miss the lunchables your mom used to pack you, but you're an adult now, so let's do it the grown-up way! A box full of crackers, cheese, meat, and a little fruit is a light meal that no one would turn down.
Pizza Roll Ups – Make your pizza in roll-up form. It's way faster and easier than making traditional pizza, and a LOT less expensive than ordering delivery. These are great for football parties, too!
Air Fryer Grilled Cheese – This isn't your momma's grilled cheese, it's a grilled cheese for the 21st century! A super flavorful butter-herb-Parmesan spread and the crisping action of an air fryer makes the most epic grilled cheese you've ever had!
Peanut Butter Banana Quesadillas – When you want a quick treat, these toasty, melty, sweet-and-savory "quesadillas" are perfect! You might even be able to get away with calling them breakfast.
Freezer Ready Mini Pizzas – Keep a batch of these little pizza cuties in the freezer so you can have a quick pizza snack whenever you want!
Homemade Freezer Garlic Bread – Put down that box of frozen garlic bread! It's far too easy and inexpensive to make your own! Keep this garlic bread in your freezer for whenever you get a craving. They also make a pretty killer grilled cheese sandwich, too. Talk about study fuel!
Trail Mix – The ultimate on-the-go snack! Don't underestimate the power and convenience of a good trail mix. We've got four different flavor combos to try, plus plenty of other ingredient ideas so you can make your own mix!
Easy Meal Prep Ideas
Ground Turkey Stir Fry – This super simple stir fry was made for meal prep! You can add as many or as little vegetables as you want and serve it over rice, noodles, or sans-carb. It's very flexible!
Cottage Cheese Crab Bowls – These no-cook bowls are light, fresh, and kind of like a California roll, but bowl style! Plus there are plenty of ways to customize this bowl to make it fit your taste buds.
Scallion Herb Chickpea Salad – This super easy and creamy chickpea salad is great as a sandwich or wrap, scooped up with crackers, or as a topper to a green salad, so you can eat it a different way every day of the week!
Apple Pie Overnight Oats – This is another great make-ahead breakfast option that can easily be made vegan by using almond or soy milk. You won't believe how much this tastes like apple pie, even without ANY added sugar!!
The Tuna Salad Lunch Box – Here's another great no-cook make-ahead lunch for your busy weekdays!
Broccoli Cheddar Chicken Salad – This incredibly simple and filling salad holds up for days in the fridge and can be eaten alone, in a wrap, or toasted in a tortilla for a quick quesadilla!
The Hummus Lunch Box – These little no-cook Mediterranean-style snack boxes are perfect for a make-ahead lunch or a light afternoon study snack. They're customizable, too, so make sure you click through to see all of the alternate ingredient ideas!
Easiest Burrito Bowl Meal Prep – I never get tired of burrito bowls, and thankfully they are just made for meal prepping. You can make a few for the week ahead, or stash them in the freezer for longer storage. Either way, it's just a quick reheat to total burrito bowl bliss.
Tuna and White Bean Salad – Tons of protein and fiber to keep you full and fueled through a long day of classes! Pack it up with some crackers for dipping, or stuff it into a tortilla to make a wrap, and you're set. Oh, and NO MAYO. ;)
Curried Tofu Salad – Super simple prep, and it holds up in the fridge for days! You can serve it over a bed of greens as a salad, or make it a wrap by stuffing it into a tortilla. So fresh and light, it won't make you groggy in those afternoon classes. ;)
Mediterranean Tuna Salad – This light, fresh, and protein-filled salad is an easy no-cook option for your busy week or when the weather starts to heat up outside. No reheating necessary!
Also check out our Meal Prep archives for plenty of ideas for packed lunches!
Easy Dessert Recipes
Flourless Peanut Butter Cookies – Cookies don't get any easier than this! Just six simple ingredients and you've got the richest, most delicious cookies ever. Bonus: they're gluten-free and dairy-free!
Chocolate Mug Cake – This is the one and only chocolate mug cake you'll ever need. Soft, tender, not too-too sweet (but you can make it sweeter if you want), and no egg required!
Rice Krispie Treats – The ultimate no-bake treat! They're gooey, sweet, crispy, and melt-in-your-mouth delicious! Plus, they keep at room temperature, which is important when you're on the go!
Blueberry Mug Muffin – Mug cakes and mug muffins were critical to my survival in college. When I needed just a little bite of something sweet to get me through, a mug cake is the answer! So fast, so easy, so good.
Cheese Danishes – They may look fancy, but thanks to frozen puff pastry dough, they're a breeze to make! This one is sure to impress your friends.
Funfetti Mug Cake – When you need a cupcake but don't want to make a batch, this funfetti mug cake is the answer!
No-Bake Peanut Butter Pretzel Bars – They're like a Reese's cup in bar form! …And incredibly easy to make. Just be warned, they're addictive!!
Honey Vanilla Cottage Cheese Fruit Dip – If you're trying to keep dessert time light, you've got to try this dip! It tastes like cheesecake but is super high in protein and doesn't have tons of added sugar. It's the perfect light treat!
Cinnamon Nut Swirl Mug Cake – One more microwave mug cake for good measure! This one is like a cinnamon roll in a cup, except WAY easier to make. It's a must try for breakfast or dessert!
So there you have it, over 40 of our favorite Easy Recipes for College Students. What are your favorite student meals to help you get through the semester? Share in the comments below!