Oh WOW. It should be illegal for noodles to be this easy AND this delicious. These spicy sriracha noodles are my new favorite quick fix! They only take about 15 minutes to make, they're totally rich, flavorful, and SUPER SPICY. Like, "burn a hole through your stomach" spicy. Call me crazy, but sometimes I want that. No, I crave that. So, this one goes out to all of you heat seekers!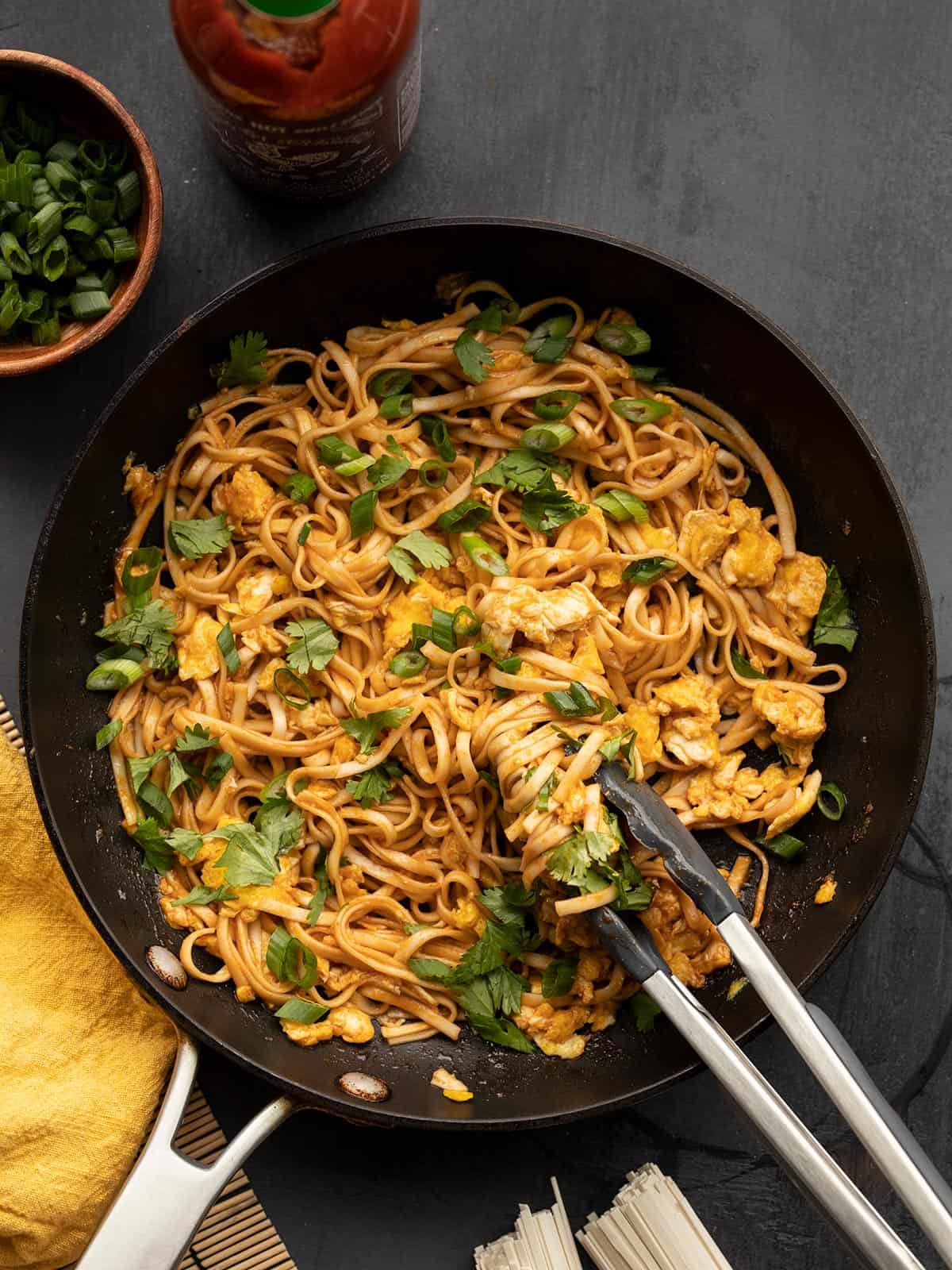 Recipe Updates
I didn't need to change a lot about this recipe because it was pretty damn perfect the way it was, but I did make a couple of minor tweaks. I added an extra egg because I wanted this to be a little closer to two servings. I also added more sriracha (now 2 Tbsp compared to the original 1 Tbsp) because I actually wanted it spicier, and I wanted there to be a smidge more sauce.
Flavor Balance is Key
The simple sauce for this recipe uses only pantry staples (soy sauce, brown sugar, sriracha), which perfectly balance the sweet, salty, and spicy flavors. The richness of the butter helps smooth everything out, cilantro adds a fresh note, and the green onions lend a savory back note. It all just works and it happens to be incredibly simple. And that's how I like my food.
What Type of Noodles Should I Use?
If you can't find the same noodles that I used, don't fret. You could make this with instant ramen noodles or even regular linguine. The noodles are just the vehicle for all of the other yummy ingredients!
What Else Can I Add?
Want to take it up a notch? Try my Dragon Noodle Variations: Pork and Peanut Dragon Noodles, or Lime Shrimp Dragon Noodles. Many readers have also commented that they've added extra vegetables (try adding some frozen stir fry vegetables), but you'll probably want to double the sauce if adding a lot of extra vegetables.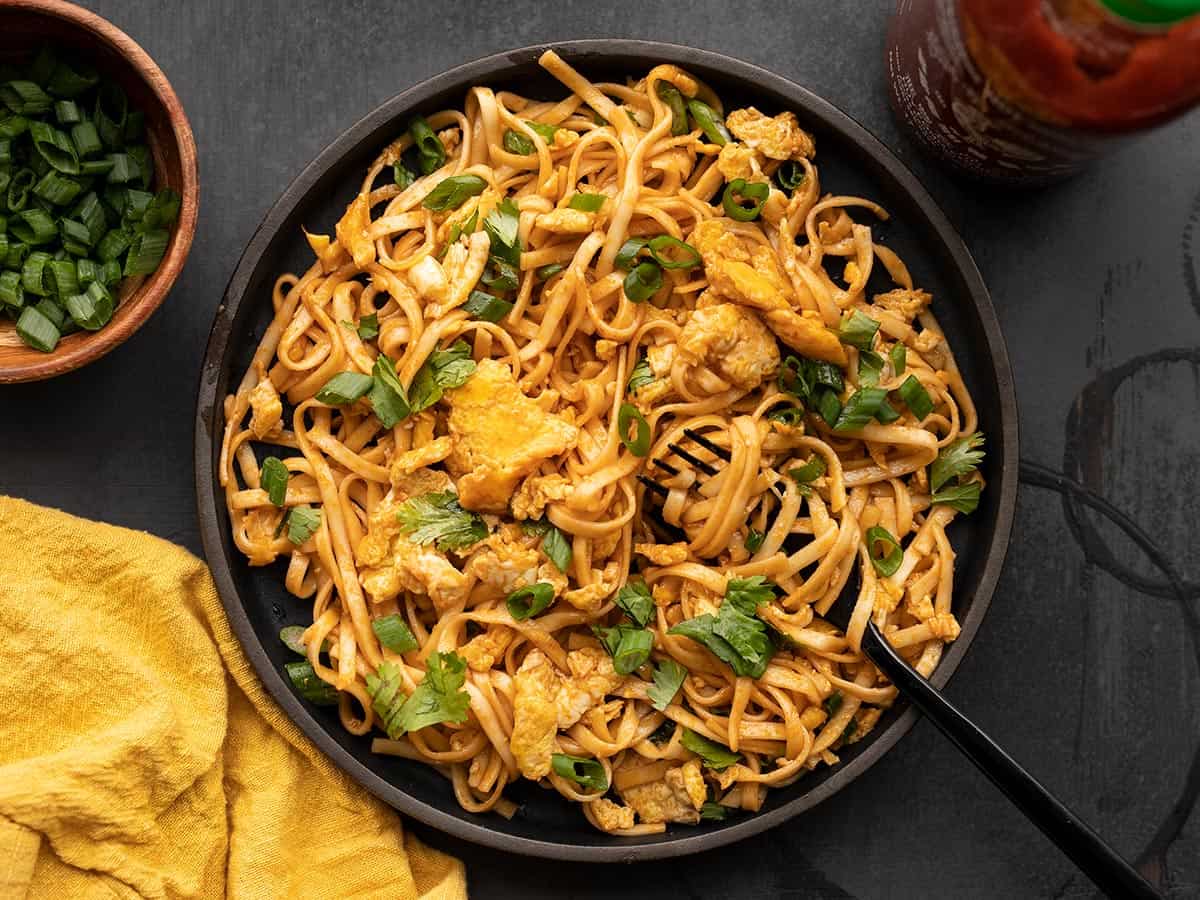 Spicy Sriracha Noodles
These sweet, tangy, and spicy sriracha noodles take only a few minutes to make and are an inexpensive alternative to take out.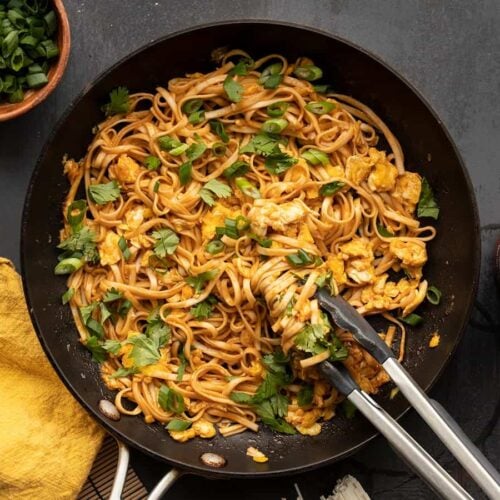 Ingredients
4

oz.

lo mein noodles

($1.30)

2

Tbsp

butter

($0.20)

1/4

tsp

crushed red pepper

($0.02)

2

large

eggs

($0.42)

1

Tbsp

brown sugar

($0.08)

1

Tbsp

soy sauce

($0.06)

2

Tbsp

sriracha

($0.22)

1

handful

fresh cilantro (optional)

($0.10)

1

green onion, sliced

($0.10)
Instructions
Prepare the sauce for the noodles. In a small bowl, stir together the brown sugar, soy sauce, and sriracha. Set the sauce aside.

Bring a pot of water to a boil for the noodles. Once boiling, add the noodles and boil until tender. Drain the noodles in a colander.

While waiting for the water to boil, crack two eggs into a bowl then whisk lightly.

Heat the butter in a skillet over medium heat, then add the eggs and crushed pepper and lightly scramble the eggs. Avoid over cooking the eggs.

Once the noodles have drained, add them to the skillet with the eggs, then drizzle the sauce over top. Toss the noodles and eggs to coat in the sauce.

Top the noodles with fresh cilantro and sliced green onion, then serve.
See how we calculate recipe costs here.
---
Nutrition
Serving:
1
Serving
Calories:
397
kcal
Carbohydrates:
48
g
Protein:
13
g
Fat:
17
g
Sodium:
1197
mg
Fiber:
1
g
Read our full nutrition disclaimer here.
Scroll down for the step by step photos!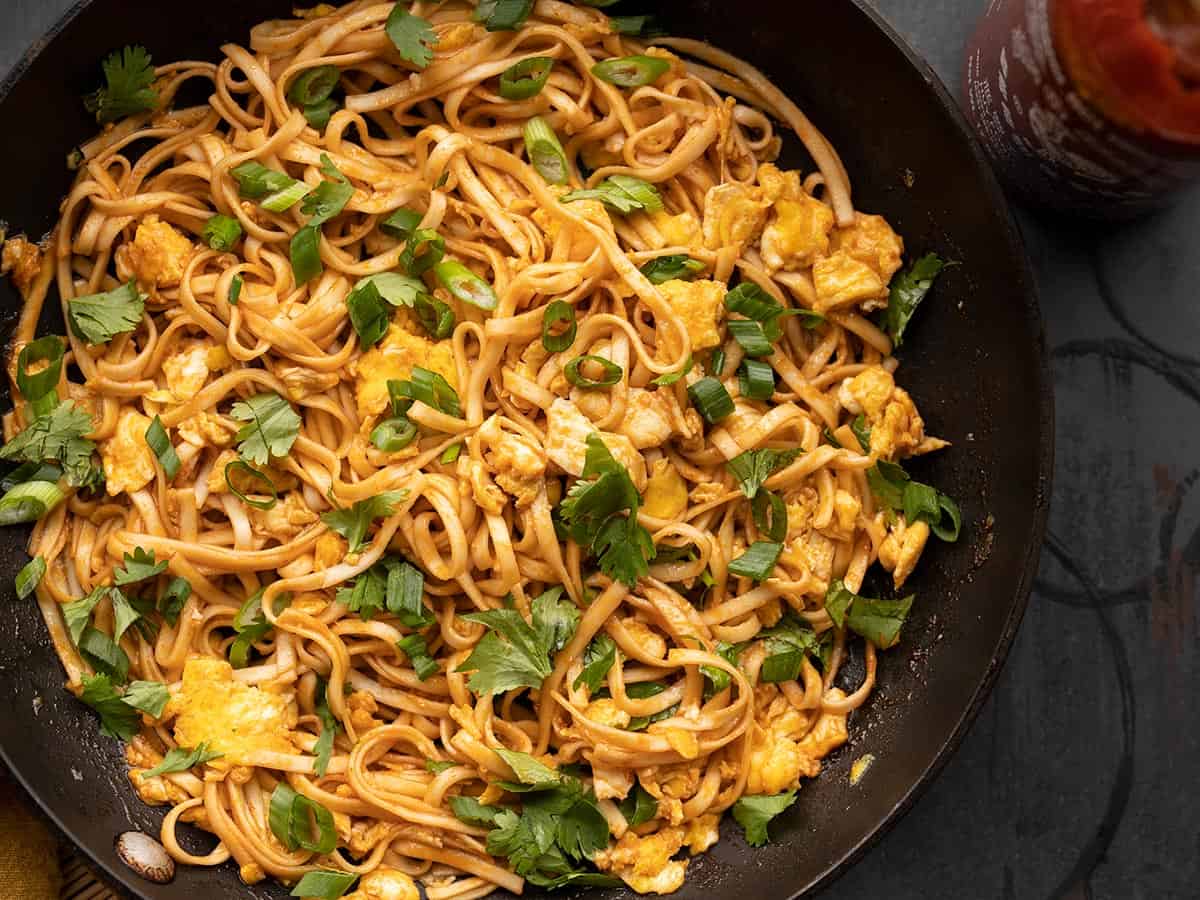 How to Make Spicy Sriracha Noodles – Step By Step Photos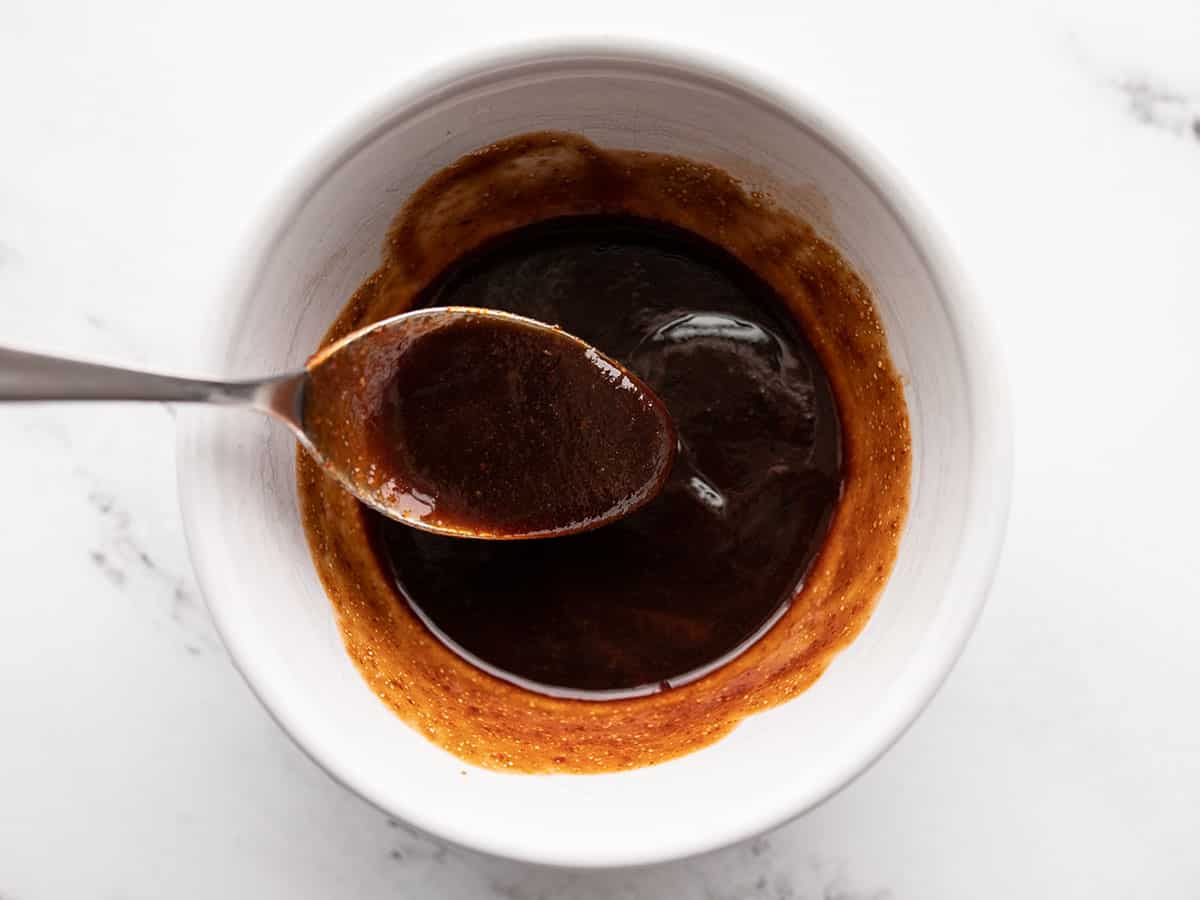 Begin by mixing up the sauce for your noodles. Combine 1 Tbsp brown sugar, 1 Tbsp soy sauce, and 2 Tbsp sriracha (or 1 Tbsp, it's up to you).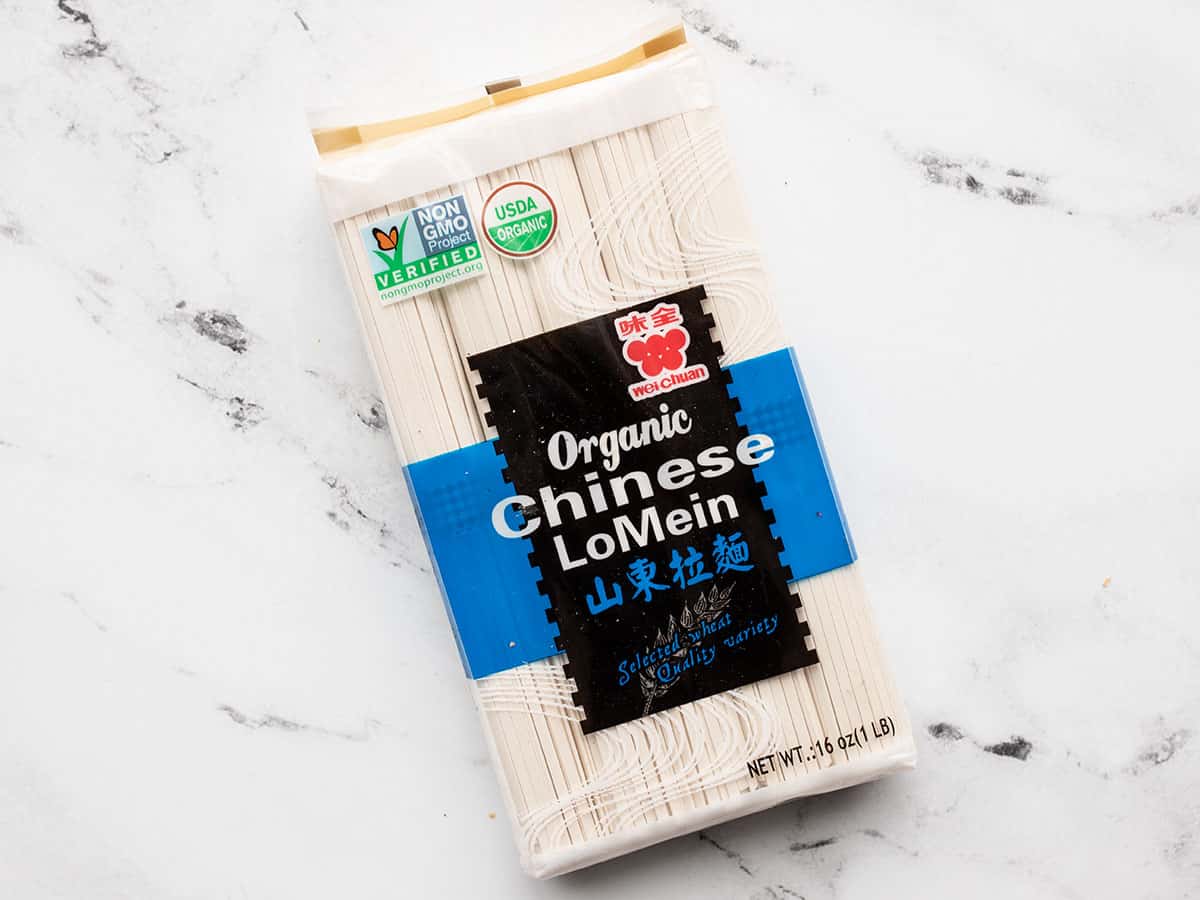 Next, begin cooking your noodles. These lo mein noodles that I used cook very quickly, in about 3-4 minutes. You can use just about any type of noodle for this, as they're really just the vehicle for the delicious sauce!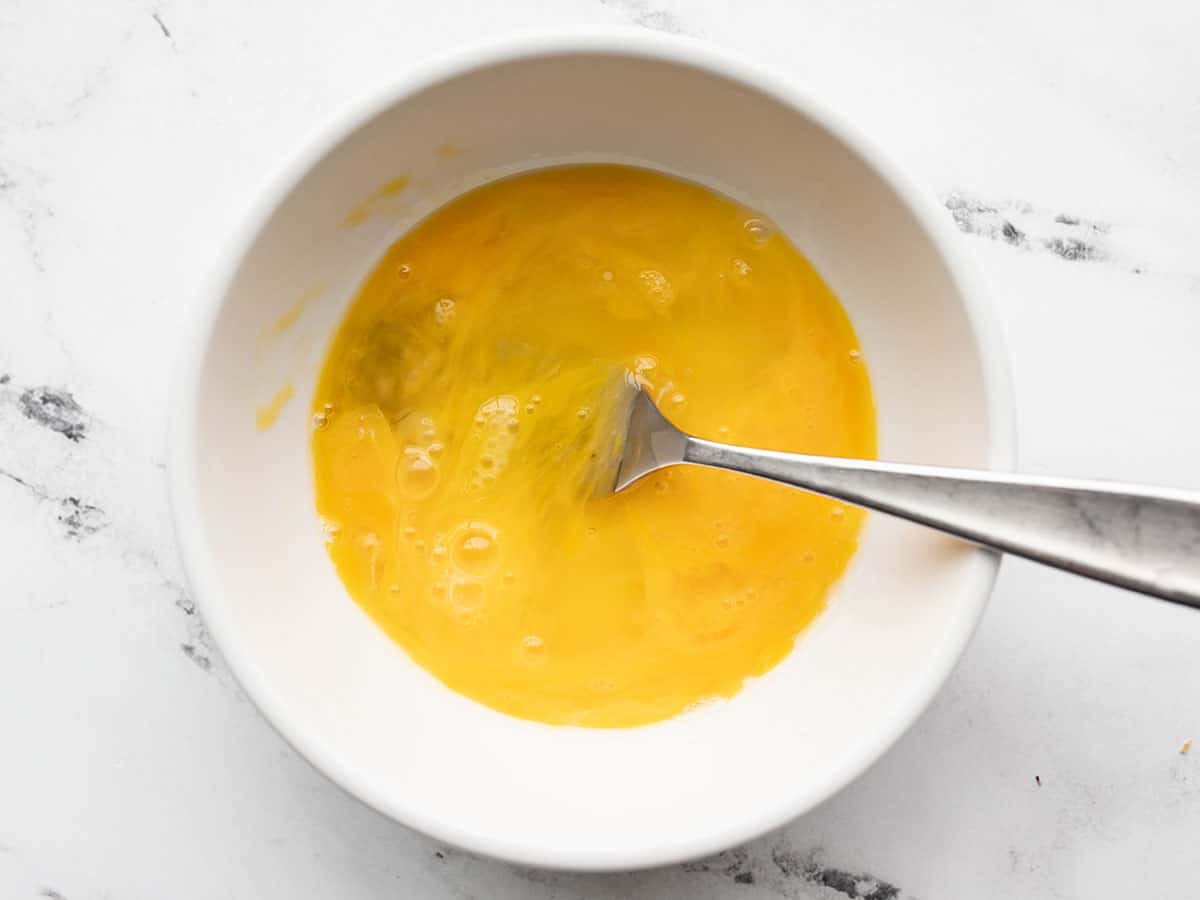 While waiting for the water to boil for the noodles, lightly whisk two eggs in a bowl.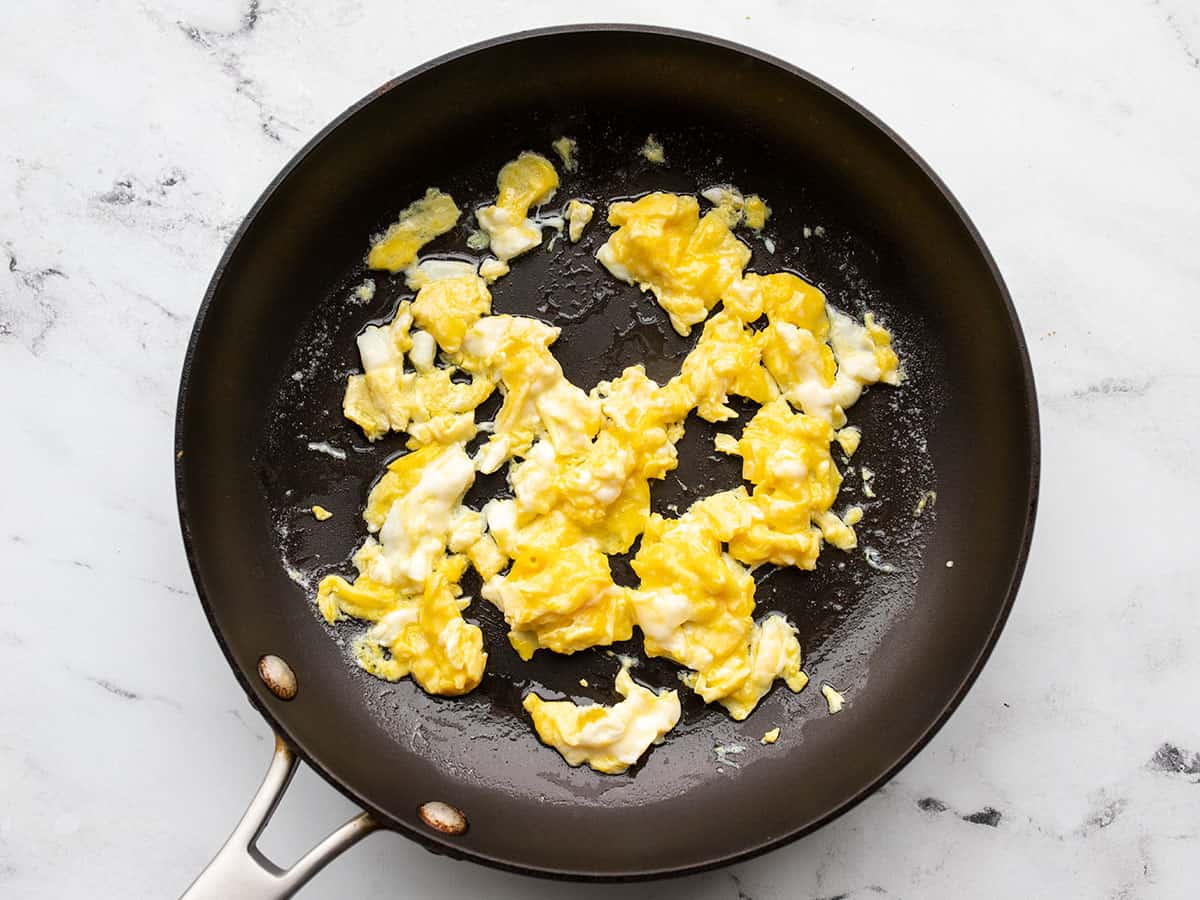 While the noodles are boiling, heat 2 Tbsp butter in a skillet over medium. Add 1/4 tsp crushed red pepper and the whisked eggs, then lightly scramble the eggs. Remove them from the heat when they are set. Try to avoid over-cooking the eggs.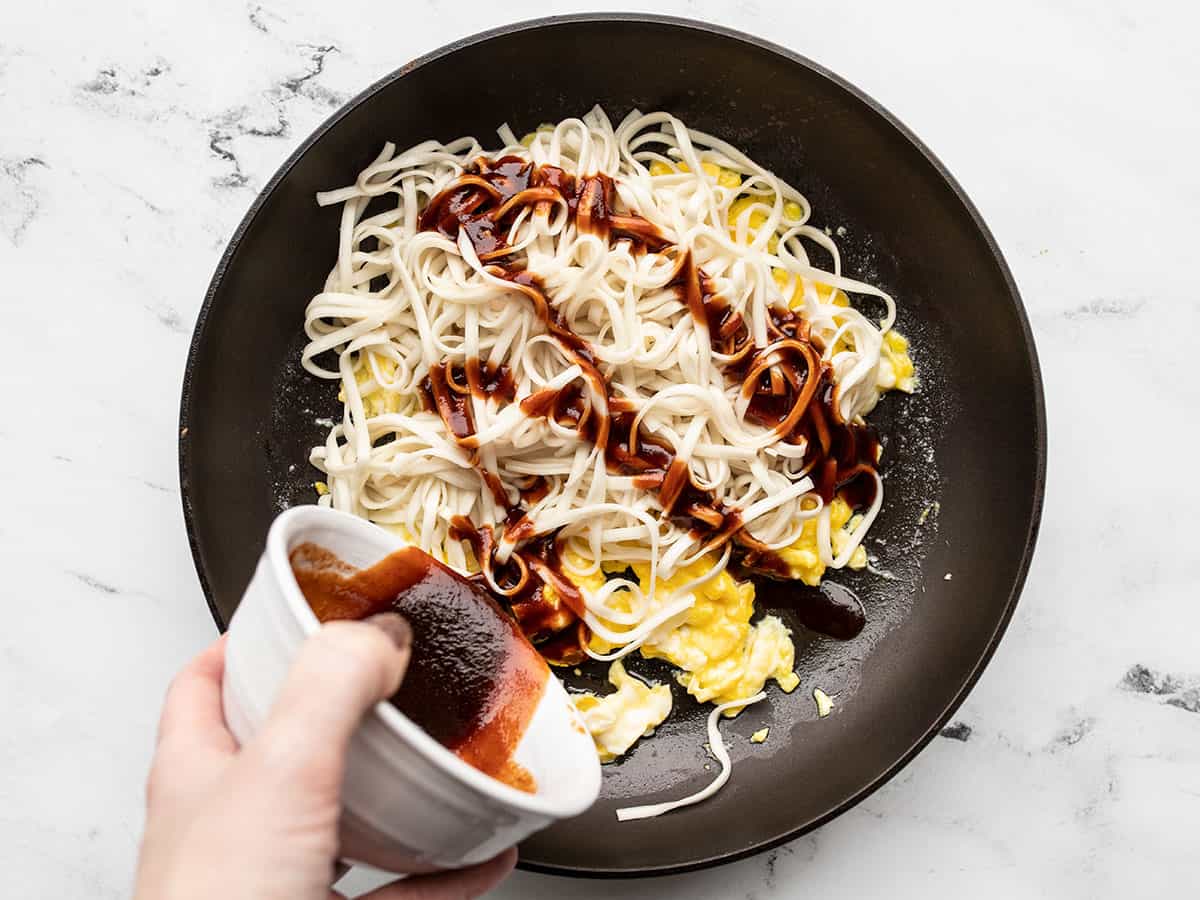 When your noodles are drained, add them to the skillet with the eggs and pour the prepared sauce over top.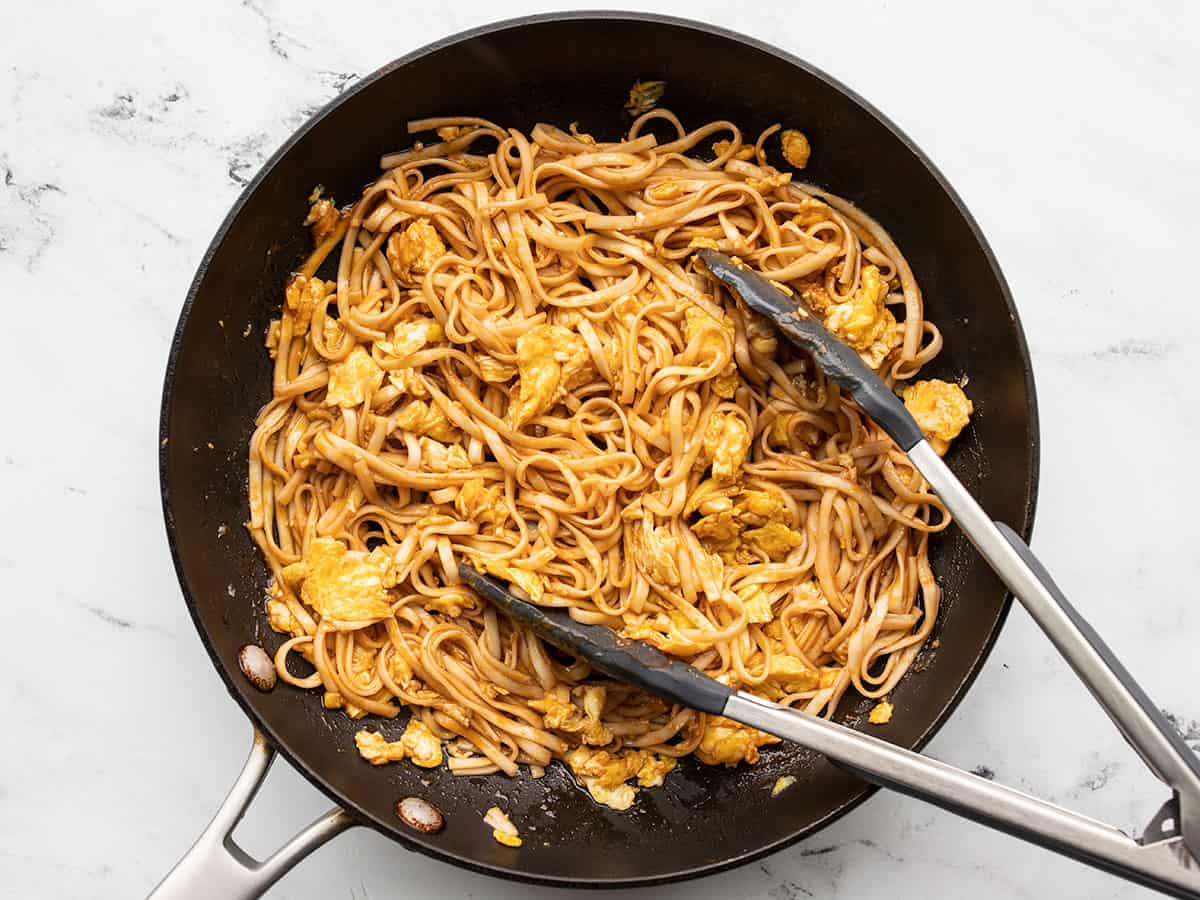 Toss the noodles and eggs in the sauce until everything is well coated.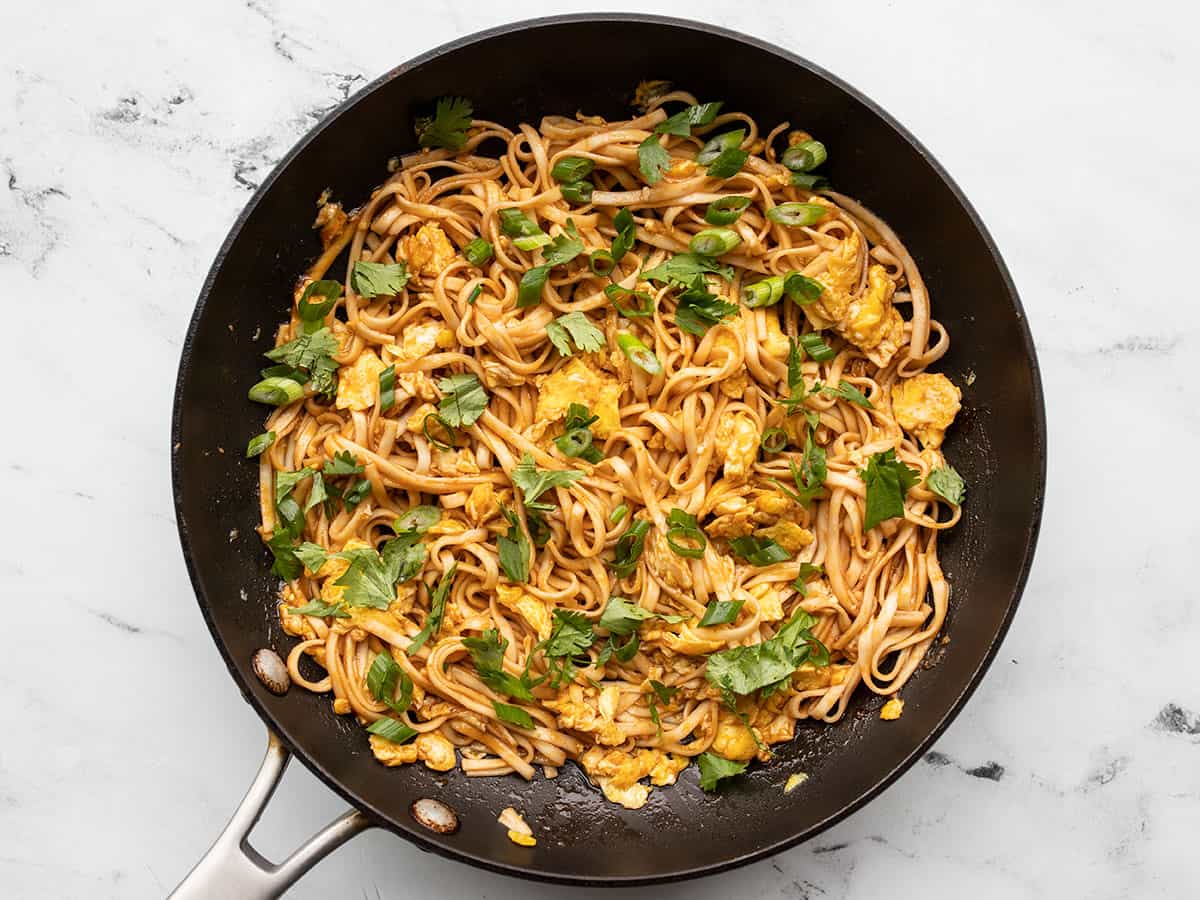 Top the noodles with sliced green onion and cilantro (optional). Serve and enjoy!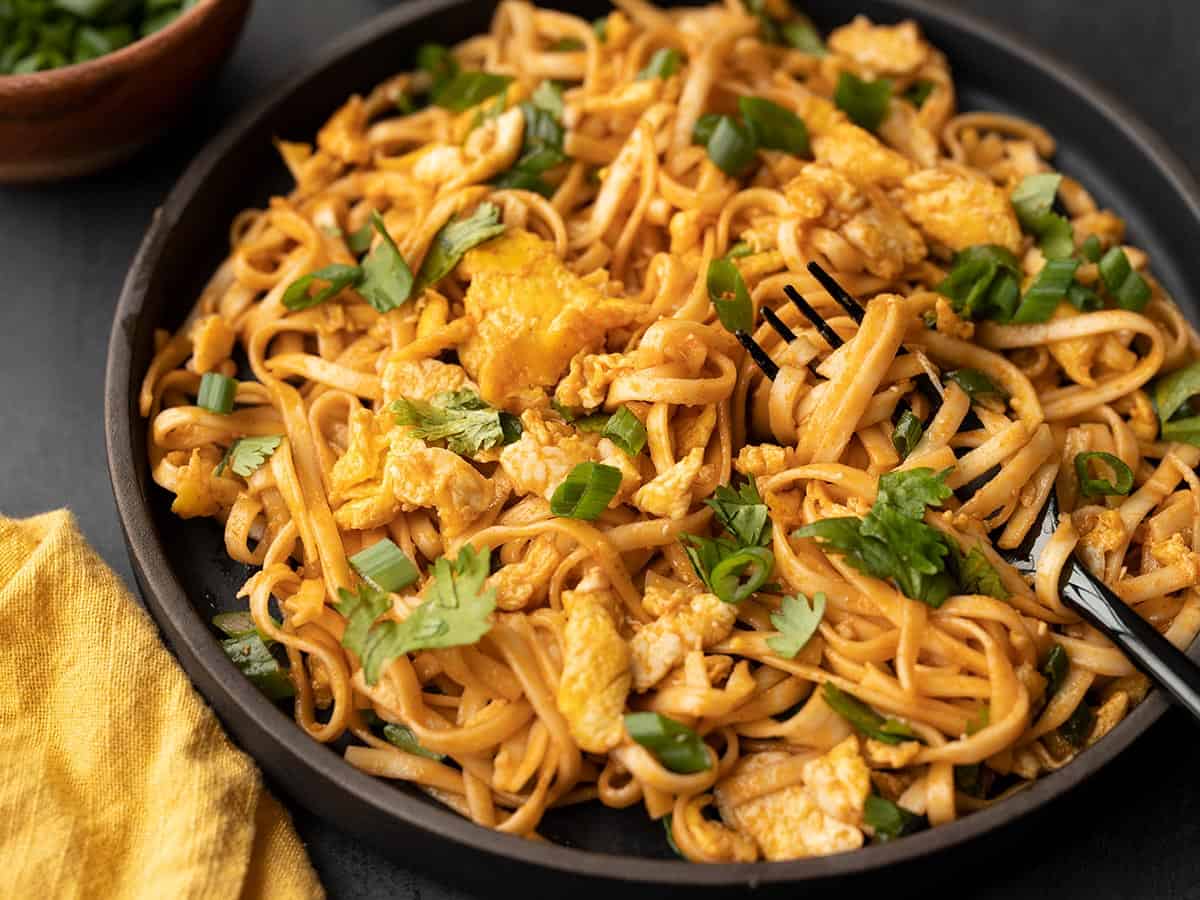 Old photos from 2012 😄