Oh WOW. These Dragon Noodles are my new favorite quick fix! They only take about 15 minutes to make, they're totally rich, flavorful, and SUPER SPICY. Like, "burn a hole through your stomach" spicy. Call me crazy, but sometimes I want that. No, I crave that.
So, this one goes out to all of you heat seekers!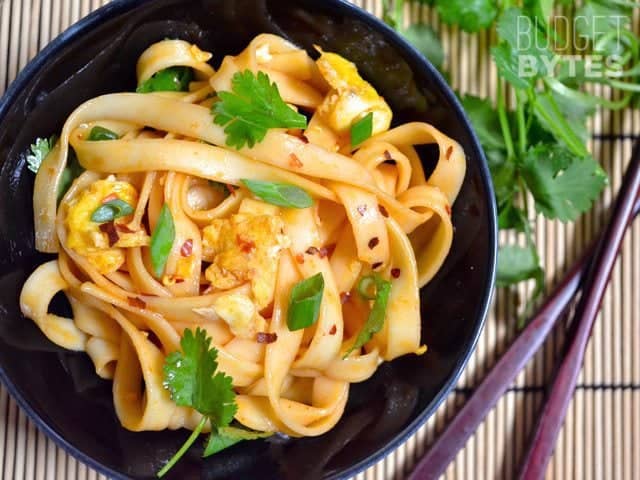 Flavor Balance is Key
The simple sauce for this recipe uses only pantry staples (soy sauce, brown sugar, sriracha), which perfectly balance the sweet, salty, and spicy flavors. The richness of the butter helps smooth everything out, cilantro adds a fresh note, and the green onions lend a savory back note. It all just works and it happens to be incredibly simple. And that's how I like my food.
Small Batch Dragon Noodles
I made a small two-serving batch because I just wanted something quick and easy. You could easily scale this up, if needed. If you want a heartier dish, try using two eggs rather than just one. Also, I used two tablespoons of butter, which made for a very rich and delicious sauce, but I suspect that it would still be amazing if you cut the butter in half.
What Type of Noodles Should I Use?
If you can't find the same noodles that I used, don't fret. You could make this with ramen type noodles or even regular linguine. The noodles are just the vehicle for all of the other yummy ingredients!
What Else Can I Add?
Want to take it up a notch? Try my Dragon Noodle Variations: Pork and Peanut Dragon Noodles, or Lime Shrimp Dragon Noodles. Many readers have also commented that they've added extra vegetables (try adding some frozen stir fry vegetables), but you'll probably want to double the sauce if adding a lot of extra vegetables.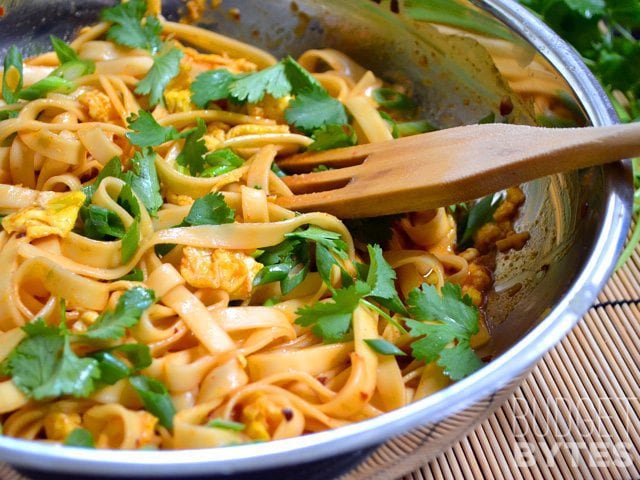 Spicy Dragon Noodles
These sweet, tangy, and spicy Dragon Noodles take only a few minutes to whip up and will kill your craving for take-out.
Servings: 2
Ingredients
4 oz. lo mein noodles ($1.13)
2 Tbsp butter ($0.20)
1/4 tsp crushed red pepper ($0.02)
1 large egg ($0.25)
1 Tbsp brown sugar ($0.02)
1 Tbsp soy sauce ($0.02)
1 Tbsp sriracha rooster sauce ($0.08)
1 handful fresh cilantro ($0.22)
1 sliced green onion ($0.06)
Instructions
Begin to boil water for the noodles. Once the water reaches a full boil, add the noodles and cook according to the package directions (boil for 5-7 minutes).

While waiting for the water to boil, prepare the sauce. In a small bowl stir together the brown sugar, soy sauce, and sriracha.

In a large skillet melt 2 tablespoons of butter over medium-low heat. Add the red pepper to the butter as it melts. Whisk an egg in a bowl and then add to the melted butter. Stir gently and cook through. Once the egg is done cooking, turn off the heat.

When the noodles are tender, drain the water and then add them to the skillet with the cooked egg. Also add the prepared sauce. Turn the heat on to low to evaporate excess moisture, and stir until everything is coated well with the sauce. Sprinkle the sliced green onions and cilantro leaves (whole) on top and serve!
See how we calculate recipe costs here.
---
Nutrition
Serving: 1 Serving ・ Calories: 386.8 kcal ・ Carbohydrates: 47.3 g ・ Protein: 10.85 g ・ Fat: 17.2 g ・ Sodium: 1063.95 mg ・ Fiber: 2.15 g
Nutritional values are estimates only. See our full nutrition disclaimer here.
---
The equipment section above contains affiliate links to products we use and love. As an Amazon Associate I earn from qualifying purchases.
Scroll down for the step by step photos!
How to Make Spicy Dragon Noodles – Step By Step Photos

These are the noodles that I used, but you could use any other kind. Ramen or regular linguine would probably be good too. I used half of this 8 oz. pack for two servings. Cook the noodles according to the package directions.

While waiting for the pasta water to boil, mix up the sauce. Stir together the brown sugar, soy sauce, and sriracha.

Melt the butter in a large skillet over medium-low heat. Add the crushed red pepper to the butter as it melts.

Whisk the egg in a bowl…

Pour the whisked egg into the melted butter and gently stir until cooked. If the noodles are not done cooking yet, turn the heat off on the skillet so that the eggs don't over cook.

When the noodles are finished cooking, drain the water off and then add them to the skillet along with the prepared hot sauce.

Turn the heat on to low to help evaporate excess moisture and stir everything to coat it in the sauce. Lastly, sprinkle the sliced green onion and cilantro leaves over top. I didn't even bother to chop the cilantro. Deeeelish!