This blog post is more of a love letter to my favorite summer meal than a "recipe." Tomato sandwiches are one of the first foods I ever fell in love with, and I continue to look forward to summer every year just because of the tomato sandwiches. So it's about time I formally celebrate their beautiful simplicity and share them with anyone who hasn't yet had one. Tomato sandwiches are seriously my favorite thing. EVER.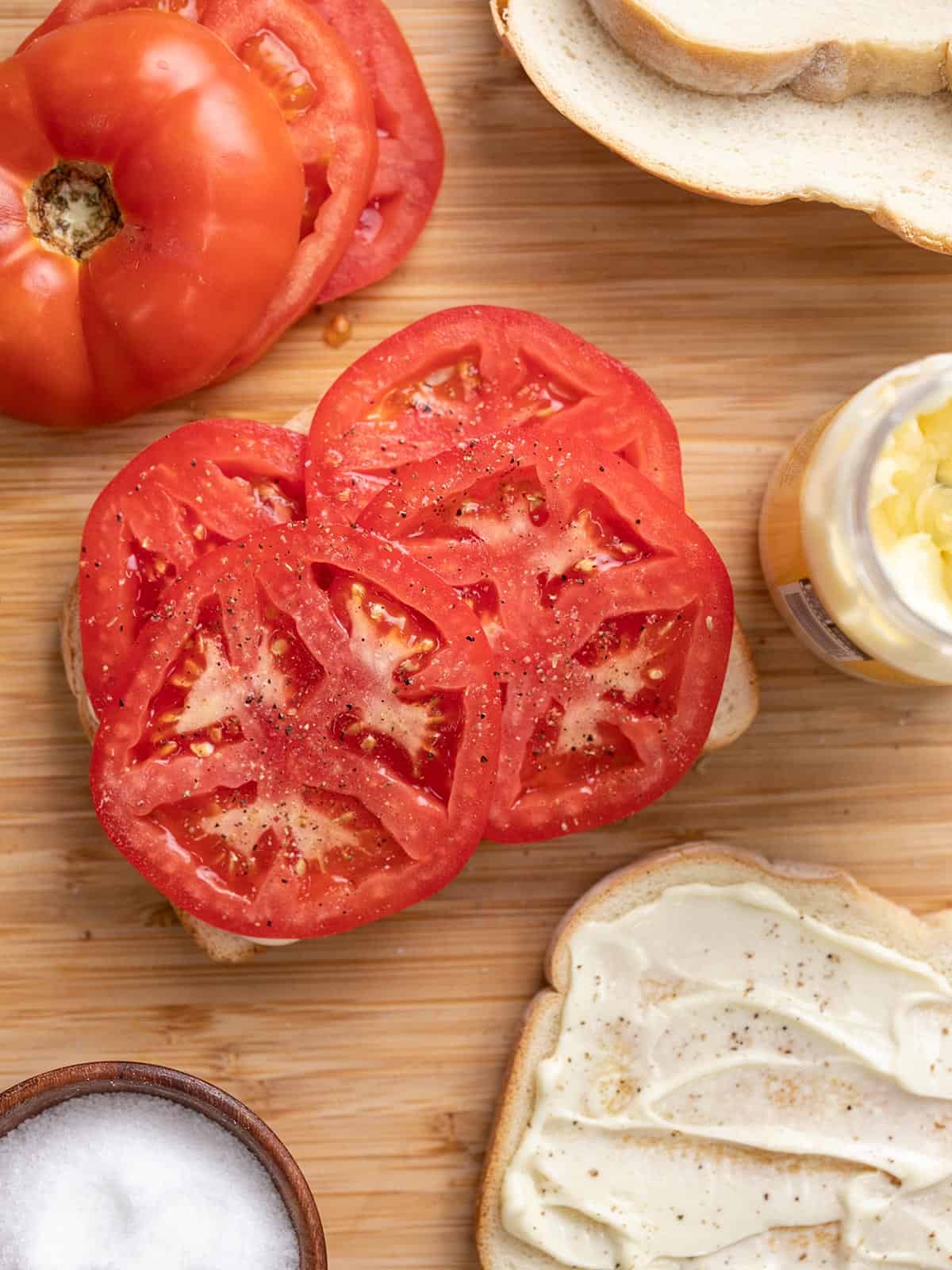 What's on a Tomato Sandwich
There are so many different versions of tomato sandwiches out there, but I'm partial to the classic tomato sandwich consisting only of juicy, ripe tomatoes, creamy mayonnaise, soft white bread, and salt and pepper. That's it!
The juice from the tomatoes combines with the creamy mayo, salt, and pepper to form a sort of dressing that kind of soaks into the bread and creates the most delicious combo of flavors and textures. It's so divine that I literally can not eat just one. As soon as I pop that last bite I always make second one!
It's all about the Tomatoes
This sandwich is all about enjoying the beautiful and delicious tomatoes of summer. If you can, buy tomatoes grown locally for the best flavor. Heirloom tomatoes are gorgeous and delicious, but they will probably increase the price of your sandwich a bit. If you can, hit up your local farmer's markets or neighbors who might be growing tomatoes to grab a few of those fresh summer beauties!
What Kind of Bread to Use for Tomato Sandwiches
A lot of tomato sandwich lovers insist on soft white bread, but I'm a bit more flexible when it comes to the bread. I do like a little texture, so if my bread is very soft I'll pop it in the toaster just to give it a little tan. I also like whole wheat bread for tomato sandwiches quite a bit, but I think I'm in the minority there. Most bread will work for tomato sandwiches, but I would try to avoid super crusty or chewy bread, like a baguette, because it will overpower the soft texture of the tomatoes inside.
Real Mayo Only, Please
Talk to any Southerner and they're likely to have very strong feelings when it comes to their favorite mayonnaise, especially for tomato sandwiches. Dukes and Blue Plate are both popular choices, but a good ol' classic Hellmann's mayo is also good, IMHO! Bottom line, it's got to be CREAMY.
Tomato Sandwich Variations
A couple of years ago I posted a video about my love for tomato sandwiches on social media and I asked YOU how you like to make your tomato sandwiches. I got some wonderful responses! Here are some other ingredients people love to put on tomato sandwiches:
Rub raw garlic on the bread before spreading on the mayo
Lettuce and bacon (BLT!)
Cucumber
Cheese (goat cheese, fresh mozzarella, or cheddar)
Fresh basil
Sweet onion
Cream cheese instead of mayo
Pesto
Hummus instead of mayo
Cavenders Greek seasoning
Everything bagel seasoning
What do you like to put on YOUR tomato sandwiches?? Let us know in the comments below!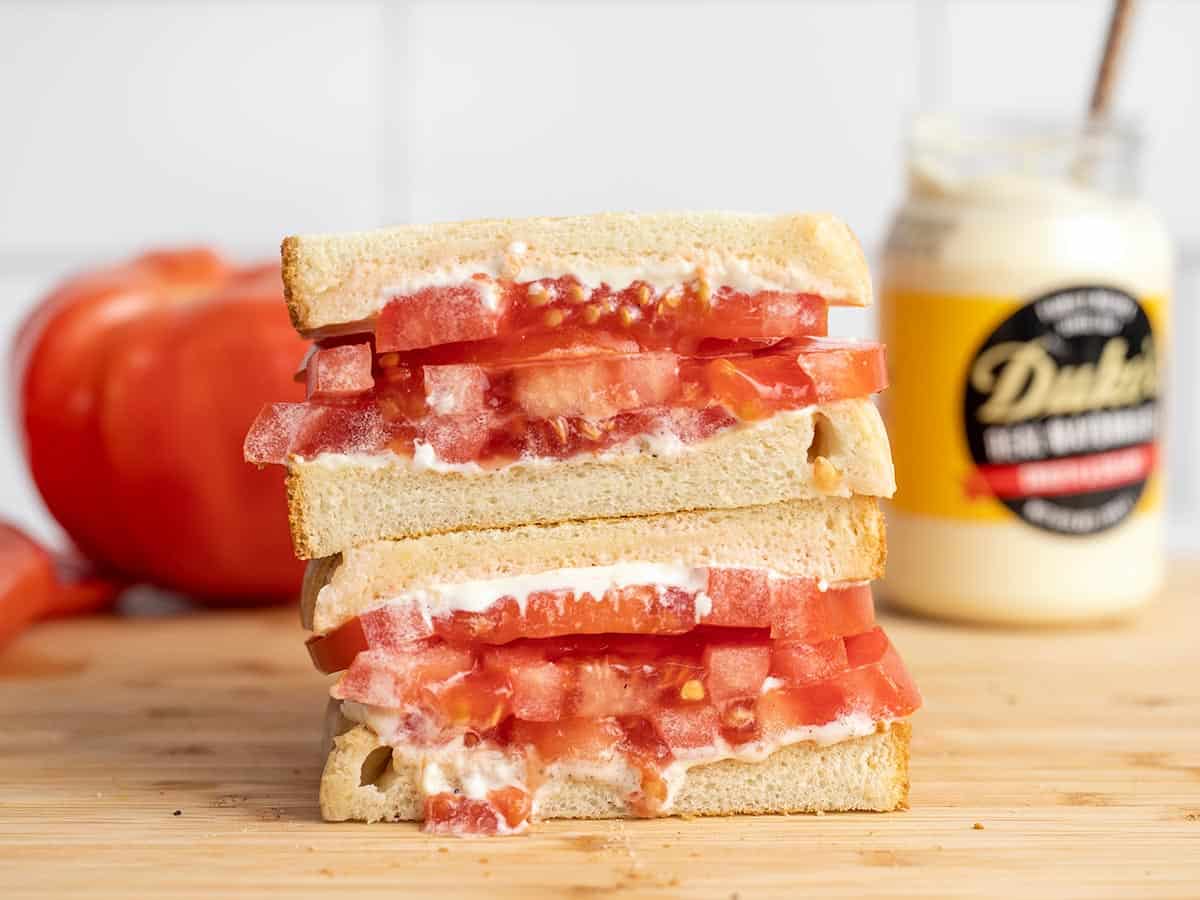 Tomato Sandwiches
Tomato sandwiches are a summertime staple. With juicy ripe tomatoes, creamy mayonnaise, and soft bread, they're a simple summer delight!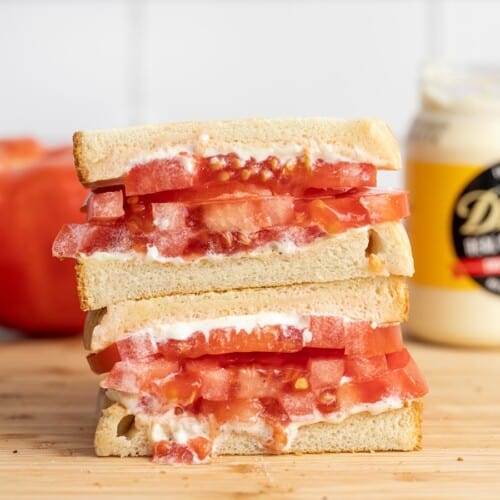 Ingredients
1/2

large

tomato

($0.77)

2

slices

white bread

($0.64)

3

Tbsp

mayonnaise

($0.22)

1

pinch

salt

($0.02)

1

pinch

pepper

($0.02)
Instructions
If you prefer your bread toasted, begin by toasting the bread. Slice the tomatoes into large rounds (horizontally around the equator of the tomato).

Spread a thick layer of mayonnaise over each slice of bread. Top one slice of bread with tomato slices, then sprinkle a generous pinch of salt and pepper over the tomatoes and second slice of bread.

Close the sandwich with the second slice of bread, cut the sandwich in half, and serve immediately.
See how we calculate recipe costs here.
---
Nutrition
Serving:
1
sandwich
Calories:
437
kcal
Carbohydrates:
28
g
Protein:
6
g
Fat:
33
g
Sodium:
549
mg
Fiber:
2
g
Read our full nutrition disclaimer here.
How to Make Tomato Sandwiches – Step by Step Photos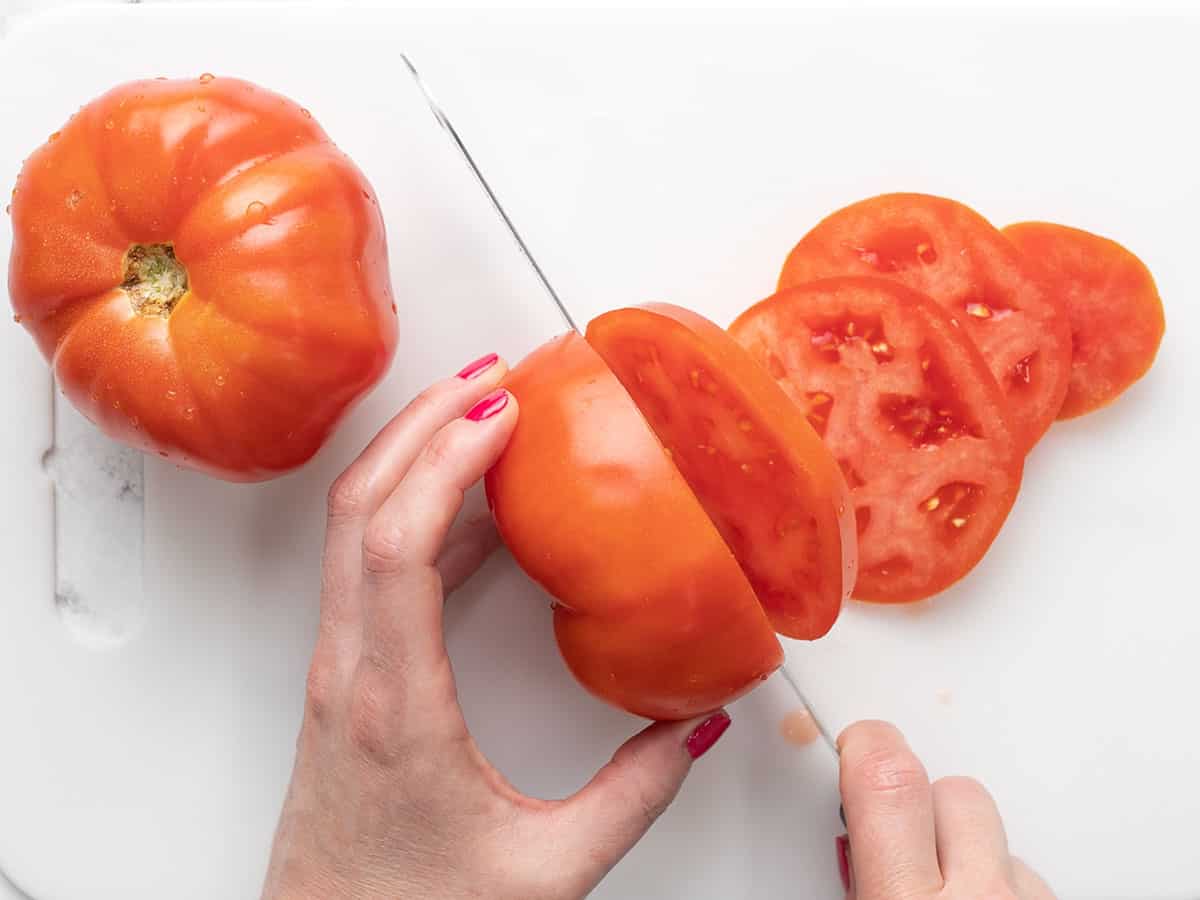 Slice your tomato first. I like to slice horizontally across the tomato to get the biggest slices possible. The thickness of the slices are up to you, but I like to do a medium-width. Not too thin so I don't have to do too many layers, but not so thick that I can't overlap them at all.
If you prefer to have toasted bread, make sure you've got that going while you're slicing the tomatoes. Spread a nice layer of mayonnaise over each piece of bread (about 1.5 Tbsp per slice, depending on the size of your bread).
Layer the tomatoes onto the bread, using as much as you'd like (this part is just personal preference). Top the tomatoes and the other slice of bread with a generous pinch of salt and pepper.
Place the other slice of bread on top and slice the sandwich in half (horizontal or diagonal, you do you). Enjoy the sandwich immediately. …And then make a second one. ;)
Seriously. My mouth is watering just looking at that. 🤤