Every now and then I like to share things with you that aren't exactly "recipes" but are just the random bowl meals that I make out of things found in my fridge. I've discovered so many great flavor combinations by experimenting with these bowl meals and I hope they inspire you as well. This Cottage Cheese Crab Bowl is my most recent favorite. It's light and fresh for this early summer heat, but still filling enough to serve as a whole meal (for me, at least).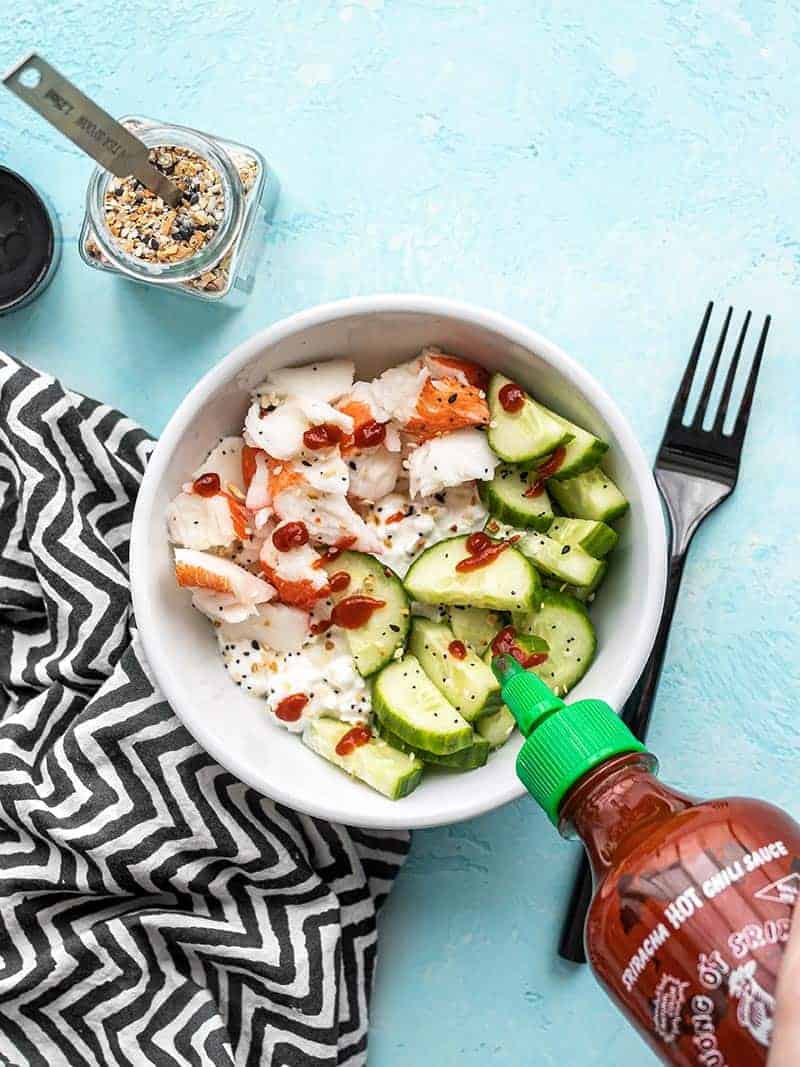 What's In This Bowl
This cottage cheese crab bowl was inspired by the classic sushi roll, the California roll, which contains crab (or often times imitation crab), cucumber, and avocado. I had been seeing imitation crab every time I stopped and Aldi and I eventually started craving it, so I bought a pack, I grabbed a cucumber, and threw them on top of the cottage cheese I had in my fridge. I also went a step further and sprinkled on a little bit of Everything Bagel Seasoning, and a light drizzle of sriracha for fun. It's not fancy, but it's soooo good!
P.S. If you have avocado on hand, it would go marvelously with these flavors, just like it does in the California roll.
What is Everything Bagel Seasoning?
Everything bagel seasoning has been taking the food market by storm lately. It's basically the mix of ingredients that you'd find on top of an "everything" bagel, or sesame seeds, poppy seeds, flakey salt, dehydrated garlic, and dehydrated onion. I'm not sure who marketed this seasoning blend first, but the first time I saw it was at Trader Joes. It's gotten so popular lately that several other grocery stores are now making their own version, including Kroger and Aldi.
What is Imitation Crab?
Imitation crab might throw some people off, and I totally get it. Imitation crab is basically fish that has been processed to taste and look more like crab. It's probably not the most wholesome choice of proteins, but it's so much less expensive than real crab and since I only eat it maybe once a year, I'm not going to sweat it. I'm all about everything in moderation, and I encourage everyone to make the food choices that they are comfortable with. Here is a great article from Healthline breaking down exactly what imitation crab is and how it compares to real crab, so you can decide for yourself: What is Imitation Crab and Should I Eat It?
Can I Substitute…
The whole idea of a "bowl meal" is that you allow yourself to be a little experimental, throw in whatever you have, and just go with it. So, can you substitute the imitation crab? Sure, go with what you have. Maybe a soft boiled egg, some canned tuna, real crab, cooked salmon, or smoked salmon. Can you substitute the Everything Bagel Seasoning? Sure, maybe try some plain sesame seeds, or just some freshly cracked pepper and flakey sea salt. Can you substitute the cottage cheese? Sure, try a bed of rice, or maybe some fresh greens. I can't guarantee you'll like any of these substitutes, but the point is that you try it and see for yourself. :)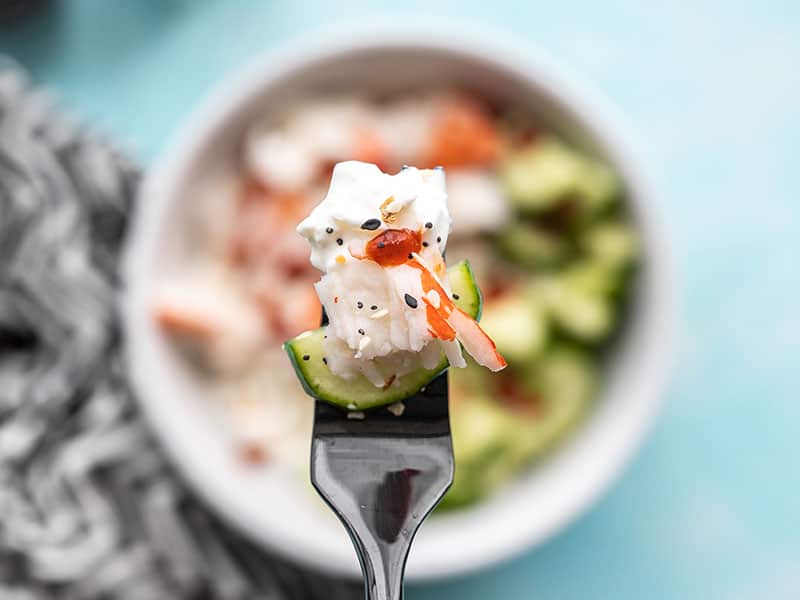 Cottage Cheese Crab Bowl
This Cottage Cheese Crab Bowl is the perfect light, fresh, and filling lunch for summer. It also meal preps well, so pack a few to take to work for lunch!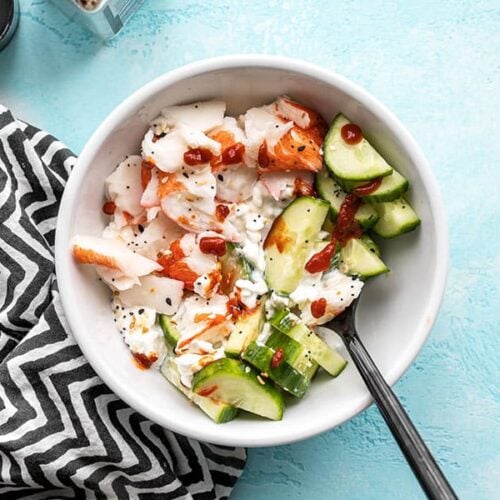 Ingredients
1/2

cup

cottage cheese

($0.27)

1/2

cup

chopped cucumber

($0.32)

1/3

cup

imitation crab

($0.58)

1/4

tsp

everything bagel seasoning

($0.02)

1/4

tsp

sriracha

($0.02)
Instructions
Add the cottage cheese, chopped cucumber, and crab meat to a bowl. Top with everything bagel seasoning and a light drizzle of sriracha.

Serve immediately, or refrigerate until ready to eat, up to four days.
See how we calculate recipe costs here.
---
Nutrition
Serving:
1
bowl
Calories:
149.2
kcal
Carbohydrates:
15.4
g
Protein:
15.7
g
Fat:
2.8
g
Sodium:
710.4
mg
Fiber:
0.8
g
Read our full nutrition disclaimer here.
Want more bowl meals? Check out our bowl meal category!
How to Make Cottage Cheese Crab Bowls – Step by Step Photos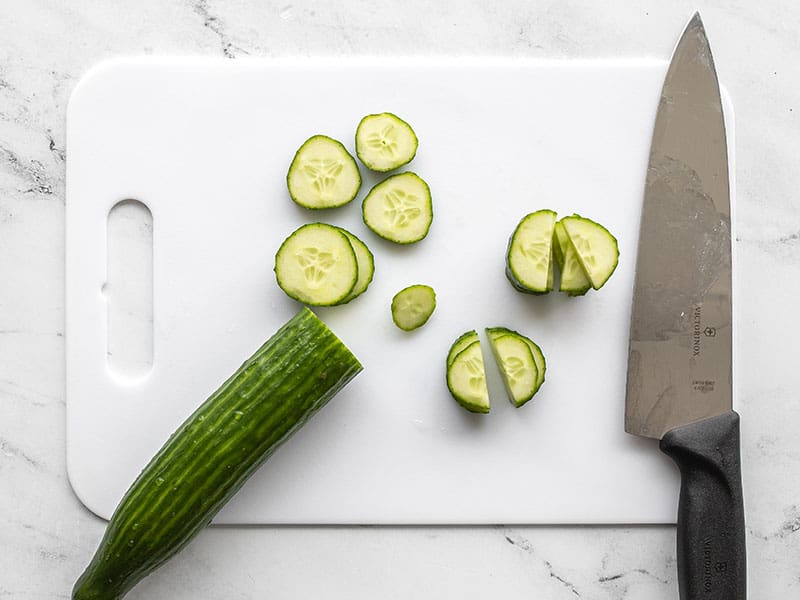 Chop about a ½ cup cucumber. Depending on the girth of your cucumber, you may want to either halve or quarter the slices to make them bite-sized.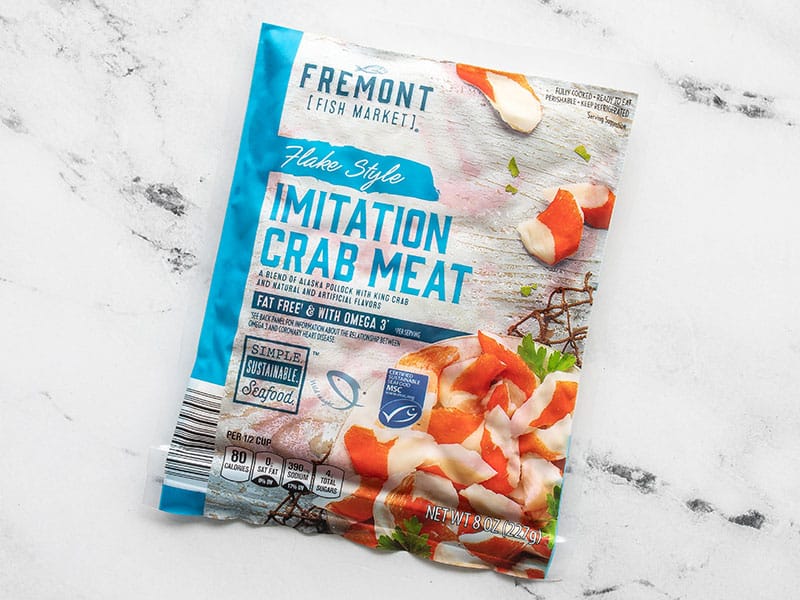 This is the imitation crab meat that I got at Aldi. You can usually find it in the seafood department in grocery stores, but at Aldi it's with the seasonal refrigerated items. So I'm not sure if they'll continue to carry this item forever.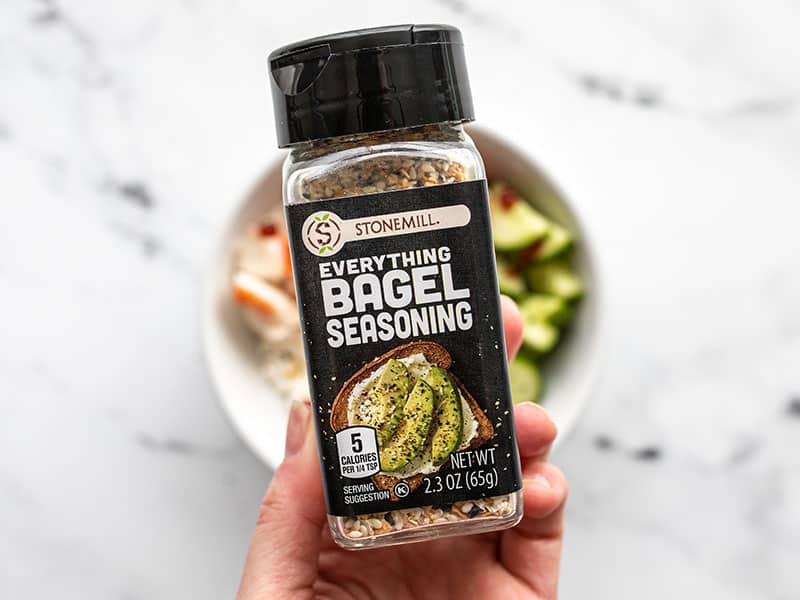 And here is the everything bagel seasoning I used. I've used different brands and each seems to have a different salt content, so you may just want to add your seasoning to the bowl according to your tastes. I find that this one from Aldi has a lot more salt than the one from Kroger (I prefer the less salt version).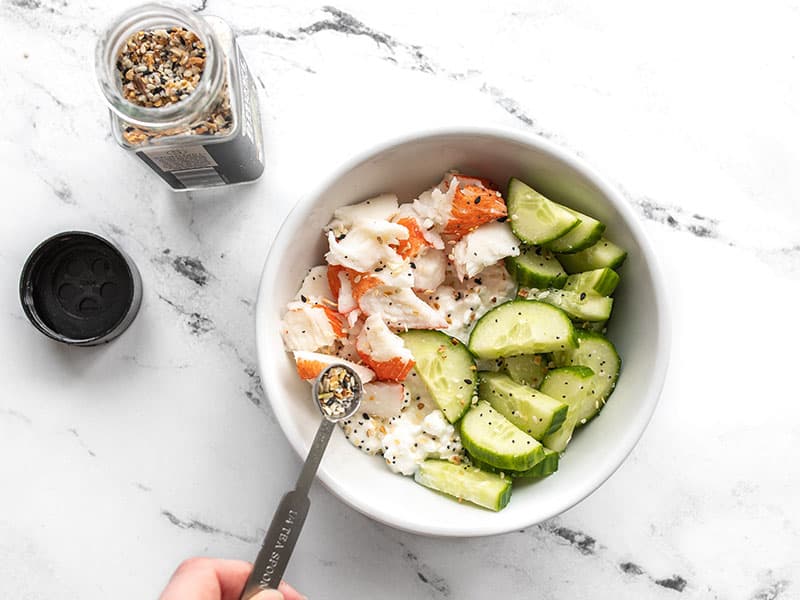 To make the cottage cheese crab bowl, start with ½ cup cottage cheese, add ½ cup chopped cucumber, about ⅓ cup of the imitation crab, and then sprinkle on some of the everything bagel seasoning (I used ¼ tsp, but would have used more if it had less salt).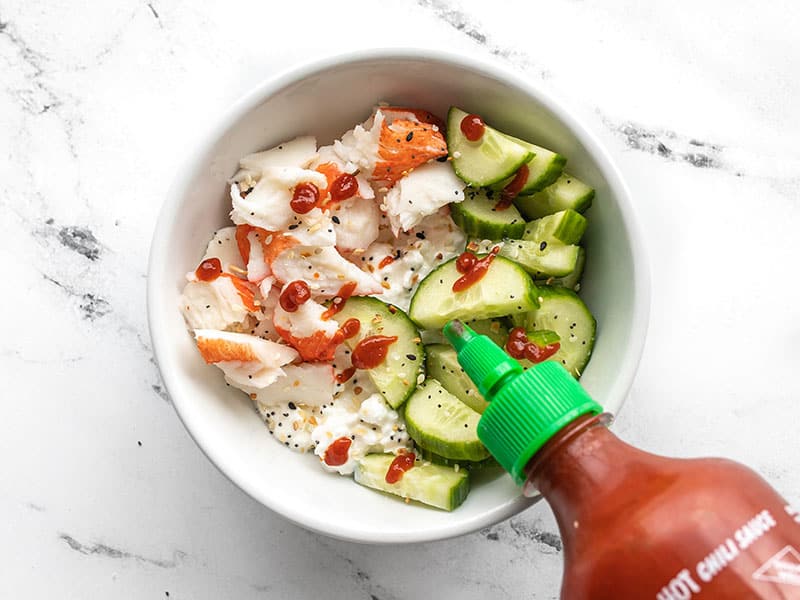 Finally, drizzle a little sriracha on top.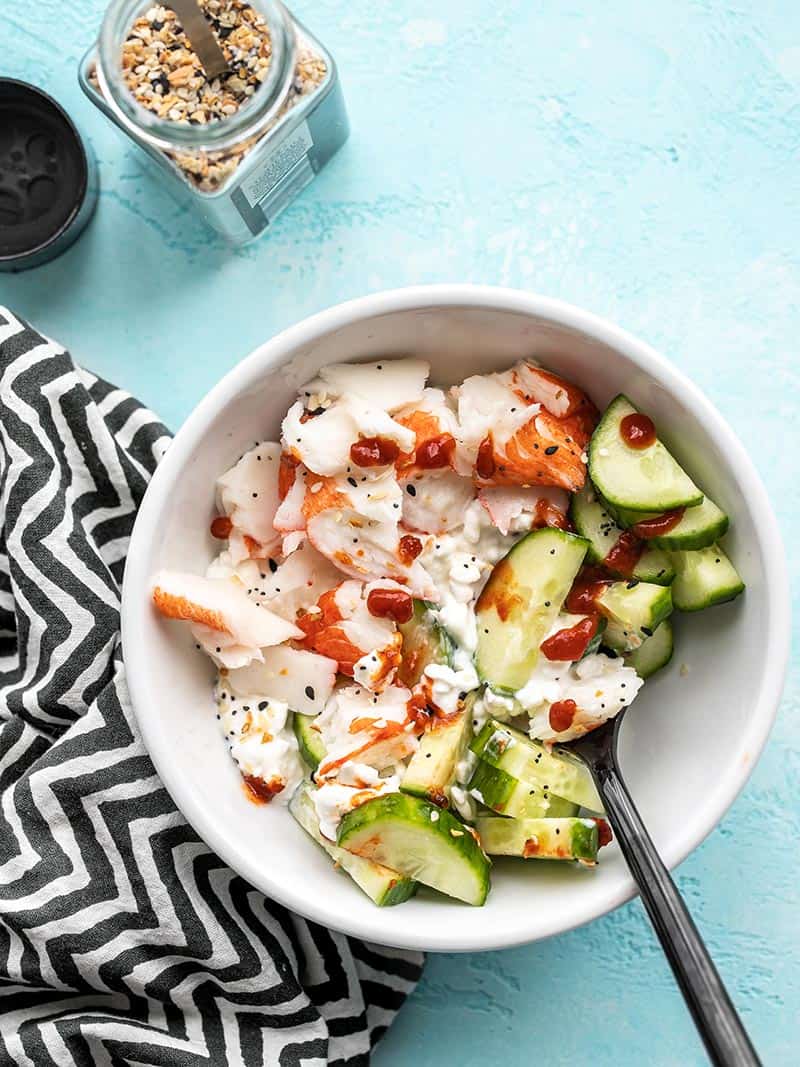 Then enjoy! This bowl meal preps really well, so feel free to make a few for easy grab and go lunches later in the week!