Hearty Black Bean Quesadillas
Words. Cannot. Describe. …how insanely good these Black Bean Quesadillas are!! This is my new favorite recipe, hands down. Hands down.
Last week I stopped by Whole Foods to stock up on grains and stuff from the bulk aisle, and I also grabbed a couple frozen quesadillas for a quick splurge dinner. While they were totally delicious, I knew that I could make them better myself and for far less money. And I did.
Hearty Black Bean Quesadillas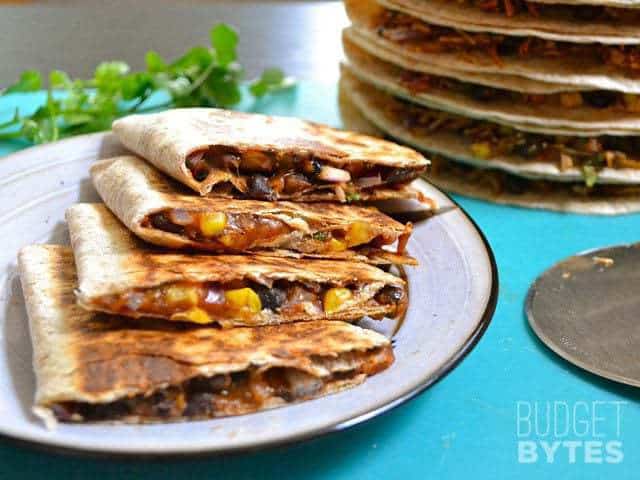 Why I'm In Love with These Quesadillas ❤️
I love these quesadillas for three reasons:
they're bursting with flavor
incredibly EASY to make
perfect for the freezer!
Students and other busy people take note: this recipe is perfect for you!
I called them "hearty" black bean quesadillas because they are surprisingly filling. I hastily ate two and then promptly felt like my belly was going to explode. This is one of those vegetarian recipes that meat eaters won't feel deprived eating. Promise.
How to Freeze Hearty Black Bean Quesadillas:
Just fill and fold your quesadillas, but before you cook them, stack them with parchment paper in between each quesadilla. Place the stacked quesadillas in a gallon-sized freezer bag (or two) and pop them into the freezer. When you want to eat one, take a quesadilla out of the freezer and reheat it slowly over medium-low heat until the outside is crispy and the inside has melted.
Using a lower heat gives the black bean quesadilla time to thaw and heat on the inside before the outside overcooks or burns.
Hearty Black Bean Quesadillas
Black beans, corn, cilantro, cheese, and plenty of spices make these vegetarian black bean quesadillas big on flavor and surprisingly filling.
Servings: 10 quesadillas
Ingredients
1 15oz.can black beans ($0.56)
1 cup frozen corn kernels ($0.48)
1/2 red onion ($0.44)
1 clove garlic ($0.08)
1/4 bunch fresh cilantro ($0.21)
2 cups shredded cheese ($2.50)
1 batch taco seasoning ($0.34)
10 taco sized tortillas ($2.00)
Instructions
Drain the can of beans and rinse lightly. Place the beans in a large bowl along with the corn (no need to thaw).

Rinse the cilantro, remove the leaves, and chop roughly. Dice the onion and mince the garlic. Add the cilantro, onion, garlic, and shredded cheese to the bowl with the beans and corn. Lastly, mix up a batch of taco seasoning and add to the bowl. Stir everything until evenly mixed.

Place a half cup of the filling on one side of each tortilla and fold over. Cook in a skillet on both sides over medium heat until brown and crispy and the cheesy filling has melted.

To freeze the quesadillas, simply fill each one and place on a baking sheet lined with parchment paper. Place in the freezer for one hour to solidify the quesadillas and then transfer to a freezer bag. To reheat either microwave (for a soft quesadilla) or cook in a skillet on low heat (make sure to use low heat so that the filling has time to thaw and melt before the outside burns).
Notes
**I used black beans that I cooked from dry in my slow cooker using this method. It's easy, requires almost no effort, and is about 1/3 the cost of a can of beans.
See how we calculate recipe costs here.
---
Nutrition
Serving: 1Serving ・ Calories: 267.92kcal ・ Carbohydrates: 38.61g ・ Protein: 12.23g ・ Fat: 7.44g ・ Sodium: 788.53mg ・ Fiber: 6.7g
Nutritional values are estimates only. See our full nutrition disclosure here.
---
The equipment section above contains affiliate links to products we use and love. As an Amazon Associate I earn from qualifying purchases.
Scroll down for the step by step photos
How to Make Black Bean Quesadillas – Step By Step Photos

This was my inspiration. They really were delicious, but at $3.99 for a box of two, I knew I could do better!

Start with the beans and corn. No need to even thaw the corn. Drain the can of beans (or homemade) and rinse just slightly. It's good to have some of the starchy bean goo in there because it will help the filling stick together.

Next chop the veggies. I used half a red onion, one clove of garlic, and about a quarter bunch of cilantro. These quantities do not need to be set in stone, adjust as needed for what you have on hand or what you taste preference dictates. Make sure to rinse the cilantro, it tends to be sandy.

Add the chopped veggies to the bowl.

Add the shredded cheese to the bowl as well. The cheese kind of acts like a glue for the filling once it's melted.

Add the taco seasoning. I suggest using corn starch (1/2 tsp) in the taco seasoning blend because you will have a lot of rogue juice coming out of the corn and onion as the quesadillas heat. The corn starch will help keep everything in place and prevent sogginess.

Stir until everything is evenly coated. The starchy black bean "goo" helps coat everything nicely.

Now it's time to stuff the quesadillas. Place a half cup of filling in each tortilla and fold it over. You can either cook them or freeze them at this point.

To cook them, place the quesadilla in a skillet over medium heat and cook on both sides until golden brown, crispy, and the filling has melted. If you're not using a non-stick skillet, you may need some oil to keep it from sticking.

To freeze, place them on a baking sheet covered in parchment and then freeze for one hour or until solid. Then, transfer to an air-tight freezer bag. Don't forget to transfer them into the bag or else they'll dry out! If you don't think you'll eat them up in a month or two, I'd suggest wrapping each one in an extra layer of plastic wrap to prevent freezer burn and drying out. Personally, I know mine won't last that long ;)

I usually use a pizza cutter to slice my quesadillas into wedges. Nom nom nom!