These super tasty Black Bean Quesadillas have been a runaway Budget Bytes hit since they were first posted in 2012. The spicy mix of cheese, beans, corn, cilantro, and onion makes and incredibly flavorful quesadilla that's perfect for dipping in some cool sour cream or salsa. Make up an entire batch and freeze some for later!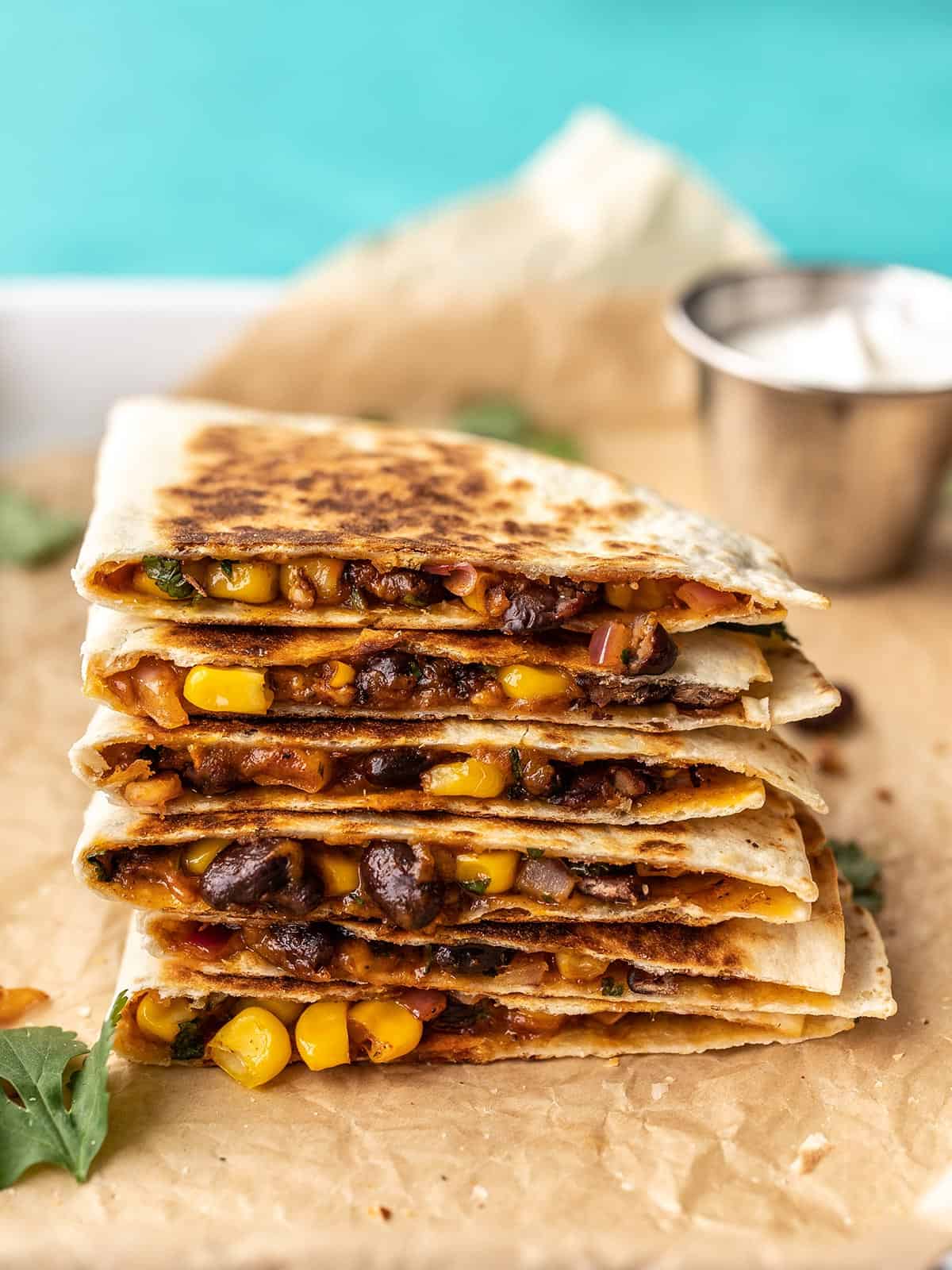 Why I'm In Love with These Quesadillas ❤️
I love these quesadillas for three reasons:
they're bursting with flavor
incredibly EASY to make
perfect for the freezer!
Students and other busy people take note: this recipe is perfect for you!
I called them "hearty" black bean quesadillas because they are surprisingly filling. I hastily ate two and then promptly felt like my belly was not just full, but full-full. This is one of those vegetarian recipes that meat-eaters won't feel deprived when eating. Promise.
How to Freeze Hearty Black Bean Quesadillas
These quesadillas are perfect for freezing and will last two to three months in the freezer. Just fill and fold your quesadillas, but before you cook them, stack them with parchment paper in between each quesadilla. Place the stacked quesadillas in a gallon-sized freezer bag (or two) and pop them into the freezer. When you want to eat one, take a quesadilla out of the freezer and reheat it slowly over medium-low heat until the outside is crispy and the inside has melted. Using a lower heat gives the black bean quesadilla time to thaw and heat on the inside before the outside overcooks or burns.
Or, for a faster method, microwave from frozen for 30-60 seconds, or until the inside is thawed, then finish in a skillet to crisp up the outside and melt the cheese on the inside.
What Kind of Taco Seasoning to Use
To make these black bean quesadillas super fast and easy, you can use a packet of store-bought taco seasoning. Or, if you have a well-stocked spice cabinet, you can use my homemade taco seasoning recipe
What to Serve with Quesadillas
I love to have something like Cumin Lime Coleslaw on the side for an extra dose of vegetable freshness. Warm Corn and Avocado Salad or Charred Corn and Zucchini Salad are also great choices. And don't forget a little salsa or sour cream for dipping. :)
Make it Meaty
These black bean quesadillas are incredible on their own, but if you DO decide you want to add some meat, try adding some Slow Cooker Pulled Pork or something as simple as chicken breast cooked in a skillet, then diced. Both would be delish!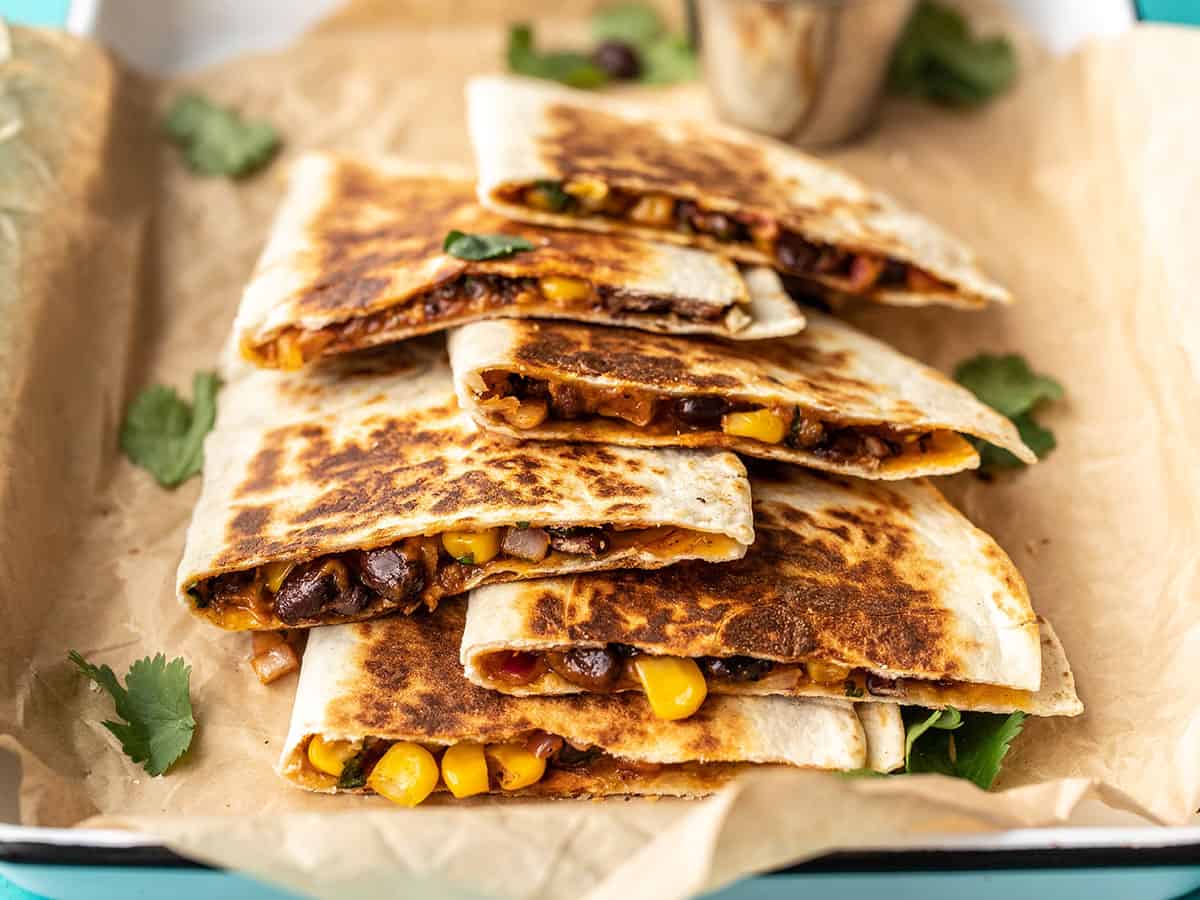 Hearty Black Bean Quesadillas
These Hearty Black Bean Quesadillas are an easy vegetarian snack or light meal that are filling, flavorful, and freezer-friendly!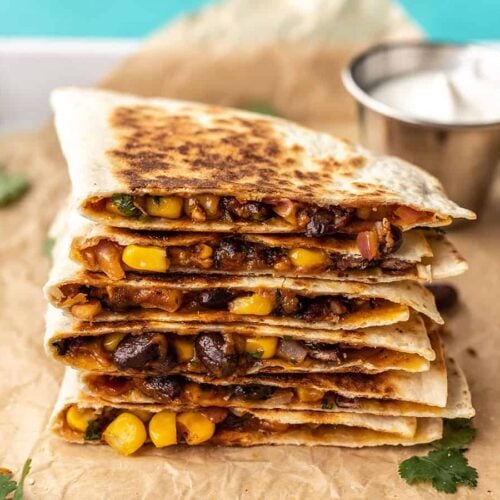 Ingredients
1

15oz.can

black beans

($0.49)

1

cup

frozen corn

($0.20)

1/2

cup

red onion

($0.22)

1

clove

garlic

($0.08)

1/4

bunch

fresh cilantro (about ½ cup chopped)

($0.20)

2

cups

shredded cheddar cheese

($1.69)

1

batch

taco seasoning*

($0.67)

10

flour tortillas (7-inch diameter)

($2.00)
Instructions
Drain the black beans and add them to a bowl along with the frozen corn (no need to thaw)

Finely dice the onion, mince the garlic, and roughly chop the cilantro.

Add the onion, garlic, cilantro, shredded cheddar, and taco seasoning to the bowl with the beans and corn. Stir until everything is evenly combined and coated in seasoning.

Place a half cup of the filling on one side of each tortilla and fold over. Cook the quesadillas in a skillet over medium heat on each side until brown and crispy and the cheesy filling has melted. Slice into triangles then serve.

To freeze the quesadillas, stack the filled and uncooked quesadillas with a piece of parchment paper between each quesadilla. Place in a freezer bag and freeze for up to three months. To reheat either microwave (for a soft quesadilla) or cook in a skillet on low heat (make sure to use low heat so that the filling has time to thaw and melt before the outside burns).
See how we calculate recipe costs here.
---
Notes
* I used my homemade taco seasoning here, but you can use a store-bought packet of taco seasoning if needed.
Nutrition
Serving:
1
quesadilla
Calories:
289.24
kcal
Carbohydrates:
34.29
g
Protein:
12.19
g
Fat:
11.58
g
Sodium:
833.43
mg
Fiber:
5.29
g
Read our full nutrition disclaimer here.
Scroll down for the step by step photos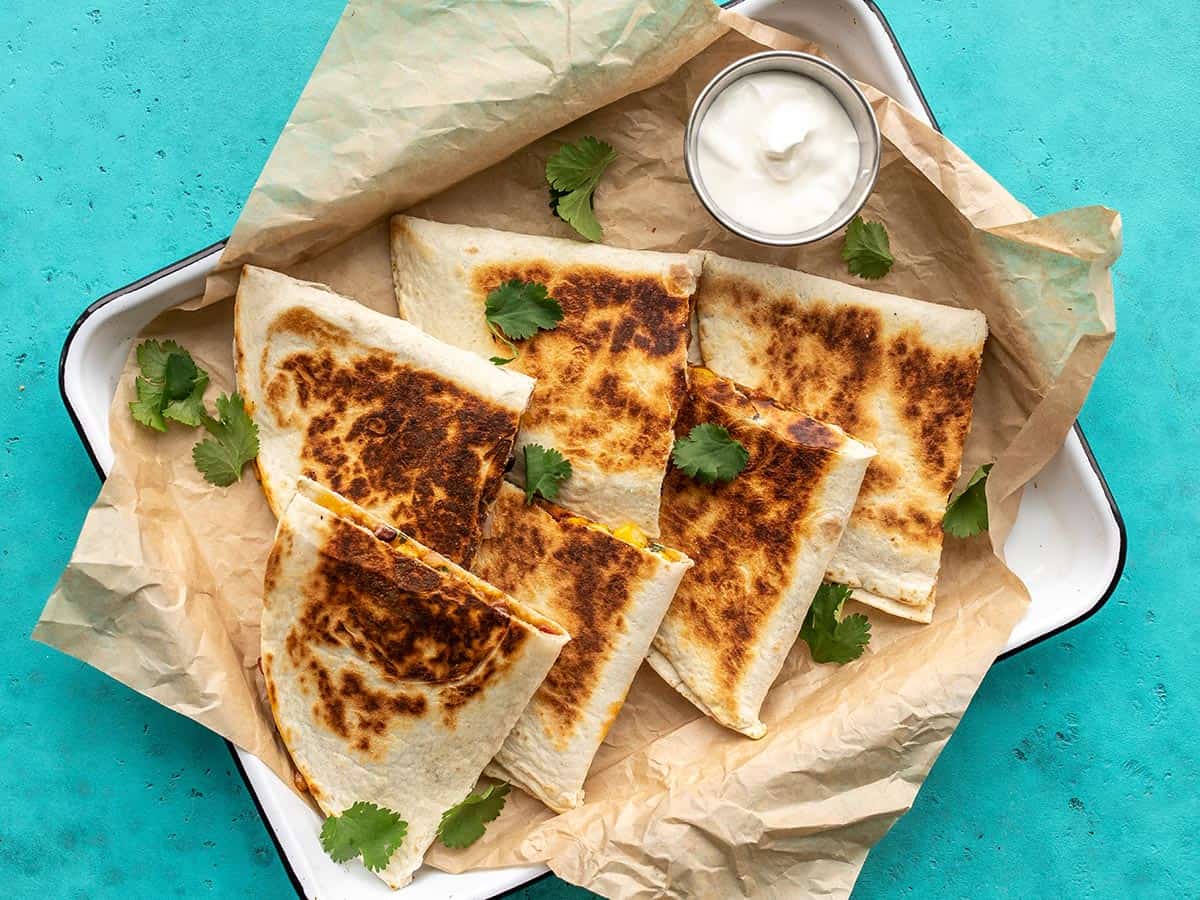 How to Make Black Bean Quesadillas – Step By Step Photos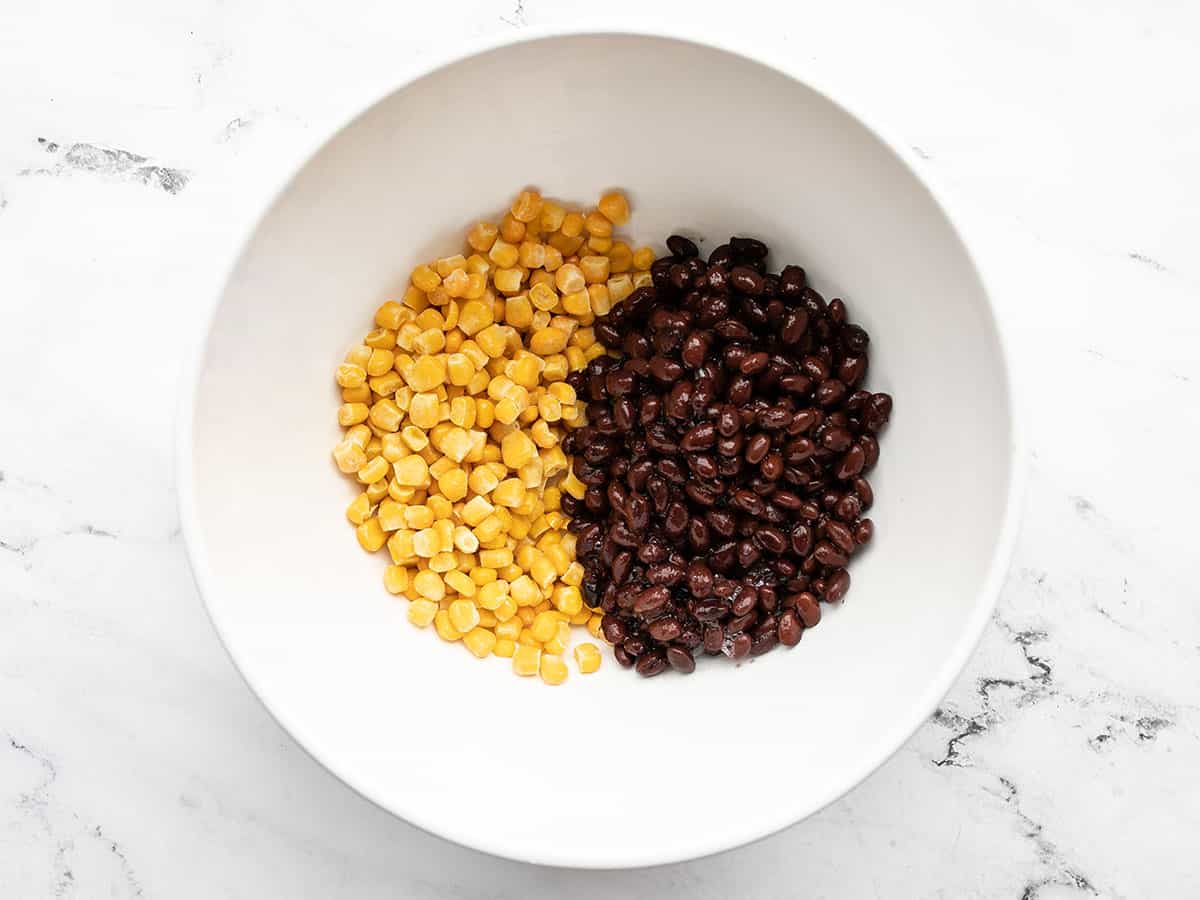 Add 1 cup frozen corn (no need to thaw) and one 15oz. can of black beans (drained) to a large bowl.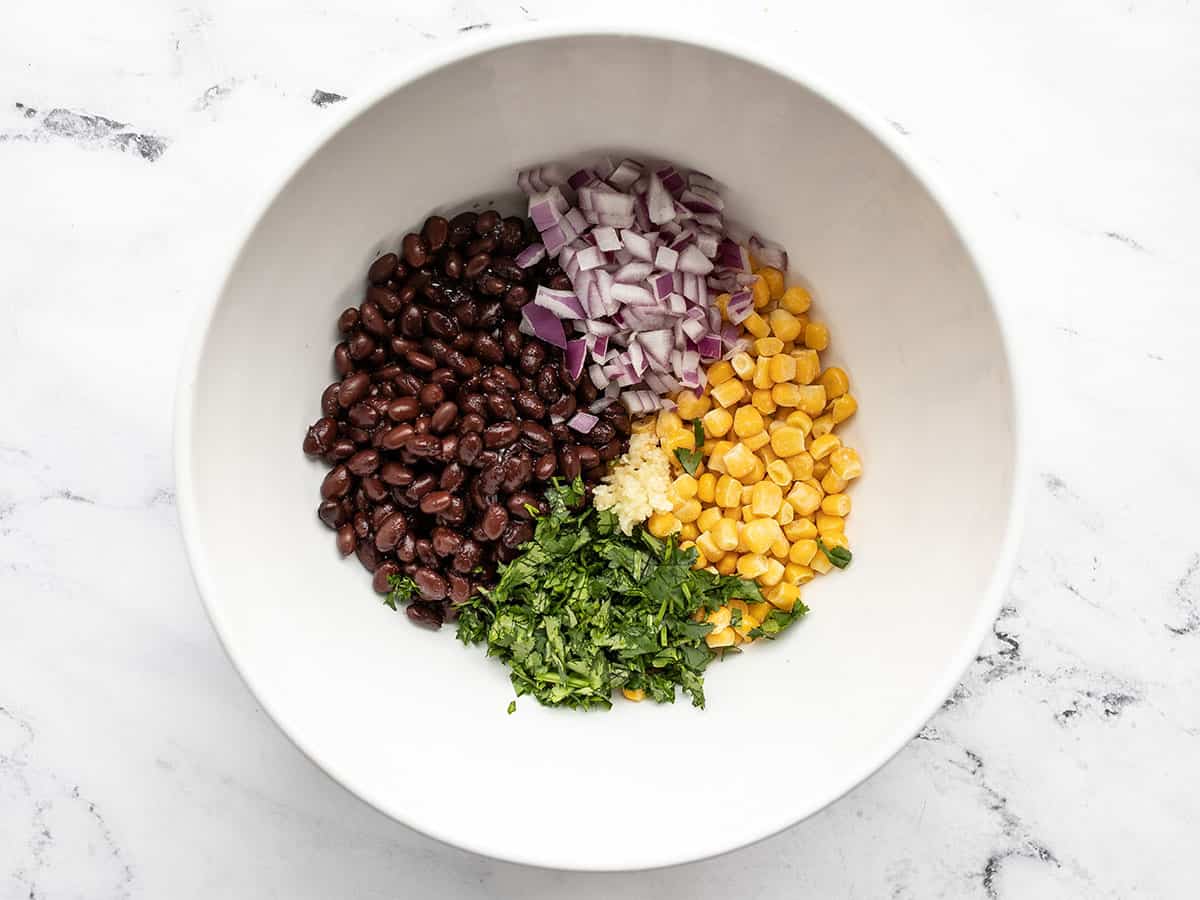 Next, finely dice about ½ cup red onion, mince one clove of garlic, and roughly chop about ¼ bunch fresh cilantro. These ingredients are super flexible, so you don't need to be exact on the measurements.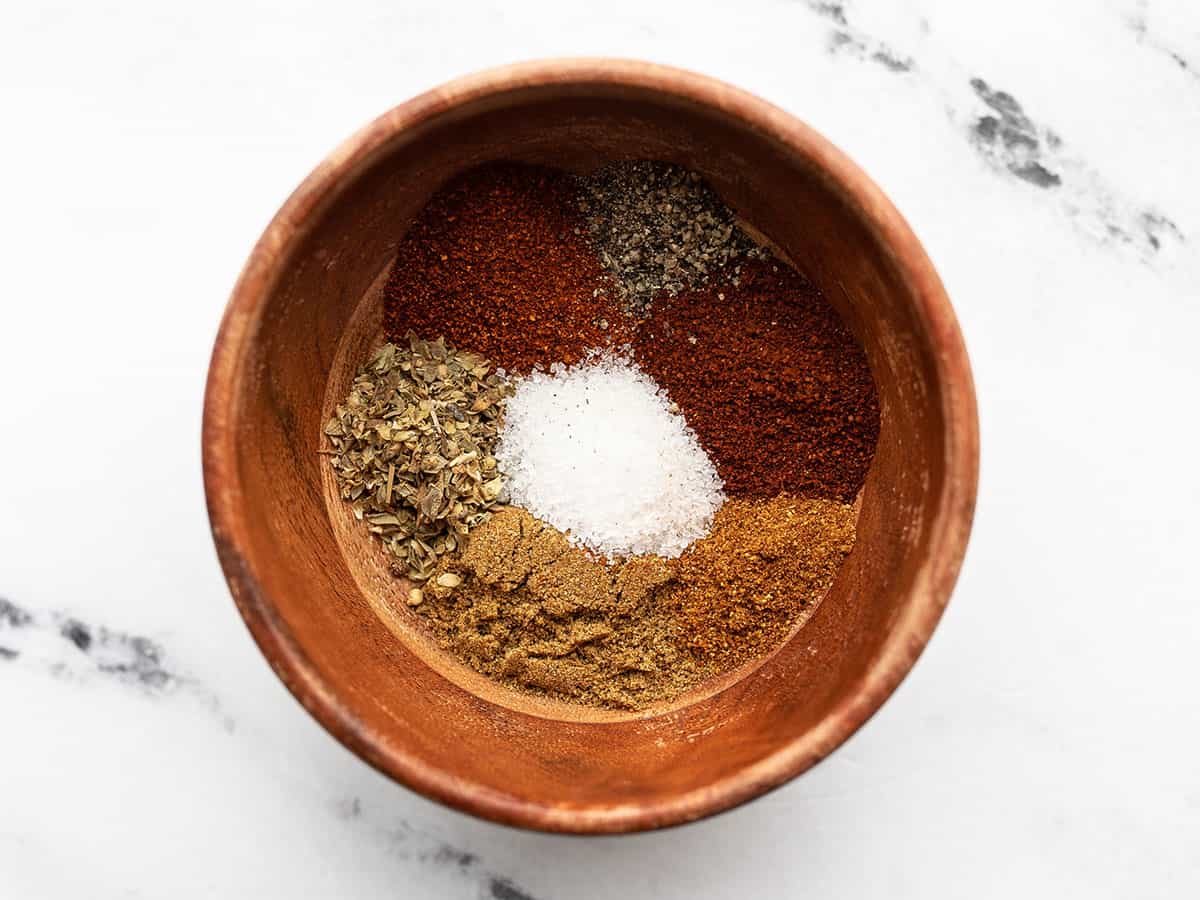 You can use either one packet of store-bought taco seasoning, or make your own using my Homemade Taco Seasoning recipe.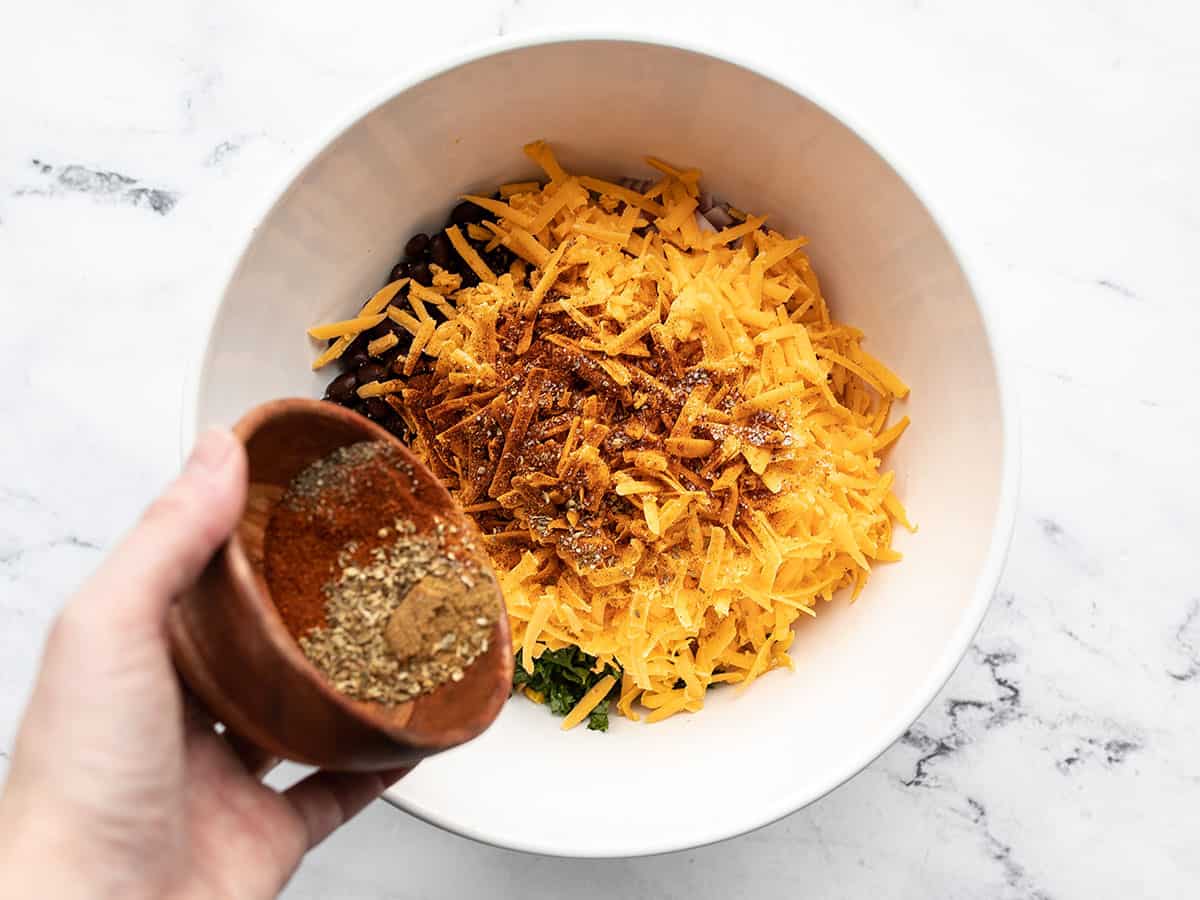 Add the taco seasoning and 2 cups shredded cheddar cheese to the bowl. The cheese is the "glue" that holds the quesadillas together.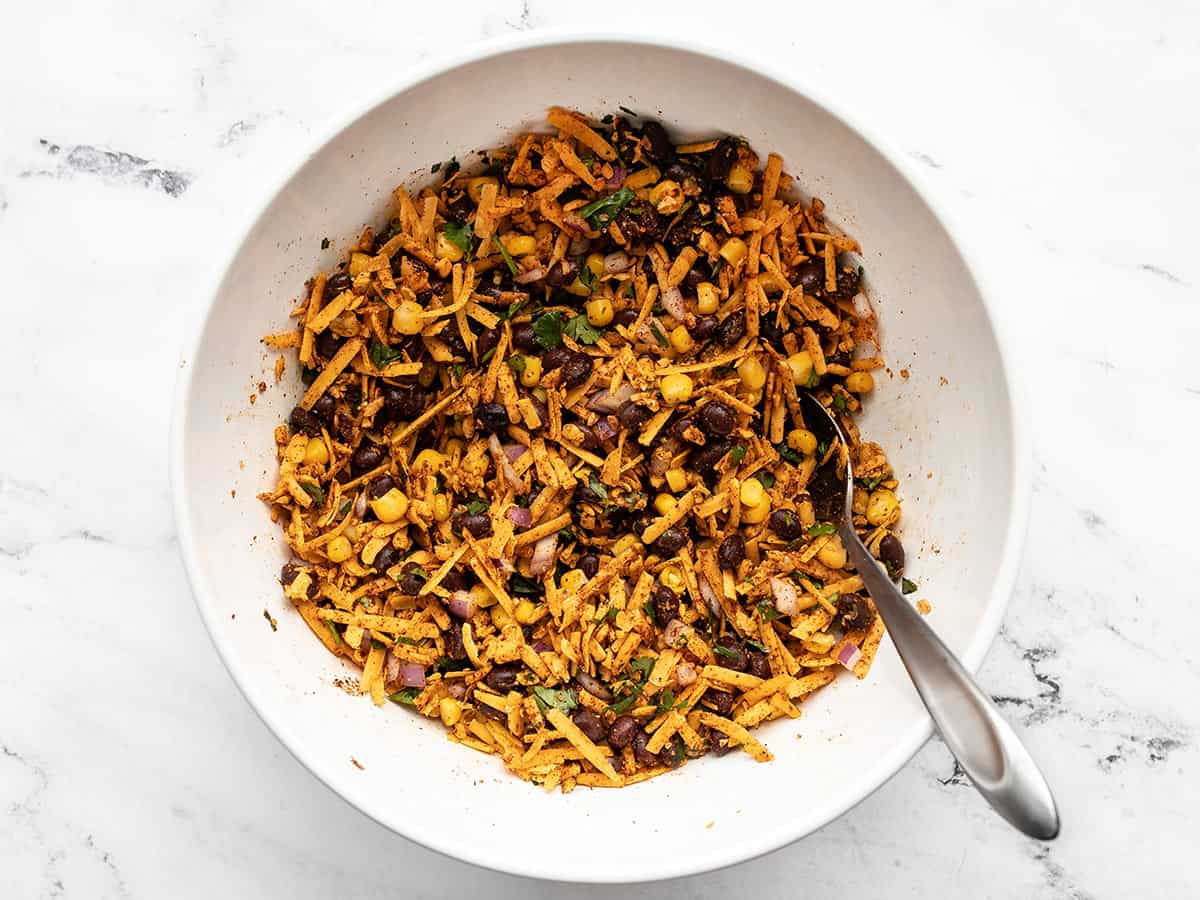 Stir the ingredients until everything is mixed.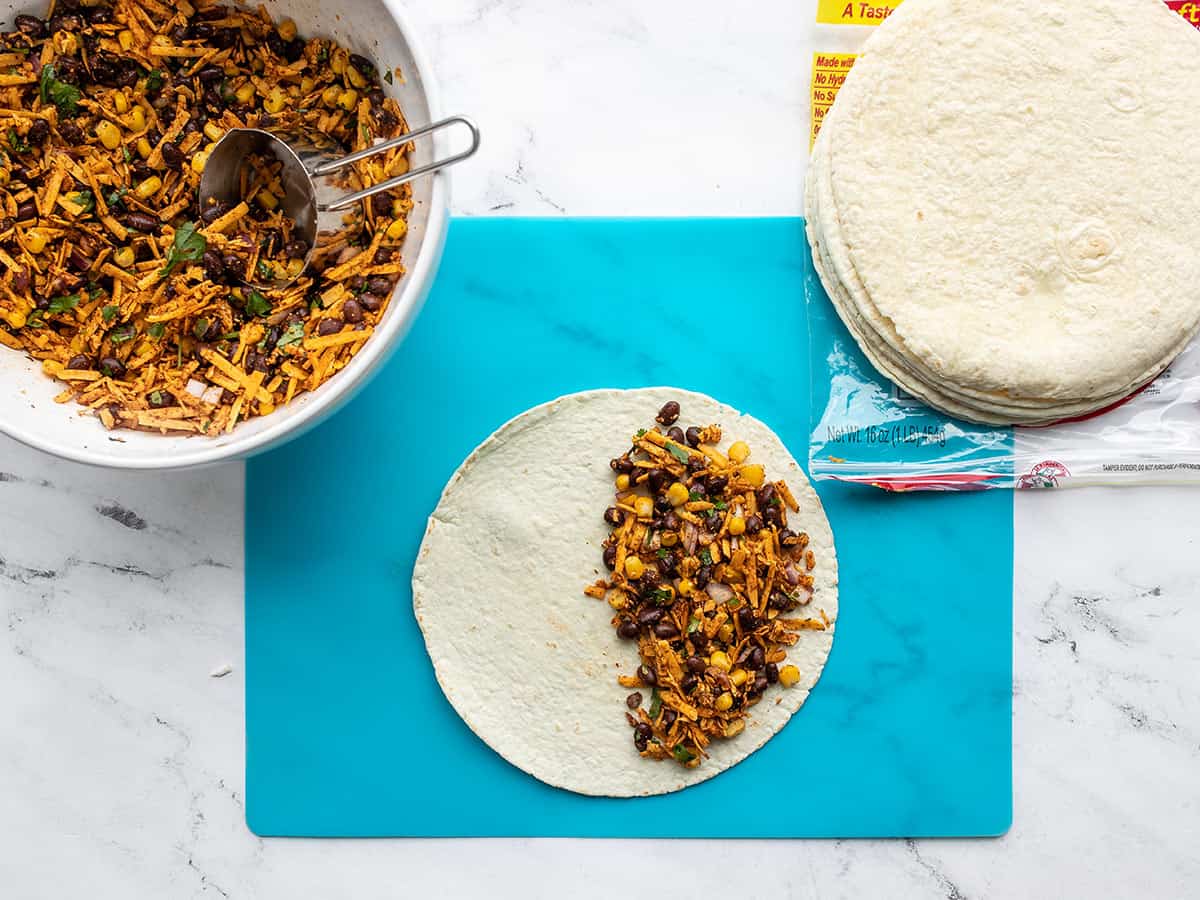 Now it's time to stuff the quesadillas. You'll need about 10 7-inch diameter flour tortillas for these quesadillas (the tortillas I had today were slightly larger so my quesadillas ended up being a bit thinner). Place a half cup of filling in each tortilla and fold it over. You can either cook them or freeze them at this point (see instructions for freezing in the post above the recipe).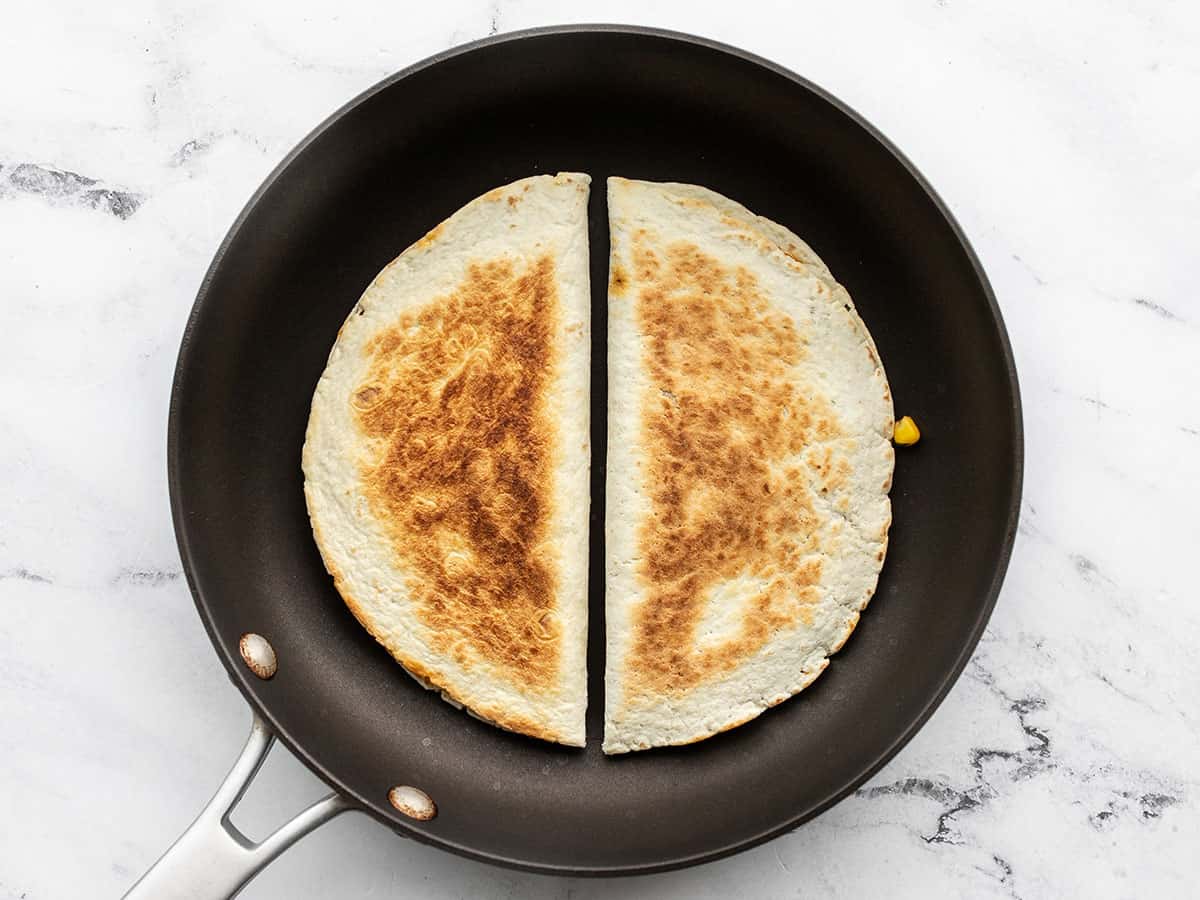 To cook the black bean quesadillas, place the quesadilla in a skillet over medium heat and cook on both sides until golden brown, crispy, and the filling has melted. I don't use any sort of oil or butter, but you certainly can if you want more of a fried finish to the quesadillas.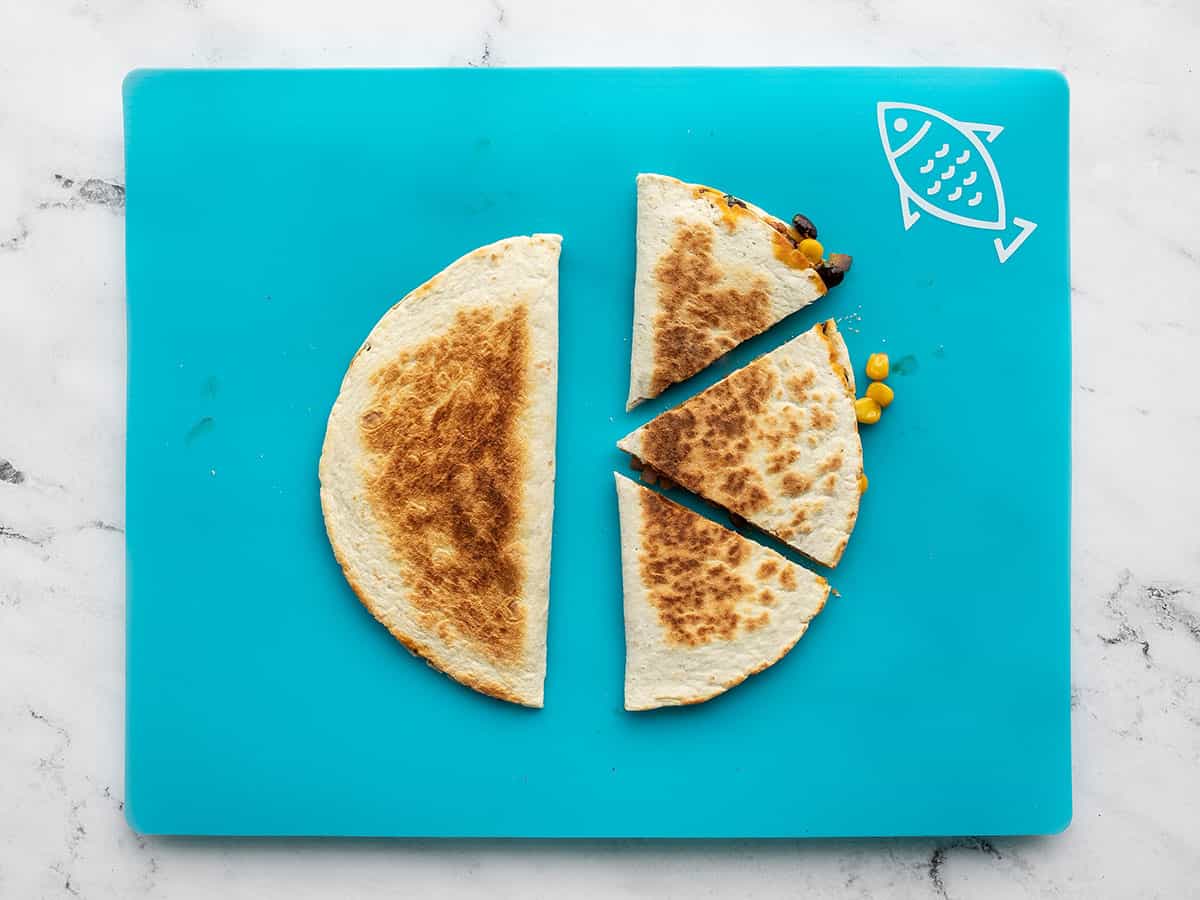 Slice then serve! You can slice each quesadilla into two or three pieces. I find that if I cut starting on the outside edge going in toward the center fold, I get less of the filling oozing out. A pizza cutter also works great!