One of my favorite things that we ate for dinner when I was growing up was rice, black beans, salsa, and cheese, or what I call "Poor Man's Burrito Bowls." Looking back I don't know if that was "dinner" because we had so little money or if my mom was just super tired and didn't feel like making anything complicated, but either way I loved that meal. Something about that simple combo is just so naturally delicious and filling.
In the age of Chipotle, we tend to think of burrito bowls as layers upon layers of tasty toppings, creamy dressings, and crunchy tortilla strips, but I promise, it doesn't have to be that complicated to be good. I'm on a strict grocery budget this month, so I kept mine simple (and cheap) with just plain rice, black beans, salsa, cheddar cheese, and a few green onions. And let me tell you, this meal makes me so happy that my feet wiggle. You know what I'm talking about.
Now, if you wanted to make it a little more fancy, there are some other budget-conscious toppings that you could try, like frozen corn kernels, cilantro, or sour cream. If you want something Chipotle level fancy, try switching the plain rice for Cilantro Lime Rice, add a chopped avocado, and maybe some sliced jalapeños or crushed tortilla chips.
See? You can go as simple or as fancy as you want, but the "Poor Man's" version, with just five ingredients is all the deliciousness I need. And guess what? These freeze great, so you can fix up a bunch and stash them in the freezer for busy weeknights.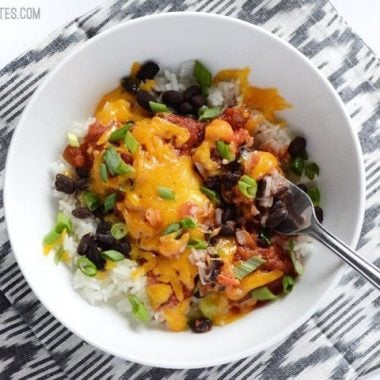 Print Recipe
Poor Man's Burrito Bowls
These filling and flavorful burrito bowls are insanely easy and cheap. Just a few simple ingredients come together to make a satisfying and quick meal.
Prep Time: 5 mins
Cook Time: 20 mins
Total Time: 25 mins
Servings: 6
Ingredients
6 cups cooked rice ($1.04)
2 cups black beans* ($0.60)
1/2 tsp cumin ($0.05)
1/4 tsp garlic powder ($0.02)
Salt to taste ($0.02)
2 cups salsa ($1.59)
6 oz shredded cheese (cheddar or pepper jack) ($1.88)
1 bunch green onions ($0.75)
Instructions
Cook the rice according to the package directions. While the rice is cooking, heat the black beans (undrained) in a small sauce pot, along with the cumin, garlic powder, and salt to taste (if needed). Slice the green onions and shred the cheese (if not pre-shredded).

Once the rice is cooked, build the bowls. Begin with one cup cooked rice, 1/3 cup warm black beans, 1/3 cup salsa, and 1 oz. shredded cheese (about 1/4 cup). Top with a few sliced green onions and serve.
Notes
*I used black beans that I had cooked from dry. If using canned beans, you can sometimes get them pre-seasoned, so no need for the cumin, garlic powder, and salt.
Poor Man's Burrito Bowls
Step by Step Photos
To keep costs low, I kept the toppings for my burrito bowls SUPER simple. Just some shredded cheese and sliced green onions. I used cheddar, but pepper jack would also be awesome. I portioned 1 ounce, or about 1/4 shredded cheese for each of the six bowls. I didn't really measure the green onions, instead I just sliced up a whole bunch and divided them between the bowls.
You'll also need six cups of cooked rice and two cups of black beans (not drained). I used black beans that I had cooked from dry and stored in my freezer, but you can also use canned. My beans were not seasoned when I cooked them, so I added 1/2 tsp cumin, 1/4 tsp garlic powder, and some salt. A lot of times you can find pre-seasoned canned black beans. OH, also, you'll want 2 cups of salsa. I forgot to put that in the picture. I just picked up a jar of generic salsa. Nothing special required.
Once the rice is cooked and the beans are hot, it's time to build the bowls! Super easy, huh? Start each bowl with a cup of rice, 1/3 cup black beans, and 1/3 cup salsa, then add about 1/4 cup shredded cheese, and a few sliced green onions. Hi dinner, where'd you come from?!
Seriously, though. Why do you need more than this? Nothing… Although I did have some Chili Rubbed Pulled Pork in my fridge this week and I may have added some to one of my burrito bowls. I wasn't disappointed. Don't have any Chili Rubbed Pulled Pork? A fried egg also makes a great protein topping. Also, these bowls are huge (despite how they look in these large bowls) and they fill me up almost to the point of stomach hurt. Not a bad thing when you're on a super strict budget!