I was lucky enough to get a bunch of fresh broccoli last week, so I wanted to share this super simple salad that I made with it, along with some ideas for variations to use some other things that you might have on hand. There are several ways you can eat this Broccoli Cheddar Chicken Salad, so make sure to scroll down to the "How to Serve" section to see how I ate mine! I seriously gobbled this stuff up in record time, and was immediately wanting more, so I know this is going to be a new regular for me!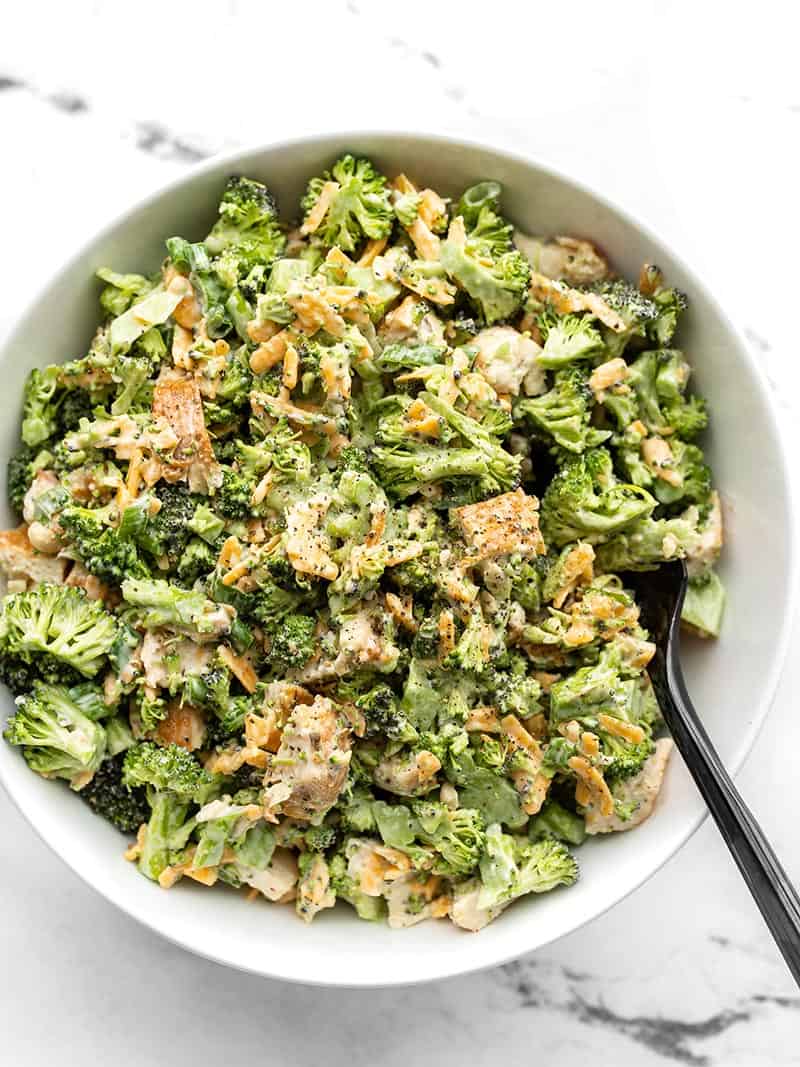 What Kind of "Cooked Chicken" Should I use?
This recipe is pretty flexible and can use just about any type of precooked chicken like rotisserie chicken, grilled chicken, or canned chicken breast. If you have raw chicken breast on hand, simply season your chicken with a pinch of salt and cook in a skillet with a touch of oil until the chicken is browned on the outside and cooked through (internal temperature of 165ºF). Let the chicken cool before chopping and adding to the salad.
Can I Use Frozen Broccoli?
This recipe works best with fresh broccoli. Frozen broccoli florets will probably be too wet and soft to achieve the proper texture in this salad.
What Else Can I Add to This Salad?
I kept this salad pretty simple because I'm working with what I have during this lock down, but if you have some of these other ingredients on hand they would be awesome in this Broccoli Cheddar Chicken Salad:
Cooked bacon or bacon bits
Sunflower seeds
Finely diced red onion in place of the green onion
Shredded Parmesan in place of the cheddar for more of a Caesar salad vibe
Diced hard boiled egg
Small shaped cooked pasta like mini shells or orecchiette
When adding additional ingredients, you may need to increase the amount of dressing used to make sure everything is covered.
How to Serve Broccoli Cheddar Chicken Salad
Okay, here's where it gets fun. I could barely stop forking it into my mouth right out of the bowl, but I also ate it a couple other ways. It's really good rolled into a tortilla (or pita) as a wrap sandwich, especially with the tomato flavored wraps that I happened to get from Aldi. That tangy flavor was the perfect juxtaposition for the salad. The next day I also made it into a quesadilla by stuffing it inside a regular tortilla and toasting it in a skillet until the inside got warm and the cheese melted. That was so insanely good that I immediately made a second one after I finished the first! And of course you could mix this with some cooked and cooled pasta for a really good pasta salad, as mentioned above.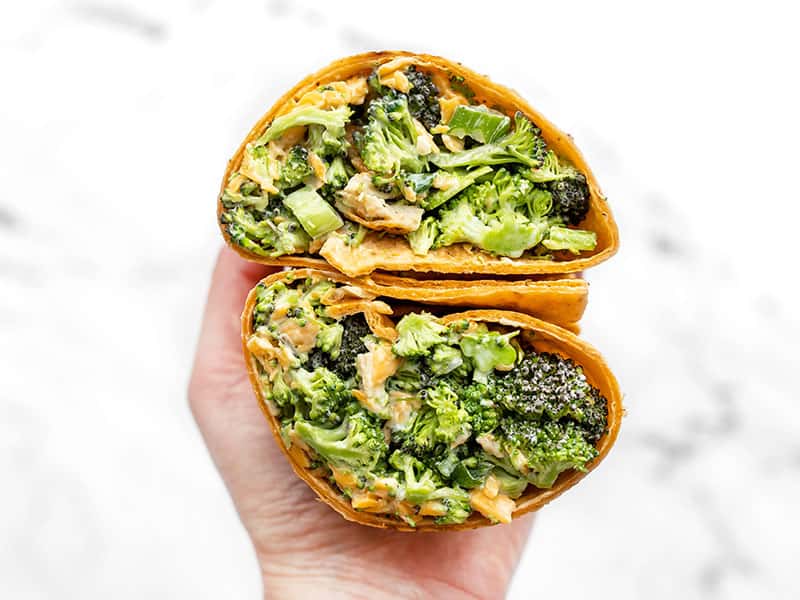 Love hearty salads? Check out my round up of 19 Refrigerator Salads for Eating Healthy on the Go!

Broccoli Cheddar Chicken Salad
This chunky chopped Broccoli Cheddar Chicken Salad is a great fresh salad that can be eaten on its own or turned into several different easy lunch ideas!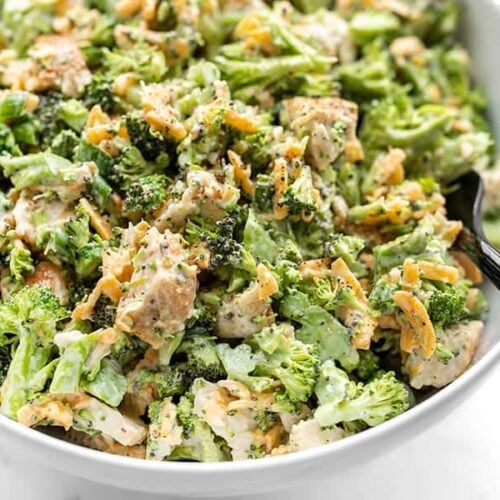 Ingredients
1

lb.

fresh broccoli (about 2 cups chopped)

($1.89)

1

cup

chopped cooked chicken*

($1.16)

2

oz.

cheddar, shredded (about ½ cup)

($1.00)

2

green onions, sliced

($0.25)

1/3

cup

ranch dressing

($0.49)

freshly cracked pepper to taste

($0.05)
Instructions
Finely chop the broccoli. It's important that the broccoli pieces be very small. Chop the chicken into small pieces as well.

Add the broccoli, chopped chicken, shredded cheddar, sliced green onions, and ranch dressing to a large bowl. Stir well until everything is evenly coated in dressing. Add freshly cracked pepper to your liking.

Serve as is, stuff into a tortilla or pita for a sandwich, or stuff into a tortilla and toast in a skillet until the inside is melted for a quesadilla. Keep any remaining salad refrigerated for up to 3-4 days.
See how we calculate recipe costs here.
---
Notes
*Use any type of pre-cooked chicken, like rotisserie chicken, grilled chicken, or canned chicken breast.
Nutrition
Serving:
1
cup
Calories:
360.63
kcal
Carbohydrates:
13.1
g
Protein:
30.4
g
Fat:
22.23
g
Sodium:
610.43
mg
Fiber:
4.17
g
Read our full nutrition disclaimer here.
Scroll down for the step by step photos!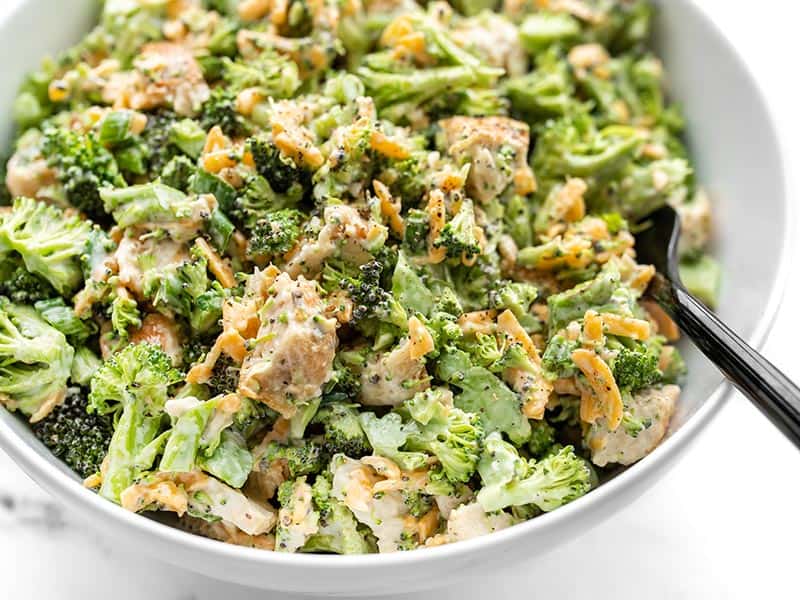 How to Make Broccoli Cheddar Chicken Salad – Step by Step Photos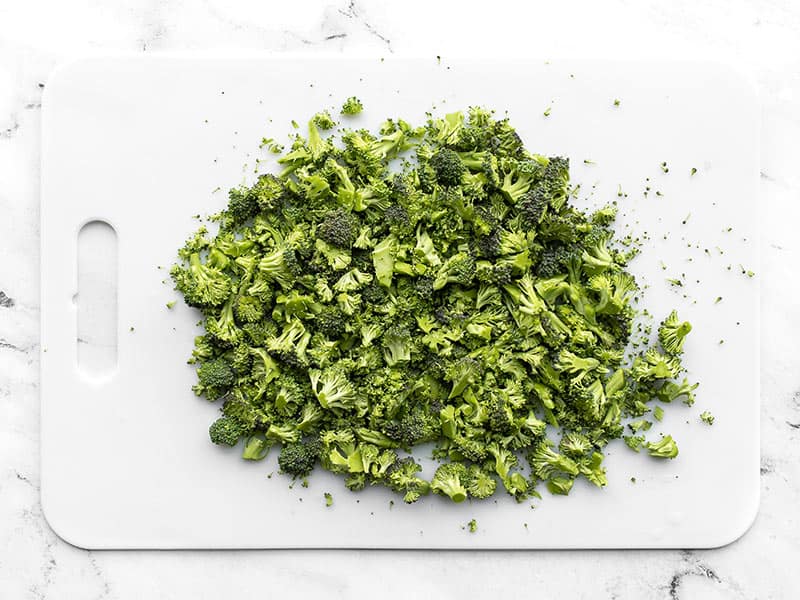 Finely chop one pound of fresh broccoli. It's really important that the broccoli be in tiny pieces, so once you think you've chopped it enough, just go ahead and chop it a little more. ;)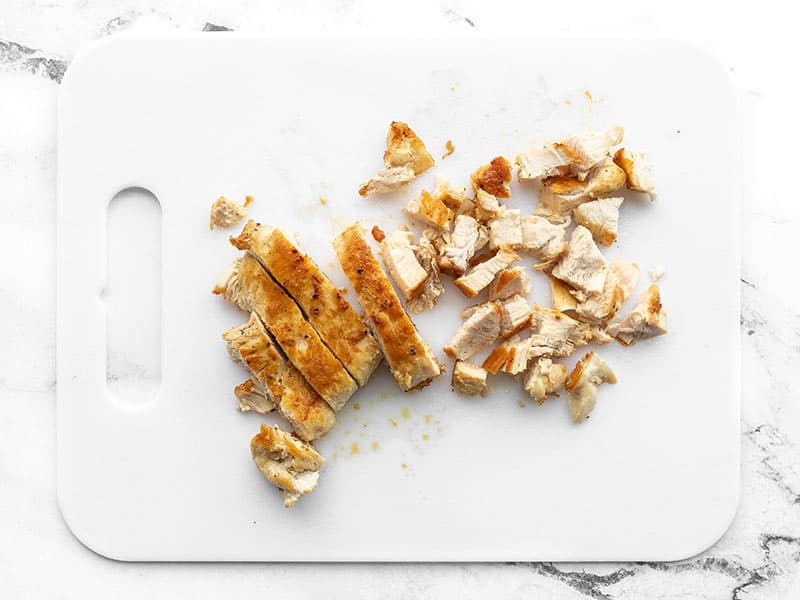 You'll also need about 1 cup of chopped cooked chicken. This can be any type of cooked chicken, like rotisserie chicken, grilled chicken, canned chicken breast, or a piece of chicken that you just cook up in a skillet real quick (that's what I did). Just make sure you let your chicken cool a bit before adding it to the salad. Again, you want the pieces to be pretty small.
You also need two ounces shredded cheddar (about ½ cup) and two sliced green onions.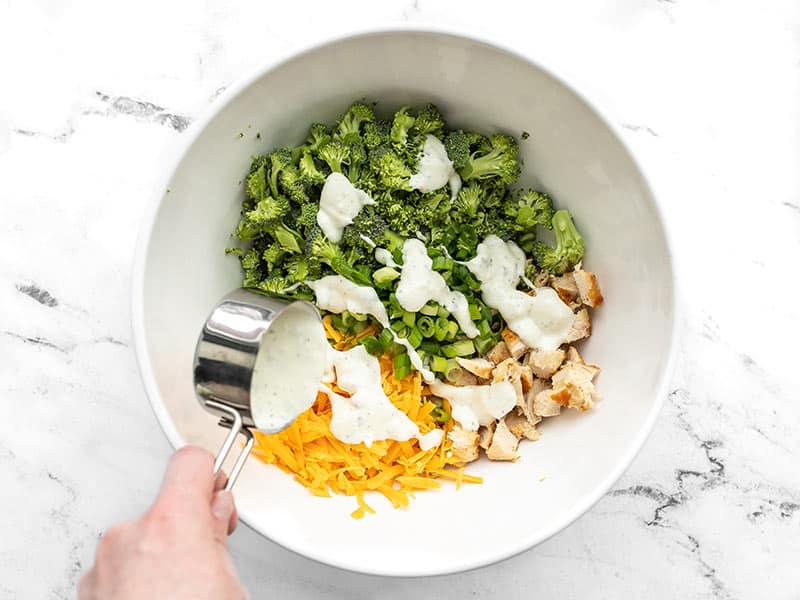 Add the chopped broccoli, chopped chicken, shredded cheddar, and sliced green onions to a large bowl, then add ⅓ cup ranch dressing.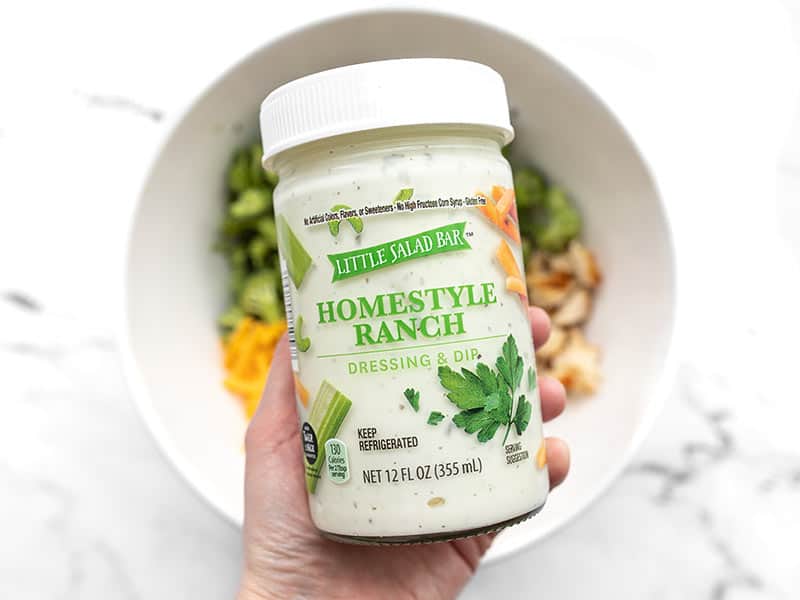 I used this ranch dressing that I got from Aldi. Another brand that I really like is Ken's Steakhouse buttermilk ranch. Or you can make your own ranch dressing using my Homemade Ranch Dressing recipe!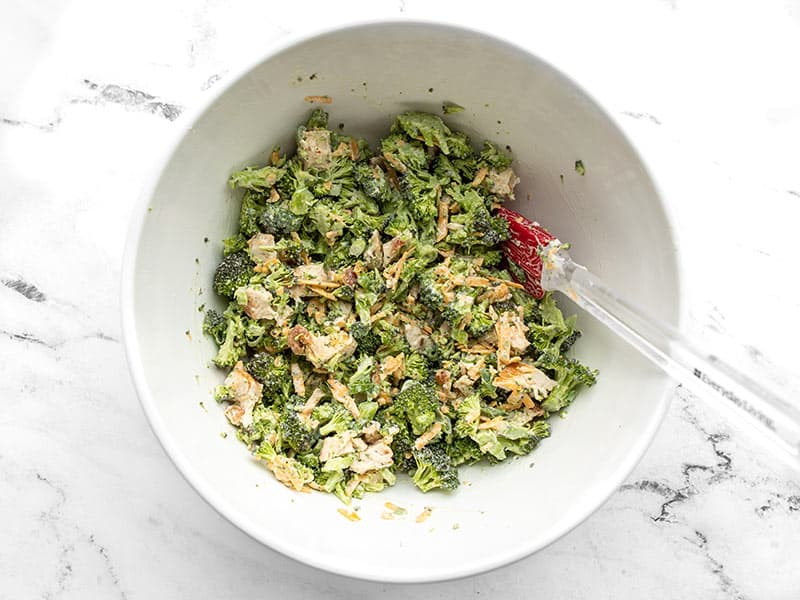 Stir until everything is coated really well with the ranch dressing. I also added some freshly cracked black pepper just for an extra kick!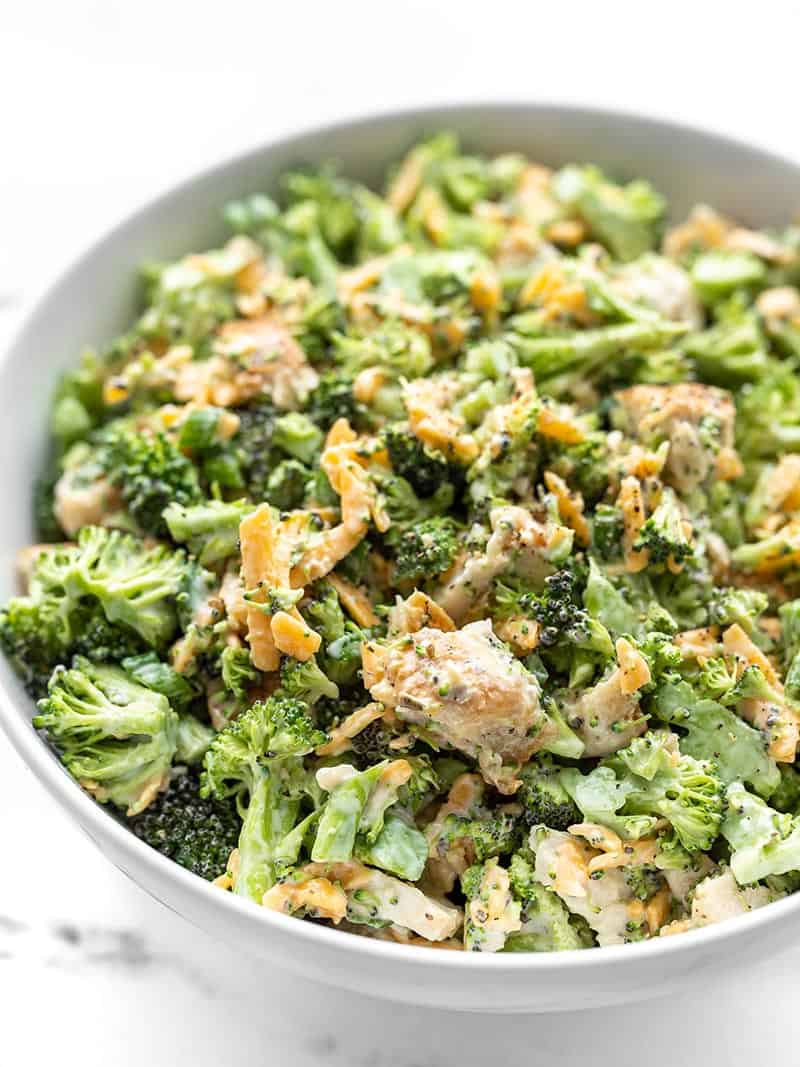 So good as is, or made into a wrap sandwich, quesadilla, or even a pasta salad!