Hey you! Are you looking for a last minute NYE appetizer? Maybe you're just looking for one last pizza splurge before you begin working on your new year's resolutions. Or perhaps you're like me and just want a new way to get your pizza fix as fast and easily as possible. Wellll, if there's one thing I'm good at it's coming up with new ways to eat "pizza." These Pizza Roll Ups are the perfect homemade alternative to those classic 90's frozen pizza bites.
Plus, you don't have to keep them in your freezer because I'm pretty sure that tortillas, pepperoni, and mozzarella sticks stay good in the fridge for pretty much forever (I'm being hyperbolic), so you can roll up a small batch whenever you want. PIZZA PARTY!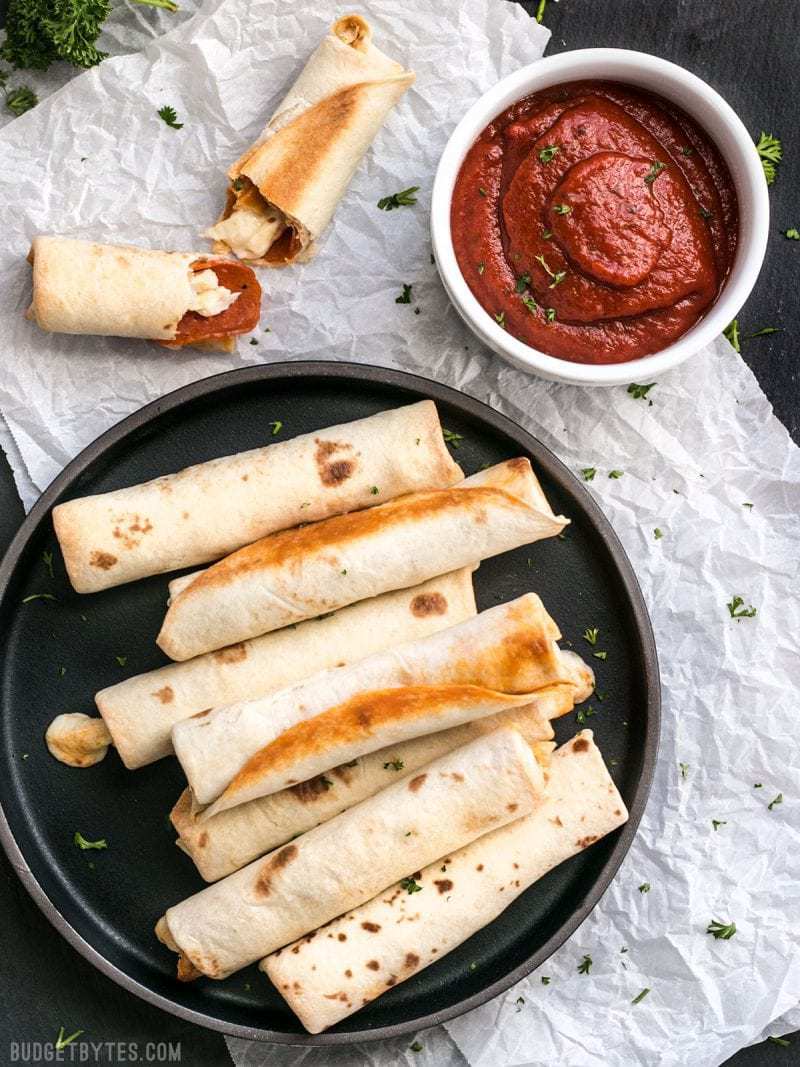 Get Creative with Your Pizza Roll Up Fillings
I kept these Pizza Roll Ups simple with just mozzarella and pepperoni, but I suppose you could experiment with adding different pizza toppings inside the roll, like black olives, onions, or green pepper. The trick will be to dice those ingredients very finely so they don't poke out, tear the tortillas, or just make them difficult to roll. And I'd probably go sparingly on the extras. You don't want the rolls to get so bulky that they don't stay shut.
Keep the Tortillas Warm for Rolling
Speaking of staying rolled, the most important trick with these Pizza Roll Ups is to microwave the tortillas for a few seconds with a damp paper towel before rolling. This makes the tortillas soft and pliable so you can get an extra tight roll on that mozzarella stick and it helps keep them from wanting to snap back to their flat position. So, don't forget to soften 'em up first!
Love fun variations of pizza? Try my Pizza Melts, Pizzadillas, or Homemade French Bread Pizza.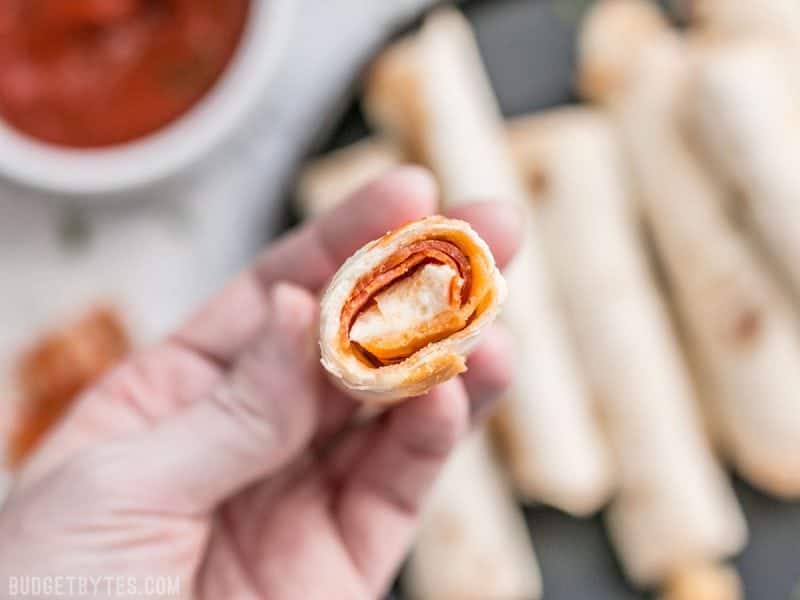 Pizza Roll Ups
Forget frozen pizza rolls! These Pizza Roll Ups are the perfect last minute appetizer or indulgent snack on busy days!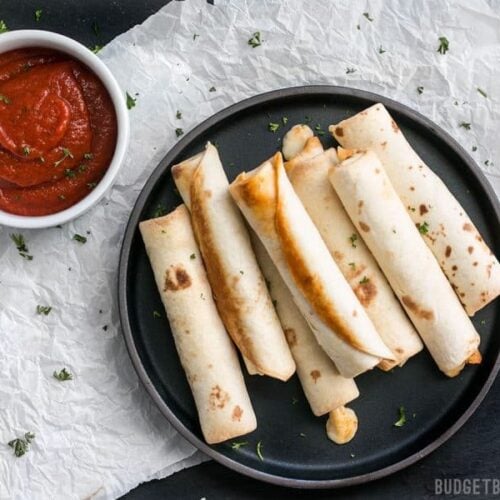 Ingredients
8

small flour tortillas*

($1.03)

40

slices

pepperoni

($1.32)

4

mozzarella cheese sticks

($0.83)

oil, as needed

($0.05)

1/2

cup

pizza sauce (for dipping)

($0.48)
Instructions
Preheat the oven to 400ºF. Lightly spritz a baking sheet with spray oil or brush a thin layer of your favorite cooking oil onto the baking sheet.

Stack about 4 tortillas at a time on a plate and cover with a damp paper towel. Microwave for 20-30 seconds, or until they are steamy and pliable. Microwave the second batch when you're ready to roll more.

Slice each of the mozzarella sticks in half, lengthwise. Place about 5 pepperoni on each tortilla in the bottom 1/3 o the circle, then place the halved mozzarella stick on top. Fold the sides of the tortilla in to cover the ends, then roll them up tight light a burrito.

Place the tightly rolled Pizza Roll Ups on the baking sheet, seam side down. Leave them slightly apart from one another to allow hot air to surround the rolls. Either spritz the top with spray oil, or brush a thin layer of oil on top of the roll ups.

Bake the Pizza Roll Ups for 12-15 minutes, or until they're lightly browned and the cheese is just beginning to ooze. Because every oven is different, begin checking on the Pizza Roll Ups at about 10 minutes, then check ever two minutes or so until they're done.

Serve immediately, with pizza sauce for dipping.
See how we calculate recipe costs here.
---
---
Notes
*The tortillas I used were about 6″. I suggest getting tortillas that are just slightly wider than the length of your mozzarella sticks so you can fold the ends in to hold the melted cheese inside.
Nutrition
Serving:
1
Serving
Calories:
417
kcal
Carbohydrates:
34.23
g
Protein:
18.35
g
Fat:
22.65
g
Sodium:
1029.13
mg
Fiber:
4.53
g
Read our full nutrition disclaimer here.
Also try our Pesto Mozzarella Roll Ups!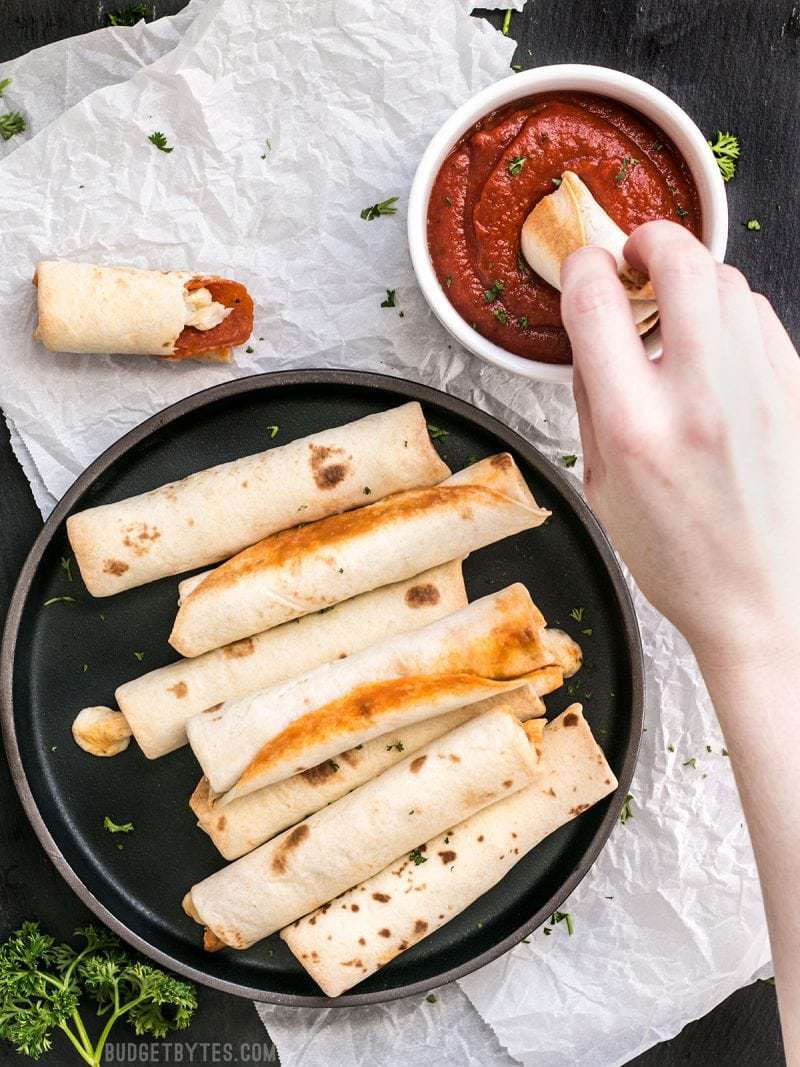 How to Make Pizza Roll Ups – Step by Step Photos
Okay, first step, and perhaps the most important, despite the fact that I forgot to get a photo: Microwave the tortillas with a damp paper towel! They only need 20-30 seconds and I suggest only doing a few at a time so they stay steamy and pliable as you roll these guys up. Oh, also, preheat the oven to 400ºF.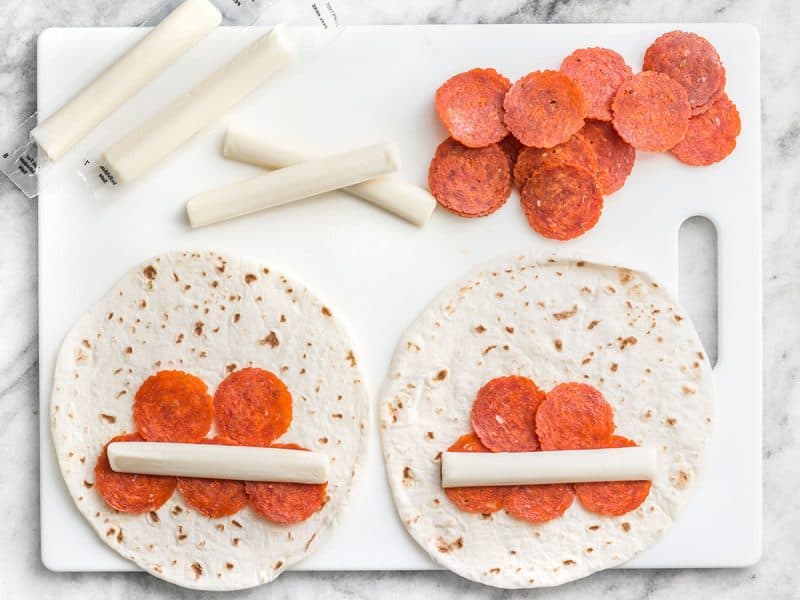 Once the tortillas are nice and soft, lay about 5 pepperoni on each, then top that with HALF of a mozzarella stick. I mean, you could do a whole one if you want, but that's a LOT of cheese. I prefer the cheese:pepperoni ratio of half a stick and five pepperoni, but you do you. Place the pepperoni and mozzarella in the bottom 1/3 of the tortilla to facilitate rolling.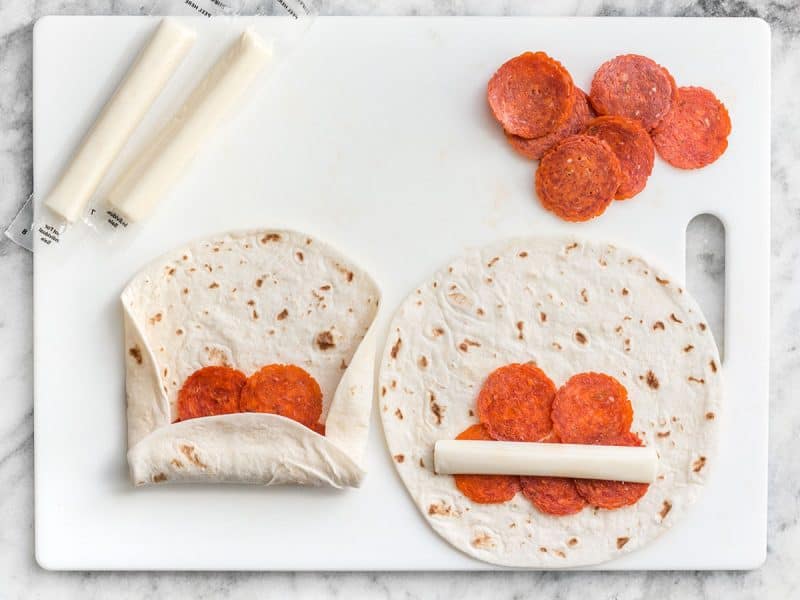 Now here's the trick: fold the sides in before you start rolling them up! That will help hold in the cheese as it bakes. Make sure to roll them up tightly and you can even press down on them after rolling to help crease the tortillas and keep them closed.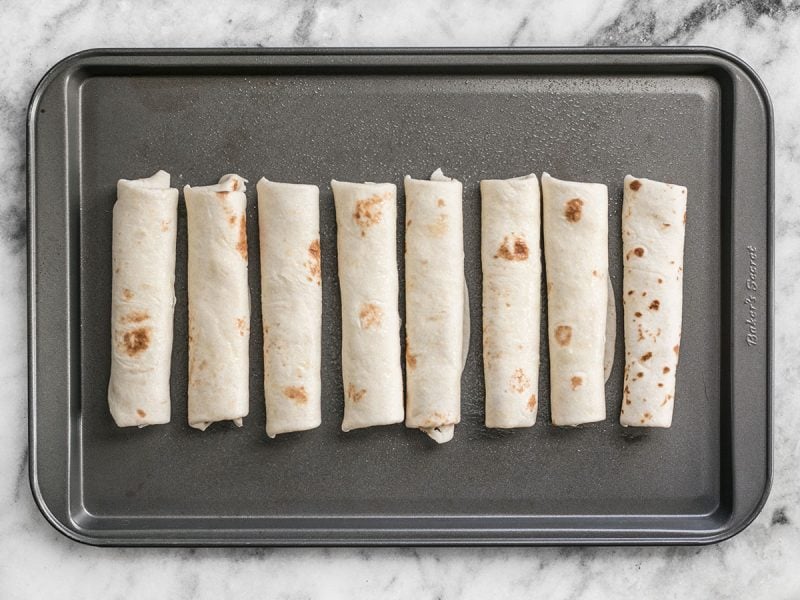 As you roll them up, place them on a baking sheet seam side down. For extra crispiness, spritz a little spray oil or brush a little oil onto the baking sheet first. Also give the tops of the Pizza Roll Ups a little bit of oil love. Make sure to space them out a bit to allow hot air all around the roll ups.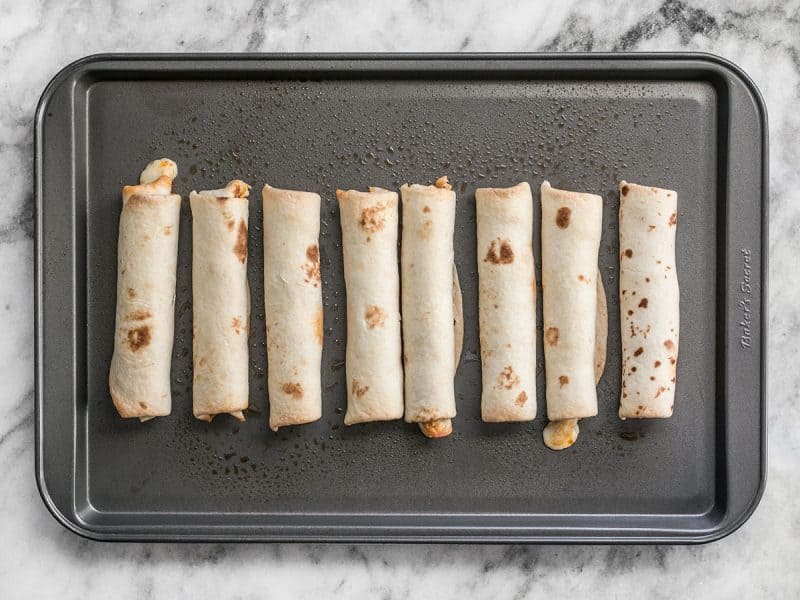 Bake the Pizza Roll Ups in the fully preheated 400ºF oven for 12-15 minutes or until they are golden brown and the cheese *just* begins to ooze out the sides. Watch them closely starting at about 10 minutes and check every couple of minutes or so, since every oven is a little bit different.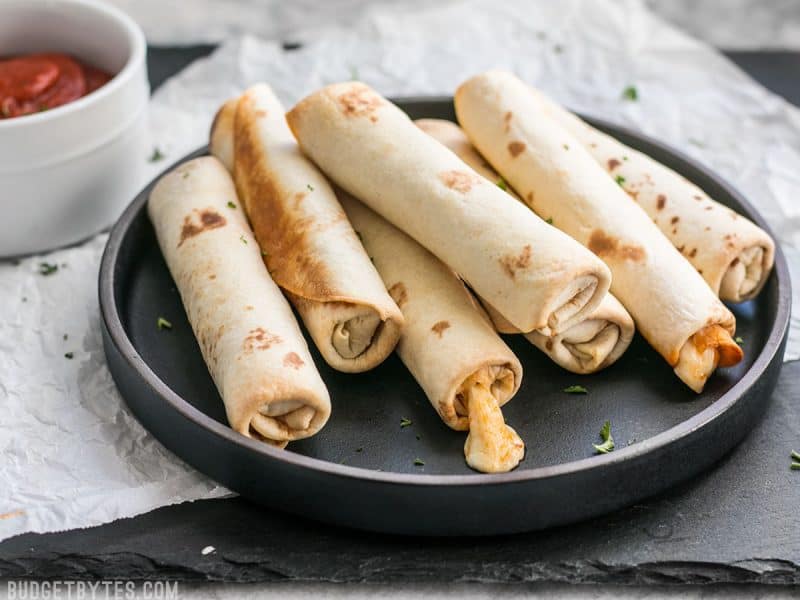 Did I mention how the grease from the pepperoni soaks into the tortilla and makes them extra delicious? Yeah, it's good.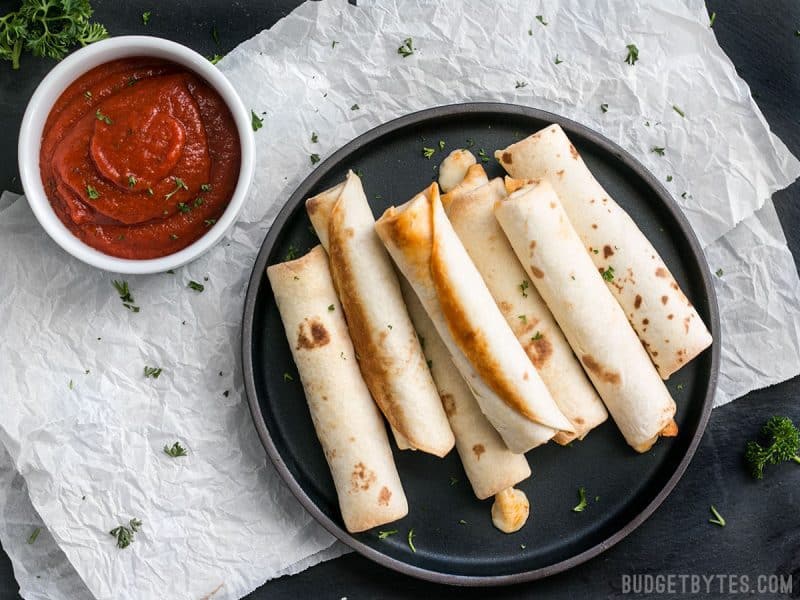 Make sure to serve them with some pizza sauce for dipping!! This time around I used store-bought, but I have a really awesome recipe for Thick & Rich Pizza Sauce if you want to make your own. :)