Eating anything with marinara sauce is just so much better when you have a garlicky, crispy piece of bread, with a soft center to sop up the extra sauce. So, while I was planning my Pesto Stuffed Shells this week, I thought about grabbing a box of garlic bread from the freezer aisle… after all, it's very cheap, only about $2 a box. Then I started thinking, "Well, I can buy a HUGE loaf of fresh french bread for a dollar… can I make the garlic bread for less?" You bet. Many grocery stores sell giant baguettes of French bread hot from their bakery every day for $1-$2. Snatch one of those up, make this quick buttery garlic spread and you're well on your way to having twice as much hot, fresh (and trans-fat free!) garlic bread than what's in that little grocery store box. AND you can totally freeze half of it (before baking) so that you have some ready to pop in the oven for your next meal.
The best part of it is that you can control how much butter/oil is on your bread- you just never know with the frozen kind. This recipe yielded 12 2-inch wide pieces of bread and I only used 4 Tbsp of butter and 2 Tbsp of olive oil total. That equals out to just one teaspoon of butter and half that much oil per piece. Not bad… not bad at all.
See this recipe used in my weekly meal prep.
Post updated 1-16-17
Homemade Garlic Bread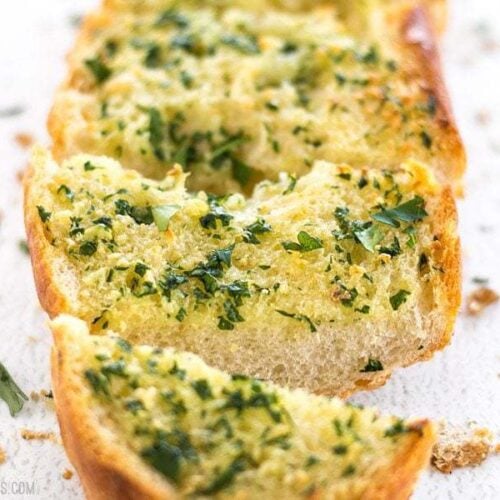 Print Recipe
Homemade Garlic Bread
Homemade Garlic Bread is twice as nice for half the price of it's frozen store bought counterpart!

Prep Time: 10 mins
Cook Time: 15 mins
Total Time: 25 mins
Servings: 12
Ingredients
1 loaf French bread, approx. 24" long ($1.29)
4 Tbsp butter, room temperature ($0.44)
2 Tbsp olive oil ($0.32)
3 cloves garlic, minced ($0.24)
1/4 cup fresh parsley, chopped ($0.12)
a pinch salt ($0.02)
Instructions
Preheat the oven to 400ºF. In a bowl, stir together the room temperature butter, olive oil, minced garlic, chopped parsley, and a pinch of salt until relatively smooth.

Cut the French bread into two 12" long pieces, then cut each piece open lengthwise. Lay the bread on a baking sheet cut sides facing up. Spread the garlic butter mixture evenly over the open surfaces of the bread.*

Bake the bread for 10-15 minutes, or until the edges are golden brown and crispy. Cut the bread into 2-inch sections and serve hot.
Notes
*Once the garlic butter is spread over the surface of the bread it can be frozen in gallon-sized freezer bags and baked at a later date. The bread can be baked straight from the freezer, although it may take a minute or two longer to brown.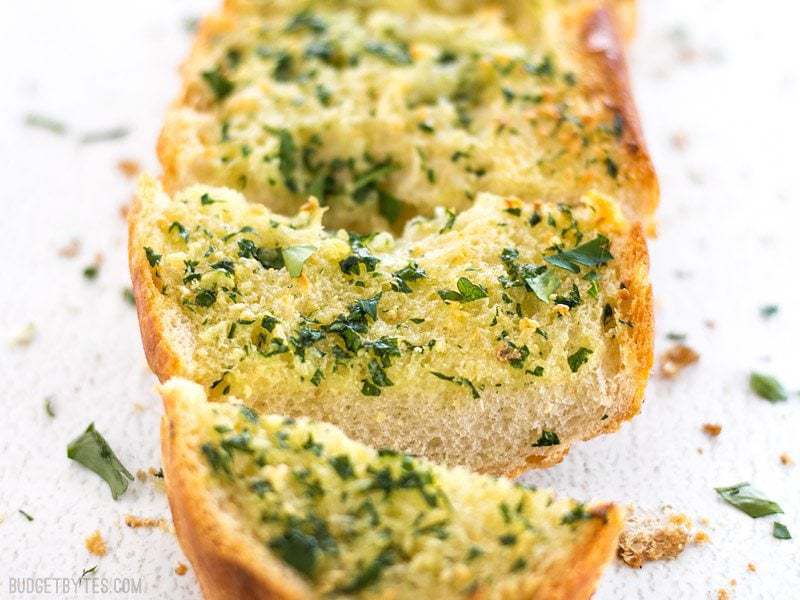 Step By Step Photos
Begin by preheating the oven to 400ºF. In a bowl, combine 4 Tbsp room temperature butter, 2 Tbsp olive oil, 3 cloves of minced garlic, about 1/4 cup chopped fresh parsley, and a pinch of salt.
Mix these ingredients together until they're evenly combined.
Cut one large French loaf (24 inches) into two 12-inch sections, then cut each section open lengthwise. Lay the bread pieces on a baking sheet, cut side facing up. Spread the garlic butter mixture over the open surfaces of the bread.
Bake the garlic bread in the preheated oven for 10-15 minutes, or until it is golden brown and crispy on the edges. Cut the garlic bread into two-inch sections and serve.
Yaassssssss. Garlic bread ❤️ forever.