When I finished cooking these Curried Chickpeas with Spinach I took a look at my notepad to make sure I had written down all the ingredients. I looked it over a good three or four times thinking that I had surely forgotten something. The list was just too short. How did I just make so much yum with so few ingredients?!
That's how food should be. Uncomplicated, fast, and super tasty. I couldn't stop sneaking spoonfuls of this dish as I photographed it—it was just that flavorful. The simple tomato sauce is kicked up a few notches with curry powder (hot or mild, your choice) and would probably be good poured over just about any vegetables. I like this combo of spinach and chickpeas because it's filling, very nutritious, and just down right pretty.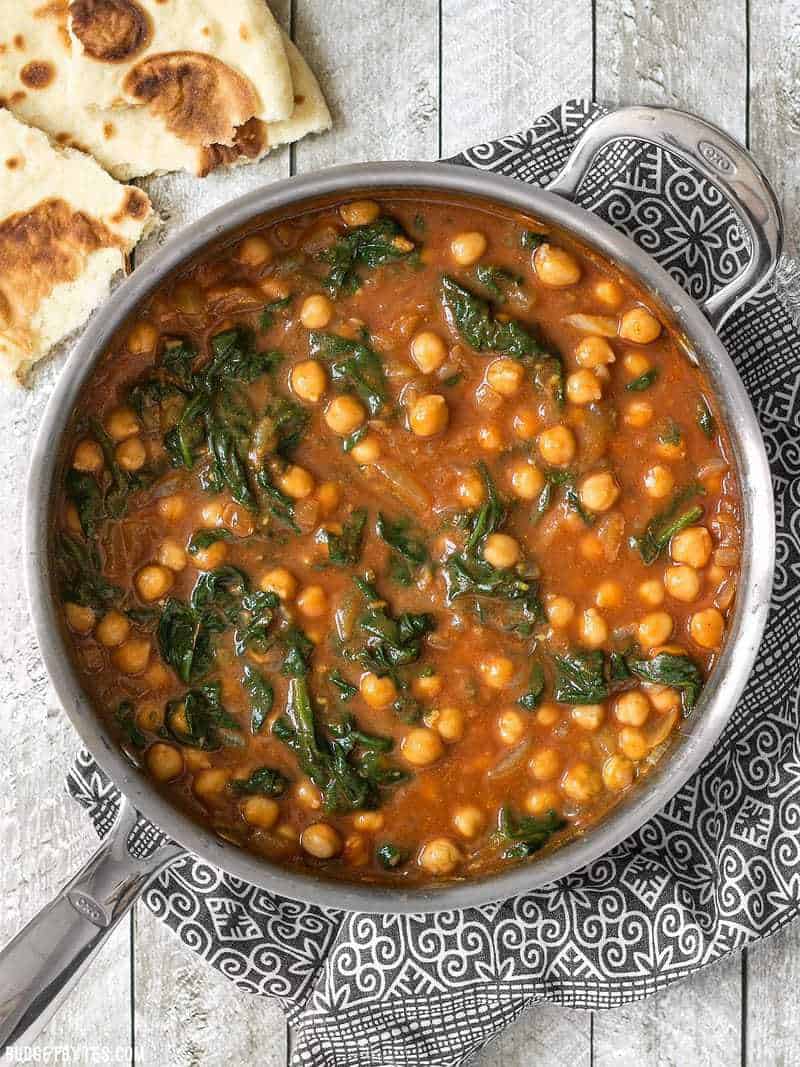 Use Fresh or Frozen Spinach
I used fresh spinach because I bought a HUGE 2.5 lb. bag of fresh spinach the other day and now I'm committed to using it all before it goes bad, but you can sub frozen spinach to fit your budget. Just add 8 oz. of frozen spinach to the skillet in place of the fresh and sauté until thawed and warmed through, then proceed with the recipe as usual. I also used a very large can of chickpeas, but if that's not available in your area, just use two regular 15-oz. sized cans. Not a fan of chickpeas? Lentils would also be great here!
How to Serve Curried Chickpeas with Spinach
I served my curried chickpeas with spinach over rice, but it would also be awesome with some naan to soak up the sauce instead. NOM.
What Kind of Curry Powder Do You Use?
You can use either hot or mild curry powder, depending on how spicy you'd like your curried chickpeas to be. I've enjoyed both 365 brand curry powder and Sharwood's curry powder. You can also try making your own curry powder using this recipe for Easy Homemade Curry Powder from Spiceitupp.com.
Curried Chickpeas with Spinach
These super fast Curried Chickpeas with spinach are packed with flavor and nutrients, vegan, gluten-free, and filling! Plus they freeze great!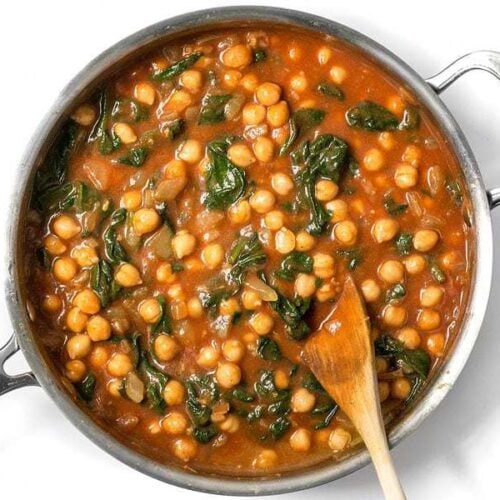 Ingredients
2

Tbsp

olive oil

($0.26)

1

yellow onion

($0.47)

2

cloves

garlic

($0.16)

1

inch

fresh ginger

($0.16)

1 1/2

Tbsp

curry powder

($0.45)

8

oz.

spinach (fresh or frozen)

($1.49)

1

15oz. can

tomato sauce

($0.59)

2

15oz. cans

chickpeas

($1.10)
Instructions
Dice the onion, mince the garlic, and grate the ginger on a small holed cheese grater. Sauté the onion, garlic, and ginger in a large skillet with the olive oil over medium heat until the onions have softened (3-5 minutes).

Add the curry powder and continue to sauté with the onion mixture for one minute more. Add about 1/4 cup of water to the skillet along with the fresh spinach and continue to sauté until the spinach has wilted. The water will help steam and wilt the spinach (no water needed if using frozen spinach).

Drain and rinse the chickpeas. Add them to the skillet along with the tomato sauce. Stir well to distribute the spices in the sauce and heat through (5 minutes). Serve over rice or with bread.
See how we calculate recipe costs here.
---
Nutrition
Serving:
1
Cup
Calories:
322
kcal
Carbohydrates:
43
g
Protein:
15
g
Fat:
12
g
Sodium:
1234
mg
Fiber:
14
g
Read our full nutrition disclaimer here.
Scroll down for the step by step photos!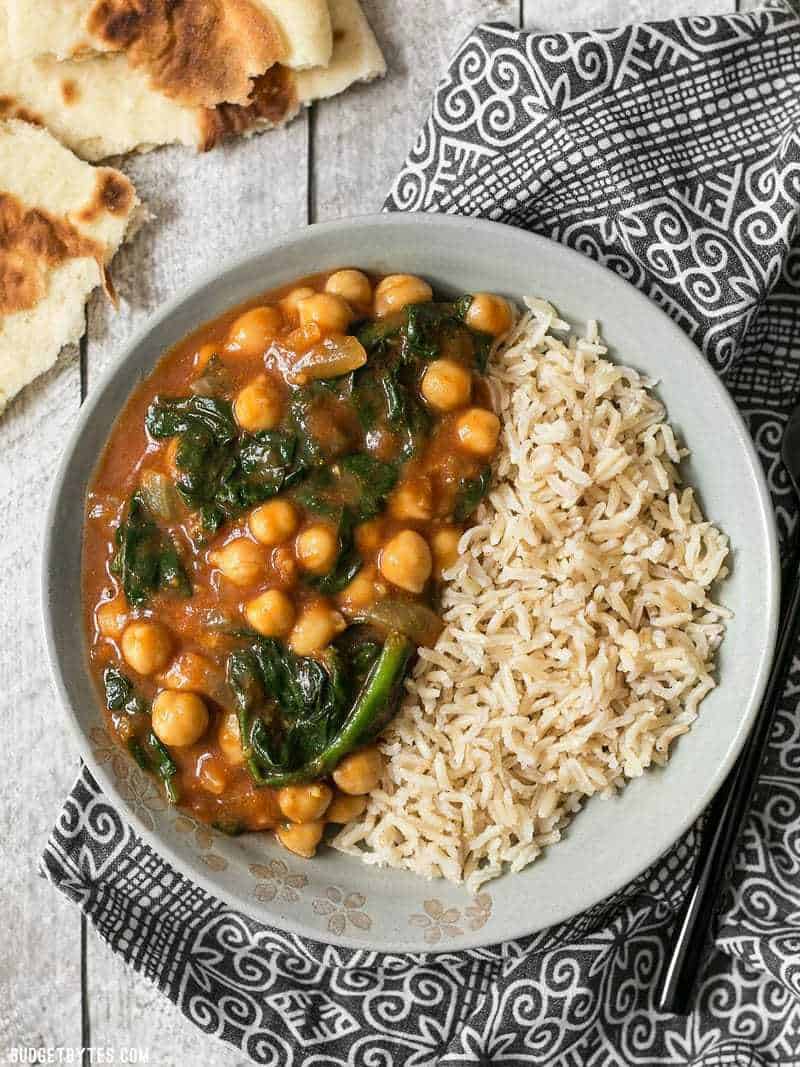 How to Make Curried Chickpeas with Spinach – Step by Step Photos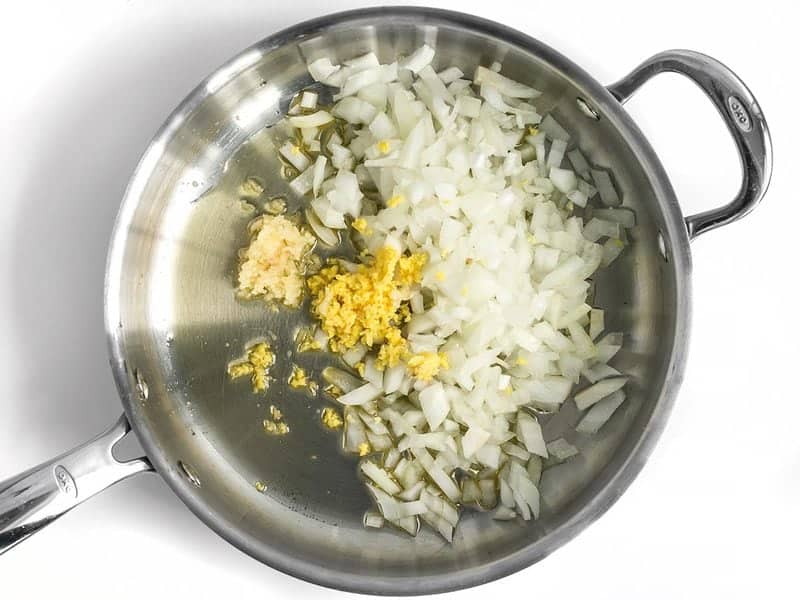 Start by dicing one onion and mincing two cloves of garlic. I used a small cheese grater to grate one inch of fresh ginger (or you can mince it). I usually use a vegetable peeler to remove the skin from the ginger before grating it. Sauté the onion, garlic, and ginger in a large skillet with olive oil until they are soft (about 5 minutes).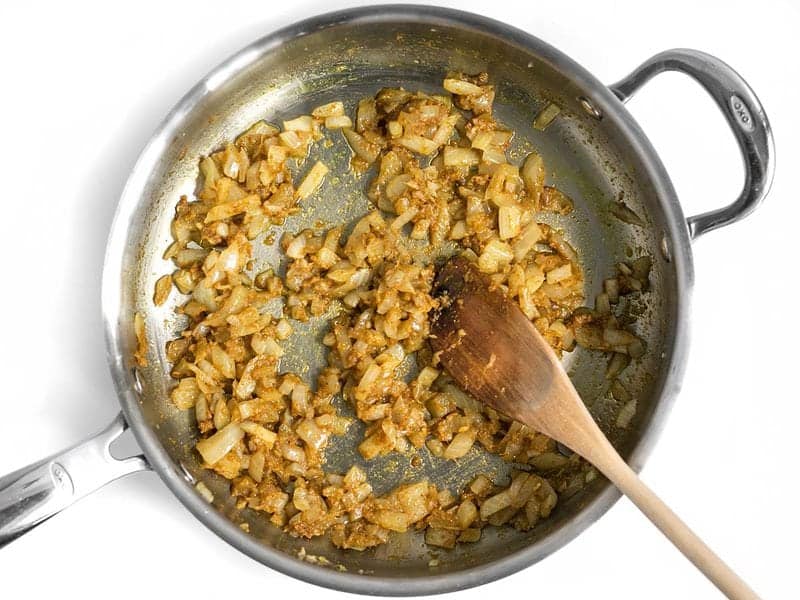 Add 1.5 Tbsp of curry powder and continue to sauté the mixture. You can use either hot or mild curry powder. Continuing to sauté after adding the spices will toast them just slightly and increase their flavor.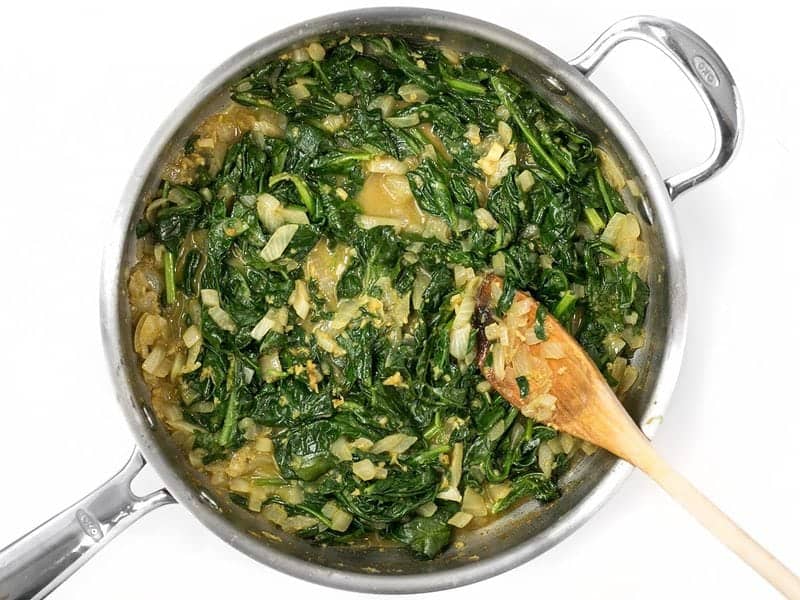 Next, add a little water to the skillet (about 1/4 cup) and 8 oz. of fresh spinach. It will likely fill up the skillet, so stir carefully until it wilts down. Most fresh spinach is sold in either an 8 or 16 oz. bag, so use the label to help you estimate 8 oz. The water will help steam and wilt the spinach. If you're using frozen spinach, you don't need to add any water, just warm it through in the skillet.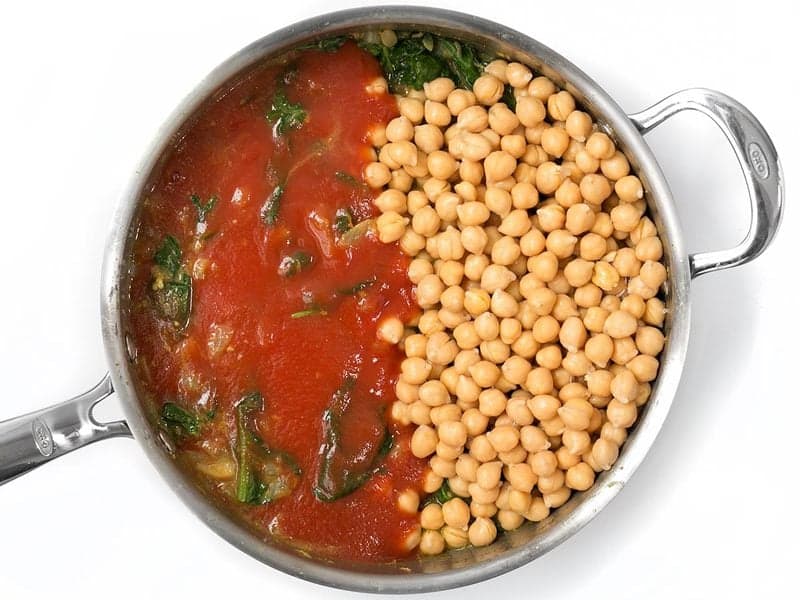 Drain and rinse a large 29 oz. can (or 2 15oz. cans) of chickpeas then add them to the skillet along with a 15 oz. can of tomato sauce. If you don't have tomato sauce in your area, strained tomatoes or tomato purée is a good substitute (although you may need to add a little salt at the end).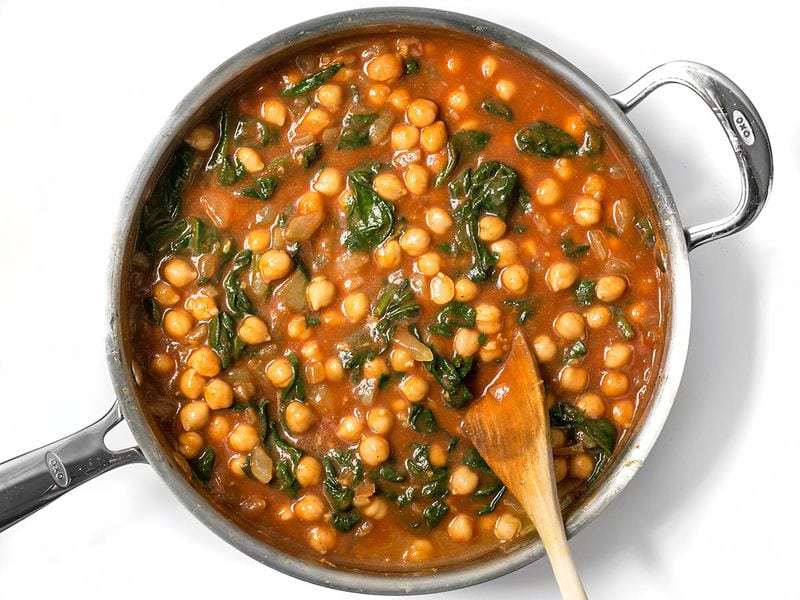 Then just stir it all together well and let it warm through. How easy is that? I say "Pshhhhftfttfft." to all boxed skillet meals.