The idea for this awesome little recipe came courtesy of Annie, who wrote to tell me that every since she tried The "One" Chocolate Mug Cake, she's been trying all sorts of mug cakes! Her favorite? Mug pancakes! Annie uses pre-made pancake mix and blueberries to make single serving pancakes! Genius!
I didn't have any pancake mix on hand so I set out to just make my own. While I was playing chemist in the kitchen, the term "mug muffin" popped into my head and made me giggle so much that I decided I had to use that name for the recipe. …and I guess it's a little more like a blueberry muffin than a pancake anyway, although I did top it with maple syrup.
I also decided that I need to start calling people "mug muffin," but I can't decide if it's going to be used as a term of endearment or an insult. Feel free to weigh-in in the comments below. I could use the help.
Anyway, mug muffins, let's get to it!
Blueberry Mug Muffin
blueberry mug muffin
A fast and easy treat, these microwave blueberry mug muffins are perfect when you just need a small bite of something sweet.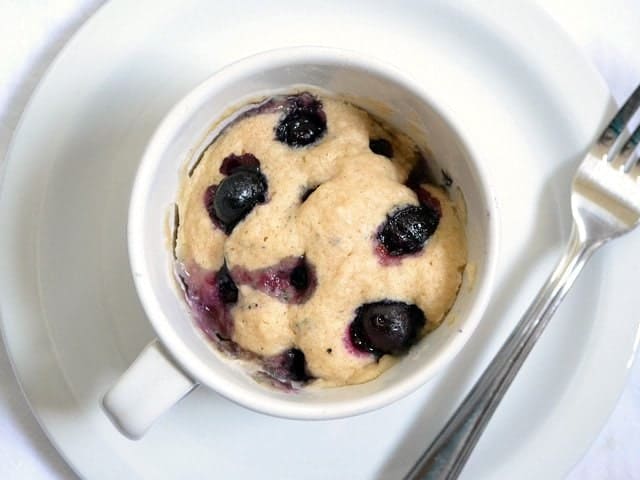 Ingredients
1/4

cup

flour

($0.04)

1

Tbsp

brown sugar

($0.02)

1/4

tsp

baking powder

($0.02)

1/8

tsp

salt

($0.01)

pinch

cinnamon

($0.01)

1/2

Tbsp

butter

($0.04)

2

Tbsp

milk

($0.04)

1-2

Tbsp

frozen blueberries

($0.19)
Instructions
In a microwave safe mug, stir together the flour, brown sugar, baking powder, salt, and cinnamon until well mixed.

Add the butter to the mug and use your fingers to rub or smoosh them together until no large chunks of butter remain and the mixture looks like damp sand (see photos below).

Stir the milk into the butter/flour mixture. It should now resemble a thick muffin batter. If it's too dry, add a splash more milk. Sprinkle blueberries over top and push them down into the batter. Microwave on high for approximately 90 seconds. Enjoy with a drizzle of maple syrup over top.
See how we calculate recipe costs here.
---
Notes
Every microwave is different, so you may have to experiment with the exact cooking time.
You can add a drop or two of vanilla for extra flavor.
I have not tried this with different flour types (whole wheat, gluten free, etc.) or with different milks (almond, soy, etc.) or with oil instead of butter (to make it vegan). These changes will definitely affect the flavor and texture. If you're experimental and want to give it a shot, please share your results in the comments below. Thanks!
Nutrition
Serving:
1
Serving
Calories:
248.9
kcal
Carbohydrates:
42.3
g
Protein:
4.4
g
Fat:
7.2
g
Sodium:
451.5
mg
Fiber:
1.9
g
Read our full nutrition disclaimer here.
Step By Step Photos

First mix all of the dry ingredients together in a microwave safe mug (flour, brown sugar, baking powder, salt, cinnamon).

Once the dry ingredients are well mixed, add the butter. I just used the lines on the butter wrapper to estimate a 1/2 tablespoon. It doesn't have to be exact.

Use your fingers to rub the flour and butter together until they're very well mixed and the mixture resembles damp sand. This is the only step that requites a little work, but still it's only about 1-2 minutes.

Stir in the milk. You now have a thick batter. If it seems a little TOO thick or your end product seems a bit dense, you can add just a bit more milk. The recipe is flexible – just don't DOUBLE the milk or anything.

Sprinkle the blueberries into the mug and then push them down into the batter. Microwave on high for about 90 seconds.

And then it's done! Oh, and the mug will likely be very hot, too, so be careful! Try it with a little maple syrup – it's amazing!

See, nice and cakey inside!

NOM NOM NOM. All gone. (you don't want to know how many of these I ate while testing the recipe)