Continuing on with my no-cook lunch box series, today I bring you The Cheese Board Lunch Box! This one goes out to everyone who is perfectly happy nibbling on a charcuterie board for dinner, instead of as an appetizer to dinner. ;) Just be careful, this lunch box is going to tempt you to drink a glass of wine with lunch!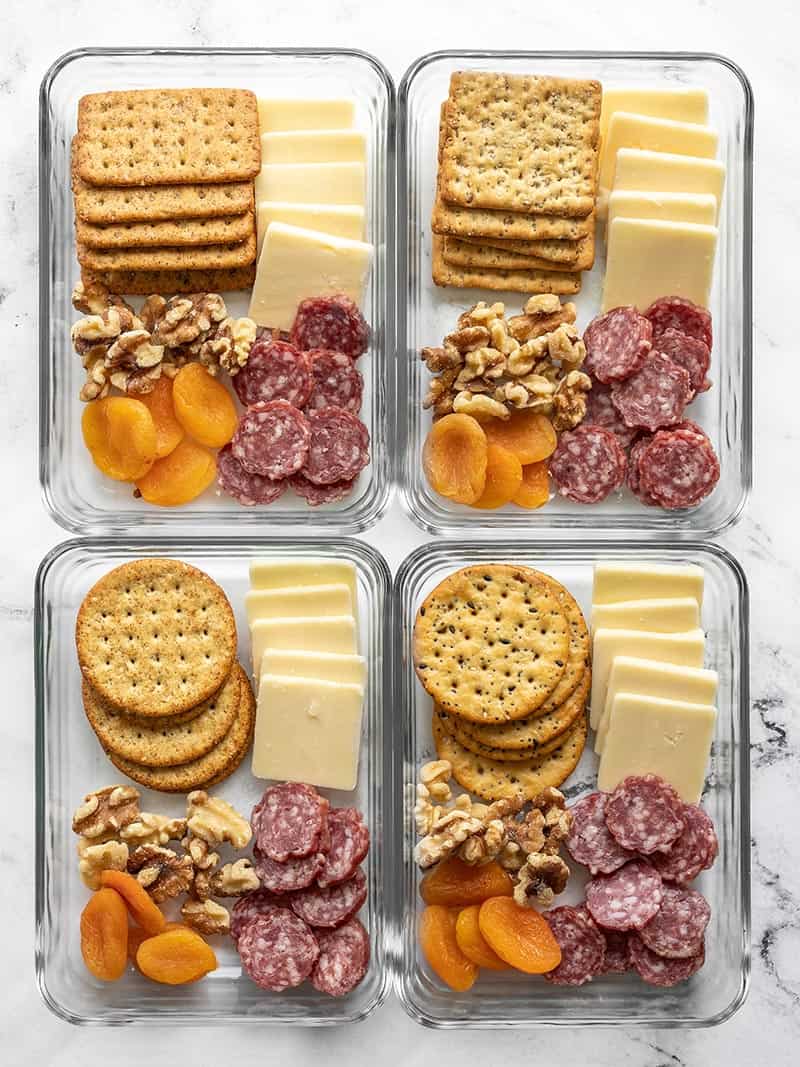 Where Are the Vegetables??
I know, I know. I'm usually a vegetable-with-every meal type of person, but I think it's entirely possible to have a cheese board lunch box and still keep balance in your day. Try eating a veggie heavy breakfast bowl, like my Vegetable Breakfast Scrambles, and make sure you include a veggie heavy dinner, like a stir fry, soup, or meal-worthy salad. Or hey, you can always just pack a side salad to go with this box for lunch. :)
What Else Can I Add to My Cheese Board Lunch Box?
As with all of these no-cook lunch box ideas, this Cheese Board Lunch Box is very flexible! Here are some other items you can include with or in place of any of the ingredients I put into my box:
Pickles
Grapes
Apple slices
A small container of your favorite jam
A small container of jam
A small container of pesto
Olives
Almonds
Dried cherries or cranberries
Sliced bell peppers
Other Meat Options
I used salami in my cheese board lunch box, but there are so many options with this one. You can use other cured meats, like prosciutto, capicola, soppressata. If all of that is too fancy or too hard to find, regular deli meat is just as great in this box! Roll up the slices into little "cigars" to make the presentation extra pretty and you'll still feel like you're eating an extra special lunch.
Wrap the Crackers for Freshness
To keep your crackers nice and crunchy, you'll probably want to wrap the crackers in an extra fold-top sandwich bag or waxed paper to keep the moisture from the other ingredients out. I didn't do this (because I'm lazy) and my crackers got a little soft, but I still enjoyed the box quite a bit over the next four days.
What Containers Do You Use?
These containers are made by Pyrex and are my favorite meal prep containers. While they're not divided, the single compartment makes them very versatile. Also, the lid is simple, snaps on, and has no moving parts to break. There is a link to these containers in the bottom of the recipe card below.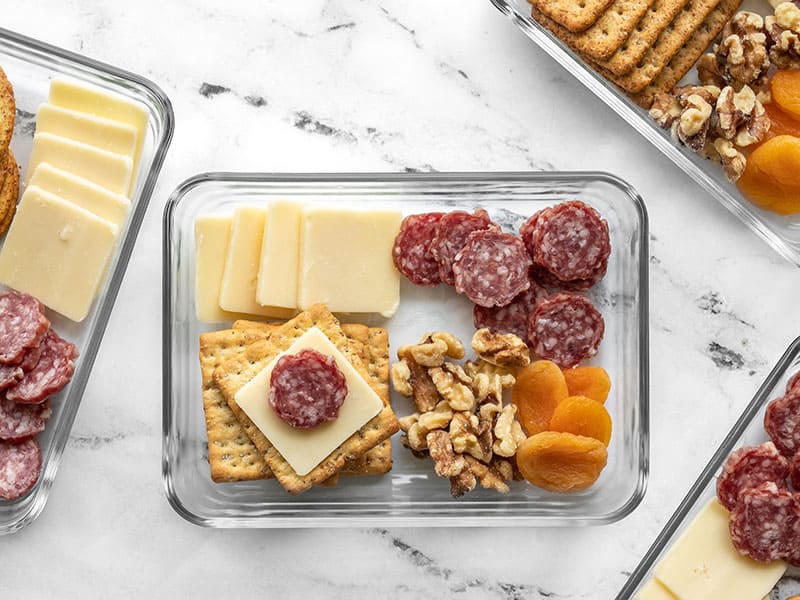 The Cheese Board Lunch Box
This easy no-cook lunch idea is perfect for the cheese lovers of the world! The Cheese Board Lunch Box makes a meal out of savory nibbles.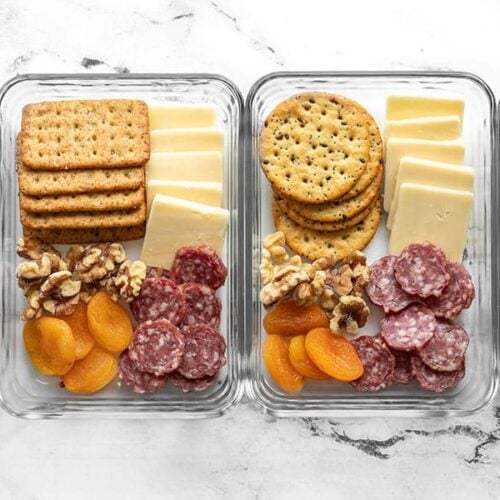 Ingredients
8

oz.

cheese

($2.12)

4

oz.

salami

($1.99)

20

crackers

($0.74)

16

dried apricots

($1.40)

1

cup

walnuts

($1.20)
Instructions
Slice the cheese. Wrap sets of 5 crackers in fold-top sandwich bags or waxed paper.

Divide the cheese salami, wrapped crackers, dried apricots, and walnuts between four containers. Refrigerate until ready to eat, or up to five days.
See how we calculate recipe costs here.
---
Nutrition
Serving:
1
box
Calories:
638.5
kcal
Carbohydrates:
24.63
g
Protein:
26.95
g
Fat:
48.95
g
Sodium:
901
mg
Fiber:
4.03
g
Read our full nutrition disclaimer here.
Check Out These Other No-Cook Lunch Ideas:
How to Make The Cheese Board Lunch Box

These are all the ingredients I used for the cheese board lunch box (this is all from ALDI). You can use whatever type of cheese or crackers that you like. I chose sharp cheddar and got a box of assorted crackers. Check the list earlier in the post if you want ideas for other items to include.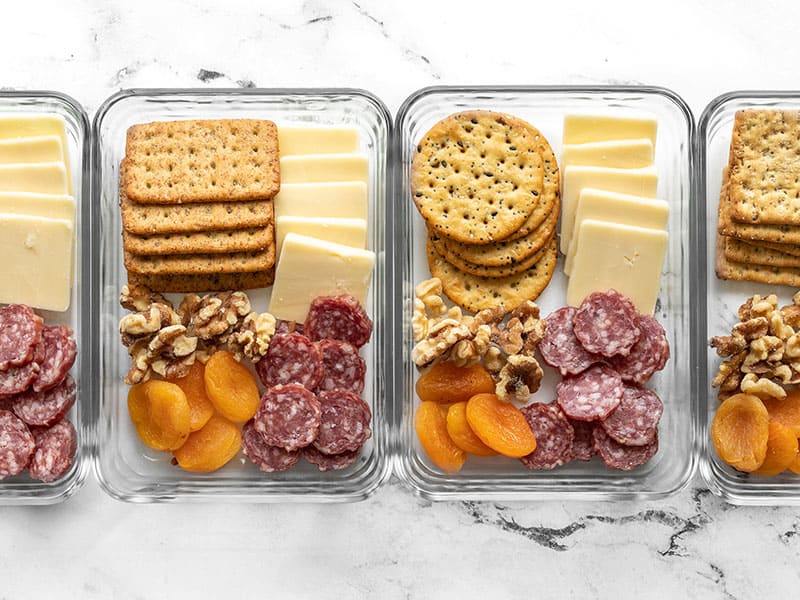 Slice the cheese and wrap groups of five crackers in a sandwich baggie or waxed paper (I skipped wrapping my crackers). Divide all the ingredients between four containers.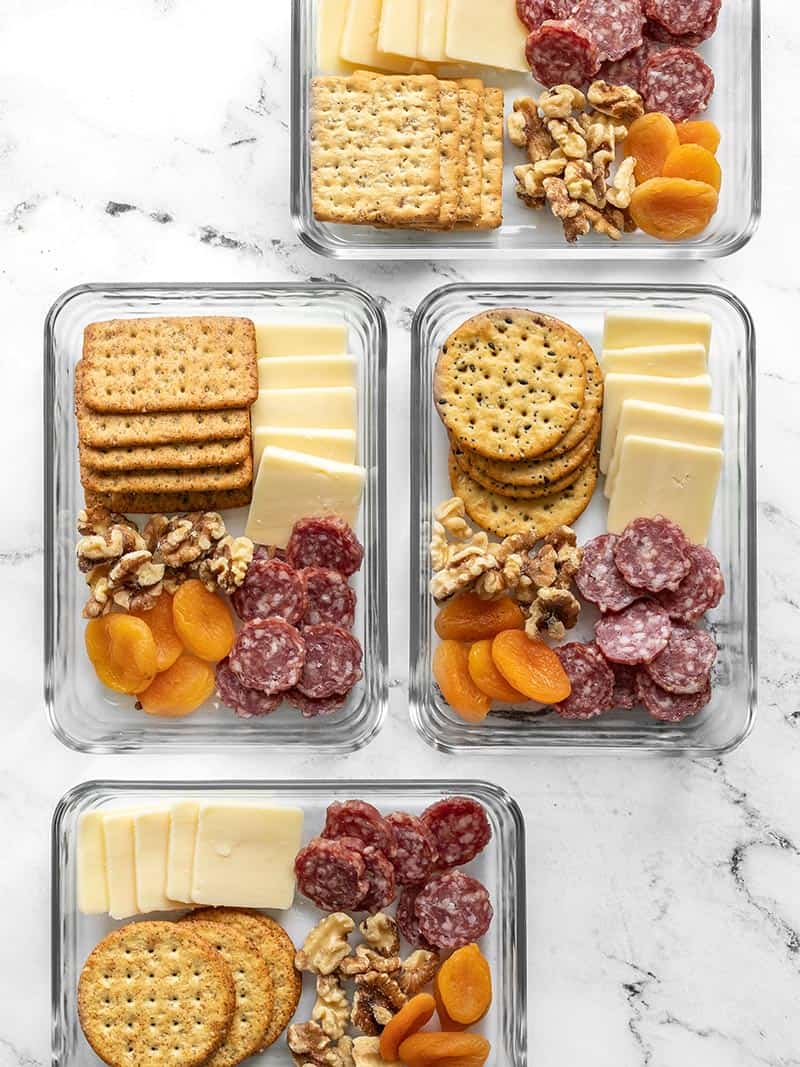 Refrigerate your cheese board lunch boxes until you're ready to eat, or up to five days! Enjoy!