You guys know how I love easy dinner staples, right? Baked chicken drumsticks are exactly that—an easy, no-brainer main dish recipe that you make with barely any planning or effort. Just coat the chicken with your favorite seasoning, toss them in the oven, and then focus on your side dishes or whatever else you have going on in your life while the drumsticks cook themselves. They're easy, tasty, and the perfect "emergency" meal for when you just don't want to have to think about, "what's for dinner?"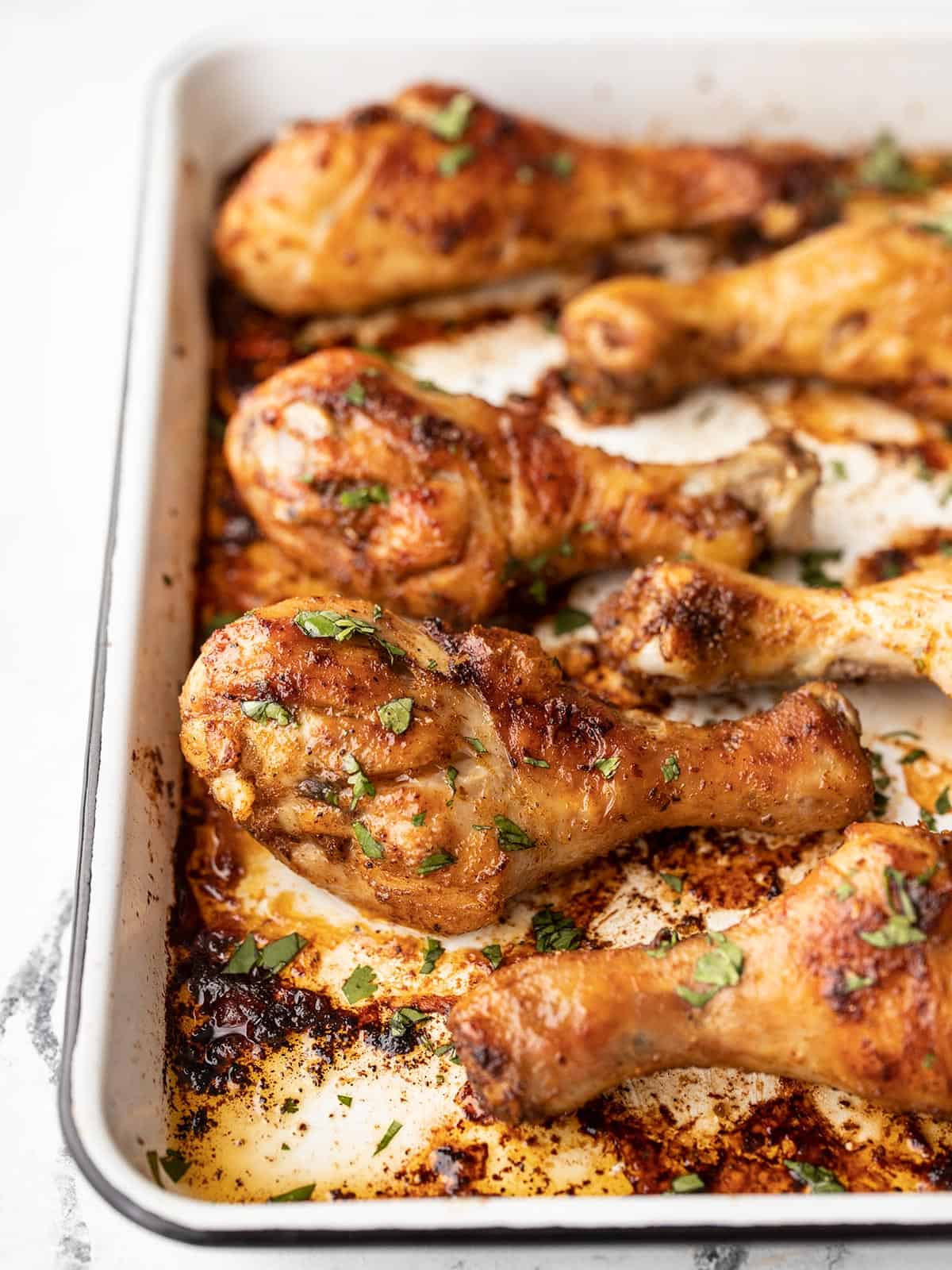 Use Bone-In, Skin-On Drumsticks (or Thighs)
Dark meat chicken, like drumsticks and thighs, is very forgiving, especially when cooked with the bone-in and skin on. The skin helps hold in the moisture and the higher fat content of the meat helps it stay tender and juicy. You can swap in bone-in, skin-on chicken thighs using the same method in the recipe below.
Chicken breast needs a slightly different technique because it is a leaner cut of meat. For a bone-in, skin-on chicken breast I suggest using the method in my Herb Roasted Chicken Breast recipe. Boneless skinless chicken breast should be cooked using the method in my Garlic Herb Baked Chicken Breast recipe.
Other Seasoning Ideas for Chicken Drumsticks
I used a very classic mix of smoked paprika, garlic, onion, and oregano for this chicken drumsticks recipe, but you can literally use any seasoning blend you like for this. There is so much flexibility! Here are a few ideas for seasoning your oven-baked chicken drumsticks:
Lemon pepper
BBQ (use the dry seasonings in the recipe below and then brush with BBQ Sauce in the last 15 minutes of baking).
Teriyaki
Jerk seasoning
Want some sauce for dipping? Try these delicious sauces with your chicken drumsticks:
What to Serve with Chicken Drumsticks
I made some Easy Cheesy Broccoli Rice to serve on the side of my chicken drumsticks, but it would also go great with classics like: mashed potatoes, Mushroom Rice, Three Bean Salad, Oven Roasted Broccoli, Parmesan Roasted Potatoes, Simple Sautéed Vegetables, Roasted Potatoes, Loaded Smashed Potatoes, Herby Potato Salad, or Classic Coleslaw.
Oven Baked Chicken Drumsticks
This oven-baked chicken drumstick recipe is the perfect dinner idea that can be flavored with any of your favorite seasonings.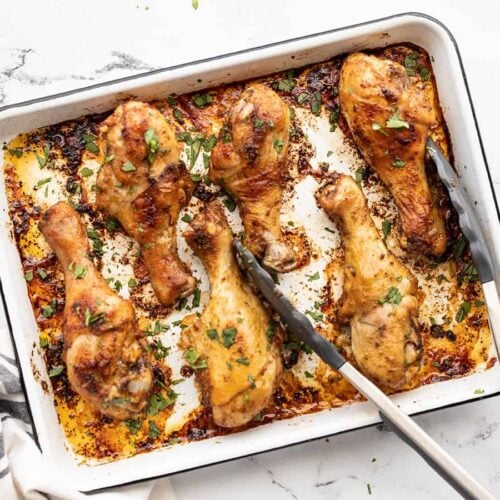 Instructions
Preheat the oven to 425ºF. Combine the smoked paprika, garlic powder, onion powder, cayenne pepper, oregano, salt, and pepper in a bowl.

Place the chicken drumsticks in a bowl and drizzle the cooking oil over top. Sprinkle the prepared seasoning over the drumsticks, then toss until they're evenly coated in oil and spices.

Place the seasoned drumsticks on a baking sheet with enough space around each so they're not touching. You can line the baking sheet with foil or parchment for easier cleanup, if desired.

Transfer the chicken to the oven and bake for 40 minutes, or until they reach an internal temperature of 175ºF, flipping the drumsticks once half-way through. Serve hot.
See how we calculate recipe costs here.
---
Notes
*You can use your favorite high-heat cooking oil.
Nutrition
Serving:
1
drumstick
Calories:
254
kcal
Carbohydrates:
1
g
Protein:
23
g
Fat:
17
g
Sodium:
332
mg
Fiber:
1
g
Read our full nutrition disclaimer here.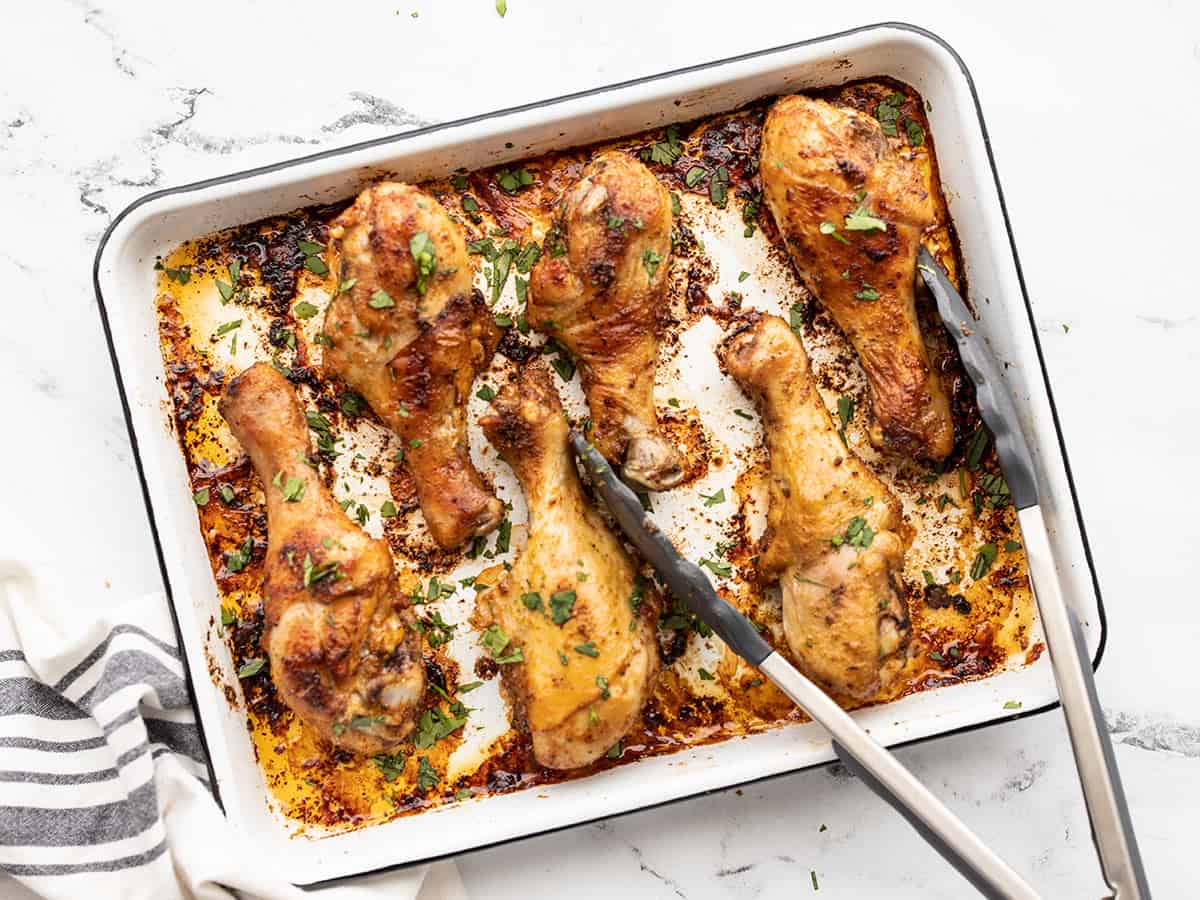 How to Make Chicken Drumsticks – Step by Step Photos
Preheat the oven to 425ºF. Decide what herbs and spices you want to use to season your drumsticks (see the text above the recipe for some ideas). I used a simple mix of 1 tsp smoked paprika, ½ tsp garlic powder, ¼ tsp onion powder, ⅛ tsp cayenne pepper, ¼ tsp oregano, ¼ tsp freshly cracked black pepper, and ½ tsp salt.
Place about 1.75 lbs. chicken drumsticks in a large bowl and drizzle 2 Tbsp of your preferred cooking oil over top.
Toss the drumsticks in the oil and spices until everything is evenly coated.
Arrange the chicken drumsticks on a baking sheet spaced out enough so they are not touching. You can line the baking sheet in parchment for easier cleanup if desired.
Bake the chicken drumsticks for about 40 minutes, turning once halfway through, or until the internal temperature reaches 175ºF.
Serve hot and enjoy! (garnished with parsley for color, not needed for flavor)