If you're a fan of single serving desserts like I am, I think you're going to love this cute little Funfetti Mug Cake. In classic mug cake fashion, this perfectly sized dessert takes only a few minutes to mix together and about 60 seconds to cook. It's the perfect quick fix for those times when you want just a little something sweet. Plus it's just cute and cute food makes me smile.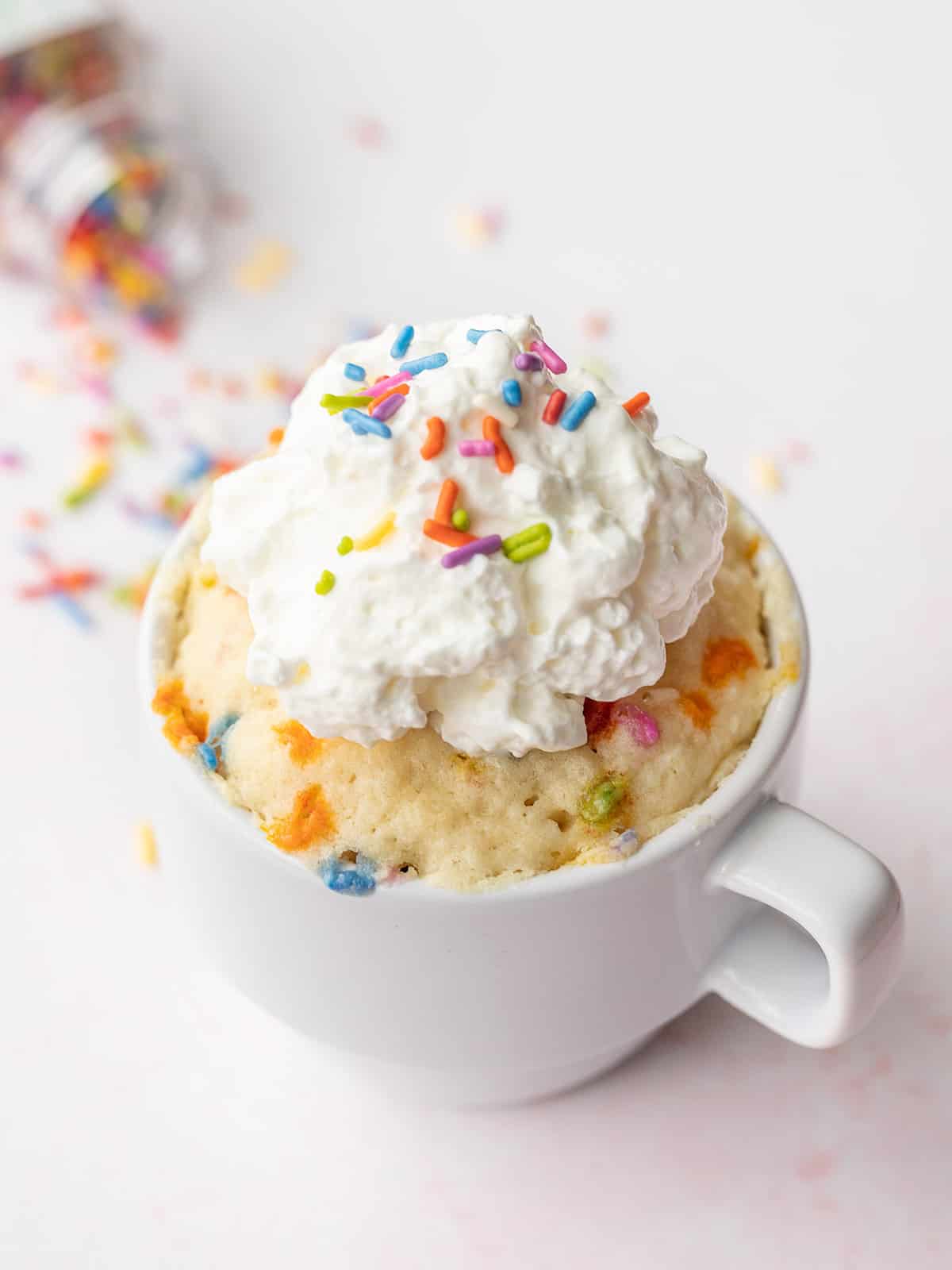 What is Funfetti, Anyway?
Funfetti cake is basically just vanilla cake with rainbow sprinkles. The sprinkles kind of look like confetti, and so it is sometimes called "confetti cake," but somewhere along the line someone coined the term funfetti (fun + confetti) because, let's just face it, sprinkles are FUN. And I guess that name stuck! Now you can find "funfetti" everything, from frosting to cake mixes, cookies, and more.
Frosting Options
The recipe below is just for the cake part of the funfetti mug cake. There are a lot of options for the topping, so I wanted to leave that part up to you.
Whipped Cream – It's really difficult to make just a couple of tablespoons of frosting at once, so I found whipped cream to be the most reasonable option for topping this mug cake. You will want to let the cake cool a bit before adding whipped cream, or else the whipped cream will melt.
Buttercream – You can kind of create a make-shift buttercream frosting by mixing 2 Tbsp room temperature butter, ¼ cup powdered sugar, 1 tsp milk, and ⅛ tsp vanilla. You'll want to use a fork to vigorously "whip" the ingredients together until they get sort of aerated. Since it's such a small amount, it's tricky and doesn't turn out quite as well as a normal-sized batch of frosting where you'd use a mixer to whip air into the frosting.
Cream Cheese Frosting – Similar to the buttercream frosting above, you can mix together 1 oz. room temperature cream cheese, 1 Tbsp room temperature butter, 1 tsp milk, ⅓ cup powdered sugar, and ⅛ tsp vanilla. Again, you'll want to try to "whip" it as best you can with a fork until slightly aerated.
Ice Cream – OR you could just go all out and top your mug cake with a scoop of vanilla ice cream. Honestly, that actually sounds like the best choice. ;)
Can I Make This Funfetti Mug Cake Vegan?
Yes, this mug cake should be pretty easy to make vegan. You can use any type of dairy milk alternative in place of the whole milk listed in the recipe, and simply substitute a store-bought vegan butter in place of the dairy butter. It's also a good idea to check the ingredients on your sprinkles just to make sure those are vegan as well.
What Size Mug to Use
I'm used a small 8oz. mug for my funfetti mug cake and it completely filled the mug and even domed out over the top. I would suggest using a mug anywhere in the 8-12oz. size range for this mug cake.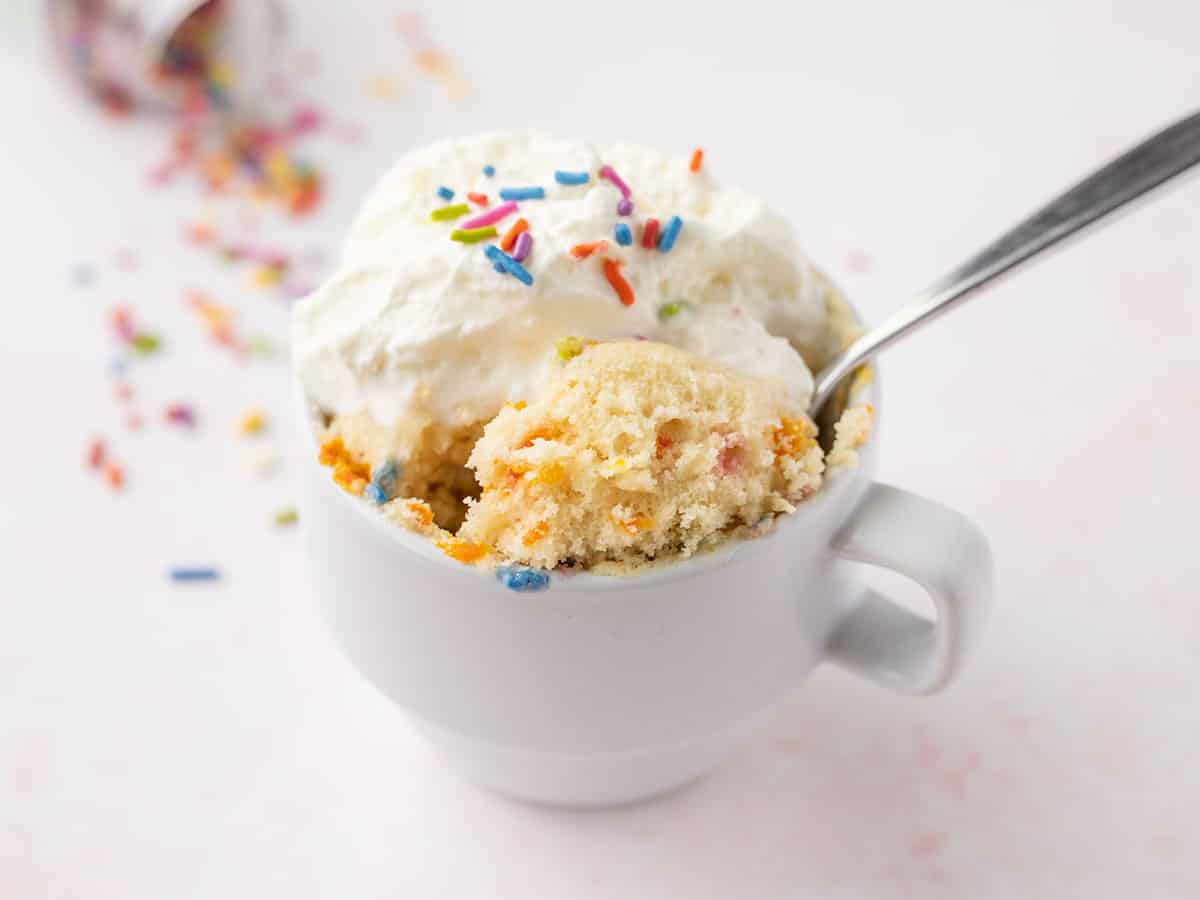 Funfetti Mug Cake
This super cute Funfetti Mug Cake is the perfect single-serving dessert for when you need something sweet and fast!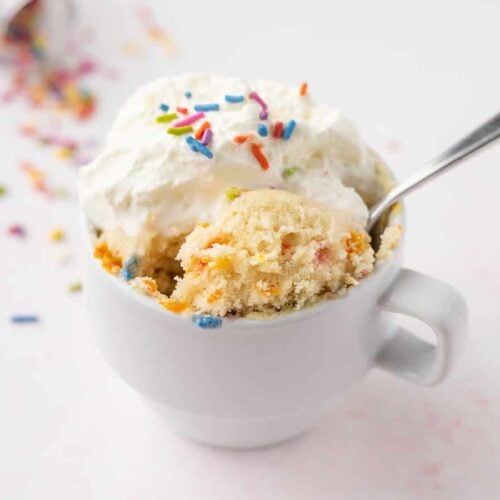 Ingredients
1/4

cup

all-purpose flour

($0.03)

1

Tbsp

sugar

($0.02)

1/4

tsp

baking powder

($0.02)

1

tsp

rainbow sprinkles

($0.10)

3

Tbsp

milk

($0.08)

1

Tbsp

butter (melted)

($0.09)

1/4

tsp

vanilla extract

($0.07)
Instructions
Add the flour, sugar, baking powder, and sprinkles to a microwave safe mug (8oz. or larger). Stir until everything is well combined.

Add the milk, melted butter, and vanilla extract to the mug. Stir until a soft batter forms, making sure to scrape all the flour out of the corners of the mug.

Microwave the mug cake for about 60 seconds, or until it has puffed to about 2-3 times the volume. Cook time will vary with the wattage of your microwave (I used a 1000 watt microwave and 60-70 seconds was perfect).

Allow the mug cake to cool for a few minutes and then top with your preferred frosting option, or enjoy unfrosted.
See how we calculate recipe costs here.
---
---
Nutrition
Serving:
1
mug cake
Calories:
313
kcal
Carbohydrates:
43
g
Protein:
5
g
Fat:
13
g
Sodium:
226
mg
Fiber:
1
g
Read our full nutrition disclaimer here.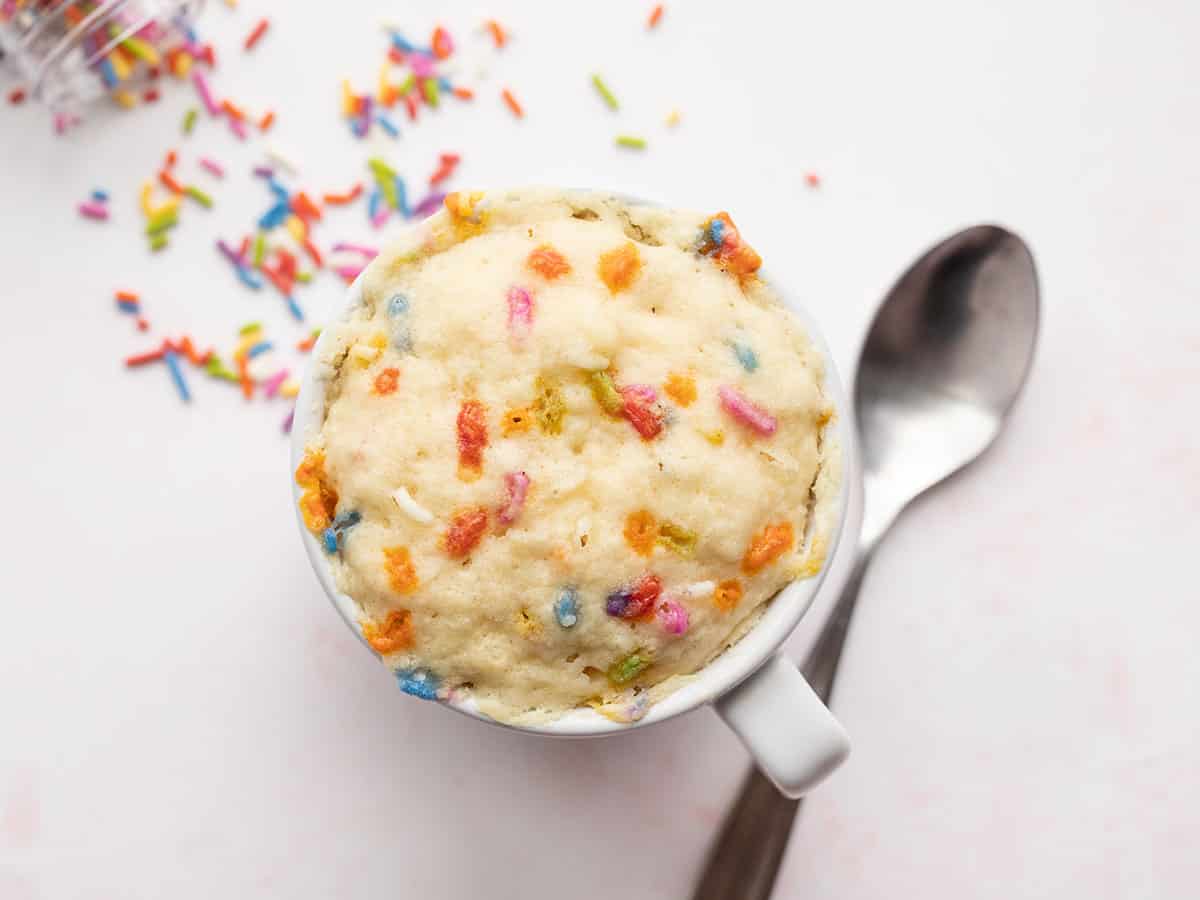 How to Make A Funfetti Mug Cake – Step by Step Photos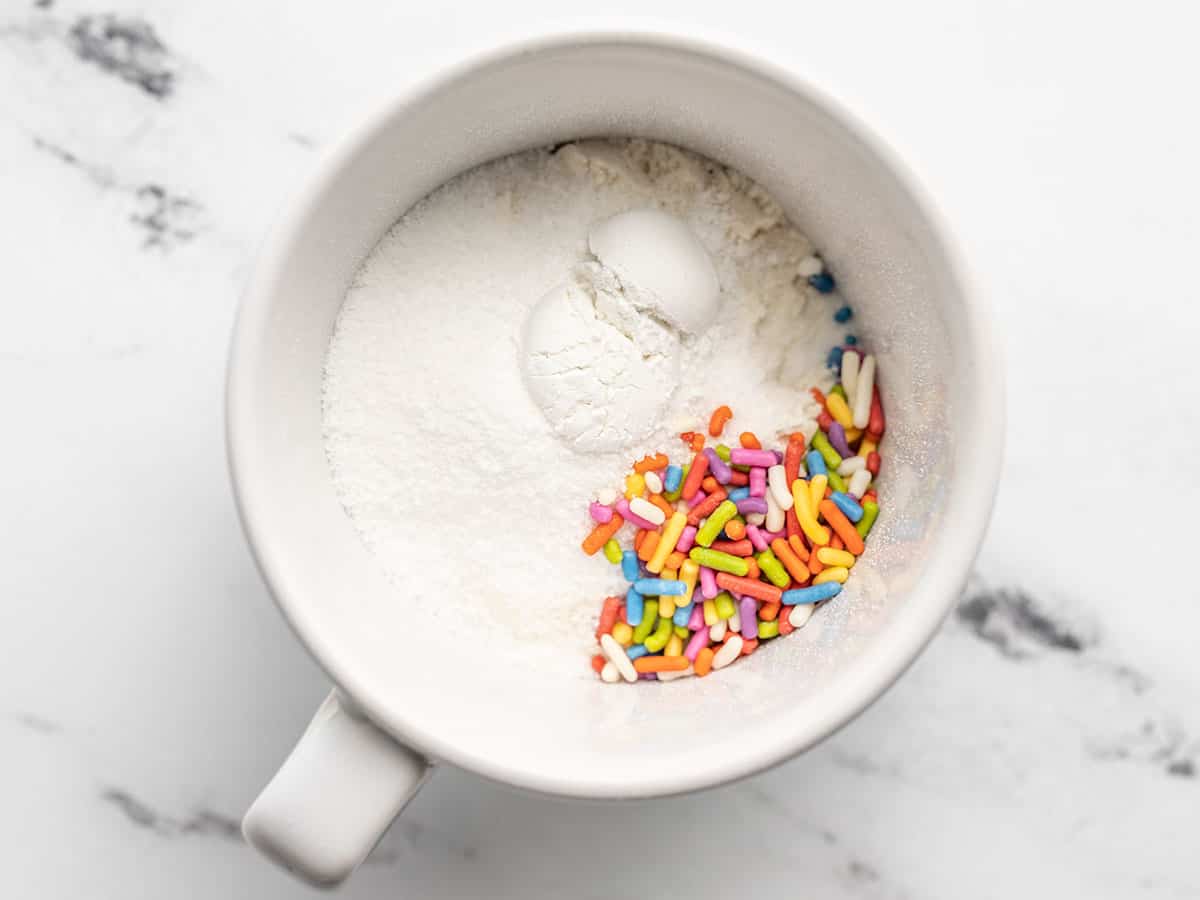 First, combine the dry ingredients. Add ¼ cup all-purpose flour, 1 Tbsp sugar, ½ tsp baking powder, and 1 tsp rainbow sprinkles to a mug (8oz. or larger). Stir until everything is really well combined.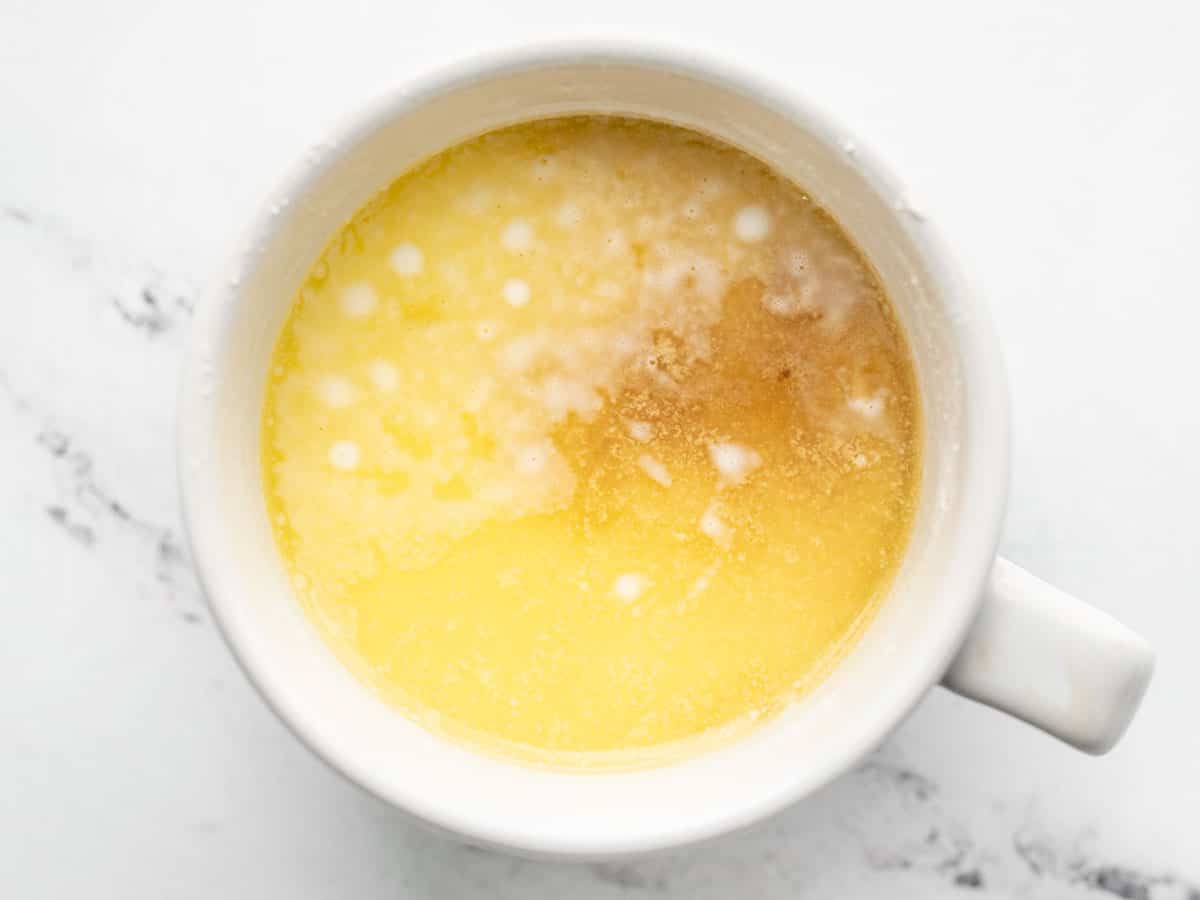 Next, add 3 Tbsp milk, 1 Tbsp melted butter, and ¼ tsp vanilla extract.
Stir everything together until it forms a soft batter. Make sure to scrape all the dry flour out of the bottom corners of the mug.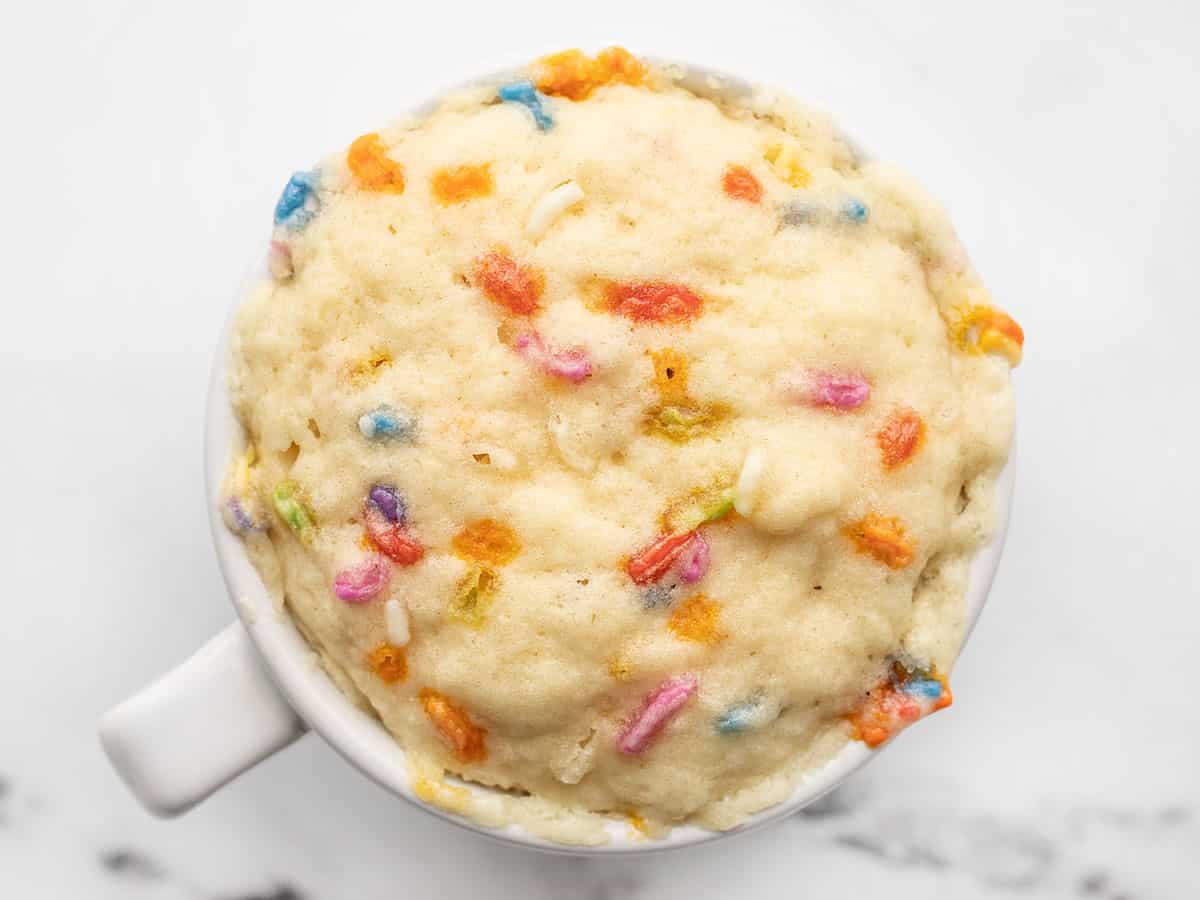 Microwave the mug cake for about 60 seconds, depending on your microwave wattage (I'm using a 1000 watt microwave). The mug cake should puff up to about 2-3 times the volume of the uncooked batter.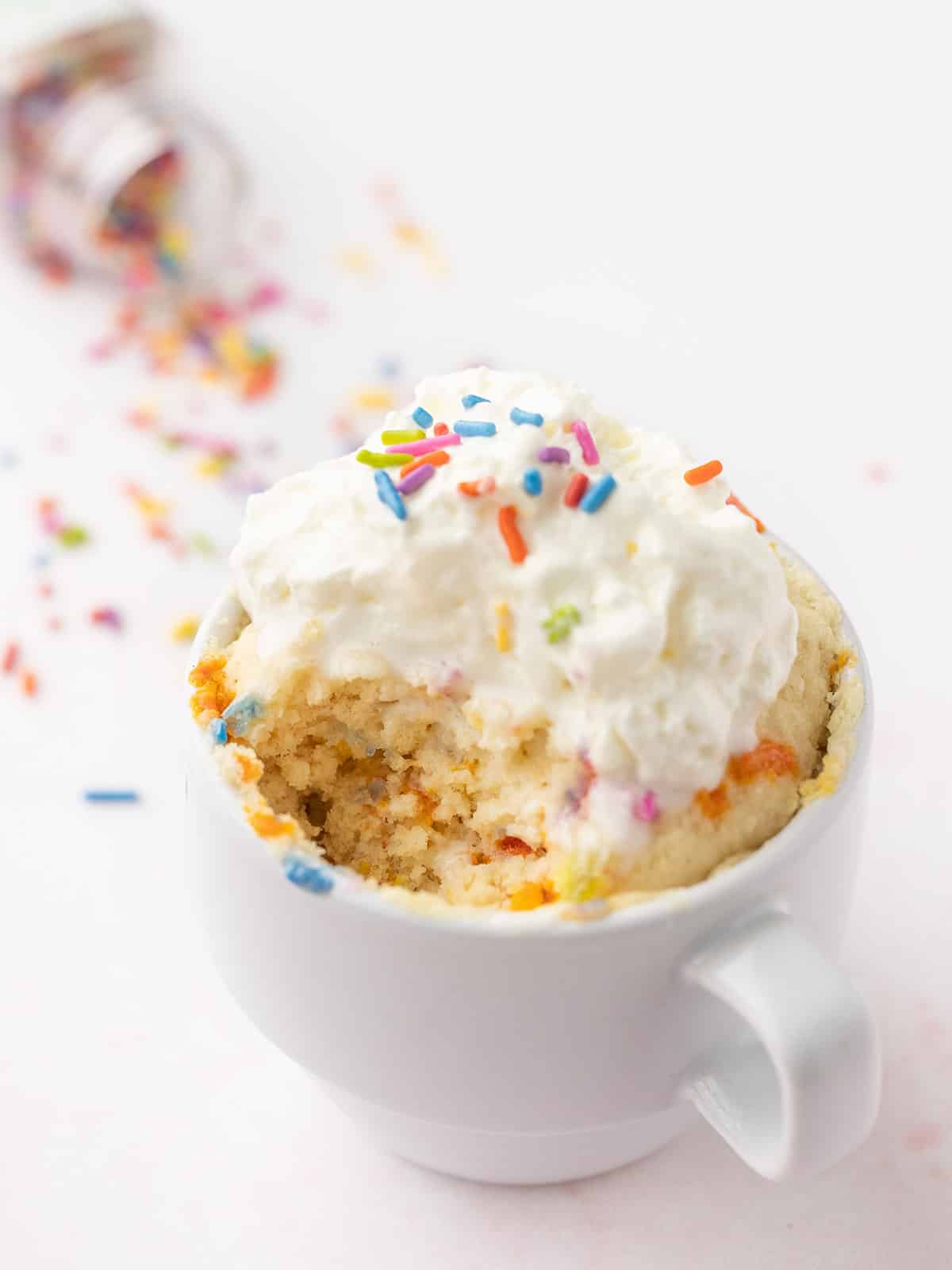 Either eat the mug cake as-is or let it cool a few minutes then top with your favorite icing. Whipped cream is an easy option, but a scoop of vanilla ice cream on top would also be sublime. I've also listed a couple of options for making small-batch frosting in the blog post above the recipe.