I bought a little jar of pesto recently and have been having fun finding ways to add it to everyday recipes. Yesterday I noticed a half bag of macaroni that had been sitting in my pantry for a few months and I just knew it was begging for the pesto treatment. So, I whipped up a quick béchamel sauce, stirred in some grated Parmesan, and a good dollop of pesto. I poured the luxurious sauce over my cooked macaroni then aded couple handfuls of thawed frozen spinach (because I'm all about balance), and had myself the most delicious and creamy pesto mac and cheese.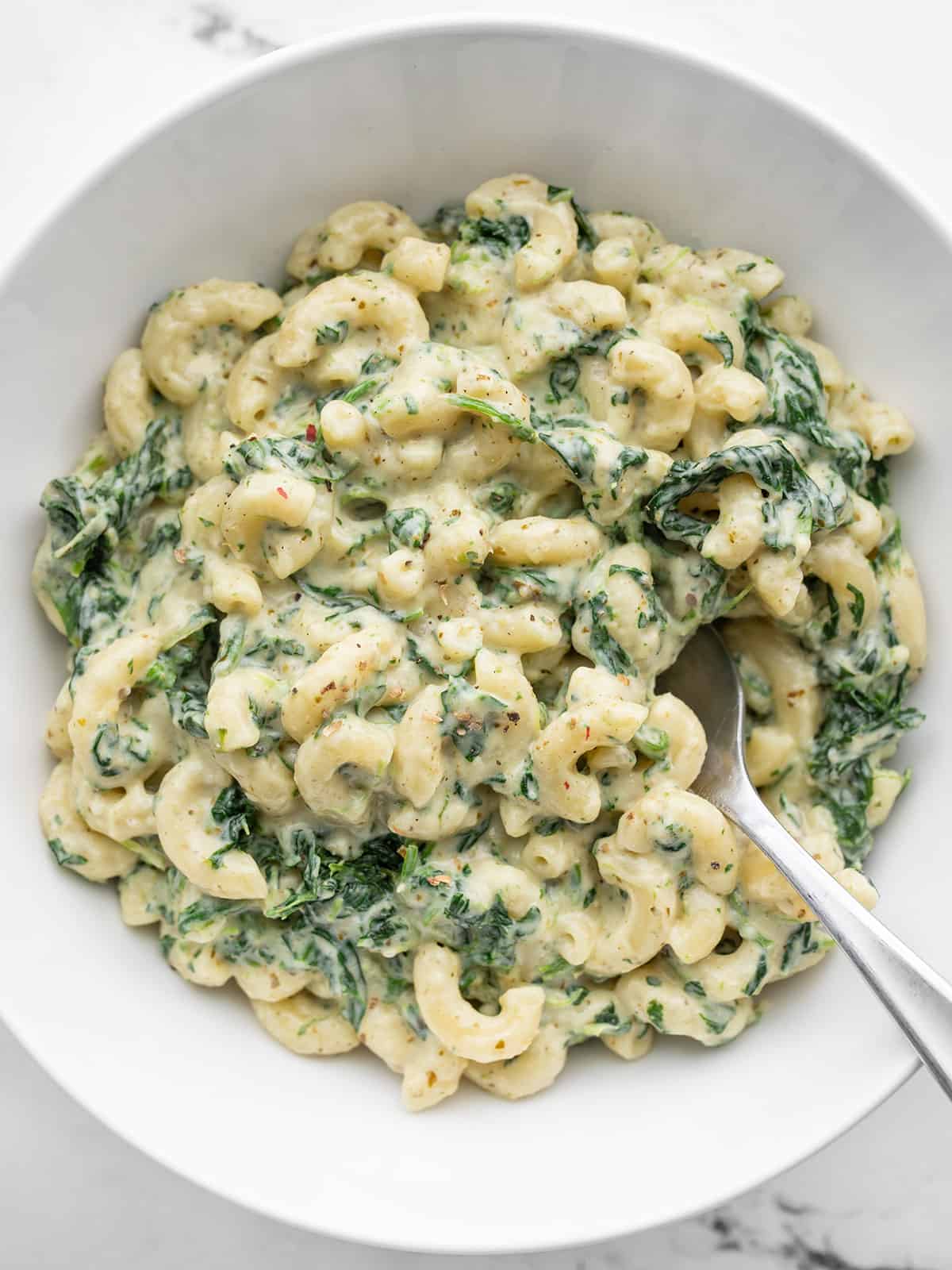 What Kind of Pesto is Best?
I used a simple basil pesto, but the wonderful thing about this recipe is that it is very flexible. You could do a homemade Kale Pesto, you could do a sun-dried tomato pesto, or practically any flavor pesto that you'd like.
How to Use Leftover Pesto
Pesto is definitely an expensive ingredient, but it's so potent that you really don't need a lot to add big flavor to your recipes. The little jar I bought contains about 3/4 cup pesto and costs $3.99. I usually only use about ¼ cup at a time in a recipe, so there is always some leftover. Here are some other recipes that use pesto:
If you can't find uses for your leftovers immediately, pesto can be frozen. A lot of people like to spoon it into ice cube trays so they can grab a couple tablespoons at a time to toss into recipes like pasta, salad dressings, and other sauces.
What Else Can I Add to Pesto Mac and Cheese?
You can really take this recipe so many different directions! Try adding a handful of sun dried tomatoes, or maybe some chopped up rotisserie chicken. Or try topping it with some crumbled feta, bacon bits, or some buttered breadcrumbs!
Also be sure to check out my extra cheesy classic Homemade Mac and Cheese recipe!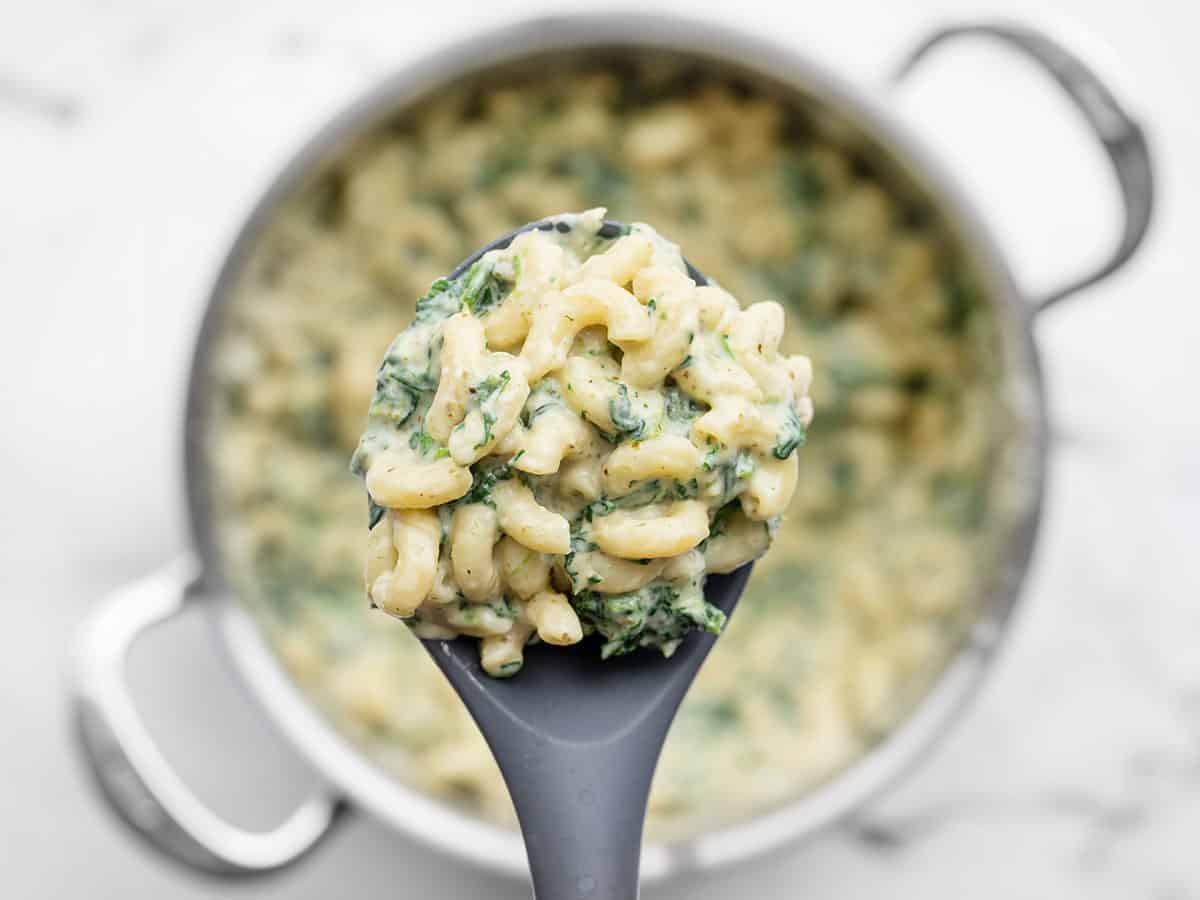 Creamy Pesto Mac and Cheese with Spinach
A simple creamy sauce infused with basil pesto makes this Creamy Pesto Mac and Cheese with spinach the ultimate comfort food WITH a dose of vegetables!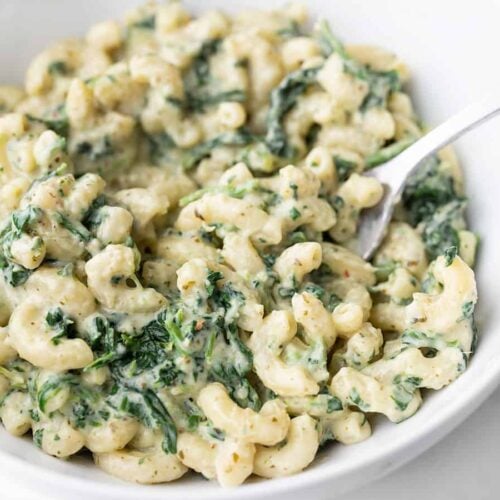 Instructions
Thaw the spinach at room temperature or in the microwave. Squeeze out the excess water. Set the spinach aside. Bring a large pot of water to a boil, then add the macaroni. Boil for 7-10 minutes, or until tender. Drain the macaroni in a colander.

While the pasta is boiling, prepare the sauce. Add the butter and flour to a small sauce pot. Heat and stir the butter and flour over medium heat until it forms a creamy paste and begins to bubble. Continue to stir and cook for about one minute more.

Whisk the milk into the butter and flour, then allow it to come up to a simmer, while whisking. When it reaches a simmer, the sauce will thicken. Remove the sauce from the heat.

Whisk the Parmesan and pesto into the sauce until smooth. This will further thicken the sauce. Season the sauce with salt and freshly cracked pepper. Make sure the sauce is well seasoned as the flavors will be less concentrated once the pasta and spinach are stirred in.

Return the cooked and drained pasta to the large pot (heat turned off) and add the thawed spinach. Pour the sauce over top, then stir until everything is combined and coated in sauce. Serve immediately.
See how we calculate recipe costs here.
---
Nutrition
Serving:
1
cup
Calories:
333.58
kcal
Carbohydrates:
39.75
g
Protein:
12.33
g
Fat:
14.08
g
Sodium:
665.92
mg
Fiber:
2.75
g
Read our full nutrition disclaimer here.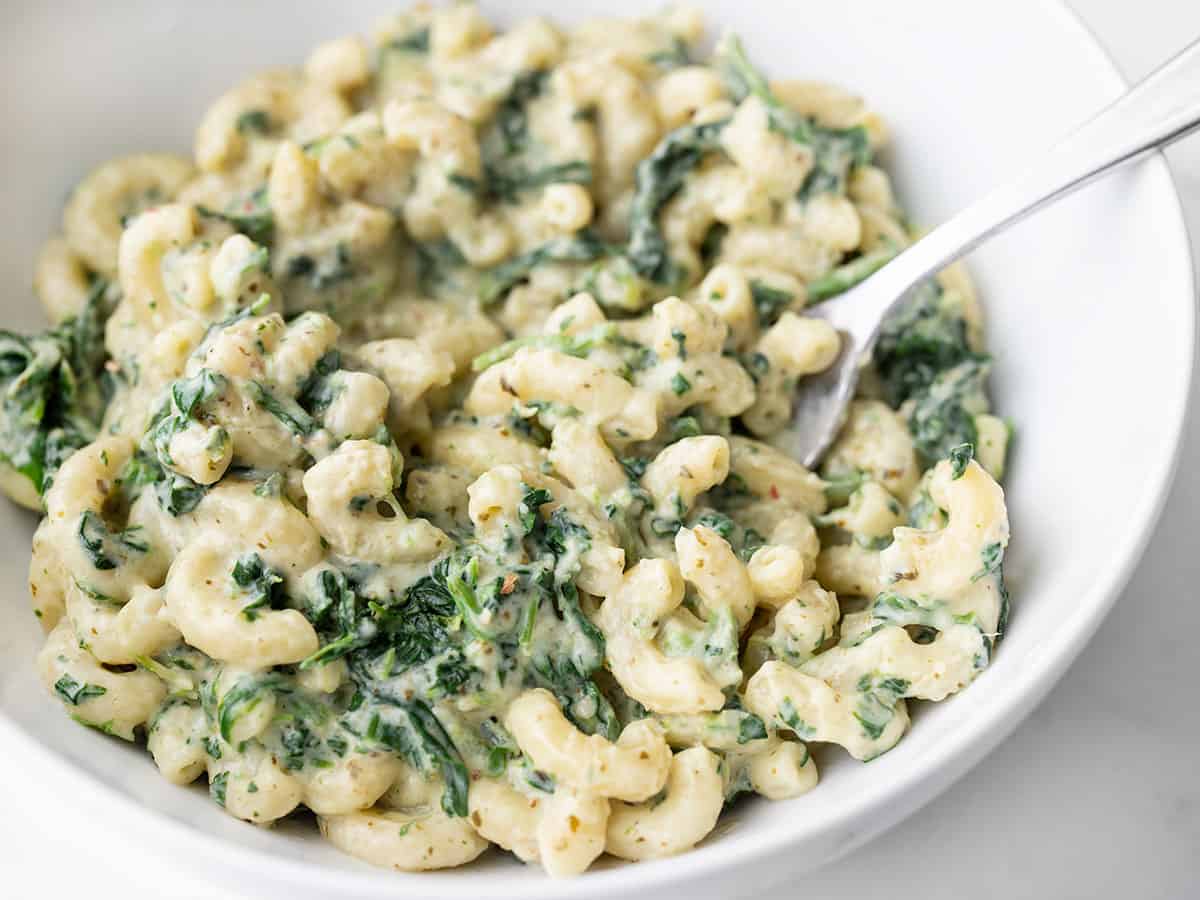 More Mac and Cheese Recipes:
How to Make Pesto Mac and Cheese – Step by Step Photos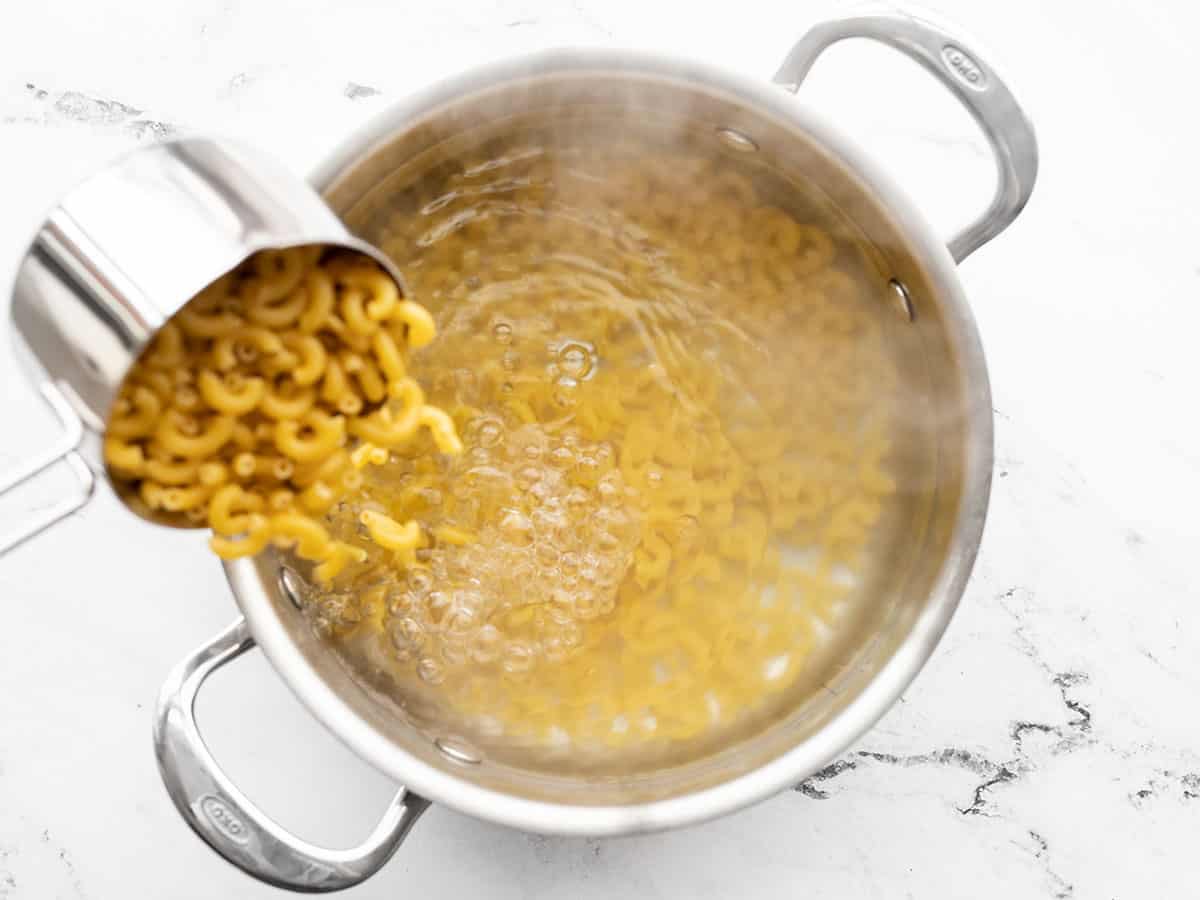 Bring a large pot of water to a boil for the macaroni. Once boiling, add two cups of macaroni and continue to boil until tender but not mushy. Drain the pasta in a colander.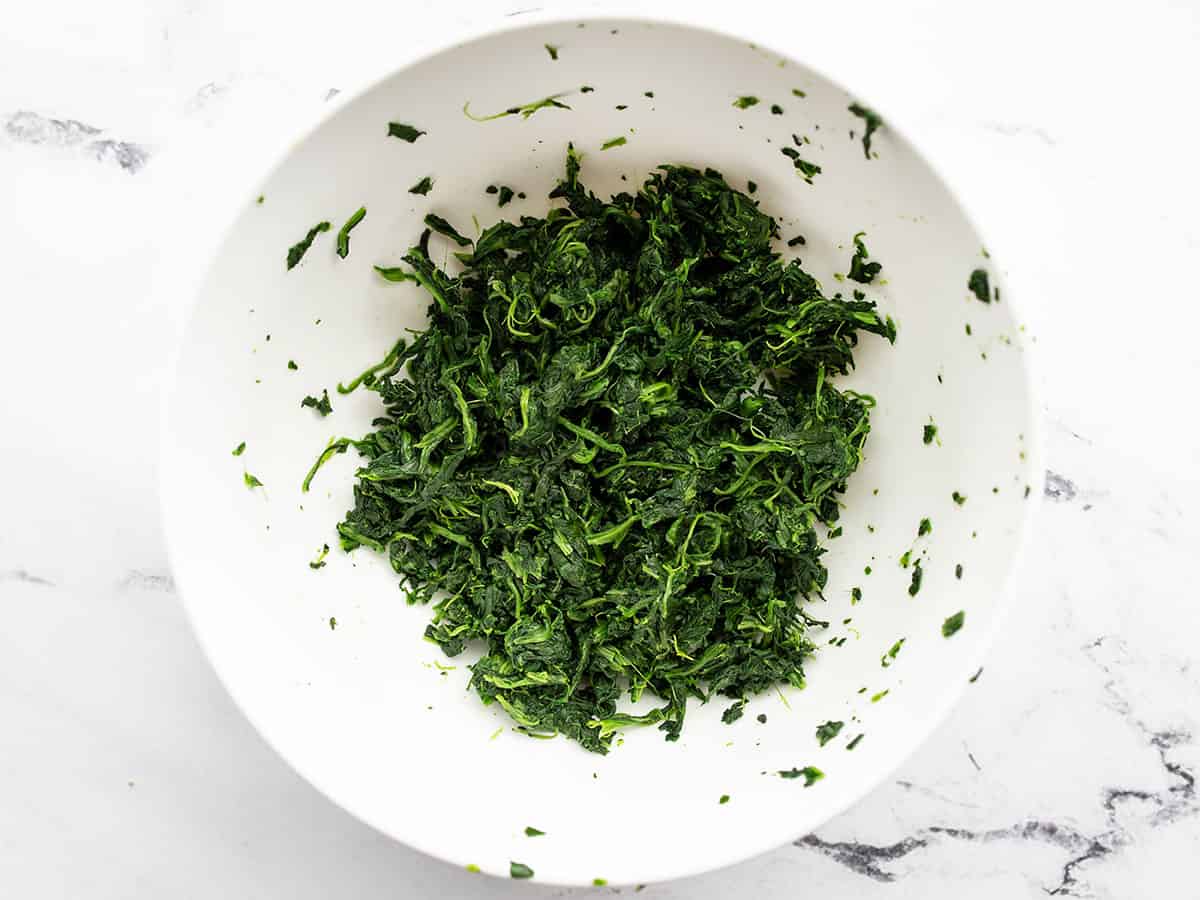 While the macaroni is boiling, thaw 1/2 lb. spinach and then squeeze out some of the excess water. It doesn't have to be bone-dry, just make sure it's not sopping wet.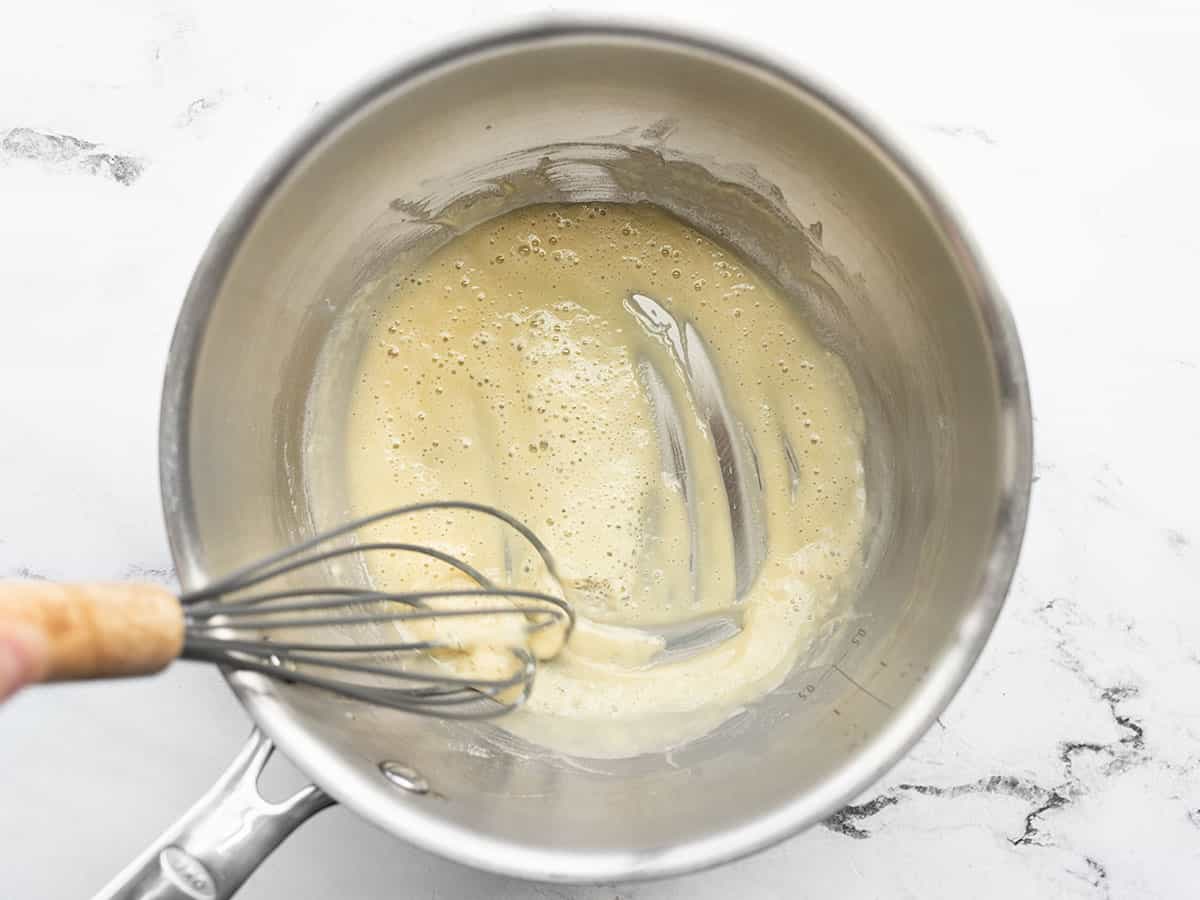 Place 2 Tbsp butter and 2 Tbsp flour into a small sauce pot. Heat them over a medium flame while whisking. Once bubbling, continue to stir and cook for about a minute. This mixture is called a roux (this is a blonde roux, in particular) and is used to thicken the sauce. Cooking it for a minute or so slightly toasts the flour so that you don't have that raw paste-like flavor to your sauce.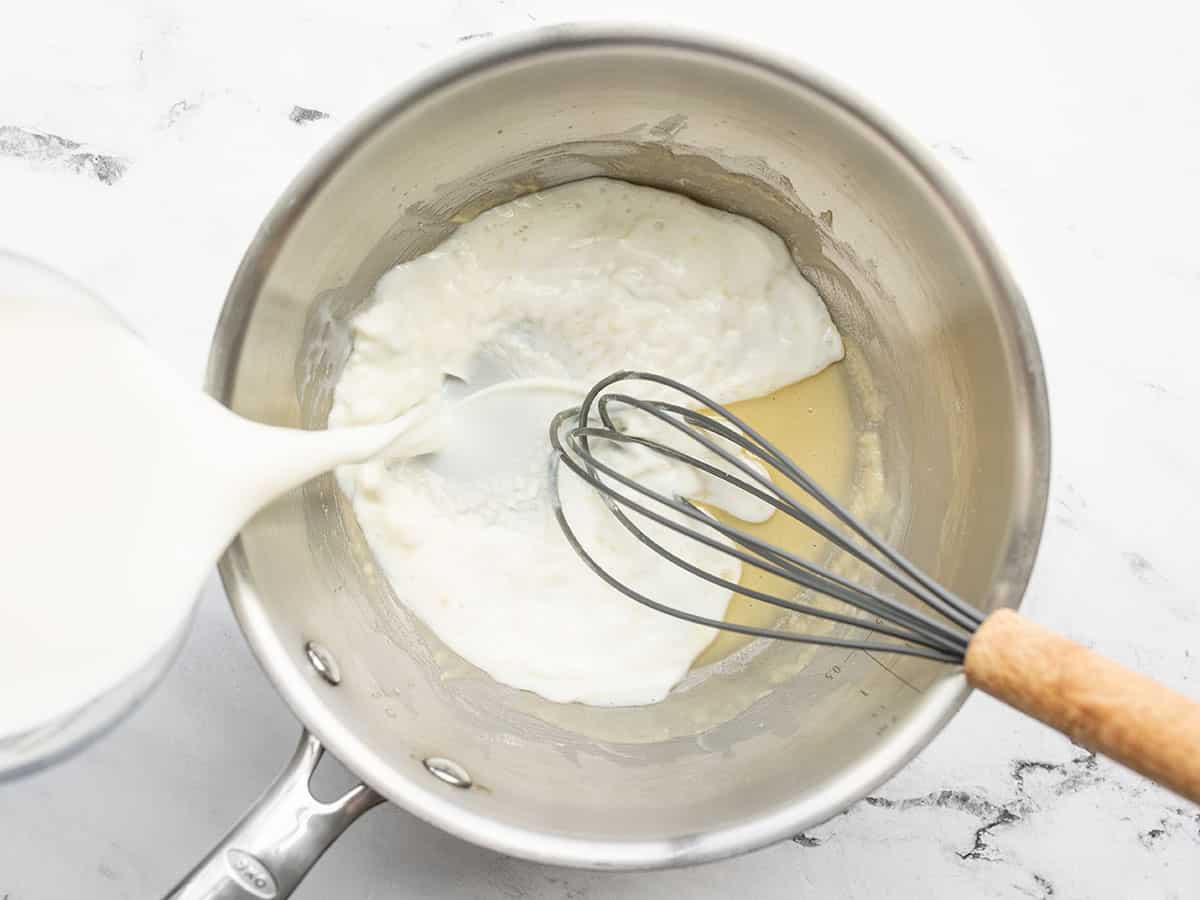 Whisk in two cups of whole milk. Let the mixture come to a simmer, whisking occasionally to make sure the milk doesn't scorch on the bottom.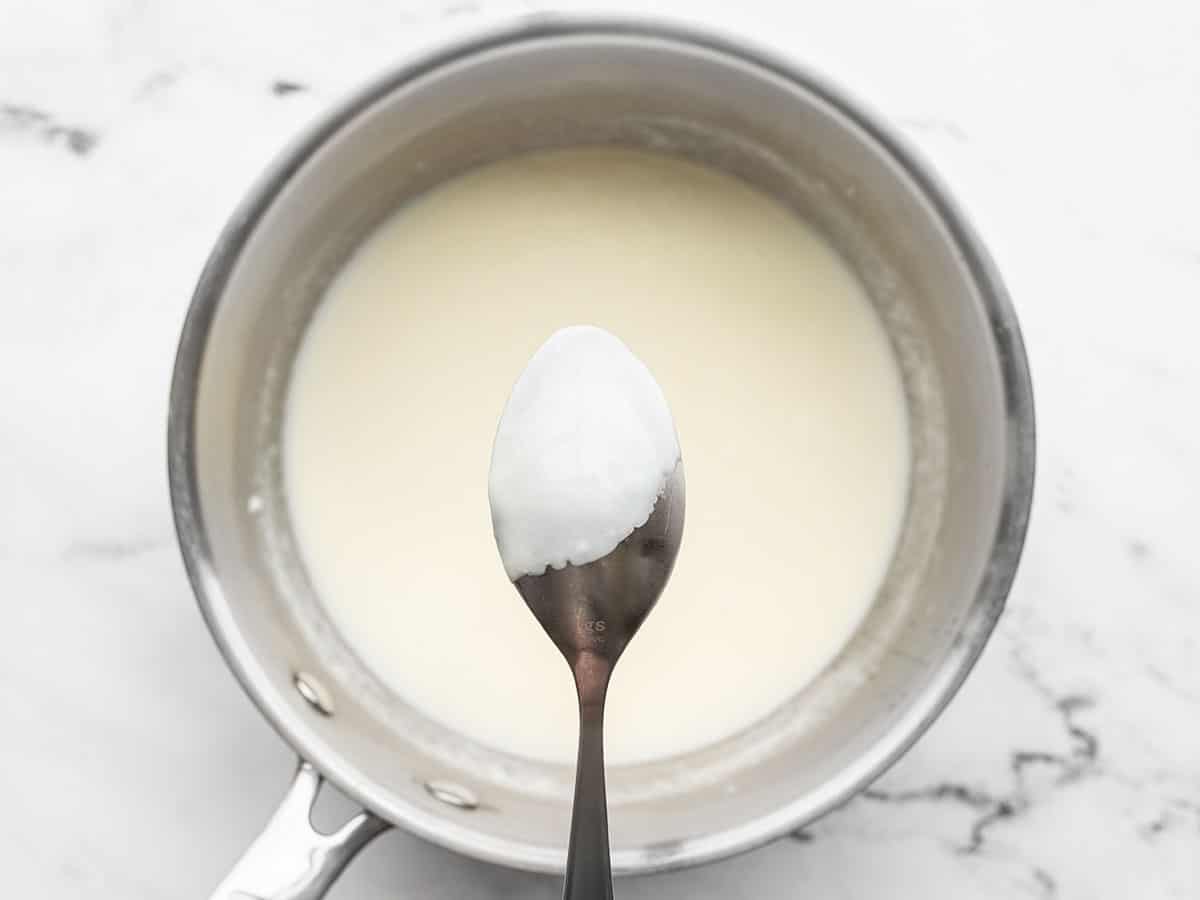 Once the milk starts simmering, that's when the roux magic happens. The milk will thicken slightly. It won't be as thick as a cheese sauce at this point, but it should have noticeably more body. Turn the heat off.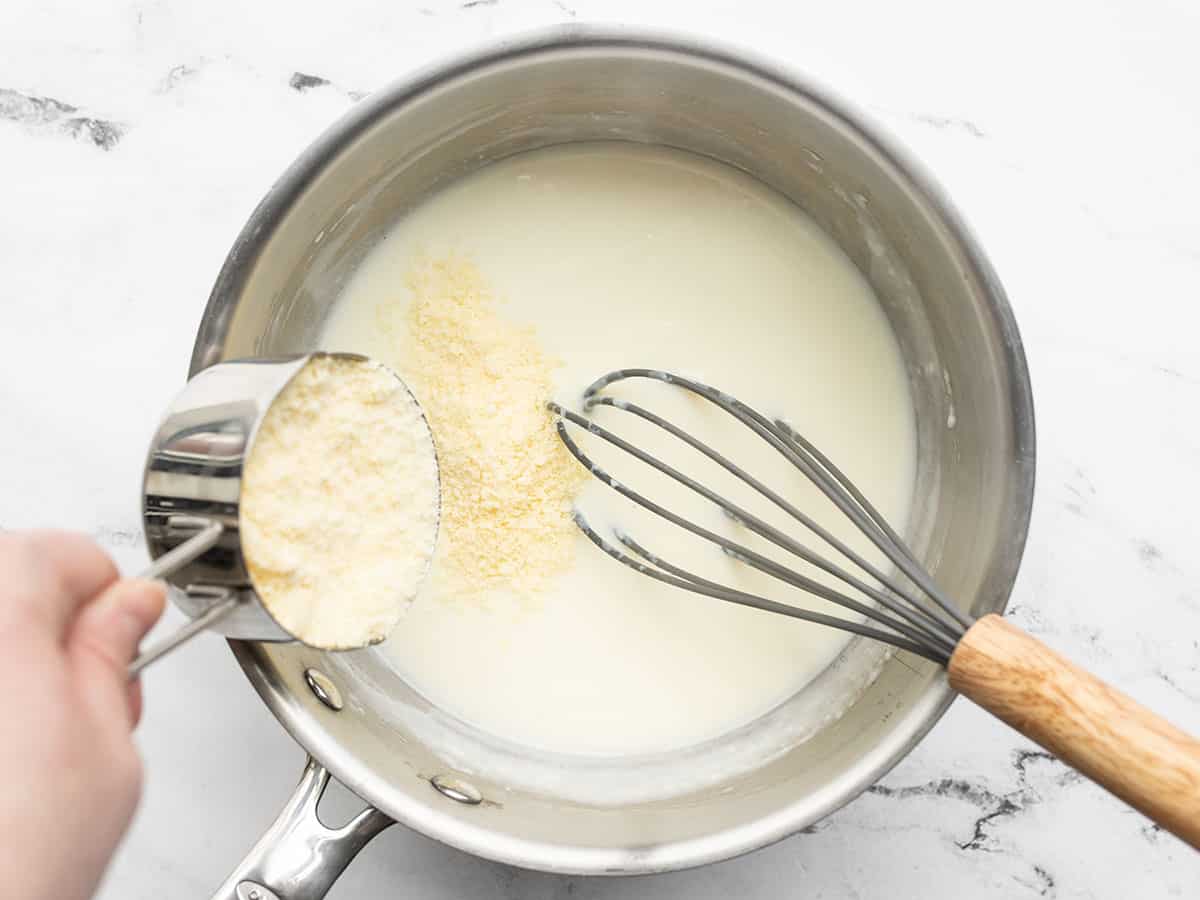 Whisk in 1/2 cup grated Parmesan. The cheese will help thicken the sauce even more.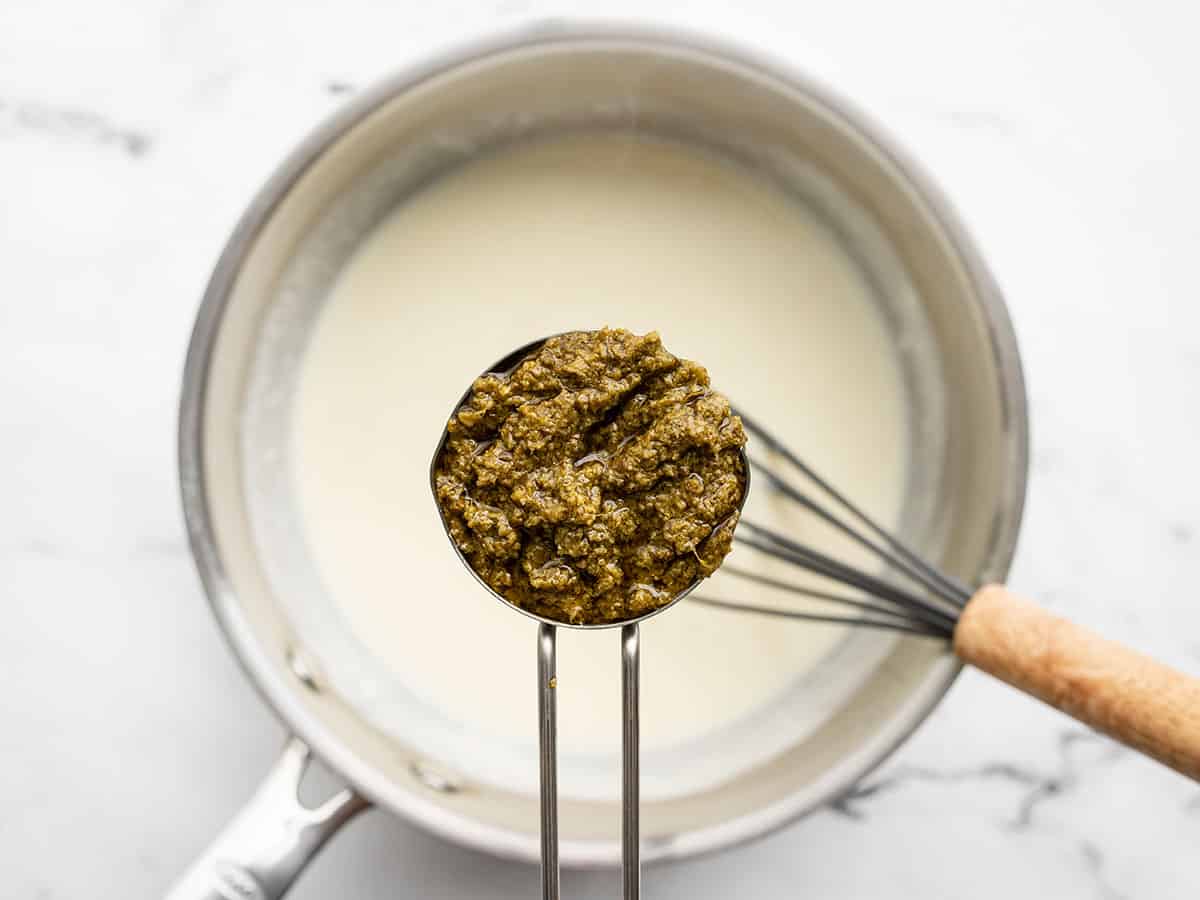 Then whisk in 1/4 cup basil pesto.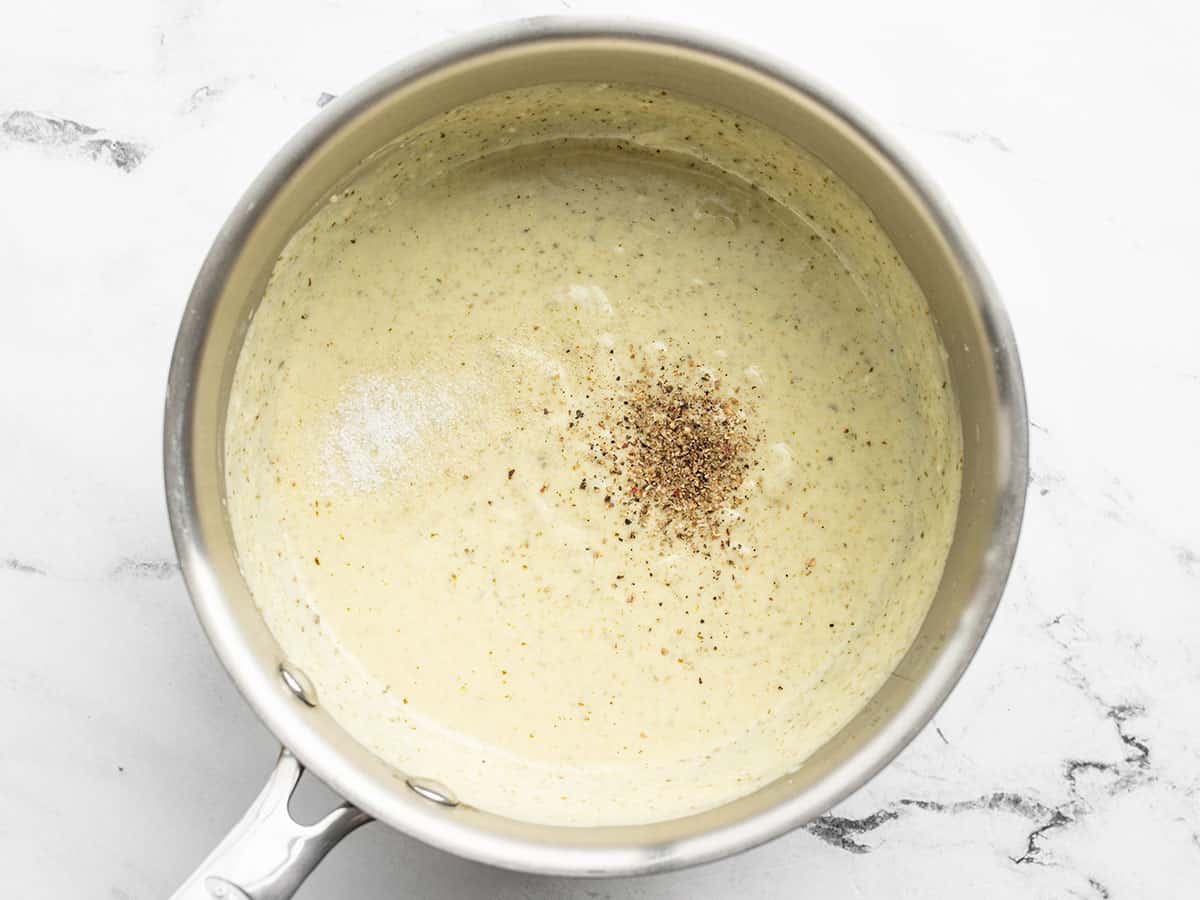 Finally, season the sauce with salt and freshly cracked pepper. You want the sauce to be pretty heavily seasoned because it will taste less concentrated once the pasta and spinach are stirred in. I used 1/2 tsp salt and about 5-10 cranks of a pepper mill.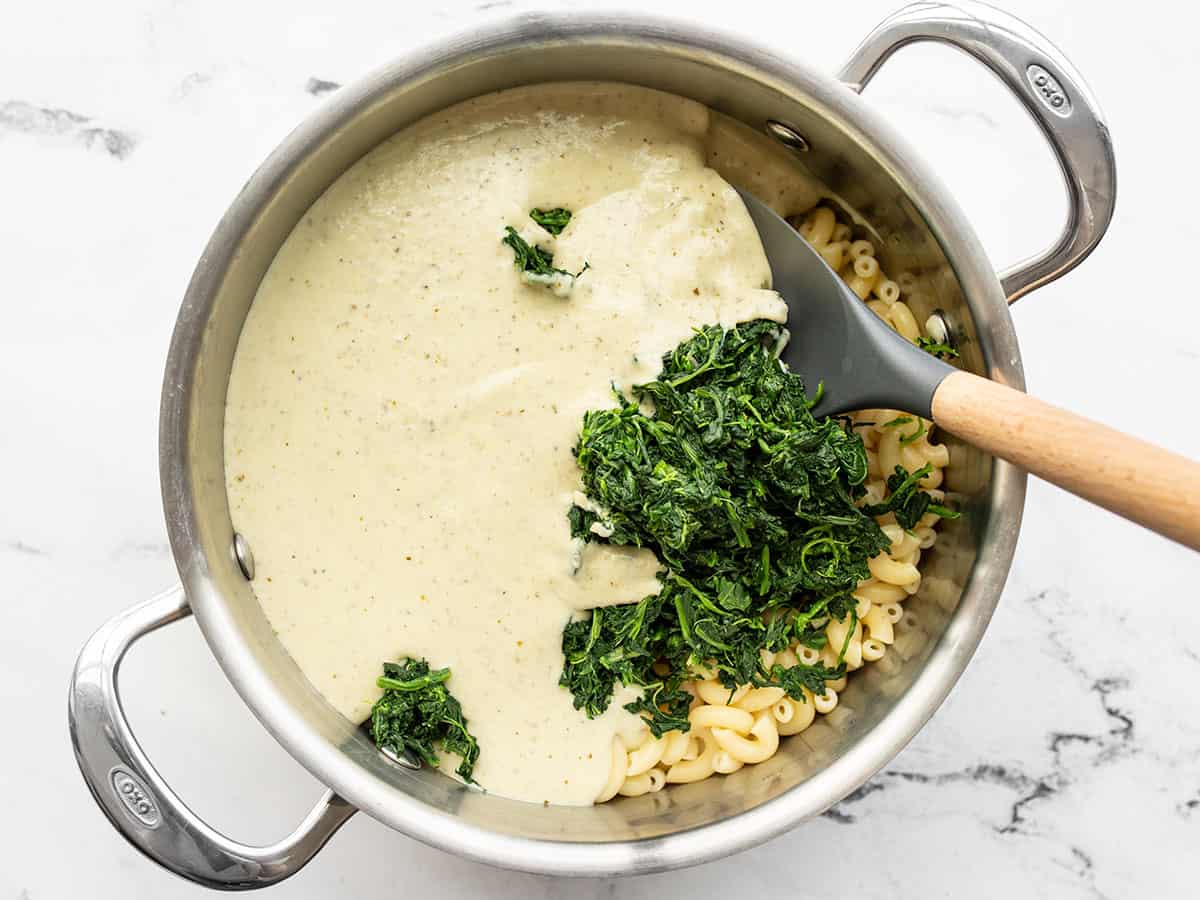 Return the cooked and drained pasta to the large pot it was cooked in, add the thawed and squeezed spinach, then pour the creamy sauce over top.
Then stir all that creamy pesto goodness together. Oh my.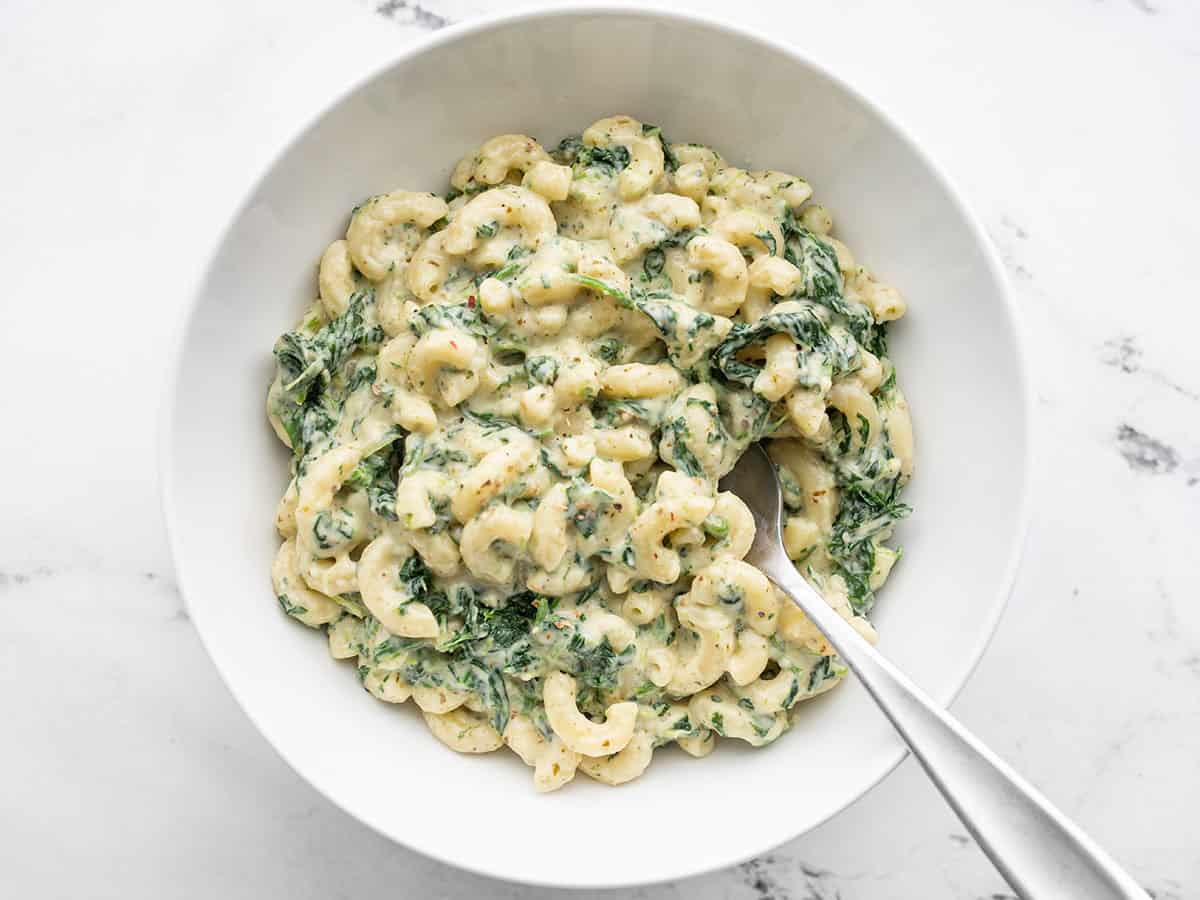 I'll just say it one more time, then leave it there… Creamy Pesto Mac and Cheese with Spinach–OH MY.