Continuing on with the series of no-cook lunch boxes, I bring you The Peanut Butter Lunch Box! This one is so simple, yet I may have enjoyed this one the most out of all the lunch boxes I've prepared so far. I don't know if it was the sweet-salty combo, or maybe it was just nostalgia (for about two years straight in elementary school I ate peanut butter apple sandwiches for lunch), but every day I looked forward to this lunch box! So, if you're a fan of peanut butter sandwiches, but want to change things up, give this peanut butter lunch box a try!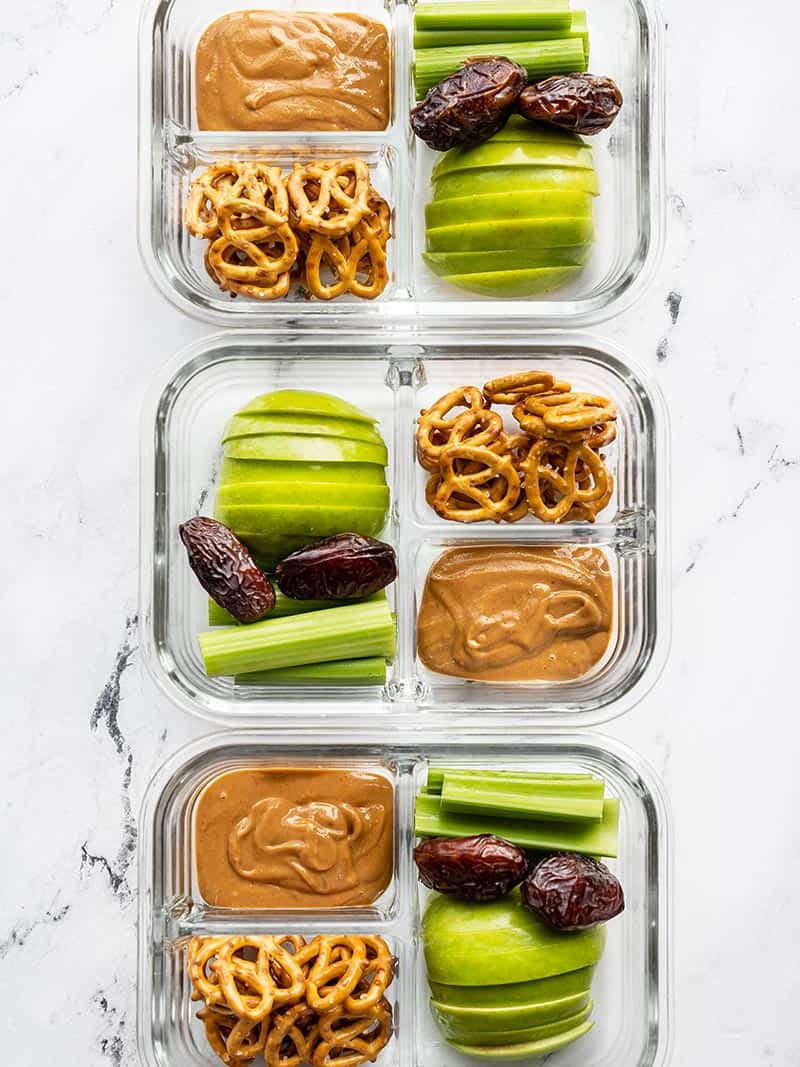 What's in the Peanut Butter Lunch Box
Peanut butter is the focus of this lunch box, with both sweet and savory side items that are all delicious dipped into the creamy peanut butter. For my peanut butter lunch box I added pretzels, apple slices, celery, and dates. If you can't eat peanut butter, this lunch box would be just as good with any other nut butter you prefer (almond, cashew, sunflower, etc.).
About Those Dates…
If you've never eaten dates with peanut butter before, prepare for your mind to be blown! Medjool dates are rich, sweet, sticky, and taste a little bit like caramel, so it tastes like you're eating caramel with peanut butter! It's the perfectly rich and sweet natural dessert.
You'll find Medjool dates in the produce department of most major grocery stores (scroll down to the photos below the recipe card to see what type of container they come in). They usually have a small pit inside, but they are easily pulled open with your fingers, and then you can simply remove the pit before smearing that creamy peanut butter all over the date.
How to Keep the Apple Slices Fresh
As most people know, apples begin to brown after they are sliced in response to exposure to oxygen. This brown color is a simple chemical reaction and does not indicate that the apple has gone "bad." To help slow the browning, keep the apple slices bunched closely together to reduce the exposure to oxygen on the cut surfaces (see photos). You can also sprinkle a little lemon juice over your apple slices to further slow the browning, if you prefer. Even without lemon juice, my apple slices only browned a very small amount over four days in the refrigerator.
What Containers Do You Use?
For this lunch box I used a set of divided glass containers that I purchased on Amazon (linked below in the bottom of the recipe card). The dividers don't go all the way up to the lid, so they don't keep liquid items separate, but for solids or super thick stuff like peanut butter, it works just fine.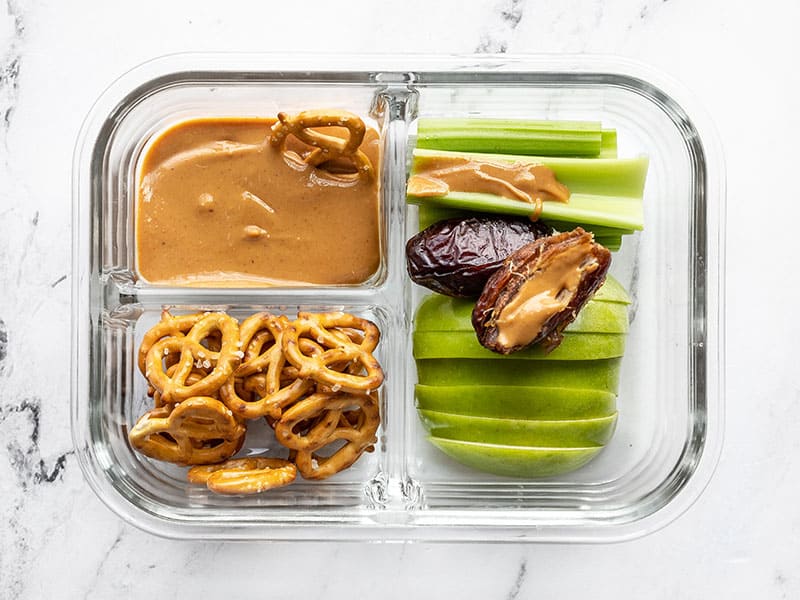 The Peanut Butter Lunch Box
This peanut butter lunch box is an easy no-cook lunch idea for school, work, picnics, or road trips! No reheating needed!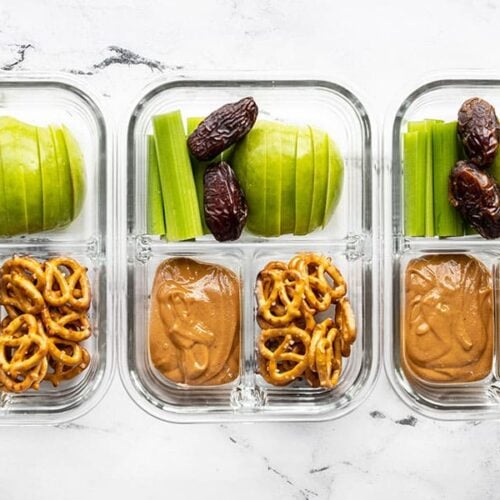 Ingredients
¾

cup

peanut butter*

($1.49)

60

mini pretzels

($0.26)

2

apples

($0.78)

8

Medjool dates

($1.33)

4

ribs

celery

($0.70)

1

tsp

lemon juice (optional)

($0.01)
Instructions
Wash and slice the celery into sticks. Slice each apple in half, remove the core, then cut into slices. Sprinkle the lemon juice over the apple slices to slow browning, if desired.

Add 3 tablespoons of peanut butter to each container. Add about 15 pretzels to each container, along with ½ an apple, some celery sticks, and two dates. Enjoy immediately or refrigerate up to five days.
See how we calculate recipe costs here.
---
Notes
I used natural style peanut butter, but you can use whichever type you prefer, or another type of nut butter.
Nutrition
Serving:
1
lunch box
Calories:
572.68
kcal
Carbohydrates:
80.15
g
Protein:
14.53
g
Fat:
25.65
g
Sodium:
517.13
mg
Fiber:
9.93
g
Read our full nutrition disclaimer here.
Try These Other No-Cook Lunch Boxes:
The Peanut Butter Lunch Box – Extra Notes
I used Granny Smith Apples for this lunch box, but you can use any variety of apples you like. I included ½ an apple with each box. Slice the apples in half, then remove the core (I used a sharp measuring spoon, but you could use something like a melon baller as well). Slice each apple half into slices. Keeping the slices close together prevents oxygen exposure, which will slow the browning. You can also sprinkle a little lemon juice over the slices to further help slow the browning.
Medjool dates are usually sold in a container like this, but sometimes I see them sold loose by the pound, which is really nice when you only need a few! I see them at just about every grocery store now, so they are widely available. You'll find them in the produce department, usually not refrigerated.
To eat the dates, simply pull them open with your hands. They are soft and sticky, so they pull open very easily. You'll find a small pit in the center (you can see the pit on the left side). Remove the pit.
Smear a little peanut butter on each half of the date and enjoy! This combo is super rich and sweet, so you'll only need one or two! Enjoy!