Top 10 Recipes for College Students
It's that time again! Time to settle in for the semester and really hit the books… But don't let food take the back burner. You need to keep yourself nourished and full of energy to make it through those classes, study sessions, and probably a part-time job, too. I know it's easier to just stop and grab some fast food, or how when you're totally stressed nothing sounds better than take-out pizza, but I promise you, a home cooked meal will take you much further.
I know what it's like to be a busy, stressed, and BROKE college student. That's where I was when I started this blog and these recipes really helped me pull through. I decided to put together this list of the top ten Budget Bytes recipes for college students to help those who are still working through those difficult years. What makes a recipe good for students? It needs to be easy, filling, totally tasty, good as leftovers, or a good way to squeeze in some vegetables. They might not be all of those things at once, but I tried to pick recipes that hit as many of those attributes as possible.
So… Here are my picks for the top ten recipes for students. Feel free to share your favorites in the comments!
Top 10 Recipes for Students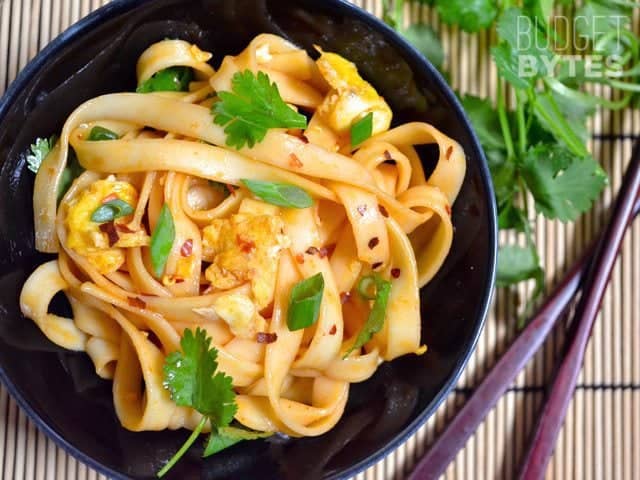 Dragon Noodles – Because, they're Dragon Noodles. They're practically famous. Everyone loves them and they take just minutes to prepare. It's the perfect alternative to take-out and they're super customizable. Add chicken or vegetables for a more well rounded meal, or leave it sweet and simple for a fast nosh.
Curried Chickpeas with Spinach – When the autumn nights start to get a chilly bite, warm up with a hot bowl of these hearty curried chickpeas with spinach. Packed with flavor, this vegan dish is delicious and filling enough to finally bring vegetarians and carnivores together over one meal.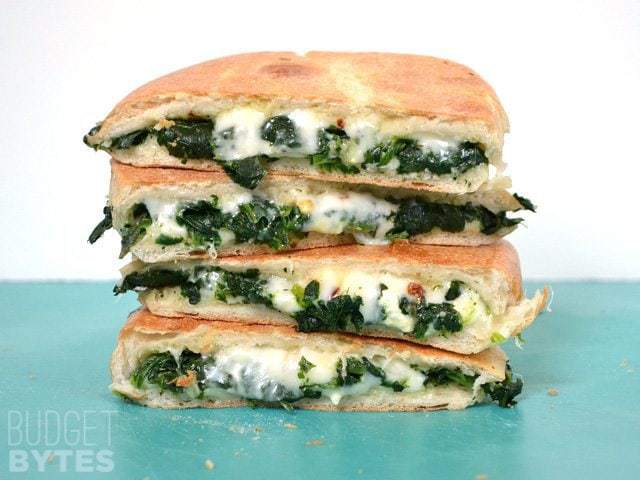 Spinach Feta Grilled Cheese – Grilled cheese is the ultimate study/comfort food. Take it up a level with some frozen spinach, a little garlic, red pepper flakes, and feta. You now have a super fancy grilled cheese AND a good dose of vegetables. WIN.
Chorizo Sweet Potato Chili – Whether you're out tailgating or spending the night in with your roommates, a good pot of chili is never a bad idea. This easy version uses Mexican chorizo to add a blast of flavor and a little bit of sweet potato for extra texture, color, and nutrients. Bonus: this freezes well and makes GREAT leftovers!
Creamy Tomato Spinach Pasta – Dinner is done in under 30 minutes with this one, which is great when you have a ten page paper due the next morning. Don't drop the big bucks at Macaroni Grill, impress your date (or yourself) with your own fancy pants pasta for fraction of the cost and time.
Easy Oven Fajitas – These fajitas are perfect for when you need to feed a crowd (hello, hungry study group?). The meat and vegetables (or just vegetables) bake effortlessly in the oven, then your guests can serve them selves with tortillas and toppings, like sour cream, cilantro, or lime. So easy, SO delicious.
Chunky Lentil & Vegetable Soup – I call this my "back up" soup because it's great to just make up a big batch and then keep single servings in my freezer for those nights when you are SO tired that you can barely think about food. It's super nourishing and absolutely packed with flavor. A big bowl of this will feed both your body and soul to help you power through those stressful times.
Hearty Black Bean Quesadillas – Quesadillas are the perfect snack (just ask Taco Bell). This spicy vegetarian mix of black beans, corn, onion, and cheese is 100x better than anything you'll get at the drive through. More flavor, more fiber, more filling, and still extremely easy. Promise.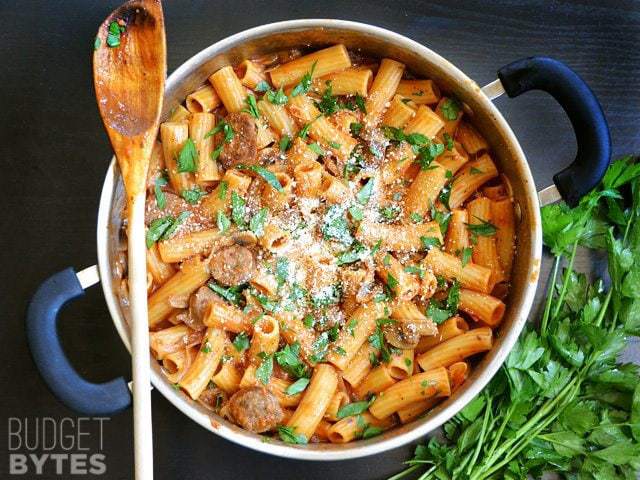 One Pot Sausage & Mushroom Pasta – Is there anything more comforting than pasta and red sauce? I think not. This one pot version cooks the pasta right in the sauce for fewer dishes and more flavor. I may not ever cook pasta another way.
Southwest Chicken Skillet – Here's another one skillet classic. No chopping required, just stir the ingredients together, then let it cook. …and the leftovers are even better. Love it! (Use a store bought rotisserie chicken for fast prep)
What was/is your favorite recipes to help you get through the semester? Share in the comments below!