Memorial Day is just a few days away and you know what that means, Summer is about to (un)officially begin!! I'm already getting requests for recipes to bring to BBQs and potlucks, so I thought I'd do a roundup. Here are 25 of my favorite recipes for summer BBQs and potlucks.
I suspect that most people will do classic burgers, dogs, chicken, and ribs for their main grilling dish, but I have included a couple of specialty burgers, plus a vegetarian alternative so that everyone can eat happily. In addition to that, I have plenty of salads, sides, and other dishes that you can bring to feed a crowd. Full disclaimer: most of these recipes are for around six servings, so please consider the size of your party and scale up the recipes as needed. You can scale the recipes on my site by simply typing in a new number in the servings field on the recipe card and the ingredient quantities will automatically adjust. Yay!
Burgers and Alternatives
You simply can't have a summer BBQ without a burger. So here are some fun burger options if you want something a little different: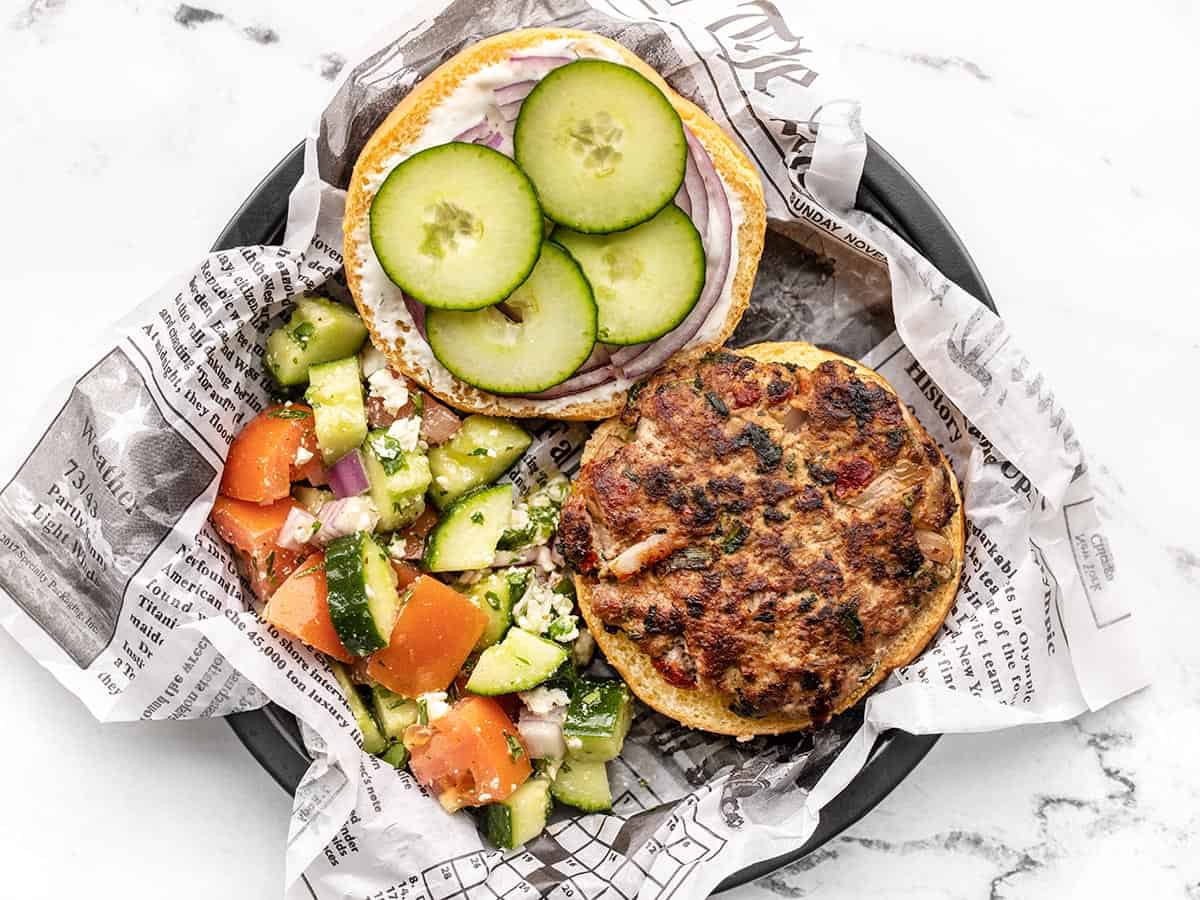 Mediterranean Turkey Burgers
Spinach, sun dried tomatoes, feta, and a dilly yogurt sauce make these Mediterranean Turkey Burgers full of flavor and color.

Get the Recipe »
If you think the idea of a turkey burger sounds boring, think again! These turkey burgers are packed to the brim with delicious Mediterranean flavors, perfect for summer.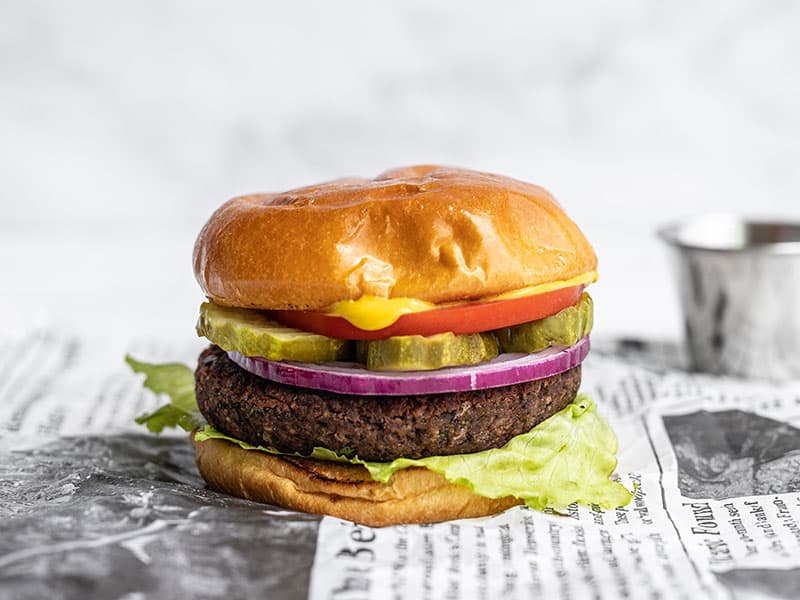 Homemade Black Bean Burgers
Black beans, cumin, sriracha, garlic, and fresh red onion make these homemade black bean burgers a flavorful and filling vegetarian meal.

Get the Recipe »
These hearty black bean burgers are perfect for your vegetarian friends and family members, so no one gets left out of burger time!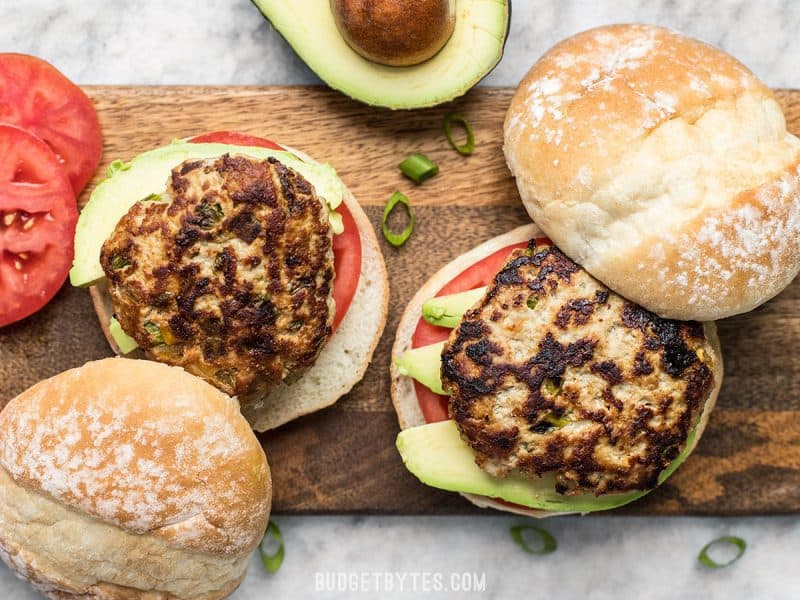 Green Chile Turkey Burgers
These Green Chile Turkey Burgers can't be beat for a fast, flavorful weeknight dinner. Healthy, ready in about 30 minutes, and full of southwest flavor.

Get the Recipe »
If you're craving a southwest flare, try these green chile turkey burgers! Chiles, cumin, and pepper jack cheese fill these burgers with flavor.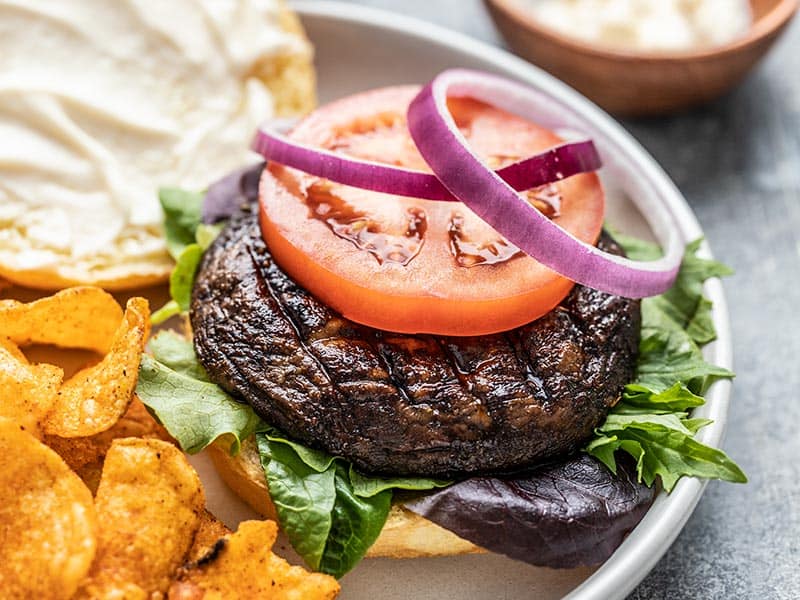 Marinated Portobello Mushroom Burgers
With their deep savory flavor, Marinated Portobello Mushroom Burgers are a fast and easy vegetarian option for summer grilling.

Get the Recipe »
If black bean burgers aren't your jam, here's another super flavorful vegetarian option for squashing that burger craving.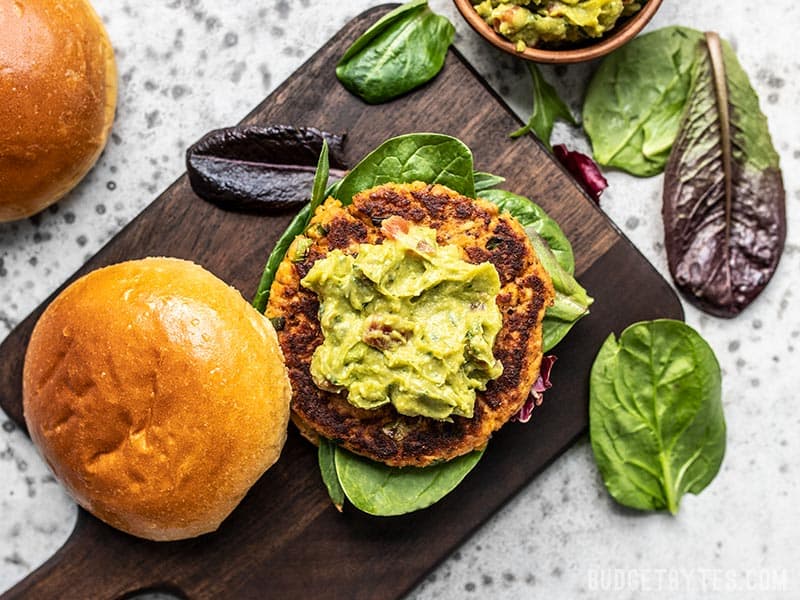 Cajun Salmon Burgers
Shelf-stable canned salmon plus a few more pantry staples make an incredibly easy and flavorful Cajun Salmon Burger perfect for weeknight dinners.

Get the Recipe »
A hefty dose of Cajun spices and a creamy avocado topping make these unique burgers a total winner.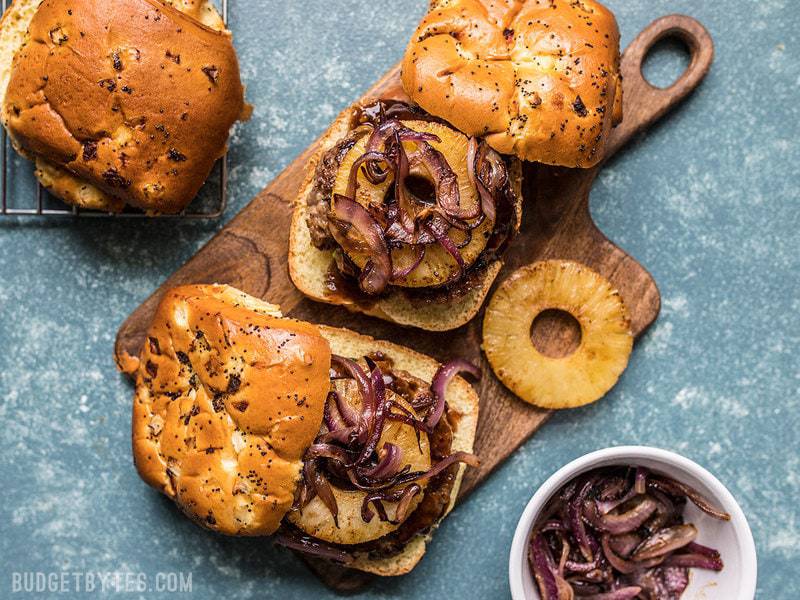 Hawaiian Burgers
These rich and juicy Hawaiian Burgers are flavored with sweet pineapple, tangy teriyaki sauce, savory green onions, and creamy Monterey jack cheese.

Get the Recipe »
Juicy ground pork, sweet pineapple, caramelized onions, and teriyaki sauce make the perfect sweet-savory burger.
---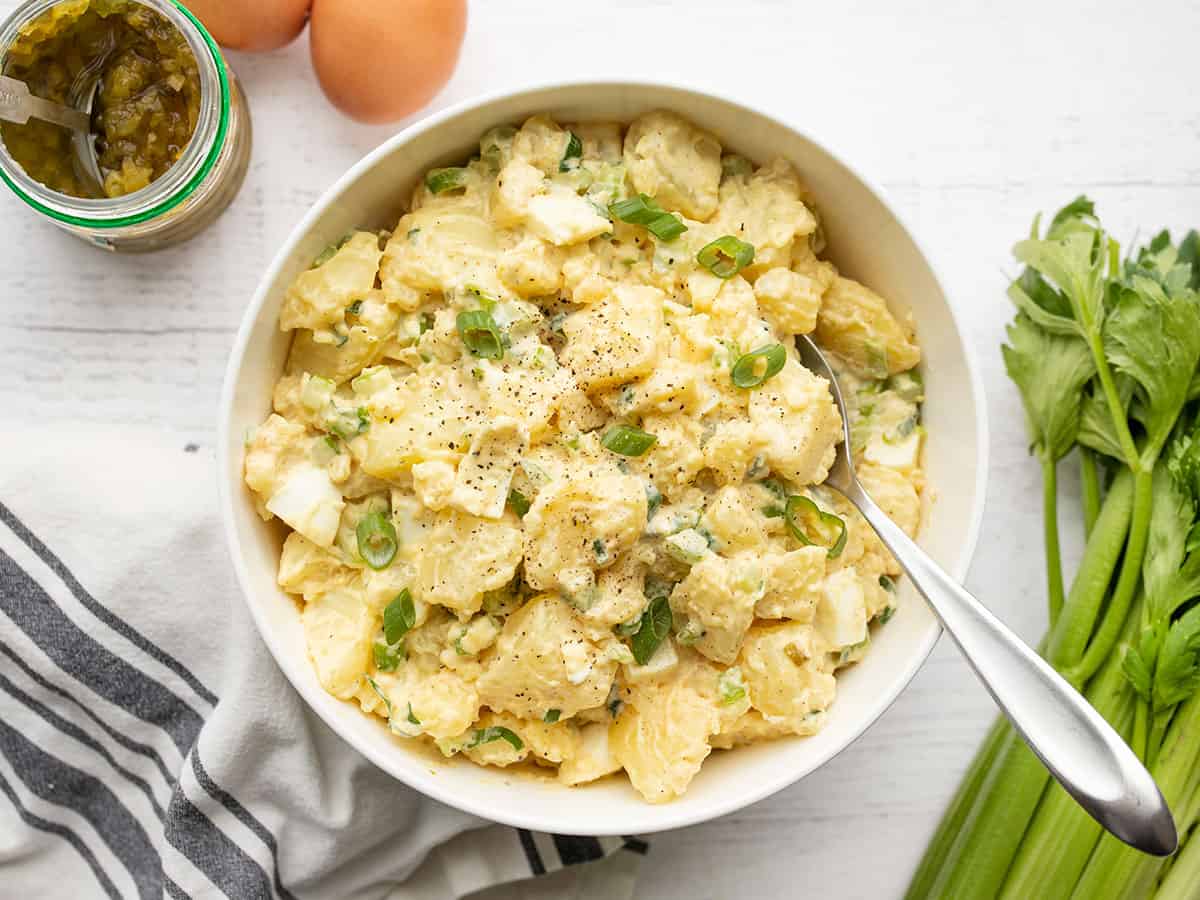 Classic Southern Style Potato Salad
This classic Southern Style Potato Salad uses both mustard and mayonnaise for a super flavorful dressing that is rich, tangy, and creamy.

Get the Recipe »
Classic, creamy, and a little tangy from a touch of yellow mustard, you can't go wrong with a simple southern-style potato salad.
Cajun Potato Salad
This smoky and flavorful Cajun Potato Salad uses the magic of blackened seasoning to take it to the next level. Pairs perfectly with grilled meat!

Get the Recipe »
Zesty Cajun spices added to classic potato salad really takes the flavor to the next level!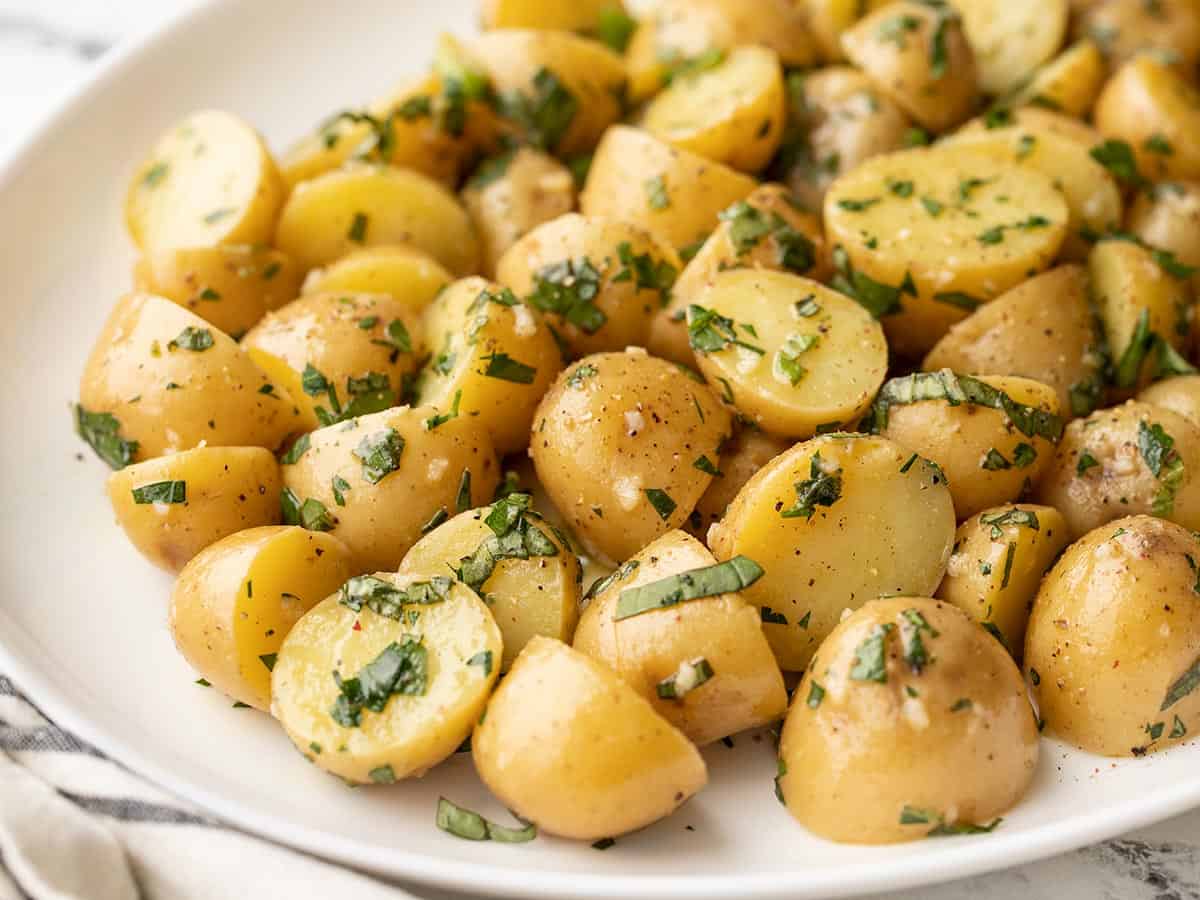 Herby Potato Salad
This Herby Potato Salad has tender baby potatoes, a bright and zesty lemon-Dijon vinaigrette, and a healthy dose of fresh herbs.

Get the Recipe »
If you're looking for a mayo-free potato salad option, this bright and summery Herby Potato Salad is it!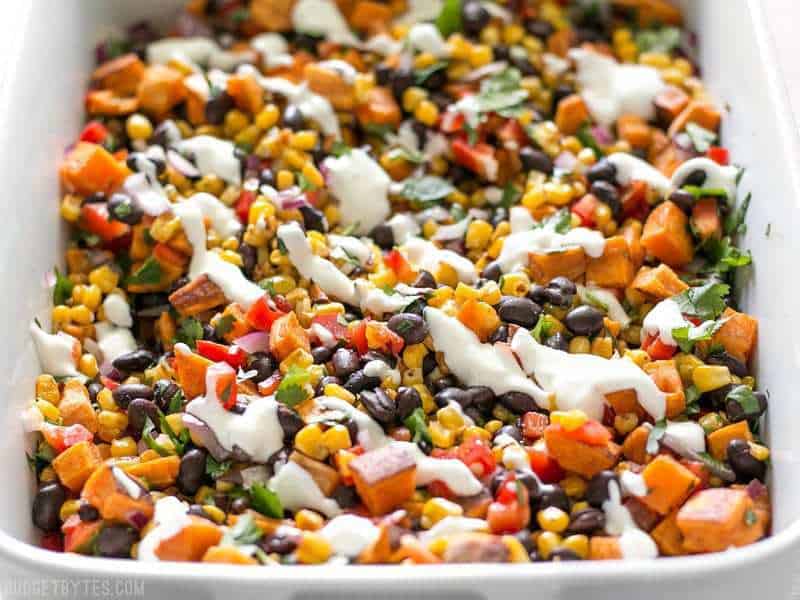 Roasted Sweet Potato Rainbow Salad with Lime Crema
This Roasted Sweet Potato Rainbow Salad combines a medley of vibrant colors and flavors, brought together by a bright and creamy dressing.

Get the Recipe »
This "rainbow" salad has it all! Sweet potatoes, beans, bright vegetables, and a zesty lime crema dressing.
---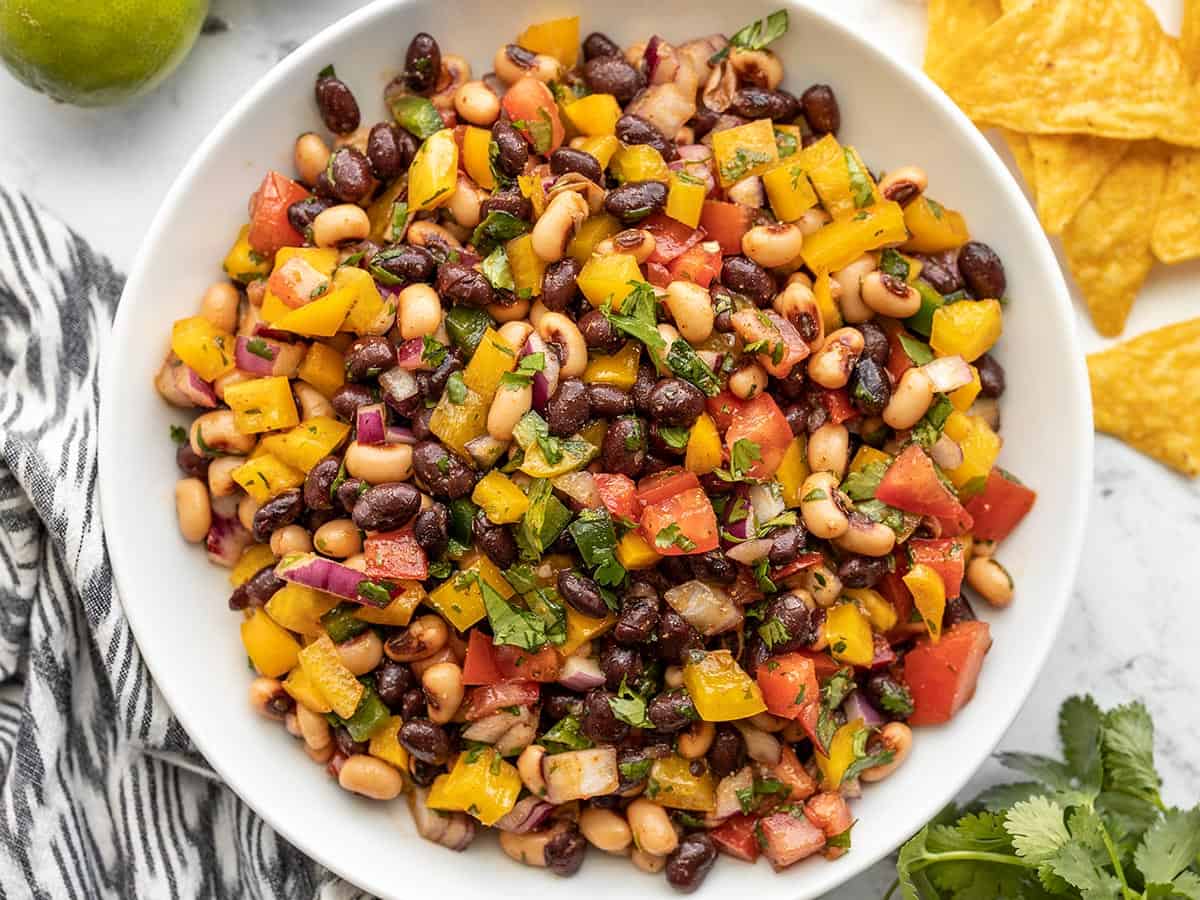 Cowboy Caviar
Cowboy Caviar is a deliciously fresh bean salad with a colorful mix of beans and vegetables, plus a zesty lime dressing.

Get the Recipe »
This classic bean salad features a brightly colored medley of beans and vegetables, plus a light and zesty vinaigrette dressing.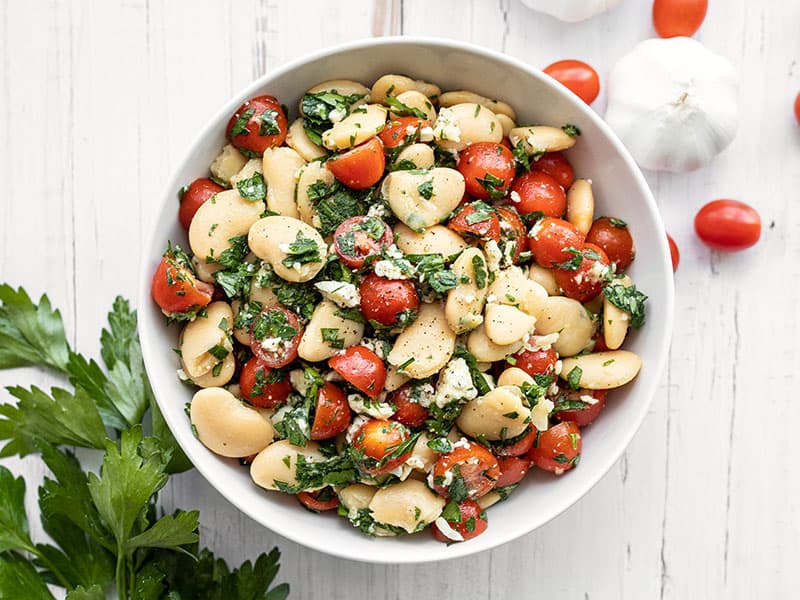 Mediterranean White Bean Salad
This Mediterranean White Bean Salad is a fast, easy, and fresh side dish that pairs nicely with any grilled or roasted meat.

Get the Recipe »
This simple salad is light and fresh, perfect for pairing with all of your summer eats!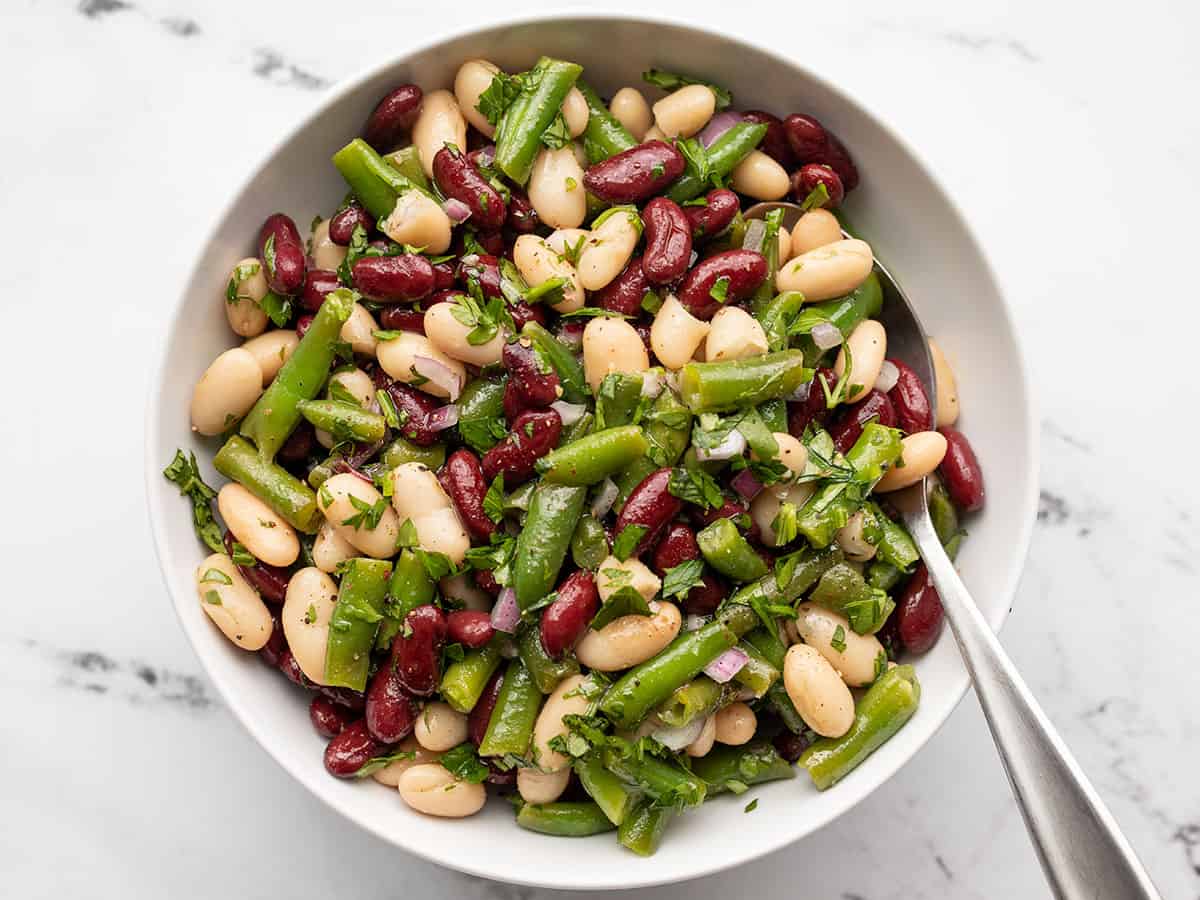 Classic Three Bean Salad
Simple ingredients come together in this Classic Three Bean Salad to make a simple summer side dish, perfect for BBQs and potlucks!

Get the Recipe »
It doesn't get any more simple or classic than this three-bean mix!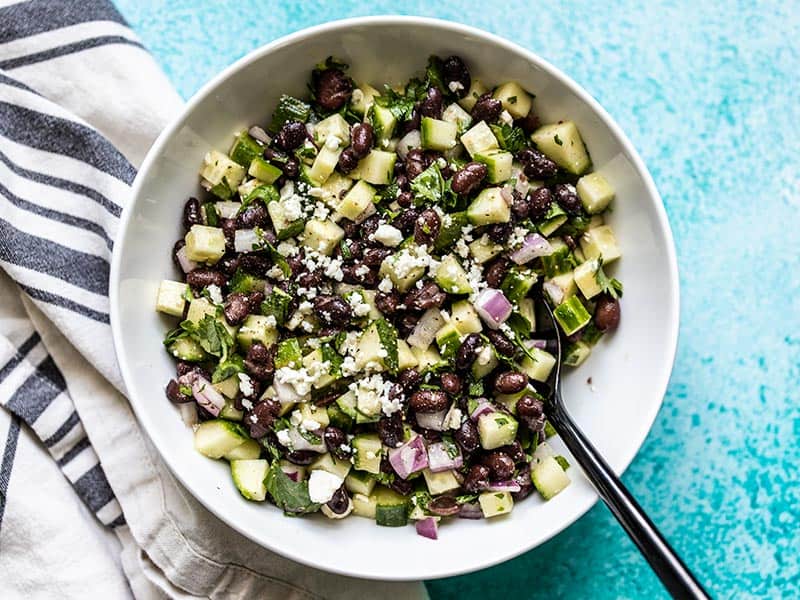 Cucumber and Black Bean Salad
This light and fresh cucumber and black bean salad is the perfect summer side dish. It is refrigerator stable so make it once and snack on it all week!

Get the Recipe »
This fresh bean salad has a slight southwest flavor and would pair great with tacos and more.
---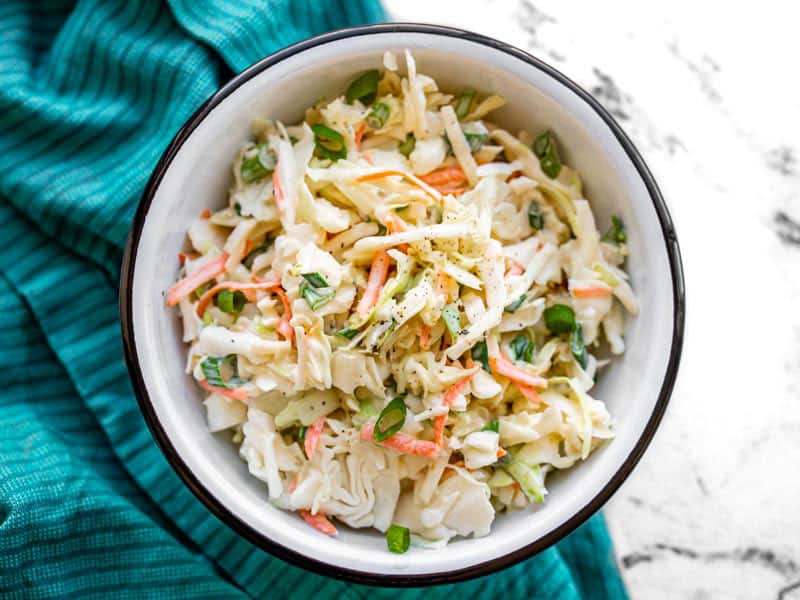 Easy Creamy Coleslaw
This classic sweet and tangy homemade coleslaw recipe is perfect for piling onto pulled pork sandwiches or serving as a side with dinner.

Get the Recipe »
This simple, classic coleslaw is an absolute must for any summer BBQ!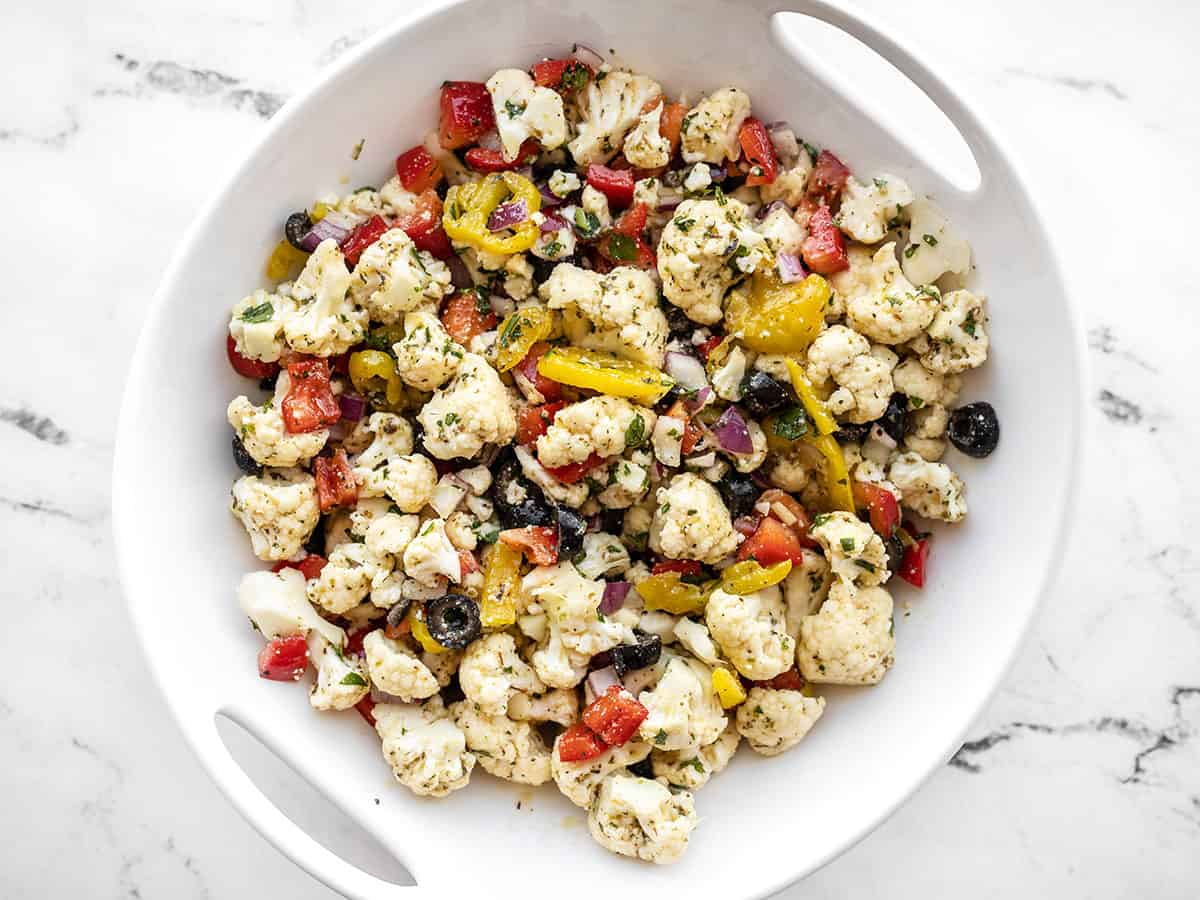 Marinated Cauliflower Salad
Marinated cauliflower salad is full of crunchy and colorful vegetables marinated in a homemade Italian dressing. Perfect for meal prep!

Get the Recipe »
It's colorful, full of bold flavors, and low carb!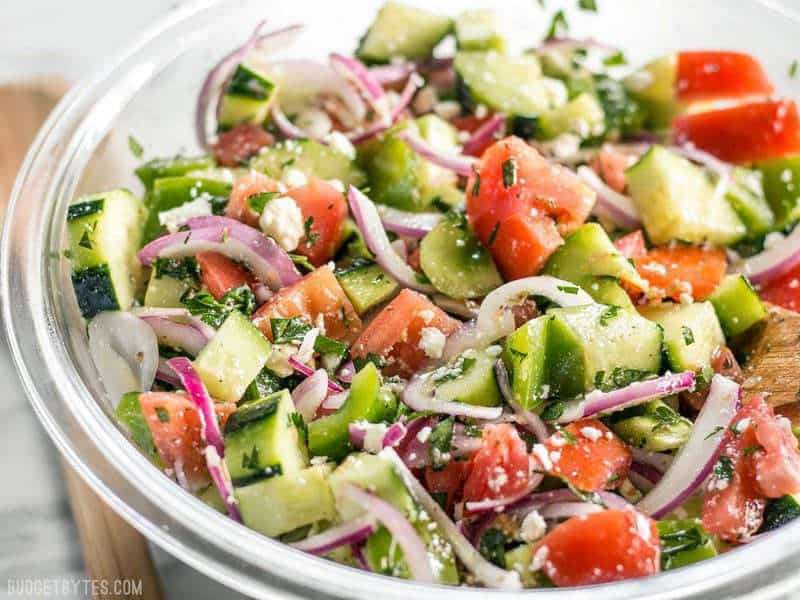 Super Fresh Cucumber Tomato Salad
Super Fresh Cucumber Salad is a cold, crunchy, juicy mix of flavorful vegetables topped with a simple red wine and oregano vinaigrette.

Get the Recipe »
It's not summer until this super fresh cucumber tomato salad makes an appearance!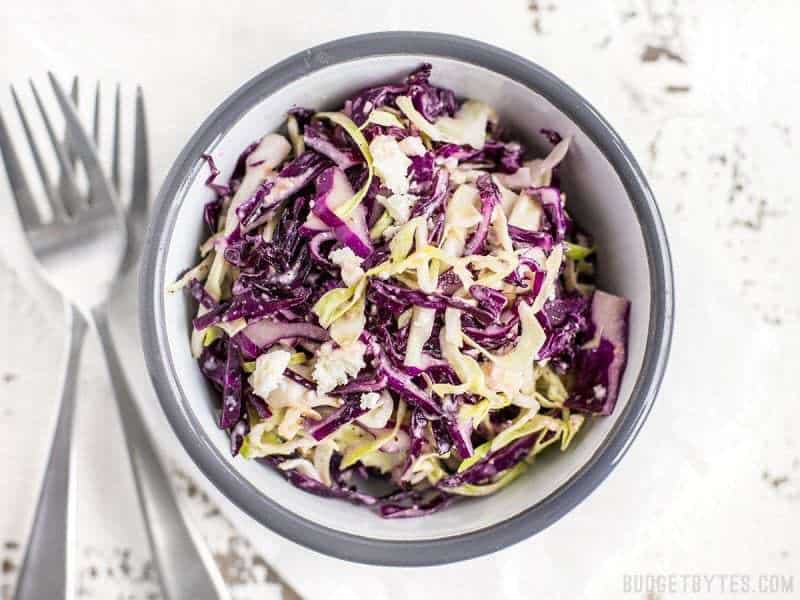 Vinaigrette Slaw with Feta
This super simple three-ingredient cabbage salad is huge on flavor and is the perfect side for all of your summer grilling. This Vinaigrette slaw with Feta will become your easy go-to side dish.

Get the Recipe »
This light and zesty slaw is the perfect no-mayo alternative to classic coleslaw.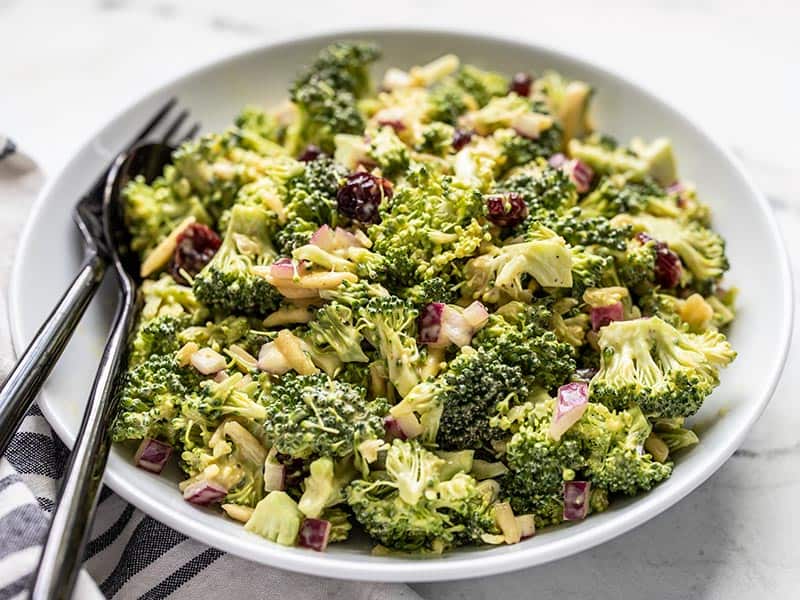 Honey Mustard Broccoli Salad
This crunchy, sweet, tangy, and creamy Honey Mustard Broccoli Salad only takes minutes to makes the perfect summer side dish.

Get the Recipe »
A sweet and tangy homemade honey mustard dressing drenches perfectly crunchy broccoli for the perfect summer side salad.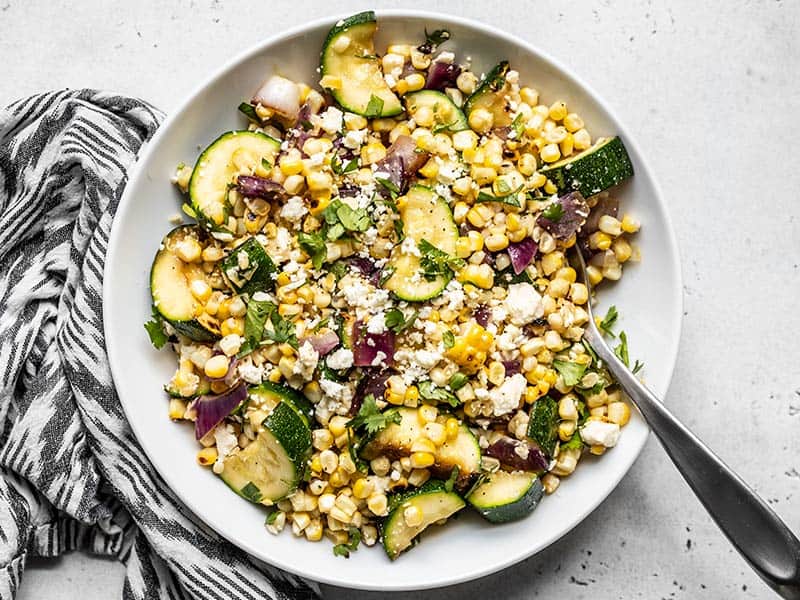 Charred Corn and Zucchini Salad
This Charred Corn and Zucchini Salad perfectly captures the flavor of summer with fresh sweet corn, salty feta, and a smoky grill-like flavor.

Get the Recipe »
If you've got the grill going, char up some fresh corn for this irresistible salad!
---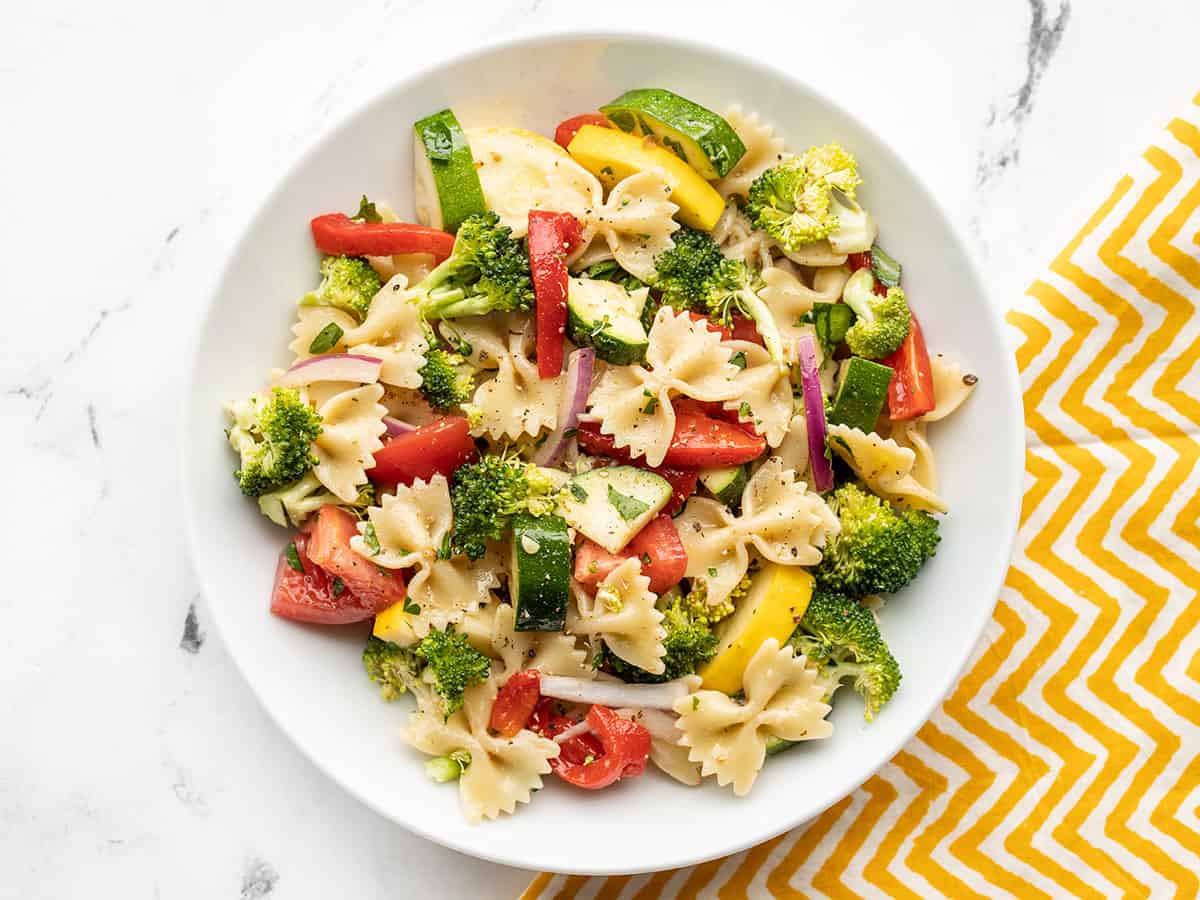 Summer Vegetable Pasta Salad
This light and fresh Summer Vegetable Pasta Salad is perfect for summer BBQs and potlucks, or your weekly meal prep.

Get the Recipe »
All of summer's fresh produce together in one classic pasta salad.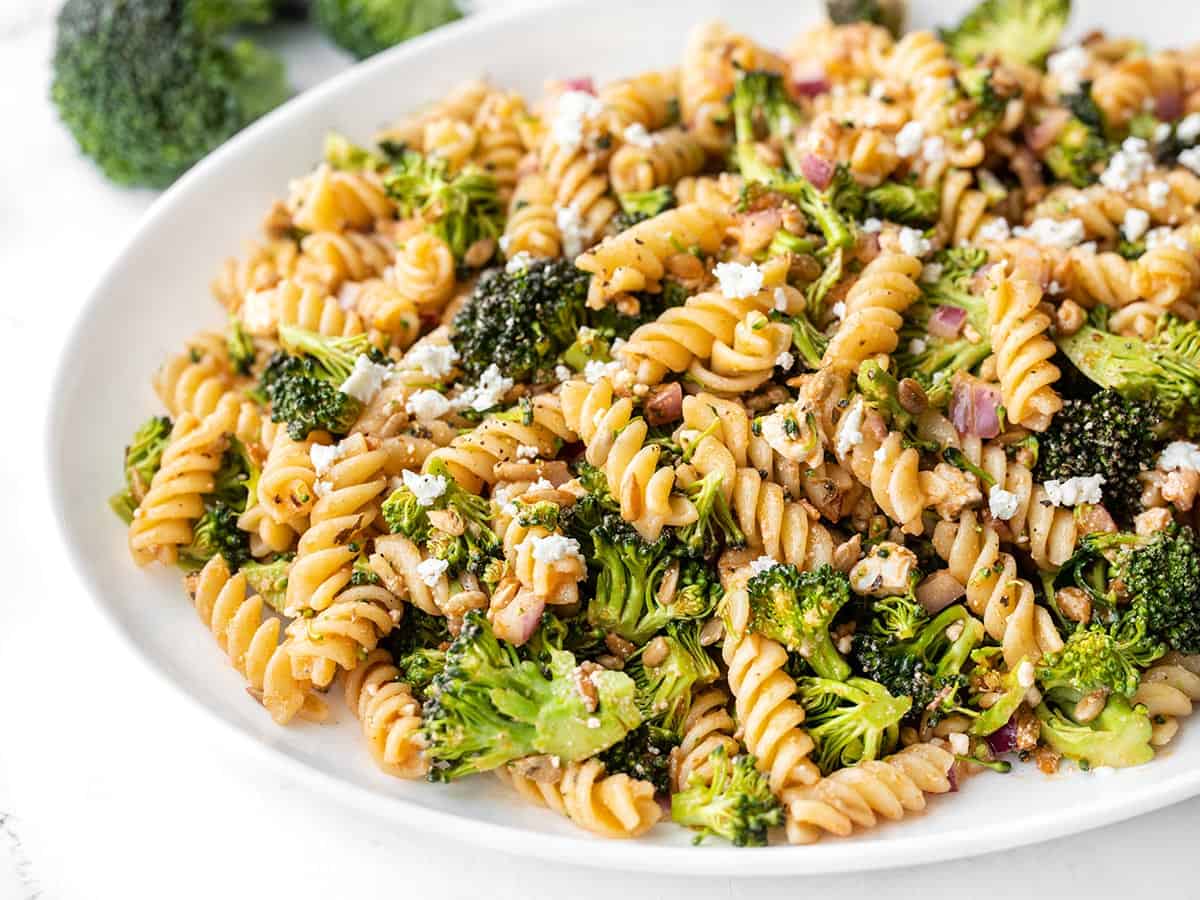 Broccoli Pasta Salad with Tomato Vinaigrette
This Broccoli Pasta Salad features a tangy homemade vinaigrette, nutty sunflower seeds, and creamy-salty feta.

Get the Recipe »
If you love fresh broccoli, you'll love it in this pasta salad paired with a tangy tomato vinaigrette and salty feta.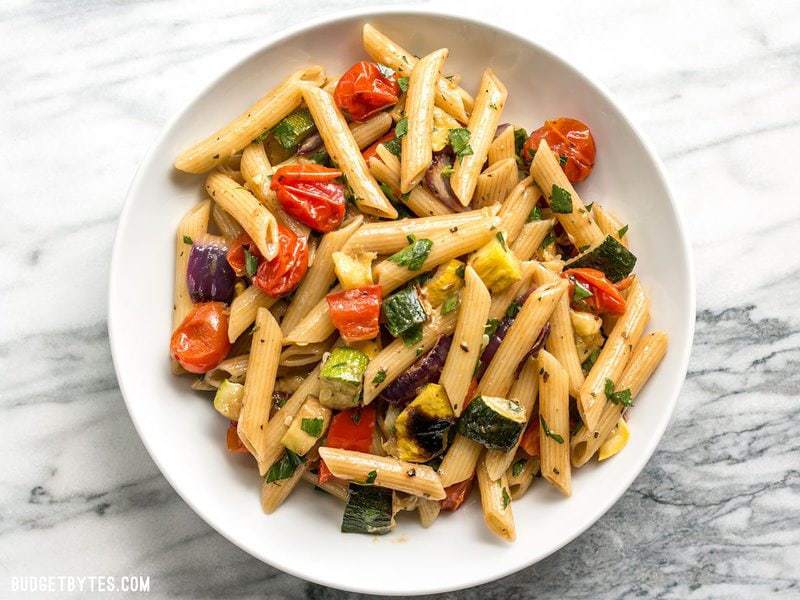 Grilled Vegetable Pasta Salad
This classic summer Grilled Vegetable Pasta Salad features smoky fire licked vegetables and a homemade creamy balsamic vinaigrette.

Get the Recipe »
Toss a few veggies on the grill so you can make this amazing pasta salad with a tangy homemade balsamic vinaigrette.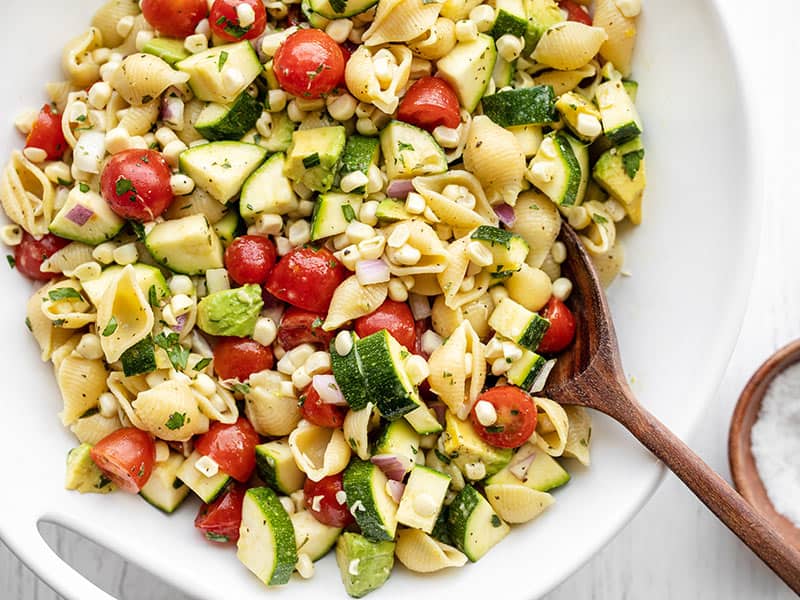 Summer Sweet Corn Salad
Colorful summer vegetables, creamy avocado, pasta shells, and a homemade lemon vinaigrette make this light and fresh Summer Sweet Corn Salad.

Get the Recipe »
When summer sweet corn is at its peak, you've got to make this deliciously fresh salad!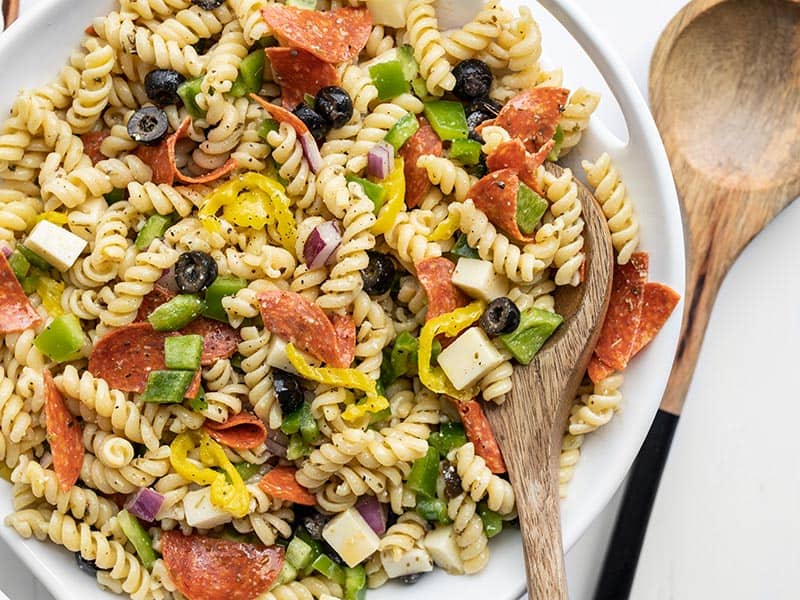 Italian Pizza Pasta Salad
Repurpose your leftover pizza toppings into this deliciously simple Italian style pizza pasta salad. Including a simple homemade Italian dressing!

Get the Recipe »
Like pizza in a bowl, no one will turn down this delicious pasta salad.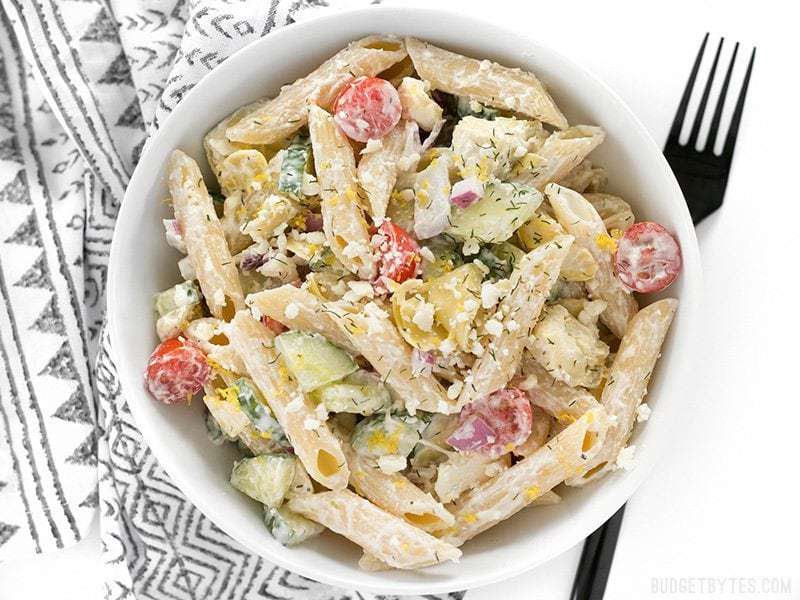 Creamy Lemon Dill Greek Pasta Salad
Creamy Lemon Dill Greek Pasta Salad is packed with bold flavors and fresh vegetables, making it a delicious light lunch.

Get the Recipe »
If you're craving something a little on the creamy side, this pasta salad hits the spot!
---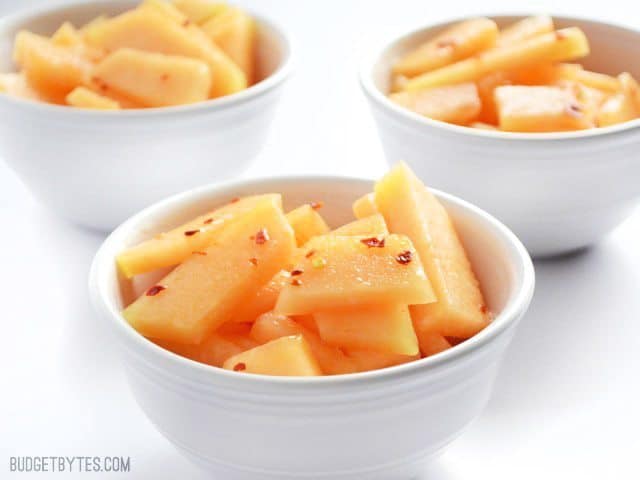 Chili Lime Cantaloupe
This quick and refreshing Chili Lime Cantaloupe is a unique way to dress up summer fruit. Pairs well with any southwest or Asian inspired meal.

Get the Recipe »
Sweet, fresh cantaloupe pairs with a light honey-lime dressing, and a few flecks of spicy red pepper for a unique and summery dessert.
Strawberry Rosé Slush
This Strawberry Rosé Slush is a fast and inexpensive frozen drink to enjoy this summer. No fancy blender or liquors required!

Get the Recipe »
When you want to get your drink on but still stay cool in the summer heat, these adult slushies will do the trick.
Strawberry Shortcake
Strawberry Shortcake is a simple yet impressive dessert that requires nothing but some fresh fruit and a few pantry staples.


Get the Recipe »
When fresh summer strawberries are in season, make this classic dessert!
Homemade Pineapple Orange Julius
When you need a tropical escape this homemade Pineapple Orange Julius is the perfect sweet and creamy frozen drink to take you away.

Get the Recipe »
This deliciously tropical drink is best enjoyed outdoors, not inside a shopping mall. ;)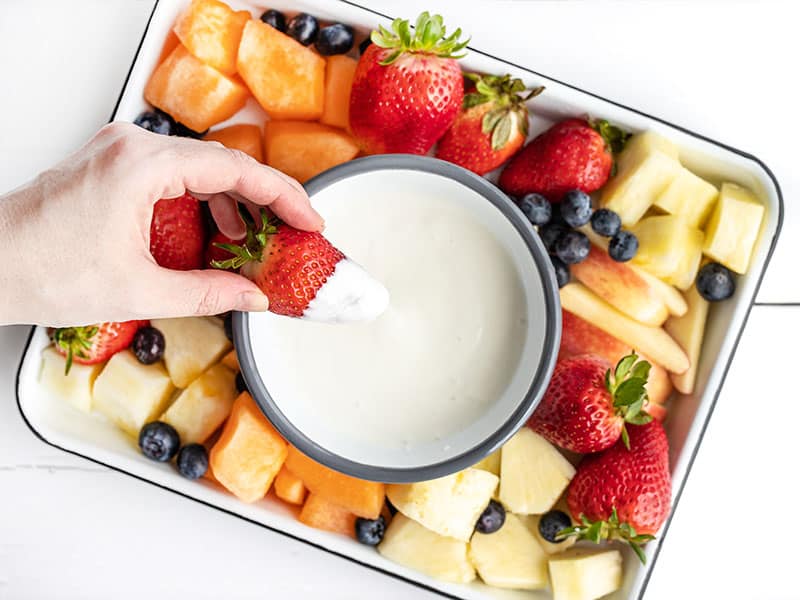 Honey Vanilla Cottage Cheese Fruit Dip
Cottage cheese is whipped up into a silky smooth texture, sweetened with honey, and flavored with vanilla in this deliciously sensible dessert fruit dip.

Get the Recipe »
This cheesecake-like fruit dip has a surprising ingredient–cottage cheese!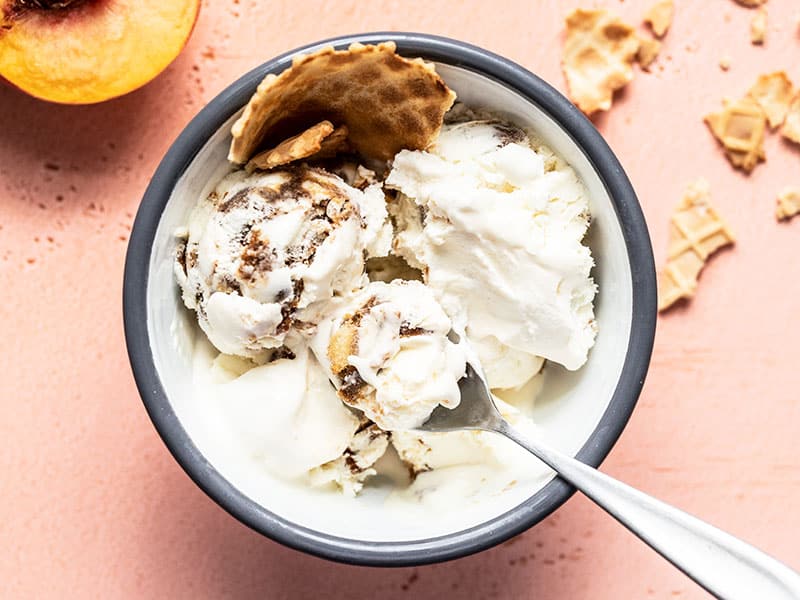 No Churn Balsamic Peach Ice Cream
This No Churn Balsamic Peach Ice Cream is incredibly easy and pairs the flavor of fresh sweet summer peaches with a tangy and buttery balsamic glaze.

Get the Recipe »
Sweet peaches and a tangy-salty swirl of balsamic glaze makes this ice cream taste 100% gourmet!
---
I don't know if I've told you, but I'm OBSESSED with summer and even just writing this post has gotten me so excited! I can't wait for spending time outside, playing in the water, and grilling delicious food. What are your favorite summertime foods for BBQs and Potlucks? Share your favorites in the comments below!