Ok, am I the only one who loves Zucchini season? This super affordable green vegetable can be cooked in so many fun and tasty ways. My neighbor usually has an abundance of zucchini growing in her garden each year and begs me to take some off of her hands. I'm always excited because it's just an easy vegetable to slice and add to stir-frys, chop and roast in the oven, or grate and add to muffins! So for all of my fellow zucchini lovers and for those who simply have way too much zucchini this year, we've rounded up 15 simple Zucchini Recipes for you to try including zucchini boats, zucchini fries, zucchini casserole recipes and easy sautéed zucchini recipes!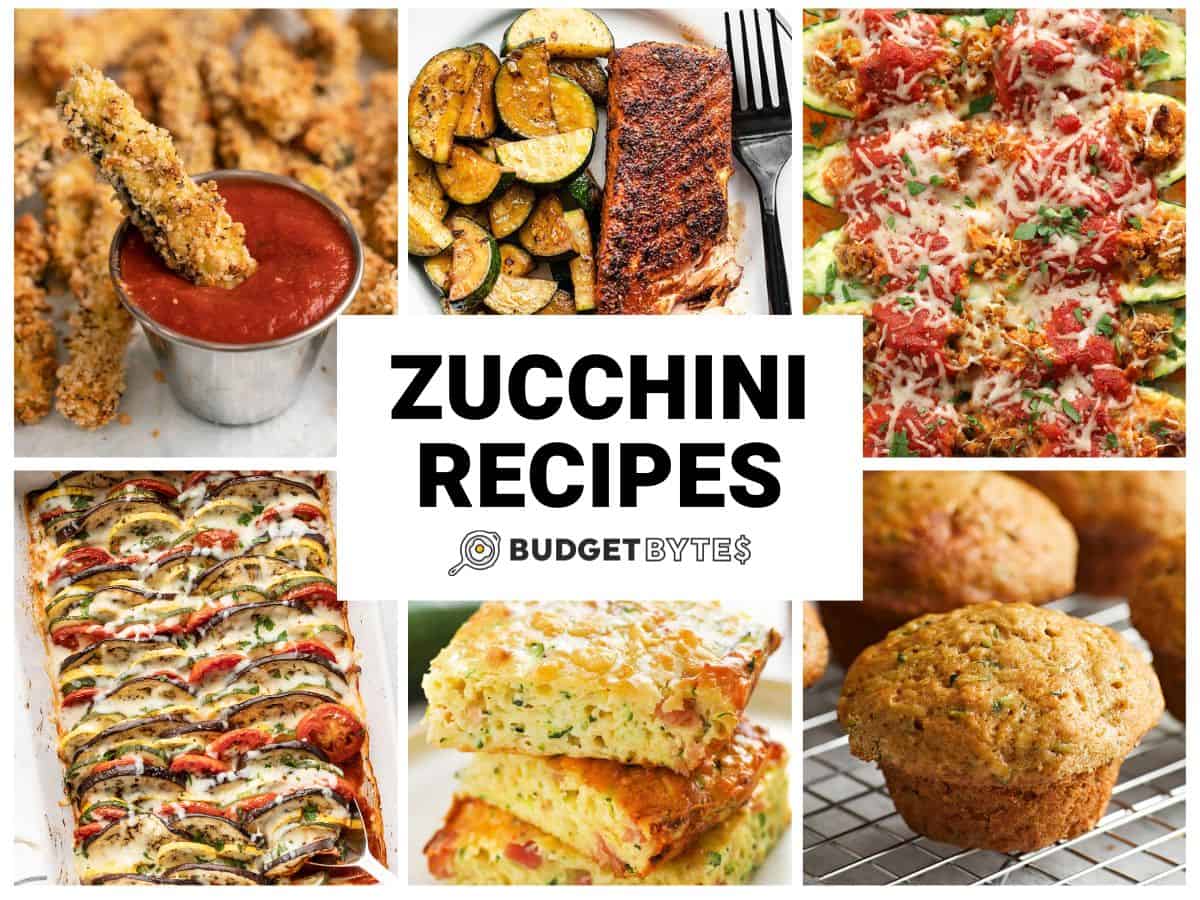 Let's start things off with these popular Baked Zucchini Fries! They're crispy on the outside, but creamy and delicious on the inside. I love eating them plain or you can dip them in your favorite pizza or marinara sauce.
One fun and unique way to enjoy zucchini is with these Italian Sausage Stuffed Zucchini boats. They're super delicious and surprisingly easy to make.
If you've never tried Zucchini Muffins then you're totally missing out. These muffins are soft, super moist and another great way to use up extra zucchini.
Zucchini Slice is similar to a crustless quiche but with a more dense texture. Its budget-friendly, easy to customize, and perfect to enjoy anytime of the day!
This Blackened Salmon with Zucchini is a great example of how food doesn't have to be complicated to be good. It's simple, super flavorful, and comes together in just 30 minutes!
Ahh, this has to be one of my favorite ways to prepare zucchini. Lemon Pepper Zucchini is quick, easy, and makes a great side dish for any dinner meal.
Zucchini Fritters are another fun & easy way to enjoy summer zucchini! Enjoy these lightly pan-fried fritters by themselves or with some marinara sauce!
If you're craving a delicious pasta recipe to enjoy with your zucchini this year then you've got to try this Pasta Primavera. It's packed with lots of fresh vegetables in a simple lemon and butter sauce.
Fresh sweet corn pairs perfectly with summer zucchini in this Charred Corn and Zucchini Salad. It's a great go-to side dish and captures the beauty of fresh summer produce.
This Zucchini and Orzo Salad with Chimichurri gives you all the best flavors and colors of summer and can be jazzed up and modified several different ways.
Looking for another stuffed zucchini recipe? Try these stuffed Zucchini Pizza Boats! They taste like pizzas, but with a whole lot of veggies!
Can we get a round of applause for this gorgeous and insanely delicious Oven Roasted Ratatouille?! It's made with zucchini and other fresh summer vegetables, a rich red sauce, plenty of herbs, and cheese on top. Seriously, add this one to your dinner list this week!
Roasted Summer Vegetables are awesome as a simple side dish, but they can also be served with a pasta salad, inside a sandwich wrap, or even used to make baked pasta.
Speaking of baked pasta this Roasted Vegetable Baked Penne is a great recipe to include those roasted vegetables. It's full of colorful vegetables, a homemade sauce, and lots of gooey cheese.
It's always good to have an easy go-to side dish recipe like these Simple Sautéed Vegetables in your back pocket. They're easy, flexible, and pairs well with almost any dinner recipe.
I hope you enjoyed our list of easy, delicious, Zucchini Recipes! Try them out and make sure to save this roundup page so you can reference it again later ;) Check out more of our recipe roundups below!