Fresh sweet corn is one of my favorite things about summer. It's so sweet and juicy when it's fresh, and the smell of the husks as you peel them back from the cob brings back so many memories of summers past. So when I saw fresh sweet corn on sale at the grocery store this week I grabbed a couple and whipped up this super simple Summer Sweet Corn Salad. It has a medley of colorful vegetables, a little pasta to bulk it out, and a super fresh lemon vinaigrette keeps everything light and flavorful. This is a very flexible recipe and I've got a couple modification ideas for you below!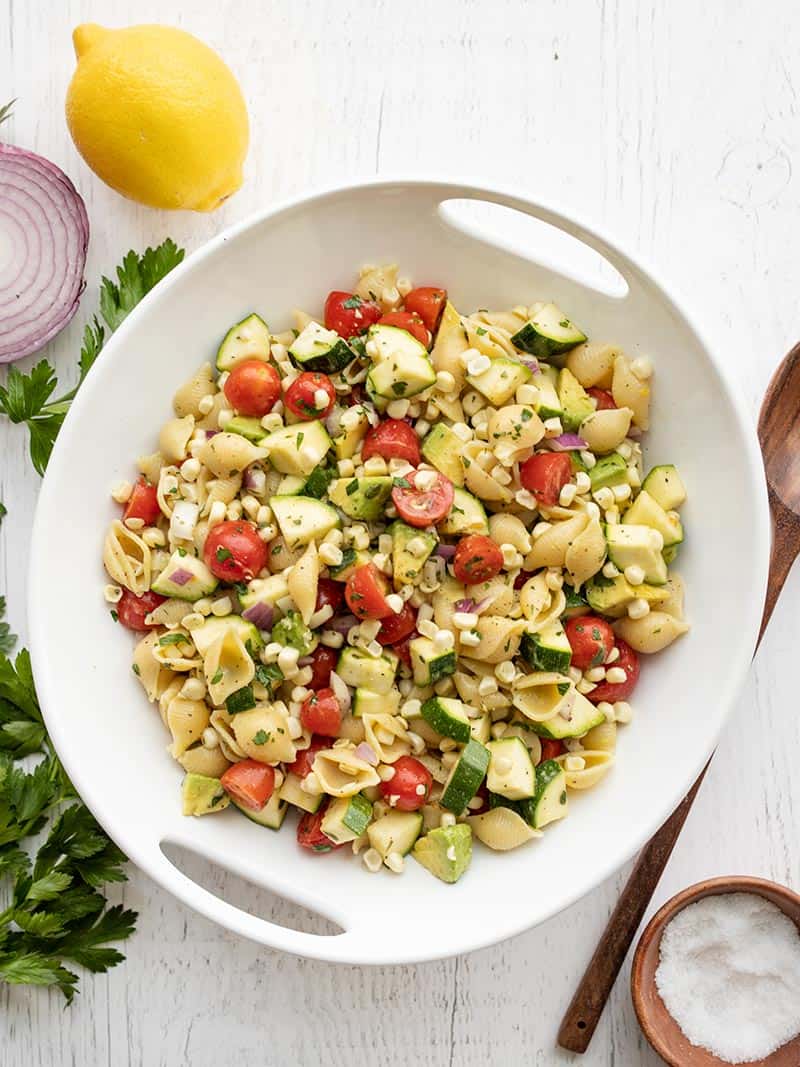 Make it Pasta-Free
I added pasta to my salad for bulk, but you can totally make this salad without pasta, too! Just double up your vegetables, drizzle that lemon vinaigrette over top, and you're good to go! You can eat the vegetable salad as-is, or scoop it over a bed of greens.
Add a Protein and Make it a Meal
If you want to eat this salad as a main dish instead of serving it as a side, try adding some grilled chicken, rotisserie chicken, boiled shrimp, or cooked salmon on top. It's such a light and fresh dish that it pairs really well with "lighter" meat and seafood.
Can You Eat Raw Corn??
Yes, yes, and YES! Raw sweet corn is soooo sweet, crisp, and juicy. It's an absolute delight! It adds nice little pops of sweetness throughout this salad that contrast so well with the creamy avocado and tangy vinaigrette.
If you don't have fresh corn for this salad, I would suggest frozen corn as the next best substitute, BUT just know that it's 100x better with fresh sweet corn.
Doesn't the Avocado Turn Black?
Nope! I kept this salad in my fridge for four days and it was still great. On day two there was no noticeable difference in the appearance of the avocado chunks. By day four, they were slightly grey on the edges, but overall still looked great. The lemon vinaigrette goes a long way toward preventing the oxidization that usually causes the color change.
What to Serve with Sweet Corn Salad
This salad makes a great side dish to Quick BBQ Chicken, Sheet Pan Portobello Fajitas, Cilantro Lime Chicken, Garlic Butter Baked Cod, Baked Spicy Chicken Sandwiches, Marinated Portobello Burgers, or BBQ Cheddar Baked Chicken.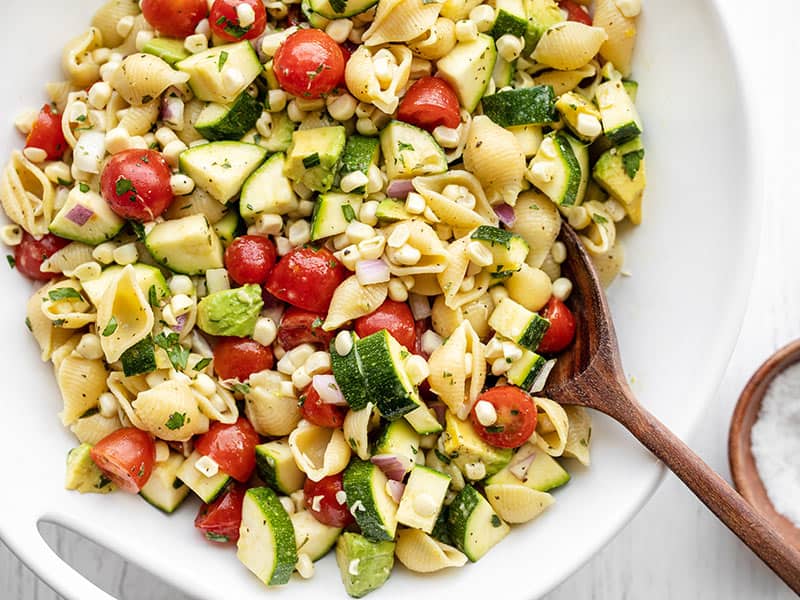 Love summer salad recipes? Then you've got to try our Creamy Cucumber Salad next!
Summer Sweet Corn Salad
Colorful summer vegetables, creamy avocado, pasta shells, and a homemade lemon vinaigrette make this light and fresh Summer Sweet Corn Salad.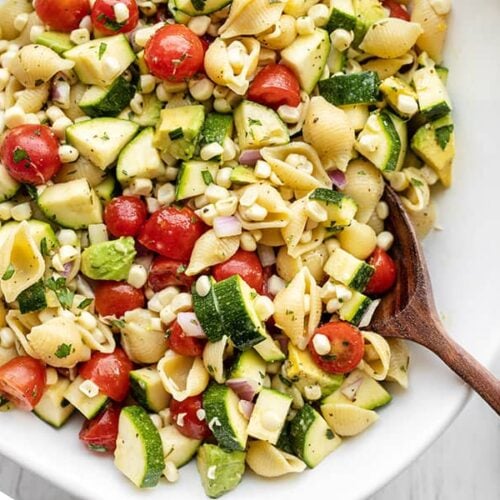 Ingredients
Lemon Vinaigrette
1/4

cup

olive oil

($0.64)

1

fresh lemon

($0.89)

1/4

tsp

dried basil

($0.03)

1

tsp

Dijon mustard

($0.04)

1/8

tsp

salt

($0.02)

1/8

tsp

pepper

($0.02)

1/4

cup

chopped parsley

($0.20)
Salad*
8

oz.

pasta shells

($0.63)

2

cobs

sweet corn

($0.80)

1

pint

grape tomatoes

($2.50)

2/3

lb.

zucchini

($0.89)

1/4

cup

diced red onion

($0.11)

1

avocado

($0.89)
Instructions
Zest and juice the lemon. You'll need 2 Tbsp juice and ½ tsp zest. Combine the lemon juice, lemon zest, olive oil, basil, Dijon, salt, pepper, and chopped parsley in a bowl or jar. Whisk the ingredients in a bowl, or close the jar and shake until combined. Set the vinaigrette aside.

Bring a large pot of water to a boil for the pasta. Add a couple large pinches of salt to the pasta water, then add the pasta. Continue to boil until the pasta is tender (about 7 minutes), then drain in a colander. Rinse the pasta briefly with cool water, then allow it to drain well.

While the pasta is cooking and draining, prepare the rest of the vegetables. Slice the corn kernels off the cobs, slice the grape tomatoes in half, dice the zucchini, finely dice the onion, and dice the avocado.

Once the pasta has drained well and cooled, add it to a large bowl with the prepared vegetables. Pour the dressing over top, then toss until everything is evenly combined and coated in dressing. Season with a pinch of salt to taste, then serve.
See how we calculate recipe costs here.
---
Notes
*The vegetable amounts are very flexible. If you have a little more or a little less of each, it's okay.
Nutrition
Serving:
1
cup
Calories:
255.84
kcal
Carbohydrates:
35.68
g
Protein:
5.95
g
Fat:
11.54
g
Sodium:
68.91
mg
Fiber:
4.28
g
Read our full nutrition disclaimer here.
How to Make Summer Sweet Corn Salad – Step by Step Photos
Zest and juice a lemon. You'll need 2 Tbsp juice and ½ tsp zest.
To make the lemon vinaigrette, combine ¼ cup olive oil, 2 Tbsp lemon juice, ½ tsp lemon zest, 1/4 tsp dried basil, 1 tsp Dijon mustard, ⅛ tsp salt, ⅛ tsp pepper, and about ¼ cup chopped parsley. If you do this in a bowl you can whisk the ingredients together, or combine them in a jar and shake until they're combined.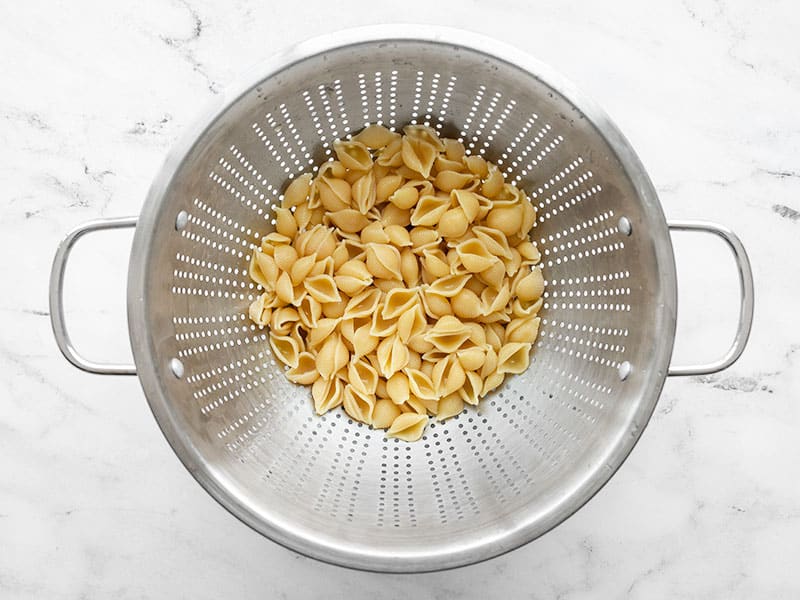 Bring a large pot of water to a boil for the pasta. Once boiling, add a couple pinches of salt and 8 oz. pasta shells. Continue to boil the pasta for about 7 minutes, or until tender. Drain the pasta in a colander, and give it a brief rinse with cool water. Let the pasta drain well.
While the pasta is cooking and draining, prepare the rest of the vegetables. Cut the kernels off two cobs of sweet corn. I like to do this with the end of the cob in a bowl so they kernels fall right off into the bowl instead of flying all over the kitchen. Haha!
Also dice about ⅔ lb. zucchini, slice 1 pint grape tomatoes in half, finely dice about ¼ cup red onion, and dice one avocado.
Add the drained and cooled pasta to a large bowl with the corn, zucchini, tomatoes, red onion, and avocado. Pour the dressing over top, then toss until everything is combined and coated in dressing.
Finally, add just a small pinch of salt on top, if desired. I like to have a little bit of crystalized salt on the surface of the pasta and vegetables for a little pop of flavor.