It's hot outside, y'all. I don't know what you have planned for the weekend, but it should definitely include sipping a Strawberry Rosé Slush, preferably poolside. I don't have a pool, but sipping one of these while sitting on my porch is enough to help me imagine myself poolside amidst lush foliage. So yes, that's how I will be spending the weekend.
Rosé is one of my favorite summertime wines because it's so light and refreshing, so when I saw a friend of mine post a photo of a frozen rosé from a local restaurant on Facebook, I was like, "Woah, I need to make that!" Theirs was no doubt made in a daiquiri machine and I don't have one of those at home (lol), so I had to improvise. I used frozen fruit to give me that "frozen drink" or "slush" texture, and just a little powdered sugar to balance the tartness of the berries. I can't wait to try this with other wines and other fruits (peaches and riesling??)
You really don't need a fancy shmancy blender to make this work. My little single-serving blender was less than $15 dollars and does quite well with frozen fruit, which is quite a bit softer than ice. I did add a couple ice cubes at the end to make it extra thick, and they broke down well enough.
Powdered sugar is the sweetener of choice here because it's the easiest to dissolve in super cold liquids. Second best would probably be honey, but be aware that it is much more dense than the super light and fluffy powdered sugar, so you'll likely need much less. Start with a teaspoon and then add more to your liking.
Have you made fruit and wine slushies before? What's your favorite fruit-wine combo? Let me know in the comments below!
Strawberry Rosé Slush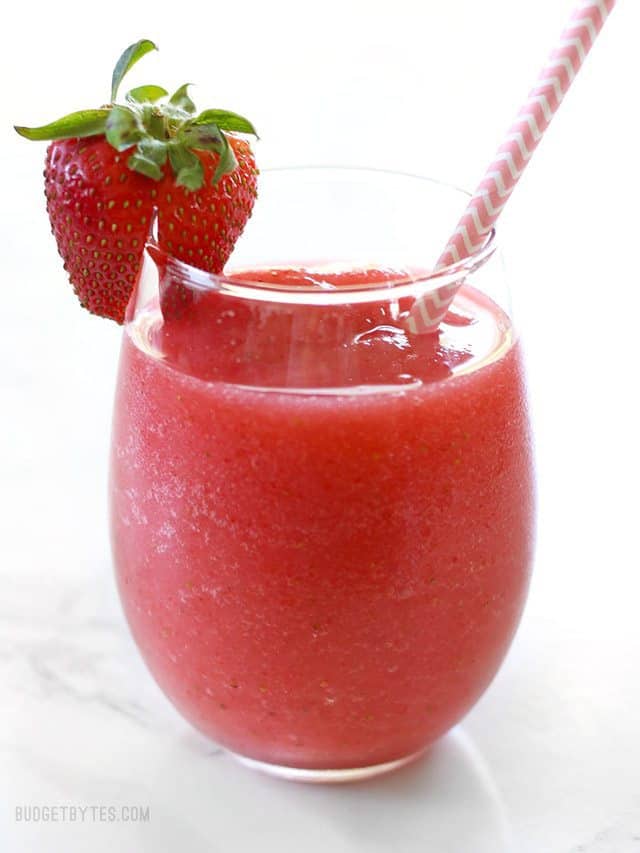 The ingredient amounts listed below are estimates and will vary with the size of the fruit, your blender, and drink size. The amounts listed below made approximately 1.75 cups, which is either one really large drink (go big or go home, right?) or two smaller drinks (Okay, fine, this is probably a more realistic size for me).
Print Recipe
Strawberry Rosé Slush
This Strawberry Rosé Slush is a fast and inexpensive frozen drink to enjoy this summer. No fancy blender or liquors required!
Prep Time: 5 mins
Total Time: 5 mins
Servings: 1
Ingredients
1/4 lb frozen strawberries (unsweetened) ($0.50)
1 cup Rosé ($2.24)
1 Tbsp powdered sugar ($0.02)
Instructions
Add the frozen strawberries, powdered sugar, and rosé to a blender. Blend until the drink is thick and smooth.

If the drink is too thick to blend properly, add a splash more of rosé. If the drink is too thin, add a couple extra frozen strawberries or a few ice cubes and blend again.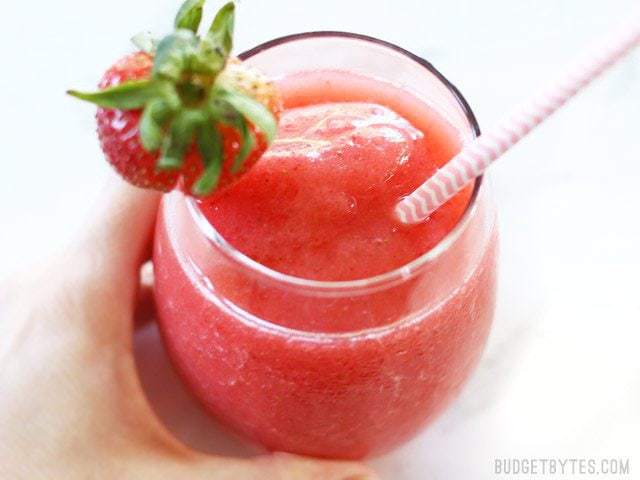 Step by Step Photos
Whole Foods is actually a great place to get frozen fruit. They had this one pound bag of frozen strawberries for only $1.99. Score! I used 1/4 of the bag for the drink (again, that's either one super large drink or two smaller drinks).
Frozen strawberries can be kind of tart, so I also added some powdered sugar. Regular white sugar can be difficult to dissolve into cold drinks, so powdered works best. I used 1 Tbsp, which seems like a lot, but powdered sugar is not very dense. Plus, with frozen drinks, you need to sweeten a little more than usual since the cold can dull your taste buds.
This bottle of rosé was only $6.99. I'll be honest, no thought went into choosing this bottle other than the price. Since the drink is going to be frozen (again, dulled taste buds) and mixed with strawberries and sugar, you don't need to be SUPER picky about the wine. So, grab a cheap bottle and go. :)
Pour in about 1 cup of the rosé.
A lot of times when I'm making frozen drinks I don't even measure. I just add my frozen fruit, then fill with a liquid just slightly above the line of the fruit (in this case the strawberries floated). After I begin to blend, if the mixture is too thick I'll add a splash more liquid or if it's too thin, I add a few ice cubes. The same goes for these Strawberry Rosé Slushes. Add a few ice cubes if it's too thin or a splash more rosé if it's too thick.
And just blend until smooth. Again, I'm using this super cheap single-serving sized blender from Hamilton Beach. This is actually the second or third one I've owned over the past ten years because they're quite a work horse and very inexpensive. I also use it for things like making salad dressings. :P
Then just pour it into a glass and enjoy! Having a cute straw kind of helps. :) I got these at Target.
HELLO SUMMER! ☀️😎🌴