Hot Weather Recipe Roundup
Guuuurrrl, it's hot outside!
The temperature is starting to climb, you're hungry, and you don't feel like heating up the kitchen. What do you do? Order take out? Noooooooo!
This is a particularly difficult situation for me because most of my favorite recipes involve oven roasting vegetables or meat, and that just doesn't work in a south Louisiana summer. The air conditioner is already working full blast just to keep the outside heat at bay, and it can't handle the extra challenge of a hot oven. If it's summer and I'm in the kitchen, I'm sweating. Ick.
Sooo, in hopes that I'll get my creative juices flowing and come up with some great new hot weather recipes, I went through my archives and pulled the best hot weather recipes thus far. What makes a recipe good for hot weather? I like recipes that are either eaten cold, include a lot of fresh, crunchy vegetables (hello, high water content/hydration), require very little cooking, or are in the form of a icy cold, slushy beverage. Here are my favorite hot weather picks, divided into four categories: salads, sandwiches, hot meals (because sometimes you still want cooked hot meal), and beverages.
Best Hot Weather Recipes:
Salads
Falafel Salad – This is my new favorite salad! With tons of fresh parsley, cold juicy tomatoes, and chickpeas, this salad is refreshing and filling at the same time (but really, it's all about the amazing lemon tahini dressing! YUM).
Summer Vegetable Pasta Salad – One of the best aspects of summer is all the fresh produce, so take advantage of it with this awesomely fresh pasta salad. The dressing is light and tangy, making this salad perfectly refreshing for outdoor BBQ's and summer potlucks.
Crunchy Asian Salad – Crunchy vegetables just say "summer" to me, so this one is a no brainer. The extra crunchy cabbage and carrots, plus fresh, breezy cilantro make an ultra light, but filling summer salad.
Quinoa Tabbouleh – It must have been summer the first time I ate tabbouleh because now I crave it every summer. Fresh tomatoes, cucumber, parsley, and plenty of lemon juice will help you beat the heat. Protein packed quinoa ups the ante and make the salad meal worthy.
Shrimp & Rice Salad – Serve this salad cold for a cool summer supper. It has plenty of protein and fresh vegetables to balance the rice and make it not too carb-heavy. You'll feel full but light after eating this salad.
Lemony Cucumber Couscous – Just like with the tabbouleh, the combination of cucumber and lemon makes a heat squashingly fresh meal. Make sure it's well chilled for maximum cucumber cooling magic.
"Sandwiches"

Spinach & Feta Grilled Cheese – It only takes a few minutes worth of skillet heat to make this totally melty and flavorful grilled cheese. Plus, it's got green in it, so it's a little more well rounded than a plain grilled cheese, right? Right.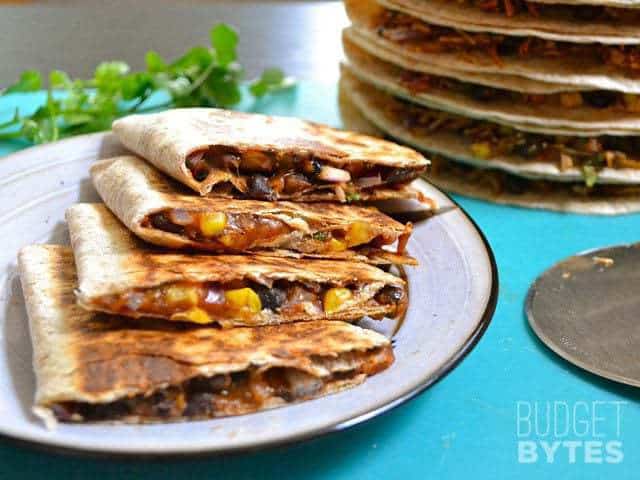 Hearty Black Bean Quesadillas – Lots of flavor, lots of fiber, and only a few minutes in the skillet. You can't lose here (plus, this is one of Budget Bytes best reader rated recipes EVER, so you know it's good!).
Tuna & White Bean Salad – Whether you're eating it with crackers, stuffed into a pita, or between two slices of bread, this salad is a super satisfying cold meal without any heat required.
Curry Chicken Salad – Same concept, different flavors. Eat it cold by itself, scooped up with some crackers, stuffed into pita, or as a sandwich on bread. You can either cook your own chicken (a little heat required), or take a short cut and use a pre-cooked rotisserie chicken from the grocery store deli. Plus, I love the cold crunchy celery and bits of sweet raisins!
Hot Meals (that won't have you sweating)
Slow Cooker Taco Chicken Bowls – The slow cooker is a life saver in the summer. You can still cook things long and slow without heating up your whole kitchen! Plus, something about hot, spicy southwest flavors still works when it's 100 degrees outside. I don't get it, but it works.
Spinach & Artichoke Wonderpot – Ahh, the beauty of the wonderpot. Everything cooks together in one pot in under 30 minutes because let's face it, summer is short and you've got a lot of fun to be having. I especially like the light flavors of this spinach & artichoke version because they'd go perfectly with a cold glass of crisp white wine! (Some people love the wonderpots, some people hate them. Read the reviews to see if might be your cup of tea.)
Creamy Tomato & Spinach Pasta – This meal cooks up so fast you won't even have time to break a sweat! Seriously fast, seriously creamy, and seriously delicious.
Southwest Chicken Skillet – Another super fast skillet meal to get dinner on the table in next to no time at all. Mix everything together, turn on the heat, and then crack open an ice cold beverage while this one simmers away.
Beverages
Pineapple Ginger Lassi – Cool yogurt, summery pineapple, and zesty ginger. This drink will cut through summer humidity and make you feel alive and refreshed. Best. Summer. Slushy. Ever.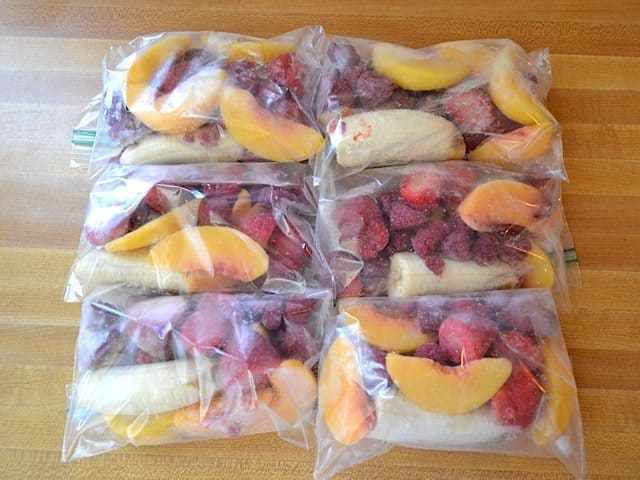 Smoothie Packs – My freezer is always stocked with smoothie packs during the warm weather months (um, all year in Louisiana?). This time saving trick makes it fast and easy to have a filling and delicious smoothie whenever you want it.
Gin Cooler – Aaaaand I saved the best for last! If you haven't noticed, cucumber and lemon is my favorite summertime combo, so I also use it in my cocktails! This drink is very fast, easy, and refreshing (plus it looks pinterest-cute in a mason jar). Try it. Trust me.
I'd love to hear your summer favorites, too! I'm always open to inspiration!