Guuuurrrl, it's hot outside! The temperature is starting to climb, you're hungry, and you don't feel like heating up the kitchen. What do you do? Order take out? Noooooooo! I've got you covered. Here are 28 low or no cook recipes to keep you full and satisfied when it's just too hot to cook a full meal.
Most of these recipes are meant to be served cold, or at the very least just warm, and most contain a lot of vegetables because vegetables are cool, crisp, and refreshing in this oppressive heat! I've broken the recipes up into a few categories to make them a bit easier to browse: protein salads, pasta salads, vegetable salads, breakfast recipes, drinks and fruit, and miscellaneous (that's stuff like tacos, quesadillas, wraps, and bowls). So let's just jump in!
Updated 8-5-18
Hot Weather Recipe Round up: 28 Low or No Cook Recipes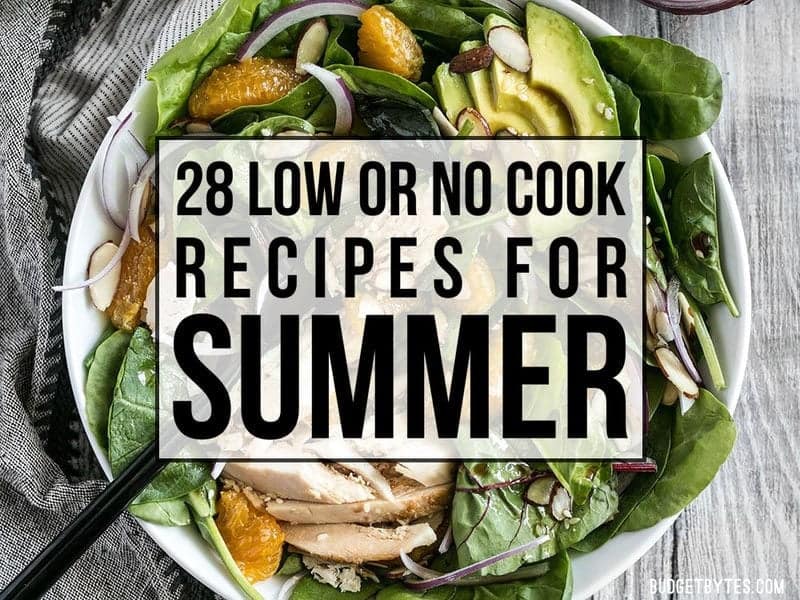 Protein Salads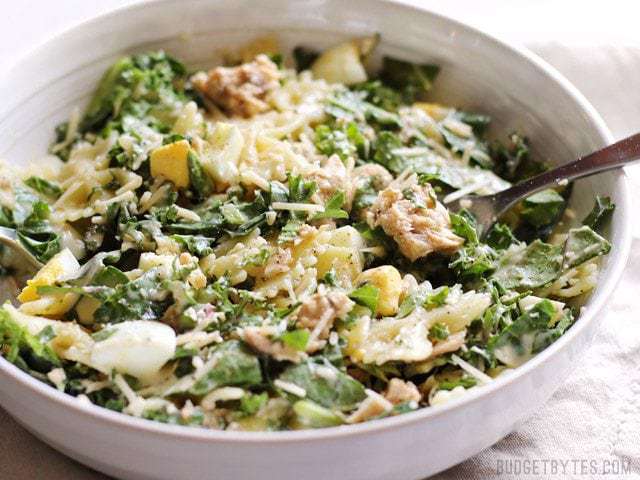 Kale & Salmon Caesar Salad – Canned salmon is a great budget friendly protein option, and inexpensive pasta makes for a great filler, bringing the average cost of this salad down, down, DOWN.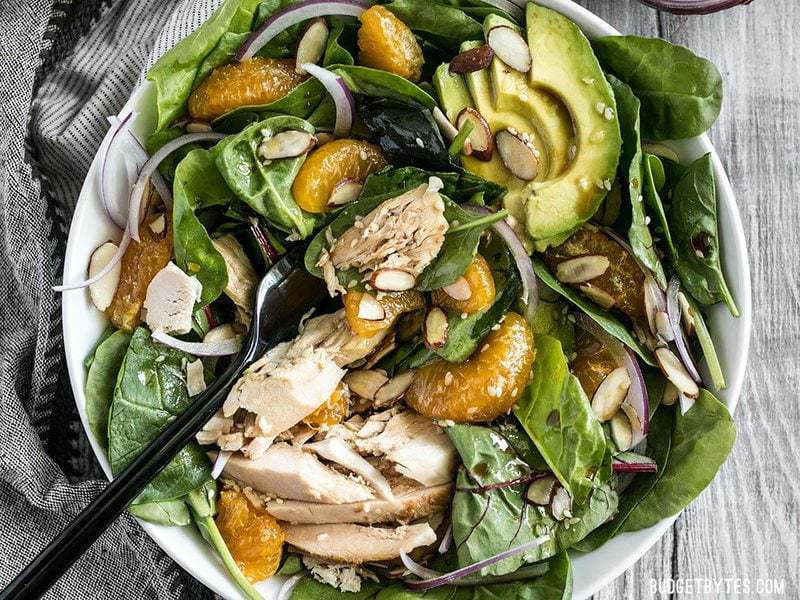 Chicken and Mandarin Salad with Simple Sesame Dressing – A store bought rotisserie chicken is your best friend when the summer months hit. Not only is it great for cold sandwiches and wraps, but you can toss it onto a bed of greens for an awesome meal-worthy salad.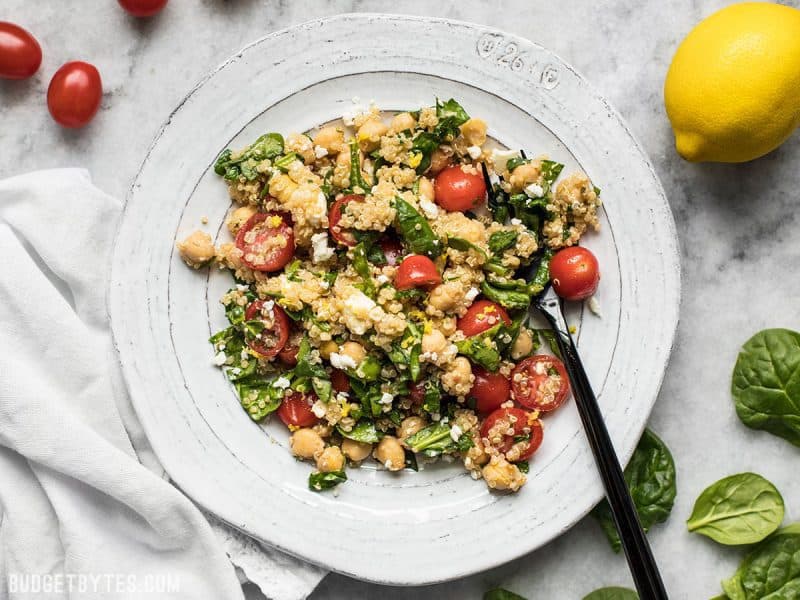 Spinach Chickpea and Quinoa Salad – Cook a large pot of quinoa once at the beginning of the week, then use the pre-cooked quinoa for different cold meals throughout the week. This filling salad is also a great way to take advantage of summer tomatoes!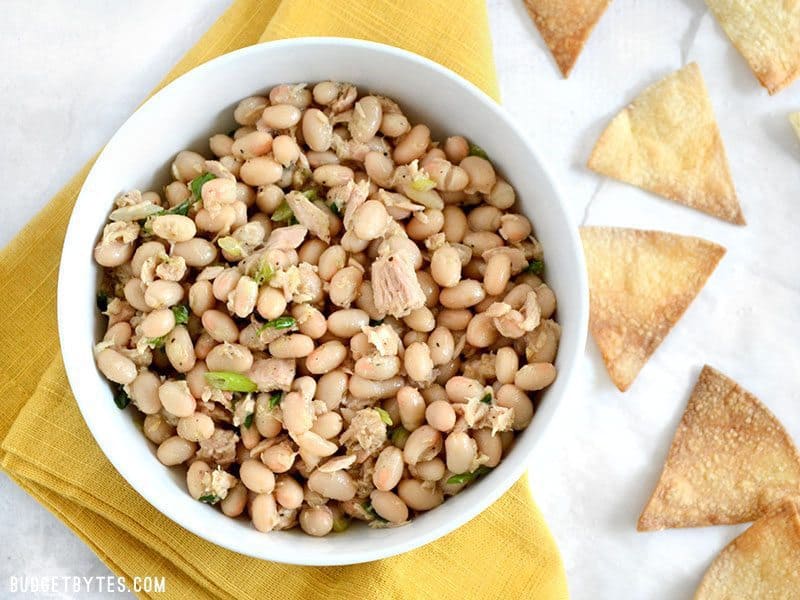 Tuna and White Bean Salad – I love having a batch of this high protein, mayo-free tuna salad in the fridge. It's great as a dip for chips or crackers, or you can stuff it into a pita or wrap for a quick sandwich!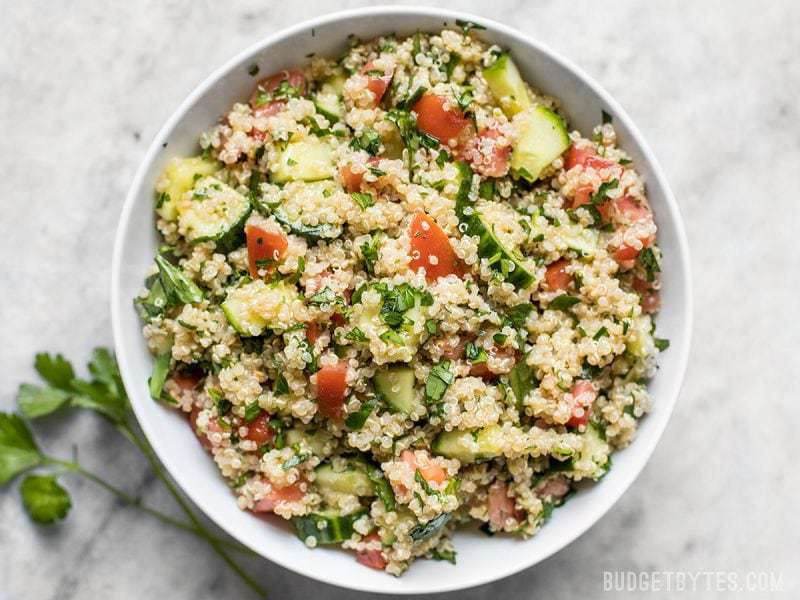 Quinoa Tabbouleh – I can NEVER get enough tabbouleh in the summer! There's something about the zesty lemon and super fresh cucumbers that just screams summer. This salad holds up well in the fridge, so make one batch and you're good for a few days!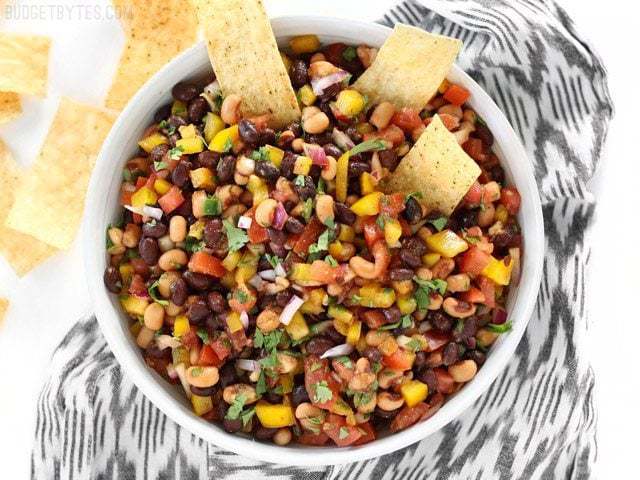 Cowboy Caviar – Cowboy Caviar never fails to please! Like many of my other bean salads, it's cold and refreshing, yet filling. You can dip your favorite chip into it like a chunky salsa, or spoon it over rice with some cheese or sour cream for a bowl meal.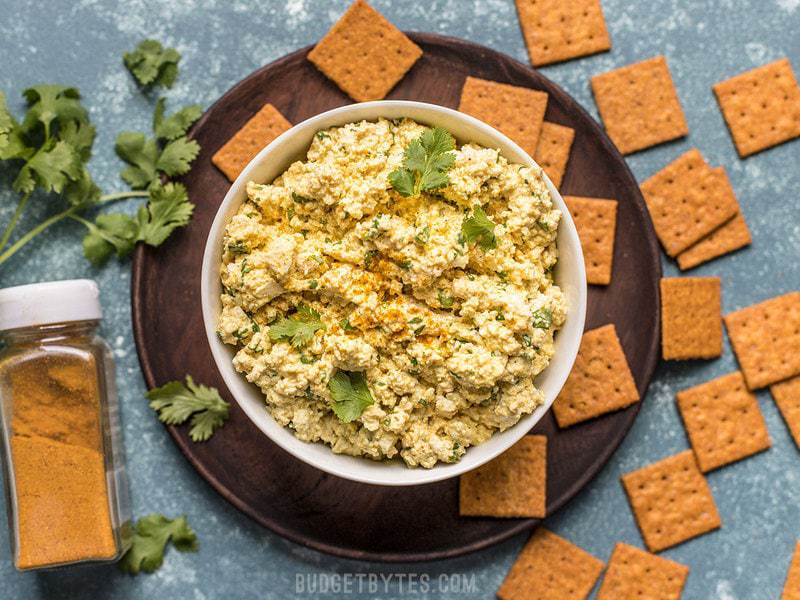 Curried Tofu Salad – This Curried Tofu Salad was the surprise winner of the summer for me. It's incredibly light and fresh, but super filling with all its protein packed goodness. Again, you can just scoop it up with some crackers, or stuff it between some bread, or in a pita for a quick sandwich.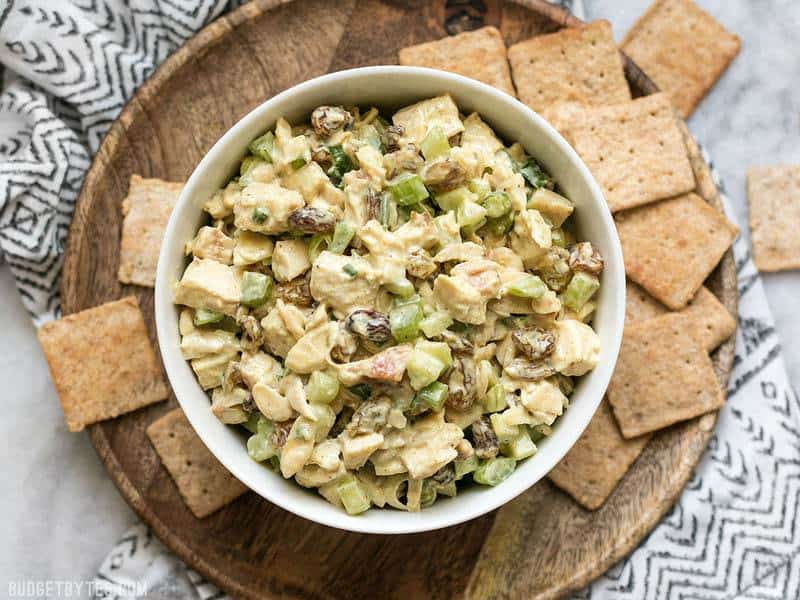 Curry Chicken Salad – And if you're not into tofu, this Curry Chicken Salad might be more your speed. With exotic spices, sweet raisins, and crunchy almonds, it's definitely more interesting than your average chicken salad.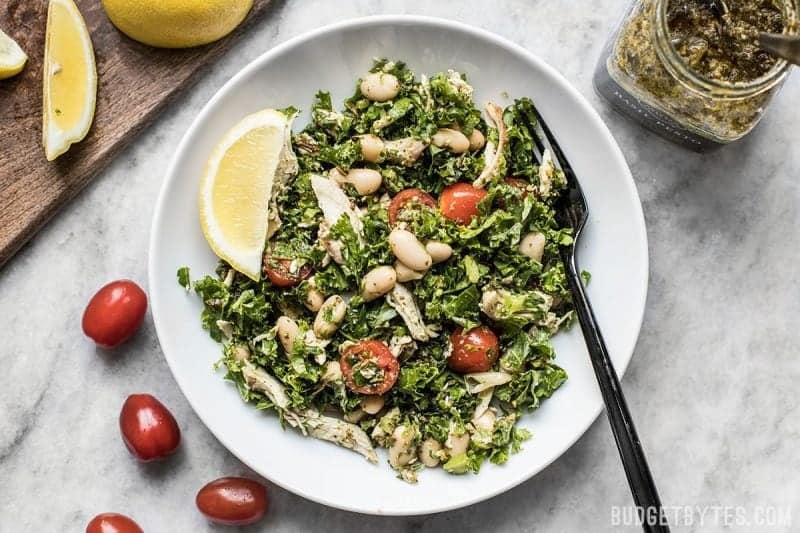 Make Ahead Kale White Bean and Pesto Salad – Summers are busy, so I love recipes that I can prepare one day and enjoy throughout the week. This salad holds up beautifully for several days, and couldn't be faster or easier to make.
Pasta Salads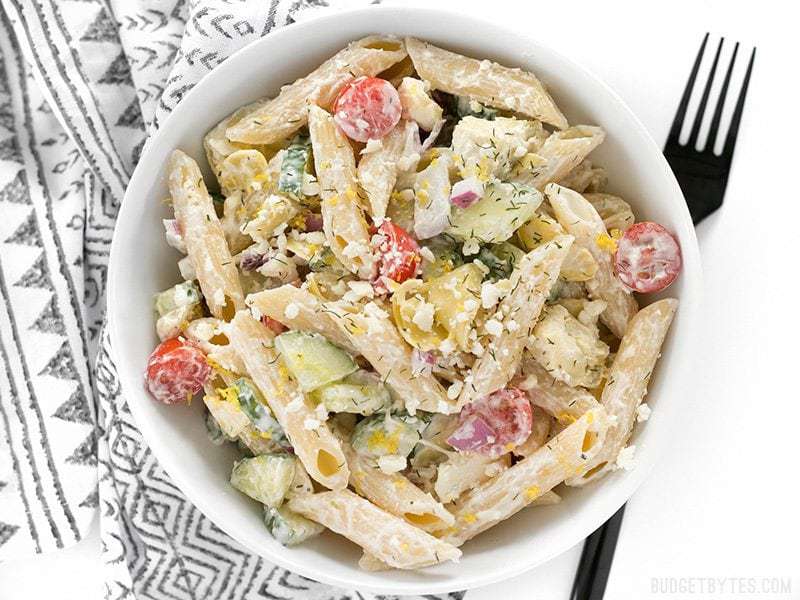 Creamy Lemon Dill Greek Pasta Salad – I have dreams about this creamy, cold, vegetable filled salad! Perfect for a light lunch or dinner, and just begging to be paired with a crisp, cold glass of white wine.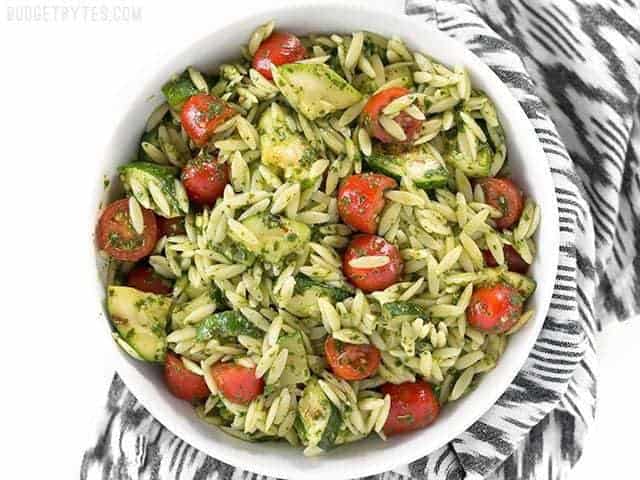 Zucchini and Orzo Salad with Chimichurri – Chimichurri is the flavor of summer for me, and I love pouring it over everything. This quick salad makes a great side dish, or you can add some grilled chicken to make it a meal.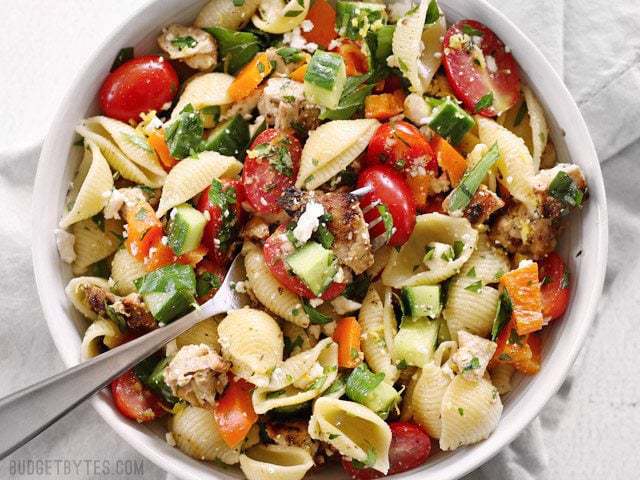 Greek Chicken Pasta Salad – This scrumptious pasta salad has gone viral, and for good reason. The flavors are big and they pop among plenty of color and texture from fresh summer vegetables.
Lemony Cucumber Couscous Salad – Cucumbers, fresh lemon, and salty feta create an incredibly fresh and light salad, with fun little Israeli couscous as a filler. This salad holds up well in the fridge and you'll find yourself wanting to sneak bites of this summery freshness all day!
Quesadillas, Wraps, Tacos and More

Pizzadillas – I can't be cranking my oven up to 450 to bake a pizza in the heat of summer, but I neeeeed my pizza fix! So that's when I start making pizzadillas. All that pizza flavor with only a couple quick minutes in a skillet.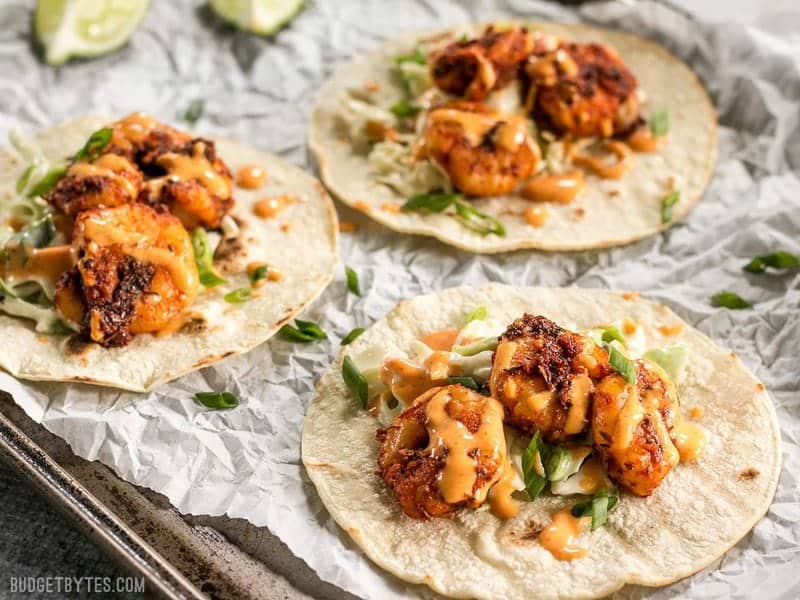 Blackened Shrimp Tacos – Sure, tacos are good anytime, but they're especially good in the summer (maybe with a cold Corona?). These smoky shrimp only need a couple quick minutes in a super hot skillet, and that's all the cooking that will come between you and some killer tacos.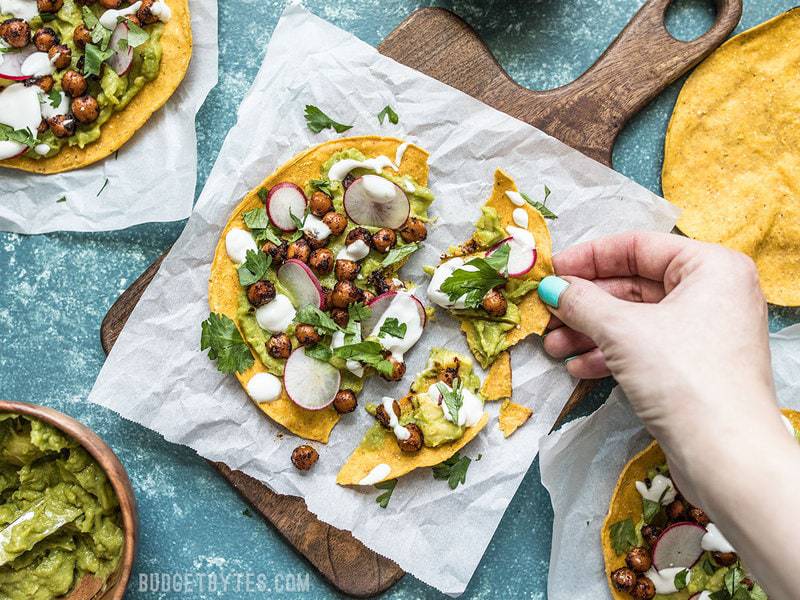 Spiced Chickpea Tostadas – Here's another little number that I picture to be perfect with a cold bottle of Corona! Just like the blackened shrimp, the spiced chickpeas only need a few quick minutes in a hot skillet, and the rest of the ingredients are cold and easy to prepare. Perfect summer food.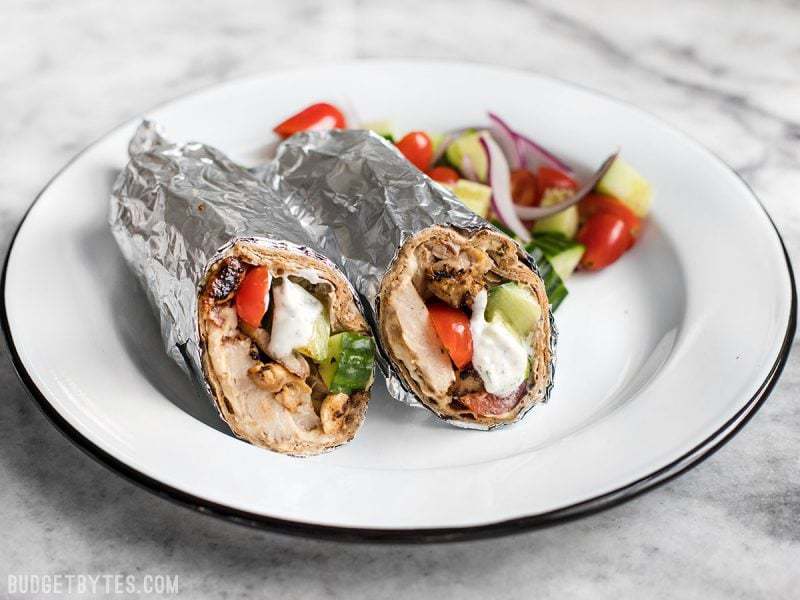 Greek Chicken Wraps – Warm, heavily seasoned chicken juxtaposed against fresh and crispy cucumbers and juicy tomatoes. It's sandwich (er, wrap) perfection. …and that creamy sauce! 🤤
Homemade Sushi Bowls with Sriracha Mayo – All the cold freshness of rolled sushi, with none of the rolling skills needed! Anyone can perfect sushi in bowl form. ;)
Vegetable Salads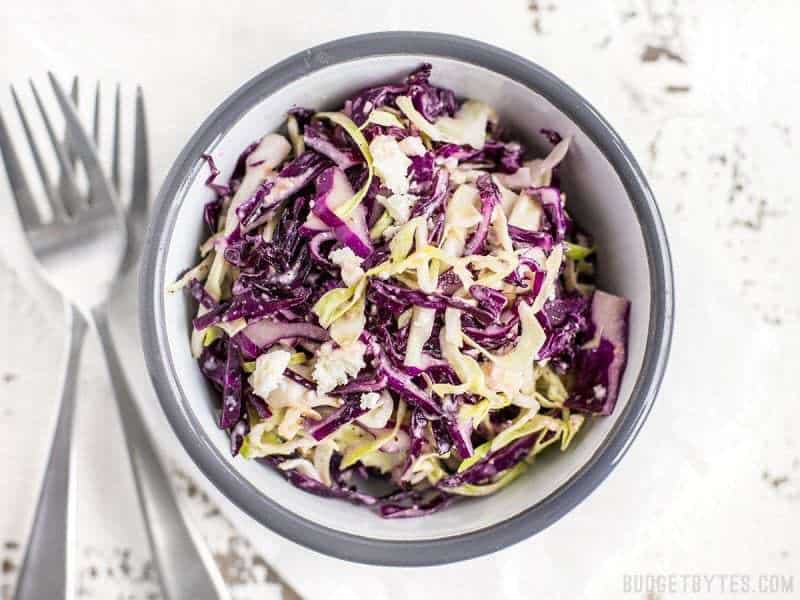 Vinaigrette Slaw with Feta – I could eat buckets of this fresh crunchy slaw in the summer. It's only a few ingredients and a couple of quick minutes to stir everything together. Serve it as a side or add some chicken on top and make it a meal!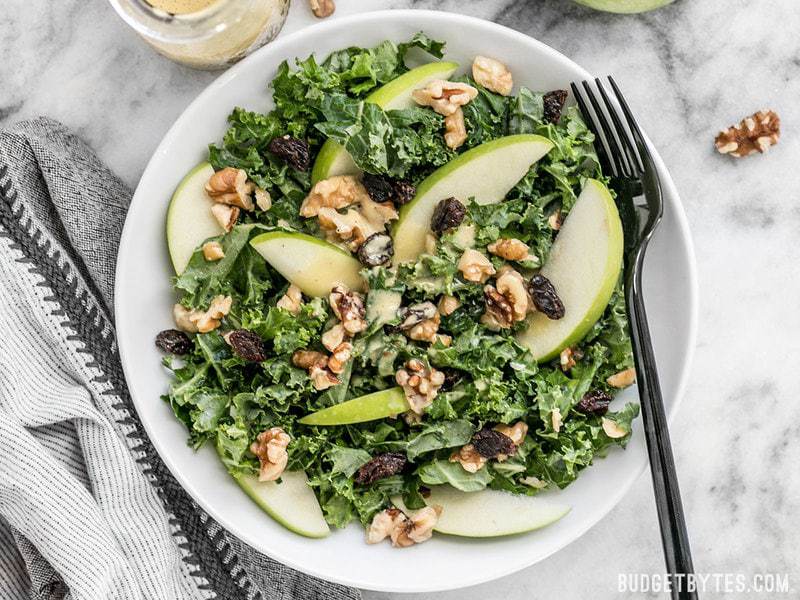 Apple Dijon Kale Salad – This is one of my all-time favorite meal salads! The cold, crispy, juicy apples are so perfect against the tangy Dijon dressing. And because kale is so hearty, it holds up REALLY well in the fridge so you can eat happy for days.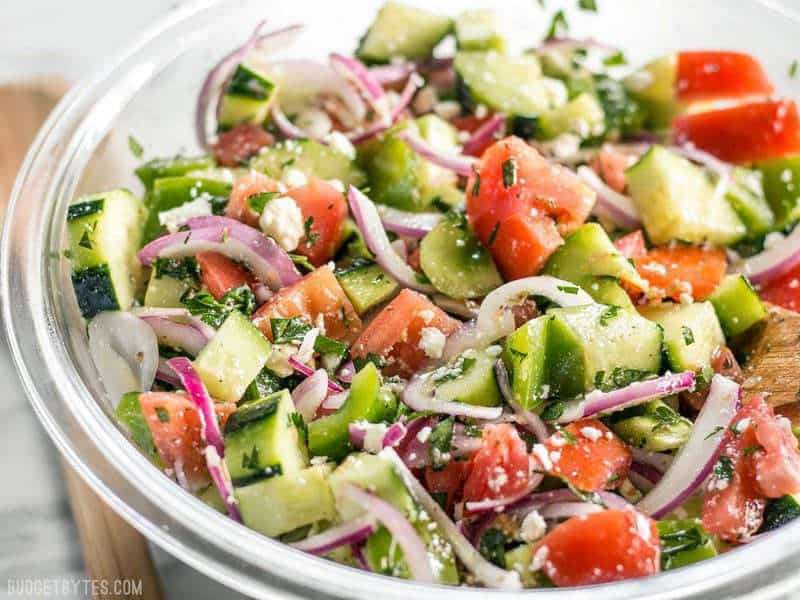 Super Fresh Cucumber Salad – This is my go-to "make sure I get all my vegetables" salad in the summer. I make a big batch and eat it throughout the week. Either as a side with whatever meal I'm eating, or just as a quick snack on its own. I never get tired of it and I never stop wanting its fragrant freshness.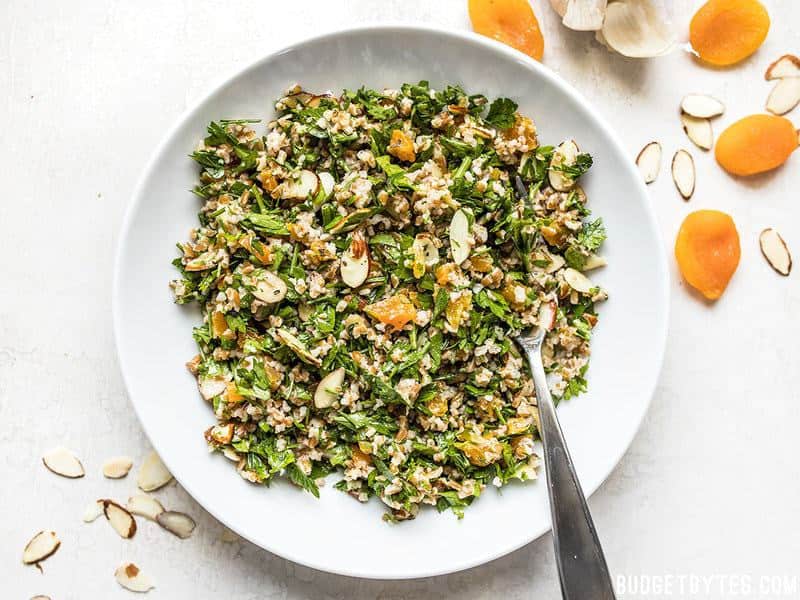 Parsley Salad with Almonds and Apricots – Think of this salad as tabbouleh's sweeter, milder cousin. It's full of refreshing parsley, but dotted with sweet dried apricots, crunchy almonds, and a tangy homemade dressing.
Breakfast Recipes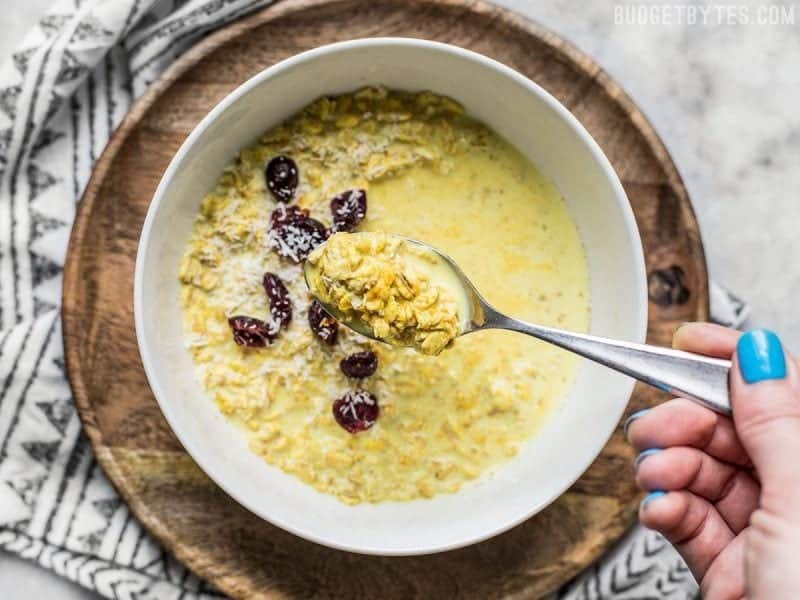 Golden Milk Overnight Oats – Overnight oats are my go-to cold summer breakfast and I have several variations on this site, but these golden milk soaked overnight oats are probably the most unique. Warm spices and a subtle sweetness makes these oats both rich and refreshing at the same time.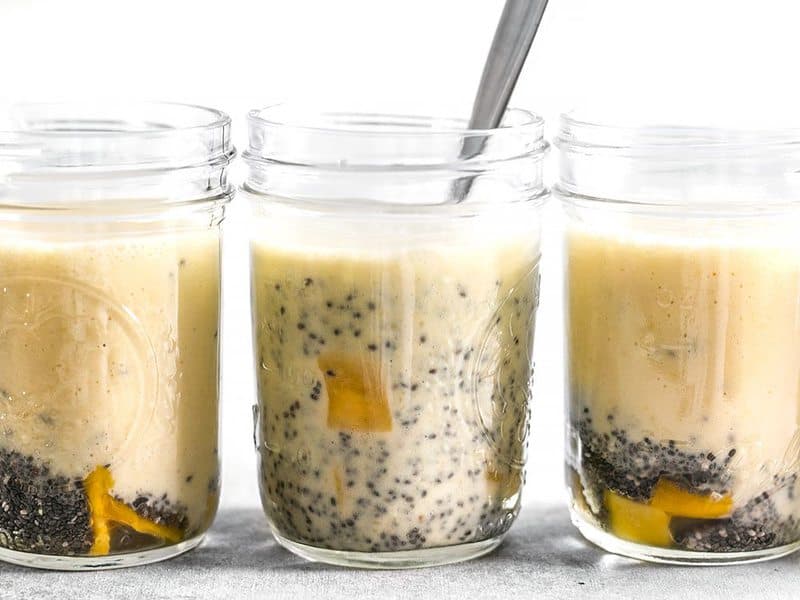 Mango Coconut Chia Pudding – Another fun thing to "soak" for breakfast is chia seeds. This chia pudding is full of tropical flavors, making it extra appropriate for those hot summer days.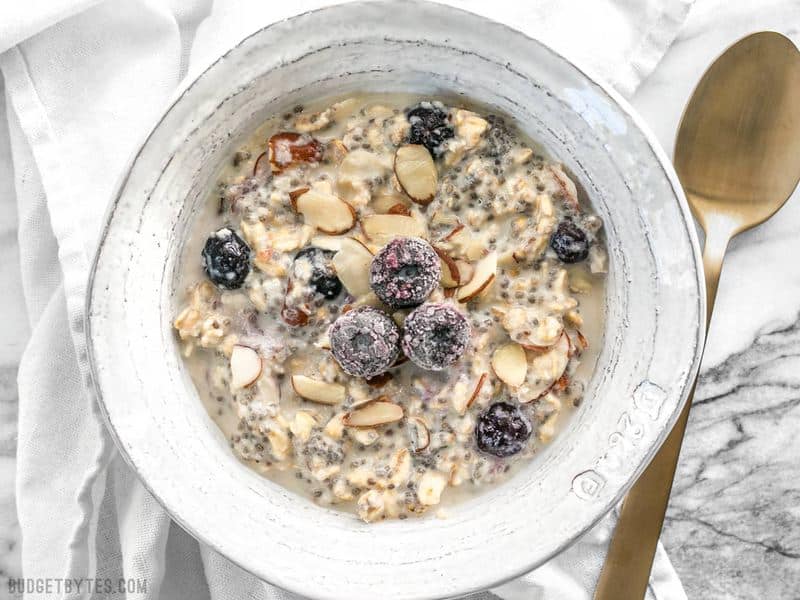 No Sugar Added Blueberry Almond Overnight Oats – And then of course, you can combine oats and chia for an extra texture filled cold breakfast treat. I used frozen blueberries here, but if you can get some great in-season summer blueberries, this would be a great way to use them!
Drinks and Fruit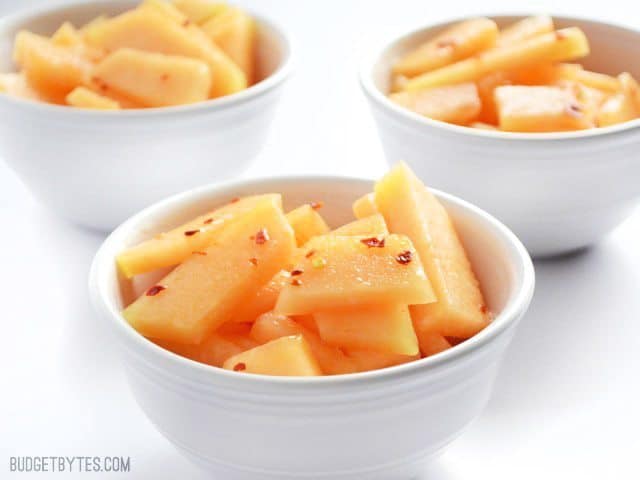 Chili Lime Cantaloupe – As if fresh cantaloupe isn't refreshing enough, when you add a splash of lime juice and a pinch or two of red pepper, it's freshness is magnified ten fold. This stuff is AMAZING and the perfect summer snack.
Homemade Pineapple Orange Julius – I will take this cold, creamy, frothy drink over ice cream ANY DAY. Serve me one of these pool-side and I'm good. Nothing else needed in life.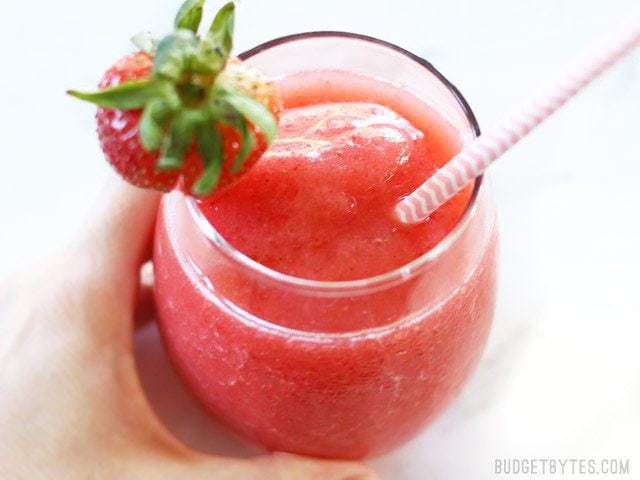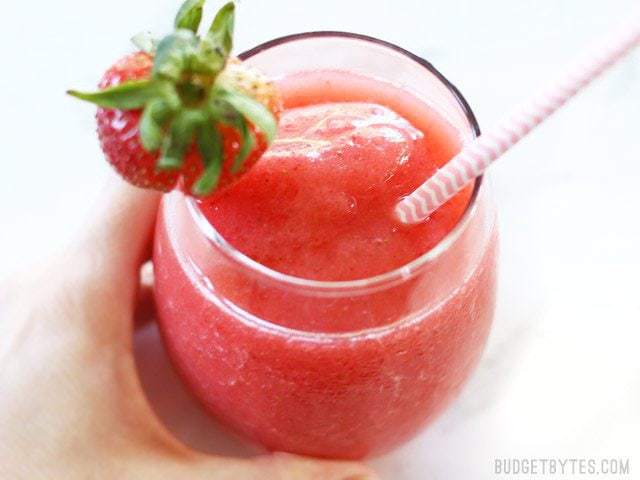 Strawberry Rosé Slush – But of course, sometimes you need something a little "more." Pop some frozen strawberries into a blender with some wine and a pinch of sugar and you've got a frozen summer cocktail worthy of relaxing with.
I'd love to hear your summer favorites, too! Share your favorites in the comments below.