Shopping for produce can be a bit tricky in the United States. Some items are priced by the pound while others are priced per item, and if you happen to confuse the two, you can wind up paying an arm and a leg. So when I saw cantaloupe at the store with a big "$2" sign, I had to do a double take. $2 per pound would have been a pricy melon, but to my delight they were $2 a piece. Nice!
I had intended on making a sweet and spicy cucumber salad to serve along side my Thai Peanut Chicken this week, but the cucumbers weren't looking so hot and this cantaloupe was just begging to be taken home. So I made a last minute switch and put together this Chili Lime Cantaloupe instead. This salad couldn't be more fresh or simple, which makes it perfect for these hot summer (or pre-summer) nights. The dressing is a little bit sweet, a little bit salty, has the bright freshness of lime, and a hint of spicy chili for fun. The sweetness of the cantaloupe is only magnified with the juxtaposing flavors.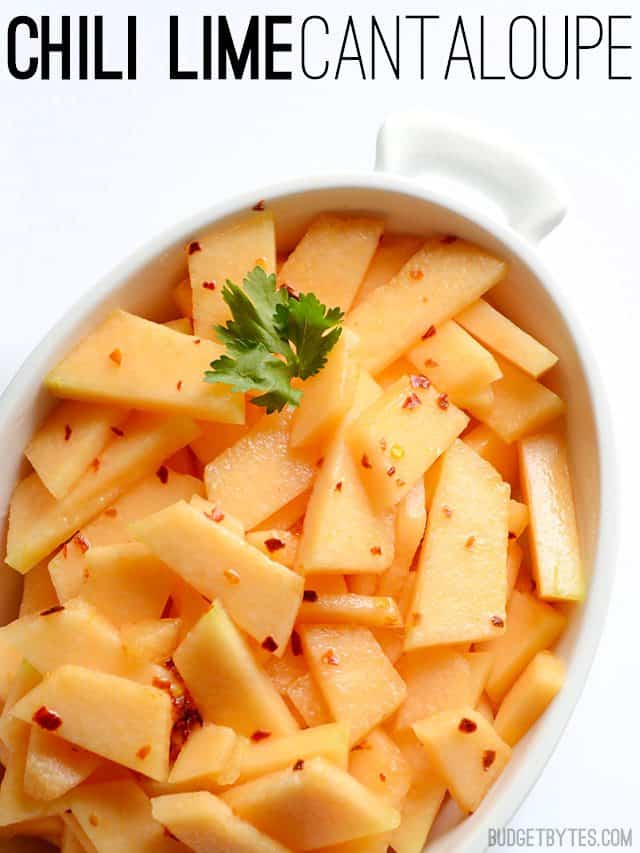 You could just as easily make this salad with cucumber if melon isn't your thing, or if you happen to have both, make the salad a beautiful mix of orange and green. If you want to dress up the Chili Lime Cantaloupe even further, toss in a handful of chopped fresh cilantro.
Chili Lime Cantaloupe
This quick and refreshing Chili Lime Cantaloupe is a unique way to dress up summer fruit. Pairs well with any southwest or Asian inspired meal.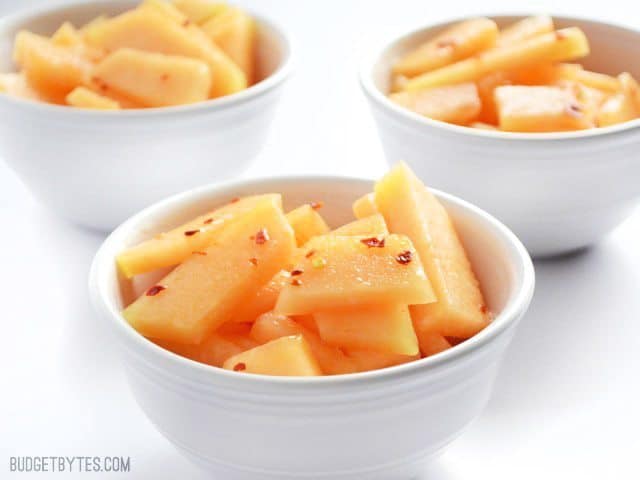 Ingredients
1/2

medium cantaloupe

($1.00)

1.5-2

Tbsp

fresh lime juice (about 1/2 lime)

($0.25)

1/2

Tbsp

honey

($0.06)

1/8

tsp

salt

($0.02)

1/8

tsp

crushed red pepper

($0.02)
Instructions
Cut the cantaloupe in half and scrape out the seeds with a spoon. Reserve half of the cantaloupe for breakfast or other meals. Take the remaining half and cut it into quarters. Using a sharp knife, carefully run the knife between the flesh and the rind. Once the rind is removed, slice the melon into thin pieces.

In a small bowl, combine the juice of half a lime (about 1.5-2 Tbsp), honey, salt, and crushed red pepper. Stir until the honey is dissolved.

Pour the dressing over the sliced cantaloupe and toss to coat the melon in the dressing. Serve immediately, or chill until ready to eat. Give the melon a brief stir before serving.
See how we calculate recipe costs here.
---
Nutrition
Serving:
1
Serving
Calories:
33.45
kcal
Carbohydrates:
8.48
g
Protein:
0.6
g
Fat:
0.13
g
Sodium:
85.03
mg
Fiber:
0.68
g
Read our full nutrition disclaimer here.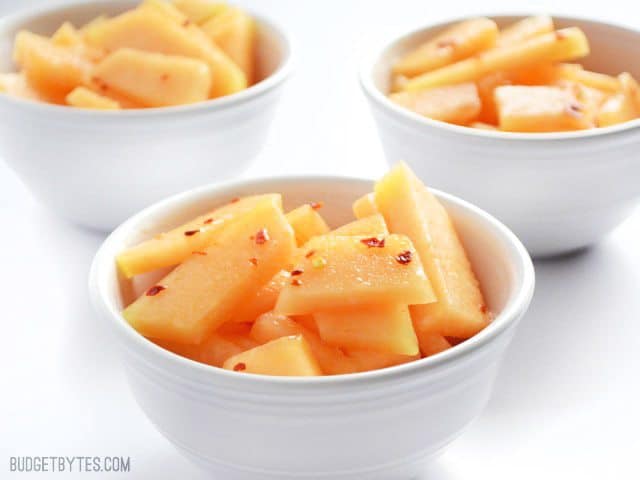 If you love spicy fruit, you might also like my Spicy Pineapple Cucumber Salad!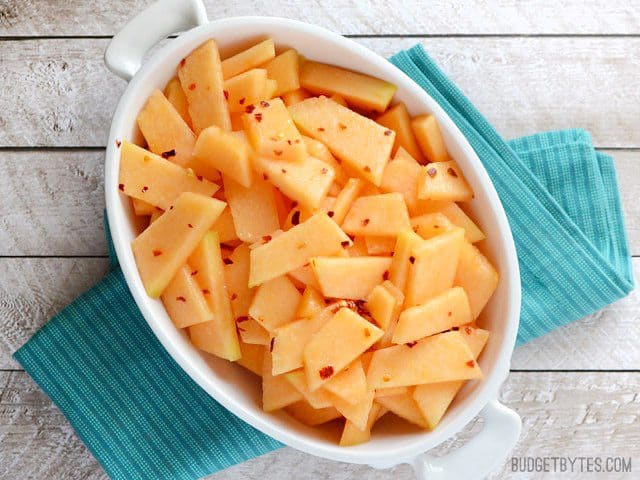 How to Make Chili Lime Cantaloupe – Step by Step Photos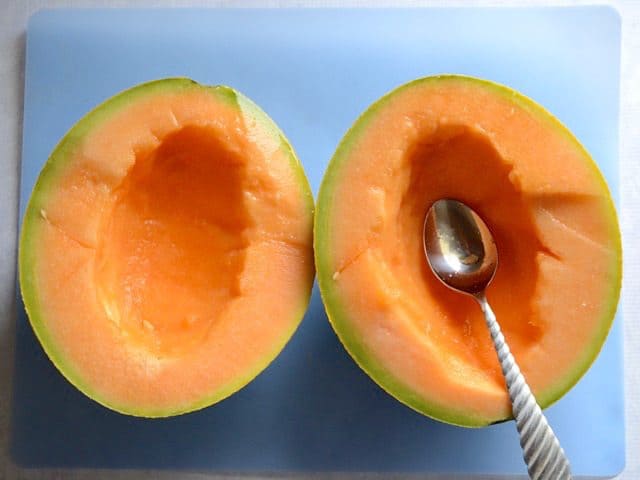 To prepare the melon, first cut it in half. Use a spoon to scrape out the seeds. Only half of the melon will be used for this recipe. The other half can be served at breakfast, used in smoothies, or served as a snack.
Cut the remaining half into quarters.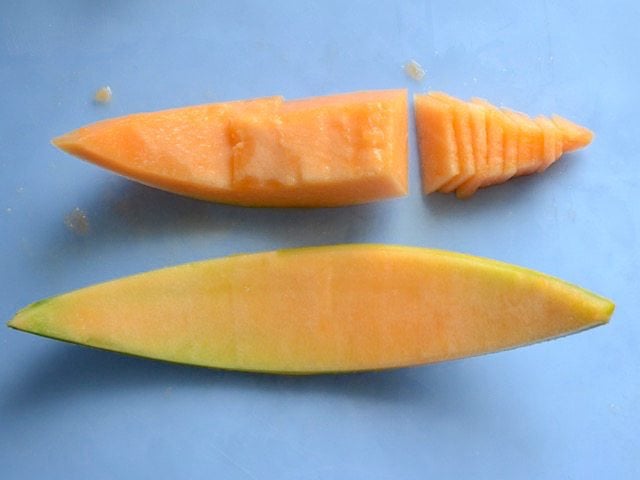 Carefully slide the knife between the rind and the flesh to remove the rind. Cut the melon into thin slices.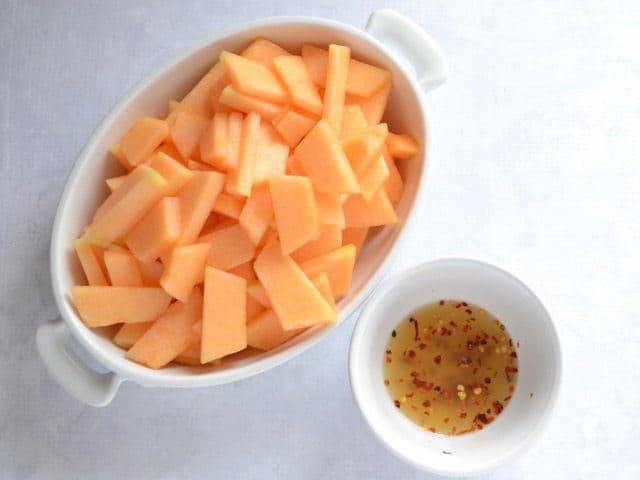 In a small bowl, stir together the juice from half a lime (about 1.5-2 Tbsp), 1/2 Tbsp of honey, 1/8 tsp salt, and 1/8 tsp crushed red pepper (I actually added a little extra red pepper, cuz that's just how I am). Stir them until the honey is dissolved. I used half of the lime for my Thai Peanut Chicken and the other half for this salad.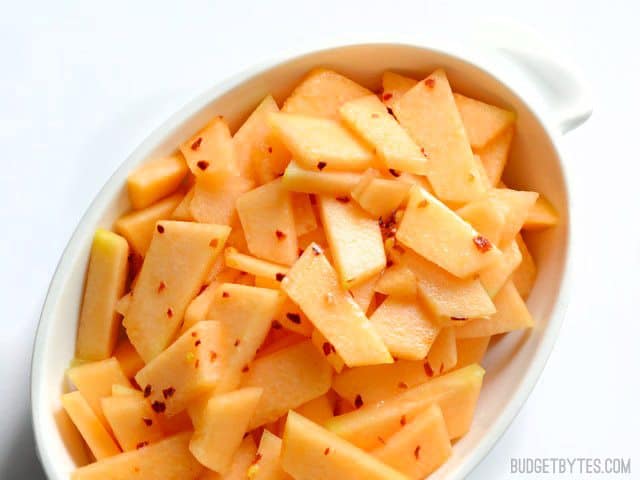 Pour the dressing over the cantaloupe and toss to coat. Serve the Chili Lime Cantaloupe immediately or refrigerate until you're ready to eat. Remember to give it a quick stir to redistribute the juices before serving!