Cue the fireworks…it's officially one of the biggest food and grilling holidays of the season! Fourth of July celebrations are always full of good food, grilling, and outdoor fun. We've rounded the best 4th of July recipes to make your Independence Day delicious, including easy recipes, side dishes, main dishes, and desserts.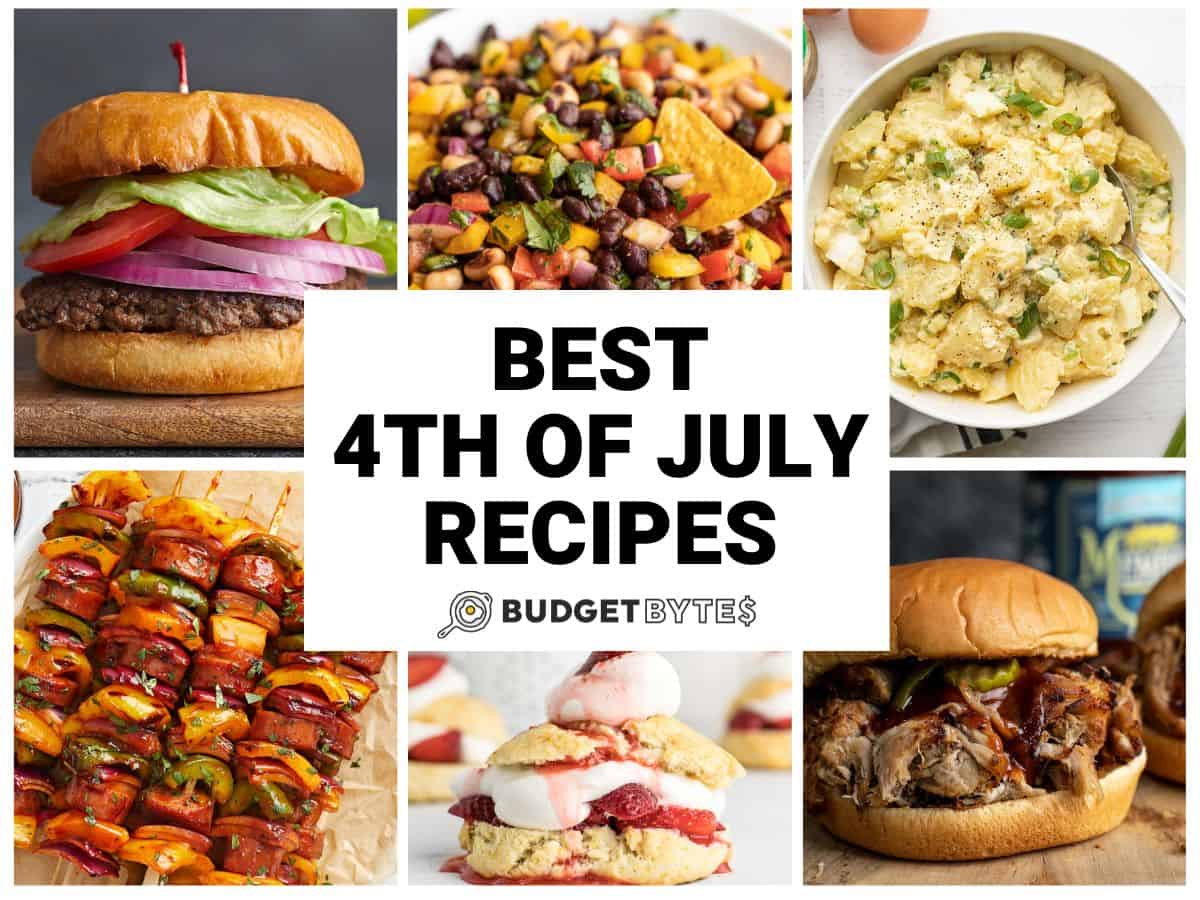 Easy 4th Of July Recipes
Get ready to make a statement at your next cookout with these super easy Sausage Kebabs! They're colorful, super tasty, and are the perfect summertime meal.
We're saving you time and money with this simple Classic Three Bean Salad! It has minimal ingredients, a tangy-sweet dressing, and it's the perfect side dish for summer BBQs or busy weeknight meals.
I absolutely love a good homemade coleslaw like this Easy Creamy Coleslaw recipe. This creamy-crunchy combo tastes great piled on barbecue sandwiches, hotdogs or even as a side by itself.
Speaking of barbecue sandwiches, this Easy BBQ Chicken Sandwich doesn't require a grill and helps get dinner on the table fast! And yes we highly recommend topping it with that delicious coleslaw :)
Creamy Cucumber Salad is a classic summer salad made with a simple combination of cucumbers, onions and a quick, creamy dressing. It's the perfect salad to cool down with on those hot summer days.
July 4th Side Dishes
And we all know you can't have a cookout without a big bowl of Classic Southern Style Potato Salad! This very popular BBQ side dish is creamy, tangy and always a crowd favorite!
Homemade Baked Beans are perfect with burgers, pulled pork sandwiches, ribs, chicken, honestly almost any grilled meat. They're rich, sweet, smoky, and flavored with bacon and a homemade BBQ sauce.
You can't have a 4th of July cookout without this classic Macaroni Salad recipe! It's cold, creamy, budget-friendly, and absolutely delicious.
Grab a few ears of fresh summer sweet corn while they are in season and make this super simple Oven Roasted Corn with Honey Chili Butter. They can easily be roasted in the oven while still in her husks to keep them ultra sweet and juicy.
You'll definitely steal the show at this years cookout with this Cowboy Caviar! It's an easy salsa-type salad that can be served with chips, on top of salads, or as a simple side dish.
July 4th Main Dishes
If you don't have a grill but you still want a tasty, juicy, burger to enjoy this holiday, then this Smash Burger recipe is for you! It's made with our simple homemade burger seasoning and an easy technique that leaves you with crispy edges and the perfect burger patty.
If there is one food I love to eat each year at our annual 4th of July cookout, it's most definitely ribs. These BBQ Ribs can be made in the oven and you still end up with juicy, tender ribs the whole family will love.
Vegetarian friends…we didn't forget about you! These Marinated Portobello Mushroom Burgers are the easiest and tastiest vegetarian burger option, ever!
No grill needed for this mouth-watering, tender, Slow Cooker Pulled Pork. The pulled pork can easily be made in a slow cooker and then served as a sandwich or if you're like me, just eaten by itself!
BBQ Chicken Kebabs with a tropical pineapple twist! These chicken kebabs are sweet, savory, tangy, and of course super easy to make. They're perfect for the summer and they'll look stunning on your table at the family cookout!
4th of July Desserts
What better way to enjoy the summer season than with a simple Strawberry Shortcake dessert. These strawberry shortcakes are made with a homemade sweet biscuit and a super easy homemade vanilla whipped cream. Add a splash of blue color with some fresh blueberries and you instantly have a red, white and blue dessert perfect for celebrating the 4th!
Lemon Cream Pie is an easy summer dessert that's made with just a few simple ingredients for the most irresistible, creamy, dessert that's perfect for any occasion!
No Bake Strawberry Cheesecake for two…or three! Honestly, you can scale this delicious dessert to feed as may as people as you want. And if you're going for the classic patriotic red, white and blue colors feel free to add some fresh blueberries too :)
I don't think there is any other classic southern dessert that's better than Banana Pudding! This super easy dessert is made with creamy vanilla pudding, fresh fruit, crunchy cookies, and sometimes finished with a little whipped cream on top for a little extra pizzazz!
This Texas Sheet Cake is the perfect cake to make to feed a crowd. It's surprisingly simple to make, easy to slice, and you can even get 25 slices from one cake…WIN!
Well hello, my favorite dessert from childhood! Jello Salad is a classic potluck dessert that's always fun to share at family gatherings. It's simple, sweet, and definitely a crowd favorite ;)
Let us know which recipe is your favorite and what you plan on bringing to the cookout this year in the comments below! Have a great 4th of July!