I never knew I was a coleslaw person until I made it myself. I had eaten it plenty of times at restaurants, never once having been impressed, and always wondering what the appeal was. But then I decided to make a quick batch of creamy coleslaw to go on a sandwich one day and that coleslaw totally stole the show. Something about that creamy-crunchy combo made me keep coming back for more, and I've been making on the reg ever since.
The super simple dressing for my Creamy Coleslaw is made with a few pantry staples, including a little Dijon mustard for tang and a dab of honey for sweetness. Then the dressing is just tossed with shredded cabbage, carrots, and sliced green onions, and you're done! Creamy crunchy heaven ready to be piled onto a sandwich or taco, stuffed into a wrap, or enjoyed as is.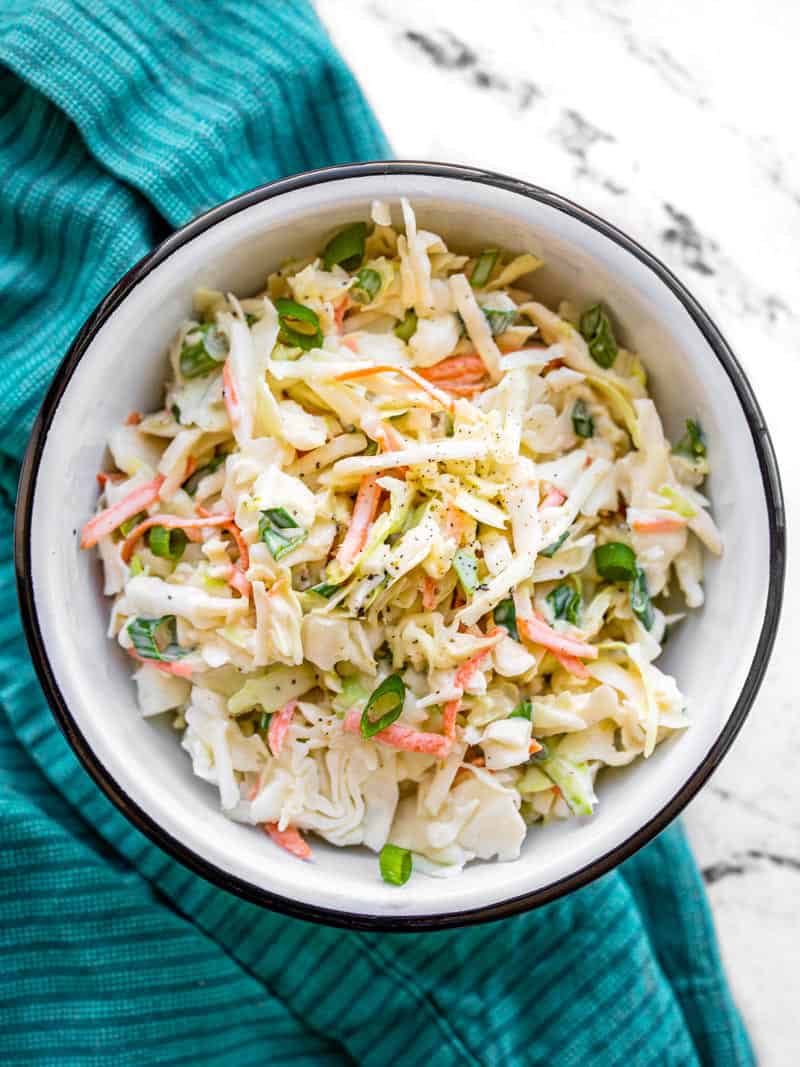 There's something about that combo of sweet-tangy-creamy dressing over super crunchy cabbage that is everything. Like, once I take one bite I just can't stop. So I made this recipe a "small batch". Just about two cups total once done, or just enough for about four sandwiches. (Or two sandwiches and four mouthfuls, LOL)
Shredded Cabbage Shortcut
I used pre-shredded bagged "coleslaw mix" (shredded cabbage and carrots) for this recipe because I think it's one of the few times using pre-chopped vegetables is cost effective. And then you're not left with half a cabbage in your fridge wondering what to do with it. Because no matter how small a cabbage is, it always seems to be too much.
BUT, if you happen to have that half head of cabbage and want to make this with it, you'll need about 3 cups finely shredded cabbage and about one medium carrot, shredded.
How to Keep Coleslaw from Getting Watery
Part of what makes cabbage so crunchy is that it contains a lot of water. The salt in the dressing pulls the water out of the cabbage through osmosis, leaving water in the bottom of your bowl, and your cabbage a little less crisp. The only way to prevent this from happening is to store your dressing separate from the shredded vegetables. So, if you don't plan to eat the whole batch right away, make sure you only add dressing to the portion you plan to eat.
What to Serve with Creamy Coleslaw
Creamy coleslaw is absolutely perfect with anything BBQ, or anything with buffalo sauce. That creamy goodness perfectly balances the sweet tang of BBQ sauce and the fiery heat of buffalo sauce. But it also goes great on tacos, or as an extra topping in bowl meals. Here are a few recipes where I use coleslaw: BBQ Bean Sliders, Blacked Shrimp Tacos, Buffalo Chicken sandwiches, and Buffalo Tempeh Sandwiches. It would also be great with something like: BBQ Chicken Burrito Bowls, BBQ Wings, fish sticks, or Loaded Mashed Potato Bowls.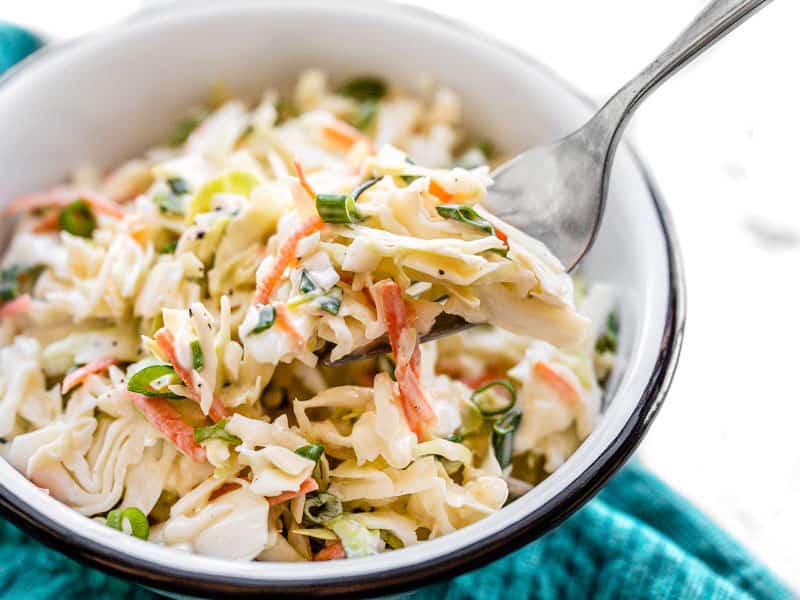 Easy Creamy Coleslaw
This classic sweet and tangy homemade coleslaw recipe is perfect for piling onto pulled pork sandwiches or serving as a side with dinner.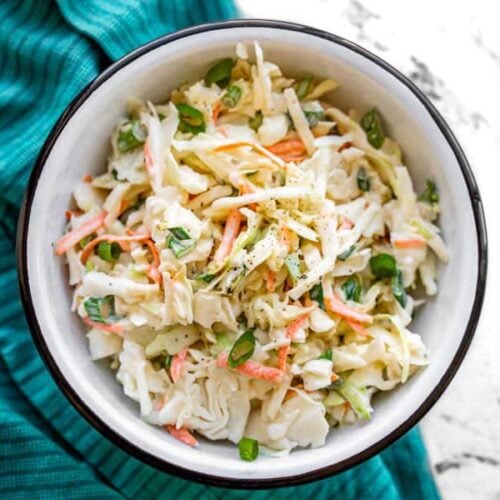 Ingredients
Dressing
1/3

cup

mayonnaise

($0.55)

1/2

Tbsp

honey

($0.06)

1

tsp

Dijon mustard

($0.03)

1

tsp

red wine vinegar (or apple cider vinegar)

($0.02)

1/4

tsp

salt

($0.02)

freshly cracked black pepper

($0.03)
Vegetables
1/2

14 oz. bag

coleslaw mix (shredded cabbage and carrots)*

($0.75)

3

green onions

($0.17)
Instructions
In a small bowl, combine the ingredients for the dressing (mayonnaise, honey, Dijon, red wine vinegar, salt, and pepper).

Slice the green onions. Add the coleslaw mix (shredded cabbage and carrots) to a large bowl with the green onions, then pour the dressing over top. Stir until the cabbage is evenly coated in dressing. Serve immediately.
See how we calculate recipe costs here.
---
Nutrition
Calories:
158.6
kcal
Carbohydrates:
8.1
g
Protein:
0.7
g
Fat:
14.8
g
Sodium:
325
mg
Fiber:
1.2
g
Read our full nutrition disclaimer here.
Try These Other Easy Coleslaw Recipes
If you love coleslaw as much as I do, you've got to try these other fabulous slaws:
How to Make Classic Creamy Coleslaw – Step by Step Photos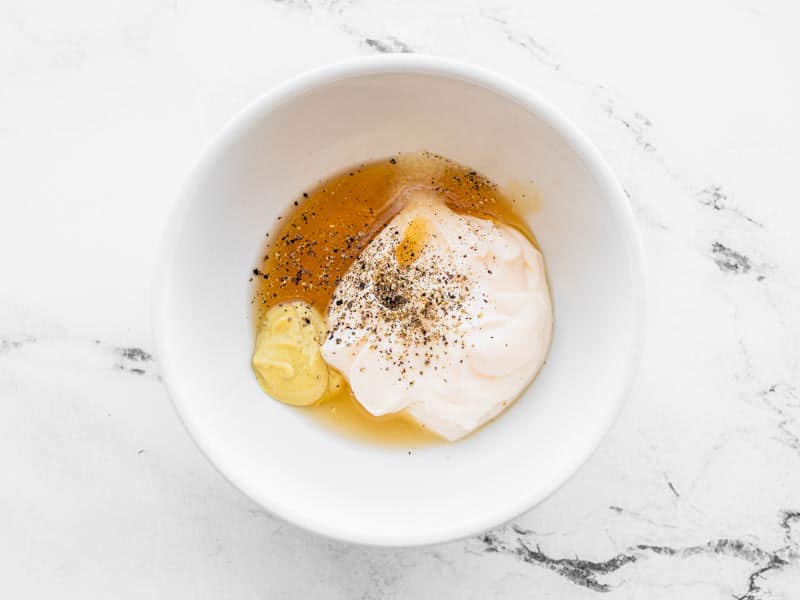 First, make the dressing. In a small bowl, stir together 1/3 cup mayonnaise, 1/2 Tbsp honey, 1 tsp Dijon mustard, 1 tsp red wine vinegar, 1/4 tsp salt, and some freshly cracked pepper (about 5 cranks of a pepper mill).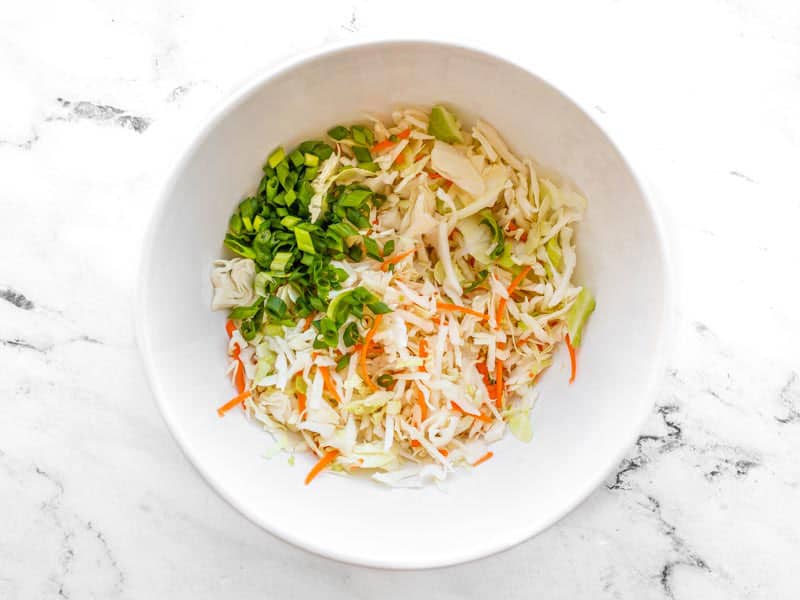 Add 1/2 of a 14 oz. bag of coleslaw mix (shredded green cabbage and carrots) to a large bowl. Slice three green onions and add them to the bowl as well.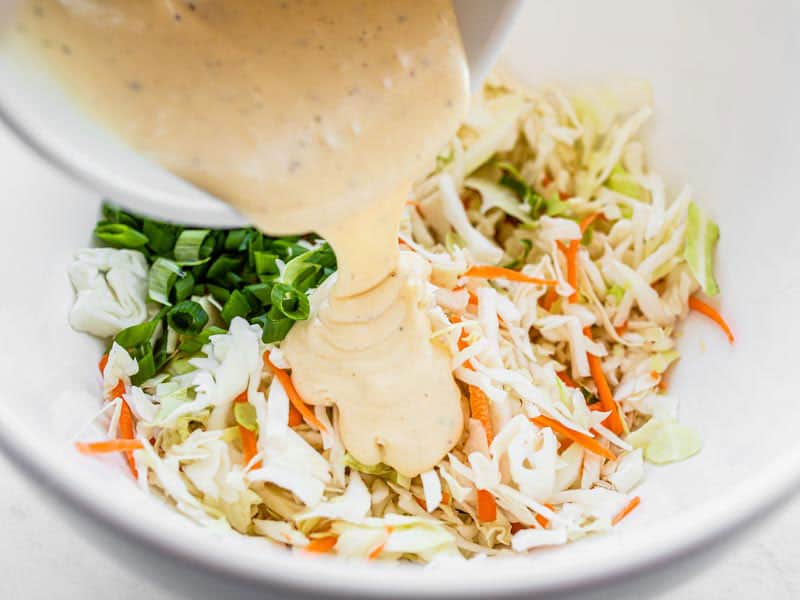 Pour the prepared dressing over top of the cabbage mixture…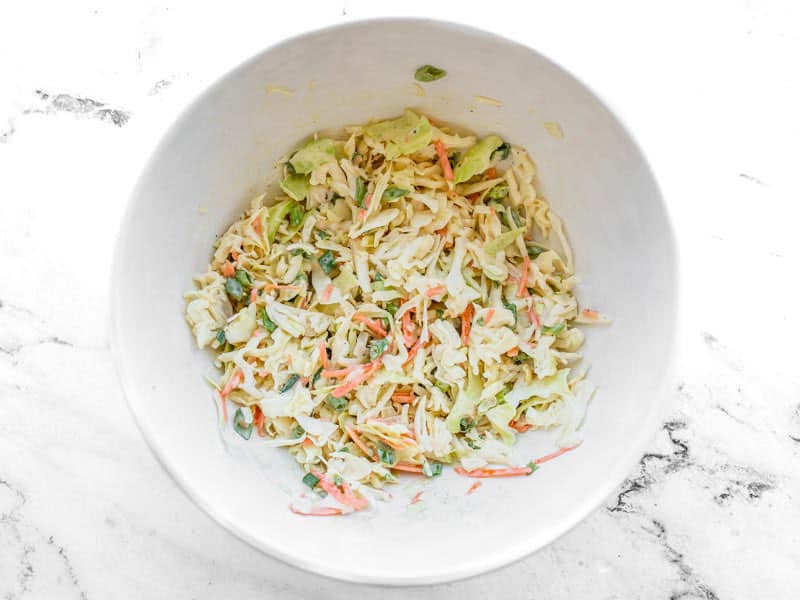 And then stir until all the cabbage is coated in dressing.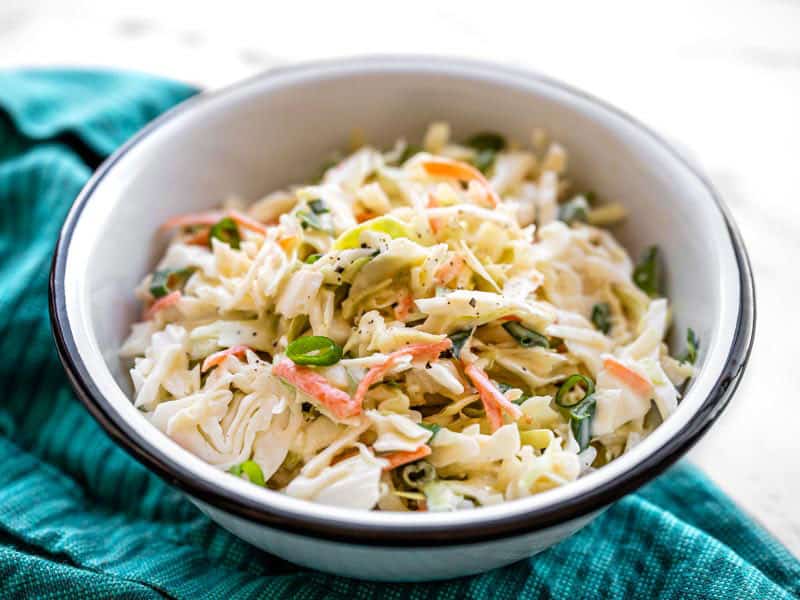 Then dig in (or put it on your sandwich, taco, stuff it into your wrap, or serve it on the side with your ribs)!