This super fresh and colorful Cowboy Caviar combines two types of beans, delicious summer vegetables, and a sweet and tangy lime dressing to make a bold and versatile dish that you'll find yourself making over and over. From a party dip to a salad topper, Cowboy Caviar has become a go-to healthy meal prep item in my kitchen. It's the O.G. refrigerator salad. 😄 Read on for more ideas on how to use this amazing cross between bean salad and salsa!

What is Cowboy Caviar?
Cowboy Caviar, sometimes called Texas Caviar or Mexican Caviar, is like a cross between a bean salad and a fresh salsa. It combines two types of beans (black beans and black eyed peas) with a colorful medley of fresh vegetables and a tangy balsamic-lime vinaigrette.
Where Do You Find Black Eyed Peas?
If you can't find black eyed peas in the canned bean aisle, check with the canned vegetables. Because they're a "pea" they're sometimes found with the canned vegetables rather than the beans. And if you can't find black eyed peas, you can substitute pinto beans or navy beans.
How Long Does it Last?
Well, if you don't eat it all in one sitting (it can happen!), Cowboy Caviar holds up extremely well in the refrigerator and will be just as tasty after about 4-5 days of refrigeration. While the vegetables will let off a little water, most of the ingredients are very sturdy. Just be sure to stir the salad before serving to redistribute the dressing. This salad will probably not freeze well, due to the fresh herbs and vegetables.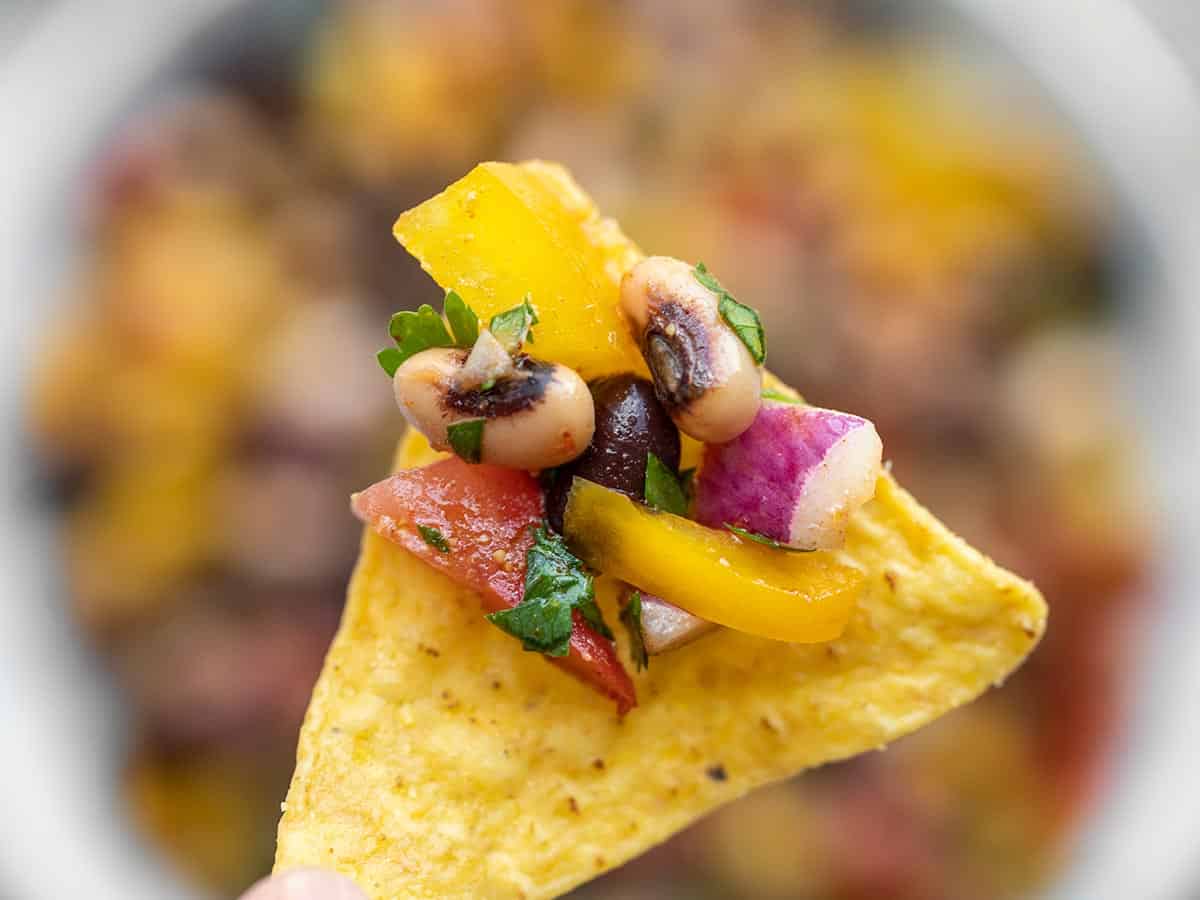 How to Serve Cowboy Caviar
There are SO many ways to eat Cowboy Caviar that you'll probably find yourself adding it to everything you eat. But here are a few ideas anyway:
Serve it as a side dish with dinner
As a chunky dip for chips
As a topping for tacos
Stuffed into a burrito or as part of a burrito bowl
Sprinkled over a green salad
Spooned on top of scrambled eggs
Stuffed into a quesadilla with some cheese
…and so much more. If you have a favorite way to eat your Cowboy Caviar, feel free to share it with the rest of us in the comments below!
Recipe Variations
One of the best things about Cowboy Caviar is that it is extremely versatile. You can customize this recipe to give it your own personal touch. Here are a couple of substitutions and add-ins that will make it your own:
Add avocado for a creamy finish
Skip the jalapeño to make it mild, or keep the jalapeño and add a few dashes of hot sauce to make it extra spicy
Substitute green onion for the red onion to make the salad milder
Add sweet corn for more color and flavor variation
Add ½ tsp smoked paprika to the dressing for a smokier finish
Can you Freeze Cowboy Caviar?
I don't suggest freezing this dish because it has multiple delicate fresh vegetables that will become limp and soggy upon freezing and reheating. You want those veggies to be fresh, juicy, and crunchy to give the salad its amazing texture! :)
Cowboy Caviar
Cowboy Caviar is a deliciously fresh bean salad with a colorful mix of beans and vegetables, plus a zesty lime dressing.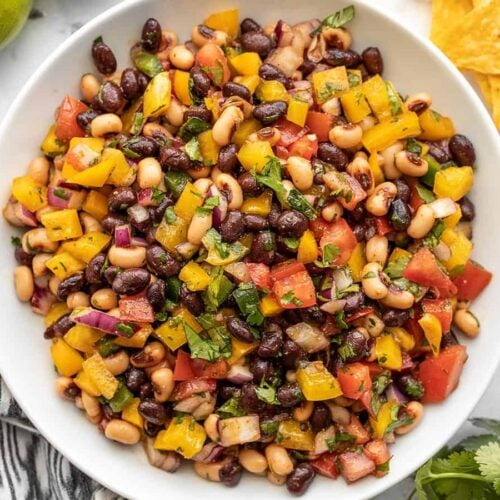 Ingredients
DRESSING
2

Tbsp

olive oil

1

fresh lime (2 Tbsp juice)

($0.33)

1/2

Tbsp

balsamic vinegar

($0.10)

1/2

tsp

chili powder*

($0.05)

1

tsp

ground cumin

($0.10)

1/2

tsp

salt

($0.02)

1/2

tsp

sugar

($0.02)
Salad
1

15oz. can

black beans

($0.89 )

1

15oz. can

black eyed peas

($1.09)

1

bell pepper (any color)

($1.50)

2

Roma tomatoes

($0.86)

1

jalapeño

($0.12)

1/4

red onion

($0.20)

1/4

bunch

fresh cilantro

($0.20)
Instructions
In a small bowl, whisk together the olive oil, 2 Tbsp of juice from the lime, balsamic vinegar, chili powder, cumin, salt, and sugar.

Rinse and drain both cans of beans in a colander. Once well drained, transfer them to a large bowl.

Finely dice the bell pepper, tomatoes, jalapeño, and red onion. Try to dice the vegetables into pieces that are roughly the same size as the beans. For a less spicy salad, scrape the seeds out of the jalapeño before dicing. Roughly chop the cilantro.

Add the chopped vegetables to the bowl with the beans.

Pour the dressing over the salad, then stir until everything is well coated. Serve immediately, or refrigerate until ready to eat.
See how we calculate recipe costs here.
---
---
Notes
*This chili powder is a mild blend of chiles and other spices.
Nutrition
Serving:
0.5
Cup
Calories:
140
kcal
Carbohydrates:
21
g
Protein:
7
g
Fat:
3
g
Sodium:
122
mg
Fiber:
7
g
Read our full nutrition disclaimer here.
How to Make Cowboy Caviar – Step by Step Photos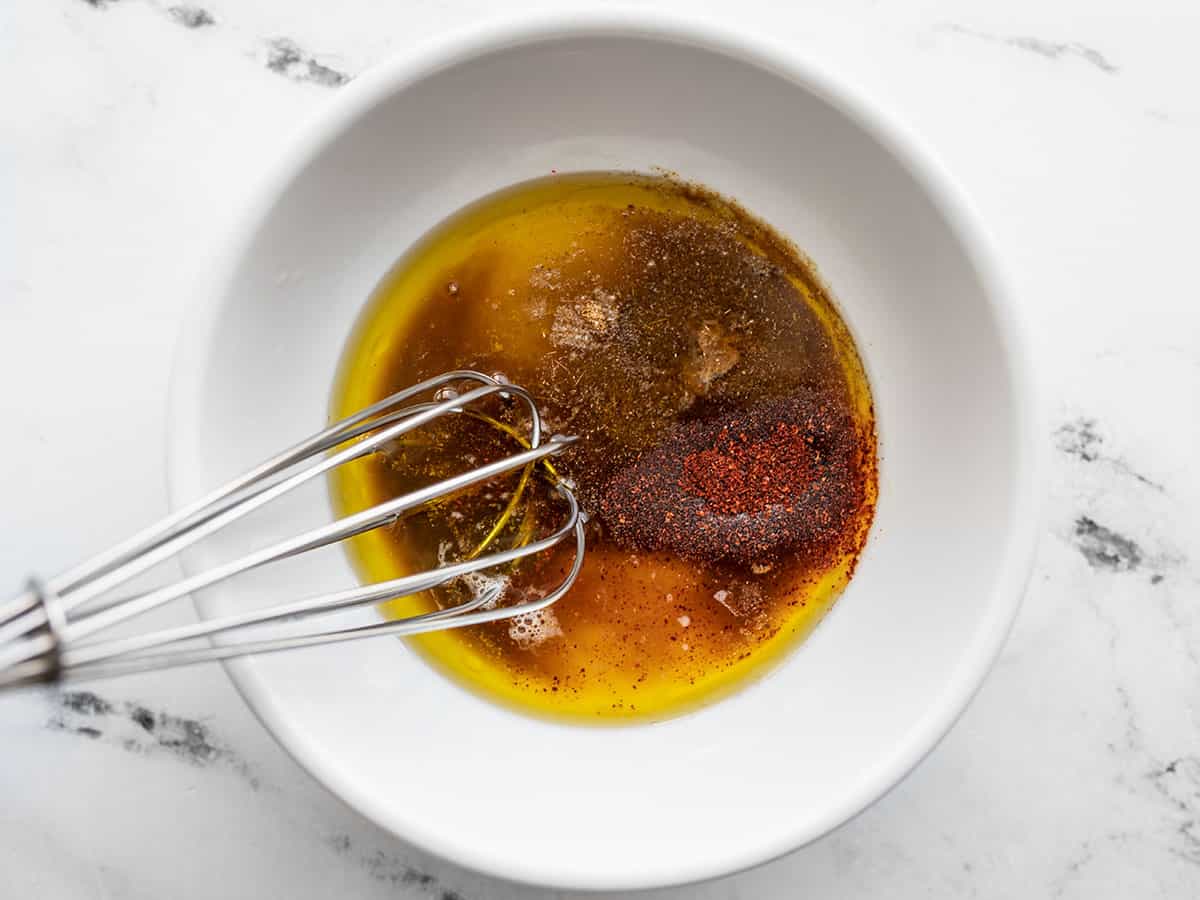 Make the dressing first so the flavors have a few minutes to blend. Whisk together 2 Tbsp olive oil, 2 Tbsp lime juice, ½ Tbsp balsamic vinegar, 1 tsp cumin, ½ tsp chili powder, ½ tsp sugar, and ½ tsp salt.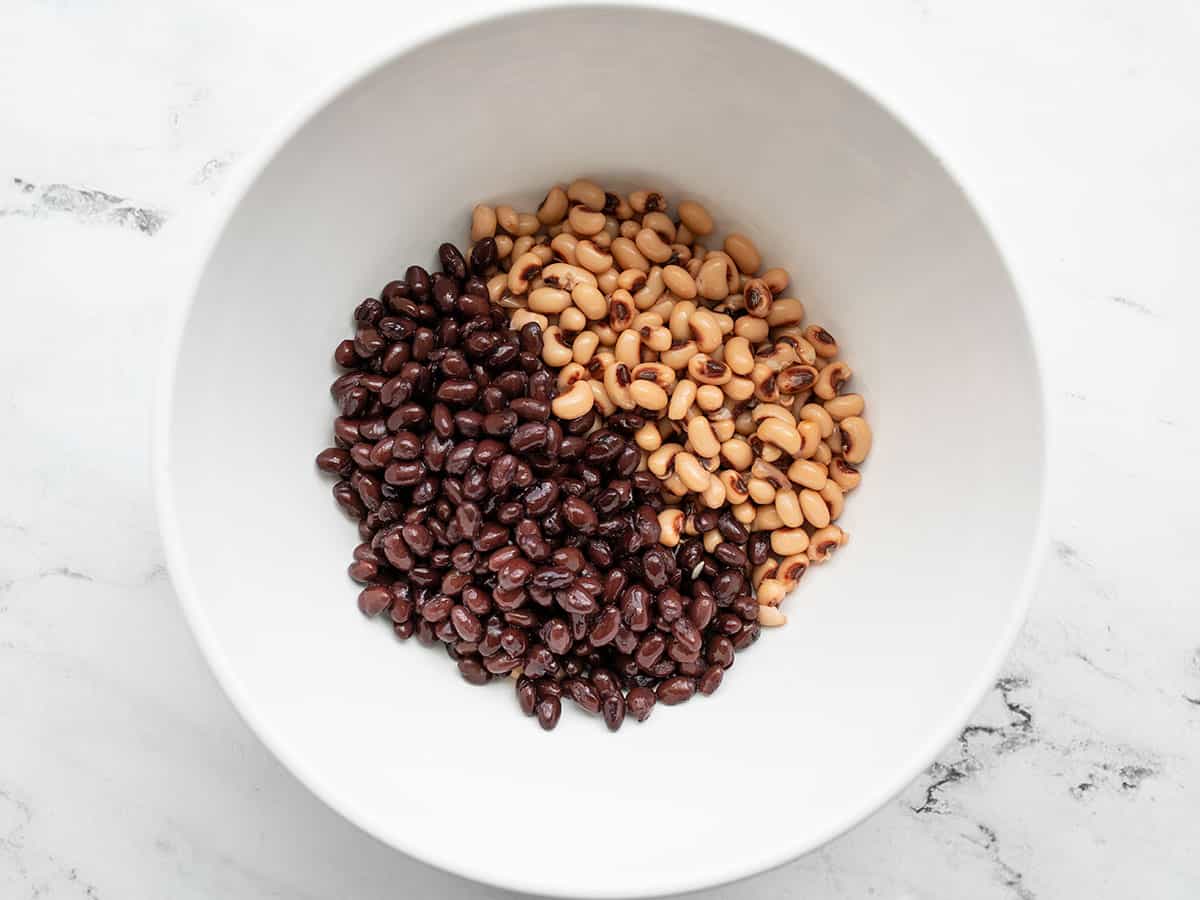 Rinse and drain one 15oz. can of black beans and one 15oz. can of black eyed peas in a colander.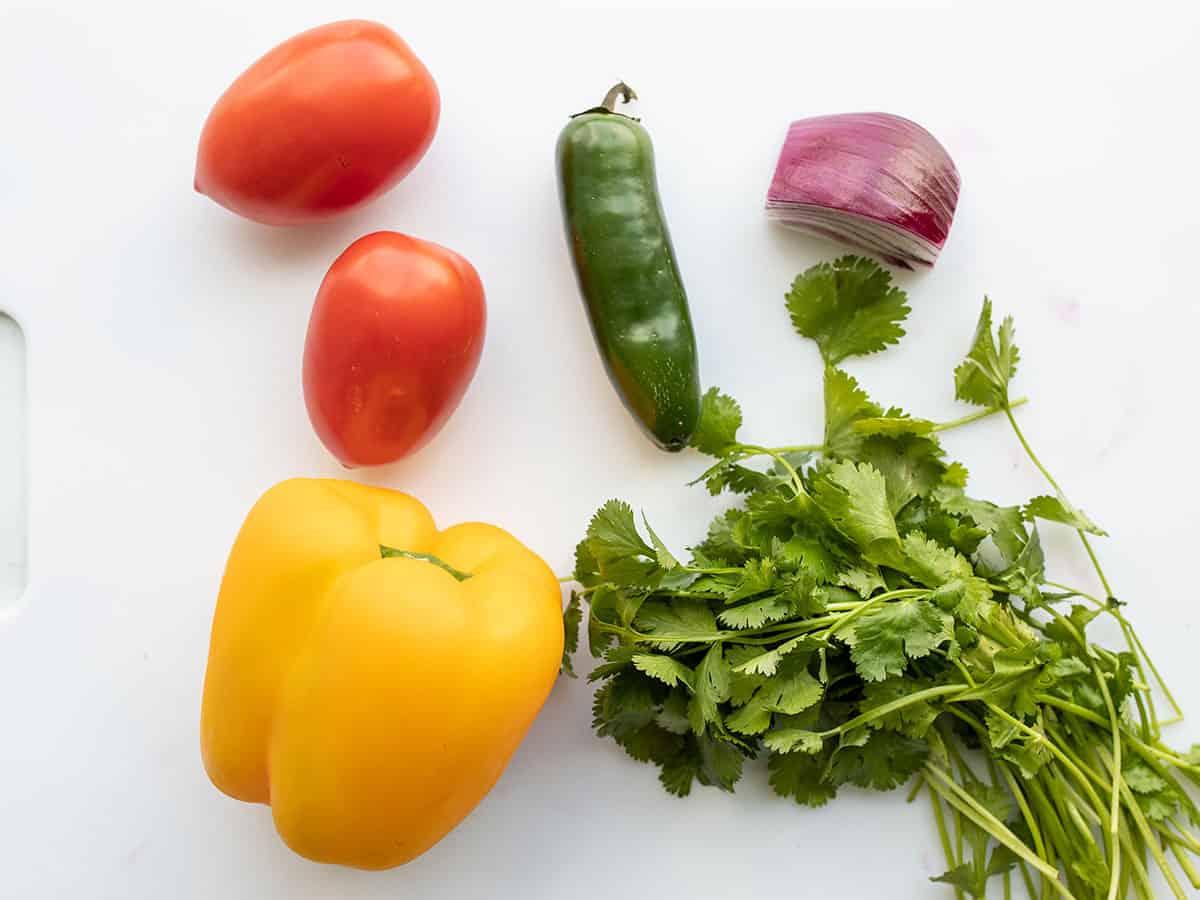 Gather one bell pepper (any color), two Roma tomatoes, one jalapeño, 1/4 of a red onion, and 1/4 bunch of cilantro. While any color bell pepper can be used, I like the colorful pop of a yellow or orange bell pepper.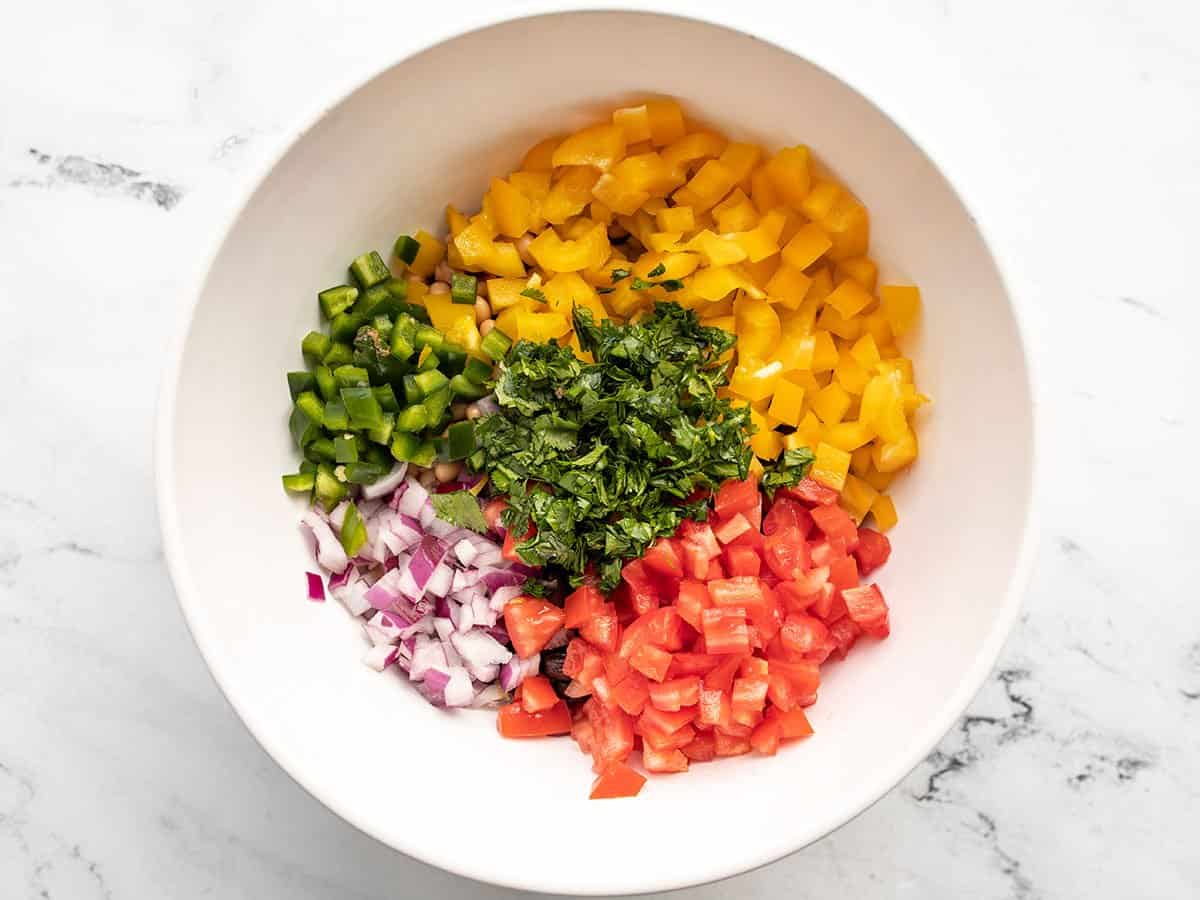 Finely dice the bell pepper, tomatoes, jalapeño, and red onion. The idea is to get the pieces close in size to the beans so that you have a "caviar" type appearance in the end. Roughly chop the cilantro leaves. Place the chopped vegetables in the bowl with the rinsed beans.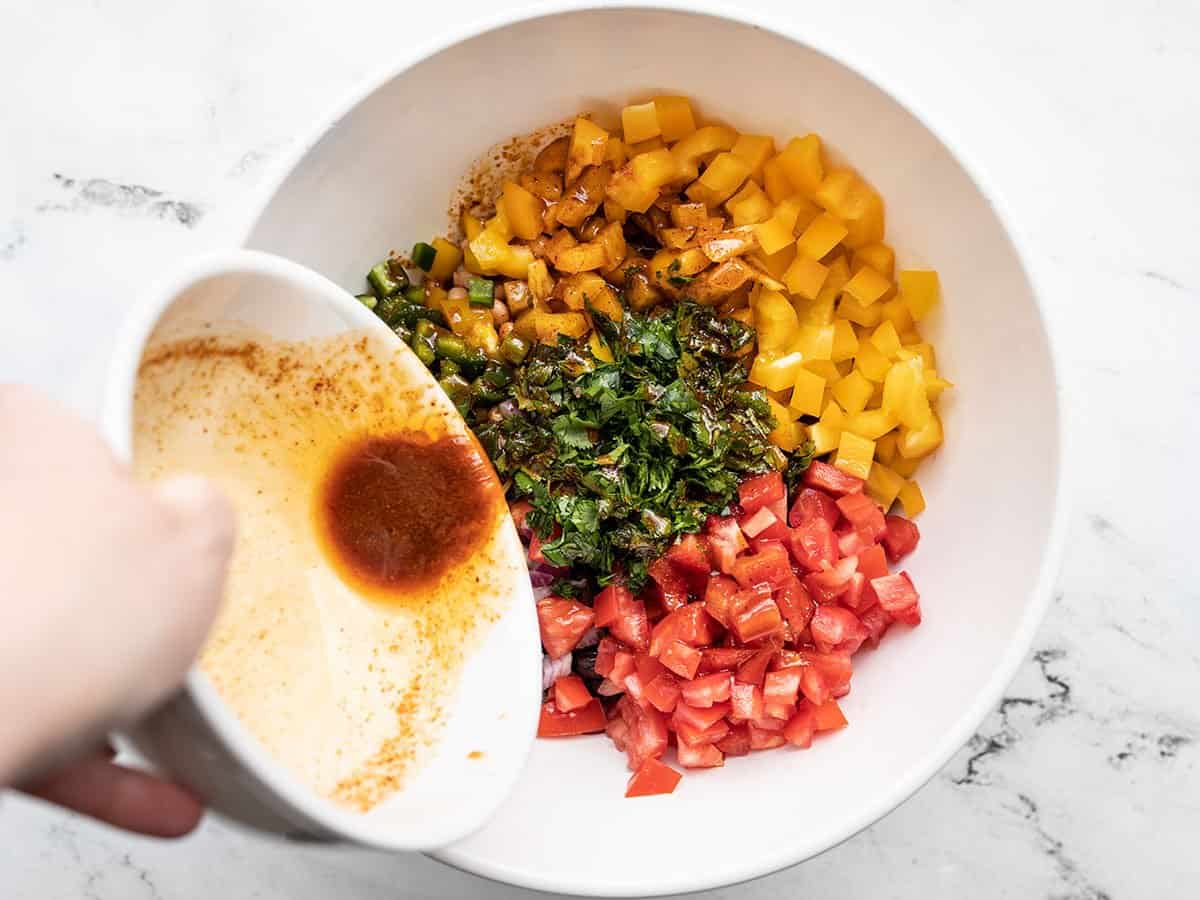 Pour the prepared dressing over the salad.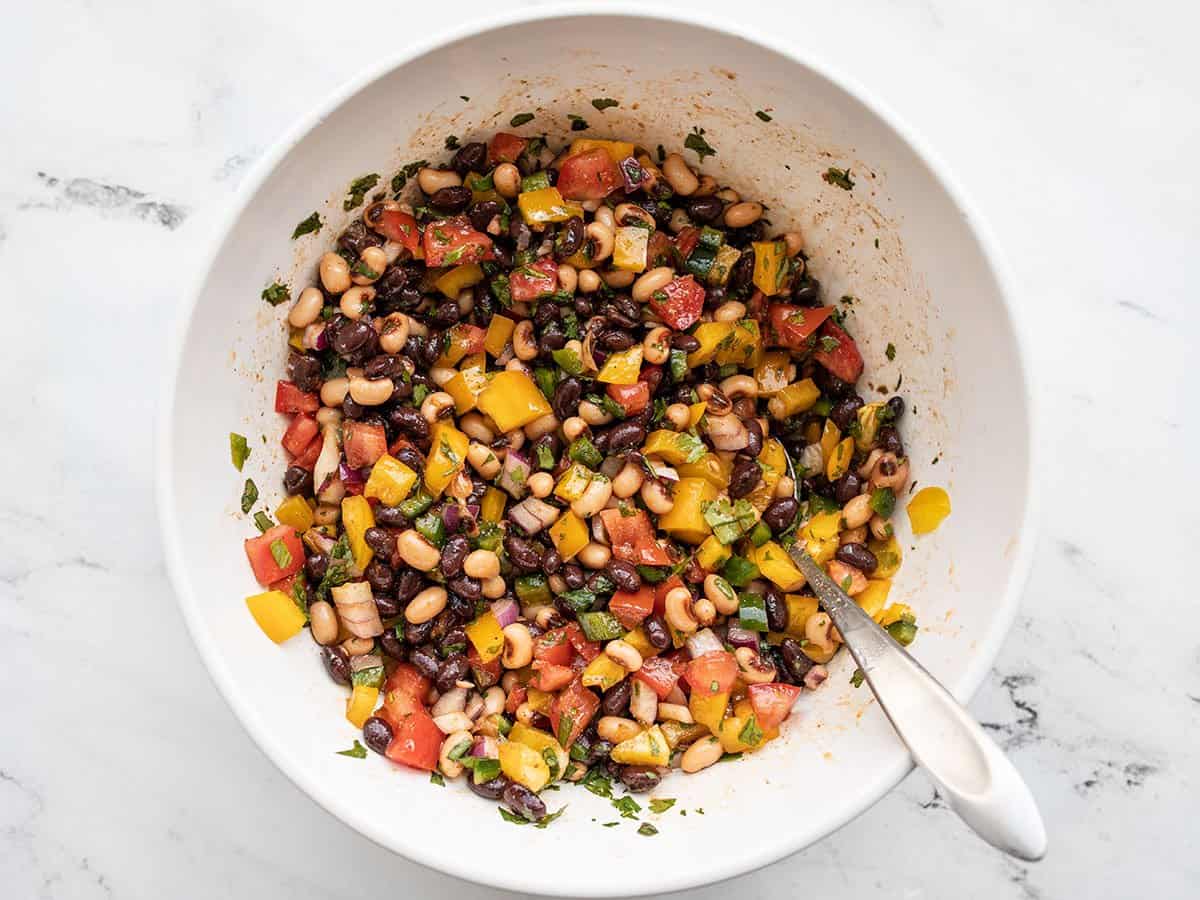 Stir the salad until everything is coated in the dressing. Serve immediately or refrigerate until ready to eat. This is one of those salads that tastes even better after it has time to chill in the fridge, so it's great to eat over the course of a few days!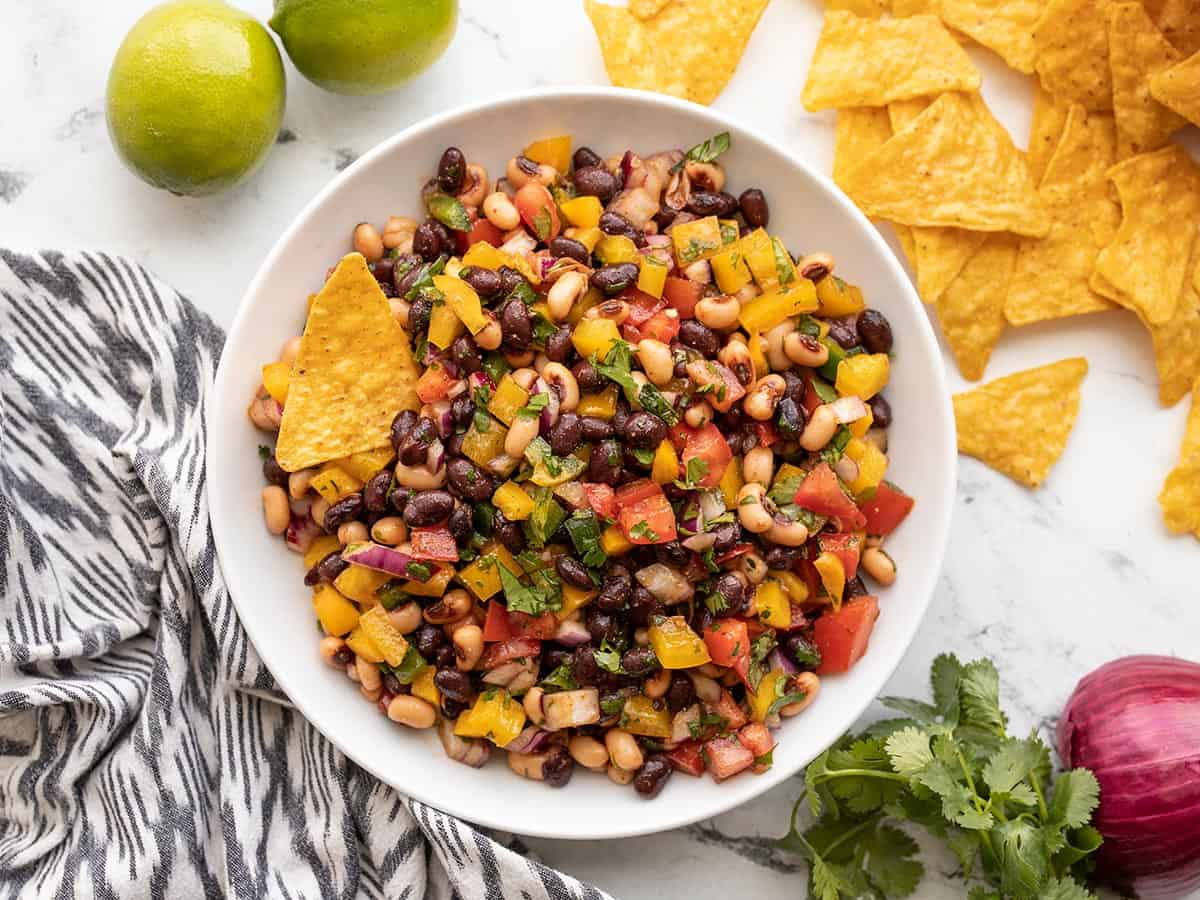 Cowboy Caviar makes a great snack with tortilla chips, a topper for tacos, bowl meals, or salads, or spoon some onto baked or grilled fish for a nice light meal!
Try These Other Bean Salad Recipes: