Get-togethers with friends and family can be loads of fun, but they can also be a real strain on your wallet. If you're asking yourself "What should I serve at a party?" or "How do I feed a large crowd on the cheap?" you've come to the right place! I've got thirty party food ideas for you, including recipes for meat lovers and vegetarian options, that are absolutely delicious, budget-friendly, and also incredibly easy to make.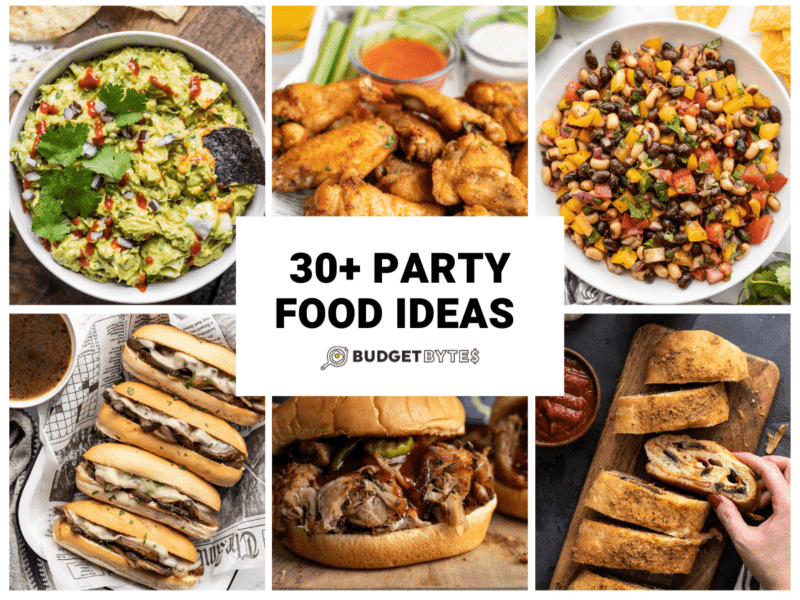 Easy Party Appetizers
Greet your guests with THE. BEST. PARTY. SNACKS! These appetizer recipes aren't just incredibly tasty, they're also easy to make ahead of time in large batches. If you don't want to be stuck in the kitchen as your guests arrive, check out these party appetizers to feed a crowd! Bonus: All of these recipes can be scaled up to feed a crowd.
Baked Chicken Wings– These wings are so crispy, no one will believe they aren't fried! Double or triple the recipe to serve a large crowd. Make these the day before and then warm them for 10-15 minutes in a 400°F oven. Don't forget to pair them with Beth's Comeback Sauce or Easy Buffalo Sauce for an app that'll leave everyone licking their lips.
Cowboy Caviar – Oh hi, beautiful! This is one of those appetizers people hover over and eat until it's gone. It's an absolute breeze to put together and looks gorgeous on your table. Plus it tastes even better when you make it a day ahead because it gives the flavors time to develop. Serve it next to a big bowl of corn chips!
Guacamole – This dip is a party staple for a reason. It takes minutes to prepare, has a creamy tangy vibe everybody loves, and contrary to popular belief it can be made up to two days before. Just place your guac in an air-tight container, top it with a half-inch of water, cover it, and store it in the fridge until game time. To serve, drain the water, give it a good mix, and go!
Queso Fundido – When this dish hits the table, people go MMMmmm. It's the kind of party appetizer that can be prepared ahead of time and then popped in the oven when guests arrive! Ready in minutes, garnish it with sliced green onion or cilantro leaves and serve! It pairs well with chips and tortillas for dipping and Beth's Fire Roasted Salsa!
Stromboli– You are looking at the best kind of party food: delicious, filling, and handheld! Bonus: you can add whatever ingredients you want, to make both the vegetarians and the meat lovers happy campers. Keep it within your budget by making your own Pizza Dough and Pizza Sauce for dipping!
Spicy Chex Mix – And the winner for Most. Clutch. is this salty crunchy treat! You can throw it together days before a get-together (just try not to eat it, which will be difficult, so I'm warning you now!). Keep things cute and serve the mix in paper cups for guests to help themselves without a whole lot of cleanup on your part.
Hot Corn Dip – This one is a snap to put together and it's easy to double for larger crowds. It's also chock full of cheese pulls with loads of crunch from the chips and pops of sweetness from the corn and peppers. Keep this baby warm in a 200°F oven and serve it as guests arrive.
Honey Mustard Chicken Wings– If you're looking for an appetizer that's mostly hands-off, you've found it! For the ultimate convenience, make the sauce and the wings a day ahead. Wrap them and refrigerate until it's go time. Reheat the wings in a 400°F oven for 10-15 minutes and then toss in the sauce.
Loaded Smashed Potatoes-This is one of those recipes that's so yummy it won't last long, so make sure to bake a double batch! To keep work to a minimum on the big day, boil and smash them a day ahead of time. Leave them uncovered in your fridge, which will dry them out and create much more crispy crannies when you bake them off.
Sriracha Deviled Eggs– Can we talk about The. Hit. of the party!?!?! These deviled eggs are tangy, with a great smoky finish, and are an absolute cinch to put together. Boil the eggs and make the filling up to two days ahead. If you want to get really crazy with it, learn How To Make Bacon In The Oven, chop it into bacon bits, and sprinkle it over the eggs!
Pizza Roll Ups– This is the perfect appetizer if you want all of that unctuous pizza flavor with none of the pizza hassles. I love that you can assemble these ahead of time and warm them up in ten minutes flat. PS if you're looking to get your kids involved in the kitchen, this is the perfect recipe to have them help you with. They will be ALL ABOUT it.
Party Food Ideas
Sometimes you need a little more than a few appetizers to keep friends and family happy, especially if the party's going to continue for more than a few hours. (Nobody wants a Hangry Auntie. #Trust) You don't have to spend a lot of money or time in the kitchen to get these crowd-pleasing party foods on the table!
The Best Homemade Chili– UGH. Just looking at that picture makes me want this chili RIGHT NOW. Talk about a crowd-pleaser. Make this baby a day ahead and then just warm it up the day of. Letting chili rest in the fridge overnight gives the flavors time to develop even deeper bonds. Serve with Easy Homemade Cornbread or stuffed into Baked Potatoes.
Sloppy Joes – This party sandwich is a go-to when I want to feed a crowd for less. Make the beef mix a few days ahead and let all those flavors get to know each other better. Then just scoop that unctuous beef onto a bun and cover it with potato chips before sealing the deal with the top bun. #TRUST
Slow Cooker Meatball Subs – When I first started working for Budget Btes, Beth made a big batch of these subs. I took 6 of them home and ATE THEM ALL in two days. Truly divine. The pretzel bun sets the whole thing off. Don't think twice about making these ahead of time. They reheat like a dream!
BBQ Chicken Pizza – Lie to me and tell me you don't want that slice RIGHT NOW!! Tangy, with a touch of sweetness from the BBQ sauce and a smoky heat from the jalapeño- this will be a smash hit on your party table. Go for convenience, and serve it on your favorite store-bought crust or thick slices of French bread!
Sheet Pan Chicken Fajitas– These fajitas are the perfect party food choice for when you don't have a lot of time to prepare. Chop some chicken and veggies, season them, and bake them for about 40 minutes. One of my fave tricks is to turn off the oven, keep the fajitas warm on the bottom rack, and then warm the tortillas on the top rack. DONE!
Chicken Nachos – How pretty will this sheet pan overflowing with nachos look on your game day table? Take pics, because it will be gone in minutes. This budget-friendly party food overflows with textures and flavors: creamy, salty, cheesy, spicy, and herbaceous! YUM! We topped our nachos with fresh ingredients but you can go any which way with this truly versatile recipe.
Slow Cooker Buffalo Chicken – WIll you look at that?!?! You can feed 8 people for under $20, INCLUDING buns, with this incredibly tasty recipe. And can we talk about how amazing your house will smell when you've had chicken simmering in this tasty sauce? It's so hands-off, you can keep it warm in the slow cooker and just set some potato buns beside it, so people can serve themselves.
Easy Slow Cooker White Chicken Chili – When you don't have a lot of free time to cook but your guest list is a little out of control, this is the recipe you should turn to. The slow cooker does the bulk of the work and you get all of the credit! Serve this with slices of crusty bread or blue corn tortilla chips for dunking.
Slow Cooker Pulled Pork – Did your mouth just water? Cause my mouth just watered looking at those sandwiches stacked high with THE MOST AMAZING pulled pork. This is another one of those recipes that don't need a lot of attention but deliver insanely delectable results. Pair the pork with your favorite barbecue sauce and add a pickle for acidity.
Pastalaya – Didn't have time to prepare party food and need to get some on the table fast? This is the recipe you need! Pastalaya is a true crowd-pleaser. (Hello sausage and pasta? That is always a WIN!). Just double the recipe and feed a dozen people in about 45 minutes for about $20!
Vegetarian party Foods
Get ready for all of the high-fives from the veggie lovers in your life! Your guests won't miss the meat with any of these delicious and easy-to-prepare vegetarian party recipes. Packed full of flavor and texture, they're the perfect way to add a healthy spin to your party!
Spinach and Mushroom Quesadillas– Did you know you don't have to make quesadillas one by one!?!? Assemble these beauties in a lightly greased sheet pan and bake them for 6 minutes on each side in a 425°F oven. Slice them in quarters and you have 20 portions in about 30 minutes! Lower the oven temp to 200°F and keep them warm until guests arrive.
Sheet Pan Portobello Fajitas – I'm all sorts of in love with any recipe that is mostly hands-off, and these vegetarian fajitas more than qualify! You can double this recipe to feed eight of your loved ones in under an hour, and since it's a one-pan dish, the cleanup couldn't be easier. Top them with Pico de Gallo for an extra kick of acid!
Sweet Potato Tacos – These sweet-potato tacos are one of my favorite recipes to lean on when times are… well lean. Topped with tangy cilantro crema, these hearty tacos prove you don't have to sacrifice flavor just because times are tight! Double the recipe for this delicious party food and serve 8 people for about $10.
Slow Cooker Vegetarian Chili – Talk about the gift that keeps on giving! With 10 minutes of prep time, you can make over a half gallon of this flavorful vegetarian chili for about $5! Put it together in the morning and let the slow cooker work its magic for about 4 hours. Then serve with slices of avocado and cornbread!
Vegetarian French Dip – This dish is ga-ga gorgeous. I've seen it bring meat lovers to their knees, so YOU KNOW the veggie lovers in your life will fall head over heels. Thick slices of portobello mushrooms and tender sauteed onions are layered with sharp, salty provolone and tucked into pillowy toasted French rolls. Make the mushroom and onion filling a day ahead, assemble the sammies, and heat them under the broiler in minutes!
BBQ Bean Sliders – When you're crunched for time but still want to deliver a vegetarian party food recipe that's a heavy hitter- make these tasty sliders! You can have them on the table in about 30 minutes and feed up to 6 people. Serve them with chips or (if you have the time) make Spicy Sweet Potato Fries to pair them with.
BBQ Tofu Sliders – If you're a tofu fan, you should def try this recipe. And if you're not a tofu fan- you should try it too! It's that good plus it comes together really fast. Flavor the tofu with your favorite sweet and smoky BBQ sauce and serve these tangy sliders with Classic Three Bean Salad.
Spicy Baked Black Bean Nachos – These hearty nachos are true crowd-pleasers, vegetarian or not! Made with just a handful of ingedients- you can get these ooey-gooey, salty, crunchy delights on the table in a little over a half hour. Don't forget to kick them up 100 notches with the addition of tart Pickled Red Onions!