Now that it's officially fall, I think we could all use a good primer on how to make a basic pot of homemade chili. I have several chili recipes on this website, but this basic chili recipe is my absolute favorite. Like, so good that I can't stop going back for spoonfuls. Not only is this classic chili recipe super flavorful and easy, but it can be used as a template which can be customized in a number of ways to make it your very own. Scroll down for ideas for customizing the proteins, spices, liquids, vegetables, and toppings!
I like to add fresh jalapeños, cheese, green onion, and crushed tortilla chips to my chili!
5 Ways to Customize Your Homemade Chili:
1. Use a Different Protein:
Use half-pound ground beef and add an extra can of beans (pinto beans are great) to reduce costs
Make your chili without beef (vegetarian) with two cans of extra beans instead of the beef (see Slow Cooker Vegetarian Lentil Chili)
To make your chili without beans, use 2 lbs. ground beef instead of one
Mexican chorizo makes a spicy alternative to beef and really increases the flavor of the chili
Use other ground meat, such as ground turkey or chicken (see Weeknight Black Bean Chili)
Shredded chicken breast works well in chili and I've even used chopped up chicken thighs (see Slow Cooker White Chicken Chili)
2. Add Flavorful Liquids:
Instead of water, use tomato or vegetable juice (like V8 juice)
Using dark beer instead of water adds a super earthy flavor
Beef broth instead of water gives the chili extra flavor oomph, but you'll need to reduce the salt in the chili seasoning
3. Customize the Spices:
Adding a couple of chipotle peppers will give the chili a very spicy and smokey flavor
Start the chili off with a little sofrito instead of just onion and garlic
A little smoked paprika (1 tsp) will add smokiness without extra heat
Cocoa powder (1/2-1 Tbsp) makes the chili extra rich
Cinnamon (1 tsp) plays nicely with the chili peppers
4. Add Extra Vegetables:
Make an extra veggie-licious chili by adding finely diced zucchini and bell pepper
Poblano peppers add a really great southwest flavor (sauté with the onions and garlic)
Jalapeños sautéed with the onions and garlic make for an extra spicy chili
Add a cup of frozen corn kernels for flavor, color, and texture
Diced sweet potato or butternut squash adds a unique sweet contrast and beautiful color, or add some pumpkin purée like in my Easy Pumpkin Chili
5. Use Fun Toppings:
Cheddar or Monterey jack cheese
Sour cream
Green onions
Cilantro
Crushed Tortilla Chips
What is your favorite chili secret ingredient, add-in, or topping? Share in the comments below!
Can You Freeze Chili?
YES! Chili is one of my favorite foods for stocking my freezer. After cooking your chili, divide it into single portions and let it cool in the refrigerator overnight. The next day, make sure it's labeled with the contents and date, then transfer to the freezer. You can keep your chili in the freezer for about three months.
To reheat, simply let the chili thaw in the refrigerator over night then reheat in a pot over low heat, adding water if needed, until heated through, or microwave on high for 1-2 minutes.
How Long Should You Cook Chili?
Chili is one of those dishes that tastes better the longer it cooks (to a point). You'll want to let this chili simmer for a minimum of 30 minutes, but it's something that you can leave simmering gently for up to a couple of hours. If you do plan to let your chili simmer for a longer period of time, make sure to put a lid on it so it doesn't dry out. Check it occasionally to see if it is becoming dry, and if so, add a little water.
The Best Homemade Chili Recipe
This is the BEST homemade chili recipe. It's super easy and delicious, plus there are plenty of ways to customize it and make it your own.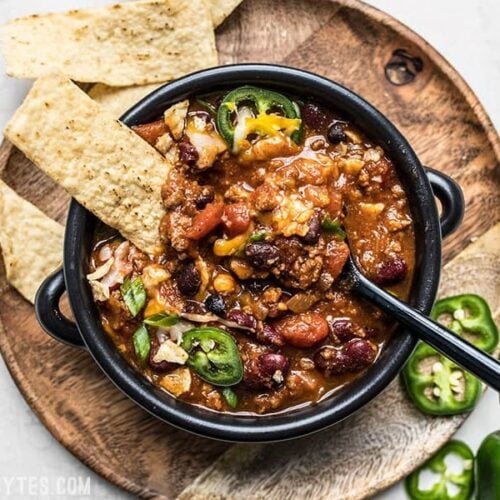 Ingredients
2

Tbsp

olive oil

($0.32)

1

yellow onion

($0.49)

2

cloves

garlic

($0.32)

1

lb.

ground beef

($4.79)

1

15oz. can

kidney beans

($1.09)

1

15oz. can

black beans

($0.89)

1

15oz. can

diced tomatoes

($0.50)

1

6oz. can

tomato paste

($0.55)

1

cup

water

($0.00)
Chili Seasoning
1

Tbsp

chili powder**

($0.30)

1

tsp

ground cumin

($0.10)

1/4

tsp

cayenne powder

($0.02)

1/4

tsp

garlic powder

($0.02)

1/2

tsp

onion powder

($0.03)

1/2

Tbsp

brown sugar

($0.02)

1

tsp

salt

($0.05)

1/2

tsp

Freshly cracked black pepper

($0.03)
Instructions
Dice the onion and mince the garlic. Add both to a large pot with the olive oil and cook over medium heat until they are soft and transparent. Add the ground beef and continue to sauté until the beef is fully browned.

Drain the beans and add them to the pot along with the diced tomatoes, tomato paste, 1 cup water, and all of the ingredients for the chili seasoning. Stir until well combined. Place a lid on the pot and allow it to simmer over a low flame for at least 30 minutes, stirring occasionally (the flavor gets better the longer it simmers).

Give the chili one final taste, adjust the salt or seasonings if needed, then serve hot with your favorite toppings.
See how we calculate recipe costs here.
---
---
Notes
**The chili powder used is a mild blend of dried chilies and other spices. It is not spicy or hot. Click here for an example.
Nutrition
Serving:
1
Cup
Calories:
413.55
kcal
Carbohydrates:
38.73
g
Protein:
25.78
g
Fat:
17.7
g
Sodium:
1114.32
mg
Fiber:
10.73
g
Read our full nutrition disclaimer here.
Serve with a side of Jalapeño Cheddar Cornbread!
How to Make Homemade Chili – Step by Step Photos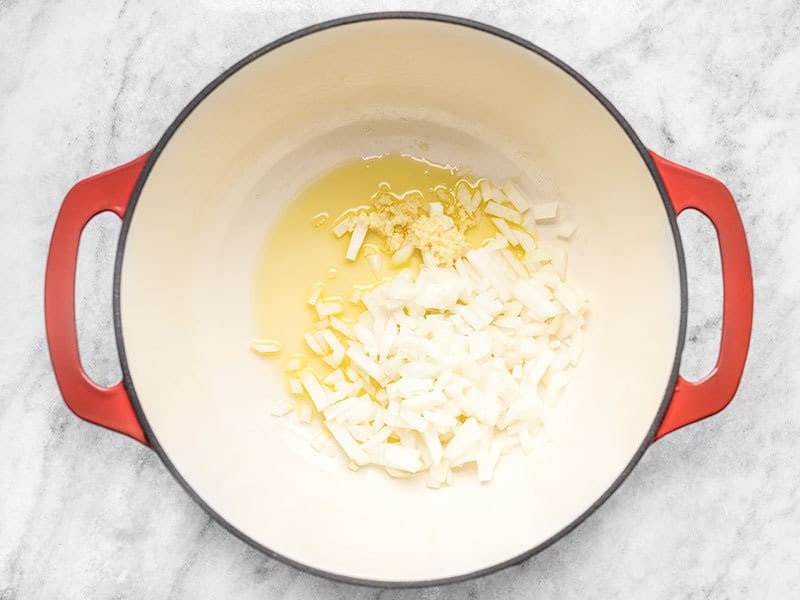 Start by dicing one onion and mincing two cloves of garlic. Cook the onions and garlic with 2 Tbsp of olive oil in a large pot over medium heat until they are soft and transparent.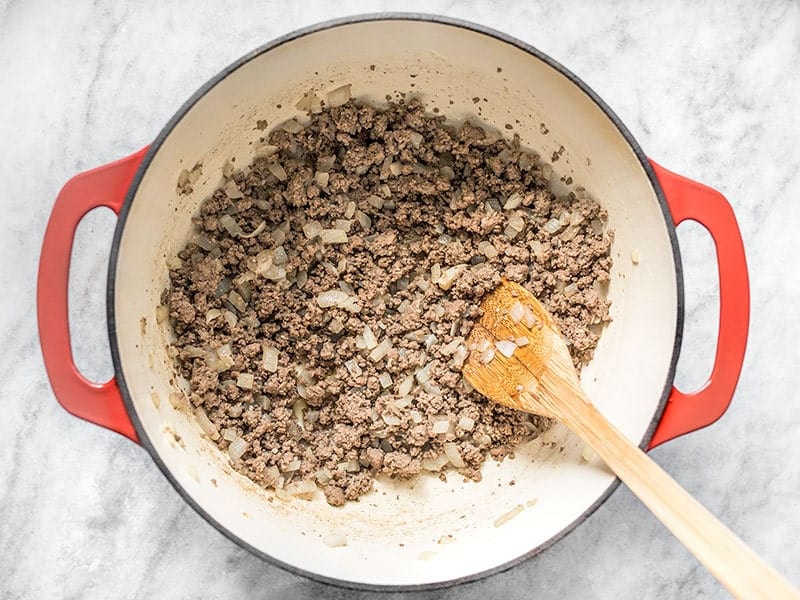 Add one pound of ground beef and continue to cook until it is fully browned.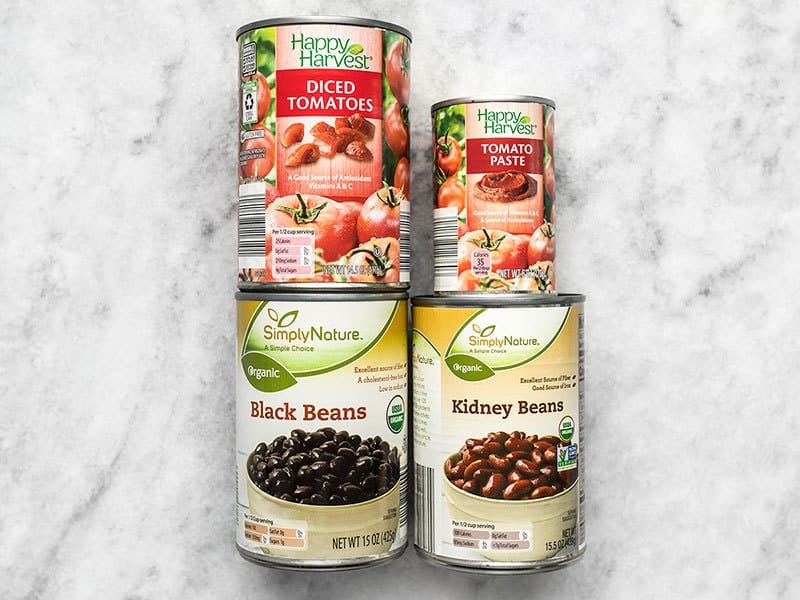 Drain a 15oz. can each of black beans and kidney beans and add them to the pot along with a 15oz. can diced tomatoes, a 6oz. can of tomato paste, and one cup of water.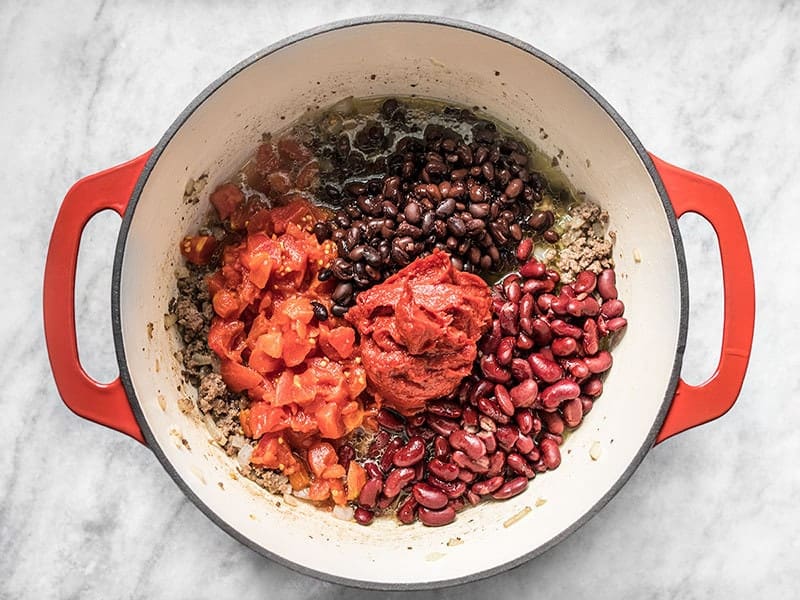 Stir that all together until the tomato paste is well incorporated. Doesn't look like much yet, but just wait…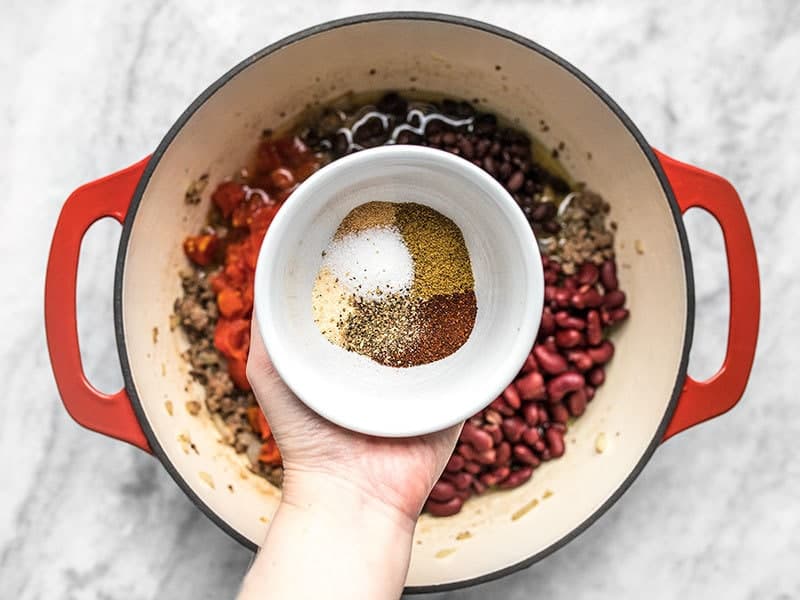 Add the chili spices to the pot of chili. I used my recipe for Homemade Chili Seasoning, plus a little brown sugar. 1 Tbsp chili powder, 1 tsp cumin, 1/4 tsp cayenne, 1/4 tsp garlic powder, 1/2 tsp onion powder, 1 tsp salt, 1/2 tsp pepper, and 1/2 Tbsp brown sugar. If you don't have all the ingredients to make your own chili seasoning, you can add a store bought packet of chili seasoning at this point.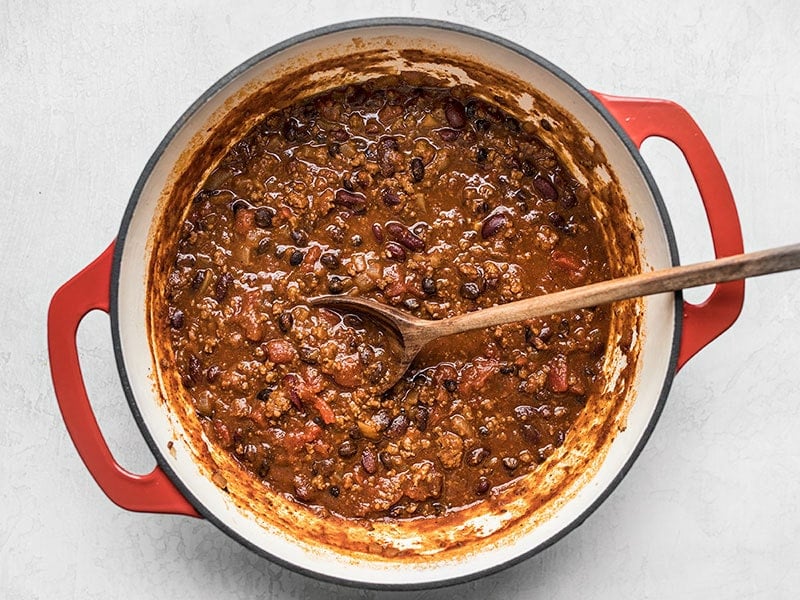 Let the pot simmer for at least 30 minutes over low heat with a lid on top to allow the flavors to blend and for the natural sugars in the tomatoes to caramelize, which reduces the acidity. If you have time, let it simmer longer. Now your "basic" chili is done!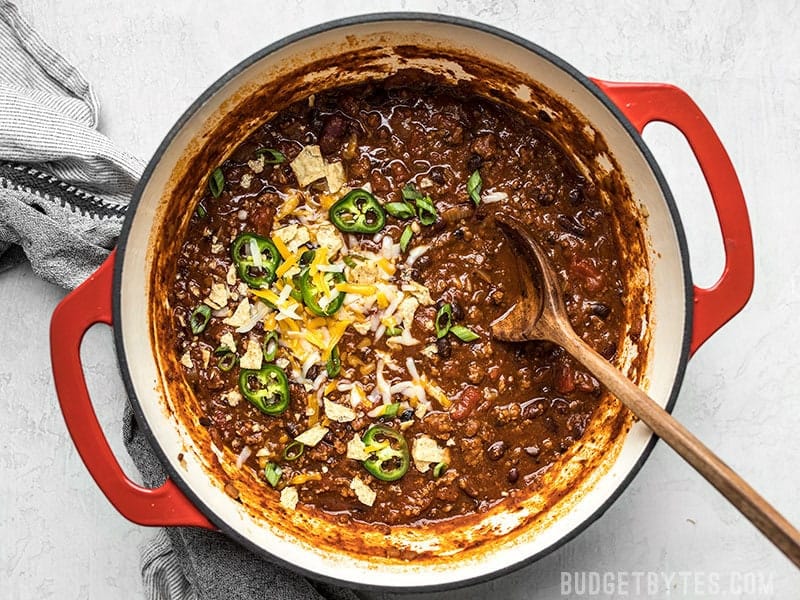 How easy was that? Now go crazy with the toppings. Look in your fridge for leftovers and see what fun things you can use to top your basic chili to make it not so basic anymore.