Let's talk about baked potatoes for a second. This simple food is waaaaay overlooked. They're inexpensive, simple to make, and can be turned into so many different meals. But there's a little more to making a good baked potato than just tossing a potato into a hot oven. So today I'm going to share my simple baked potato recipe, plus some fun topping ideas so you can turn your baked potatoes from a simple side dish into a decked-out main dish.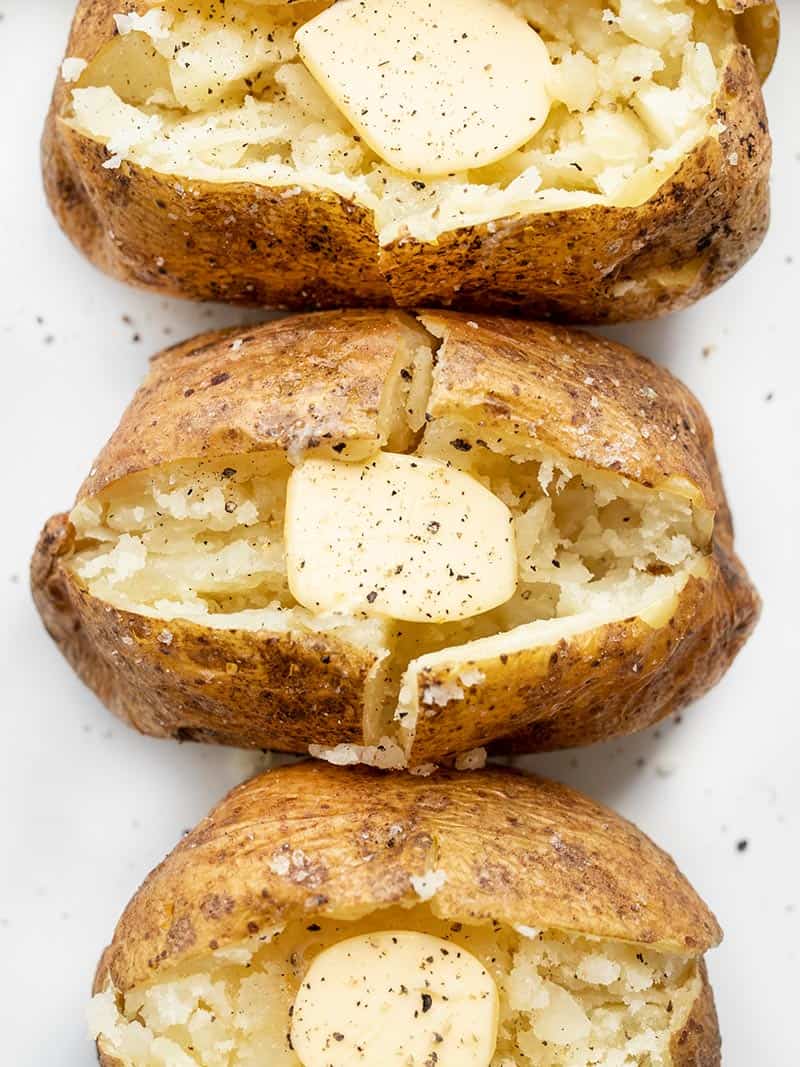 How to Make a GOOD Baked Potato in Three Steps:
There are a million different ways to bake a potato, but here is my simple, tried and true method for the perfect baked potato:
Prep the Potatoes: Wash and dry the potatoes, then prick them all over with a fork. Drying the skin helps it crisp up in the oven instead of staying leathery. Pricking the skins allows steam to escape while they bake, preventing the potato from exploding in the oven.
Season the Potatoes: Rub the outside of each potato with oil, then season with salt. Rubbing the skins with oil prevent the skins from becoming dry and papery. Seasoning with salt keeps the skins flavorful, and helps them crisp up a bit.
Bake the Potatoes: Bake the potatoes in a preheated 400ºF oven until tender. Total baking time will depend on the size of your potatoes.
How Long Do You Bake Potatoes?
The total baking time depends on the size of your potatoes and the temperature of your oven. When baked at my recommended 400ºF oven, a ½ pound potato will take about 45 minutes, and a ¾ potato will take about 60 minutes. Always make sure to test your potato by piercing the potato in the center with a fork to make sure the potato has cooked through. The fork should slide into the potato easily without resistance.
What Temperature Should You Bake Potatoes At?
There are many different opinions on this, but my preferred temperature is 400ºF. I find this temperature to be a happy medium between long baking times and even cooking. Lower temperatures can make the potato take forever to cook through, while higher temperatures can sometimes overcook the outside before the inside of the potato has a chance to become tender.
Should I Wrap My Potato in Foil?
I don't like the foil method. I like the way the potato skin has a nice "snap" to it when the skins are coated in oil and seasoned with salt, but are baked uncovered. Potatoes wrapped in foil have a much more delicate skin and I prefer my potatoes to have plenty of texture.
What is the Best Potato for Baking?
I'm team russet for baked potatoes. The flesh of russet potatoes gets nice and fluffy when baked, compared to waxier varieties, like Yukon Gold or red potatoes, that tend to be more dense. I also like the russet potato skins quite a bit (when cooked correctly–see tips above). Plus, russet potatoes come in a great size for single portions!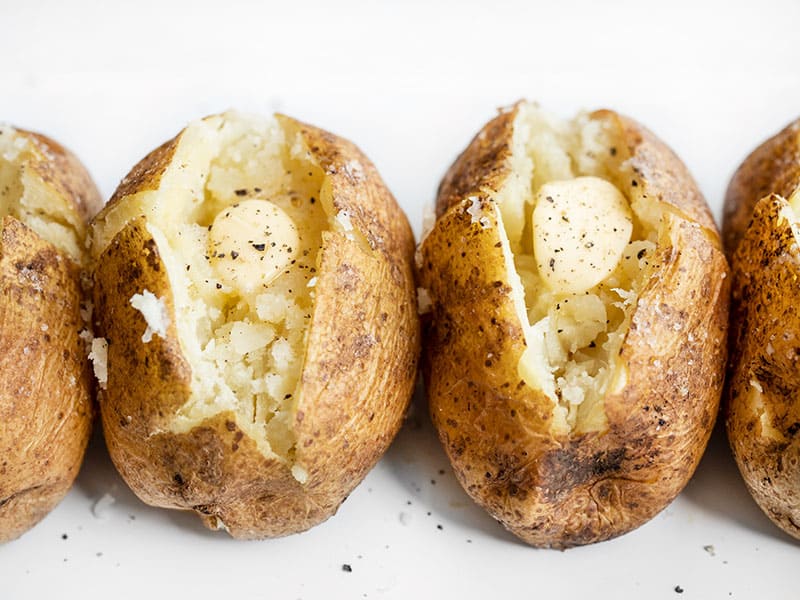 Baked Potato Topping Ideas:
My favorite part about baked potatoes are that they are a total blank slate and can be turned into so many different meals! They're a great way to use up leftover odds and ends in your fridge, so get creative! Here are some of my favorite combos, starting with those pictured in the photo above, top to bottom:
Broccoli, cheddar, and ranch
Pizza sauce, mozzarella, pepperoni
Chicken, buffalo sauce, cheddar
Sour cream, bacon, green onion
Black beans, cheddar, BBQ sauce, green onion
Chicken, cheddar, ranch
Chili, cheddar, green onion
Homemade Nacho Cheese Sauce, chicken, jalapeños
Salsa, cheddar, sour cream
Pesto, tomatoes, mozzarella
Ham, diced green bell pepper, cheddar
How to Make Baked Potatoes
How to make the best baked potatoes with flavorful, crispy skin and fluffy insides in three easy steps. Baked potato topping ideas included!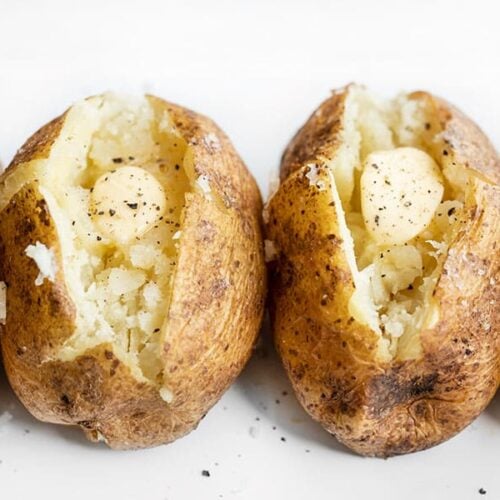 Ingredients
4

russet potatoes (½ lb. each)

($1.20)

1

Tbsp

cooking oil

($0.04)

1

pinch

salt

($0.02)
Instructions
Preheat the oven to 400ºF. Wash the potatoes well, then dry them with a towel. Use a fork to prick each potato several times.

Drizzle the cooking oil over the potatoes, then use your hands to smear the oil over each potato until it is fully coated. Place the potatoes on a baking sheet (you can line the baking sheet in parchment or foil for easy cleanup, if desired). Season the potatoes with a pinch of salt.

Bake the potatoes in the preheated oven for about 45 minutes, or until the potatoes can be pierced easily with a fork. Total baking time will depend on the size of your potatoes.

Carefully cut the potatoes open, fluff the inside with a fork, and add your favorite toppings!
See how we calculate recipe costs here.
---
Nutrition
Serving:
1
serving
Calories:
207.75
kcal
Carbohydrates:
40.65
g
Protein:
4.83
g
Fat:
3.68
g
Sodium:
109.58
mg
Fiber:
2.93
g
Read our full nutrition disclaimer here.
Scroll down for topping ideas!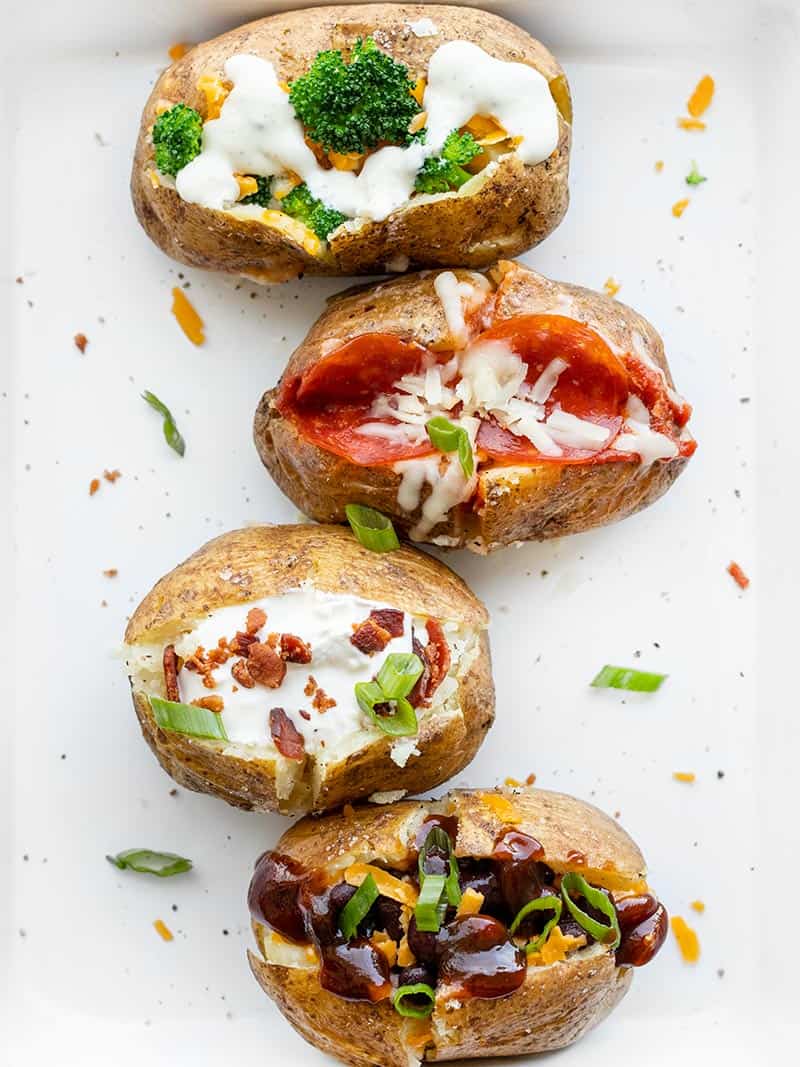 How to Make Baked Potatoes – Step by Step Photos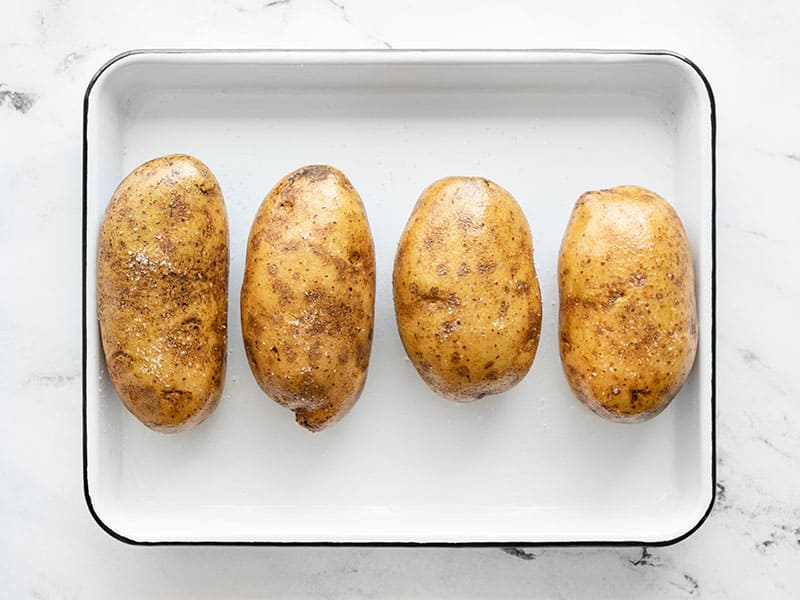 Preheat your oven to 400ºF. Wash the potatoes well, since they grown underground and even the factory washing can still leave some remaining dirt. Dry the potatoes well so the skins crisp up nicely in the oven. Prick the potatoes several times with a fork to allow steam to evaporate while they bake. Rub oil all over each potato, then season each potato with a pinch of salt. The salt helps give the skin flavor and helps them crisp up a little.
Note: I like to place the potatoes on a baking sheet for easy transfer in and out of the oven. You may want to line the baking sheet with parchment or foil for easy cleanup.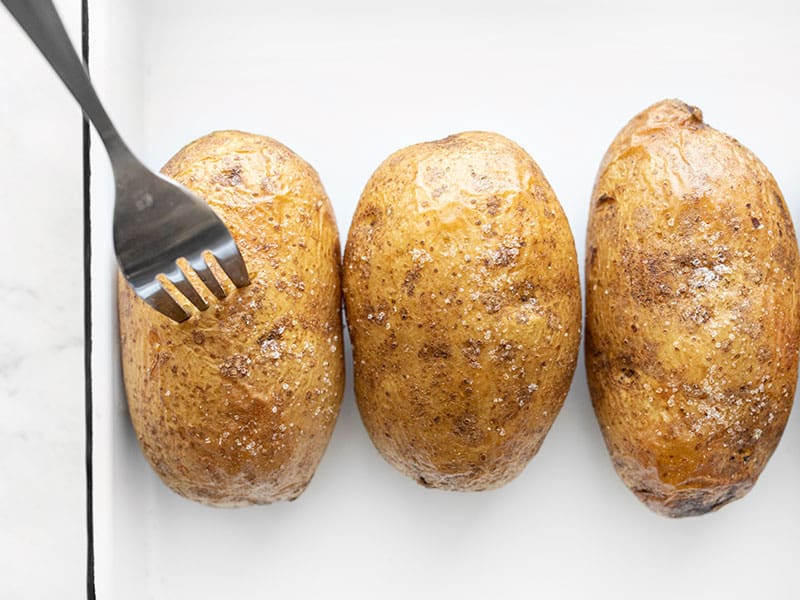 Bake the potatoes for 45 minutes, or until they're tender all the way through. Test the potatoes for doneness by piercing with a fork. The fork should slide easily into the center of the potato with no resistance.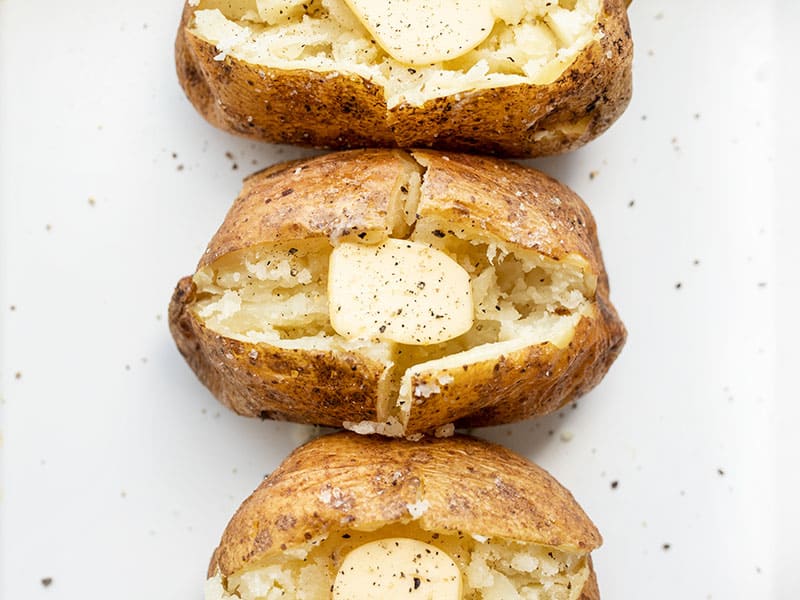 Slice open the potatoes, fluff the insides with a fork, and add a little salt and pepper and your favorite seasonings or toppings! Pictured with butter and pepper.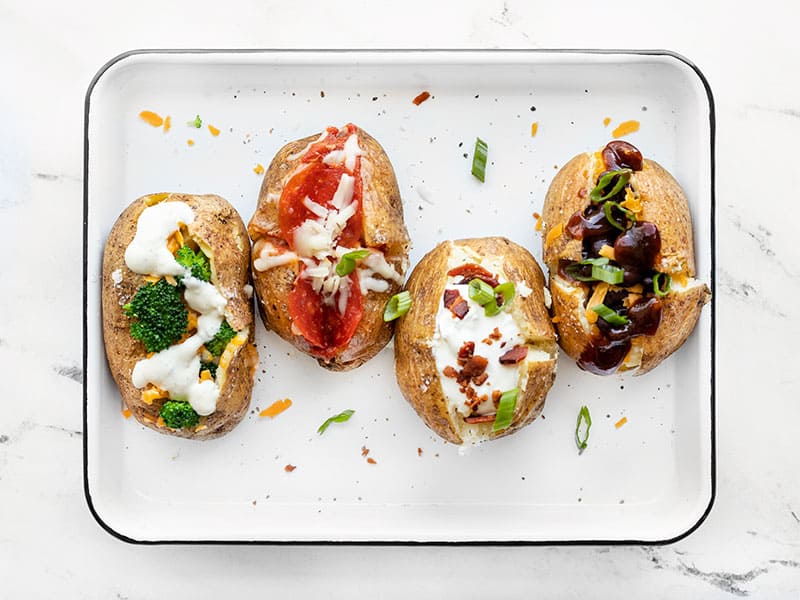 Have fun with it! What are your favorite potato toppings? Share with the rest of us in the comments below!