I've been experimenting with tofu a lot lately because it's an incredibly inexpensive, and now quite readily available source of protein (okay, and also because it also happens to be the #1 searched word on my website). The cool thing about tofu is that it has almost no flavor on its own, so you can pretty much add it to anything, so long as there is a delicious sauce to give it some life. So this time I decided to douse my tofu in some BBQ sauce, because SUMMER! These BBQ Tofu Sliders may seriously be my favorite tofu dish so far. It's finger-licking good (yes, they do get a bit messy), and also seriously easy. This is going to become your new favorite!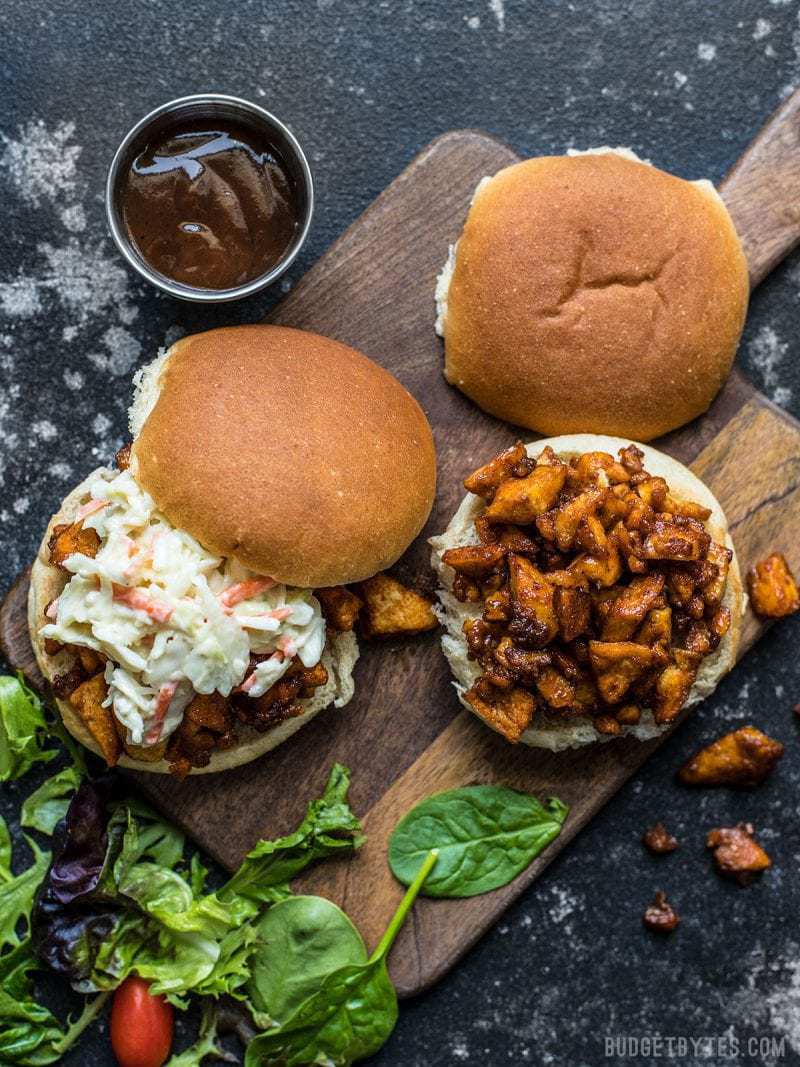 Freeze Tofu for Better Texture
Through all of my experimenting with tofu, I have still only found one preparation method that I like, which is lightly coating the tofu with cornstarch and then pan frying it. BUT quite a few people have messaged me with another cool tip—freezing and thawing tofu to alter its texture. I don't know the exact science behind this, but freezing and then thawing the tofu does in fact change the texture quite a bit, and for the better! The thawed tofu was MUCH easier to squeeze water out of and had a more firm, meat-like texture (less jiggly or egg-white-like). So, pop that container of tofu in your freezer when you get home from the store, then transfer it back to your refrigerator to thaw the next day. You won't be sorry!
Swap Marinade for Dry Spices
Another "extra" I added to my cornstarch process this time is to coat the tofu in a few spices before coating in it in cornstarch. Usually people marinate tofu to give it flavor, but with the cornstarch technique you want the tofu to be as dry as possible, so marinating in a liquid isn't a good option. Instead, I mixed together a couple smoky spices to add some oomph to the BBQ sauce later.
Leftovers
This recipe does make a strange number of servings (three large sliders), which is due to the size of a standard block of tofu, but you could stretch this to four smaller sliders, if needed. Because I was only making three sliders, I only used half of a bag of the shredded cabbage slaw mix. There are several options for the leftover cabbage. You can add it to a quick stir fry, like my Beef and Cabbage Stir Fry, toss it into a soup, or even make a small batch of Savory Cabbage Pancakes. Cabbage is incredibly versatile and makes a great low-carb filler for recipes! Here is the full list of cabbage recipes on Budget Bytes, in case you need more inspiration!
I also only used three buns out of a pack of eight, but don't worry! Buns and other baked breads freeze great. So you can take a few buns out of the freezer as needed for your small batch recipes. They thaw really quickly at room temperature.
Need a side dish? Try serving these sliders with my Classic Three Bean Salad.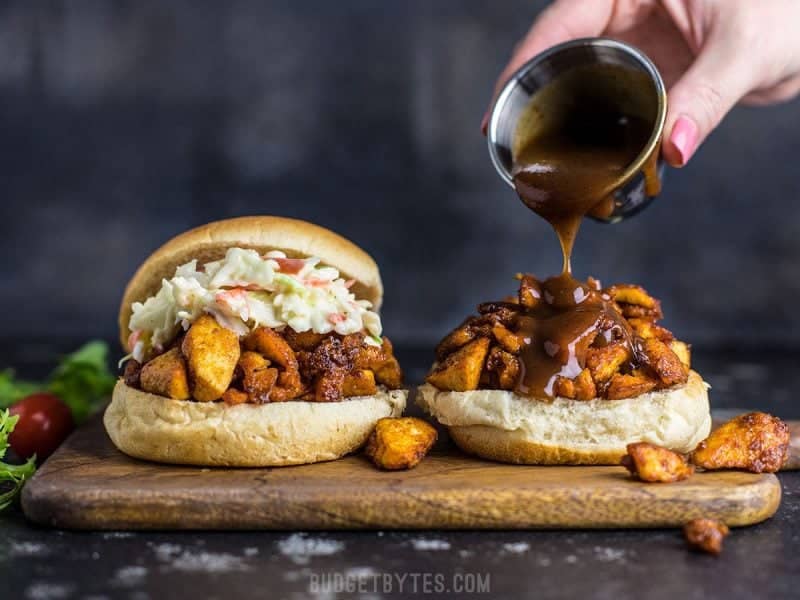 BBQ Tofu Sliders
BBQ Tofu Sliders are an easy and inexpensive alternative to pulled meat sandwiches. With a simple and uncomplicated ingredient list, this is a tofu dish anyone can master!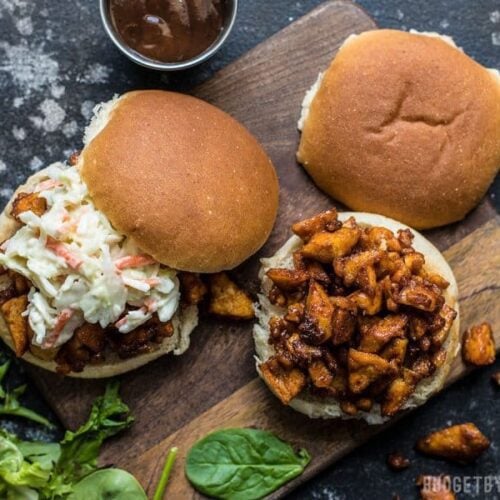 Ingredients
Simple Coleslaw
1/2

lb.

shredded cabbage slaw mix* (about 3 cups)

($0.60)

1/3

cup

mayonnaise

($0.44)

1/2

Tbsp

honey

($0.06)

1

tsp

Dijon mustard

($0.06)

1

tsp

apple cider vinegar

($0.02)

1/4

tsp

salt

($0.02)

Freshly cracked pepper

($0.02)
Instructions
OPTIONAL: Freeze the tofu at least a day before, then thaw before pressing. This gives the tofu a more firm and less jelly-like texture.


Remove the tofu from the package and place it on a baking sheet. Place a cutting board or a smaller baking sheet on top, then place something heavy on top, like a pot full of water, or a cast iron skillet. Allow the tofu to press for about 30 minutes to remove excess water. (If you previously froze the tofu, you can press for about half the time because the water comes out much more quickly.)


Once pressed, transfer the tofu to a cutting board and roughly chop into random 1/2-inch sized pieces. Place the chopped tofu in a bowl.


In a separate small bowl, stir together the smoked paprika, garlic powder, salt, and some freshly cracked pepper. Sprinkle this over the tofu, then gently stir the tofu until it is coated in the spices.


Add 1 tsp cornstarch to the tofu and gently fold until coated. Repeat two more times until 1 Tbsp cornstarch total has been added to the tofu.


Heat 2 Tbsp cooking oil in a large non-stick skillet over medium heat (cast-iron or teflon, your choice). Once the oil is very hot, add the tofu to the skillet. Let the tofu cook, stirring only occasionally, for about ten minutes, or until it appears firm and darkened on the outside edges.


Remove the tofu from the heat, add the 1/4 cup BBQ sauce, and stir to coat.


While the tofu is cooking, prepare the simple coleslaw. In a medium bowl stir together the mayonnaise, honey, Dijon, vinegar, salt, and pepper. Add the shredded cabbage coleslaw mix, then stir until it is coated in the dressing.


To serve the sliders, scoop about 1/3 of the BBQ tofu onto each bun, then drizzle each with an extra tablespoon of BBQ sauce. Finish each slider off with a heaping scoop of the simple coleslaw and finally, the top half of the bun. Enjoy!

See how we calculate recipe costs here.
---
Notes
*Prepared coleslaw mix is simply shredded cabbage and carrots, undressed. This is one of the few prepared salad mixes that I buy because I generally only need a small amount and the smallest cabbage will yield 3-4 times what I need once shredded.
Nutrition
Serving:
1
Serving
Calories:
612.1
kcal
Carbohydrates:
43.07
g
Protein:
19.4
g
Fat:
41.13
g
Sodium:
2593.83
mg
Fiber:
3.97
g
Read our full nutrition disclaimer here.
Scroll down for the step by step photos!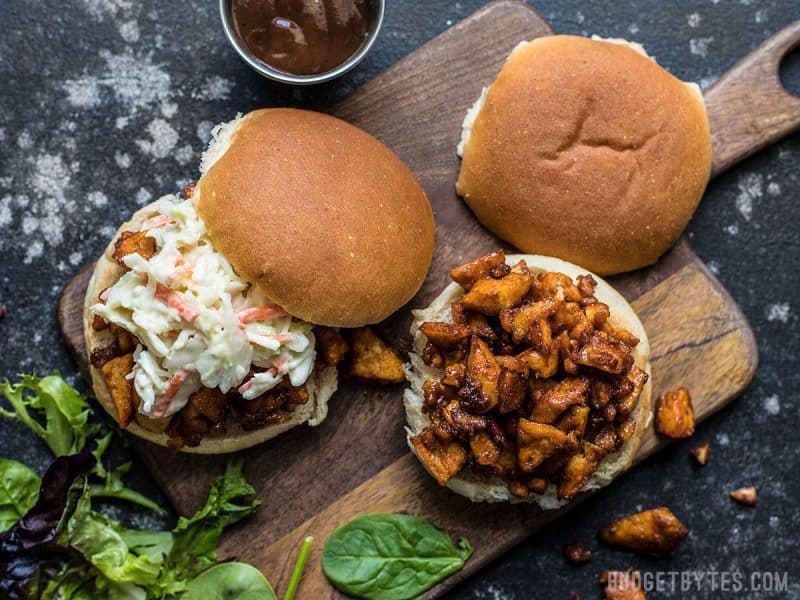 How to Make BBQ Tofu Sliders – Step by Step Photos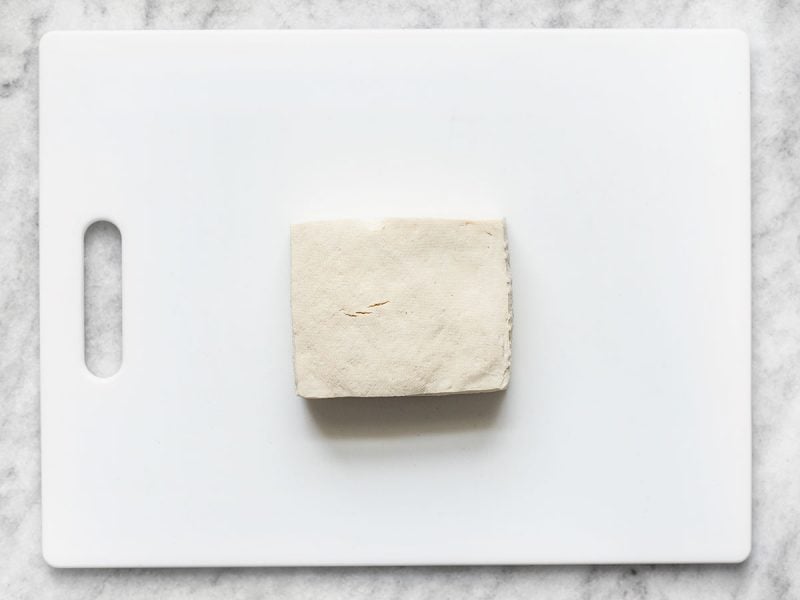 It's kind of hard to believe that this sad looking block of tofu can become the mouth-watering sandwiches in the photos above! 😅 Anyway, start with a 14 oz. block of firm or extra firm tofu. If you have the time or remember, freeze the block of tofu (I just did it right in its package) and then thaw it before beginning this recipe. It gives the tofu a slightly better texture. Whether frozen or not, you'll wan to press the tofu to remove the excess moisture. I like to place it between to baking sheets (the rim catches the extra liquid) and then place something heavy on top, like a pot full of water or a heavy cast iron pot. Press the tofu for about 30 minutes if you did not freeze/thaw, or for about 15 minutes if it has been frozen and thawed. Once it's pressed, it will look a little like the photo above.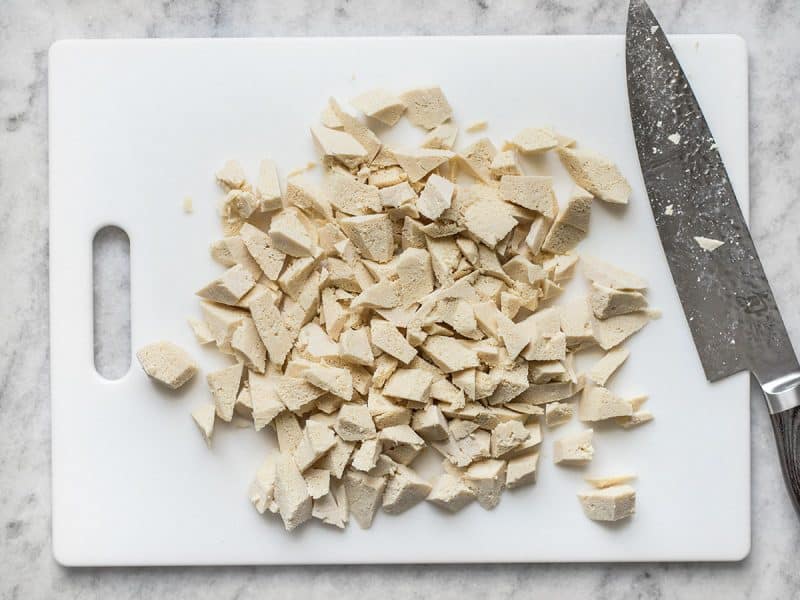 Roughly chop the tofu into random shaped pieces, about 1/2-inch in size.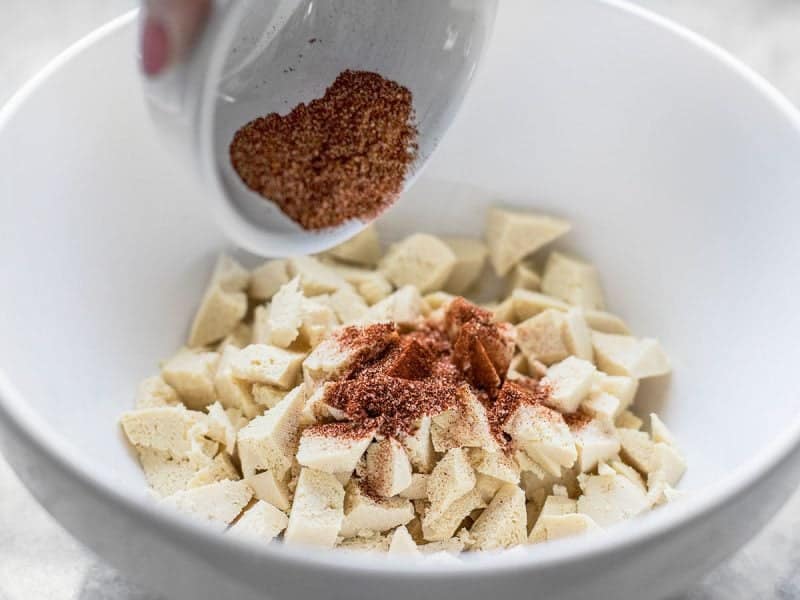 Place the chopped tofu in a bowl. In a separate bowl, stir together 1 tsp smoked paprika, 1/4 tsp garlic powder, 1/2 tsp salt, and some freshly cracked pepper. Sprinkle that over the tofu, then gently stir it until the tofu is coated in spices.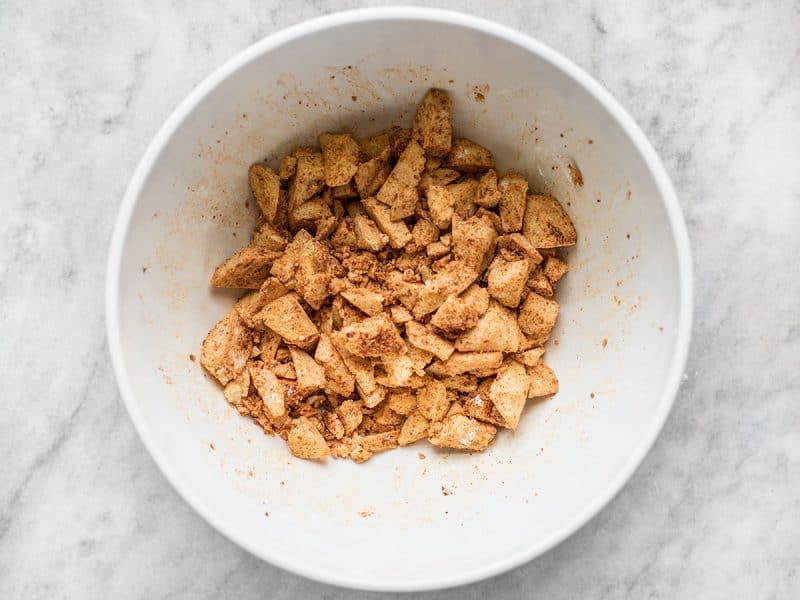 Next, add 1 tsp cornstarch to the tofu at a time, stirring to coat before adding more, until you've added 3 tsps (that is 1 Tbsp) cornstarch.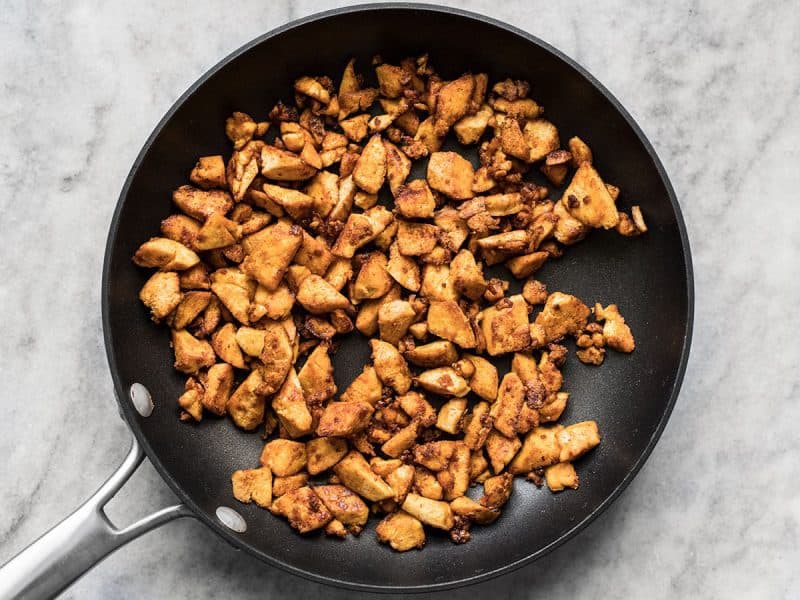 Add 2 Tbsp cooking oil to a large non-stick skillet (you can use cast iron or Teflon, whichever type of non-stick you prefer). Heat the skillet over medium and once the oil is very hot, add the tofu. Allow the tofu to cook, stirring only occasionally, for about ten minutes or until the tofu feels slightly more firm and the edges have darkened. It won't really be "crispy", but the texture will be more firm.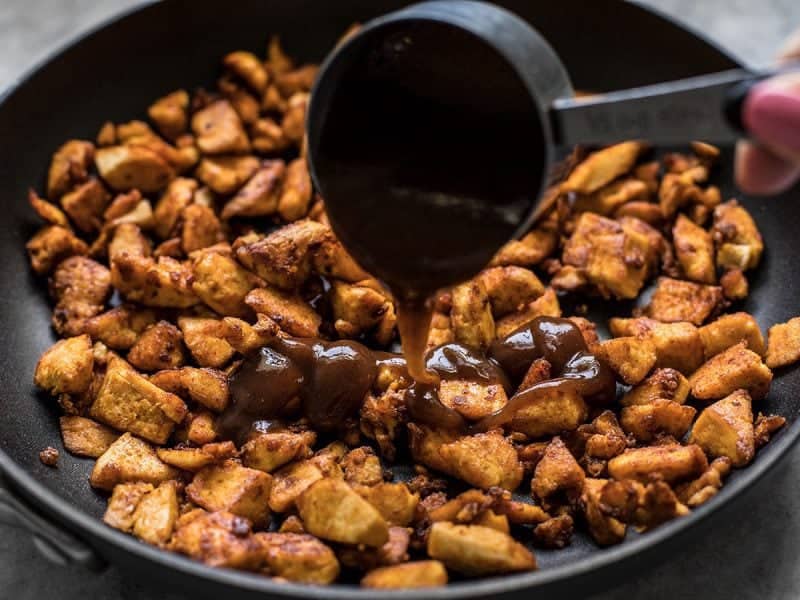 Remove the tofu from the heat. Add 1/4 cup BBQ sauce to the tofu and stir to coat.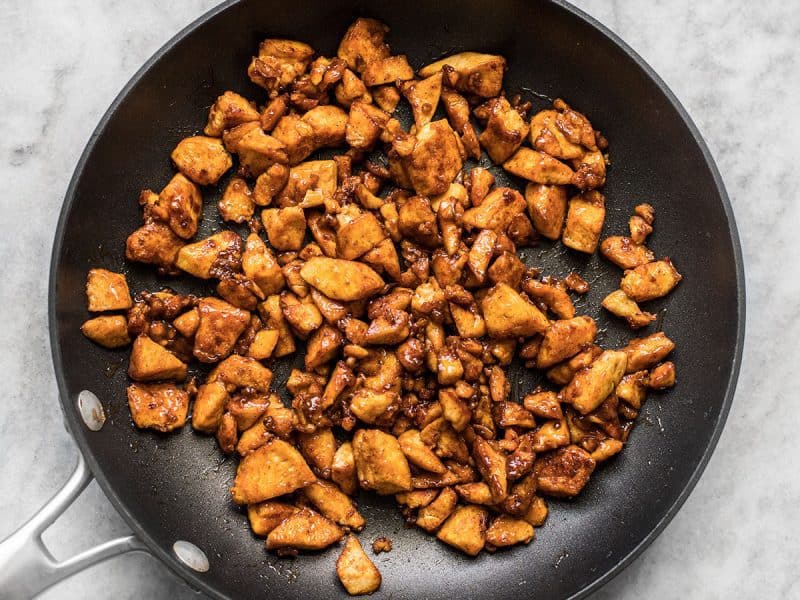 And now that BBQ tofu is finished and ready to go! I have a hard time not eating it out of the skillet at this point! You could also build some bowl meals out of this tofu if you don't like sliders or buns.
Since the tofu doesn't need much attention as it cooks, you can prepare the simple coleslaw while you wait. In a bowl, combine 1/3 cup mayonnaise, 1/2 Tbsp honey, 1 tsp Dijon mustard, 1 tsp apple cider vinegar, 1/4 tsp salt, and some freshly cracked pepper. Stir the dressing ingredients together until smooth.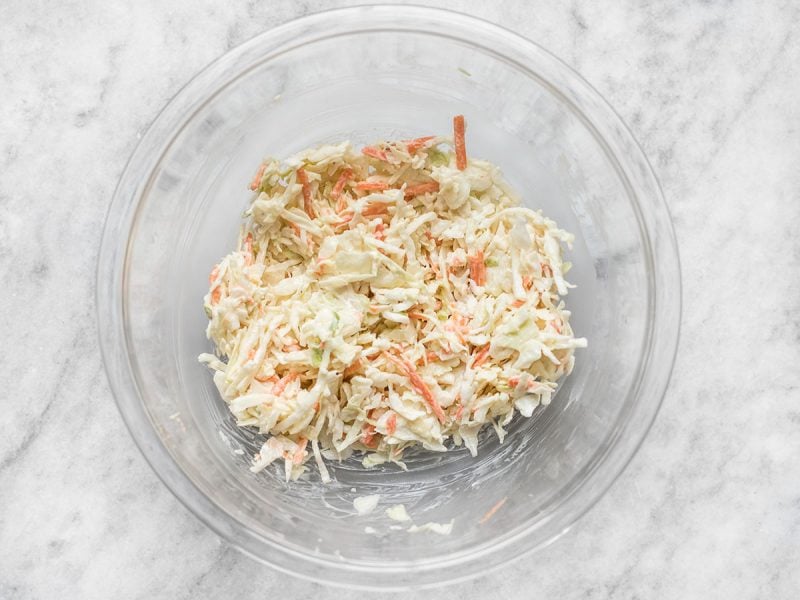 Add 1/2 lb. (about 3 cups) packaged coleslaw mix and stir until it's coated in dressing. This "coleslaw mix" is simply bagged shredded cabbage and carrots. You can find it near other bagged salad greens in the grocery store.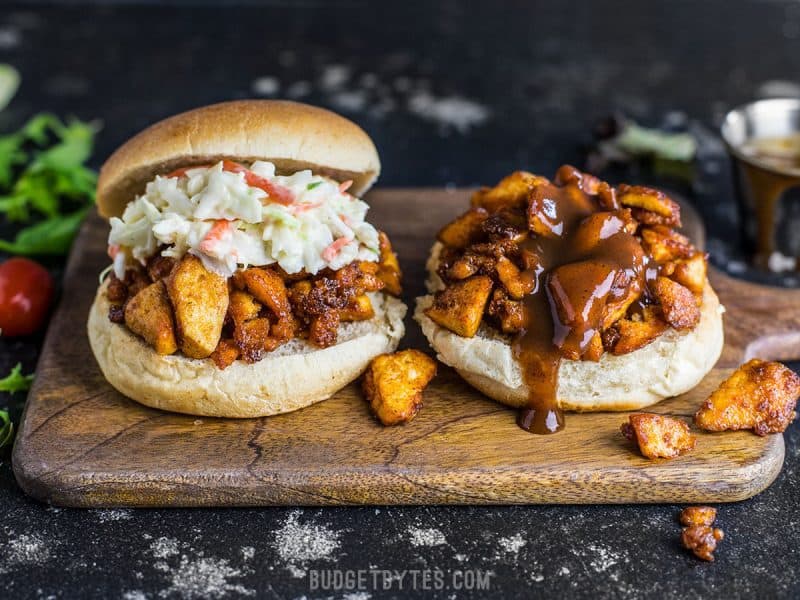 And now it's time to assemble the BBQ Tofu Sliders! Just place 1/3 of the BBQ tofu mixture on each bun, drizzle another 1 Tbsp BBQ sauce over the tofu, then top with a heaping scoop of the coleslaw. Then DEVOUR. :)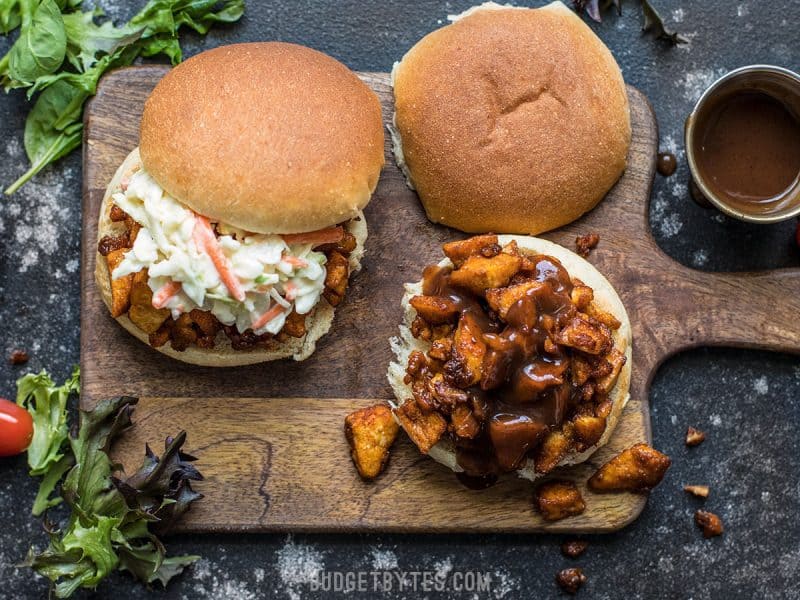 LOVE TOFU? TRY THESE OTHER TOFU RECIPES