We are getting close to the holiday season which means there will be plenty of potlucks, family get-togethers, and holiday parties. So if you're looking for some simple and tasty appetizers to enjoy this season, you're in luck! We've gathered over 20 Easy Appetizers that are perfect for parties and crowds. Including dips & spreads, holiday appetizers, and no bake appetizers for those who are short on time and need to whip up something quick! These budget-friendly, delicious appetizer recipes are perfect for any occasion!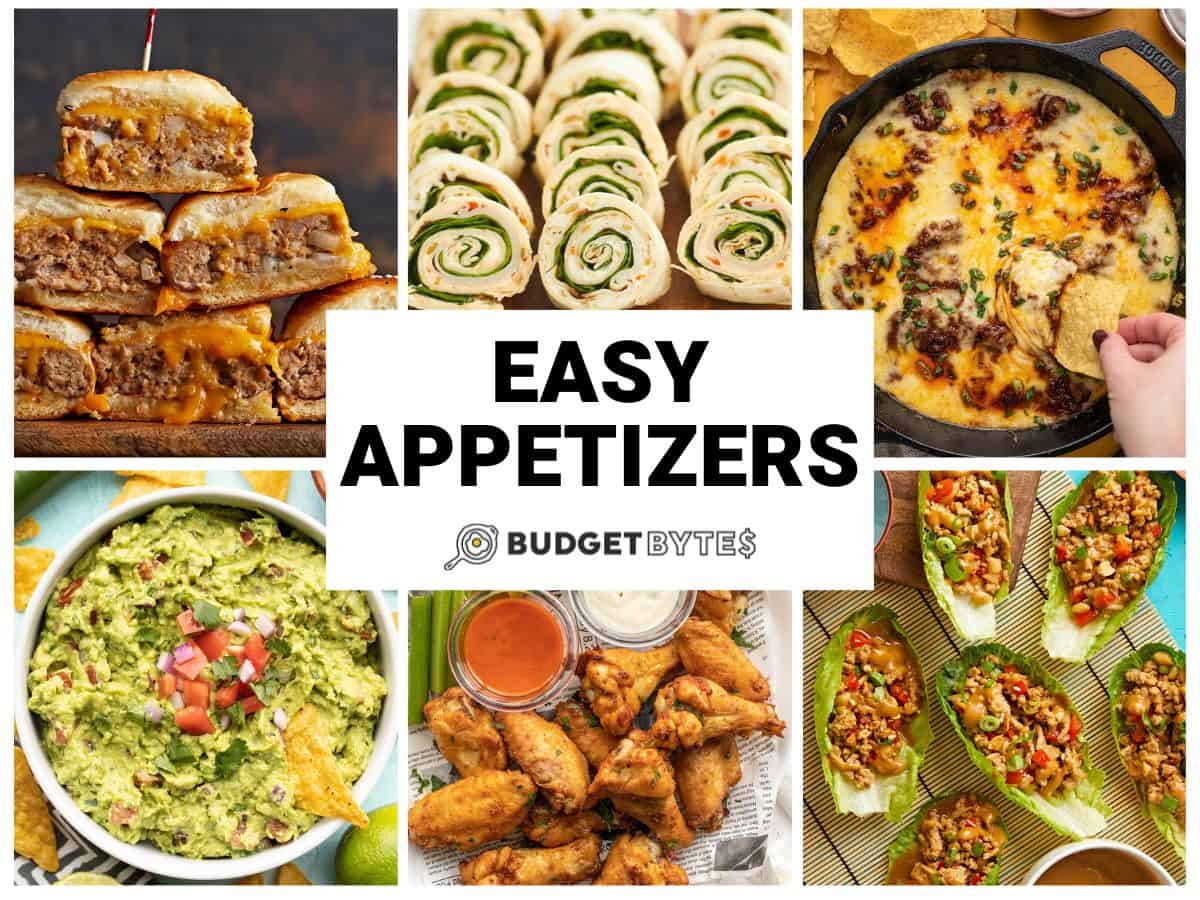 Easy Appetizers For A Party
You'll definitely steal the show at your next party when you make this super fresh and colorful Cowboy Caviar! It's an easy salsa-type salad that can be served as a chunky dip with chips and only takes 20 minutes to prep!
Of course you've gotta have some classic appetizers at your next event like these Baked Chicken Wings! They're incredibly simple to make and they can be enjoyed plain or drenched in your favorite sauce.
Bruschetta is a fun and tasty appetizer to serve that's made with garlicky chopped tomatoes, a touch of balsamic vinegar, and toasted bread. It's a great party food to impress your guests and all for under a dollar per serving. WIN!
I mean who doesn't love a good tortilla roll up at parties? These Pizza Roll Ups are perfect as a last minute appetizer and you can get creative by adding your favorite pizza toppings!
These Chicken Lettuce Wraps are made with a saucy ground chicken mixture and drizzled with peanut lime dressing. They're so good and the perfect way to liven up your party!
Mini bite-sized appetizers are always fun like these Mini Broccoli Cheddar Quiches! They're perfect as a finger food for brunch gatherings or a holiday breakfast, and will definitely impress any guest!
These super-tasty hamburger Sliders are the perfect way to feed a crowd! They're made by the dozen and are great for parties, potlucks, and tailgates!
Everyone loves a good deviled egg, but have you ever had hot deviled eggs?? These Nashville Hot Deviled Eggs are a fun twist to a classic potluck favorite recipe…and yes they're seriously hot!
Dips & Spreads
Buffalo Chicken Dip is always a popular appetizer at football parties and holiday gatherings. You only need a few simple ingredients to make it and its great served with chips, crackers, or even veggies!
This Sriracha Pimento Cheese Spread only requires six ingredients and comes together in just 15 minutes. It's cheese mixed with yummy stuff that you can dip, spread, or enjoy any way you like!
If there's one appetizer that's sure to bring a crowd together, it's definitely a good cheese dip! Queso Fundido is a simple recipe made with Mexican chorizo and melted cheese and is always a hit!
Ten minutes is all you'll need to make this super simple Crab Dip. It can be served hot or cold and goes great with crackers, toasted bread, chips, and raw vegetables.
This isn't just your average spinach dip. This Double Spinach Artichoke Dip is made with double the spinach, lots of cheese, and lots of goodness!
If you're looking for a really simple cheese dip, this Easy Nacho Cheese sauce only requires a few simple ingredients and is guaranteed to be smooth and delicious every time!
No Bake Appetizers
Give me some chips and a bowl of guac any day!! This easy homemade Guacamole recipe only takes a few minutes to make and the fresh flavor is so good.
Pinwheels are a classic party item that everyone seems to love. These Turkey Pinwheels are easy to make and extremely versatile. So grab this basic formula then feel free to switch up the ingredient combinations!
It's hard to resist this simple, creamy, chickpea spread. Homemade Hummus only requires a few ingredients and is easy to customize to your liking. And we promise it tastes wayyy better than store-bought hummus ;)
If you need a really quick and easy snack to make for your next get-together, Trail Mix is always a great choice. And the best part is when you make it homemade, you can mix and match the ingredients to fit your taste and your budget!
These simple, light and refreshing cucumber sandwiches are perfect to make for brunch parties, bridal and baby showers, potlucks and even work gatherings. They're also really flexible so feel free to play around with the ingredients and make them your own.
Holiday Appetizers
There's no appetizer or delicious treat that is easier than baked brie. This Easy Baked Brie with Apples is ultra rich and creamy, and definitely a treat for special occasions!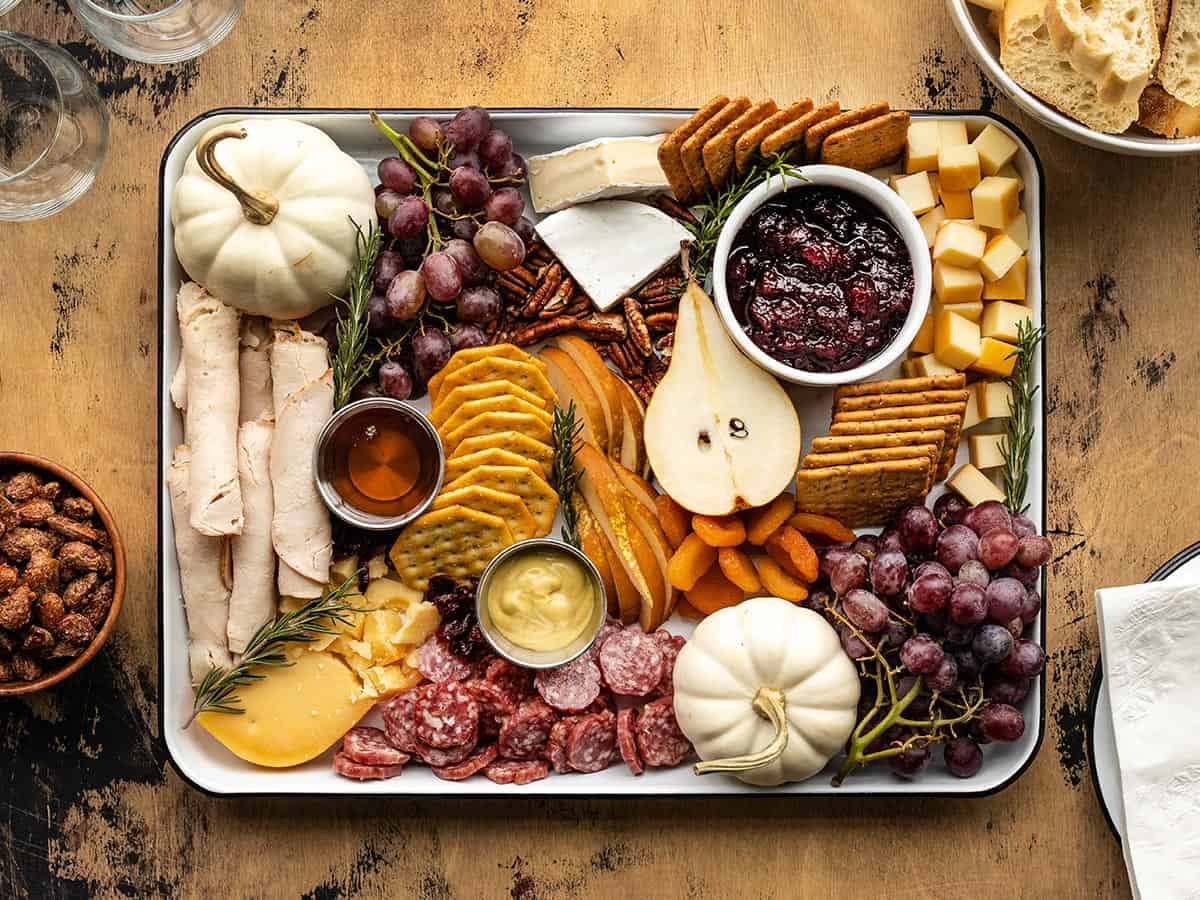 Party platters and charcuterie boards are super popular right now and for good reason. It's a great way to sample lots of different meats, cheeses, fruit, breads, nuts, and small bites. Here we're sharing our simple how-to guide for a very festive and show-stopping Thanksgiving Grazing Board.
This Cranberry Cream Cheese Dip is a combination of savory, sweet, tart, and salty. It's a super simple appetizer with lots of variations and it's perfect for holiday gatherings!
Our popular Turkey and Stuffing Meatballs recipe is the perfect appetizer to add to your Thanksgiving, Friendsgiving or Christmas gathering. They're fun, easy to make, and make great leftovers!