Most of us will be sitting at home next weekend passing out candy to little goblins and ghouls, so I thought you might need a little spicy-salty-crunchy snack to keep you company as you wait for that doorbell to ring. This Spicy Chex Mix is the classic snack mix but with a spicy kick! It's super easy to make and the cost is just so much less to make at home compared to buying it pre-packaged. You might find yourself making a batch every week or so instead of buying your regular chips and pretzels!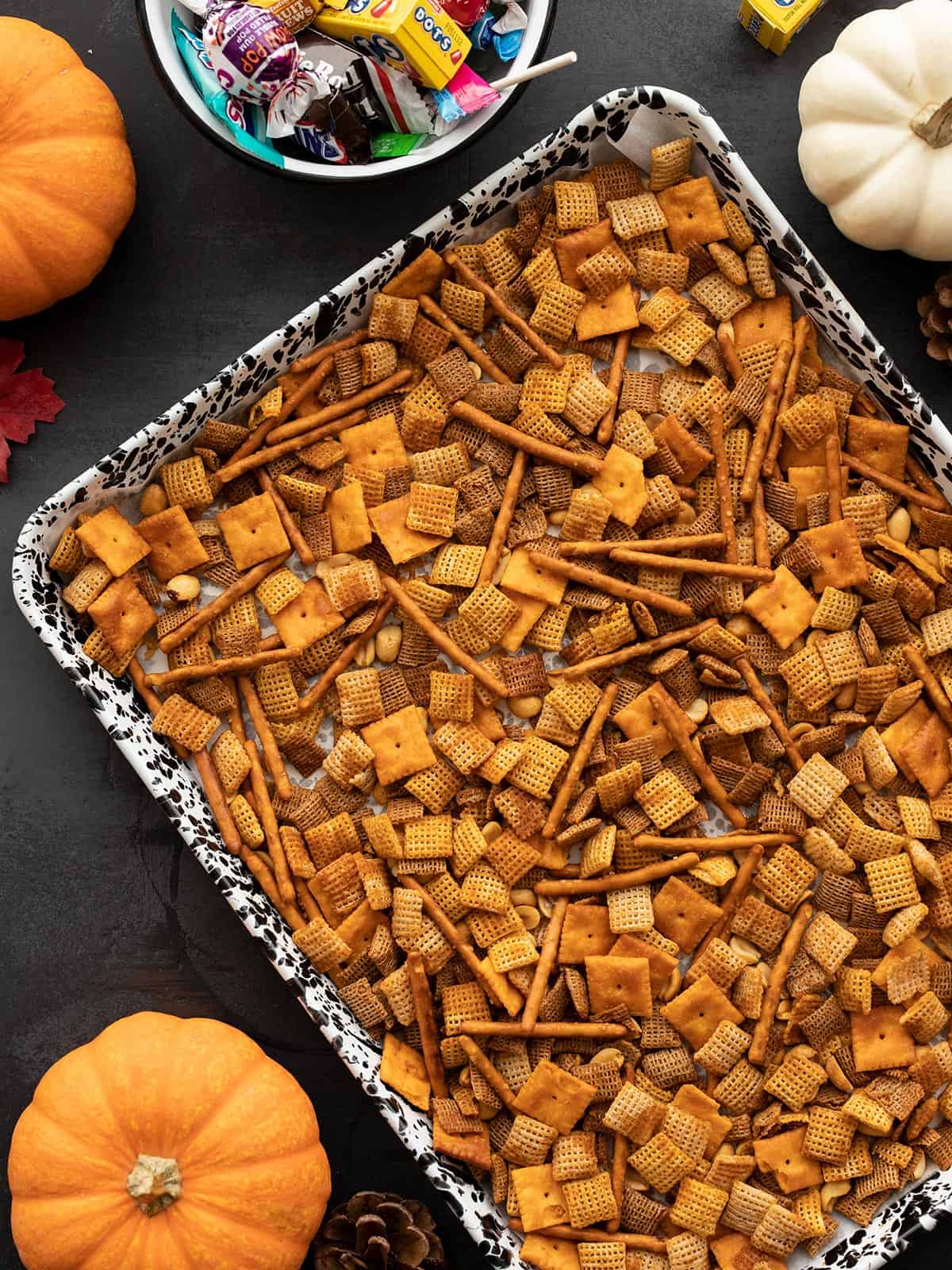 Smaller Batch Size
I made a slightly smaller batch size compared to most chex mix recipes you'll see on the internet because we have a smaller household and I didn't want to be drowning in the stuff. It's so easy to make that I'd rather make smaller batches more often and have fresh chex mix, rather than making a ton and trying to eat it before it goes stale. If you're making this for a party, I would double the recipe.
How to Store Chex Mix
If you don't end up eating the entire batch in one night (I won't judge), make sure to store your leftover chex mix in an air-tight container like a ziptop bag or a resealable food container. As long as it stays sealed, it should stay fresh for a few weeks. You can also freeze the chex mix for about 3 months (again, make sure it's sealed air-tight).
What Kind of Hot Sauce to Use
This recipe is really flexible and you can use just about any vinegar based hot sauce. I've used a cayenne flavored hot sauce, like Tabasco, and even a thicker hot sauce like sriracha. The flavors are slightly different, but great none the less!
Other Add-Ins and Substitutions
Chex mix and snack mixes like this are fun because you can get creative with the ingredients. You can choose any pretzel shape you like, you can substitute in a different nut or even a flavored nut. Bagel chips are a pretty common add-in (I couldn't find any at the store) or you could do little breadsticks or rice crackers. Just make sure that whatever you're adding is fairly neutral in flavor so it can soak up all of that spicy, buttery goodness!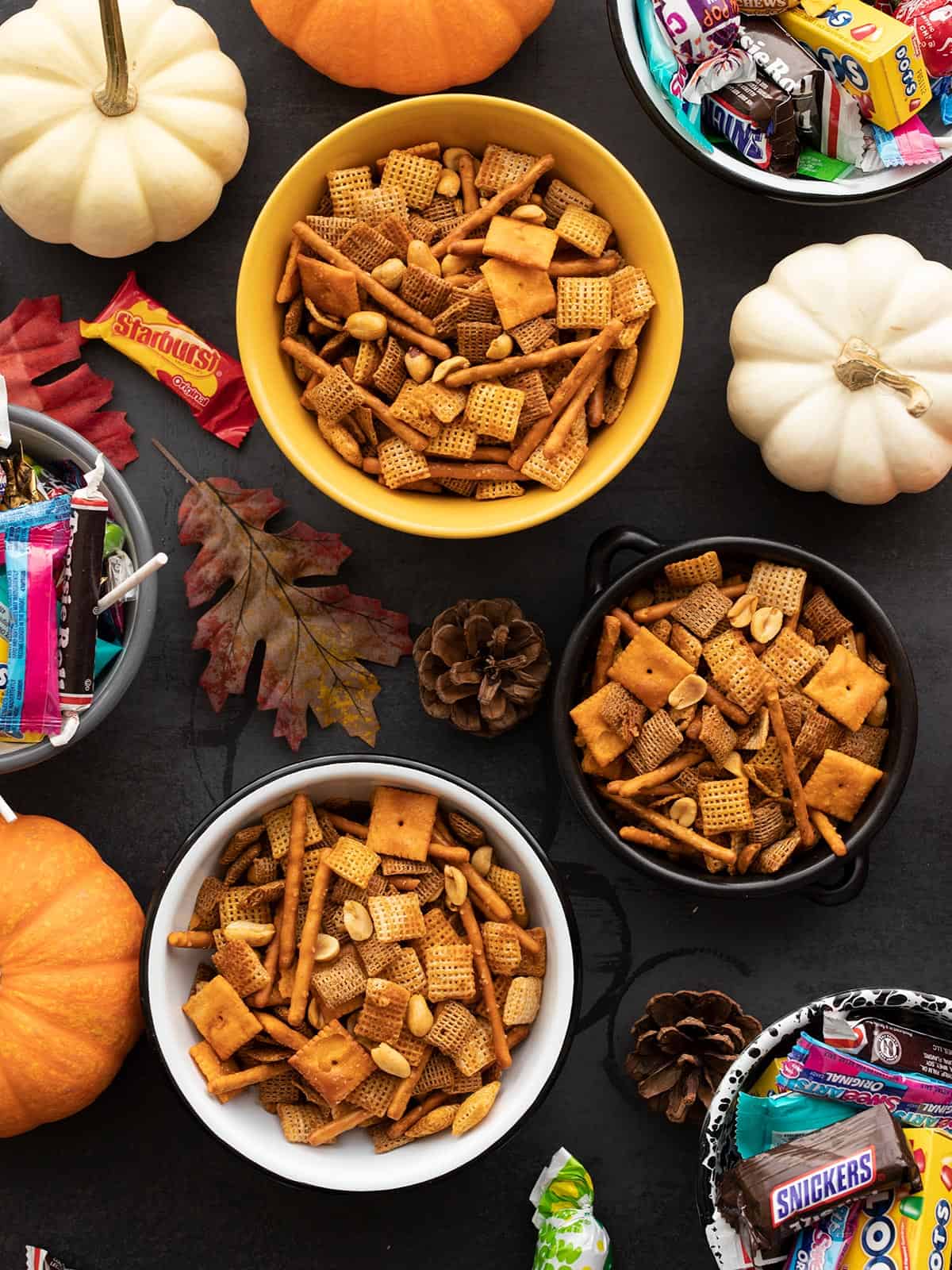 Spicy Chex Mix
Spicy Chex Mix is an easy homemade snack mix with just the right combination of salty, crunchy, and spicy flavors.
Ingredients
1.5

cups

rice chex

($0.23)

1.5

cups

corn chex

($0.23)

1.5

cups

wheat chex

($1.05)

1

cup

cheese crackers

($0.39)

1

cup

pretzels

($0.24)

1/2

cup

unsalted peanuts

($0.24)

6

Tbsp

butter

($0.66)

1

Tbsp

Worcestershire sauce

($0.04)

1.5

Tbsp

hot sauce

($0.14)

3/4

tsp

seasoning salt*

($0.08)

1/2

tsp

garlic powder

($0.05)

1/2

tsp

smoked paprika

($0.05)
Instructions
Preheat the oven to 250ºF. Combine the rice chex, corn chex, wheat chex, cheese crackers, pretzels, and peanuts. Stir the dry ingredients together.

Melt the butter in a separate bowl, then stir in the Worcestershire sauce, hot sauce, seasoning salt, garlic powder, and smoked paprika.

Pour about a third of the seasoned butter over the dry ingredients, then stir well. Repeat two more times until all of the butter has been added. Continue to stir the chex mix until everything is very well coated.

Spread the seasoned mix over a large baking sheet lined with parchment paper. Transfer the baking sheet to the oven and bake for one hour, stirring every 15 minutes.

After baking for one hour, the snack mix will be dry, toasty, and delicious. Serve warm or let cool before serving.
See how we calculate recipe costs here.
---
---
Notes
*Seasoning salt like Lawry's or a similar generic brand.
Nutrition
Serving:
1
cup
Calories:
388
kcal
Carbohydrates:
49
g
Protein:
8
g
Fat:
19
g
Sodium:
908
mg
Fiber:
4
g
Read our full nutrition disclaimer here.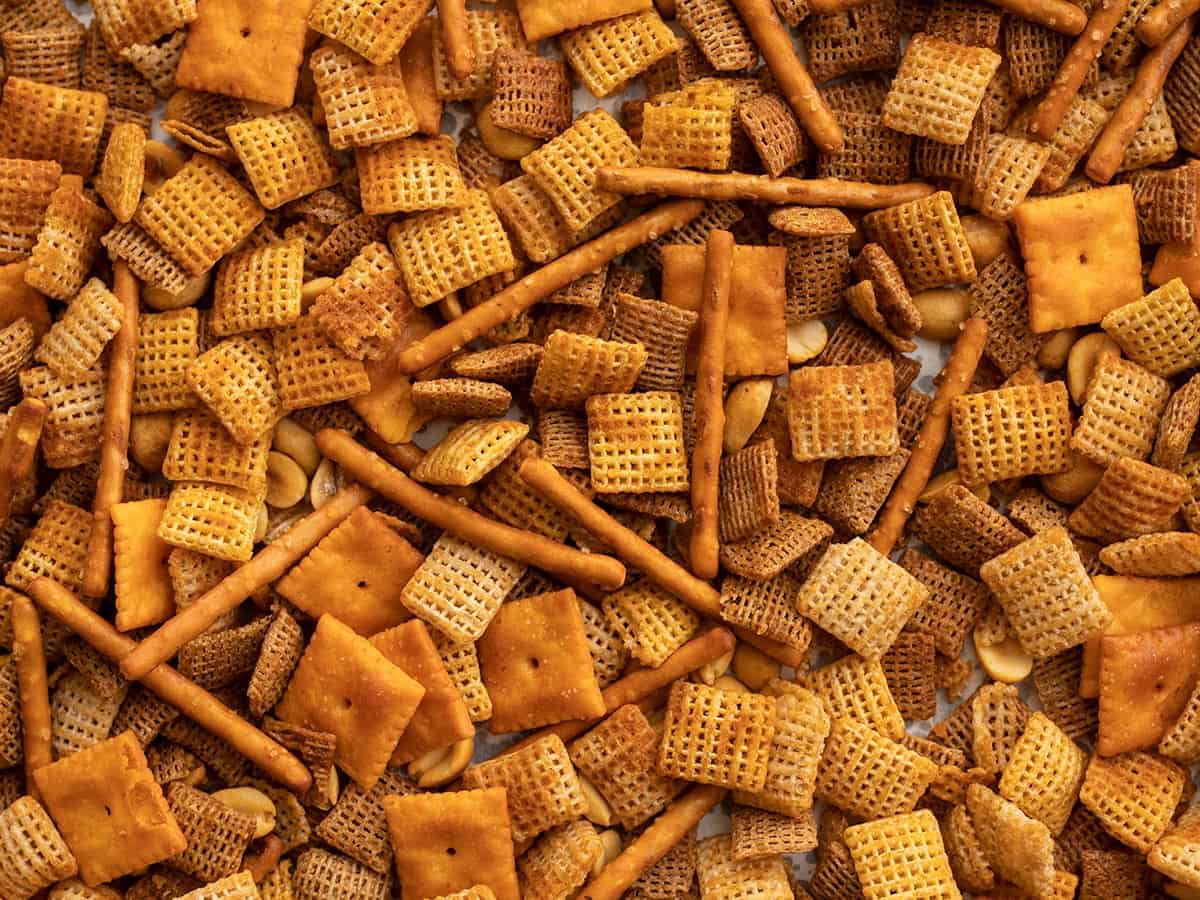 How to Make Spicy Chex Mix – Step by Step Photos
Preheat the oven to 250ºF. Melt 6 Tbsp butter in a bowl, then stir in 1 Tbsp Worcestershire sauce, 1.5 Tbsp hot sauce, ¾ tsp seasoning salt (like Lawry's), ½ tsp garlic powder, and ½ tsp smoked paprika.
In a large bowl, combine 1.5 cups corn chex, 1.5 cups rice chex, 1.5 cups wheat chex, 1 cup cheese crackers, 1 cup pretzels, and ½ cup unsalted peanuts. Stir the ingredients together.
Pour about ⅓ of the seasoned butter over the snack mix, then give it a good stir. Repeat two more times until all of the butter has been added.
Continue stirring the snack mix until it is very evenly covered in seasoned butter.
Spread the snack mix out onto a large baking sheet. I covered my baking sheet with parchment for easy cleanup.
Bake the chex mix for 1 hour, stirring every 15 minutes, or until it is very dry and slightly toasty. Let the mix cool completely, then serve.
More Budget Friendly Snack Ideas