These Sheet Pan Chicken Fajitas have been a Budget Bytes staple recipe since I first posted them eight years ago! I love fajitas, but they require a super hot griddle to get that nice smoky flavor, which also means a lot of smoky smell in my house and standing over a super hot stove. Not my favorite way to spend my evening. So I make baked fajitas instead. Is it exactly the same? No, BUT it's almost completely hands-off (yay) and you get some nice caramelization on the edges of the peppers and onions, which gives you a similar char effect. I'll save the real deal fajitas for when I'm at a restaurant and not doing the cooking. 😄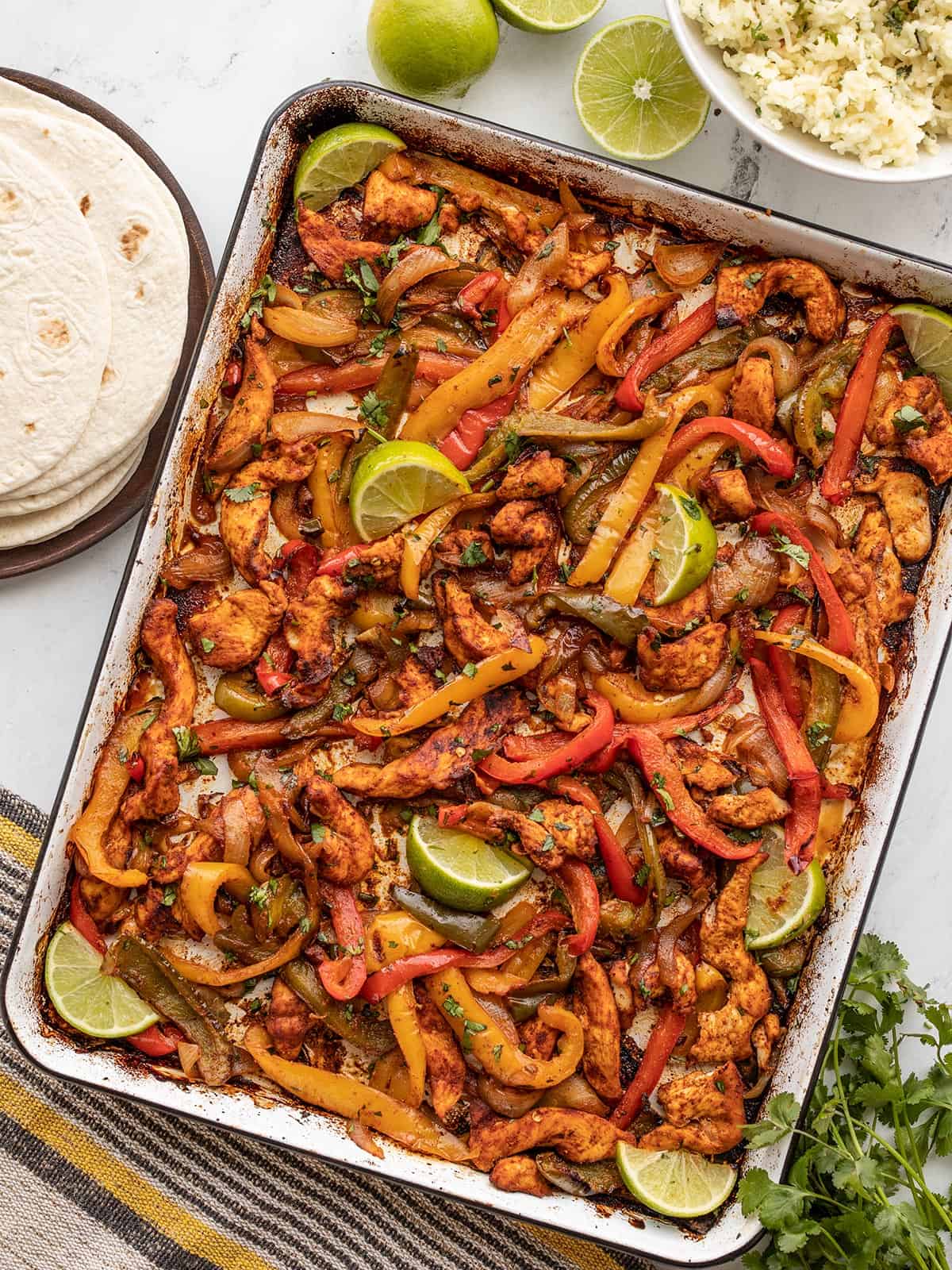 What Kind of Sheet Pan to Use
You definitely want the largest sheet pan (or baking dish) you can find for this recipe. It's imperative that the chicken and vegetables are not too crowded on the baking sheet otherwise the steam will get trapped as they bake and you won't get that nice caramelization that only happens in a dry heat environment. I'm using a 13×16 inch baking sheet here and in the original version of this recipe I used a 13×15 inch glass baking dish.
Make it Fit in your Budget
Red, yellow, and orange bell peppers are usually significantly more expensive than green bell peppers, but you can use any mix that fits your budget. Despite using a couple of more expensive colored peppers, I used more vegetables than meat to keep costs low. The meat to veggie ratio ended up being perfect once everything had been cooked down. If you want to make these Sheet Pan Chicken Fajitas vegetarian, try this Chipotle Portobello Oven Fajita recipe.
Make Your Own Fajita Seasoning or Buy Pre-Made
The ingredient list below might look long, but most of that is the fajita seasoning mix. So if you're looking for a short cut or your kitchen spice cabinet is not well-stocked, you can simply use a packet of store-bought fajita seasoning.
Toppings for Chicken Fajitas
I like to keep my chicken fajitas really simple with just a squeeze of lime, maybe some fresh cilantro, and a small dollop of sour cream, but there are so many other things you could use to top your chicken fajitas. Try these toppings
Shredded cheese
Cotija cheese
Green onions
Salsa
Guacamole or sliced avocado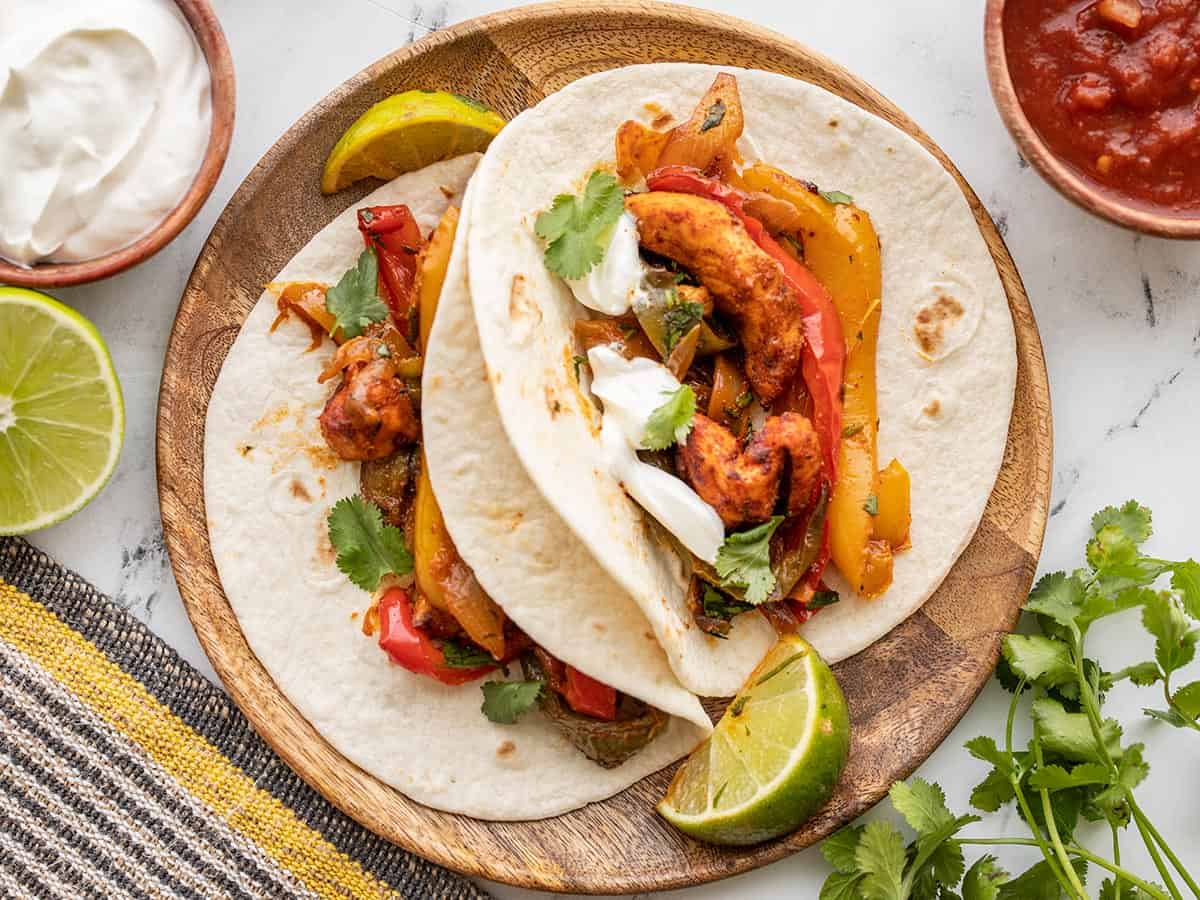 Sheet Pan Chicken Fajitas
These easy Sheet Pan Chicken Fajitas are a simple hands-off way to get that smoky-sweet flavor of traditional griddle fajitas.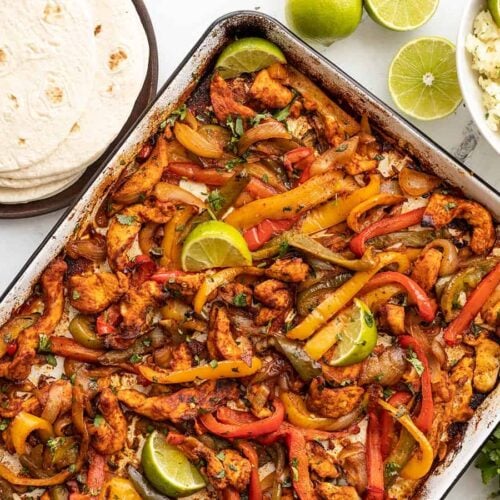 Ingredients
FAJITAS
2

small

yellow onions (or one large)

($0.57)

3

bell peppers, any color

($3.69)

1

lb.

chicken breast

($6.24)

2

Tbsp

cooking oil

($0.08)

1

lime

($0.30)

8

6-inch tortillas

($1.28)

1/2

cup

sour cream (optional)

($0.90)

1/4

bunch

cilantro (optional)

($0.22)
Instructions
Preheat the oven to 400ºF. Mix all of the spices for the fajita seasoning in a small bowl and set aside (chili powder, paprika, onion powder, garlic powder, cumin, cayenne pepper, sugar, and salt).

Cut the onion and bell peppers into 1/4-inch wide strips. Slice the chicken breast into thin strips. Add the chicken and vegetables to a large baking sheet or casserole dish.

Drizzle the cooking oil over the chicken and vegetables, then sprinkle the fajita seasoning mix over top. Use your hands to toss the ingredients until everything is well coated in oil and seasoning. Spread the chicken and vegetables out over the baking sheet evenly.

Bake the chicken and vegetables in the preheated oven for 35-40 minutes, stirring once halfway through. Squeeze the juice from half of the lime over top of the meat and vegetables after they come out of the oven.

To serve, scoop a small amount of meat and vegetables into the center of each tortilla. Top with a few sprigs of cilantro, a dollop of sour cream, and an extra squeeze of lime if desired.
See how we calculate recipe costs here.
---
Nutrition
Serving:
1
Serving
Calories:
483
kcal
Carbohydrates:
43
g
Protein:
31
g
Fat:
21
g
Sodium:
910
mg
Fiber:
4
g
Read our full nutrition disclaimer here.
What to serve with oven baked fajitas
Need a side dish to go with your Oven Fajitas? Try one of these awesome sides
Scroll down for the step by step photos!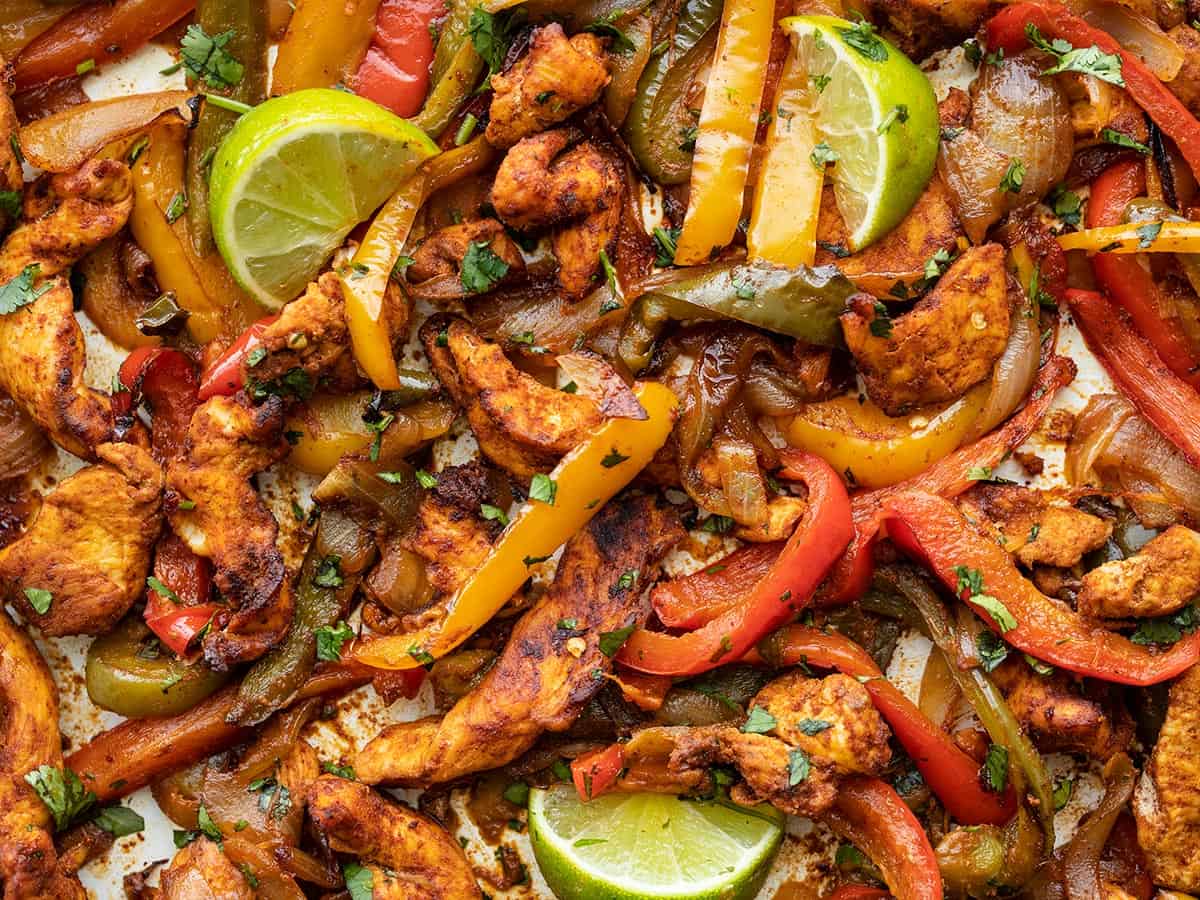 How to Make Sheet Pan Chicken Fajitas – Step By Step Photos: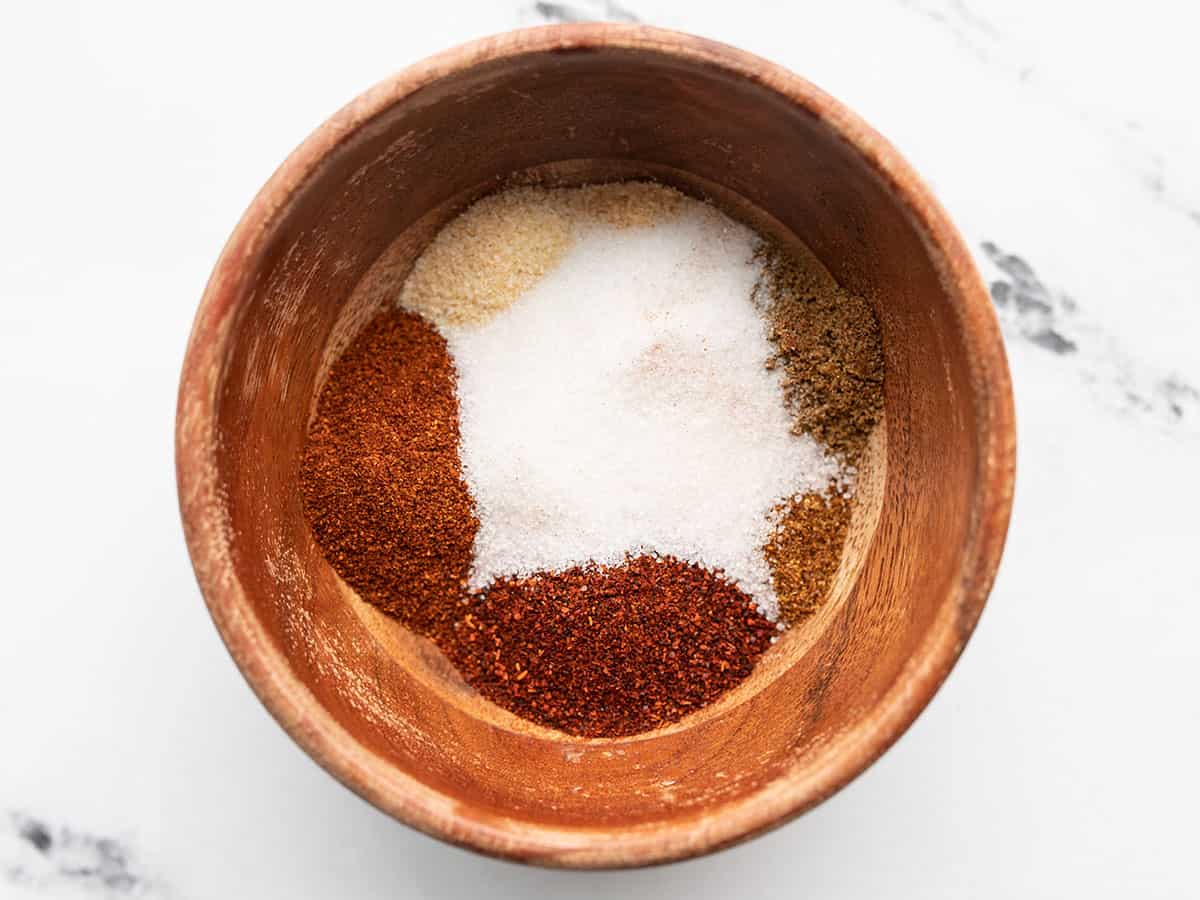 Begin by preheating the oven to 400ºF. In a small bowl, stir together 1 Tbsp chili powder (this is a mild blend, not hot red chiles), 1/2 Tbsp paprika, 1/2 tsp onion powder, 1/4 tsp garlic powder, 1/4 tsp cumin, 1/8 tsp cayenne, 1/2 tsp salt, and 1 tsp sugar. The sugar helps the vegetables caramelize and gives the dish a very subtle sweetness.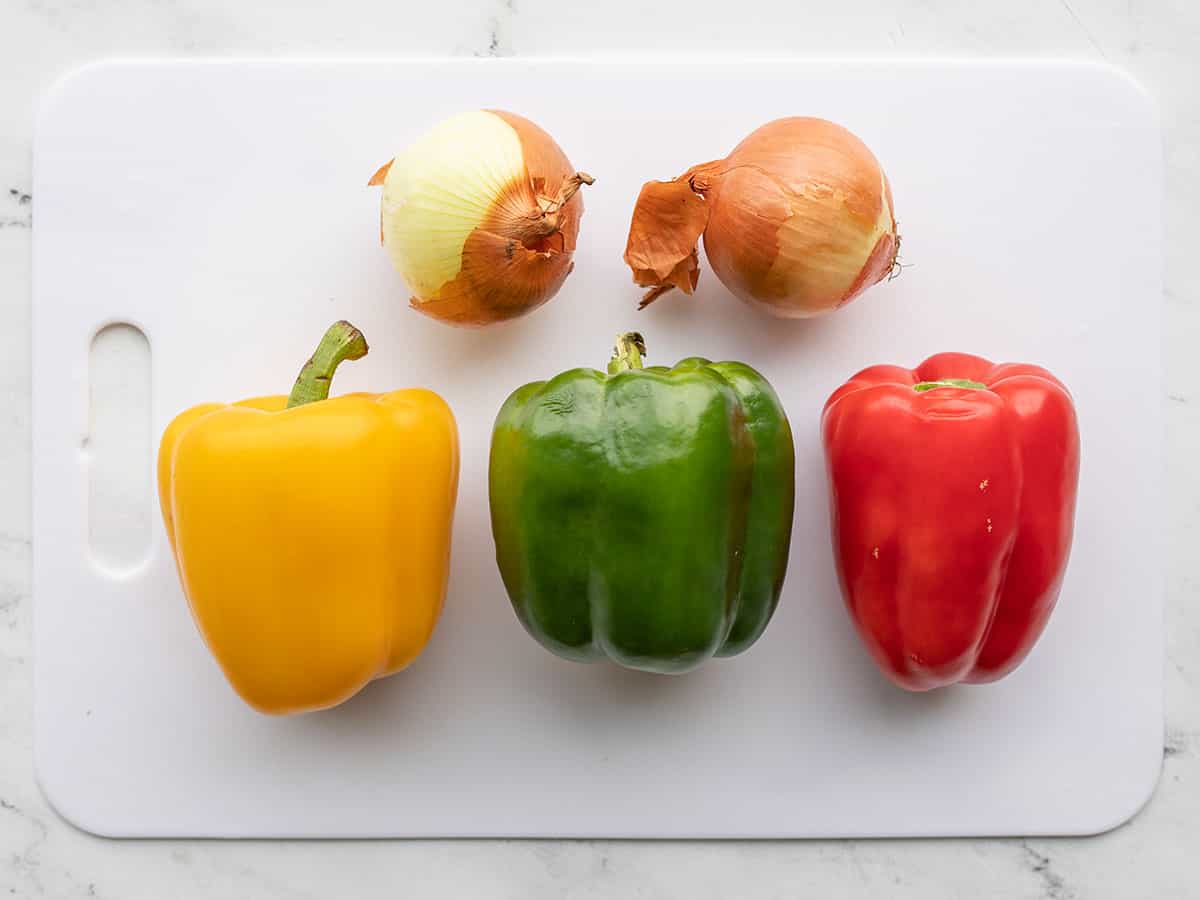 Slice three bell peppers and two small onions (or one large onion) into thin, 1/4-inch wide strips. Red, yellow, and orange bell peppers are usually more expensive than green, so use a mix of peppers that fits your budget.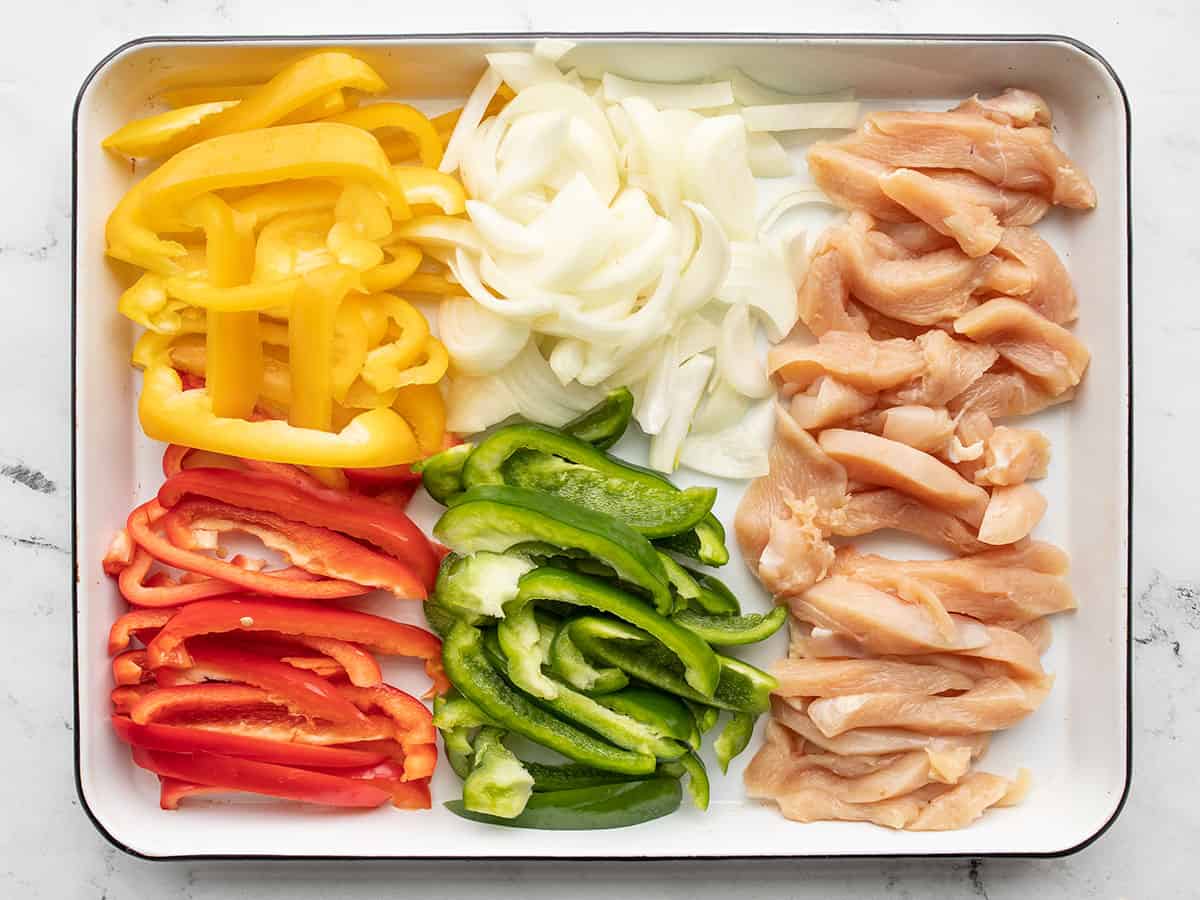 Slice 1 lb. boneless, skinless chicken breast into thin strips as well. Place the sliced bell peppers, onion, and chicken on a large sheet pan (13×16-inch). You want to avoid piling the ingredients in so deep that they begin to stew in their juices in the oven, instead of browning, so you'll need the largest dish available. You can also use an extra large casserole dish, if you don't have a large sheet pan.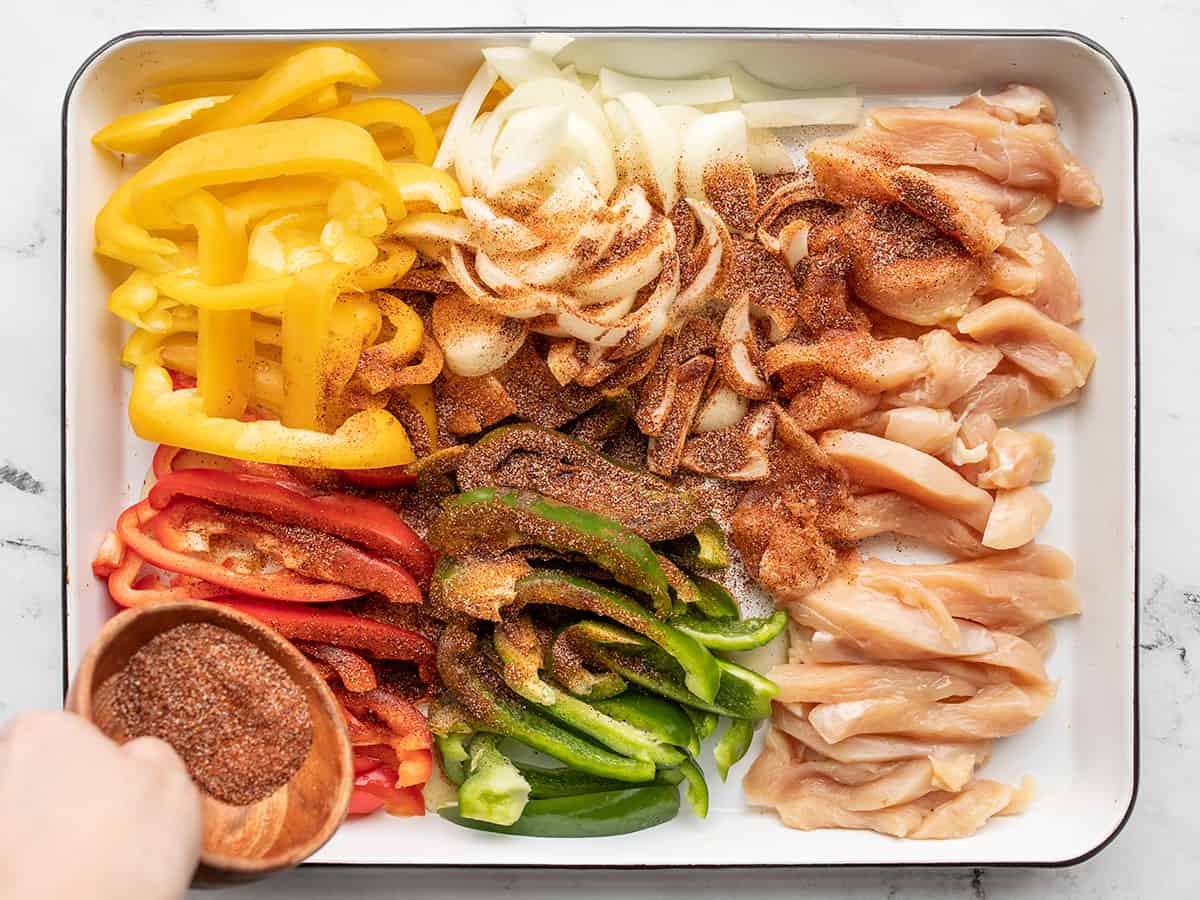 Drizzle 2 Tbsp cooking oil over the meat and vegetables, followed by the fajita spice mix, then toss the ingredients until everything is well coated in oil and spices.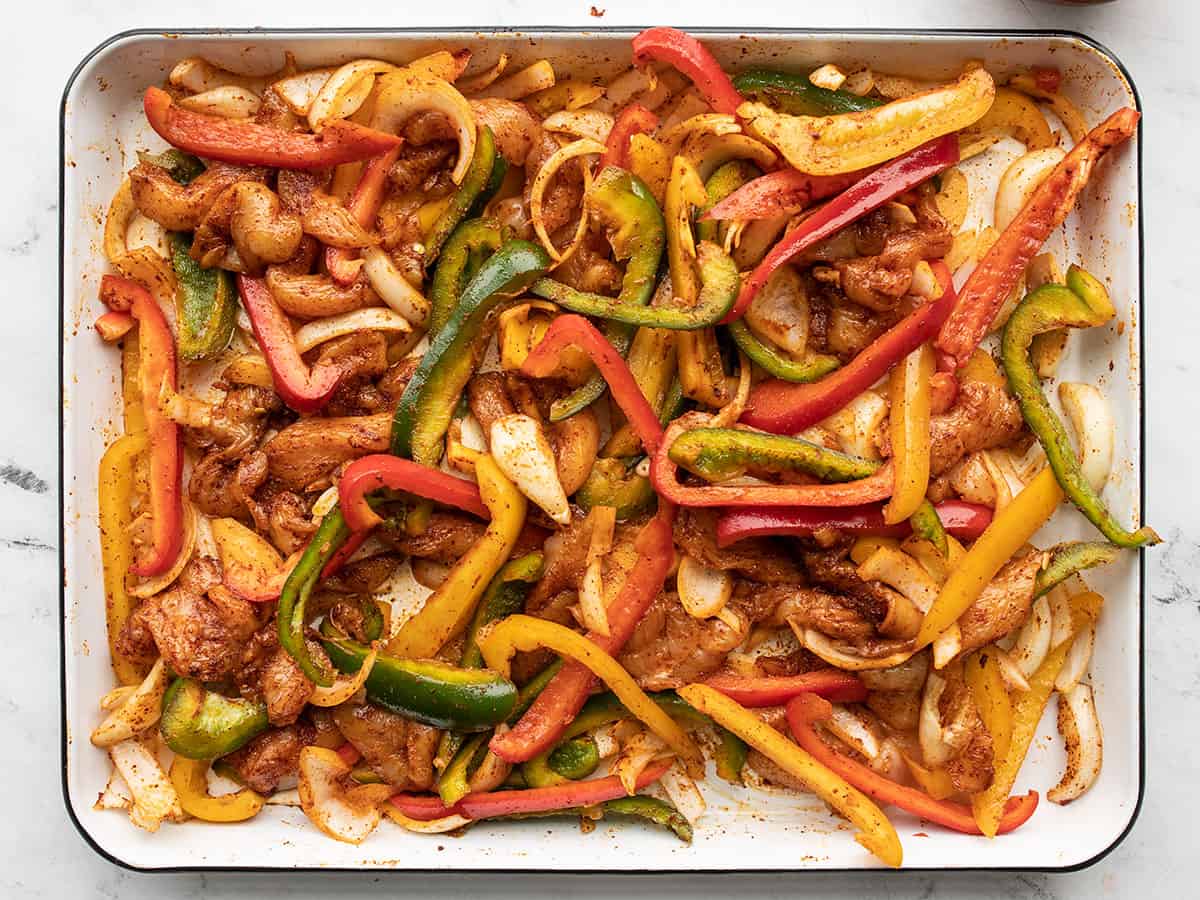 Now that everything is coated in oil and spices, it's ready to go into the oven.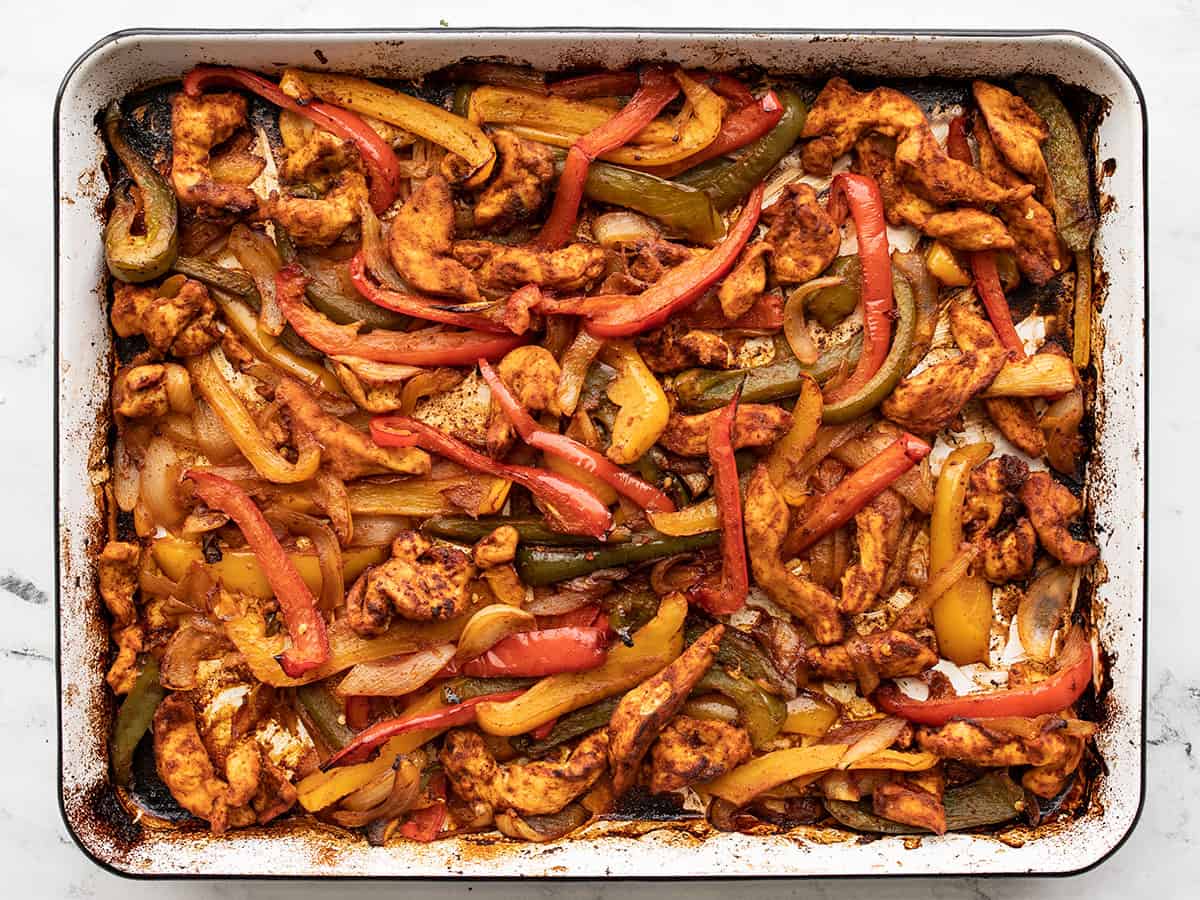 Roast the chicken and vegetables for 35-40 minutes at 400ºF, stirring once halfway through, or until the fajita veggies have softened slightly and are a bit brown on the edges.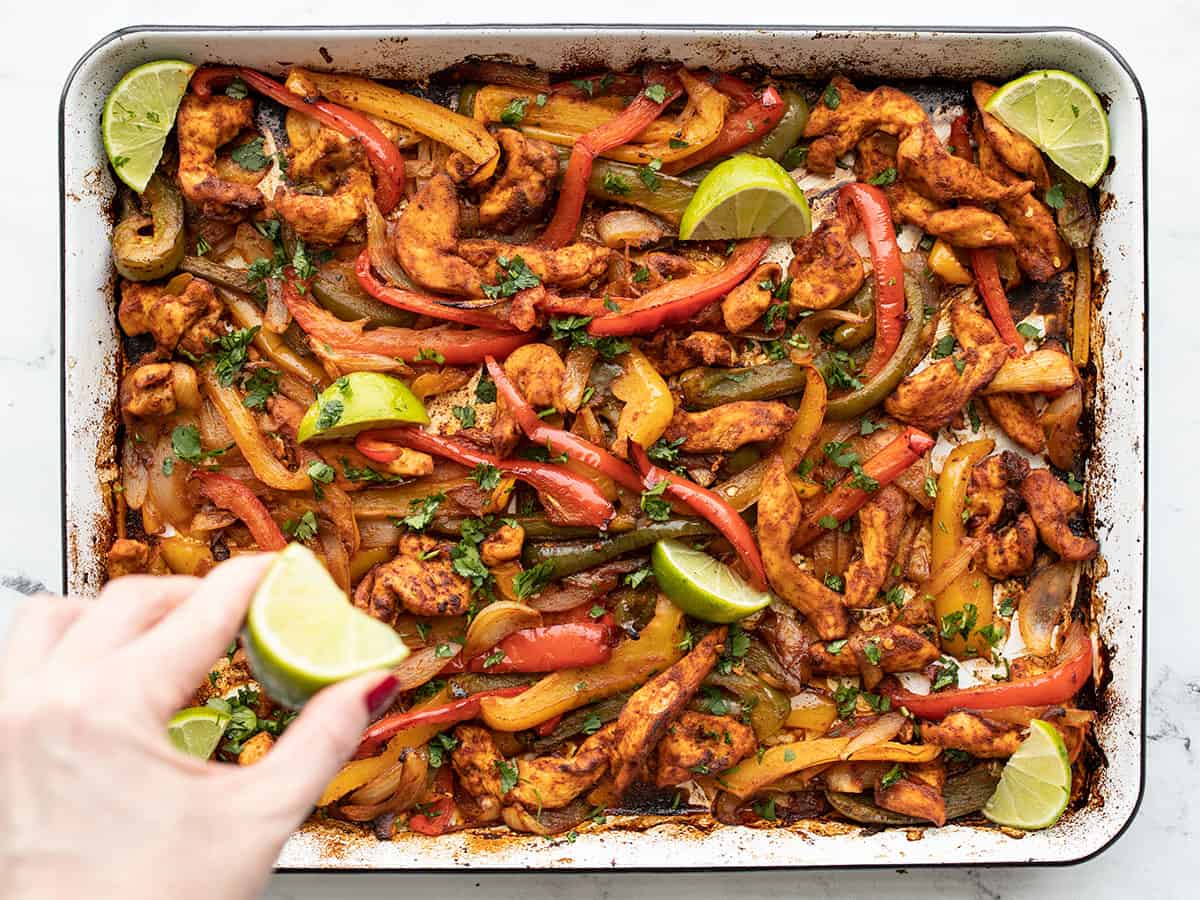 Squeeze the fresh lime juice over the chicken and fajita veggies.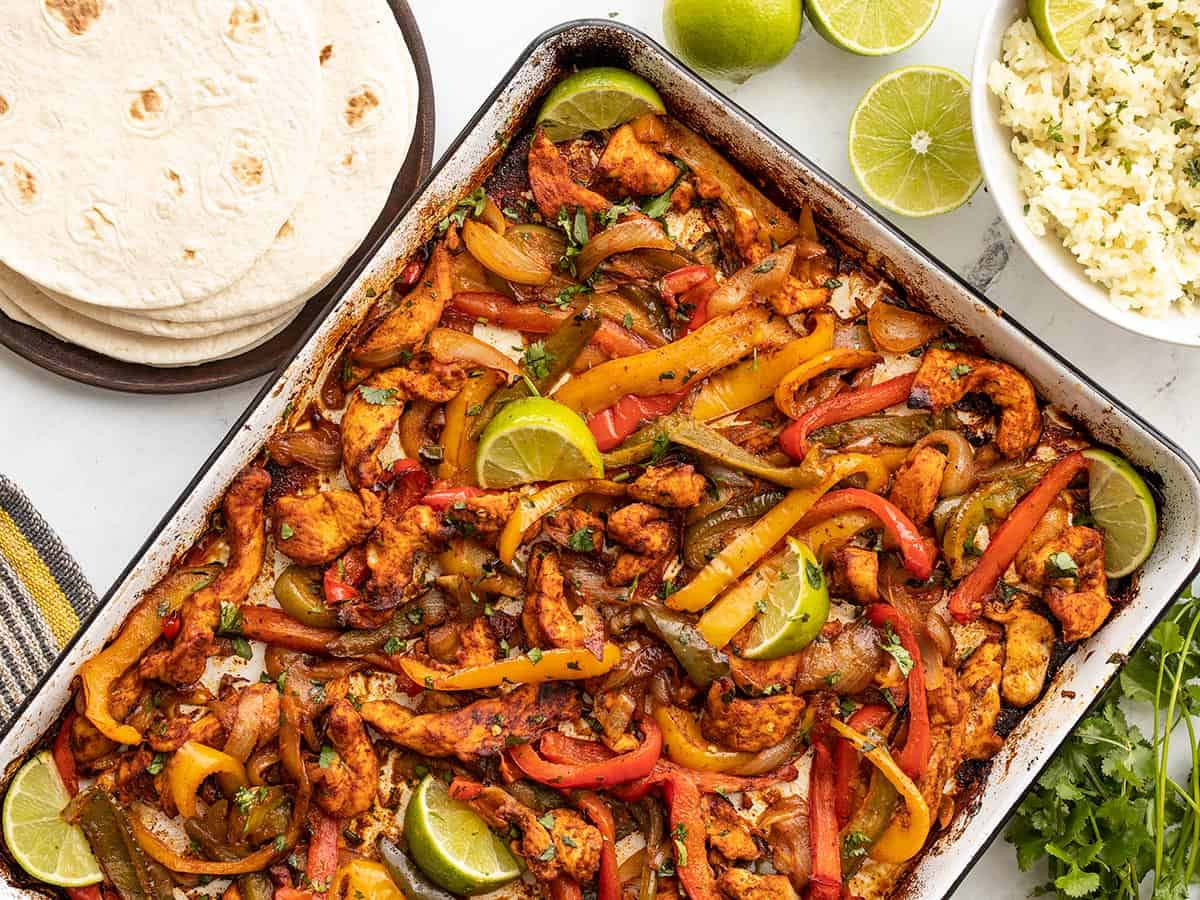 Serve hot with tortillas, extra lime wedges, sour cream, cilantro, or whatever other fajita toppings you like!