What would life be like without salsa? I don't know and I don't care to imagine it that way. I'm a salsa lover through and through. I could eat it straight with spoon, I love it so much. I know that you can buy a big 'ol jar of generic red salsa for a buck-fifty at the grocery store, but sometimes you want a little more. This Fire Roasted Salsa will no doubt leave you wanting more… and more… and more.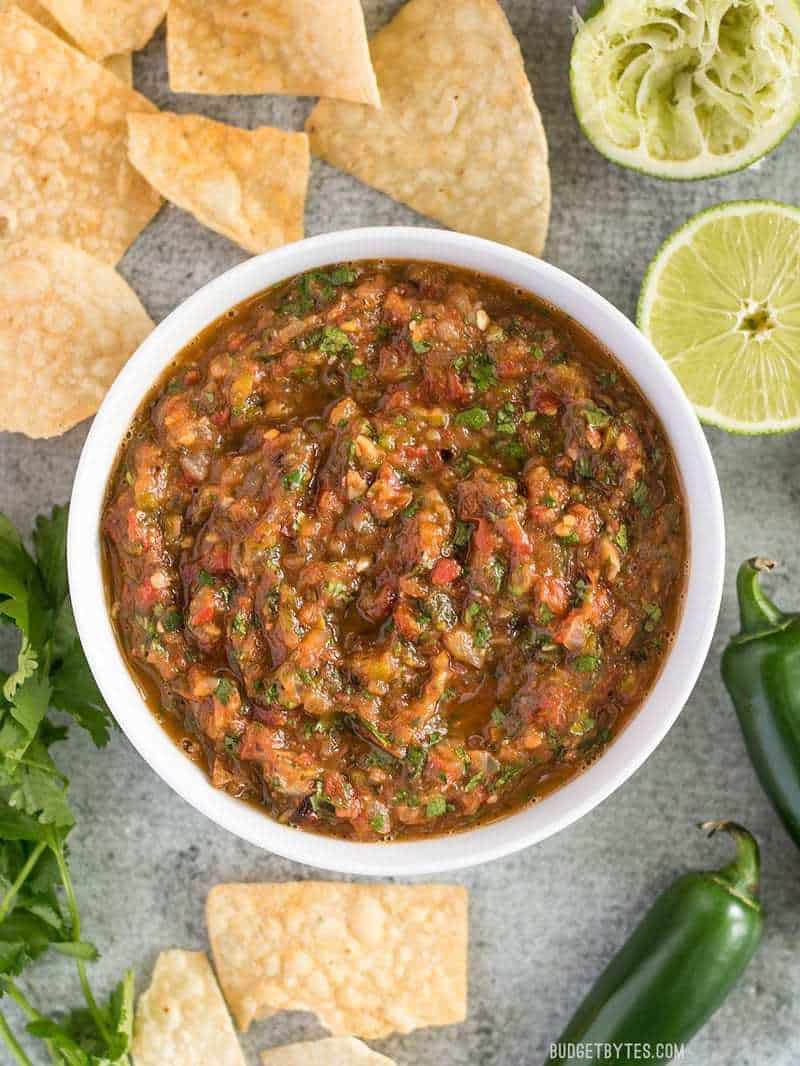 Do I Actually Need Fire??
I'm calling this salsa "fire-roasted" since I use a gas oven that does in fact have an open flame, but you can totally do this with an electric stove as well. So worry not – no real flames required. Roasting the vegetables at a high temperature blackens and blisters their skin, giving them a smoky "fire-roasted" flavor even without a direct flame. And since oven roasting takes just a bit longer than direct flame blackening, you get a nice subtle sweetness as the natural sugars caramelize. It's heavenly.
Make In-Season for Best Flavor and Prices
The price of this Fire Roasted Salsa can vary greatly depending on the season, so tuck this recipe away for when Roma tomatoes and poblanos are at their peak and their prices are at their lowest.
What to Serve with Fire Roasted Salsa
If you're just going for a chip and dip platter, consider adding some Hot Corn Dip or 5-Minute Nacho Cheese Sauce as complimentary dips. You can also make your own Baked Tortilla Chips and do the whole thing DIY! This salsa would also make a great compliment to some quesadillas, like my Hearty Black Bean Quesadillas, or Creamy Chicken and Spinach Quesadillas.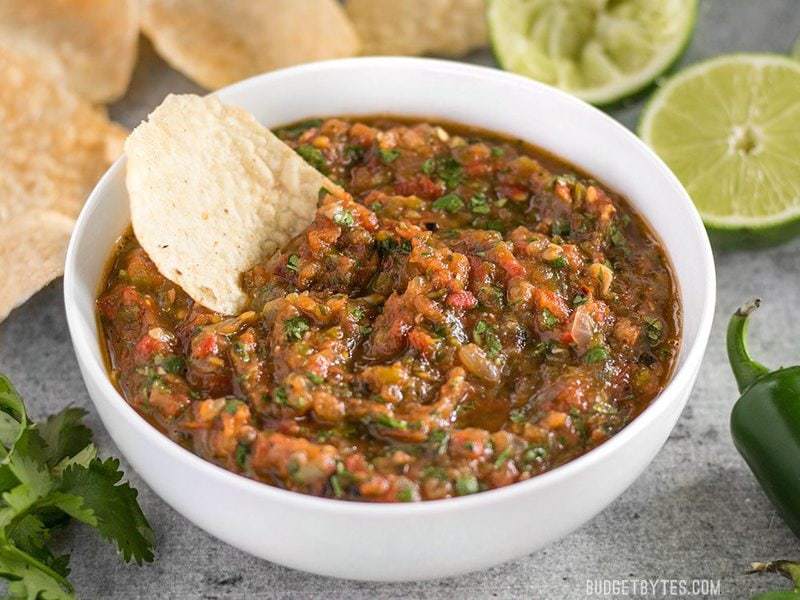 Fire Roasted Salsa
Roasting the vegetables in the oven until blackened gives this homemade Fire Roasted Salsa a subtle sweetness and deliciously smoky flavor.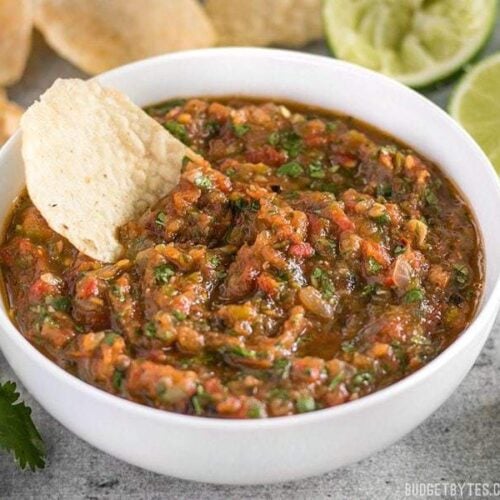 Ingredients
Instructions
Preheat the oven to 450ºF and line a baking sheet with foil. Cut the stems off the tomatoes, then cut them in half. Peel the cloves of garlic and chop the onion into large chunks. Place the tomatoes, onion, garlic, poblano and jalapeño (leave the peppers whole for now) on the baking sheet and drizzle with 2 Tbsp of olive oil. Toss all of the vegetables around in the oil until they are completely coated.

Place the vegetables in the 450ºF oven and roast for 30 minutes, stirring once half way through. The vegetables should be shriveled, blistered and slightly brown after 30 minutes (see photos below). After roasting, remove them from the oven and allow to cool.

Place the poblano and jalapeño peppers on a cutting board. Remove the thick skin from the poblano (it should peel away easily). Slice off the stems, then slice the peppers open lengthwise. Scrape the seeds out of the peppers. The peppers should be very soft and easy to work with (see photos below).

Transfer the peppers and everything left on the baking sheet (including juices) into a blender or food processor. If the vegetables are still warm, you can place the blender into the refrigerator until they have cooled down.

Add the fresh cilantro leaves, juice from the lime (about 1/4 cup), salt, sugar, and cumin to the blender with the roasted vegetables. Pulse the ingredients until they are well mixed but still slightly chunky. Don't over puree on the first round so that you can taste the mixture, adjust the seasonings, and blend again if needed.

Serve immediately or let refrigerate over night for a more mellow flavor.
See how we calculate recipe costs here.
---
---
Nutrition
Calories:
63.43
kcal
Carbohydrates:
5.68
g
Protein:
0.95
g
Fat:
4.68
g
Sodium:
400
mg
Fiber:
1.32
g
Read our full nutrition disclaimer here.
I loved this salsa so much that I made it into a soup! See my Black Bean and Roasted Salsa Soup recipe.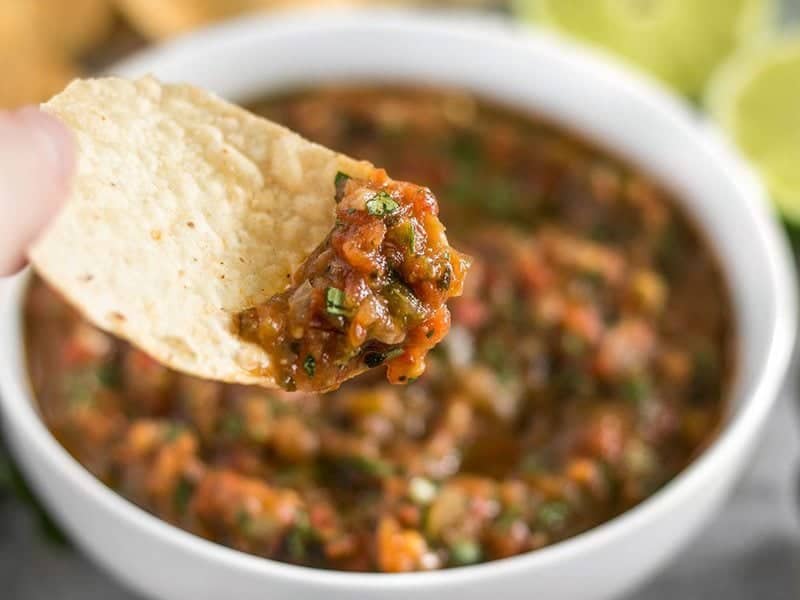 How to Make Fire Roasted Salsa – Step By Step Photos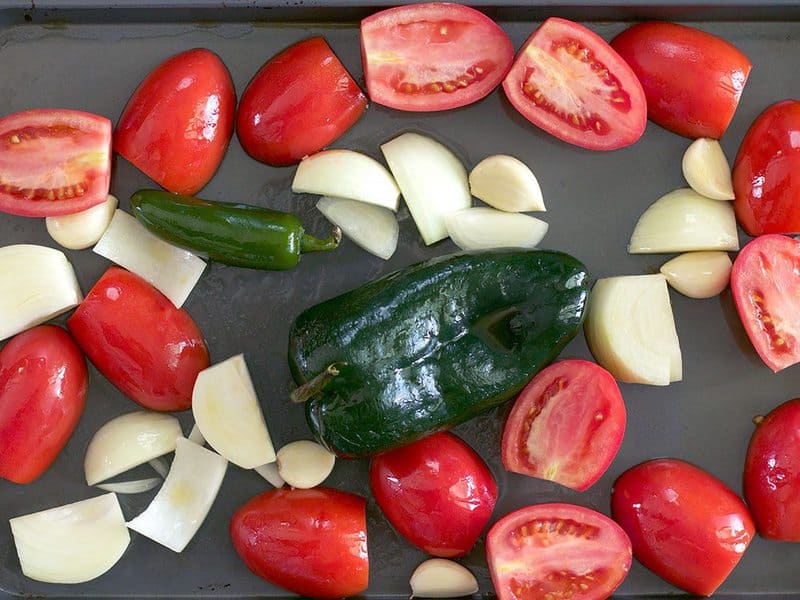 Preheat the oven to 450ºF. For easy clean-up, line an extra large baking sheet with foil (no foil in the photos because the reflective surface is hard to photograph). Cut the stems off of 8-10 Roma tomatoes (about 1.75 lbs), then slice them in half. Peel and chop one yellow onion into large chunks. Peel six cloves of garlic. Place the tomatoes, onion, garlic, one poblano pepper, and one jalapeño pepper on a large baking sheet. Drizzle with 2 Tbsp olive oil, then toss until everything is completely coated in oil.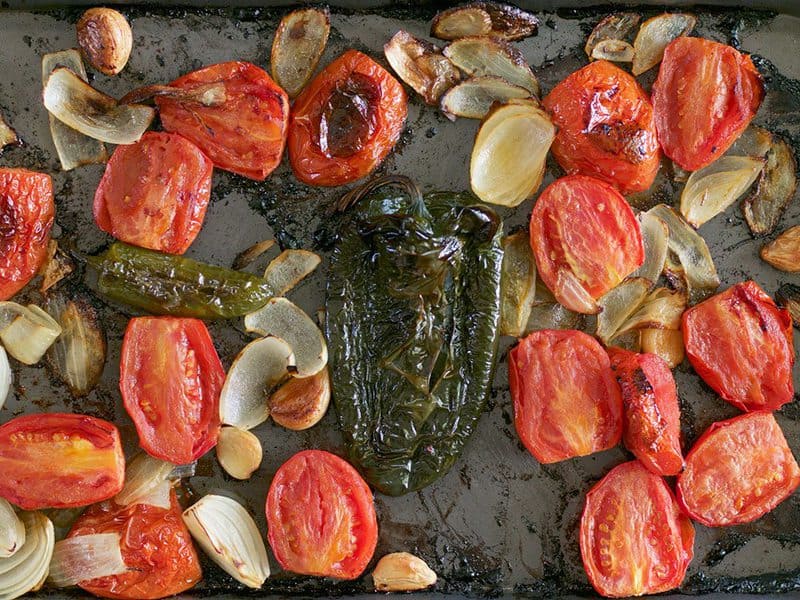 Roast the vegetables in the oven for 30 minutes, stirring once half way through. The vegetables should be very soft, blistered and brown around the edges when done. Let the vegetables cool until they can be easily handled.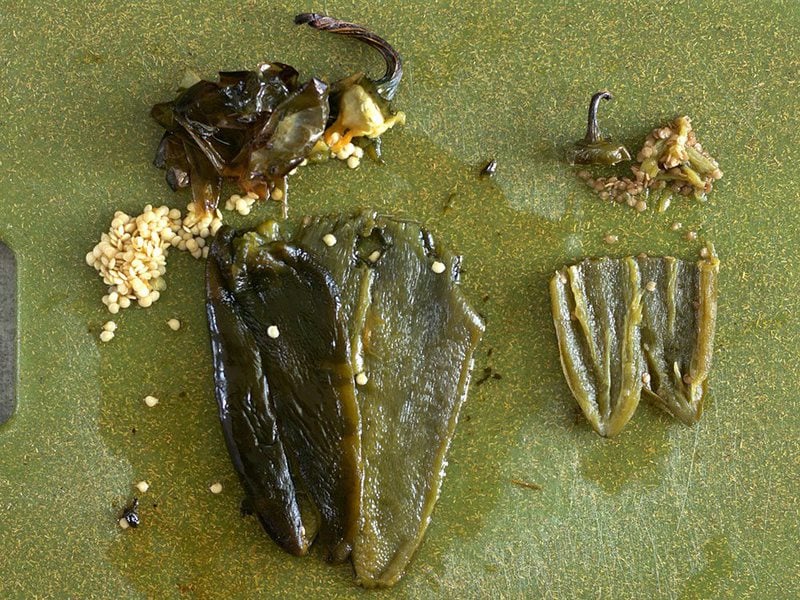 Peel the thick skin off of the poblano and remove the stems, slice open lengthwise, and scoop out the seeds from both peppers. Jalapeños have a thinner skin so it doesn't need to be removed.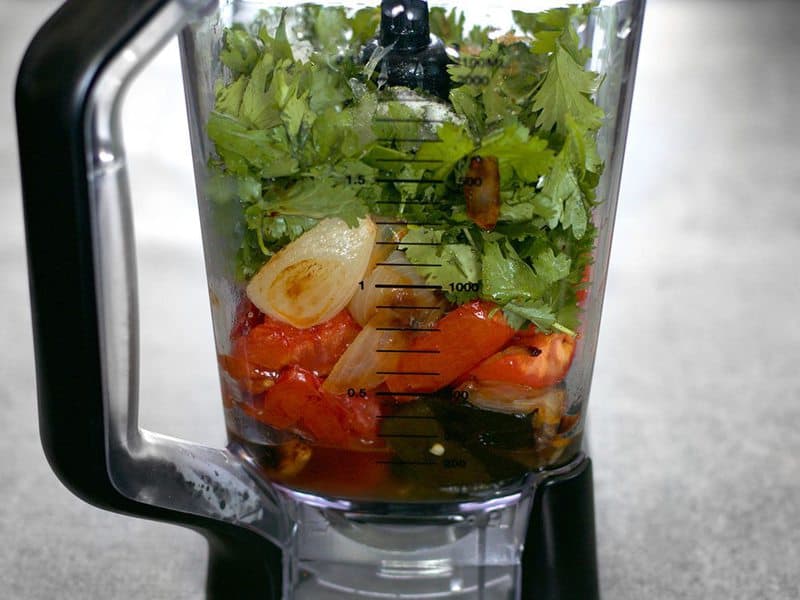 Dump everything from the baking sheet, including the juices, into the blender.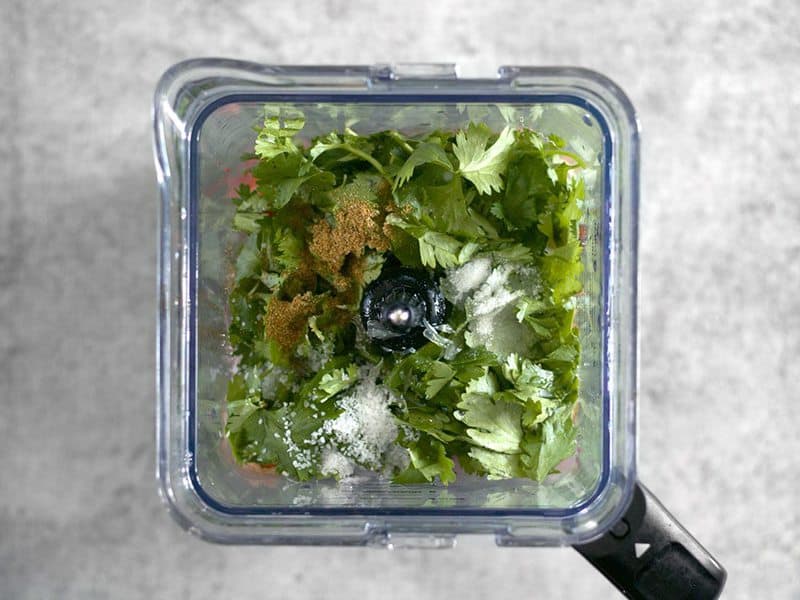 Also add about a 1/2 bunch fresh cilantro leaves, 1 tsp salt, 1/2 tsp cumin, 1/2 tsp sugar, and the juice from one lime (about 1/4 cup).

Pulse the mixture until the vegetables are still kind of chunky, then taste the mixture and adjust the seasonings to your liking. Be careful not to over blend before tasting, so that you can still pulse further when/if you adjust the seasoning. If the mixture is too acidic, try adding a pinch more sugar. If the mixture is bitter, try adding a touch more lime or sugar.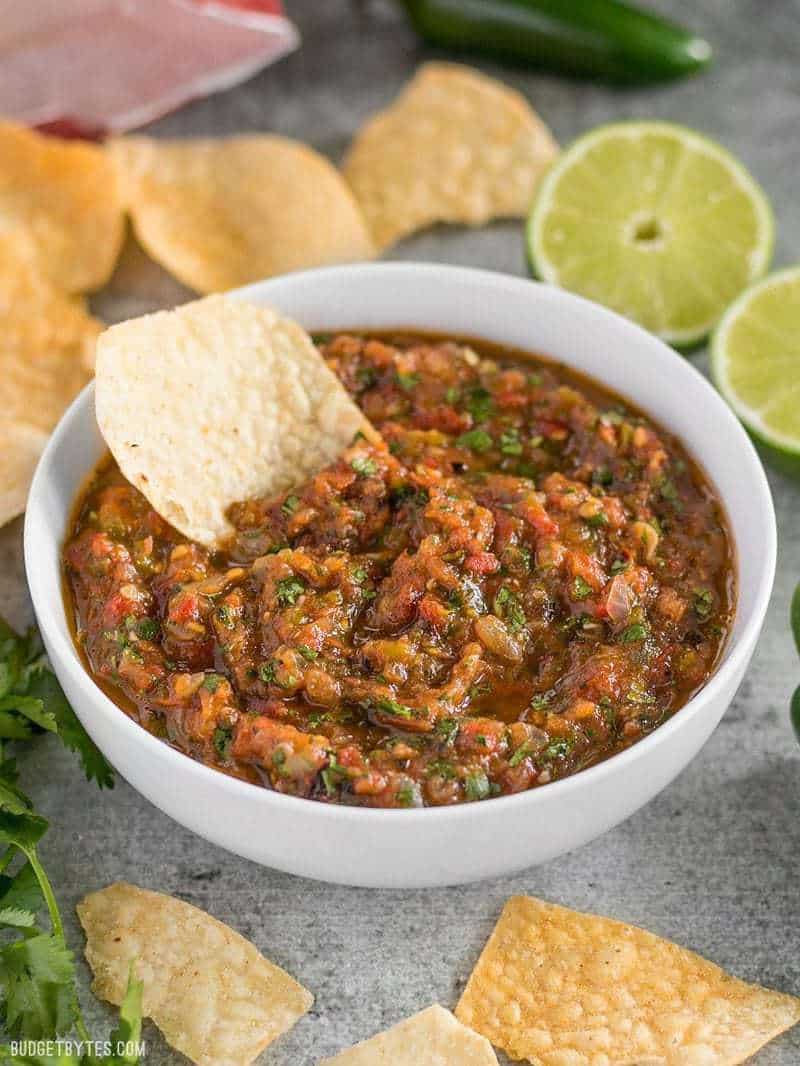 NOTE: Both jalapeños and poblanos are spicy so if you fear the flame, add just half to the blender at first. This Fire Roasted Salsa was quite potent and had a sharp bite just after making it but today (the day after) it is mellow and so insanely delicious that I ate half a batch for lunch. I just couldn't stop…
TRY THESE OTHER SALSA RECIPES: