Pico de gallo is one of my favorite fresh summer condiments because it only takes a few minutes to make and it's just so fresh and vibrant. The flavor just screams "summer!" I'm always so in awe of recipes that have only a few ingredients, but taste so good and pico de gallo is a great example of that. There's something magic about the combination of fresh lime and salt that totally transforms this bowl of tomatoes, onions, and cilantro. Simple, magic, delicious.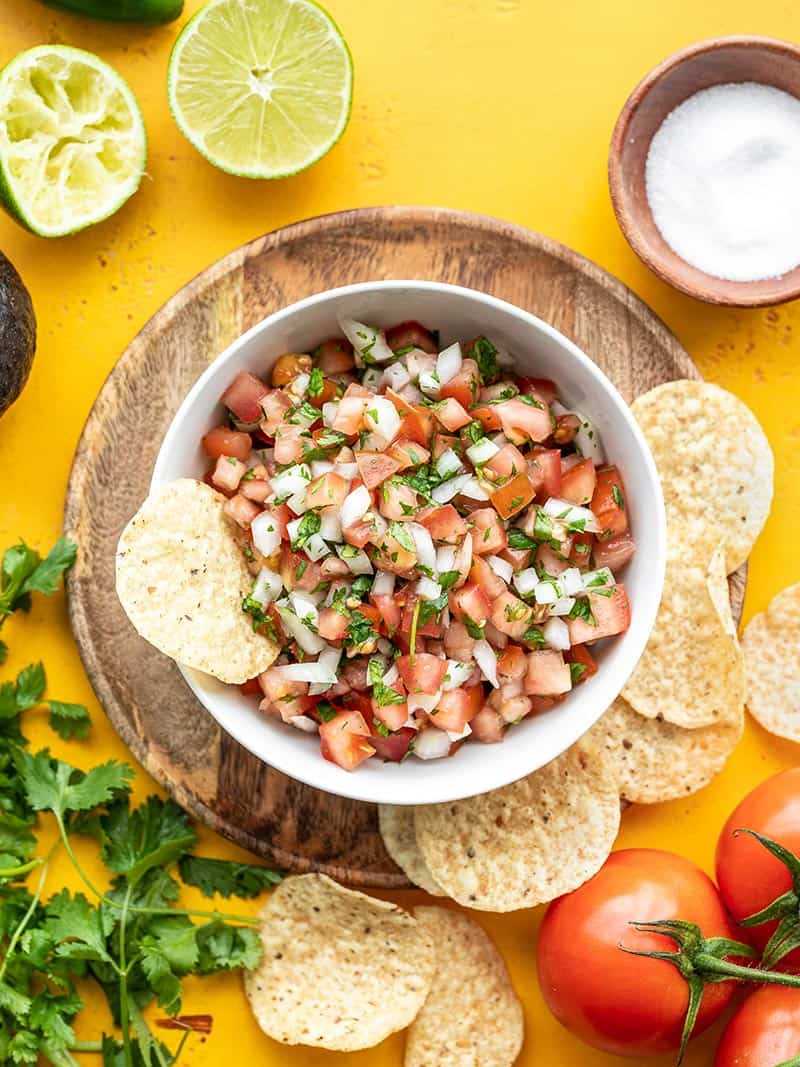 What is Pico de Gallo?
Pico de gallo is a fresh salsa made with tomatoes, onions, jalapeños, salt, lime, and cilantro. Unlike most jarred salsa that you find in the store, this mix is not cooked, so the flavor stays very fresh and vibrant, and the texture is less saucy and more chunky.
How to Use Pico de Gallo
If you're wondering how you use pico de gallo, the answer is "on everything." It's a condiment that can be spooned over just about any savory food for an added boost of freshness. Here are a few things I like to spoon it over:
Where's the Jalapeño??
Okay, so there is where I diverge from traditional pico de gallo recipes. I, for whatever reason, despite how much I like spicy food, prefer mine without jalapeño, so the recipe below is written sans jalapeño. If you want to make it in the traditional fashion, simply seed and finely dice one jalapeño and add it into the mix.
What Else Can I Add?
Pico de gallo is a great starting point for any number of fresh salsas. Here are some other ingredients you can add to flesh it out and make it into a more complex salsa:
pineapple
avocado
corn
mango
peaches
chipotle peppers
Shown spooned over Green Chile Chicken Enchiladas.
Pico de Gallo
This fresh and easy pico de gallo only takes a few minutes to make and adds vibrant flavor to your tacos, enchiladas, nachos, and more.
Ingredients
2

tomatoes (2 cups diced)

($1.50)

1/2

Vidalia onion (1 cup diced)

($0.37)

1

lime

($0.50)

1/4

cup

chopped cilantro

($0.20)

1/4

tsp

salt

($0.02)
Instructions
Finely dice the tomato and onion. Finely chop the cilantro. Add the tomato, onion, and cilantro to a bowl.

Squeeze the juice of half the lime over the vegetables in the bowl (about 1 Tbsp). Add a pinch or two of salt, and stir everything to combine. Taste the mixture and add more salt or lime juice to your liking. Allow the salsa to sit for five minutes before serving.
See how we calculate recipe costs here.
---
Nutrition
Calories:
13.8
kcal
Carbohydrates:
3.45
g
Protein:
0.5
g
Fat:
0.12
g
Sodium:
102.42
mg
Fiber:
0.97
g
Read our full nutrition disclaimer here.
How to Make Pico de Gallo – Step By Step Photos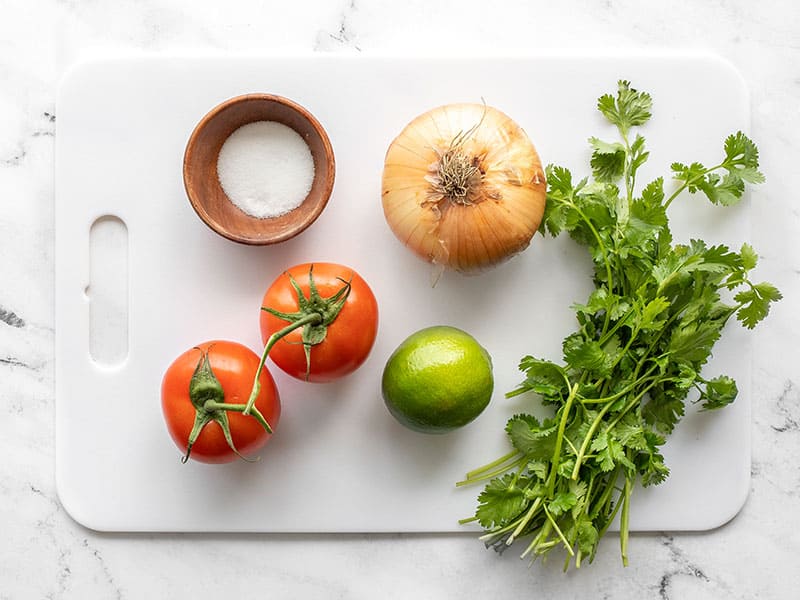 Since pico de gallo is a FRESH tomato salsa, it starts with all fresh ingredients: tomatoes, onion, lime, cilantro, and salt. I like to do a 2:1 ratio of tomato to onion, so I used two small tomatoes and half of an onion. I also prefer to use a sweeter onion for pico de gallo, so it doesn't overwhelm the salsa, so I used a Vidalia onion.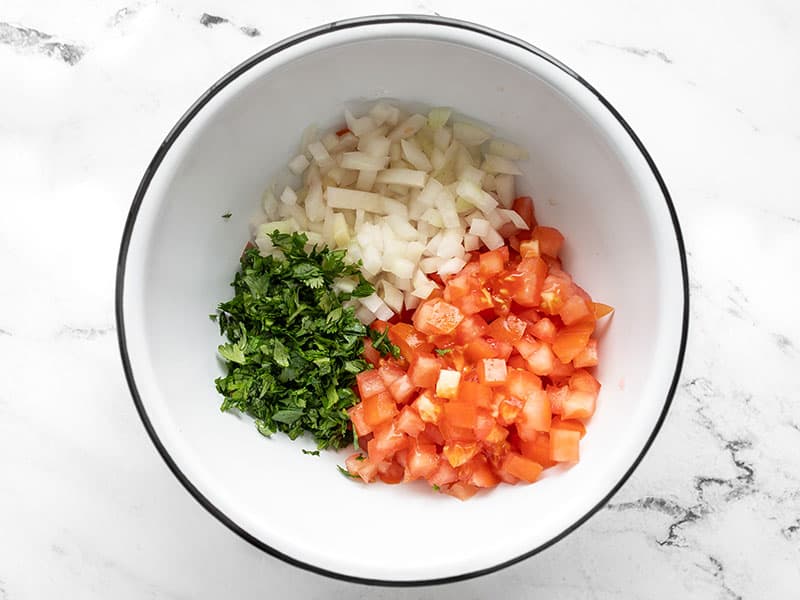 Finely dice the tomatoes and onion, and finely chop the cilantro (about ¼ cup).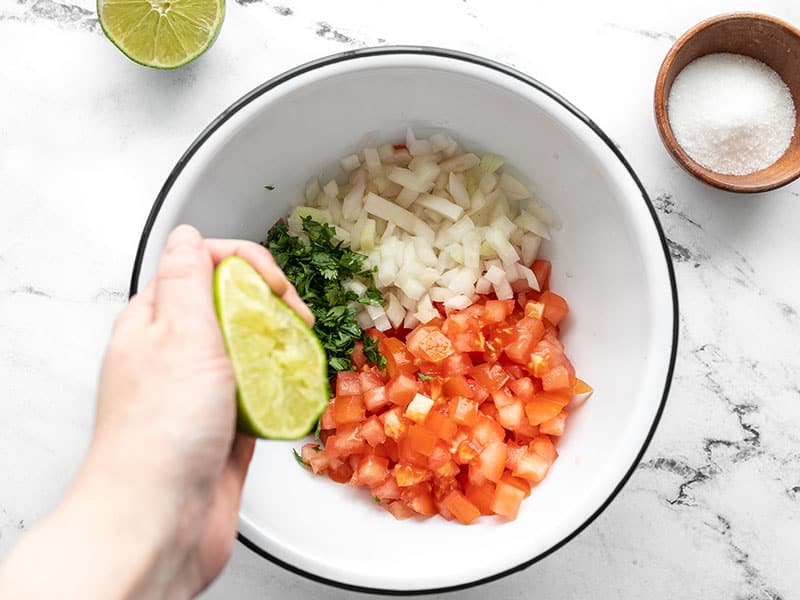 Squeeze fresh lime juice over the diced vegetables. For the amount of pico de gallo I am making here, I used about 1 Tbsp of lime juice, or the juice of half a lime. The great thing about pico de gallo is that you can just make it according to your own tastes, without measuring anything.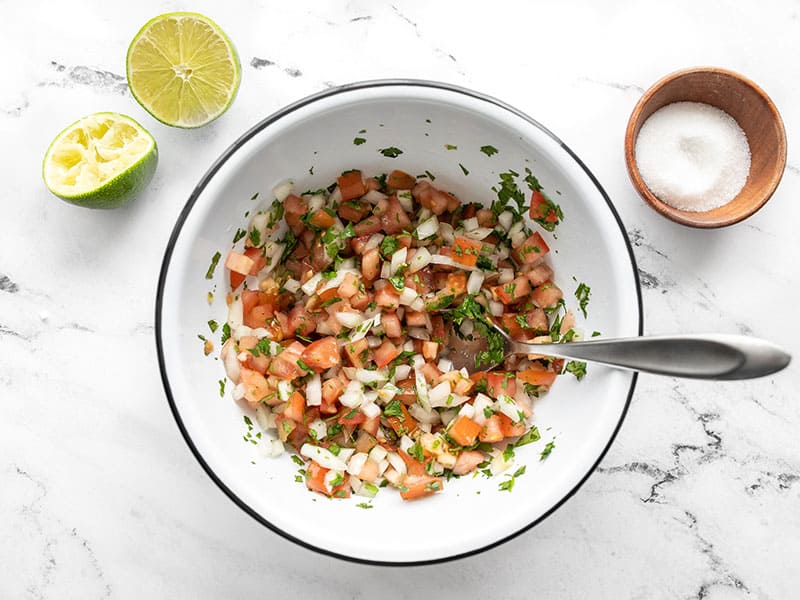 Season with a pinch or two of salt, then stir everything together. Taste, and adjust the salt to your liking. I used about ¼ tsp of salt. Let the mixture sit for about 5 minutes before serving to allow the juices to extract and flavors to blend. Make sure to give it a good stir just before serving to redistribute the flavor.
Looking for more easy how-to's? Check these out: