Thick & Rich Pizza Sauce Recipe
I've made pizza sauce before but I wanted to make one that was even thicker and richer because I had big plans to dip things in it ("things" being pizzadillas). Dipping sauces have to be really thick or else they won't hang on to whatever is being dunked in them.
This is definitely my new go-to sauce for pizzas but you can also use it for any red sauce application. Meatball subs, eggplant or chicken parmesan, or just for dipping breadsticks. it's a quick, easy, all-purpose red sauce.
This recipe makes three cups, which is about 3 large pizzas or 12 dipping portions. The sauce freezes great so go ahead and freeze some of it and then you won't have to make a batch the next time you want a pizza!
Post updated 6-21-17
Thick & Rich Pizza Sauce Recipe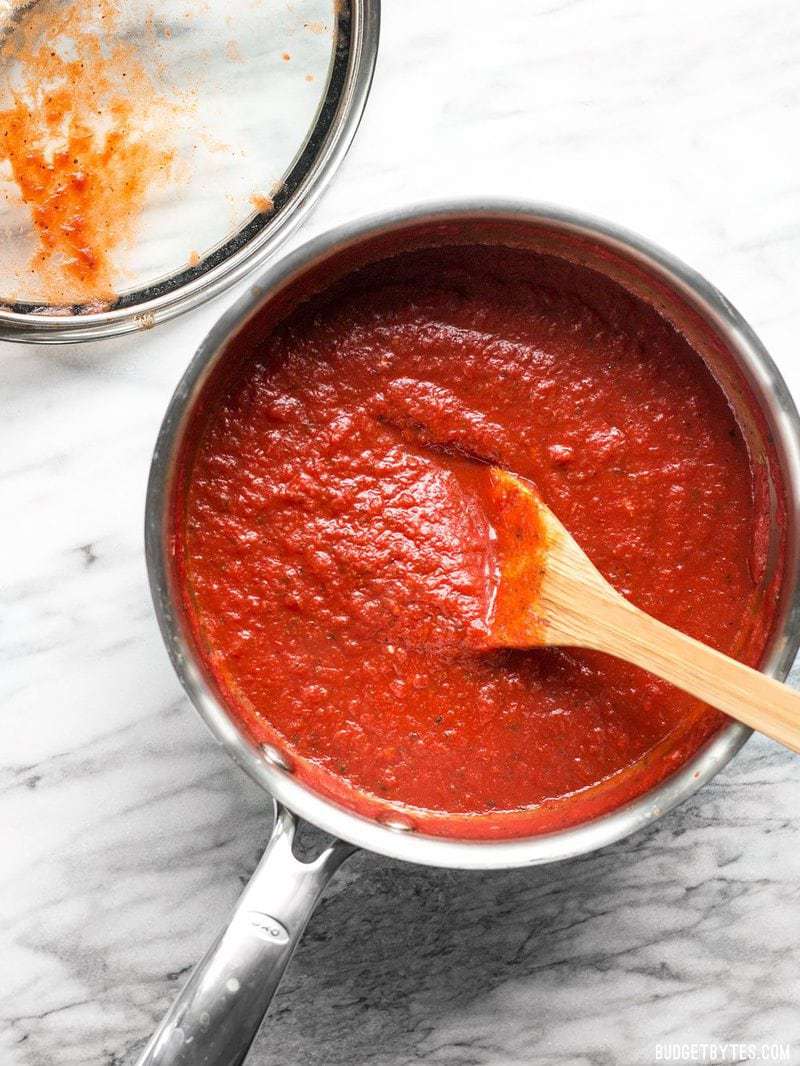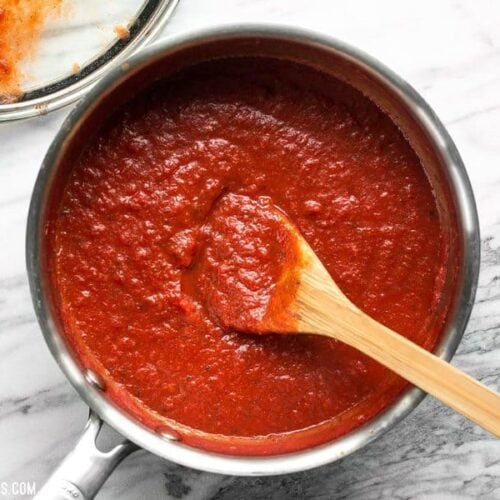 Thick & Rich Pizza Sauce Recipe
Make your own Thick and Rich Pizza Sauce at home in minutes using pantry staples. Use the sauce fresh or freeze for later!
Ingredients
2

Tbsp

olive oil

$0.26

1

clove

garlic, minced

$0.08

28 oz.

can

crushed tomatoes

$1.47

6 oz.

can

tomato paste

$0.59

1/2

Tbsp

sugar

$0.05

3/4

tsp

salt

$0.05

1

tsp

basil

$0.10

1/2

tsp

dried oregano

$0.05

Freshly cracked pepper

$0.05

Pinch

crushed red pepper, optional

$0.02
Instructions
Add the olive oil and garlic to a sauce pot and cook over medium heat for 1-2 minutes, or just until the garlic is soft and fragrant.

Add the crushed tomatoes, tomato paste, sugar, salt, basil, oregano, some freshly cracked pepper (10-15 cranks of a pepper mill), and a pinch of red pepper flakes. Stir to combine.

Cover the pot, allow the pot to come to a simmer, then reduce the heat to low, and let simmer for 15 minutes minimum, or up to 30 minutes (I often let it simmer as I prepare my pizza dough).
Recipe Notes
To freeze this sauce, first cool it completely in the refrigerator, then transfer to quart-sized freezer bags or freezer-safe resealable containers and freeze until solid. Simply reheat over low heat in a sauce pot, with a lid to minimize evaporation, and stirring often, until heated through.
Step By Step Photos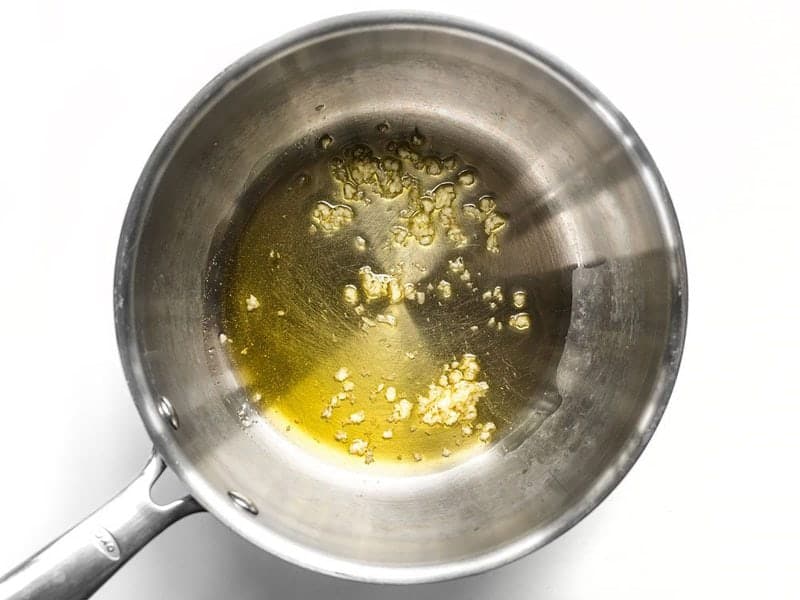 Sauté one clove minced garlic (or two if you like things garlicky!) in 2 Tbsp olive oil over medium heat for one to two minutes, or until the garlic is soft and fragrant.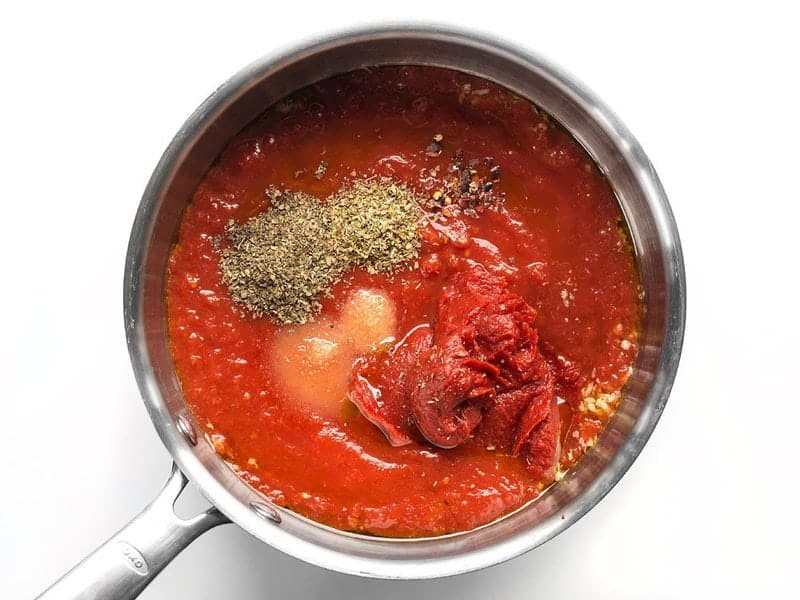 Add one 28oz. can crushed tomatoes, one 6oz. can tomato paste, 1/2 Tbsp sugar, 3/4 tsp salt, 1 tsp dried basil, 1/2 tsp dried oregano, some freshly cracked pepper, and a pinch of red pepper flakes to the sauce pot.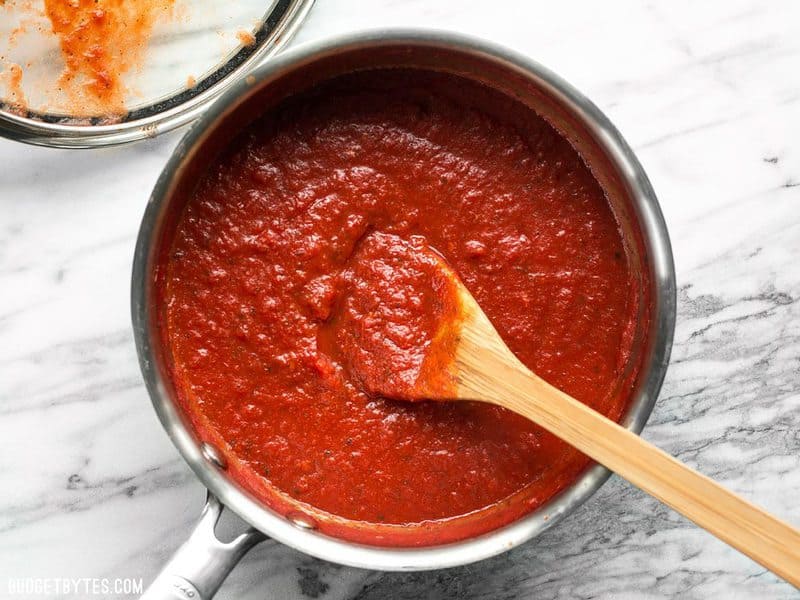 Stir the ingredients together, place a lid on top, then allow it to come up to a simmer. Once simmering, turn the heat down to low and let it simmer for 15 minutes minimum (I sometimes let it simmer longer while I'm preparing the pizza dough and the flavor just gets sweeter and more deep).

And when you're done, you'll have a nice, hearty pizza sauce!

Perfect for dippin'!