Want to maximize your time AND money? Slow cookers and Crockpots are your friends. They will help you make big batches of soups, stews, and meats to stash in your freezer or eat all week. These slow cooker recipes will keep your fridge stocked with little effort. Get chopping and put those ingredients in your slow cooker and walk away! It is that simple.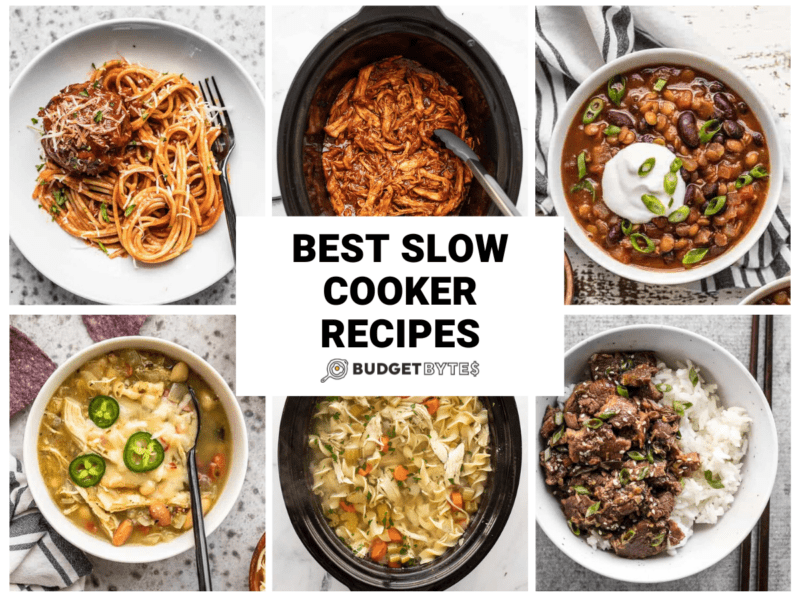 easy slow cooker recipes
Using a slow cooker is a great place to start for beginners. These recipes are easy but not short on flavor. Let the slow cooker do all the work so you can take all the credit!
Slow Cooker Spaghetti Sauce – What more could you ask for than throwing some ingredients in the slow cooker, forgetting about it for 8 hours, and returning to a rich, delicious homemade sauce? This marinara sauce can be divided into portions, frozen, and you'll have delicious homemade pasta sauce on hand for quick busy weeknight dinners.
Slow Cooker Pulled Pork – Something magical happens when you cook pork slowly. It turns into the most mouth-watering tender and juicy meat you've ever had. And meat this tender is good with everything, so if you make this Slow Cooker Pulled Pork on Sunday, you'll have meat to last you all week.
Slow Cooker Cabbage and Sausage – Cabbage and sausage cooked together in a slow cooker turns out tender and brothy (almost like a cabbage and sausage soup) and is delicious.
Slow Cooker Sesame Beef – This Slow Cooker Sesame Beef uses only a few ingredients. This beef is ultra flavorful, so use it sparingly and combine it with other less expensive filling ingredients for delicious, budget-friendly meals.
Slow Cooker Hot Buttered Apples – These slow-cooked apples are a lot like the filling for an apple pie and are very versatile. Serve them a la mode, spoon them over your pancakes, waffles, or oats, use them as a filling for a dessert "quesadilla," or even serve them alongside pork chops.
SLOW COOKER BEEF RECIPES
Forget about that chewy and dry pot roast from your childhood. These slow-cooked beef recipes will get your tastebuds dancing! Plus, these big-batch recipes allow you to cook once and eat great all week.
Giant Slow Cooker Meatballs – These meatballs are a fun way to change up a simple spaghetti dinner. They simmer away in marinara, the flavors blending into each other, creating a luxe-rich sauce for the spaghetti.
Slow Cooker Beef Stew – This slow cooker beef stew is indulgent in all the best ways. Browning the meat before it goes into the slow cooker caramelizes the proteins and adds depth to the flavor you can't get just by letting it boil away in the slow cooker.
Slow Cooker Meatball Subs – These slow cooker meatball subs are incredibly tender, flavorful, and just all-around decadent, thanks to that low and slow simmer in marinara sauce. It's magical!
Slow Cooker Hamburger Stew – This hamburger stew is similar to traditional beef stew but made with ground beef instead of stew meat. Using ground beef is less expensive than stew meat, and you get a little beef in every bite!
SLOW COOKER SOUP RECIPES
Let the slow cooker create the slow simmer that gives soups depth and deliciousness. Unlike their stovetop counterparts, these classic soup recipes are entirely hands-off.
Slow Cooker Chicken Tortilla Soup – Like most slow cooker recipes, this Chicken Tortilla Soup is ridiculously easy and very forgiving. It's a great meal to prepare when you know you can't give your full attention to the stove.
Slow Cooker Chicken Noodle Soup – Homemade chicken noodle soup from scratch is one of our absolute favorite comfort foods. Not only is it effortless, but even the smell of it simmering away is soothing and gives hygge vibes.
Slow Cooker Black Bean Soup – This awesomely flavorful and easy slow cooker black bean soup practically makes itself. It's vegan, super filling, high in fiber, protein, full of veggies, and costs nothing. Need we say more?
Slow Cooker White Chicken Chili – This is the perfect example of why people love slow cookers. You dump everything in the slow cooker, stir it, turn it on, and walk away. When you return, you have this hearty white bean chicken chili ready for topping with cheese and diving in with tortilla chips.
VEGETARIAN slow cooker RECIPES
Are you looking for more options for your meatless meals? These vegetarian slow cooker recipes will gather all the vegetable goodness in one pot!
Slow Cooker Vegetarian Lentil Chili – Make this chili your own with various toppings, and take advantage of this opportunity to use up some leftover vegetables from your fridge!
Slow Cooker Coconut Curry Lentils – Slow cookers are fantastic because they're primarily hands-off, contain their heat well, and don't cause dreaded ambient heat rise in the kitchen. So, while you can make these Coconut Curry Lentils on the stove top, save yourself some steam and sweat by cooking them in the slow cooker.
Not Refried Beans – These (not) refried beans have an incredibly complex flavor thanks to the jalapeño, chili, and other spices. The beans are so good and flavorful that you'll be tempted to serve them as your main dish. Dress them up with roasted corn, crumbly cheese, and maybe some grilled zucchini, and you can make a bowl out of them!
Slow Cooker Mashed Potatoes – Using the slow cooker cuts out the "babysitting the boiling pot" step in making mashed potatoes, freeing you up to concentrate on the rest of your meal. It also eliminates boil overs, draining the potatoes, checking them with a fork to see if they're tender, using multiple pots and dishes, and gives you another free burner on your stovetop.
SLOW COOKER CHICKEN RECIPES
Don't let that extra uncooked chicken go to waste, and make one of these savory slow cooker chicken recipes. We've found that using chicken thighs is better for your budget, and the flavors, especially in the slow cooker, are better!
Taco Chicken Bowls – This taco chicken bowls recipe is definitely "slow-cooker 101". The combination of tender pulled chicken, salsa, spices, and beans just can't be beaten! Plus, it can be served in several ways so the leftovers will go far.
Slow Cooker Buffalo Chicken – The slow-cooked chicken is tender, spicy, tangy, and rich all at the same time, and there are a hundred different ways you can use it! Sandwiches, dips, salads, pizza, and more.
Slow Cooker BBQ Chicken – You can have this tasty chicken in the slow cooker doing its own thing while enjoying a lazy summer day or any time of year! Plus, unlike a hot oven, the slow cooker won't make your AC work overtime.
Slow Cooker Tikka Masala – Tender chicken drenched in a rich tomato sauce full of aromatic spices makes this one of our all-time favorite slow cooker recipes! You don't want to miss it!
Let us know which recipe you will try first, how you it turned out, and which was your favorite!