Spinach is one of my favorite ingredients because not only is it nutritious, but it is extremely versatile. In fact, I keep frozen spinach on hand at all times, but I also like to use fresh spinach from time to time for salads and because it has a more delicate texture when added to cooked dishes. Fresh spinach can be a bit pricy, though, so when I do buy it I try to use up every last leaf before it goes bad. So here are some of the most easy and delicious spinach recipes I use to make sure none of my spinach goes to waste!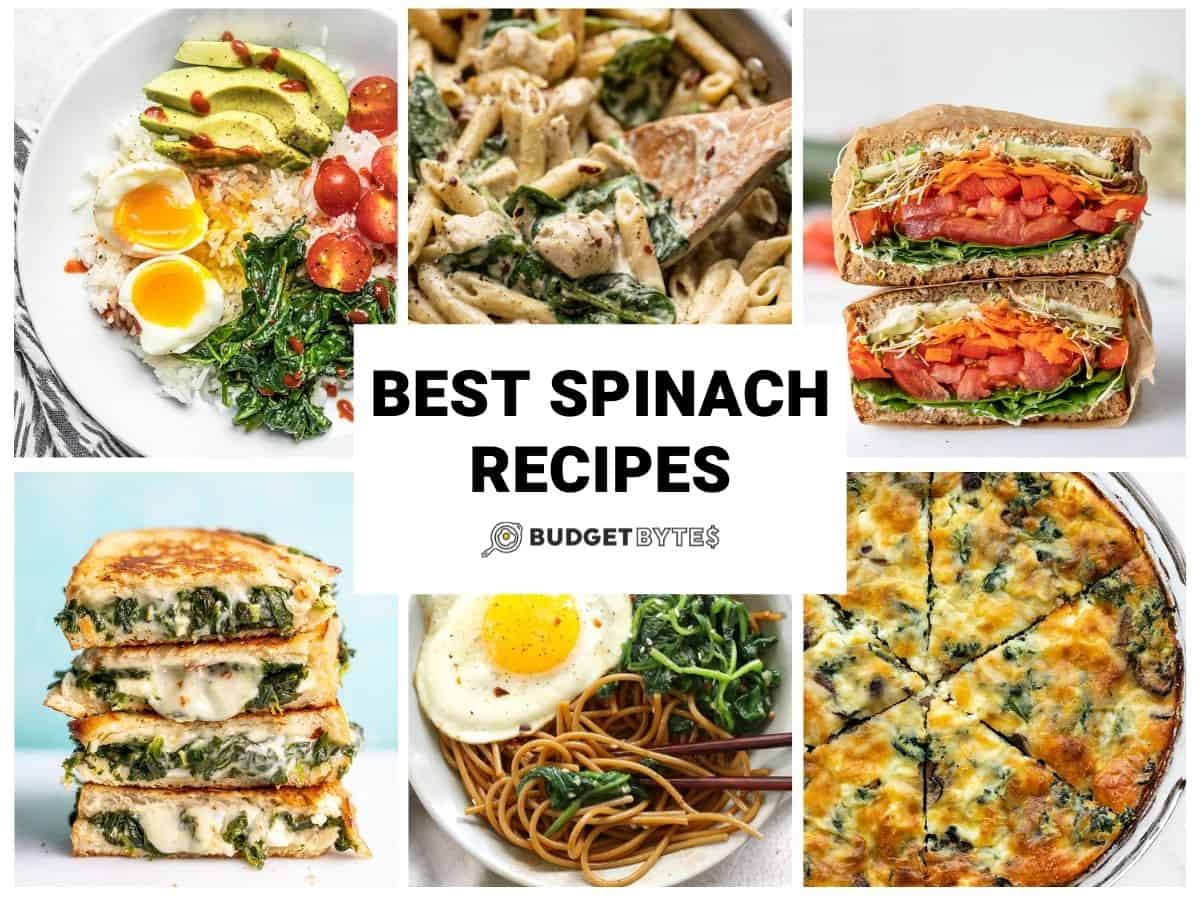 Substituting Fresh Spinach for Frozen Spinach
Any time you see a recipe with frozen spinach, fresh spinach can be substituted as long as you sauté it first to remove the excess moisture. Sautéing spinach is fast and easy. Jus sauté the spinach in a skillet with a splash of oil until the liquid that pools at the bottom of the skillet evaporates away. Then, make sure to press it to remove any excess moisture before adding it to your recipe.
I've broken down the recipes into five main categories: Soups & Stews, Pasta, Pizza, Eggs, Sandwiches and Wraps. Plus a few miscellaneous ideas at the end!
Soup Recipes with Spinach
Adding spinach to soups and stews is probably one of the easiest ways to use up leftover spinach. Because the spinach will be swimming in hot liquid, there is no need to sauté the spinach first (if substituting for frozen in a recipe). Simply toss your fresh spinach in, a handful at a time, and stir until the hot soup or stew wilts the spinach down. Super easy, right? Here are some of my favorite soups and stews that are perfect for your leftover spinach:
This Garden Vegetable Lasagna Soup is chock full of colorful and flavorful textures, plus it has a hidden cache of delicious melty cheese in the bottom of every bowl!
Talk about comfort food! This Navy Bean Soup with Sausage and Spinach is the perfect bowl of cozy goodness on chilly fall or winter nights.
One of my favorite ways to upgrade a humble bowl of instant ramen is to toss in a handful or two of fresh spinach! It adds so much to a bowl of noodles.
This Easy Egg Drop Soup is so fast and easy, and it's incredibly cozy when you're feeling a little under the weather. It's perfect for using up all your fresh spinach!
Swamp Soup is thick, rich, and oh so delicious! And it gets its name from the wilted spinach that makes the soup look a little "swampy". ;)
Once again, fresh spinach adds a TON of texture, color, and flavor to this simple bowl of Vegan Creamy Mushroom Ramen. It just wouldn't be the same without it!
Pasta Recipes with Spinach
Fresh spinach is the perfect addition to your favorite pasta dish. Just as with soups and stews, the hot pasta or sauce is usually enough to wilt the fresh spinach within moments, making it a fast and easy addition to the recipe. So, just toss a couple of handfuls of fresh spinach into your easy weeknight pasta dish to get more flavor, color, and nutrients! Here are my favorite pasta dishes that use fresh spinach:
This super simple one pot Bacon and Spinach Pasta never misses. Bacon, Parmesan, spinach, and onion make an incredibly simple and satisfying meal.
This Creamy Tomato and Spinach Pasta has been a viral hit for almost ten years, and for good reason! It's incredibly easy and delicious, and it can take any amount of spinach that you happen to have on hand.
Another one pot winner! Creamy Spinach and Sausage Pasta hits all the marks: easy, filling, and oh so satisfying!
I love simple food, and these Sesame Noodles with Wilted Greens are the perfect example. Lightly seasoned noodles, wilted spinach with a little garlic and pepper, and a fried egg on top. Perfect!
This Creamy Pesto Chicken Pasta is a TOTAL crowd pleaser! So much flavor and rich goodness in one pot.
This quick Tuscan White Bean Pasta is light, fresh, and perfect for spring and summer! Toss in as much spinach as you'd like!
Spinach Alfredo Pasta is pure creamy pasta goodness at its best! …Plus a few handfuls of fresh spinach for good measure. ;)
Pizza Recipes with Spinach
PIZZAAAAA! Spinach has always been one of my favorite pizza toppings because it adds a welcomed dose of color and freshness to the pie. For the most part, you'll want to sauté your fresh spinach before adding it to the pizza so that it doesn't get crispy or dry out in the hot oven. Your other option is to place the spinach under your cheese so that it stays moist during baking. Here are a few of my favorite pizza recipes that include spinach:
You can use either fresh or frozen spinach for this Eggs Florentine Breakfast Pizza. To use fresh spinach, simply sauté the spinach down to remove the moisture before adding it to the pizza.
Chop up a handful or two of fresh spinach and add it to some Freezer-Ready Mini Pizzas!
French bread pizzas are one of my favorite Friday quick fixes, and the combination of spinach, mushroom, and Swiss is such a nice change from the classic! Simply sauté your fresh spinach until most of the moisture is removed to use it in place of the frozen spinach in this recipe.
Fresh spinach is just as easy to use in this White Spinach Pizza as frozen. Simply chop and sauté a bunch of spinach until most of the moisture is removed and add it to this simple and delicious pizza!
Egg Recipes with Spinach
Spinach and eggs are a match made in heaven. I can't even count how many dishes I have that pair the two together. I love to sauté spinach right into my scrambled eggs, add spinach to my breakfast quesadillas and breakfast bowls, or bake it the spinach right into a quiche. Eggs release quite a bit of moisture on their own when cooked, so it's a good idea to sauté your spinach before adding it to your egg dish, otherwise, you might end up some pooling water. Here are my favorite egg and spinach dishes:
A quick Vegetable Breakfast Scramble is my favorite way to use up odds and ends in the fridge, especially spinach!
You can also toss a handful of spinach into some tortilla baked eggs! These eggs are SO colorful and delicious!
This spinach quiche is probably the most viral recipe on our website. It's so incredibly delicious and its perfect for brunch! As always, to substitute fresh spinach for frozen, just chop up some fresh spinach and sauté it down until most of the moisture is gone before adding it to the recipe.
Is this Spinach Pie an egg dish with spinach or a spinach dish with eggs? It doesn't matter because it's delicious!
It doesn't get any more simple than some basic scrambled eggs with spinach and feta for a little flavor punch!
If you like shakshuka, you need to try their creamy cousin, Creamed Spinach Baked Eggs!
If you're going to make an egg breakfast sandwich, why not toss in a handful of spinach??
Sandwiches, Wraps, and Quesadillas with Spinach
And when all else fails, just start stuffing that fresh spinach into every sandwich, wrap, or quesadilla you eat! Seriously, spinach can go in just about anything. ;) Here are my favorite sandwich recipes where I stuff spinach in for a little extra nutrition:
Love spinach and artichoke dip? You'll go crazy for this Spinach and Artichoke Grilled Cheese!!
When in doubt, stuff it into a wrap! This simple hummus wrap can take just about any leftover vegetable you have on hand, including spinach.
Want to know how to make the BEST veggie sandwich on the planet?? I've got the deets on how to make that happen. Hint: you should definitely include spinach. ;)
More Spinach Grilled Cheese goodness! It's sooooo gooey and delicious!
These white bean and spinach quesadillas are SO fast and easy, plus they're extra creamy and cheesy!
I almost ALWAYS toss a handful of fresh spinach into my breakfast quesadillas. It adds an extra dose of green to my day and doesn't require any extra prep!
And of course, you can always make a classic spinach and mushroom quesadilla!
More Spinach Recipe Ideas
Did you know you can make oatmeal savory?? And when you do, a handful of fresh spinach is the perfect add-in. :)
Toss a few handfuls of spinach into a pasta salad, like this Tomato Mozzarella Pasta Salad!
Add a few handfuls of spinach to your stir fry at the very end so it just has enough time to wilt in the hot wok or skillet.
Add some spinach into the stuffing for your favorite enchiladas! It's especially good when paired with a creamy sauce.
Stir some spinach into your favorite quick curry!
Spinach blends so easily into smoothies and you can toss a handful of fresh spinach right into the bag with your other fruits and vegetables!
How about stirring some chopped spinach into your mashed potatoes?
Here's one more quick way to use up the spinach in your fridge:
What's your favorite way to use spinach? Let us know in the comments below!