I love a good veggie sandwich. There are so many colors, textures, and flavors in every bite that it's just beyond satisfying. And, because they're super flexible, you can build an ultimate veggie sandwich using odds and ends of things you may already have in your fridge. And that is one of the most valuable characteristics of a recipe or meal when it comes to eating on a budget.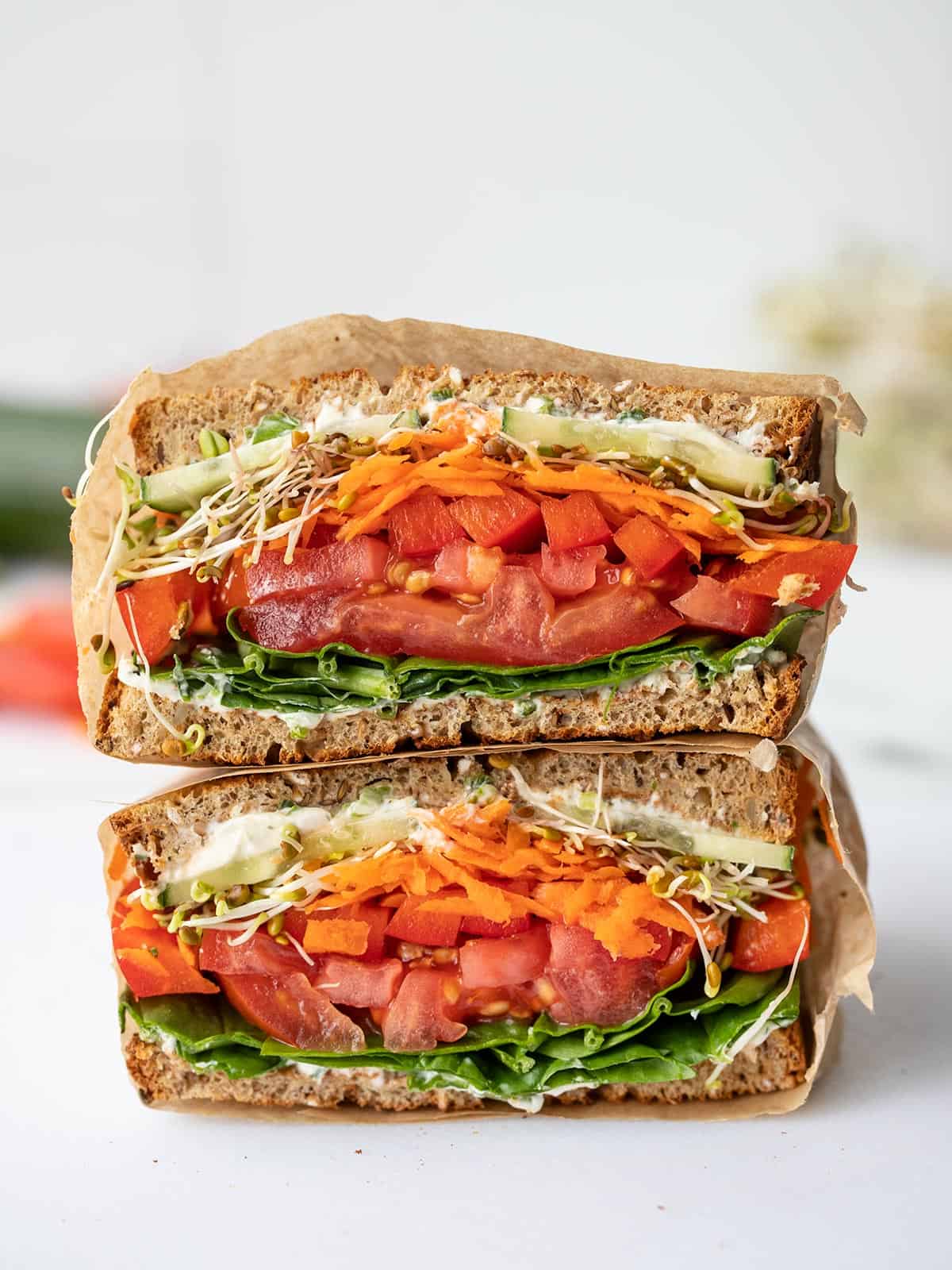 This is going to be more of a how-to than a recipe because it's so extremely flexible and it's unlikely that you'll end up using the exact same mix of ingredients as I did. For that reason, and because some of these ingredients are nearly impossible to accurately measure let alone calculate the cost of, I didn't do a cost breakdown this time. But I'm willing to bet that it cost me less than shelling out $8 for a veggie sandwich at a deli!
I will put a recipe card with my exact sandwich ingredients below for anyone who is interested in trying to duplicate the exact sandwich pictured.
Step 1: Choose Your Bread
I suggest a good, hearty bread for veggie sandwiches, like wheat bread, sourdough, focaccia, or ciabatta. You need something that can hold up to the hefty texture of the vegetables without ripping and something that will provide a little weight in your stomach next to all those lightweight veggies. If you want to make your own bread, no-knead bread or focaccia would be awesome.
You could also make your veggie sandwich into a wrap using an extra-large tortilla. A pita pocket might work too, but it might be difficult to squeeze all those veggies in without it ripping.
The sandwich in the photos was made using Dave's Killer Bread, Good Seed flavor. It was my first time trying this bread and while it was strong enough for the sandwich, it was a little softer than I'd prefer and the flavor was a bit too sweet for my liking.
Step 2: Choose Your Spread
Using some sort of sandwich spread adds moisture, flavor, and a little fat, which gives the sandwich a more satisfying mouthfeel.
I whipped up a quick scallion cream cheese that was basically a scaled-back version of my Scallion Herb Cream Cheese Spread. I just mixed together 2oz. cream cheese with one sliced green onion, ½ tsp lemon juice, ⅛ tsp garlic powder, ⅛ tsp dried dill, and a pinch of salt.
Other good sandwich spread options include:
Hummus
Pesto
Mayo (or a pesto-mayo mix)
Thick salad dressings, like ranch or green goddess
Marinara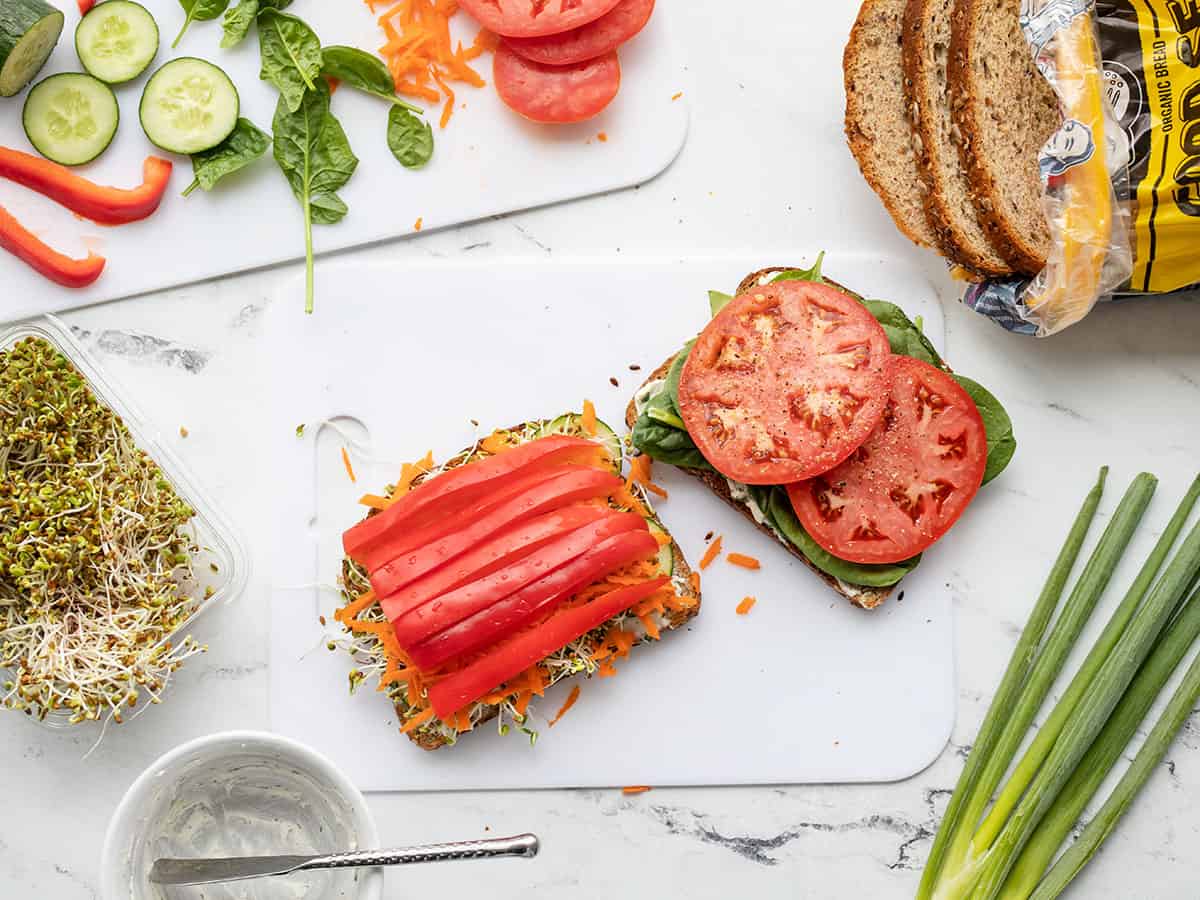 Step 3: Add Cheese (Optional)
Since my spread was technically a cheese, I didn't add any extra cheese. A little cheese can go a long way toward making a veggie sandwich very filling. Here are some good cheese options for veggie sandwiches:
White cheddar
Feta
Goat cheese (chevre)
Havarti
Swiss
Fresh mozzarella
Step 4: Pile On the Veggies!
And here's where you can start to get really creative! I pulled a lonely carrot out of my produce drawer, grabbed a handful of leftover fresh spinach, sliced up a cucumber and tomato, and used the leftover half of a red bell pepper that I had from the day before. Oh, and I added some alfalfa sprouts because I love the texture they bring to the sandwich! Here are some other vegetables you can add:
Sliced button mushrooms or grilled portobello
Avocado
Coleslaw (this would act like a veggie-spread combo ingredient)
Pickles
Red onion
Roasted red peppers
Fresh or grilled zucchini
Roasted beets (sliced thin)
Sauer kraut
Jalapeño
Fresh herbs like parsley or cilantro
Broccoli (chopped fine)
You'll want to slice most of your vegetables thinly, which helps keep everything packed together tightly. For hard vegetables, like the carrot I used, it's helpful to chop or shred them into very small pieces. I used a cheese grater to grate my carrot, but something like broccoli I would just chop finely.
Step 5: Top with Extras
With so many veggies piled onto one sandwich, a little extra ✨spice✨ is never a bad idea. I always like to add some salt and freshly cracked pepper to my tomato layer, but you can also add things like Italian herbs, sunflower seeds, everything bagel seasoning, crushed red pepper, furikake, or nutritional yeast. A sliced hard boiled egg would even be fun!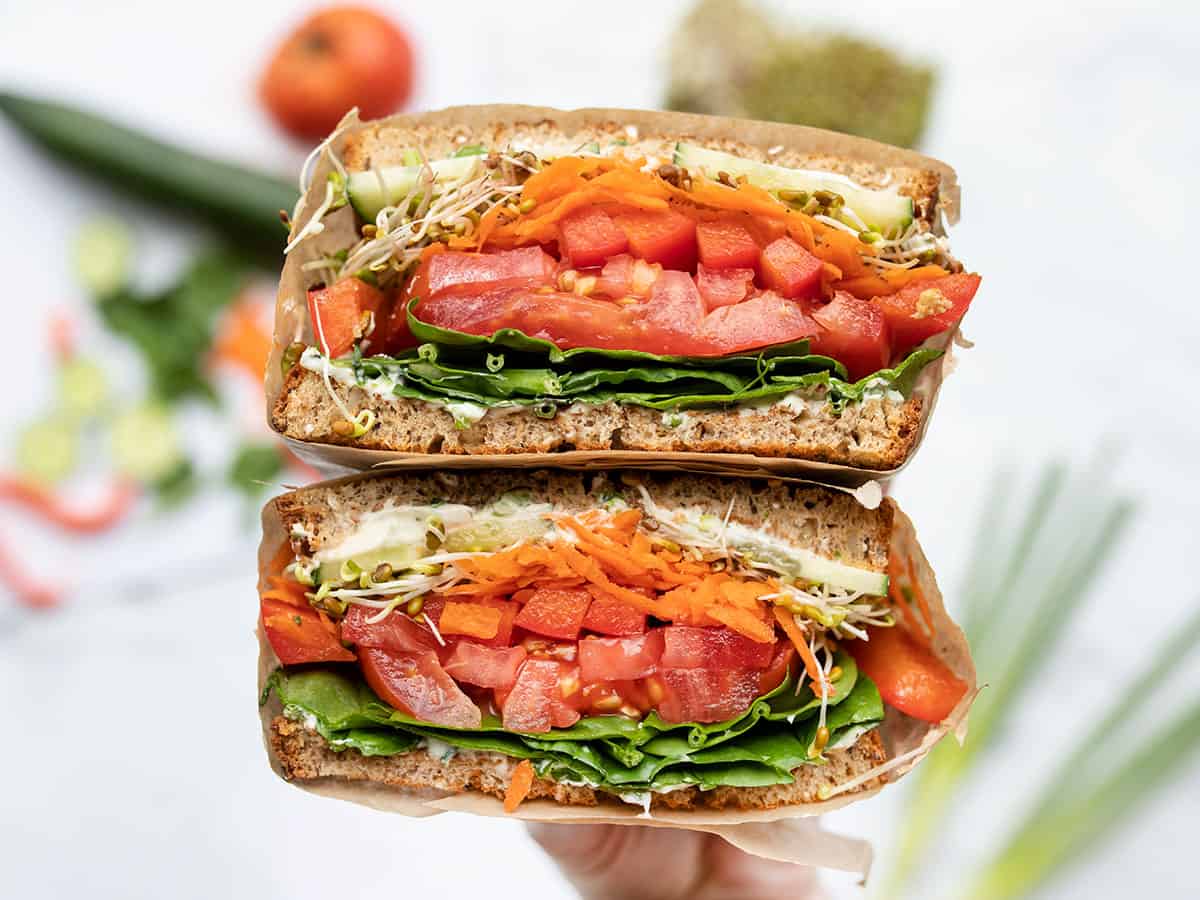 Vegetarian Sandwich Ideas
Before we get into exactly what was on the sandwich pictured above, here are a few other fun veggie sandwich combo ideas:
The Green Goddess: Green goddess dressing, spinach, sprouts, cucumber, avocado, feta on any bread.
The Roasted Veggie: Hummus, roasted red peppers, roasted portobellos, roasted zucchini, feta, everything bagel seasoning, on any bread.
The "Pizza": Marinara, grilled or roasted eggplant or portobello, Italian seasoning, salt and pepper, black olives, red onion, fresh mozzarella, on ciabatta bread.
Coleslaw Sandwich: Creamy coleslaw, tomato, Swiss or havarti, salt and pepper, on sourdough.
Cucumber Sandwich: Thinly sliced cucumbers, dilly cream cheese spread, spinach.
The Best Veggie Sandwich
Use what you have on hand to build the best vegetarian sandwich packed with color, flavor, and texture. Eat the rainbow!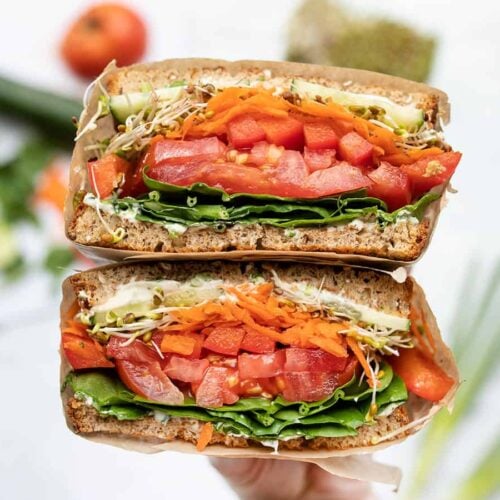 Ingredients
Sandwich
2

slices

hearty bread

6

slices

cucumber

2

slices

tomato

1

handful

spinach

1

carrot, shredded

1/2

red bell pepper

1

handful

alfalfa sprouts

1

pinch

salt

1

pinch

pepper
Instructions
Whip the ingredients for the scallion cream cheese together in a small bowl (I used a fork).

Lightly toast the bread. Spread the cream cheese over one side of each pieces of bread.

Pile the vegetables onto the bread, then close. Slice in half and enjoy.
See how we calculate recipe costs here.
---
Nutrition
Serving:
1
sandwich
Calories:
411
kcal
Carbohydrates:
41
g
Protein:
15
g
Fat:
22
g
Sodium:
560
mg
Fiber:
9
g
Read our full nutrition disclaimer here.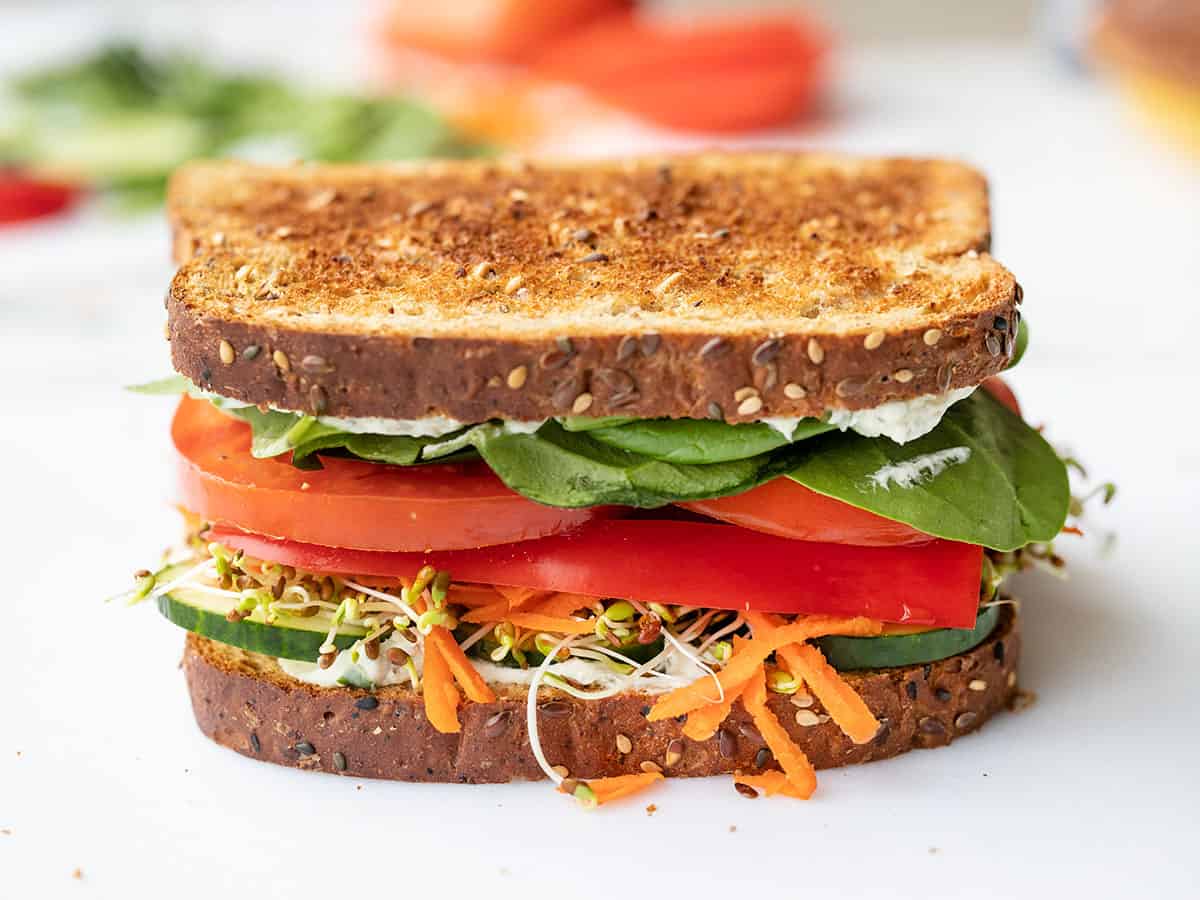 Got Leftover Ingredients?
If you did happen to buy ingredients specifically for making a vegetable sandwich, here are some really flexible recipes that you can make to use up any leftovers: