Oh man, this pizza didn't stand a chance in my house. It was gone in a flash… almost as fast as it was to make it.
This super easy pizza has all the creamy goodness of a white pizza, minus the hassle of making a white sauce. You just mix all of the topping ingredients together (kind of like spinach dip), spread it over the pizza crust, and bake. The mozzarella melts into the spinach making a faux cream sauce and the little bits of goat cheese on top add a little extra creamy-tangy oomph. Totally irresistible.
You can use any pizza dough recipe you like, whether it's a basic pizza dough, honey wheat dough, french bread, or even a thin and crispy flour tortilla. The baking time is determined by the type of crust you're using, so if you do use something super thin like a tortilla, or something already baked like french bread, the baking time will be shorter. The spinach topping was just enough to make one 12″ pizza, but it can be easily doubled for multiple pizzas or just a larger one. It's so easy… you'll see.
Easy White Spinach Pizza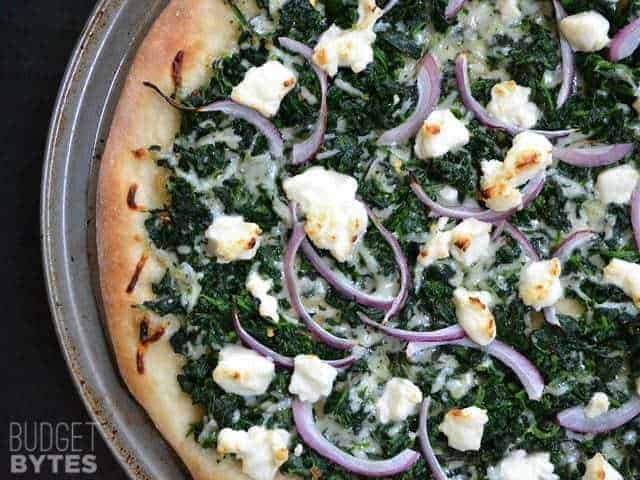 Easy White Spinach Pizza
This super easy White Spinach Pizza takes minutes to put together and doesn't require a white sauce.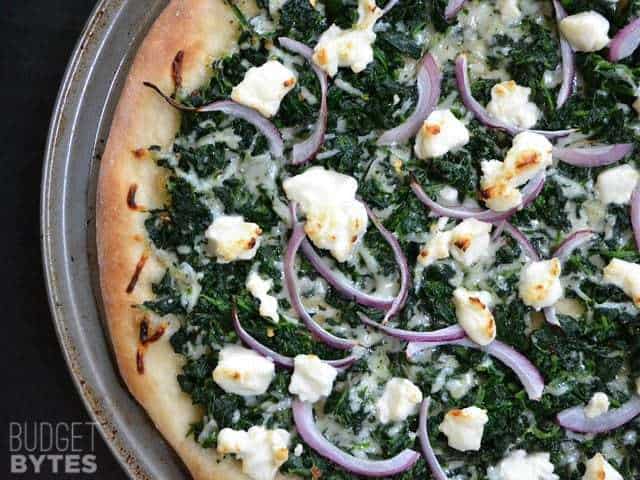 Instructions
Preheat the oven to 450 degrees. Thaw the frozen spinach in the microwave or at room temperature until it is no longer in large clumps. Add the garlic powder, salt, and crushed red pepper flakes. Stir to distribute the spices. Add the mozzarella and stir to combine again.

Prepare a pizza pan with non-stick spray or cornmeal. Stretch the dough out into a 12" circle and place on the pizza pan. Brush 1 tablespoon of olive oil over the surface. Spread the spinach and cheese mixture over the dough. Thinly slice the red onions and sprinkle over top. Crumble the goat cheese over the pizza.

Bake the pizza for 10 minutes or until the crust and goat cheese crumbles are lightly browned. Slice into 6 pieces and serve.
See how we calculate recipe costs here.
---
---
Nutrition
Serving:
2
Slices
Calories:
589.33
kcal
Carbohydrates:
72.6
g
Protein:
23.5
g
Fat:
23.07
g
Sodium:
1565.53
mg
Fiber:
4.97
g
Read our full nutrition disclaimer here.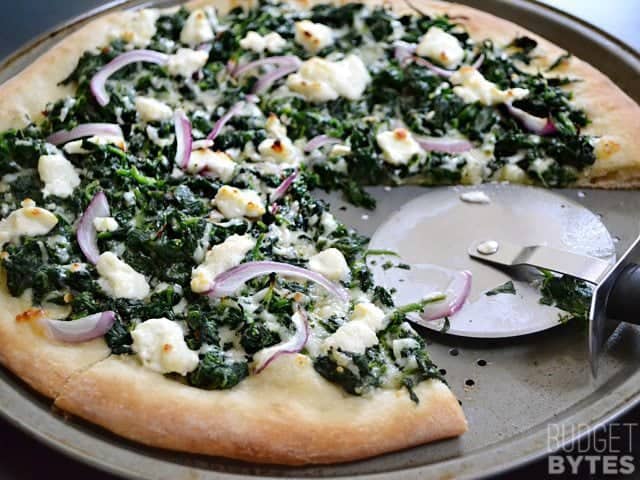 Step by Step Photos
Start by thawing a 1/2 lb. of frozen spinach. Do I weigh the spinach? Nope. It comes in a 1 lb. bag, so I just estimate half of the bag. I microwaved mine for about a minute until it was soft enough to break up the chunks. it doesn't have to be 100% thawed. Also, I didn't bother squeezing out any extra moisture. Chopped frozen spinach that comes in a bag has a lot less moisture than the kind that is frozen into a block, so it wasn't a problem.
To the frozen spinach add: 1/4 tsp garlic powder, 1/4 tsp salt, some freshly cracked pepper, and a pinch of red pepper flakes. Stir it all up well.
Then add one cup of shredded mozzarella, and stir that in, too.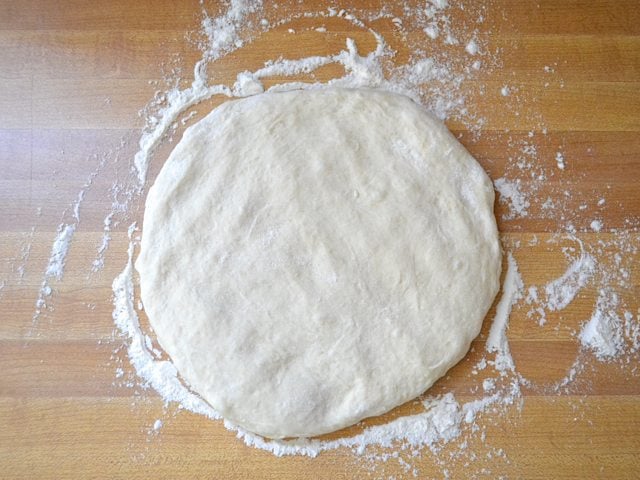 Next it's time to stretch your pizza dough (if you're using pizza dough). People always ask me how I get my pizzas so round and pretty and the truth is it takes a LOT of practice making HUNDREDS of pizzas. But here's one tip that should help: before you begin stretching the dough out, press it into a nice circle on the countertop. Getting it started on the ground in a nice shape helps it stay in shape after you pick it up and start stretching it.
After you have the dough stretched into a nice 12″ circle, spread about 1 tablespoon of olive oil over the surface (use a brush or clean fingers).
Oh, also, make a few thin slices of red onion and crumble 2 oz. of goat cheese. I had this red onion left over from another recipe, so I used it. Would I buy a whole red onion just to use 1/8 of it on a pizza? Probably not. Your choice.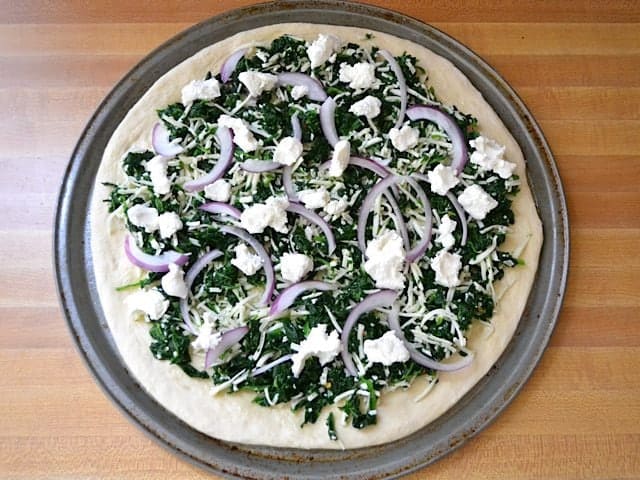 Spread the spinach/cheese mixture over the surface of the pizza, then sprinkle red onions and goat cheese over top. Bake in a preheated 450 degree oven for about 10 minutes, or until it looks like…
This! The crust should be nice and golden brown and the very tips of the crumbled goat cheese should be nicely browned as well. OMGYUM.
Pizza perfection.