I kid you not, I ate these Chili Garlic Breakfast Quesadillas for breakfast nearly every day for at least a whole year. At the time I was flat broke, commuting over an hour to school, and needed something easy, cheap, and filling. These quesadillas were IT. They only take a few minutes to make in a skillet, which I could do while my coffee was brewing. The simple ingredients were easy to keep on hand, and, of course, super inexpensive. And there's just something really comforting about egg and melty cheese. :) Anyway, those days have long passed, but I still make a delicious breakfast quesadilla on a fairly regular basis!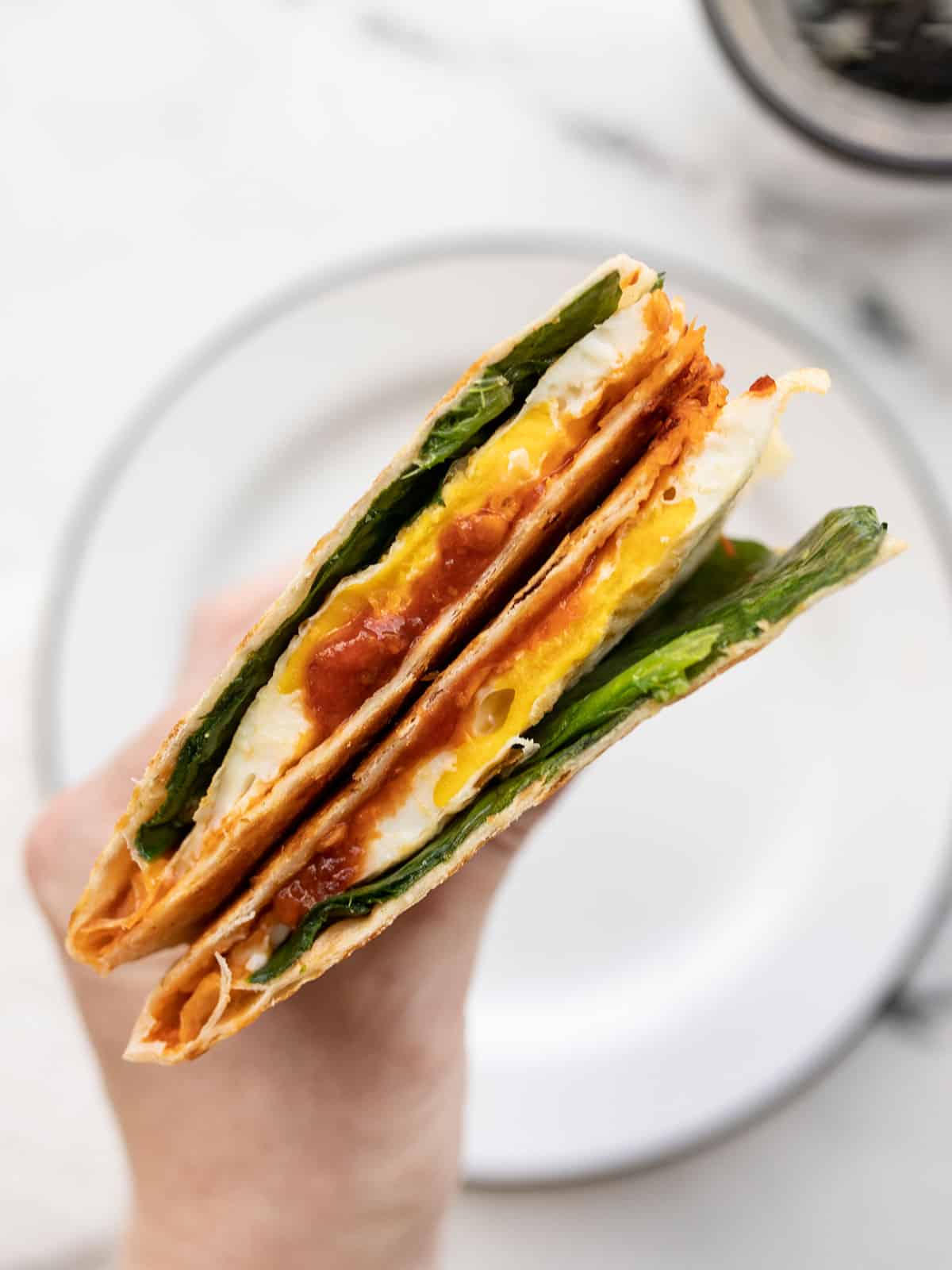 What Kind of Tortilla Should I Use?
I find that flour tortillas work a little better than corn tortillas for these breakfast quesadillas because they don't crack quite as easily, and you can find flour tortillas in a bigger size more appropriate for the quesadilla. Within the flour tortilla range, you can feel free to use any kind—white, wheat, low-carb, whatever fits your lifestyle best! You can also experiment with flavored tortillas like sun-dried tomato or spinach.
Do You Oil the Skillet?
I usually skip oiling the skillet when I make quesadillas. I find the tortilla still gets nice and crispy without being overly heavy and oily. But, if you prefer to have that fried texture on your tortilla, feel free to add a little oil or butter to your skillet before toasting the quesadilla.
Can I Substitute the Sauce?
Yes, there are all sorts of sauce possibilities for these quesadillas! I used a chunky chili garlic sauce, but you could also do something like sriracha, chili crisp, or no sauce at all. I've even made a similar quesadilla using leftover pesto!
Try these other quesadilla flavors:
Chili Garlic Breakfast Quesadilla
These quick and easy Chili Garlic Breakfast Quesadillas are the perfect fast, filling, and comforting breakfast for busy mornings.
Ingredients
1

tsp

butter

($0.04)

1

large egg

($0.21)

1

8-inch

tortilla

($0.14)

1

tsp

chili garlic sauce

($0.04)

1/4

cup

shredded cheddar

($0.21)

1/2

cup

fresh spinach

($0.19)
Instructions
Add the butter to a skillet and heat over medium. When the skillet is hot, add the egg and fry until over-easy (or your preferred level of doneness).

While the egg cooks, spread the chili garlic paste on one half of the tortilla. Add the shredded cheese on top of the chili garlic sauce.

When the egg is finished cooking, place it on top of the shredded cheese on the tortilla. Top with the fresh spinach, then fold the tortilla closed.

Transfer the stuffed and folded tortilla back to the skillet used to cook the egg. Continue to cook over medium on both sides until golden brown and crispy and the cheese is melted on the inside.

Slice the breakfast quesadilla in half, then enjoy!
See how we calculate recipe costs here.
---
Nutrition
Serving:
1
Serving
Calories:
321
kcal
Carbohydrates:
18
g
Protein:
16
g
Fat:
20
g
Sodium:
745
mg
Fiber:
1
g
Read our full nutrition disclaimer here.
How to Make Chili Garlic Breakfast Quesadillas – Step by Step Photos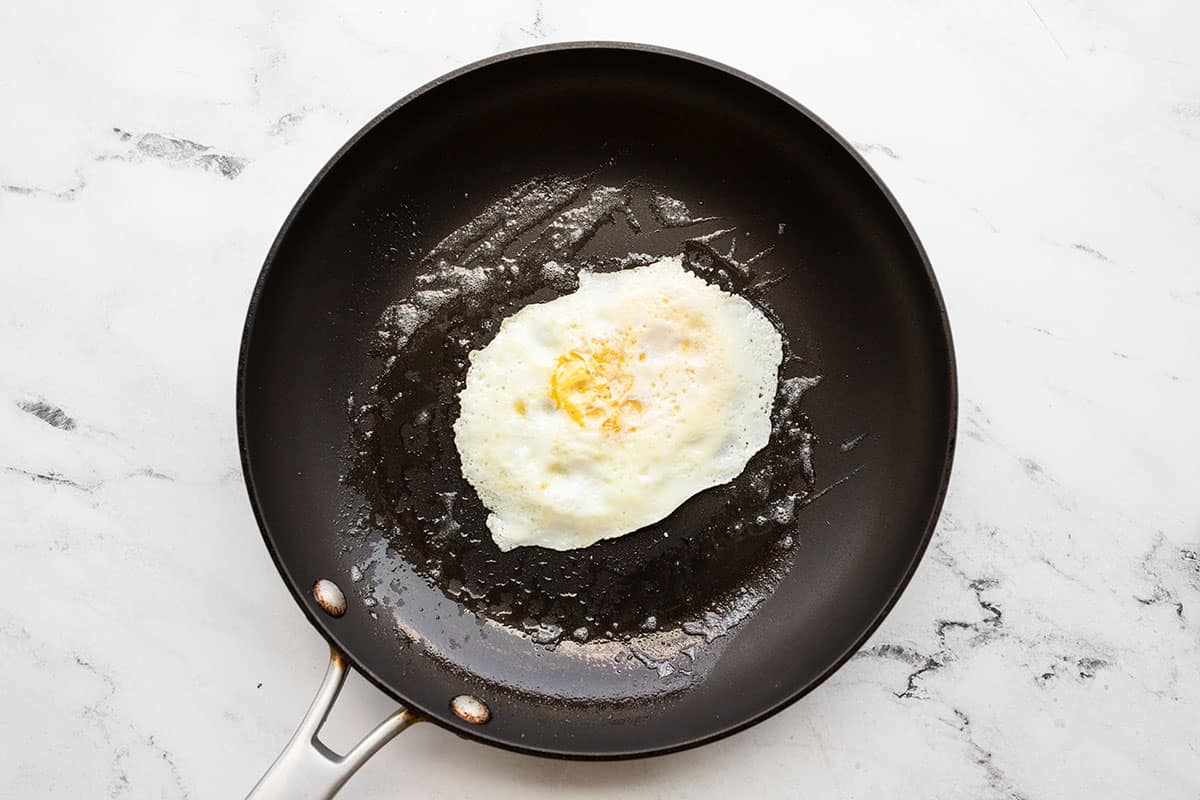 Start by frying an egg in a skillet with a little butter (or whatever cooking oil you prefer). I like to do over-easy eggs for my quesadillas so I get a little bit of a creamy-liquid center in the yolk, but not so much that it's dripping all over when I'm trying to eat the quesadilla.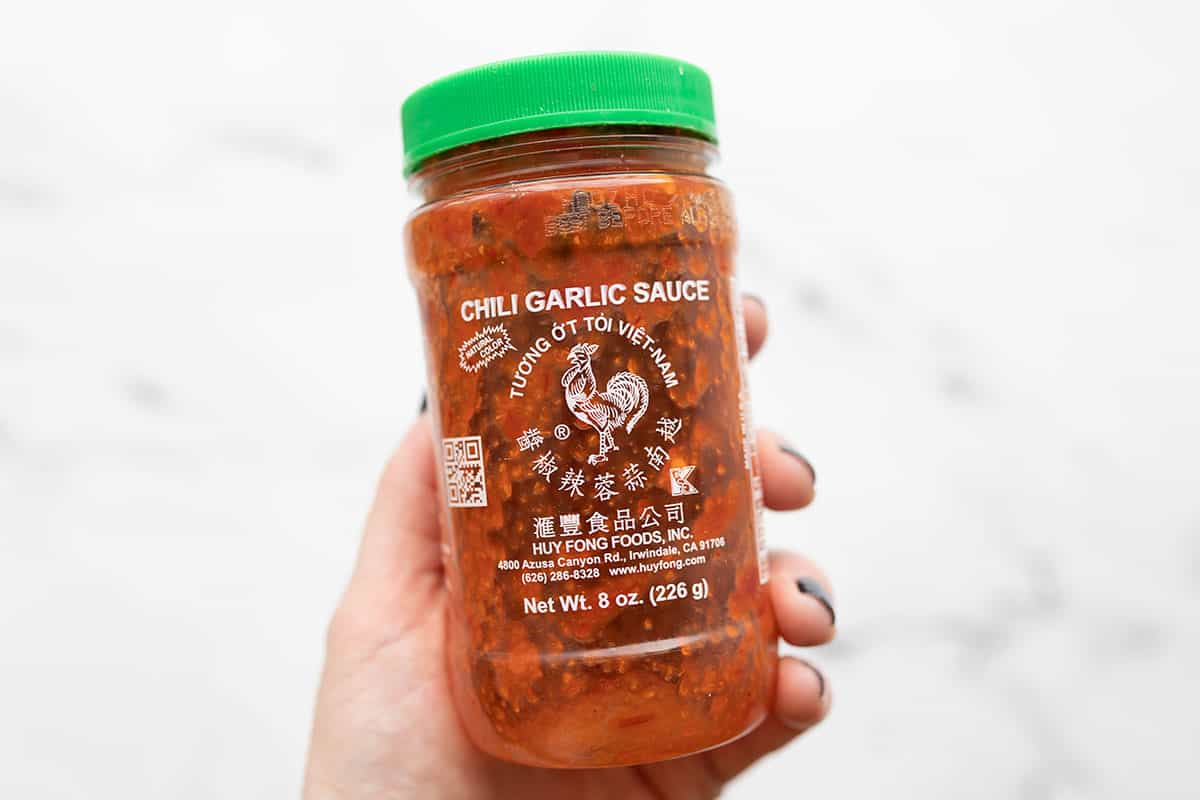 This is the chili garlic sauce that I used. You can find this in most major grocery stores in the U.S., usually in the international aisle. It's kind of a chunky mix of red chiles, garlic, salt, and vinegar.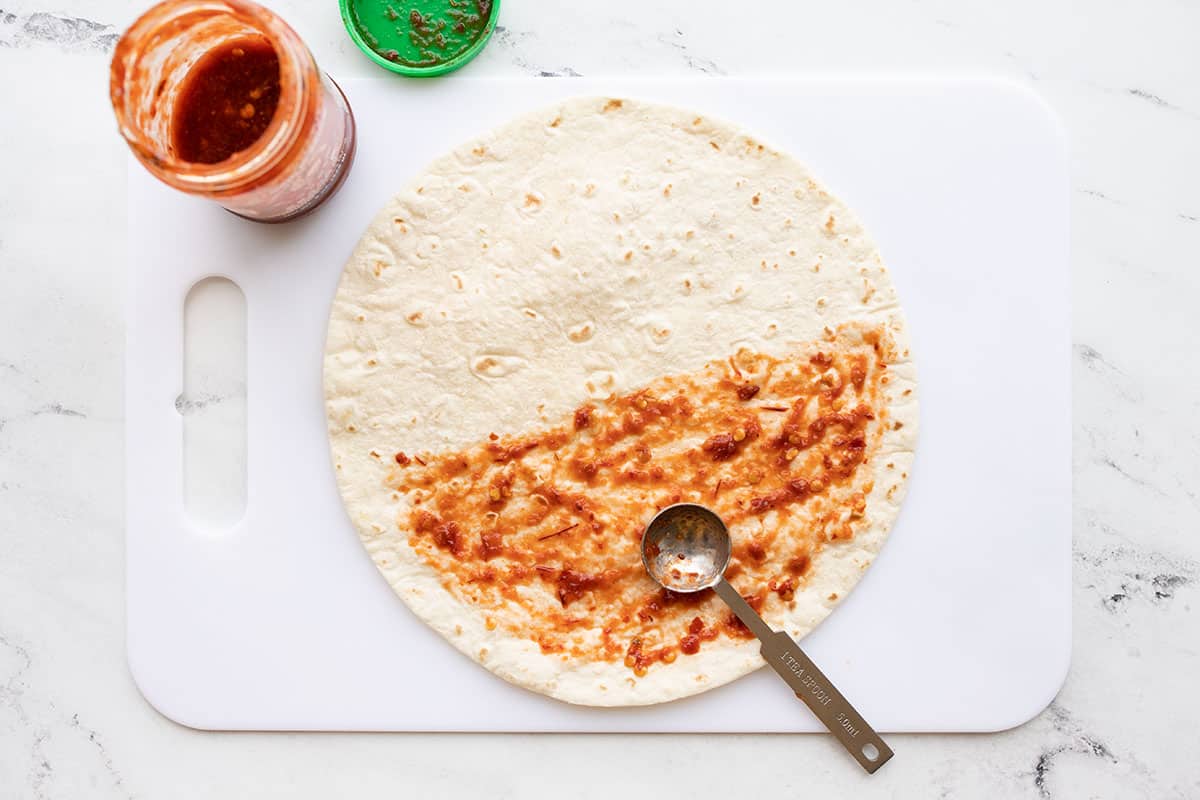 While the egg is frying, spread about a teaspoon of chili garlic sauce over one half of an 8-inch flour tortilla.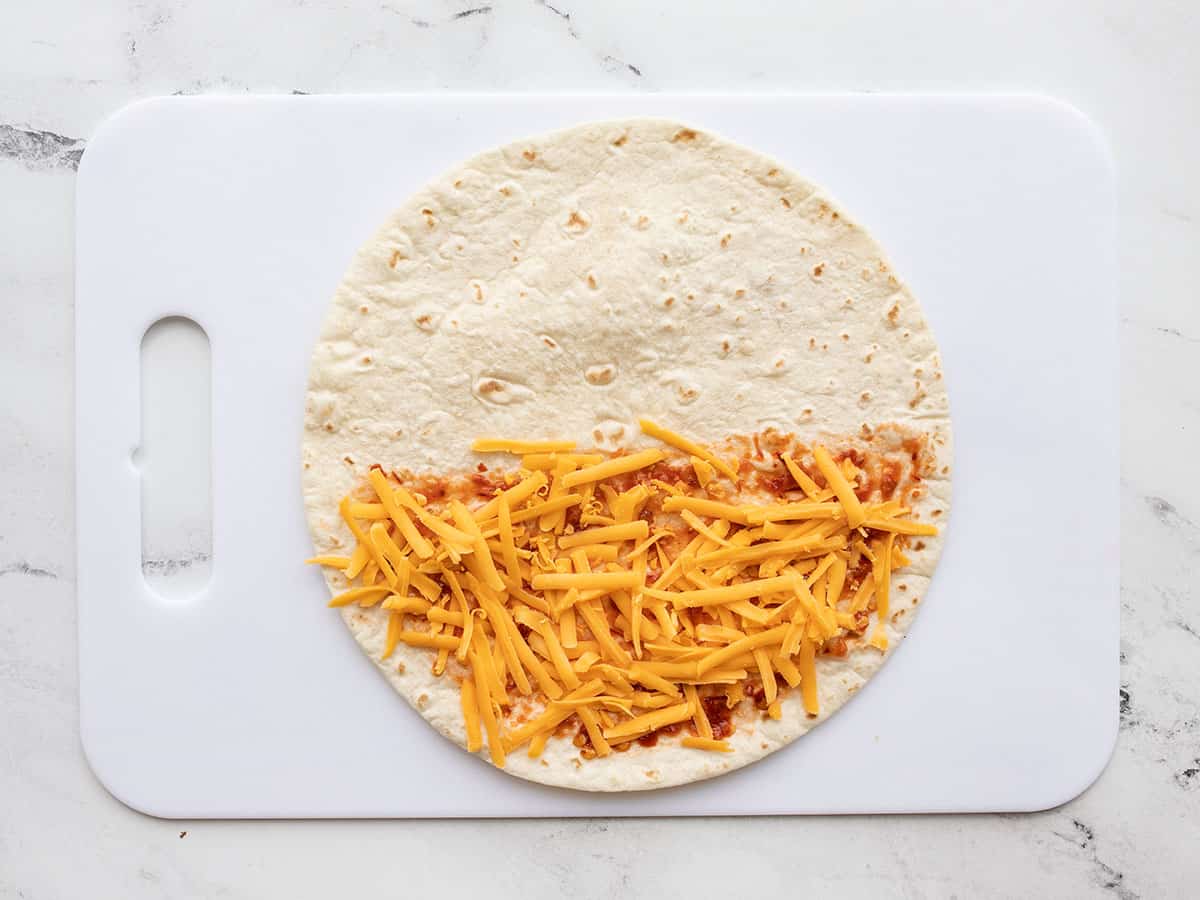 Then add about ¼ cup shredded cheddar (or your favorite cheese).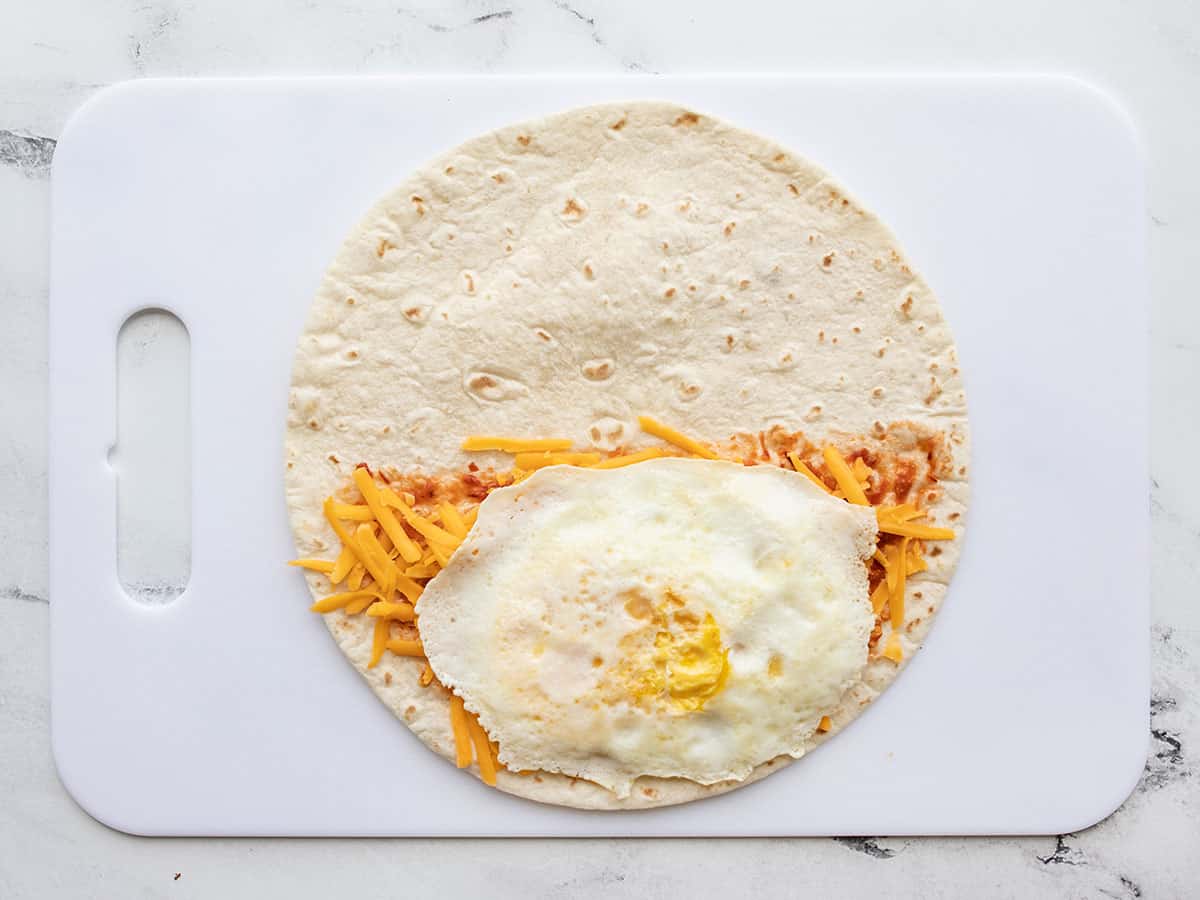 Then plop that fried egg right on top of the cheese (it will help begin melting the cheese).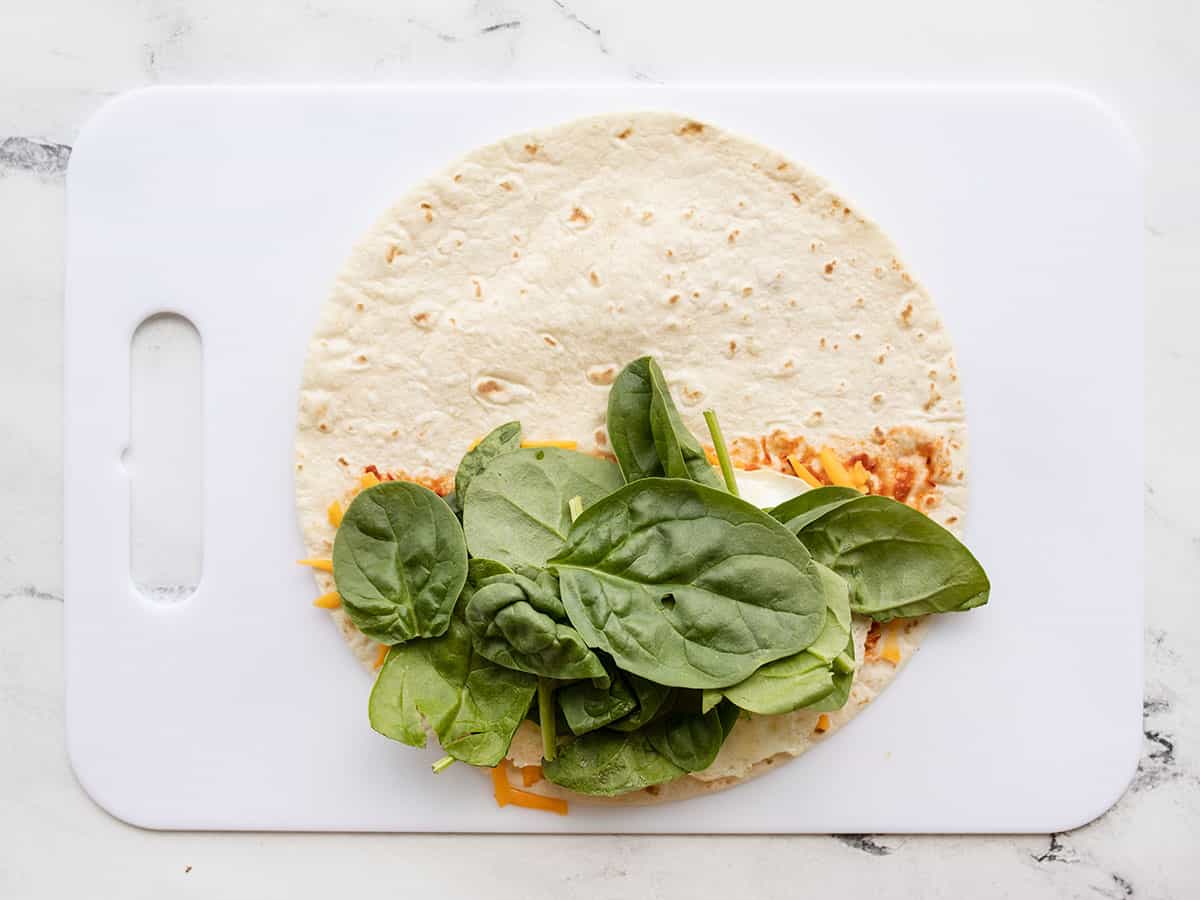 Then top it off with a handful of fresh spinach. Fold the tortilla closed over the filling.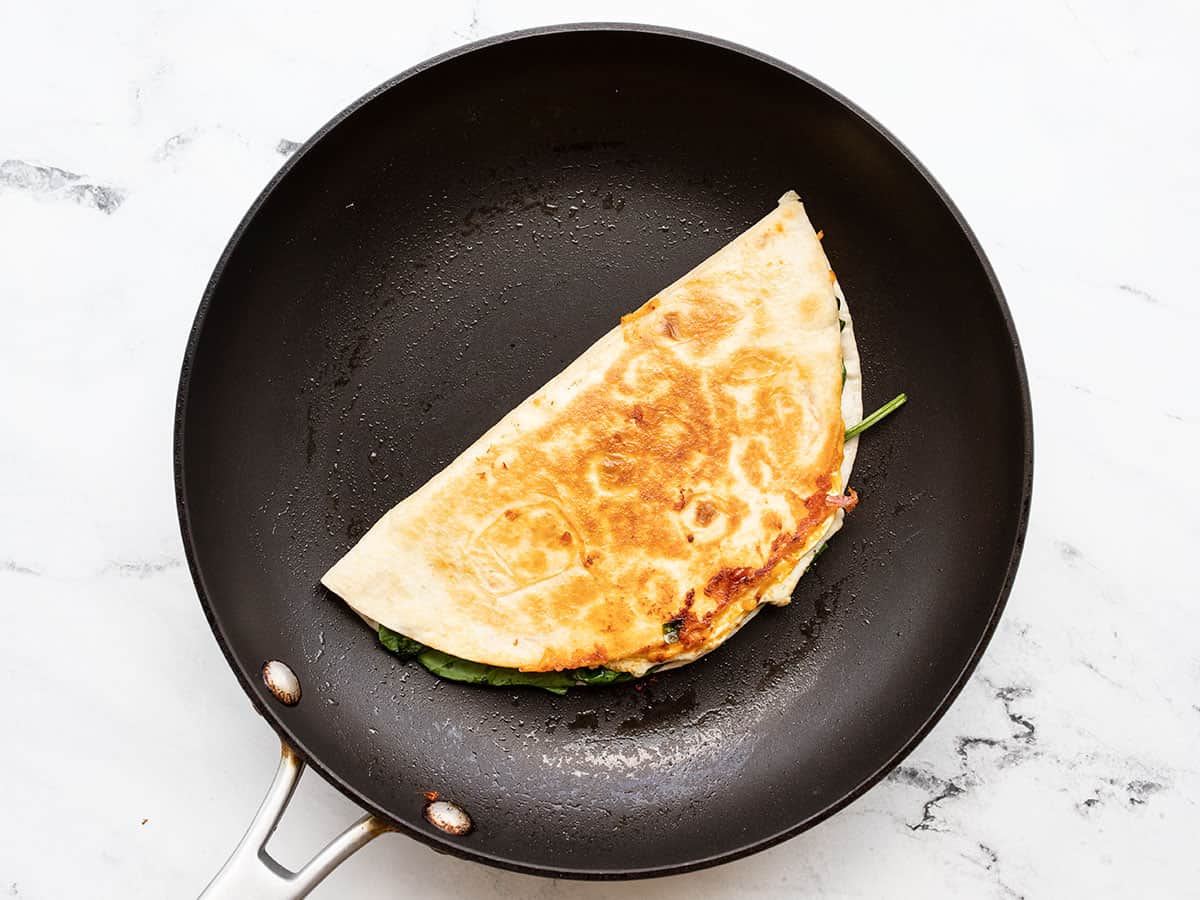 Place the quesadilla back in the same skillet that you used to fry the egg and cook over medium heat on both sides until golden and crispy on the outside and the cheese is melted on the inside.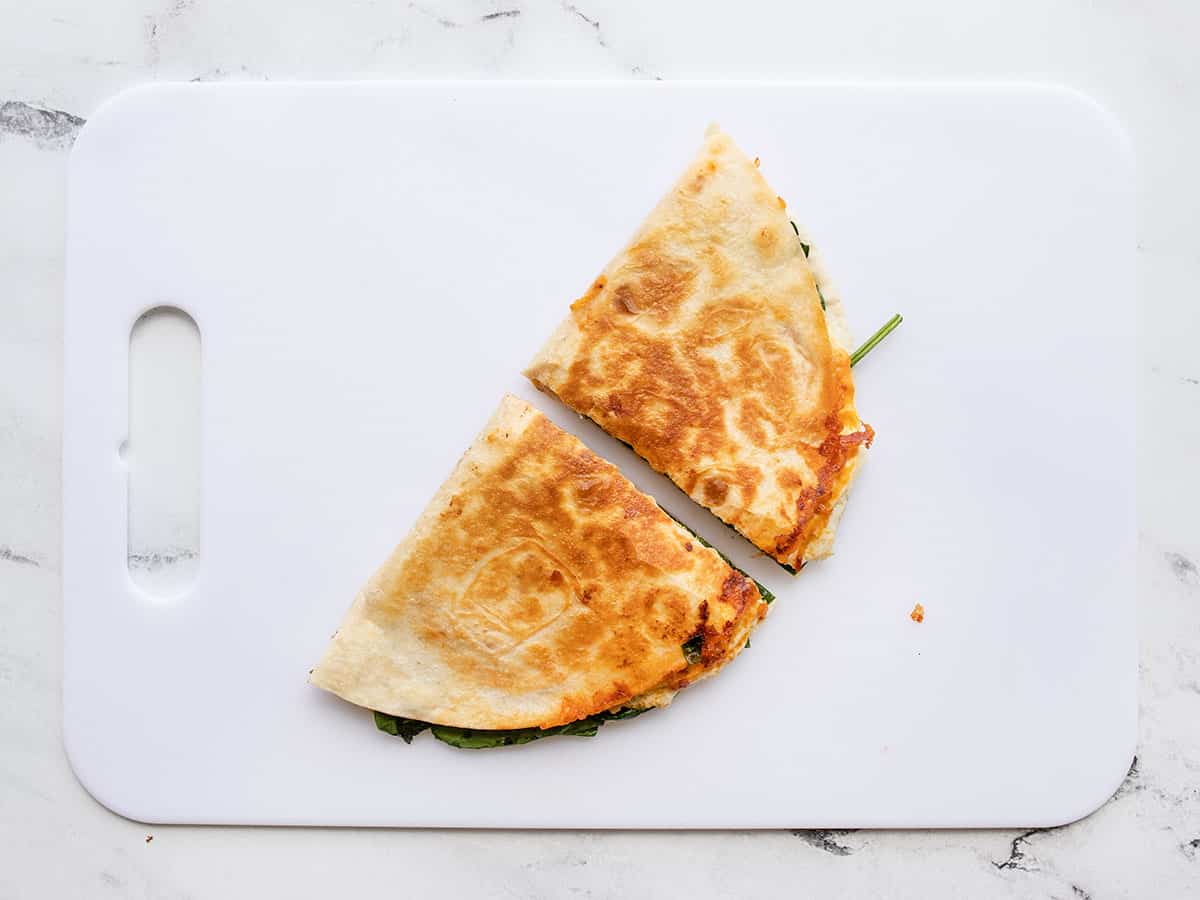 Cut the chili garlic breakfas quesadilla in half and enjoy!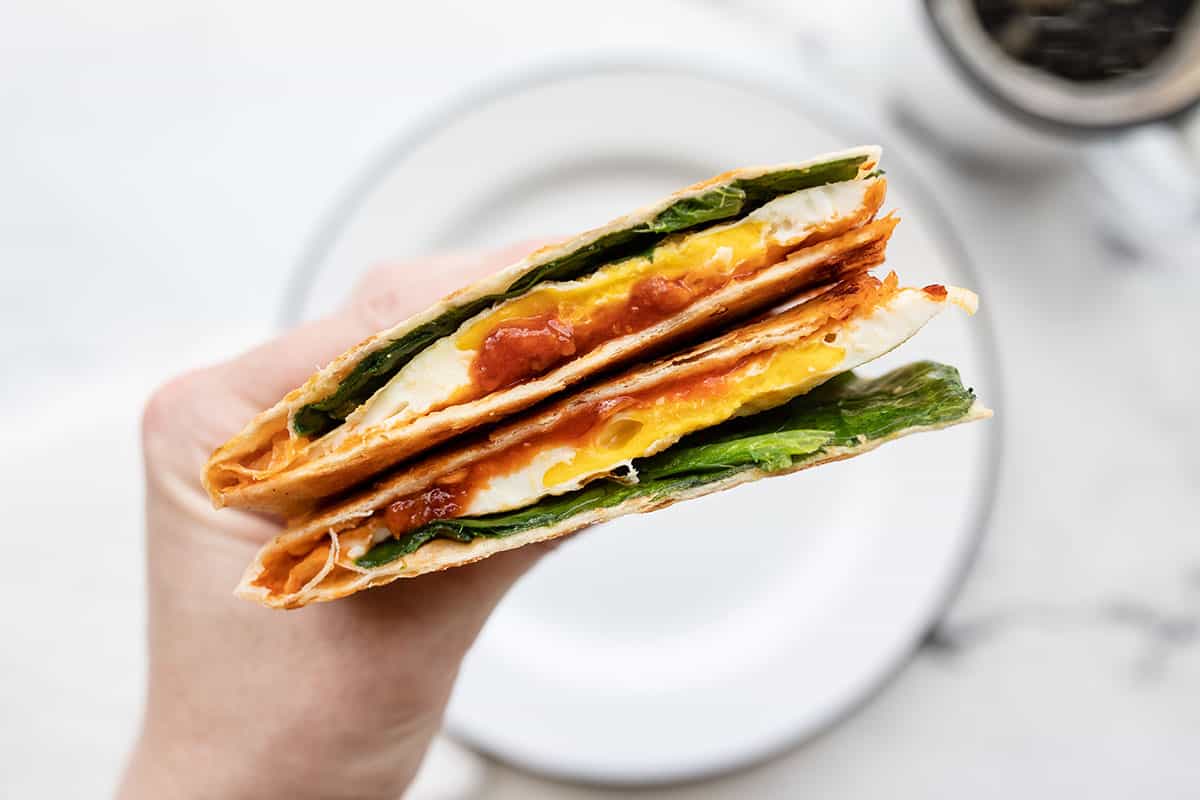 That mix of the tangy spicy chili garlic sauce, melty cheese, and creamy yolk is just PERFECTION. I guess the spinach is just in there for good measure. haha