So I've been really into potatoes lately. They're just so cheap and you can do so many different things with them! Mashed potatoes in particular are great because they go with just about any meal and you have the sky as your limit when it comes to add-ins. This week I happened to have some leftover fresh spinach that I bought for my smoothie packs and a partial block of feta cheese, so I threw them all together and made these Spinach and Feta Mashed Potatoes. I seasoned lightly with salt and pepper, plus a little garlic powder to provide a savory base. These Spinach and Feta Mashed Potatoes are an elegant yet simple side dish that I know I'm going to make many, many more times.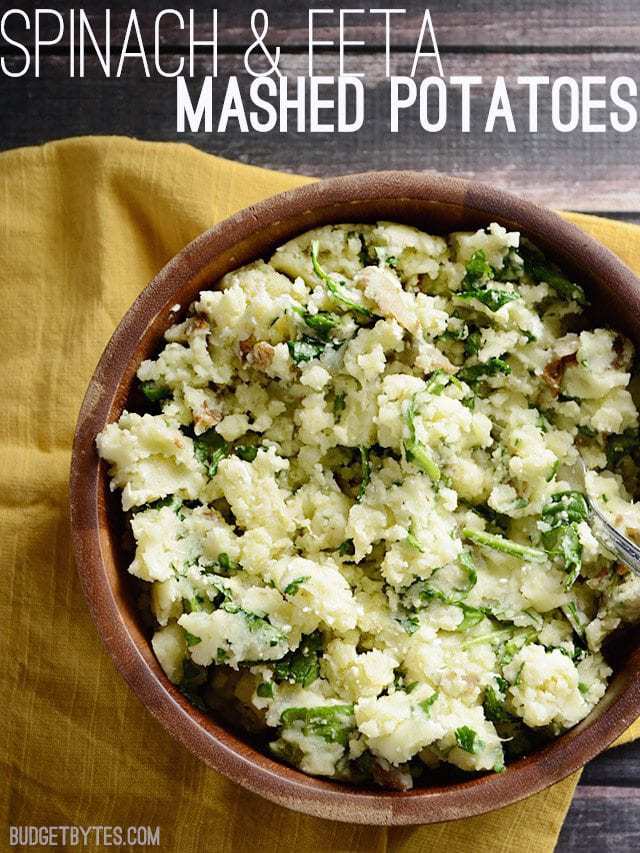 I don't know what it is with me and potatoes, but I really dislike both peeling and boiling them. So, for this recipe I left them "rustic" (read: "skin on" hehe) and cooked them the easy way—the microwave. They only took about 8 minutes in the microwave and there was no messy pot of boiling starchy potato water to deal with. I don't use the microwave for many things, but I think that potatoes might be my new favorite use for it. Quick, easy, and little cleanup.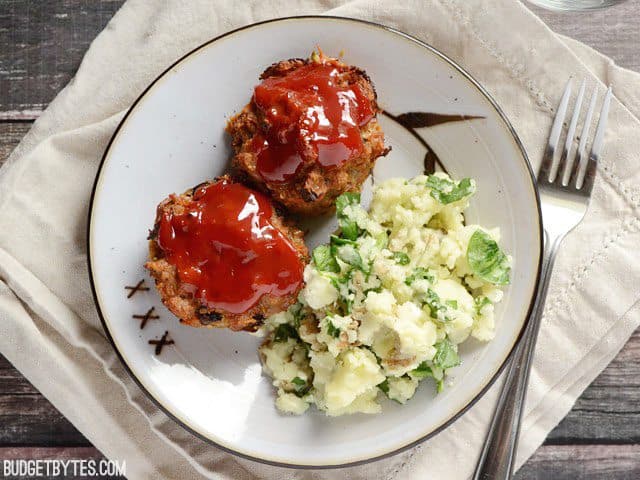 I served these delicious Spinach and Feta Mashed Potatoes with my Mini Garden Turkey Loaves and they were a match made in heaven.
Spinach and Feta Mashed Potatoes
Dress up basic mashed potatoes with a little spinach, feta, and garlic. These Spinach and Feta Mashed Potatoes are versatile enough for any meal.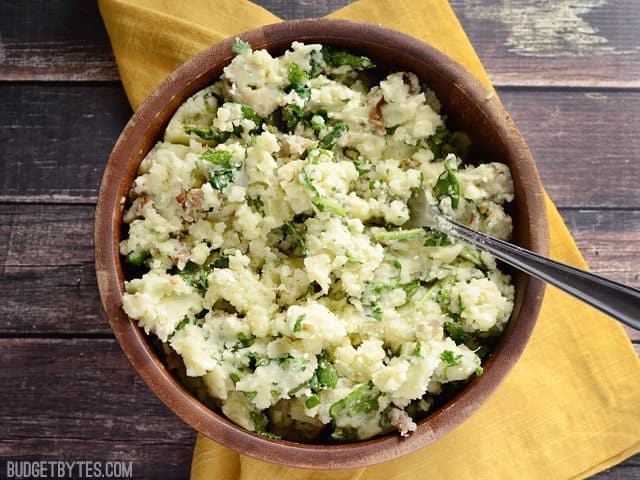 Ingredients
2

russet potatoes (about 2.5 lbs.)

($1.85)

3

Tbsp

butter

($0.27)

1/4

tsp

garlic powder

($0.02)

1/2

tsp

salt

($0.03)

Freshly cracked pepper

($0.05)

1/4

cup

milk

($0.11)

2

cups

(packed) fresh spinach

($1.34)

2

oz

crumbled feta

($1.12)
Instructions
Wash the potatoes well, then prick the skin several times with a fork. Place the potatoes on a microwave safe plate and microwave on high for 5 minutes. Pierce the potatoes in the center with a fork to test for doneness. If they still feel crunchy in the center, microwave longer, one minute at a time, until they are tender in the middle (mine took about 8 minutes).

Let the potatoes cool for just a few minutes. Slice the potatoes into several pieces to make them easier to mash, then transfer to a large bowl. Add the butter, garlic powder, salt, some freshly cracked pepper, and milk. Mash the potatoes until the butter is melted and the seasonings are evenly distributed.

Add the fresh spinach and stir it into the potatoes. Allow the residual heat of the potatoes to partially wilt the spinach. Leaving the spinach only partially wilted gives the potatoes more texture and volume.

Finally, crumble the feta cheese over top and fold it into the potatoes. Taste the potatoes and adjust the salt, pepper, or butter if needed.
See how we calculate recipe costs here.
---
Notes
Frozen spinach can be used for this recipe, although it will produce a different texture in the final product. Thaw the frozen spinach, then squeeze out as much moisture as possible before stirring it into the mashed and seasoned potatoes.
Nutrition
Serving:
1
Cup
Calories:
216.77
kcal
Carbohydrates:
35.33
g
Protein:
6.05
g
Fat:
6.38
g
Sodium:
396.75
mg
Fiber:
2.68
g
Read our full nutrition disclaimer here.
How to Make Spinach and Feta Mashed Potatoes – Step by Step Photos
Start with about 2 to 2.5 pounds of russet potatoes. Wash the skin well, since it will be left in the mash, then prick them several times with a fork to allow steam to escape as they cook. You can bake these in the oven at about 375-400 degrees for 45-60 minutes, or you can cook them in the microwave, like I did. For the microwave, cook on high for 5 minutes, then test the doneness with a fork. Stick the fork in the center and see if it still feels crunchy. If so, cook longer, in one minute increments, until they are tender all the way through. Mine took about 8 minutes. (Or you can dice them and boil until tender.)
Let them cool just a bit so you can handle them, but make sure they're still hot enough to melt the butter. I cut the potatoes into a few pieces to help facilitate the mashing process (I STILL don't own a potato masher for some reason).
Add the potato chunks to a large bowl along with 3 Tbsp butter, 1/4 cup milk, 1/4 tsp garlic powder, 1/2 tsp salt, and some freshly cracked pepper. Now, go to town and mash those taters.
I purposely left my potatoes a little chunky. I like them that way and getting them smooth with just a fork is a bit tough, so this is as far as I mashed.
Add about two packed cups of fresh spinach to the warm mashed potatoes, and stir it in. The heat from the potatoes will wilt the spinach a bit and the mechanical stirring and mashing will break up the leaves a little. I wanted the spinach to stay fairly fresh and only wilt a little so that it would have more texture. Once the spinach is stirred in, add 2oz. of crumbled feta, and fold it in.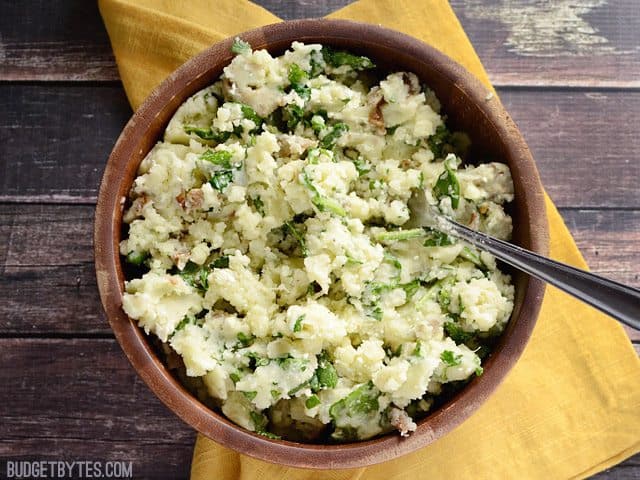 You can give the Spinach and Feta Mashed Potatoes one last taste to adjust the salt, pepper, or butter, but try not to start eating it all! ;)
P.S. These potatoes freeze really well. I froze most of them after cooking and have been reheating them all week. Delish!