I've got another quickie for you tonight. It's more of an idea than a recipe. I'm sure a lot of you Budget Byters already stock your freezers with these handy smoothie packs, but I wanted to share the tip for those who may be new to the kitchen. Not only does this make smoothies faster and easier to make, but they're a fraction, a small fraction, of what you'll pay at your local smoothie counter.
So, the formula is easy. Three one pound bags of frozen fruit of your choice, and four bananas. Divide the frozen fruit up into 8 bags, and place half of a peeled banana in each bag as well. Seal them up tight and toss them into the freezer. When you're ready to make your delicious smoothie, place the frozen fruit in the blender, add milk (or soy or almond milk), and whatever else you want and press go! No more hauling ten ingredients out of the freezer every time you want to make one smoothie. Just grab one bag and add a liquid. Sure, I also add spinach, cinnamon, and ground flax seed, but it's still way easier to have the fruit divided up. And it only takes about 5 minutes to make all 8 packs.
This is my favorite smoothie – peaches, strawberries, raspberries, banana, spinach, light vanilla soy milk, ground flax seed, and cinnamon. It works, trust me! If you like things sweet, add a touch of honey and it'll blow you away.


Smoothie Packs
Make ahead smoothie packs makes your morning smoothie much faster and easier to prepare.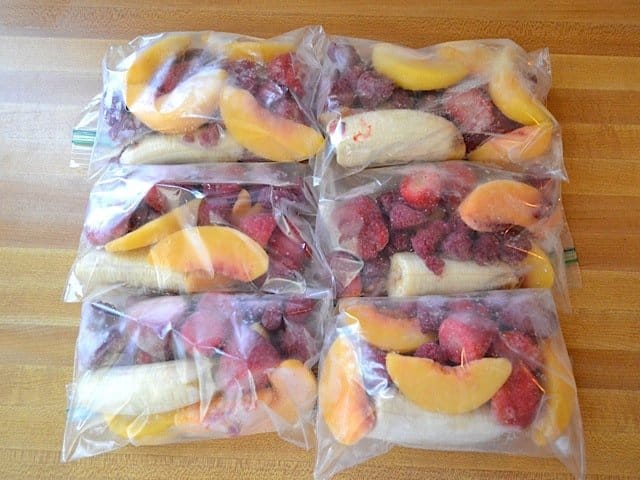 Ingredients
16

oz.

frozen strawberries

($2.69)

16

oz.

frozen raspberries

($4.15)

16

oz.

frozen peaches

($2.69)

4

medium bananas

($0.86)
Instructions
Divide the ingredients equally between 8 quart-sized freezer bags (1/2 banana per bag).

Freeze the smoothie packs until ready to use or up to three months.
See how we calculate recipe costs here.
---
Nutrition
Serving:
1
Serving
Calories:
123.38
kcal
Carbohydrates:
30.71
g
Protein:
2.08
g
Fat:
0.76
g
Sodium:
2.28
mg
Fiber:
7.24
g
Read our full nutrition disclaimer here.
smoothie packs & my favorite smoothie
Ingredients
1 frozen smoothie pack $1.30
1 cup light vanilla soy milk $0.41
1 handful baby spinach $0.53
1 Tbsp ground flax seed $0.03
1/2 tsp cinnamon $0.03
Instructions
Empty one smoothie pack into a blender and add the soy milk, spinach, flax, and cinnamon.
Blend until smooth, adding more liquid if needed.

Step By Step Photos

This is what goes into the frozen smoothie packs. I switch up the fruit a lot (I like blueberries too), but I always try to have at least three. Adding frozen bananas to a smoothie gives it a nice ice cream-like texture. If you've never used a frozen banana in your smoothie, then you haven't lived. Okay, maybe that's a bit extreme, but you've got to try it.

Divide the fruit between 8 freezer bags. One of my bananas turned out to be completely rotten inside so I could only make six this time around. I always tend to over estimate how much fruit is needed per smoothie and then I can't fit it all in the blender. So, about 1/4 to 1/3 cup of each of the frozen fruits per bag. Then just pop them in the freezer until you're ready to make a smoothie. They'll stay good in the freezer for a couple of months. The bananas will slowly turn brown, but they're still good eats for a while.

When you're ready to make a smoothie, just put the frozen fruit in a blender with some liquid (and whatever else you want) and you're ready to blend. I add spinach for the nutrients, not the flavor… you can't taste it with all of the fruit. It blends easier if the spinach is at the bottom.

Don't get me wrong, I LOVE milk… but in my smoothies I like light vanilla soy milk. It just has more creaminess than milk and the vanilla goes great with the fruit. In the old days, before Silk was everywhere, I used milk and added vanilla extract. So, that's an option too.

I like to add some flax for fiber and omega-3s, and cinnamon just because I like it :) If I'm craving something sweet, I'll add a tablespoon of honey or so, but usually the fruit and silk are sweet enough for me.

Blend that sucker up 'till it's nice and smooth! Sometimes I have to add a touch of water or more silk just to get it going. That's what will happen if you have too much frozen fruit in your pack. It'll be waaaaaay too thick to blend properly.

Oh yums. It's good. And good for you. And spinach? What spinach?
I loved the suggestion to put avocados in smoothies (thanks, Brent!) and I can't wait to experiment with that. So, for all of you smoothie lovers out there…
What is your favorite smoothie combo?