Sandwiches are an easy meal option for those times when you don't want to cook and they can be so much more than just deli meat and a couple of slices of bread. Here are 26 easy and delicious sandwich recipes that are interesting, delicious, customizable, and will have you looking forward to lunch!
Whether you're looking for a light, quick, and easy lunch or a filling, gourmet-style dinner, this list of sandwich recipes has it all: chicken and turkey sandwiches, egg sandwiches, breakfast sandwiches, wraps, cheese sandwiches, vegetarian sandwiches, and even a couple quesadillas. So say goodbye to boring sandwiches and get creative with these 30 delicious sandwich recipes!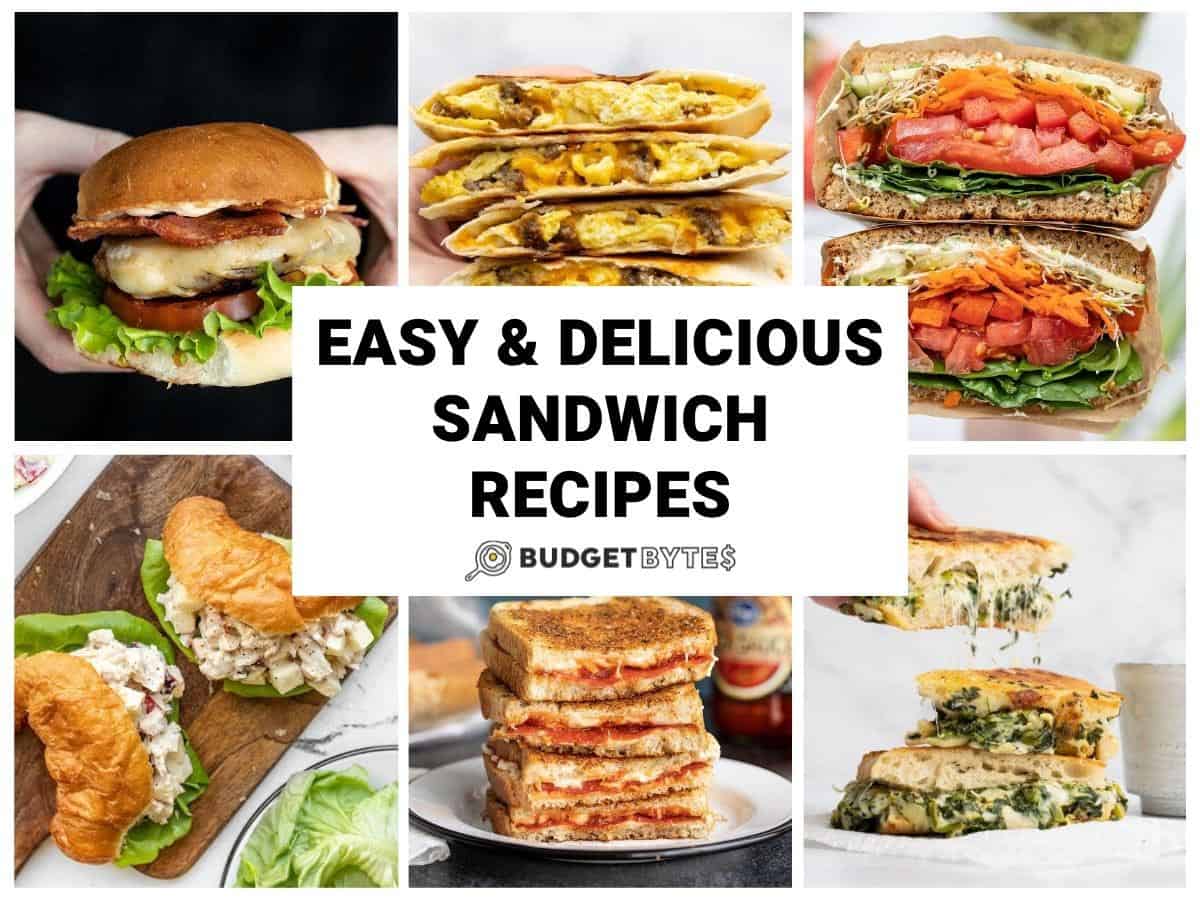 Chicken Sandwich Recipes
Chicken is such a versatile meal option. It's super filling, it can be paired with a variety of different flavors, plus, you can grill it, bake it, fry it in a skillet, pop it in a slow cooker, or more. These chicken sandwich recipes are a few of my favorite ways to utilize chicken. They're are all quick and easy, budget-friendly, and will be a hit for the whole family.
Baked Spicy Chicken Sandwiches – You can never go wrong with a classic chicken sandwich. And this spicy chicken sandwich recipe is a favorite! It gives you that delicious crispy texture of fried chicken sandwiches but without the excess oil. Serve it on your favorite bun and top it off with homemade honey yogurt slaw!
Easy BBQ Chicken Sandwiches – These BBQ Chicken Sandwiches are made up of juicy chicken thighs coated in simple seasonings and smothered in BBQ sauce. They're an easy-to-make dinner option that comes together in under 30 minutes. Bonus: the "grilled" chicken is made on the stovetop in a skillet so you can make this recipe all year round. No actual grill is required! Serve these smoky and sweet chicken sandwiches topped with creamy homemade coleslaw!
Greek Chicken Wraps – Perfectly seasoned grilled chicken thighs, dill yogurt sauce, and fresh veggies make a delicious and good-for-you meal. Prep all the components ahead of time and store them separately in the fridge for up to 4 days for an easy lunch option all week long!
Chicken Salad with Apples – There's nothing quite like classic chicken salad. It's refreshing, filling, and super easy to make if you use pre-cooked chicken, like rotisserie chicken. Pile this delicious chicken salad between two slices of your favorite bread, roll it up in a wrap, or serve it in a croissant for a fast and easy meal.
Egg Sandwich Recipes
My favorite thing about eggs? Well, besides the fact that they're inexpensive and delicious. They're easy to cook and go with everything! You know what I say, "Put an egg on it!"
One of my favorite ways to enjoy eggs is on sandwiches. Here is a list of all of my all-time favorite egg sandwich recipes from classic egg salad to cheesy breakfast sandwiches, and even quesadillas. These recipes are all quick to make and will be your go-to egg sandwich recipes from this point on! Trust me. You're going to want to try these.
Sausage and Egg Breakfast Quesadillas – It doesn't get better than this. Melty cheese, light and fluffy scrambled egg, and flavorful breakfast sausage sandwiched between a toasty tortilla. These "sandwiches" are freezer-friendly, too, so you can have one anytime you get a craving.
Sriracha Egg Salad – Think classic egg salad sandwich with a spicy kick! This sriracha egg salad is the perfect combination of rich, creamy, tangy, and spicy with a simple list of just 7 ingredients. If you're not already shoving this irresistible egg salad in your mouth with a spoon, serve it on your favorite hearty toasted bread!
Brown Sugar Bacon Breakfast Sandwiches – If anyone says they don't love sweet and spicy then they've never had this brown sugar bacon and egg breakfast sandwich. Buttery brioche buns, perfect fried eggs, sweet, smoky, and crispy brown sugar bacon, and spicy chipotle mayo. Breakfast has never looked better and is ready in a total of 30 minutes!
Egg and Cheese Breakfast Sandwiches – Any recipe I can sneak veggies into is a win for me! These breakfast sandwiches are like your classic egg and cheese breakfast sandwich but they're loaded with spinach and roasted red peppers. They're the perfect grab-and-go, freezer-friendly breakfast that can be heated up in the microwave in just a few minutes.
Green Chile Breakfast Quesadilla – Add a little southwest flavor to your basic everyday egg and cheese quesadilla with these super simple Green Chile Breakfast Quesadillas. But who am I kidding, these are good any time of day. :)
Grilled Cheese Sandwich Recipes
I think we can all agree that bread just gets that much better when it's toasted, right? Right. Well, cold sandwiches no more! These homemade grilled sandwich recipes take the idea of a grilled cheese sandwich to the next level. Pair these toasty sandwiches with a cup of soup and you have a restaurant worthy meal.
Spinach Artichoke Grilled Cheese – This spinach artichoke grilled cheese is a classic appetizer, spinach artichoke dip, made into a meal! It's a veggie-packed, ultra cheesy play off of classic grilled cheese that you won't be able to say no to. Stick with the focaccia bread I use in this recipe or switch things up and use the filling in a quesadilla instead!
Pesto Grilled Cheese – This pesto grilled cheese sandwich tastes like you bought it at a restaurant but requires just 5 ingredients and is ready in 15 minutes! Mozzarella cheese is melted between two slices of your favorite hearty bread with butter, pesto, and sun-dried tomato. Make it with homemade pesto or keep it extra convenient and use your favorite store-bought variety.
Spinach Feta Grilled Cheese – I'm always trying to get my daily dose of green! This spinach feta grilled cheese sandwich is made with either store-bought or homemade focaccia rolls, feta and mozzarella cheese, spinach, and a couple of simple seasonings. It makes the perfect quick and easy meal!
Pizza Melts – Pizza and grilled cheese are two of everyone's favorite comfort foods. So what if I told you that you could combine them into one delicious comfort food hybrid? These pizza melts are a pepperoni pizza and grilled cheese sandwich combo. They're all the best pizza flavors sandwiched between two pieces of hearty, toasty bread. Bonus: they're ready in just 15 minutes!
Burger Recipes
Burgers are the king of the sandwich world! They're hot, juicy, and piled high with delicious toppings. We like to get creative with burgers around here, so we've got several easy, unique, and flavorful burgers for you to try. Whether you want to make your burger with beef, turkey, pork, or even a vegetarian patty, we've got a burger recipe you'll love.
Mediterranean Turkey Burgers – These Mediterranean turkey burgers are a healthy, super fresh alternative to beef burgers. With all of the fresh flavors of Mediterranean food packed into a turkey burger patty, you would think these burgers couldn't get any better. Think again! They're topped off with a tangy, creamy lemon dill sauce. This recipes makes the best easy and healthy dinner!
Bacon Ranch Turkey Burgers – These simple but flavorful burger patties are seasoned with ranch seasoning, topped with melty cheese, and crispy bacon. Really, what more could you want in a burger?? And you don't even need a grill to make them.
Pineapple Pork Hawaiian Burgers – These juicy pork burgers feature tangy BBQ sauce, creamy Monterey jack cheese mixed right into the burger, juicy sweet pineapple, and caramelized red onions. You won't believe this gourmet burger came out of your own kitchen.
Cajun Salmon Burgers – How do you turn canned salmon into something truly drool-worthy? Mix in a hefty dose of Cajun seasoning and top with creamy guacamole. Keep a couple cans of salmon on hand so you can whip these up at any time!
Marinated Portobello Mushroom Burgers – Burgers aren't just for meat eaters! These flavorful and juicy marinated portobello burgers really give you something to sink your teeth into. You can make them on the grill or in a skillet, so you don't have to wait for the weather to be nice out to enjoy this burger.
Vegetarian Sandwich Recipes
A sandwich without meat? Yep. Trust me on this one. These vegetarian sandwich recipes give even the best meaty sandwiches a serious run for their money. Whether you're in search of a veggie-packed breakfast or lunch or a meatless alternative to a burger or French dip sandwich, look no further than right here.
The Ultimate Veggie Sandwich – This veggie sandwich basically a salad on bread. It's packed with veggies, takes 10 minutes to throw together, and is the exact reason I feel silly paying for a vegetable sandwich at the deli. This recipe is super customizable and such a great way to pack in all the nutrition!
A summertime classic, there's nothing quite like a fresh tomato sandwich with its juicy tomatoes, creamy mayo, soft bread, and sprinkle of salt and pepper! I can never eat just one!
Cucumber Sandwiches – Fresh, light, delicious, and perfect for teatime or a small gathering. Cucumber sandwiches are a classic!
Black Bean Burgers – You don't need meat to enjoy a good burger! These black bean burgers are the perfect vegetarian dinner that will even have meat-eaters drooling. They're also freezer-friendly so they can be prepped ahead of time and reheated later on. Serve them with mayonnaise, lettuce, tomato, and all of your favorite burger toppings. No one will be wondering where the meat is with these black bean burgers up for dinner.
Vegetarian French Dip Sandwiches – Turns out, beef isn't a necessary ingredient for "French dip" sandwiches. These vegetarian French dip sandwiches are made using portobello mushrooms and onion instead! The mushroom and onion filling is seasoned with a delicious and flavorful marinade then served on your choice of French or ciabatta rolls. This recipe is simple, easy, and oh-so-good!
Eggplant Mozzarella Sandwiches – Who needs chicken parmesan sandwiches when you have eggplant? These vegetarian eggplant mozzarella sandwiches are made with sautéed eggplant, melty mozzarella cheese, marinara sauce, and a simple yet flavorful blend of seasonings.
Scallion Herb Chickpea Salad Sandwich – This light and refreshing scallion herb chickpea salad is perfect for piling onto your favorite hearty bread or rolling up into a wrap sandwich. It's hearty but light, and definitely not lacking in flavor!
BBQ Tofu Sliders – If you think you can't enjoy good BBQ if you're vegetarian, think again! These BBQ tofu sliders are surprisingly easy to make and will totally feed that BBQ craving. Heavily spiced tofu, tangy BBQ sauce, and a simple homemade coleslaw makes these sliders absolutely addictive.
Sriracha Chickpea Salad Sandwich Wraps – If you like spicy, you'll LOVE these sriracha chickpea salad wraps! Spicy, creamy, packed with veggies, and totally filling! All your coworkers in the breakroom will be jealous.
BBQ Bean Sliders – These quick and easy sliders are another easy way to get that BBQ fix without the meat. A medley of beans are combined with a tangy BBQ sauce, then topped with a simple creamy homemade coleslaw. They only take minutes to make and will totally leave you licking your fingers.
Or maybe you just want to keep things simple with a Classic Tuna Salad sandwich? I've got you: