We're big Kale fans over here and we love finding creative ways to use this leafy green in our weekly meals. And thanks to the sturdiness of kale, it's great for meal prepping kale salads or incorporating into a hearty bowl of kale soup. So today we've rounded up our favorite easy kale recipes for you to dive into including kale salad recipes, kale soup recipes, kale pasta recipes, and some easy dinner recipes with kale. Don't forget to bookmark this page for the next time you need to use up that bag of kale hanging out in your refrigerator ;)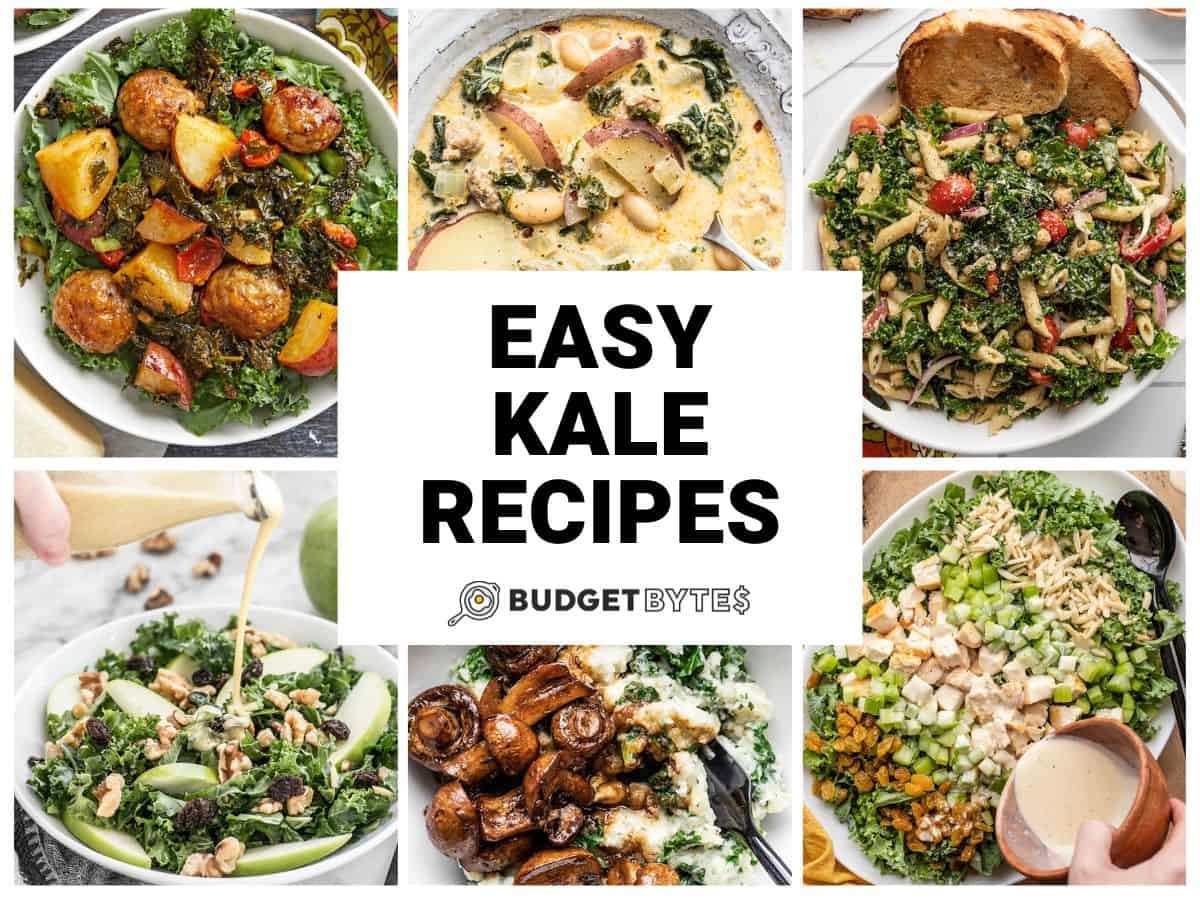 Kale Salad Recipes
We're starting things off with one of our favorites, Crunchy Kale and Chicken Salad! It's full of juicy chicken breast, almonds, lots of kale and the best homemade honey Dijon dressing!
This Autumn Kale and Sweet Potato Salad has incredible flavor and texture combinations including fresh apple and kale, roasted sweet potatoes, and a maple tahini dressing. So good!
Adding to our list of flavorful salads is our crunchy, Apple Dijon Kale Salad. The crisp apple, walnuts, raisins, and sturdy kale all hold up very well in the fridge – making this salad perfect for meal prep!
Prepare to be blown away with this insanely delicious Autumn Kale and Apple Salad! It's made with lots of kale, candied walnuts, and a simple balsamic vinaigrette dressing.
Kale Soup Recipes
Zuppa Toscana – a creamy, super flavorful, potato soup loaded with Italian sausage, kale, and white beans. It goes perfectly with some homemade garlic bread to soak up all of that goodness!
This Smoky Potato Chickpea Stew will soon become one of your favorites! It's hearty, loaded with veggies, super flavorful and simple to make.
Dinner Recipes With Kale
This Balsamic Roasted Mushrooms with Herby Kale Mashed Potatoes dish will make you feel like you're at a fancy restaurant. Its super flavorful and very satisfying!
I love easy dinner meals and this Sausage Meatball and Kale Sheet Pan Meal is full of deep flavors, cooks quickly, and is super filling!
Enjoy this quick & easy Sun Dried Tomato, Kale, and White Bean Skillet with some crusty garlic bread or a fluffy piece of naan. Perfect for a busy weeknight meal!
Homemade pizza for the WIN! Try out this simple Garlicky Kale and Ricotta Pizza for dinner tonight :)
Kale Pasta Recipes
We made sure to hit all the bases with this Big Kale Pasta Salad! It includes lots of veggies, pasta, chickpeas, and a creamy balsamic vinaigrette dressing. It's the perfect summer meal salad recipe.
If you're craving pasta for dinner, try this simple, easy, Garlic Parmesan Kale Pasta recipe! It only requires a few ingredients and you can easily bulk it up and turn it into a meal by adding a hard-boiled egg or some grilled chicken.
Spicy Orecchiette with Chicken Sausage and Kale is a quick & easy dinner meal that comes together in just 20 minutes! And it just so happens to include all of my favorites, Chicken Sausage, Pasta and a Veggie. #winning!
Easily dress up your favorite pasta with this Kale Pesto Pasta recipe! Use kale to make a great budget-friendly pesto, combine it with your preferred pasta, then add in some grilled chicken or other veggies if you want to make it a full meal!