I've had a couple cans of green chiles in my pantry that need to be used up, so I decided to toss them into my favorite breakfast—a tortilla, egg, and cheese quesadilla. I also had some leftover cilantro in the fridge, so I thought, "Why the heck not?" and tossed it in there as well. What are the chances that you'll have all these same leftovers in your fridge and pantry? I dunno. But if you ever do, I highly suggest making these super simple, filling, and delicious Green Chile Breakfast Quesadillas.
And if you don't have the same leftovers in your fridge as I do, just remember:
Tortilla + Cheese + *Wild Card* = recipe for deliciousness.
Green Chile Breakfast Quesadillas
Gooey Monterrey Jack, zesty green chiles, and a crispy tortilla dress up your morning eggs in these quick and easy Green Chile Breakfast Quesadillas.
Servings: 4 quesadillas
Ingredients
4 oz. Monterrey Jack or Pepper Jack, shredded ($1.25)
1 4 oz. can diced mild green chiles ($0.87)
1/4 bunch fresh cilantro, chopped ($0.24)
4 large eggs ($0.89)
4 fajita size 8" diameter tortillas ($0.95)
Instructions
Drain the green chiles well. Add them to a bowl with the shredded cheese and chopped cilantro, and stir until everything is evenly mixed.

Cook the four large eggs over easy (or your favorite method) in a large skillet.

Spread 1/4 of the cheese and chile filling over half of each tortilla, then top each with an egg. Fold the tortillas closed to make a half circle.

Cook two quesadillas at a time in the large skillet over medium heat until the outsides are golden brown and crispy and the cheese is melted inside (cook on each side). Cut each quesadilla in half or into thirds to form triangles. A pizza cutter works well for this job. Serve hot.
Notes
The filling (minus the egg) can be mixed ahead of time and kept in the refrigerator for 2-3 days. Use a portion of the filling each day to make a fresh quesadilla.
See how we calculate recipe costs here.
---
Nutrition
Serving: 1 Serving ・ Calories: 325.05 kcal ・ Carbohydrates: 24.4 g ・ Protein: 17.2 g ・ Fat: 17.25 g ・ Sodium: 680.48 mg ・ Fiber: 2.23 g
Nutritional values are estimates only. See our full nutrition disclaimer here.
---
The equipment section above contains affiliate links to products we use and love. As an Amazon Associate I earn from qualifying purchases.
Green Chile Breakfast Quesadillas
Step by Step Photos
First gather the ingredients for the filling. I used 4 oz. of shredded Monterrey Jack cheese (pepper jack would also be awesome if you like things spicy), one 4oz. can of diced green chiles (drained well), and about 1/4 bunch or handful of fresh cilantro, chopped.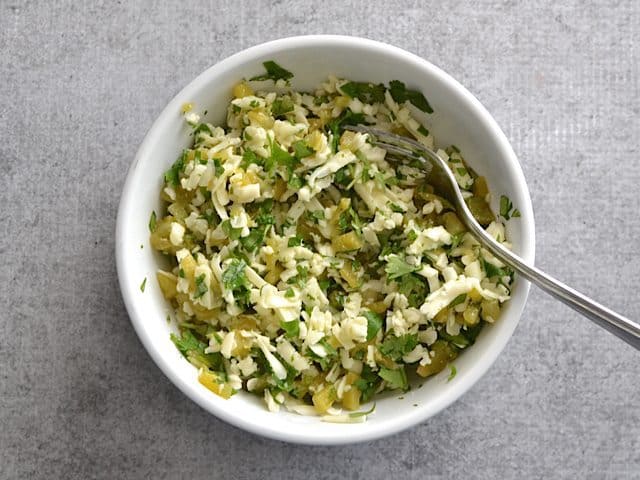 Mix these three ingredients together in a bowl. This is your quesadilla filling. This will last a few days in the fridge, if you want to just make one quesadilla at a time.
Cook four large eggs using your favorite method. My original intention was to scramble the eggs, but then I decided to cook them over easy instead. I wanted that creamy yolk and for the skillet to be left clean, so that I could use it to cook the quesadillas. For each quesadilla, spread 1/4 of the filling over half of the tortilla, top it with a cooked egg, then fold the quesadilla in half to make a half circle.
I must have been really distracted when I made these, because I forgot to get a picture of them in the skillet. Anyway, once they're folded in half, just cook the quesadillas in a large skillet over medium heat until golden brown and crispy on both sides and the cheese is melted inside. Two quesadillas usually fit in the skillet at a time. After cooking, cut the quesadillas in half, or into thirds to make triangles. A pizza cutter works great for cutting quesadillas and if you cut from the outside edge in towards the fold, that will help keep the gooey insides IN, instead of squishing out. :)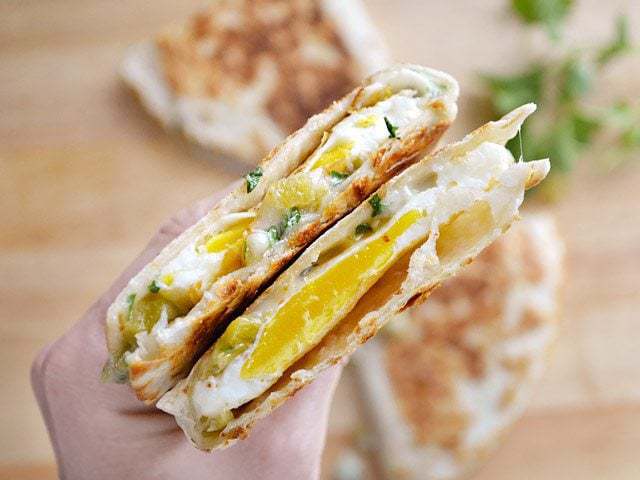 Speaking of gooey insides…. OHHHH YEAHHH. Green Chile Breakfast Quesadillas FOR THE WIN.