So if you haven't guessed by now, we're kind of obsessed with chickpeas at Budget Bytes. They're inexpensive, easy to prepare, full of fiber, and extremely versatile…I mean seriously what's not to love about them? Chickpeas, a.k.a. garbanzo beans, are also very filling so they work perfectly in soups, one pan recipes, served over rice and one of our personal favorites, chickpea salad recipes! This roundup of easy chickpea recipes is the ultimate go-to list for super quick lunch ideas and simple weeknight dinner meals.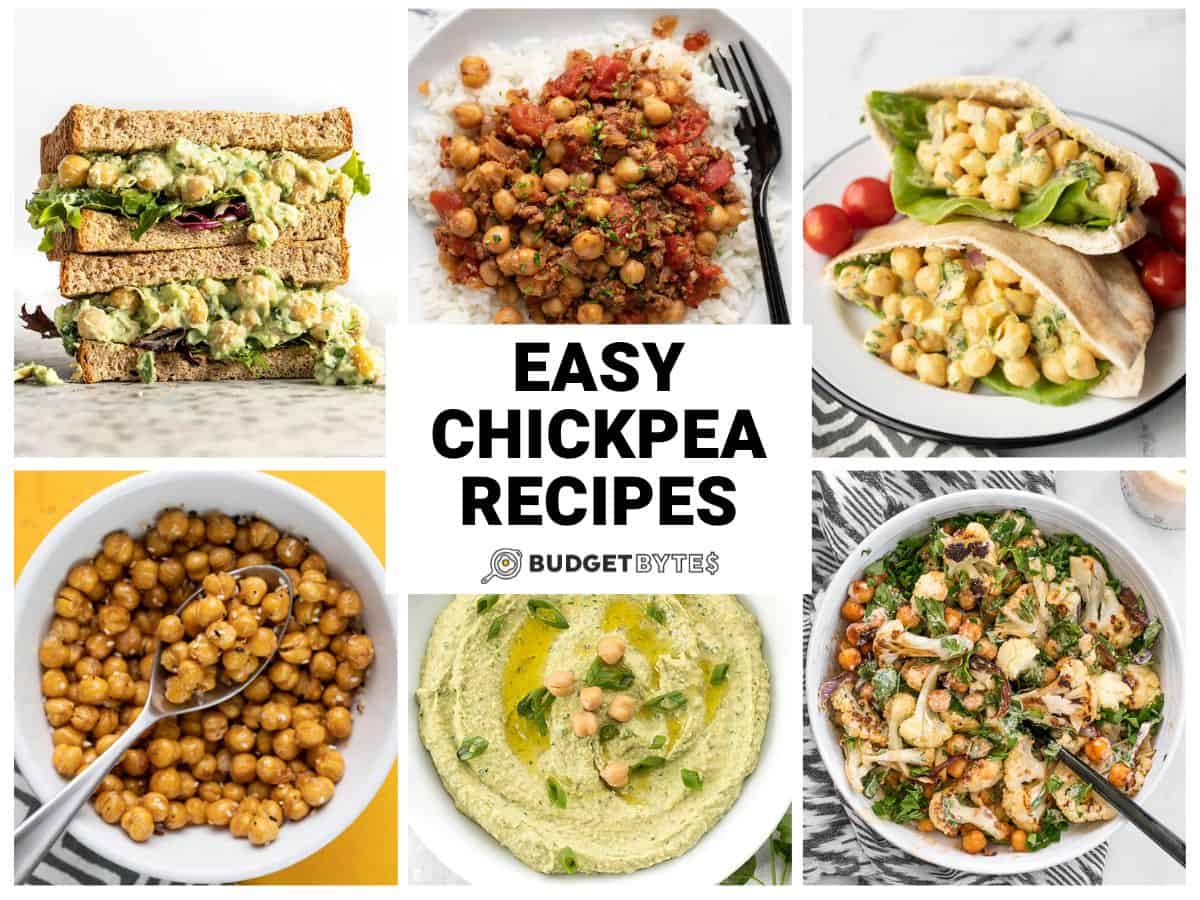 Chickpea Salad Recipes
Alright, we're starting things off with this super easy, creamy, and delicious Scallion Herb Chickpea Salad! This salad is full of gold-star ingredients, is made with a mayo-free dressing and can be served as a salad, stuffed into a pita, or piled between two slices of hearty bread.
If you're tired of basic salads then you MUST try this Roasted Cauliflower Salad with Lemon Tahini Dressing! It has warm, smoky flavors from the roasted cauliflower and the spiced chickpeas plus it's topped with our amazing & slightly addicting lemon tahini dressing.
Chickpea salads are super easy to make and perfect as a quick lunch, appetizer at a party, or simply as a side dish with dinner. This creamy, Pesto Chickpea Salad is one of our favorite flavor combinations and only requires seven simple ingredients!
This Lemony Artichoke and Quinoa Salad is a meal prepper's dream salad! It's light, very sturdy, and holds up well in the refrigerator. It's also super versatile so you can easily swap out some of the ingredients for your favorites or just use what you have on hand.
Easy Chickpea Recipes
These crispy Air Fryer Chickpeas are the perfect little snack! They're inexpensive, high in fiber and protein, and quite honestly addicting! You can season them however you like; they taste perfect on top of your favorite salad.
We're sharing all the info on how to make simple Homemade Hummus plus four extra flavor combinations to try out. It literally only takes five minutes to make and we promise it tastes wayyy better than store-bought hummus.
If you love quick & easy dinner recipes then you'll definitely want to add this Beef and Tomato Rice Bowl to your weeknight rotation. It's super delicious, budget-friendly and you probably already have all the ingredients in your pantry to make this recipe tonight!
Quick lunches that not only taste good but are also good for you are always a win-win in my book. These Sriracha Chickpea Salad Wraps are fast and easy to make and perfect for lunch during the week.
Chickpea Curry Recipes
Why can't dinner be this easy every day?? These Curried Chickpeas with Spinach are made in under 30 minutes, are super nutritious, and taste great served over rice or with naan bread to soak up all that yummy sauce!
When you're in the mood for a delicious, creamy curry recipe this Chana Saag Curry recipe will absolutely do the trick! It's packed with incredible flavor, is very filling, and also tastes great with rice or naan bread.
Let's just all agree that chickpea salads are one of the best lunch ideas ever! This Curry Chickpea Salad tastes great in a wrap, stuffed into a pita, or served on top of a fresh green salad.
This Cauliflower and Chickpea Masala is made with an irresistible, spicy-creamy sauce that coats the chickpeas and cauliflower perfectly. It stores well in the fridge so it's perfect for meal prep – and the best part is it's very inexpensive and budget-friendly!
Coconut Curry Chickpeas are incredibly flavorful, only requires a handful of ingredients, and are perfect for last-minute weeknight dinner meals. Bonus: the leftovers are even better the next day!
Chickpea Soup Recipes
Give me a good soup or stew recipe that has lots of veggies in a super flavorful broth and I'm one happy girl! This Smoky Potato Chickpea Stew is definitely a favorite, mainly because I love any type of potato soup recipe, but also because it's hearty and super simple to make.
Get ready to instantly fall in love with this Moroccan Lentil and Vegetable Soup recipe. It's full of warm spices, and hearty vegetables and simmered on low in a super flavorful broth.
Easy Minestrone Soup – one of my all-time favorite soup recipes! Very customizable and easy to add your favorite veggies. This version is hearty, inexpensive, includes chickpeas in place of pasta, and very meal prep friendly!