If there's one leafy green vegetable that we love to keep in stock, whether it's fresh or frozen, it's definitely spinach! Spinach is a great ingredient to incorporate into recipes because it's tender so it blends easily into soups and pasta dishes, and it has a mild flavor so it adapts well to different ingredients and spices. And there are plenty of recipes where you can sub fresh spinach for frozen spinach if you're looking to save a few extra bucks! So today we're sharing 21 of our Best Spinach Recipes including spinach breakfast recipes, spinach salad recipes, chicken and spinach recipes, and more!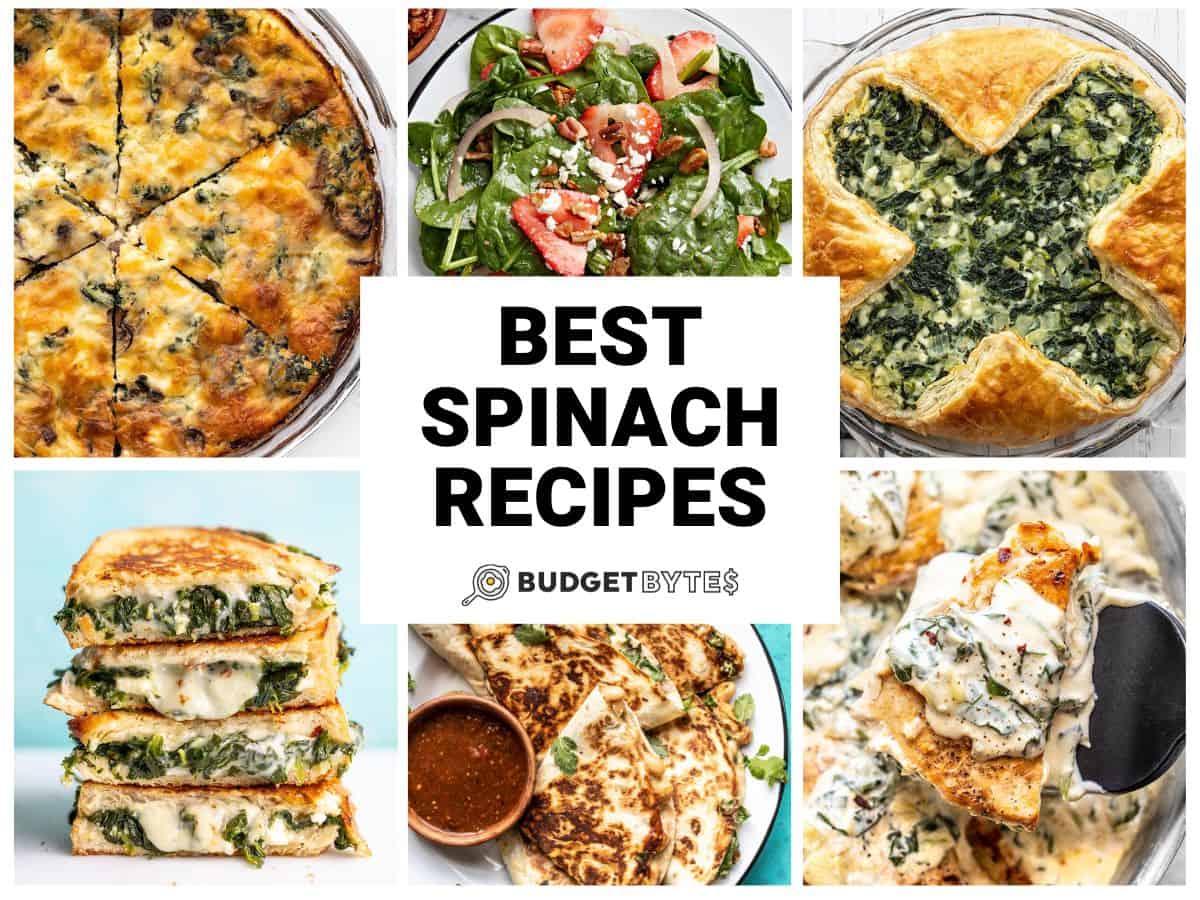 For all the breakfast fans out there, this one's for you! This popular Spinach and Mushroom Crustless Quiche is filling, full of vegetables, and great for breakfast, lunch, or dinner!
Craving pasta for dinner tonight? This quick & easy Creamy Tomato and Spinach Pasta will definitely hit the spot!
Take your grilled cheese sandwich up a notch with this Spinach and Feta Grilled Cheese! We used frozen spinach, a little feta cheese for a tangy punch, and toasted it up on some good bread. It's seriously irresistible!
If you're a fan of quesadillas, then you'll love these Creamy White Bean and Spinach Quesadillas! They're crispy on the outside, creamy on the inside, and can be made in just 20 minutes.
We love rich and creamy soups like this Creamy Tortellini Soup. The spinach is a perfect addition giving the soup balance and a little bit of color.
If you're looking for something super-indulgent for dinner tonight, try our Spinach Alfredo Pasta. It's rich, super creamy, and is done in under 30 minutes! WIN!
Spinach often gets to shine the most in fresh salad recipes like this simple Strawberry Spinach Salad. It includes chopped candied pecans and a super delicious homemade balsamic vinaigrette dressing.
If you've never had Spinach Pie before this is a great time to try it out! It includes frozen spinach and frozen puff pastry to keep things simple, and it's perfect for breakfast, brunch, or lunch!
Chicken and spinach just go together, especially in this Creamy Spinach Artichoke Chicken. It's made with a rich and garlicky cream sauce, fresh spinach, chopped artichoke hearts, then spooned over skillet-seared chicken breasts. Yum!!!
If you like including meatless recipes in your dinner rotation, you'll definitely enjoy these Creamy Coconut Curry Lentils with Spinach. They're simple, creamy, and delicious!
Here's another spinach pasta recipe that we're sure you're going to love! This Tomato Mozzarella Pasta Salad is light, refreshing, and holds up well in the refrigerator making it perfect for meal prep!
I can never resist a bowl of mac and cheese and it's even better with its infused with extra flavor like this Creamy Pesto Mac and Cheese with Spinach!
Sometimes lunch or dinner is as easy as making this quick 20-minute Wilted Spinach Salad. It's made with bacon, cannellini beans, and a warm vinaigrette that helps slightly wilt the spinach. Perfect as a light main dish or a simple side recipe!
This Indian Style Creamed Spinach is absolutely delicious and perfect for dipping naan bread, spooning over rice, or using as a base for a more complete meal.
If you love a good spinach and artichoke dip, then you'll definitely enjoy this Spinach Artichoke Pasta recipe. We made a few substitutions to make it saucier and we share some extra add-in ideas in case you want a little more protein :)
This Tortellini Salad is not only stunning, but it's also delicious! It combines spinach with lots of fresh vegetables, pasta, and a homemade Italian vinaigrette dressing. It's great for feeding a crowd and comes together in minutes!
If you have some eggs in the fridge and some frozen spinach in the freezer, then this easy Creamed Spinach Baked Eggs recipe can be made in no time!
You can't go wrong when you have an easy Creamed Spinach recipe in your back pocket. This version is simple, rich, and creamy without being overly heavy.
Spinach Lasagna Roll Ups are another super easy dinner idea with endless possibilities for variation.
Bacon and Spinach?…um, yes please! This Bacon and Spinach Pasta with Parmesan is a simple & quick recipe that comes together in just 30 minutes and only requires 6 ingredients!
Of course we had to end this roundup with a bang! This Spinach Artichoke Grilled Cheese recipe is the perfect mashup between two beloved favorites. Enjoy! ;)