Black Beans are one of my favorite types of beans to cook because they're super versatile and they adapt well to different flavors. They're perfect to use as a meat substitute when you're on a budget, but they're still hearty and filling enough for a quick dinner meal. So today we've gathered 16 of our absolute favorite black bean recipes including black bean soup recipes, vegan and vegetarian black bean recipes, and easy black bean dinner recipes!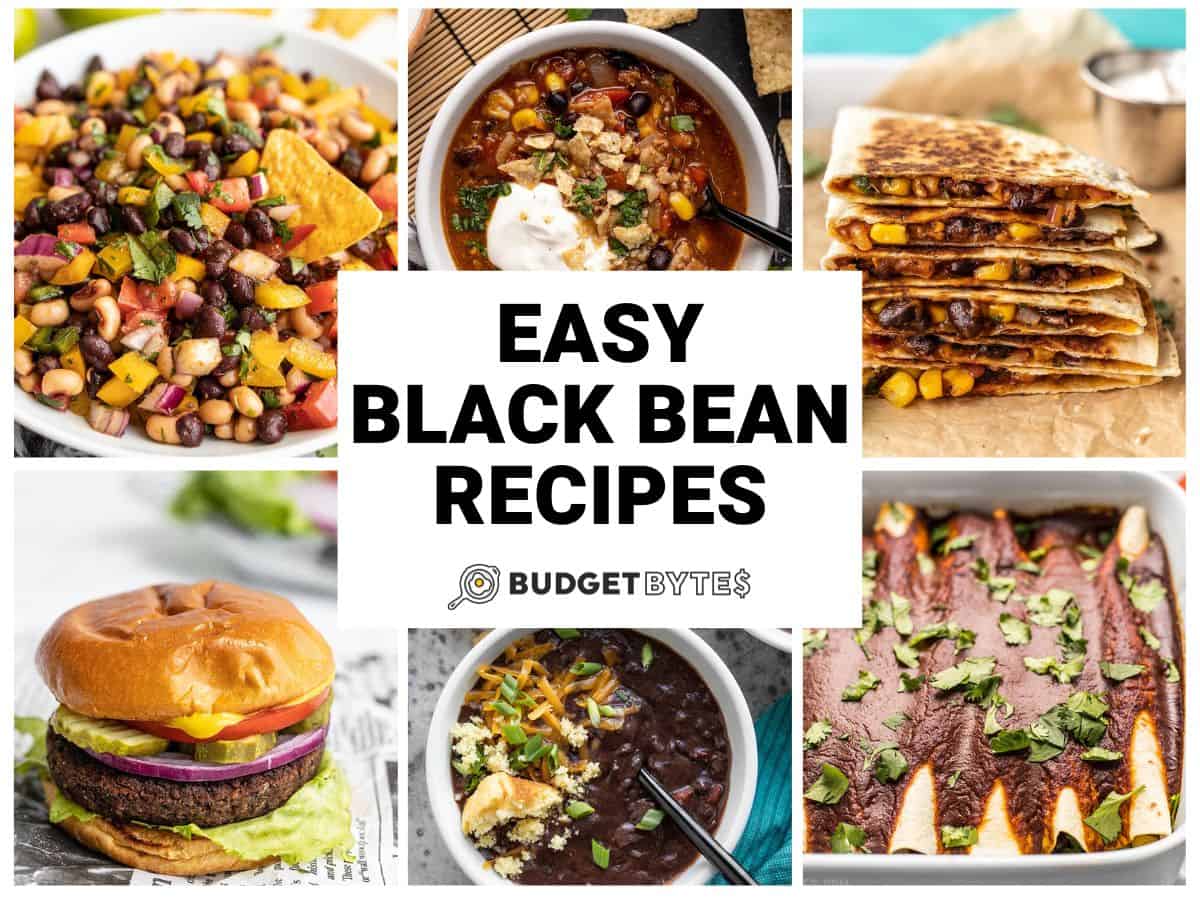 Well hello super fresh, colorful and delicious bean salad! Cowboy Caviar is a cross between a bean salad and salsa and it's perfect served with chips, on top of salads, inside a burrito bowl, or as a simple side dish.
Prepare to fall head over heels for these hearty and super delicious Black Bean Quesadillas! This is one of those vegetarian black bean recipes that meat-eaters will also love. Promise! ;)
You'll be surprised by how easy it is to turn a couple of canned black beans into a simple, quick, and flavorful side of Seasoned Black Beans. Enjoy them in your burrito bowls, alongside some fajitas, with fish tacos, or over a bed of hot rice!
Listen, you had me at tacos!! Tacos are one of my absolute favorite foods and these Baked Beef Tacos with seasoned beef and black bean filling takes Taco Tuesdays to the next level!
Now that we've established how much I love tacos…let's talk about this fun, hearty, and super flavorful, Taco Soup! It's made with seasoned ground beef, lots of beans, veggies, and a generously spiced tomato broth. It's the perfect way to get your taco fix in a big bowl of soup with ALL the toppings!
We love quick and easy salad recipes over here, and this Cucumber and Black Bean Salad is light, fresh, and tossed in a simple homemade vinaigrette dressing.
There's just something about a pot of soup simmering on the stove that I just absolutely love! This quick and easy Smoky Black Bean Soup is made with canned black beans, veggies, spices, and tons of flavor!
If you're looking for a super delicious black bean dinner recipe, look no further. Our popular Black Bean and Avocado Enchiladas are filled with a simple black bean and veggie mixture, then covered with a rich homemade enchilada sauce! Yum!!
Burrito bowls have become super popular over the past few years, but if you don't have a lot of money for fancy take-out, you can certainly indulge in these simple, Poor Man's Burrito Bowls! Simple ingredients, easy to customize, and still very filling.
Ditch those expensive restaurant veggie burgers and make these Homemade Black Bean Burgers for dinner this week. Top with your favorite toppings and if you have leftovers, just freeze the rest for another day!
We combined homemade roasted salsa and a few cans of black beans for the ultimate smashup! Serve this Black Bean and Roasted Salsa Soup with some yummy homemade jalapeño cornbread or any of your favorite toppings on top!
Let's wake up taco night with these Spicy Baked Black Bean Nachos! Crispy tortilla chips are topped with seasoned black beans and your favorite toppings for a simple, easy, black bean recipe that's perfect for lunch or dinner.
Jerk Chicken with Pineapple Black Bean Salsa is an easy and simple recipe that's big on flavor! It includes jerk seasoned chicken breasts with fresh pineapple salsa, and served with rice. This meal works great for weekly meal prep!
This Slow Cooker Black Bean Soup recipe is perfect anytime of the year, but especially during the hot summer months when you don't want to heat up your stove. It's full of veggies, budget-friendly, and can be topped with lots of different toppings!
Bean and Cheese Burritos are fun, easy to make, and perfect for meal prepping. These simple homemade burritos are made with seasoned rice, canned black beans, cheese, and a little taco sauce and green onions. That's it!
For all of our chili fans out there, this Weeknight Black Bean Chili recipe is easy to make, comforting, super filling, and comes together in about 30 minutes!