Just this week my brother told me that he wanted to start eating more broccoli, and asked if I had any broccoli recipes I could share with him. Talk about perfect timing! Broccoli is another versatile green vegetable that's great to include in pasta salads, casserole dishes, soups, or just roasted and served as an easy side dish. It's sturdy so it holds up well in the fridge for meal prepping, and frozen broccoli is usually less expensive than fresh broccoli, in case you want to stash a few bags in the freezer. So if you're looking for some new ways to enjoy broccoli, here are 18 of our favorite broccoli recipes for you to try out ;)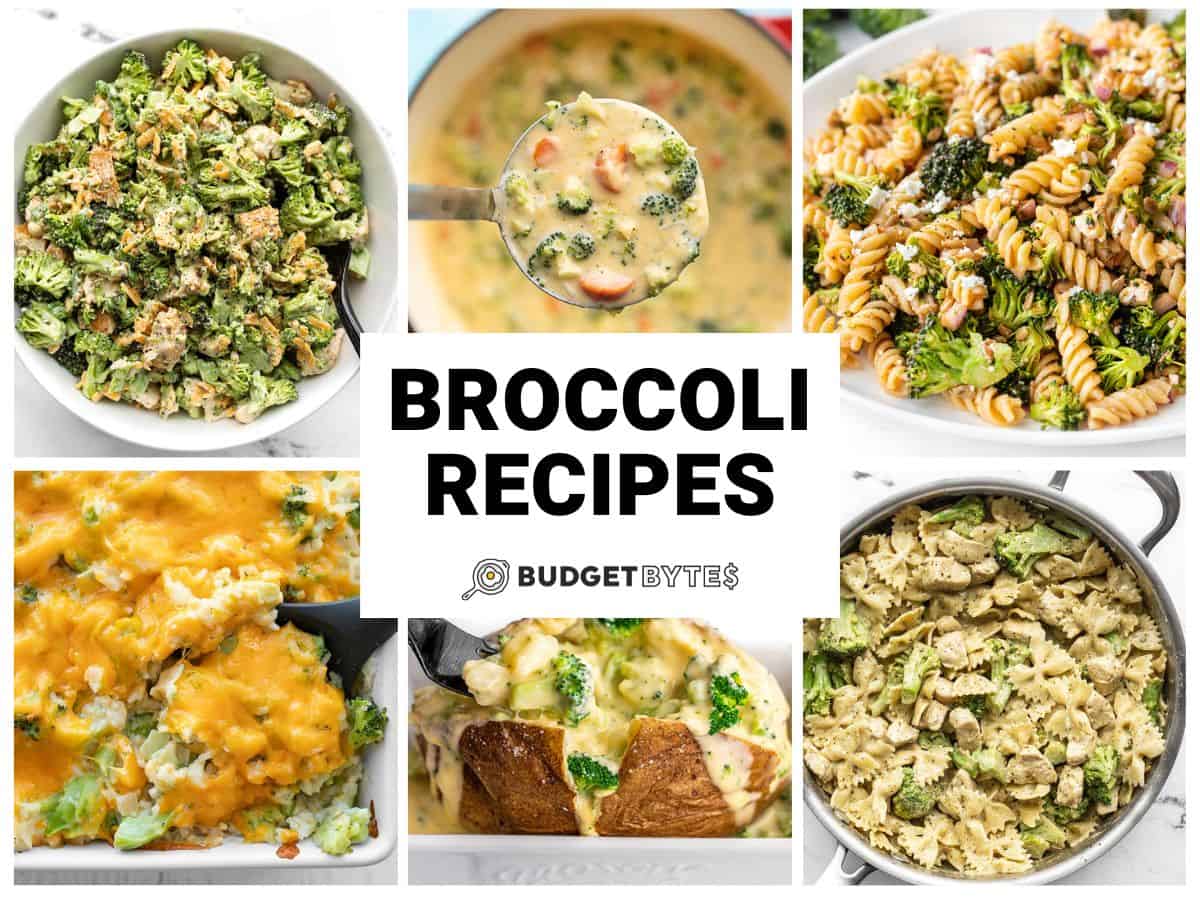 I have to agree with Beth on this one, if you're not a big fan of broccoli you should definitely try it roasted! Start with this super easy Perfect Oven Roasted Broccoli. This might just end up being your new go-to side dish recipe!
Broccoli Cheddar Casserole…yesss!! A classic comfort food dish that's creamy, cozy, and the perfect addition to any weeknight dinner meal.
This Broccoli Cheddar Chicken Salad includes just six ingredients and is the perfect lunch salad to eat on its own or inside a tortilla wrap.
Prepare to fall in love with this Broccoli Cheddar Soup recipe. It's rich, cheesy, and perfect with some thick crusty bread for scooping up every last drop!
It doesn't get much easier than this Roasted Broccoli Pasta with Lemon and Feta. It includes just seven simple ingredients and a whole lot of flavor!
This Honey Mustard Broccoli Salad is incredibly simple to make, is packed with flavor, and it holds up well in the refrigerator. Top it with some grilled chicken to make it a meal!
If you love broccoli and cheese rice but don't have time to make a full casserole, then this Easy Cheesy Broccoli Rice is just for you! Wanna turn it into a meal? Add some shredded rotisserie chicken or a soft boiled egg to the dish.
We're talking cheese and potatoes friends! Plus a healthy dose of broccoli, because it's all about balance :) Broccoli Cheddar Stuffed Baked Potatoes are great on their own or you can customize it with some fun add ins like bacon bits, grilled chicken, or green onions.
If you need something simple & easy for dinner this week, try these Garlic Noodles with Beef and Broccoli. It's a rich, salty-sweet, umami filled dish that's perfect when you need a quick dinner meal.
For all the pasta salad lovers, this one's for you! This Broccoli Pasta Salad with Tomato Vinaigrette packs incredible flavor and texture into every bite.
If you've never tried roasting frozen broccoli before, then you've got to try it out this week! Oven Roasted Frozen Broccoli is seriously the easiest side dish ever and frozen broccoli is generally less expensive than fresh broccoli…WIN!
This One Pot Bacon Broccoli Mac and Cheese is a great way to switch things up. It's creamy, cheesy, and it has bacon!! Need I say more?
If you love chicken salads, here's another variation for you to try! This Pesto Chicken and Broccoli Salad is made with crunchy broccoli, cooked chicken, and a delicious basil pesto dressing.
This White Cheddar Mac and Cheese with Chicken and Broccoli is totally meal-worthy and perfect for busy weeknights! It's another great way to switch up dinner and cover all your bases in one dish.
Simple Mushroom Broccoli Stir Fry Noodles is a quick lunch or dinner recipe that includes frozen broccoli, pre-sliced mushrooms, and a super yummy sauce.
We can't forget about breakfast! These cute two-bite Mini Broccoli Cheddar Quiches make a fun grab-n-go meal prep breakfast or a great finger food for brunch gatherings.
If you love Asian-inspired recipes, then try this easy Roasted Broccoli Salad with Almonds. It's full of flavor and great texture thanks to the crunchy chow mein noodles, sliced almonds, and the simple sesame dressing.
This super quick Creamy Pesto Pasta with Chicken and Broccoli combines the vibrant flavors of basil pesto with tangy cream cheese to make a deliciously rich sauce to smother the pasta, chicken, and broccoli.